31
Dec
2019
Details

Category: Movie Reviews
Written by Gilbert Seah
A slow week in January when Christmas movies still rule.
.
FILM REVIEWS:
CUNNINGHAM (USA 2019) ***1/2
Directed by Alla Koygan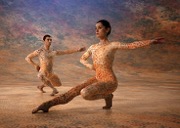 Every movement is possible for dancing - from nothing to the most expansive movement. These are the words of Merce Cunningham, the meaning of which are demonstrated in this documentary homage entitled CUNNINGHAM, written, edited and directed by Russian born director, Alla Koygan (who also directed the acclaimed NORA). Alla's voice can occasionally be heard during the film as she interviews subjects in the documentary.
Mercier Philip "Merce" Cunningham (April 16, 1919 – July 26, 2009) was an American dancer and choreographer who was at the forefront of American modern dance for more than 50 years. Cunningham passed away at the ripe age of 90. He is also notable for his frequent collaborations with artists of other disciplines, including musicians foremost of which is John Cage, his partner and lover. As a choreographer, teacher and leader of the Merce Cunningham Dance Company, Cunningham had a profound influence on modern dance. Many dancers who trained with Cunningham formed their own companies. They include Paul Taylor, Remy Charlip, Viola Farber, Charles Moulton, Karole Armitage, Robert Kovich, Foofwa d'Imobilité, Kimberly Bartosik, Flo Ankah, Jan Van Dyke, Jonah Bokaer, and Alice Reyes. In 2009, the Cunningham Dance Foundation announced the Legacy Plan, a precedent-setting plan for the continuation of Cunningham's work and the celebration and preservation of his artistic legacy.
Koygan's doc does justice to CUNNINGHAM's legacy. It respects his ideals and propels them. When asked if he is a modern or avant-garde dancer, Cunningham, in the interview replies that he just wishes to be classified a dancer. He emphasizes that it is movement he is interested in, and that his dance does not rely on music or a certain movement like ballet. It is odd then, that he formed a solid alliance with musician John Cage. The doc shows their collaboration as on their first performance in 1944. Their love letters are also illustrated in the film.
The film includes lots of archival footage of the dances, when Cunningham was older as well as when he was young. The film features 14 dances that were originally created by
Cunningham between 1942 and 1972 – including 1942's "Totem Ancestor" (his first collaboration with composer/life partner John Cage), 1958's "Summerspace" (where
Robert Rauschenberg's pointillist costumes and decor create a camouflage effect) and 1968's "Rainforest" (where Andy Warhol's silver pillows wander around the stage).
Foremost in the doc are Cunningham's dances. There is plenty of them, as expected and these form the film's highlights. Though this film reviewer is not an avid dancer, Koygan's film is captivating and engrossing as she effectively draws her audience to Cunningham's work.
CUNNINGHAM is released in 3D and the publicist insists that the film be best watched in 3D. This reviewer did not watch the doc in 3D owing to his busy Christmas schedule, and watched a streamed copy. The publicist should be right. It would be great to watch all the dance sequences with 3D effect. This doc should be a feast for those working in dance and music.
Trailer: https://www.imdb.com/title/tt8574836/videoplayer/vi1368833817?ref_=tt_ov_vi
LIKE A BOSS (to be posted after embargo lifted Jan 8th Wed)