09
Feb
2020
Details

Category: Movie Reviews
Written by Gilbert Seah
The week right after the Oscars. Tme to see films like 1917, PARASITE, ONCE UPON A TIME IN HOLLYWOOOD and the other winners. A rather slow week in terms of opemin films,excepting DOWNHILL nd SONIC THE HEDEGHOG. No review of the latter film as I totally forgot to go to the preveiw after an evening of drinks and stuff. Apolgies! Recommended is Oscar nominnee PORTRAIT OF A LADY ON FIRE, the best film opening this week.
Gilbert's Picks
Hlighly Recommended are
1. Les Miserables
2. 1917
3. The Traitor
4. Portrait de le Jeune Fille en Feu
5. Parsite
FILM REVIEWS:
DOWNHILL (USA 2020) **
Directed by Nat Faxon and Jim Rash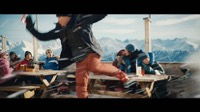 The closing credits proudly state that DOWNHILL is inspired by the Swedish film FORCE MAJEURE. Ruben Ostland's (he went on the next year to direct the incredible THE SQUARE) FORCE MAJEURE 'wow'ed critics wherever it debuted, a dead serious drama with some biting humour about a father and husband who runs away during an avalanche on a ski trip in the French Alps, leaving his wife and children and to later re-appear as if nothing had happened when no one got hurt.
DOWNHILL builds on the same premise but gears towards comedy.
Pete Stanton (Will Farrell), after the death of his father, takes his wife, Billie (Seinfeld's Julia Louis-Dreyfus) and two sons (Julian Grey, Ammon Jacob Ford) on a ski trip in Austria.
The comedy found in DOWNHILL is the comedy of awkwardness. This is evident in the film's two funniest segments, which had me laughing out loud, despite the film's faults. The best of these is the banter between Austrian ski hostess, Charlotte (Australia's Miranda Otto) and Billie as they exchange sexual encounter stories. The other is the first and huge confrontation between Billie and Pete of his cowardice in the midst of company - Pete's colleague Zach (Zach Woods) and the latter's new shroom taking girlfriend Rosie (Zoe Chao). Their awkwardness at the situation is priceless.
But the film's chief flaw is the uneven blending of the story's drama and the comedy. It does not help that Will Farrell is totally miscast. A few actors can do comedy and drama, as evident in UNCUT GEMS where the audience feels sympathetic to Adam Sandler's dirtbag character No such luck in DOWNHILL. Ferrell's Pete is a total f***ing asshole, which no one would feel sorry for. So, when the climax calls for him to redeem himself, the story falls flat. Never mind the cop-out twist ending (that will not be revealed in the review) that turns out looking ridiculous and unfunny instead of ironic, which I assume is the aim of the directors.
Though supporting actress Otto is simply hilarious, the humour is really out of place in what essentially in a drama gone all wrong. Louis-Dreyfus appears to emerge less unscathed by all this disaster. She is clearly better with drama than comedy. Her funny scenes with an encounter with an Italian ski instructor Guglielmo (Giulio Berruti) ending in her masturbation in a toilet stall with her ski boots on did not generate many laughs at the promo screening I attended. Farrell blows it in both the comet and drama departments. His character's constant bewildered look only reflects the actors discomfort in his role. Surprisingly, Zach does pull in quite the few laughs, matched by his girlfriend's solid character. "If he does the same to me, I will kick him in the balls and leave him," she tells Billie.
The filmmakers have publicly said that DOWNHILL is not a remake of FORCE MAJEURE. It clearly isn't, as the two films are quite different. One must admire the directors for trying to put their own stamp what many have considered a classic, but effort does not necessarily mean desirable results.
Trailer: https://www.imdb.com/video/vi3010182937?listId=ls093993028&pf_rd_m=A2FGELUUNOQJNL&pf_rd_p=65de9922-2ae7-4a4d-8f7f-d119f6ac2881&pf_rd_r=R3ZZWZY86M9Y080H9P88&pf_rd_s=center-3&pf_rd_t=15021&pf_rd_i=tt4558376&ref_=tt_sun20_down_lc_i_1
PORTRAIT OF A LADY ON FIRE (Portrait de la jeune fille en feu) (France 2019) ****
Directed by Céline Sciamma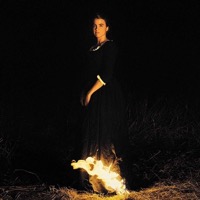 PORTRAIT OF A LADY begins with a segment that sets the tone and pace for the entire movie. Amidst the opening credits are the chalk sketching of a painter. When the camera pulls back, a class of painters is in progress. One student asks the instructor, Marianne (Noémie Merlant) about a painting. The painting, the class is told is called "Le Portrait de la Jeune Fille en Feu" and the film then goes into the past as the story is told of how this painting came about.
The film is set in France in the late 18th century, the film telling the story of a forbidden affair between an aristocrat and the painter commissioned to paint her portrait.
The story begins with Marianne arriving by boat on an isolated island in Bretagne (Brittany). She had been commissioned to paint a portrait of a young woman named Héloïse (Adele Haenel), who is to be married off to a Milanese nobleman. Marianne is informed that Héloïse has previously refused to pose for portraits as she does not want to be married. Marianne acts as Héloïse's hired companion to be able to paint her in secret, and accompanies her on daily walks by Bretagne's gorgeous cliffs to memorize Héloïse's features. Marianne finishes the portrait, but finds herself unable to betray Héloïse's trust and reveals her true reason for arriving. The two begin a relationship.
The film contains a lot of silent drama, which would be more appreciated when discovering it on ones own. One is the scene where Héloïse runs towards a cliff, when Marianne thinks what could have been a suicide. Another has Marianne dive into the sea to retrieve her boxed canvas.
There is some but little humour. Every character is quite serious. At one point, Marianne is asked by the maid "Have you started painting her yet?", to which she answers, "No. I have not even seen her smile?' "Have you tried to be funny?" the maid answers, in the film's first and funniest moment.
The film is a slow watch. But this does not mean it is any less riveting. There is a beautifully crafted segment of a story involving Euridice where it is revealed that a choice made regarding death is the choice of the poet and not of the lover. And an even more beautiful segment by a fire where women sing in a cappella.
The same sex scenes are sufficient erotic without going into the extreme as in BLUE IS THE WARMEST COLOUR. The lovers' first kiss occurs 90 minutes into the film.
The film has so far, garnished praise from critics wherever it was shown. The film won the Queer Palm at Cannes, becoming the first film directed by a woman to win the award.. The director Sciamma also won the award for Best Screenplay at Cannes. The film is to be appreciated akin to a painting - slow, pensive with it growing on multiple viewings.
Trailer: https://www.imdb.com/video/vi94879513?playlistId=tt8613070&ref_=tt_ov_vi
TO ALL THE BOYS: P.S. I STILL LOVE YOU (USA 2020) **
Directed by Michael Fimognari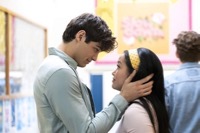 The new Netflix young adult teen romantic comedy TO ALL THE BOYS: P.S. I STILL LOVE YOU based on the 2015 novel by Jenny Han might appeal to the film's target audience, which are young adults but to the others, it is a complete bore, full of cliches, uninteresting sub-plots, unfunny jokes and cardboard characters. 15 minutes into the movie, I wanted to leave, but I regrettably did not, hoping that the film might improve as Netflix had a run of good films like THE TWO POPES, THE IRISHMAN and MARRIAGE STORY.
To note, the film is a sequel to TO ALL THE BOYS I LOVED BEFORE (2018), and the second instalment in the To All the Boys I've Loved Before film series.
When the film opens, it is a new year and Lara Jean (Lana Condor) and Peter (Noah Centineo), are no longer "pretending" to be a couple. They are a couple, since they have had a first date. Expect Lana tone as prissy as Doris Day, as in all the Doris Day movies. "Ooooh", would be the typical response from Doris Day and Lana Condor when things go beyond the first kiss. But when John Ambrose (Jordan Fisher), another recipient of one of Lara Jean's old love letters, enters her life again she must rely on herself more than ever as she's confronted with her first real dilemma: Can a girl be in love with two boys at once? Does anyone really care?
The story plays between the two boys. Who will Lara finally settle down with? It is a story that can go either way. When Lara kisses Ambrose a real passionate first kiss, to the boy who had always faithfully loved her, the audience at the promo screening went 'wow' and expected Ambrose to be the one. This ploy undermines the integrity of the story.
The other problem is the introduction of Lana's mentor and confidant Stormy (Holland Taylor), a senior at the Senior's Home where Lana is volunteering, to help her manage the complex emotions that balancing a relationship and figuring out her inner self. Stormy's character is totally cliched, unfunny and more of an annoyance.
Lana Condor is unimpressive as Lana Condor. Her beginning lip synching dance introducing her character at the film's start is a big yawn. She is supposedly Korean in her upbringing. Her mother is Korean in Korea but she and her sister live with their separated father, Dr. Covey (John Corbett). No background of the separation is given, so one is expected to have seen the first film or the series. There is nothing in this film that shows the father to be a doctor either. One would expect more from the lazy script by J. Mills Goodloe and Sofia Alvarez.
Young adult teen comedies could work for a more general adult audience as evident in last year's exceptionally clever BOOKSMART directed by Olivia Wilde with pomp and finesse. No such luck with this one. Avoid at all costs, even when free on the Netflix channel.
Trailer: https://www.youtube.com/watch?v=555oiY9RWM4