Of all the films opening this week, highly recommended is Ken Loach's latest drama SORRY WE MISSED YOU - one of his best in years!!!
FILM REVIEWS:
GREED (UK 2019) **
Directed by Michael Winterbottom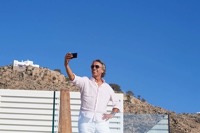 Director Michael Winterbottom (THE TRIP, WONDERLAND, and his best film JUDE) and Steve Coogan have worked together many times and they seem too comfortable in this latest offering that tackles too many subjects. The fashion industry, celerities biographies, Bangladesh garment manufacturing, the Greek commercial collapse, refugees are all targets that Winterbottom cannot decide what should be the most important. His film is centred on a court inquiry of a retail fashion billionaire Sir Richard MCreadie (Coogan) nicknamed Greedy for short. His ex-wife (Isla Fisher) and dutiful subordinate (Sarah Solemani) aid him all the way. While all this is going on, a clueless biographer (David Mitchell) puts in his two cents worth, but turns out more annoying than funny. GREED indulges in expensive looking production sets and exotics locations and appears to be going against all the film is supposed to be fighting against. Coogan prances around in this role like a wealthy peacock. The entire result is less than impressive, like the amphitheatre being built by the refugees.
Trailer: https://www.youtube.com/watch?v=7NNZHlIoA4U
LIE EXPOSED (Canada 2019) *
Directed by Jerry Ciccoritti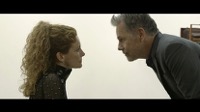 LIE EXPOSED arrives with warning bells. Number one is that the producer Leslie Hope is also the star of the movie which implies that the project might be a vanity one. The film is based on a play called 'Pornography' by Jeff Kober who also penned the film's script, who also happens to be in the film The film begins with an art display. Art and pornography usually means pretentious disaster especially when in this film the exhibition involves 'vagina' photos. When the story involves relationships over the span of a single night, more people might be turned off. LIE EXPOSED turns out less than a play than glorified pretentiousness, which if is ones cup of tea, then go for it!
Melanie (Hope) is trying out a black dress in prep for a shoot. "Am I too fat?" she says as she tries to zip up the back of her dress. "Is it too late to cancel?" She asks her husband (Bruce Greenwood). The more important question is whether the audience cares as she goes on and on. This is one self-centred annoying bitch, who the audience soon learns through flashback that has left her husband to go on a drinking binge in L.A. There she agrees to pose for a mysterious tintype photographer (Kober). Upon her return to Canada, freshly sober Melanie and her husband stage a surprise art show for their friends. The tintype "vagina" photos ignite discussions amongst the guests, none of whom initially knew that Melanie is the subject of this provocative work.
So strong are the reactions, in the aftermath of the show, several couples find their relationships teetering on a tipping point. The several skits depicting the arguments of the couple make up the rest of the movie. The couples are played by Megan Follows and Kris Holden Ried, Kristin Lehman and David Hewlett, Grace Lynn Kung and Benjamin Ayres, and Paula Rivera and Tony Nappo.
The play nor director Ciccoritti do nothing make their audience connect with their characters. The characters are aloof and stuck in their own sorry world of self-pity and pride. The result is a flat film that tries to be clever. Clearly trying is insufficient.
Melanie has a few wise sayings like: "Drinking is a good idea gone too far…", "When things go really bad, I drink.". Melanie also says of her husband that they never get drunk together and that she does not know what kind of drunk he is. Kober's dialogue is not particularly insightful, funny or relevant.
Director Ciccoritti has a series of TV films and series under his belt and is one of the most in-demand directors today. LIE EXPOSED is the scene collaboration between him and Leslie Hope, their first being in 1993 for the film PARIS, FRANCE. Lets hope (sorry for the pun) that this is their last collaboration.
Trailer: (unavailable)
RUN THIS TOWN (Canada 2019) **
Directed by Ricky Tillman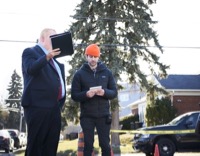 RUN THIS TOWN written and directed by Ricky Tillman begins with a Parliament debate on increasing the office budget for the Government. It is a diarrhea of verbal discourse that leads nowhere except to prove Ricky Tillman's chops as the film's writer and director. But starting off a film boasting about ones abilities merely encourages critics and audiences to be less lenient on the film. And RUN THIS ROWN, despite Tillman's talent, has major flaws.
Firstly, It should be noted that this is a film that heralds maverick journalism (though not very successfully) and not a film about Mayor Rob Ford, though it is set during the last year tenure of Ford as Mayor of Toronto. Those who venture to see the film thinking it a story about Rob Ford will be sorely disappointed.
The film is focused on rookie journalist Bram Shriver (Ben Platt). Bram is first shown in an interviewer for the job of journalist. He is hired and given the menial task of making lists (like the best 10 eateries) which he dislikes. When he comes across a stranger who as a video showing Mayor Rob Ford smoking crack cocaine, he jumps on the opportunity to rise in the journalism field but bungles it. He tries to make good. This is a film about journalists who should be given a chance to prove themselves when they are diligent and earnest.
The film then goes on to show how Bram gets to be fucked over and how he eventually redeems himself. Amidst all this are scenes with Mayor Rob Ford at his office. The film paints an awful picture of the mayor showing all his bad qualities which includes sexually harassing a female staff.
The climax of the film returns to Bran interviewing for his job and how he convinces his hirer of his ability. He stammers, ranting on and on and is not convincing at all. I myself would not hire anyone in this capacity. So, this is a bad choice for the film's climax.
The irony of it all is that though the film condemns female sexual harassment, RUN THIS TOWN faced criticism for excising the role of investigative journalist Robyn Doolittle in exposing the scandal, instead replacing her with a fictional male journalist. At the Toronto Star, Robyn gained note for coverage of Toronto mayor Rob Ford's political and personal life, which led to her authoring the biography Crazy Town: The Rob Ford Story (2014). At The Globe, her focus is on sexual assault cases deemed "unfounded" by police in Canada.
British actor Damian Lewis (he played Steve McQueen in ONCE UPON A TIME IN HOLLYWOOD) does a fantastic turn as Major Rob Ford with the aid of prosthetics. He appears only for s very small fraction for her film.
The film contains unlikable characters in unpleasant situations with few feel good moments. It is therefore difficult to like a film which stresses unpleasantness and negativity instead of the opposite.
Trailer: https://www.imdb.com/video/vi1969930009?playlistId=tt7596680&ref_=tt_ov_vi
THE SOCIAL ONES (USA 2019) *
Directed by Laura Kosann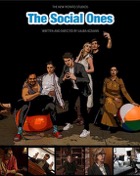 From the National Enquirer to the National Influencer….
THE SOCIAL ONES is a mockumentary. Which means it is all untrue - the unreal made to look real. Every since Rob Reiner's 1984 THIS IS SPINAL TAP put mockumenatry on the filmmakers' map, the genre has been tapped many a time successfully. The key is an interesting premise/subject and hilarious set-ups. The social media seems an idea set up for Laura Kosann's new mockumentary but hilarious it is not. In fact the film has characters who are almost totally irritating or if one want to put it more mildly, annoying.
The premise of the film is the covering of the making of The National Influencer's Fifth Anniversary issue - and the big cover shoot is just four weeks away. The film begins with the Influencer's two owners/spokeswomen talking to the camera in a supposedly funny banter (Did I already not say that they are unfunny). They pick for the issue the following with many, many followers. They include: a Meme God at his peak, a Snapchat teeny-bopper, Dan Summers, a teen addicted to stunts, a food Youtuber who will put an egg on just about anything if it means engagements, an eccentric fashion blogger willing to go to drastic lengths for a perfect #nofilter shot, and a Facebook blogger obsessed with dressing animals up in costumes. They are all unfunny and totally boisterous and annoying. How these people got millions of views is totally beyond anyone.
Of all the candidates, the most unwatchable is the Meme God best compared to the also annoying Jack Black at his most annoying. The candidates shout their lines as if the audience is deaf, they thinking that they are hilarious when they are indeed not. They all also have interns who they abuse to no end.
Besides the candidates, there are other characters in the film - and again, unfunny ones at that. Apparently one thing the candidates all have in common is social media anxiety disorder. It all starts when when Dan Summers - the quintessential Snapchat celebrity with the largest following - disappears after having a social media induced breakdown, forcing all to face the question of why we are all so consumed with social media. This gives an excuse for the introduction of the character of Dr. Mirian Spacelli (Stephanie March) who begin to rationalize the weird behaviour of the candidates. All things considered, her lines are a bit funny and believe it or not also insightful on the behaviour of her patients. Less successful is the self professed character of Dr. Peter Scolari (Stephen Schelnick), a lecturer on social media with more coloured bow ties than brains. Why this character is in the film is a mystery in itself.
To social media (Instagram Youtube) fans, THE SOCIAL ONES might entertain more, due to connectivity and relevancy. The film does delve more deeply into the medium during the second half by including the topic of relationships (cyber sexuality by a Best Selling Erotic Novelist) between social celebrities.
The new comedy comes exclusively to the Comedy Dynamics network via Apple TV, Amazon Prime Video, Dish, DirecTV, Spectrum, Google Play and more. It does not open theatrically.
Trailer: https://www.youtube.com/watch?v=tspZA4btHPY&feature=youtu.be
SORRY WE MISSED YOU (UK/France/Belgium 2019) *****Top 10
Directed by Ken Loach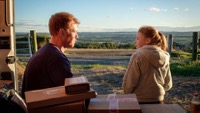 The recent Irish film ROSIE (1998) revealed the housing problem in Dublin, Ireland. Director Paddy Breathnach's film followed ROSIE as she tries to find temporary housing for her family, most often with no luck. SORRY WE MISSED YOU treads on similar territory, but in Newcastle, England. British working class problems are the British Ken Loach's expertise and his latest film is a minor masterpiece that follows a striving Newcastle family of 4.
Ken Loach's (I, DANIEL, KES, MY NAME IS JOE) latest film centres once again on the common man facing injustice in the working system. The film begins laying out the structure of employment at a parcel delivery company. "You don't work for us. You work with us. You are the owner, the driver, the franchiser." says Ricky's supervisor during the interview. As such, it becomes apparent later on in the film that offering freedom to the worker is an excuse for the company not taking responsibility for work accidents.
Set in Newcastle, Ricky (relative newcomer Kris Hitchen) is a former construction worker who lost his job and home in the 2008 financial crash. Eager to make a go at being his own boss, he takes a quasi-freelance delivery gig, though it means punishing hours, working under a ruthless manager, Maloney (Ross Brewster) and making a substantial investment up front. Ricky convinces his wife, Abby (Debbie Honeywood), a home-care nurse, to sell her car in order to buy the van he needs for the job. Indeed, the road to hell is paved with good intentions. Complications mount as Ricky starts to discover the harsh realities of supposedly autonomous labour. His son Seb (Rhys Stone) courts trouble in his new-found, semi-politicized vocation as a graffiti artist. Ricky and Abby have two kids, Seb and a daughter. The film paints a more encouraging picture with the daughter, who is still young, and not old enough to rebel like Seb. One of the film's best segments is the extremely moving confrontation between father and son. Ricky scolds his son: "I am doing my best!" to which Seb retorts: "Perhaps the best isn't good enough." Mother then steps in: "We want the best for you, Seb. You know that!" But Loach's film also shows a brighter side of hardships - the side when a family sticks together, joking and laughing amidst their problems.
One knows, from previous Loach's films that things will not be going to go smoothly for Ricky and family. Loach goes deep into emotions and makes his audience feel the agony faced by both Ricky and Abby. The results are astounding. The audience at the TIFF screening where I first saw the film wept and cheered. This is a remarkable and fully charged emotional ride. Make sure you are not sorry to have missed this one! One of Loach's best films since my favourite KES.
Trailer: https://www.youtube.com/watch?v=ysjwg-MnZao
THE WAY BACK (USA 2020) **
Directed by Gavin O'Connor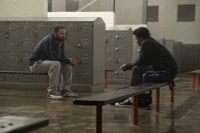 Alcoholism seldom make feel-good movies but often offer actors to show their chops as Nicholas Cage did in Mike Figgis' 1995 LEAVING LAS VEGAS and Jack Lemmon did in Blake Edwards' 1962DAYS OF WINE AND ROSES. In Gavin O'Connor's (WARRIOR) THE WAY BACK, alcoholism is combined with basketball, which results in a less melodramatic form of the treatment.
Ben Affleck plays Jack Cunningham, a former basketball player who had turned down a scholarship to the perennial power house college basketball program, the University of Kansas. Jack is now an adult struggling with alcoholism, is offered a coaching job at his alma mater, Bishop Hayes High School. As real life goes, it is not surprising that actor Affleck is playing himself, a supposedly tortured soul also suffering from alcoholism. Audiences might be sympathetic to and thus care for his character. Affleck sports a small beard throughout the film, and looks out of shape and could very well pass for a has-been, the original title of the film. Rational decision on the Studios to change the title from THE HAS-BEEN to THE WAY BACK though the former title may have been more appropriate.
Cunningham takes his basketball seriously, and at times, especially during matches, too seriously. This results in his swearing and found language much to the shock of the players parents and the teachers. Cunningham's basketball players seem to respect him. Cunningham spends the first half of the film whacking these players into shape and form. The film stresses a lot on Cunningham's outburst.
It is when one of his players die, that Cunningham is pushed his past his limit. The segment where he is picked up at the bar and enters wrong house for a quickie is simply hilarious. But one wonders the purpose of all this. Cunningham finally gets the sack while going back on a drinking binge. Again one wonders the purpose now of the entire film as Cunningham is still susceptible to alcohol.
` Clearly, THE WAY BACK is Ben Affleck's project. But THE WAY BACK, though occasionally entertaining still is a muddled mess.
Trailer: https://www.imdb.com/video/vi2639839001?playlistId=tt8544498&ref_=tt_ov_vi