Here are the reviews of the new films opening this week and how you can screen them.....
FILM REVIEWS:
A WHITE, WHITE DAY (HVITUR, HVITUR DAGUR) (Iceland/Sweden/Denmark 2019) ****
Directed by Hlynur Palmson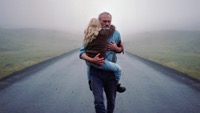 A WHITE, WHITE DAY begins with the old Icelandic saying that when both the earth and sky are white, there is no difference between the dead and the living. The first scene after the credits has a total white background of sky, snow and mist, where it is almost indistinguishable to tell the road from the sky. A car the goes off a cliff.
The driver is the wife of a local policeman, Ingimundur (Ingvar Sigurosson). Ingimundur's bereavement tears his life apart. The film records this tearing apart of his life. The film is a very slow watch, but director Palmson's film still grabs ones attention from start to end.
Ingimundur is seeing a psychiatrist for his breakdown. As expected in films of this genre, the psychiatrist is of little help, and asks silly questions that is likely from him following the book without real concern about his patient. It is just a matter of time when Ingimundur has had enough of the psychological talk and freaks out at him in one of the film's best scenes. The second part of the film has Ingimundur discovering that his wife had not been faithful. The question is whether Ingimundur is getting paranoid because of his loss or whether the unfaithfulness is real. It turns out to be the latter. This is when Ingimundur really breaks down. He finds out the man his wife had been unfaithful with is his neighbour. He forces a confrontation that gets ugly and violent. In all of this, the only saving grace is Ingimundur's granddaughter (Ida Mekin Hlynsdottir), an innocent young thing who he loves and cares for. He eventually puts her in some danger. The question is whether revenge is worth it.
Icelandic actor Ingvar Sigurosson is more than excellent in the role of the widower, winning him a special acting award at Cannes' Semaine de la Critique last year. The film also premiered at the Toronto International Film Festival last year.
The film is shot in Icelandic and is filmed in the rural areas around Iceland's capital, Reykjavik. For those (like myself) who have visited Iceland, the film brings fond memories from cinematographer Maria von Hausswolff's stunning capturing of Iceland's rural countryside and landscape.
A WHITE, WHITE DAY is Palmson's second feature, his first being WINTER BROTHERS (2017) also dealing with loss and madness. A WHITE, WHITE DAY is kind of depressing especially during the times of Covid-19. Still if one is daring to view this new film, the film opens this week on April the 17th.
Here are the instructions on how to watch it:
Currently, among the theatre partners who will be premiering A WHITE, WHITE DAY on April the17th, are the Studio Movie Grill Chain, Gene Siskel Film Center and Violet Crown Cinemas, with more coming on by the day. The most up-to-date list of theatres can be found here: