Films currntly opening on VOD and similar streaming platforms, vitrual theatres and of course, Netflix.
FILM REVIEWS:
BECOMING (USA 2020) ***
Directed by Nadia Hallgren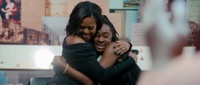 The film, which is based on the memoir BECOMING by former First Lady Michelle Obama, shows a lot about Michelle that many, especially non-Americans do not know. One can also learn a lot about a person from the person's music. The audience first gets to hear the music she likes at the film's start as she sits in a car listening to her tunes. The film follows her and her 'troupe' as they do a book tour consisting of speaking engagements and public appearances. If all this sounds boring, the film is actually entertaining and informative emphasizing the fact that one should give any film a chance despite what might appear a dull subject.
And Michael Obama is far from being a dull subject. She grew up in the poor section of south Chicago but made it to both Princeton and Harvard, succeeding as a lawyer before becoming one of the most important black women in the United States. As she confesses, being the wife of the President is not easy. She has spent 8 years trying to do everything perfectly. She says in public that she does not miss the White House. She comes from from humble beginnings and went on the meet royalty and dignitaries. Amidst all this, she is reminded of how important it is to remain humble. The film shows that she has been out in her place a few times.
The film also includes archive photos of her and her immediate family. Her mother and grandparents are shown as humble and intelligent folk. Her brother, too, who went to Princeton as well is quite the charismatic person, providing some humour in the film.
The one thing that impresses is the the natural talent she has as a stand-up comic. Michelle is extremely funny when given the microphone, both engaging her audience, making her material relevant and being entertaining all at the same time. The doc's best moment occurs during one of her interviews taking place amidst a large audience where her husband shows up with flowers. The scene is both touching and admirable. The couple demonstrates the perfect couple, intelligent, loving and respectful. One can see the reason ex-President Barrack Obama has been such a great leader. The film eventually shows how great a couple Barrack and Michelle Obama form. Barrack, a respected and caring President of the United States and his First Lady, also respected, are both diligent and intelligent. Now we have President Donald Trump and Melania. What happened?
Just when one would think that the film will run out of material - it does begin to lag a little after the first half, director Hallgren ups the story with the celebration of equal rights marriage. The camera shot of two young and good-looking gay men outside the site house hugging after the law has passed is indeed uplifting.
The only downside of Hallgren's film is that it occasionally gets too preachy. This fact will definitely make a lot of audiences angry. They do to want to be constantly to be put in place or told what is right (or wrong) as the film and Michelle Obama keeps doing.
BECOMING is a Netflix original documentary that begins its run this week. Well worth a watch!
Trailer: https://www.imdb.com/video/vi1456520729?playlistId=tt12221748&ref_=tt_ov_vi
HOW TO BUILD A GIRL (UK 2019) **
Directed by Cody Giedroyc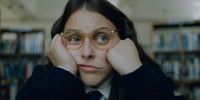 HOW TO BUILD A GIRL arrives hot on the heels of lead actress Beanie Feldstein's (sister of actor Jonah Hill) comedy hit last year, Olivia Wilde's awesome BOOKSMART. Many like myself would be dying to see Feldstein in her next film since she was so good in BOOKSMART that the film earned her a Golden Globe Nomination for Best Actress in a comedy. She is fantastic, though she plays again an identical role, a girl who is really into books, and wishes to be a famous writer. She ends up being a rock review critic instead. She is aided by a solid supporting cast of Sarah Solemani and Paddy Considine who play her parents. Unfortunately the film isn't as good, jumping all over the place where it should have had a stronger narrative emphasizing the aim of the film.
The film begins with the titles "Based on a True Story". The film is based on Caitlin Moran's semi-autobiographical memory HOW TO BUILD A GIRL, the reason of the title chosen only made clear near the end of the film. Moran's name has been changed to Johanna Morrigan in director Cody Giedroyc's film.
Director Giedroyc's film follows part of the story. Set in London, Johanna stays in a dodgy council flat with her brothers and parents including illegally bred collies. The goal for this 16 or 17 year old is to buy back the television set taken from her family flat. In the mean time, the audience gets to see her and her high jinx activities similar too but not as fun or outrageous as in BOOKSMART. She fantasizes about boys. She finally meets and falls love with John Kite (Alfie Allen) which makes up the major part of the film. Unfortunately it is also the most boring part of the story.
In real life, this girl got famous or rather infamous for being the one accused of Kurt Cobain's death. The real girl apparently published Courtney Love's love quotes of her ex which Cobain read. This part of her life in the U.S. is omitted in the film. The film goes on instead of how this poor girl from the council flats who loves writing finally makes it - at least enough to purchase back the family TV. Johanna is bright though he seems to take advice often from the poster pinups on the wall of her bedroom. Among those giving her advice are Julie Andrews in THE SOUND OF MUSIC, the Bronte Sisters and Bjork. This tactic is amusing at first but then, used to death.
How Johanna became famous by a local journal employing her as a kind of mascot writer also testifies to the the strength of the female gender. For music fans, the part where she attends a Manic Street Preachers concert would be highly interesting.
So despite all the problems that come with growing up as a teen, this girl makes it after all. Does it matter? Director Giedroyc does not make any effort to make his audience care.
Trailer: https://www.imdb.com/video/vi2408300057?playlistId=tt4193072&ref_=tt_ov_vi
RED ROVER (Canada 2018) **
Directed by Shane Belcourt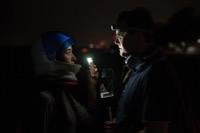 Shane Belcourt performs triple duty as director, co-writer and director of photography about an odd ball geologist, name Damon (Kristian Bruun) and his relationship with a pretty musician , Phoebe (Cara Gee). Damon, the geologist spends his waking hours searching for that elusive something. This he does with a metal detector combing the beach sands of lake Ontario. Belcour's film is shot in Toronto where the lake is close to Damon's house.
Damon is hardworking but just does not fit into society. His hard work at the office causes him to be dismissed by his boss, Brad. Damon's ex-girlfriend is now humping a hot Australian who is the compete opposite of Damon - all brawn and good-looks but pro in the upstairs department. When Damon is offered to have his share of the house bought out together with his job loss, Damon has to rest to other opportunities.
Whether it is for deeper meaning, love, or just "treasure" on the beach with his metal detector, it is to no avail. So when Damon meets an offbeat musician named Phoebe handing out flyers for a one way trip to Mars, a bond quickly forms. She's going to help him find that thing he is looking for by sending him 33.9 million miles away, even though what he needs might be right in front of him. The film hints at a love relationship rather than a plutonic one, and one can hardly tell where everything is heading even half way through the movie.
But the waywardness of the two individuals are nothing out of the ordinary and their gatherings grow tiresome quite soon. When the film reaches the half way mark, there are little new surprises and the quirkiness of the film, that was initially impressive, loses its hold.
Still, Bruun and Gee (an indigenous actress with quite solid body work - she is currently seen in the Canadian indigenous horror flick, BLOOD QUANTUM) carry the film for all that is worth. The two are the best things about the movie. I would love to see Bruun play a character similar to the Kathy Bates character in Stephen King's MISERY - a someone who gradually loses, gets mental and starts performing horrific acts.
The film is shot in Toronto with may familiar sights (including the now obsolete streetcars) that should please audiences
RED ROVER premiered at the Canadian Film Fest for which it has been chosen as the Opening Film. The film is now available on VOD and on similar streaming platforms.
Trailer: https://vimeo.com/294847271
SPACESHIP EARTH (USA 2020) ***
Directed by Matt Wolf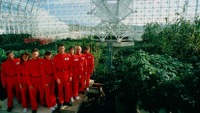 SPACESHIP EARTH is a documentary that takes a look at the group of people (8 in total) who built the Biosphere 2, a giant replica of the earth's ecosystem, in 1991. The lived in Biosphere 2, supposedly self sustaining in terms of air, water and food) for a period of 2 years. Why is it called Biosphere 2? According to the 8, the reason is that Biosphere 1 is the planet Earth itself.
If all this sounds a bit familiar, the 1991 news around the Biosphere 2 might be remembered. Or the film SILENT RUNNING starring Bruce Dern which plays on a similar premise. Director Wolf includes footage of this old film at his film's start.
First of all, the concept is not all that far out as one would imagine. There is also the fact that oxygen was pumped in the Biosphere at one point during the 2 years, so that the claim that the spaceship, as it is fondly called is self-sustainable is totally false. The concept is not so outrageous because the same concept is practiced in Iceland. While visiting Iceland, I was taken on a tour of a gigantic greenhouse, where water is irrigated in the greenhouse that produces all the vegetables produced consumed by the Icelanders and tourists. Everything is organic and modern.
So, SPACESHIP EARTH turns out to be nothing more than a commune set in a greenhouse. There are a few differences though, SPACESHIP EARTH covers a huge area of 3 acres in Arizona and contains a minor aquarium of coral and fish to be eaten as well as a mini rainforest. The 8 who has built the biosphere 2 are also accomplished professionals from different walks of life (medical; engineering; biologist etc.) which means that problems can be fixed. The one problem that cannot be (fixed) is in the interaction of humans. It is obvious the 8 went through hell, dealing with each other as well as each other's egos. The whole project is understandably very expensive. So an investor, Ben Cass, from a millionaire family joined the venture, though problems ensued between him and John Allen, the mastermind of the project. To Allen's credit, he is a Harvard Graduate and ecologist who has travelled the world but on another level, he can be considered to be the king "hippie' only without the long hair, with his specialized commune.
As they say, a documentary is always as interesting as its subject. There is no argument that this SPACESHIP EARTH is not an interesting subject. The experiment was conducted in 1991 and most of what is seen in Wolf's documentary are archive footage and interviews from the "Biospherians", as they humorously call themselves. Wolf must have had a mountain of footage to dig from. The film diverts to a few intriguing mini-projects before the Biosphere 2 was designed. This included a ship built from scratch. There is also some amazing footage of the ship sailing through rough seas.
SPACESHIP EARTH opens on VOD and similar streaming platforms May the 8th. Talking about Covid-19 quarantines, the Biosphere 2 is the mother of quarantines.
Trailer: https://www.imdb.com/video/vi3237985817?playlistId=tt11394188&ref_=tt_ov_vi