With all cinema theartres closed, there are still new films released. The films reviewed every week will include at the end of the review, how the film can be watched out of theatres on different platforms or on virtual theatres.
FILM REVIEWS:
THE HALF OF IT (USA 2020) ***
Directed by Alice Wu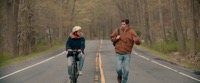 THE HALF OF IT described as a different kind of love story, is a teen romantic comedy. Before dismissing it as teen nonsense, writer/director Wu proves that there is much that can be enjoyed on a story of female teens. Just last year saw the enormous success and with of Olivia Wilde's BOOKSMART, a film extremely smart, funny and entertaining. Director Wu claims that as an adult she now see the concept of love from a different point of view.
Every teen goes through the process of falling in love or discovering first love. THE HALF OF IT focuses on what love it as first examined in Greek mythology. As the voiceover goes, love involves among other elements, unspoken understanding and unity. But bringing the film down to earth, as the voiceover informs, the Greeks never went to high school. This is the story of a BOOKSMART student, Ellie Chu (Leah Lewis).
Ellie Chu is perfectly content with her life: watching old movies with her widowed father and ghostwriting papers for her high school classmates to help pay the bills. But her side gig turns personal when lovelorn jock Paul Munsky (Daniel Diemer) hires her to craft love notes to Aster Flores (Alexxis Lemire) — a smart, popular girl out of both their leagues. This premise could be considered a written instead of verbal form of CYRANO DE BERGEREC. Just as the duo's plan begins to work, a new wrinkle emerges: Ellie and Paul have fallen into a deep friendship neither could have anticipated, giving rise to a surprising love triangle. THE HALF OF IT is described in its poster as a different kind of love story. Saying more would spoil the twist in the plot, which comes during the last half hour of the movie.
Wu has made her protagonist extremely likeable, which helps audiences identify and root for her. Ellie is very sweet looking. She is still sweet after puking from drinking too much at an after party. She looks after her ageing father which emphasizes her caring nature. Her smartness does not make her proud or standoffish.
For movie buffs, Wu's film contains lots of old movie references from CASABLANCA to the old Katherine Hepburn and Spencer Tracey movies. The film runs almost 2 hours, a bit lengthy for a romantic comedy. Much can be shorted though one can enjoy the leisurely pace of the film - not that anyone has that much to do during self-isolation burns Covid-19 times.
Director Wu attempts a bold re-invention of what love is. This occurs during film's climax at a church service where Corinthians II of the Bible is quoted: "Love is patient ; love is kind…" According to Ellie Chu, Love is messy and horrible and selfish and …. bold.
THE HALF OF IT is a Netflix original romantic comedy, and Netflix seems to be doing quite well with their romantic movies with an Asian slant like the recent TIGERTAIL). It opens on Netflix on May the 1st.
Trailer: https://www.imdb.com/video/vi3280780825?playlistId=tt9683478&ref_=tt_ov_vi
TAMMY'S ALWAYS DYING (Canada 2019) ***
Directed by Amy Jo Johnson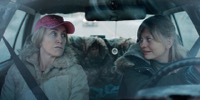 TAMMY'S ALWAYS DYING. Before her depression medication runs out, Tammy (Felicity Huffman) repeatedly attempts to jump off a bridge to commit suicide. The film begins with one of these attempts. She is saved, as she is repeatedly saved, by her daughter, Kathy (Anastasia Phillips). Tammy is a train wreck of a mother and worse now that she is diagnosed with cancer. She refuses chemo but is eventually convinced by Kathy to do it. Daughter Kathy is no angel either. She is currently fucking her next door neighbour, often in plain sight of his wife and yes kids. The wife finally has had enough and paints the word 'skank' on her car.
The only outlet for Kathy is to visit with her gay best friend, Doug (Clark Johnson) a bar where they pretend to be other people. The bartender there is also gay who ends up helping Kathy later on in the story.
TAMMY'S ALWAYS DYING is a depression drama with a few spots of comedy, that is a difficult watch especially in these self-isolating times of Covid-19. The question is why filmmakers and artists prefer to present their works on a dark side, rather than delivering inspirational and happy works.
The funny spots are few but bitingly self-aware. An example is the dialogue between Kathy and the neighbour she is fucking, "You are a piece of shit," scolds Kathy. "That is why you like me," comes the reply. The film is sympathetic to both Kathy and her mother, showing the there is always some hope in human beings. When Kathy goes on to the Gordon Baker show, a kind of Jerry Springer show where the audience gets to watch people cry on stage following their misfortunes, Kathy delivers and earns enough money to purchase a new vehicle.
Ultimately this is a story of a daughter and mother relationship. Almost equal screen time is given to each of them. No side is taken and the audience is left to make their own choice as to which side to take.
In one scene, the bartender lets Kathy stay in his small apartment for free when Kathy is really running out of options. "You don't have to do thus," Kathy remarks. "Yes, I do. You are a nice person. We are worthy people." replies the bartender says. One wishes there were more uplifting scenes like this one, which shows that director Johnson can deliver both happy and sad stories.
TAMMY'S ALWAYS DYING is a woman's picture, with female protagonists and director. All the male roles are supporting, but at least the males are shown to be supportive intelligent and kind, except for the neighbour Kathy is fucking.
TAMMY'S ALWAYS DYING is not bad a film, elevated by superior performances from its two leads, Huffman and Philips. It is just too bad it is just such a dressing film. But director Johnson shows promise in this second feature after THE SPACE BETWEEN in 2017. Hopefully, Johnson will give audiences a film on a brighter note which is what audiences need now and a few years ahead. The film which premiered at last year's Toronto International Film Festival opens on VOD and similar streaming platforms.
Trailer: https://www.youtube.com/watch?v=4TfoYIvyf_g
THE WRETCHED (USA 2019) **
Directed by the Pierce Brothers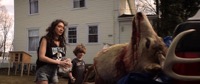 Usually, directors impress audiences within the first few minutes of the film's start with something unusual, mind boggling or visually unnerving. In the case of THE WRETCHED, two items within the film's first 10 minutes are enough to put audiences off on a wrong note. The introduction is set 35 years ago. A girl enters a house, apparently to do some babysitting where she notices a telephone receiver off the hook. Her mother is still on the line, and before long, she sees a kid eaten alive by some monster in the basement before the basement door closes on her. The segment makes little sense unless you have seen the entire film and think back. This is not what most audiences of a horror flick would do. The next segment has a scene that is explained to the audience. Just as a joke should never be explained to an audience, this scene with a basket on a bicycle should not have to be explained.
The story centres around a teen, who visits a lakeside town, only to discover the little boy next door who goes missing. A tree demon is responsible, who has taken the form of the boy's mother.
One problem is the film's weak narrative. The script goes all over the place never settling with the key plot point.
The main character, this defiant teenager is Ben (John-Paul Howard) who has a cast on his arm for some silly reason. The cast could have been done away with for the convenience of everyone concerned.
The film contains many other sequences that make little sense. One is the cop that arrests and drives Ben off to the station. He is somehow connected to the witch, apparent from the blood dripping from his ear. Since when was the cop possessed and since when can he wear a cop uniform and drive a car? The cop takes Ben out to drown him only to be shot. This segment is blurred as to how Ben escaped his eminent death. How Ben discovers everything about this demon and how he alone destroys her is again quite unbelievable.
The script also adds on the troubled boy/father relationship but goes into cliched territory. Yes, the father thinks the son is crazy but after he sees Ben is not lying, they bond.
THE WRETCHED got a few accolades at the Fantasia Film Festival - a horror film festival. The only thing going is the gory special effects, despite the fact that they make no sense like another creatures emerging from the witch's body at one point in the film. Blane Crockarell who plays, Dillon the boy next door is quite good.
One eventually wonders how difficult it is to make a decent horror film. Blumhouse always seems to get it right with their low-budget scary works which ends up making lots at the box-office because they are quite good. Other films like THE WRETCHED are terrible (don't let the trailer fool you - as the trailer looks quite good) and might make money only during the opening weekend.
Trailer: https://www.imdb.com/video/vi26918425?playlistId=tt8305806&ref_=tt_ov_vi