03
Jun
2020
Details

Category: Movie Reviews
Written by Gilbert Seah
These are the new films opening on different digital platforms. The end of the reviesw indicates how the films can be watched.
FILM REVIEWS:
JUDY & PUNCH (Australia 2019) ***1/2
Directed by Mirrah Foulkes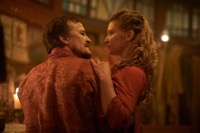 A few things should be known about Punch and Judy before venturing to the movie. For North Americans, Punch and Judy might not be recognizable at all, but every Brit or have at one time or other in their childhood seen a Punch and Judy show at the beach. Punch & Judy is a traditional puppet show featuring Mr. Punch and his wife Judy. The performance consists of a sequence of short scenes, each depicting an interaction between two characters, most typically Mr. Punch and one other character who usually falls victim to Punch's slapstick and beatings. It is often associated with traditional British culture.
The film is set in the British town called Seaside. The film is quick to mention that Seaside is in the countryside nowhere near the sea. Puppeteers Judy (Mia Wasikowska)
and Punch (Damon Herriman) are trying to resurrect their marionette show on the brink of an anarchic mob rule. When Punch accidentally kills their baby during a drinking binge, his wife, Judy, having suffered a violent beating, teams up with a band of outcast heretics to enact revenge on Punch and the entire town.
With regard to historical accuracy, caution seems thrown to the wind. The actors (mosty all Australian) speak with a Irish accent, with no explanation why. It is assumed that the couple are Irish immigrants. Whether this is the real origin of Punch & Judy is also questionable, as the puppet show was supposed to have originated from Italy.
JUDY & PUNCH as its title indicates, puts the female over the male. The actress, story writer and director are female. It is also a fable of the abuse of women. Judy is badly beaten at one point. At another (that resembles MONTY PYTHON'S LIFE OF BRIAN), the village attends a stoning - and a sting of three women suspected of sorcery. One of these woman only cries was to stare at the moon longer than her husband was comfortable with. Director Foulkes takes up the whole first half of the movie to set up the stage for female vengeance. Judy finally gets to deliver her revenge during the second half of the story.
At its worst, the film contains a few nasty moments - which may be argued as totally uncalled for. One is the brutal flogging of Judy by her husband Punch in a drunken rage. The other is the accidental tossing of the baby by Punch, with the bay flung straight out the window. These two incidents highlight the film's strangeness and if director wishes to make a point, she clearly has made an unforgettable one.
A few comic moments are provided by the bumbling constable played by Australian Benedict Hardie. Hardie has an uncanny resemblance to Eric Sykes, who also provided comic relief in many films.
JUDY & PUNCH are as strange as Australian films come - just like the recent and also excellent THE TRUE HISTORY OF THE KELLY GANG. Those who love Australian films and then some should love this weird yet fierce and fascinating period entry. Warning though that it might not be for everyone's taste.
Trailer: https://www.imdb.com/video/vi379829785?playlistId=tt7798644&ref_=tt_ov_vi
LAST MOMENT OF CLARITY (USA 2018 ) ***
Directed by Colin Krisel, James Krisel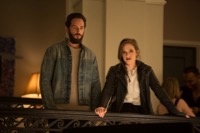 LAST MOMENT OF CLARITY plays with the interesting premise of a protagonist searching out what might seem to be his dead girlfriend now discovered alive and living as a film star under another name. The film is generally uneventful with lack of surprises during its first half, but thankfully picks up during the last third with a few surprises as to where the story leads.
Sam's (Zach Avery) quest to find the lost girlfriend, Georgia (Samara Weaving) is aided by his some time employer at the bar, Gilles (Brian Cox). The script is unconvincing as to the reason Gilles would cough up a whole sum of money to help Sam. How did the two meet and how did they become so good friends. He must be the only Scotsman with a French name Gilles. Avery has had a few leading roles in unforgettable films in the past and this film might be just yet another one of these, made in 2018 and now just released on digital platforms.
Avery plays the lead role of Sam, sporting a full beard looking very much like a terrorist. He looks unkempt untidy and questionable character-wise. So, when his old time girl, Kat (Carly Chaikin) suddenly beds him in her apartment, credibility is stretched to the limit. Avery fails to elicit any sympathy from his character and the character of Sam just comes right across as some crazed fanatic. The script does not work to have the audience care for him either.
For a film shot in France, assuming it to be Paris, from shots of the metro, there is nothing heard in French except for one short line by Gilles. The globe-trotting film (Vince jets off to L.A. after a third of the film) could very well all be shot in the game city to lower the budget of the movie. The end credits do not mention any filing locations in France, so it is assumed all the locations are in Virginia. Credit here should be given to the production design and sets
The script contains some message musings, among them is to say: "Fuck it." Also, love is not about fate. It is about timing. Kat tells Sam that even if the girl he is looking for turns out to be Georgia, it has been three years and things and people change.
It is all too convenient that Kat is there, not working and able to show and help Vince around at the drop of a hat. She stays in an expensive L.A. apartment and drives a Mercedes. When Sam decides to go to Mexico, somewhere war, to forget everything, Kit decides to go with him. "Just like that?" asks Vince. "Yes, just like that,"comes her reply.
At the hour mark, the film turns into a menage a trois. This only serves for the audience to dislike Sam's character even more. Does this guy have no conscience? But credit should be given to Chaikin who does a marvellous job at getting the audience to root for her. Yes, she does win in the end.
Though not without flaws, directors Colin Krisel and James Krisel finally manage to save their film from a rough start.
Release Info:
EST/VOD (English) - June 2
EST/VOD (French) - June 30
DVD, Blu-ray - June 30
Trailer: https://www.imdb.com/video/vi1850190873?playlistId=nm4878976&ref_=nm_ov_vi