08
Jun
2020
Details

Category: Movie Reviews
Written by Gilbert Seah
With cinemas still closed in most parts of Canada, new films can still be found on digital and similar platforms, virtual theatres and streaming services. Below are the new films released this week and how to wacth them.
FILM REVIEWS:
BECKY (USA 2020) ***
Directed by Jonathan Milott and Cary Murnion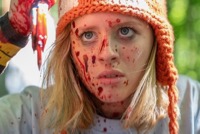 BECKY is directors Jonathan Milott and Cary Murnion latest effort in the horror genre. The duo have worked together in similar fields like animation and music videos so it seems natural that the opening credits of BECKY include Japanese-anime type animation. They are best known for the 2014 COOTIES starring Elijah Wood.
The film best described as an action horror begins with the intercutting of two violent incidents. One is a fight that takes place in a prison yard and the other between two boys in a corridor of a school that BECKY(Lulu Wilson) attends. Convicts kill their prison guards and escape their paddy wagon while Becky arrives at the lake house with her father. Becky thinks she is going to spend quality time with her father after mother has passed away from cancer but no way! Her dad, Jeff (Joel McHale) has also invited his new girlfriend, Kayla (Amanda Brugel) and her young son. Worst still, he announces his intention of marrying her.
As if things cannot get any worse, Becky's weekend at the lake house with her father takes a turn for the worse when convicts arrive uninvited (home invasion-wise) and wreak havoc on their lives. Simple plot, for directors Millot and Miurnion who obviously need an indie hit to make it big in the Hollywood business. So far so good, for the first 15 minutes, the film manages to grab hold of the audience's attention. Another plus is that the film features Kevin James known mainly for comedy like PAUL BLART: MALL COP who gets to play a nasty villainous Nazi brotherhood convict. He sports a beard, making him almost unrecognizable. Escaped from jail, he has spent so much time planning for his future with the result of everything going awry, thanks to Becky. The film's funniest line has Kayla telling him off: "How many years in prison did it take you to become this stupid…?"
Directors Millot and Miurnion show that they mean business with the horror. Children are not immune and they are slaughtered as adults would be.
At its worst, BECKY looks like an ultra-violent copy of HOME ALONE, only with a female protagonist. All her victims fall prey to her schemes and traps just as in HOME ALONE, with the convicts looking like idiots compared to Becky. On the plus side, the action sets up are intriguing enough, with no lack of gore that includes a dangling eyeball that has to be cut off with scissors and bonfire marshmallow tongs stabbed into the sides of a body not to mansion beheading of a convict by a lawn-mower.
The directors recognize how audience can get all riled up with a character unleashing his or her hidden anger to protect their loved ones - as Gina Rowlands did in John Cassavetes' GLORIA and Dustin Hoffmans in Sam Peckinpah's THE STRAW DOGS. This little spoilt brat uses all her anger to exact a satisfying brutal vengeance in this story.
BECKY is a sufficiently well-made and fun to watch B horror flick that should satisfy those that like their action with lots of gore and violence. Available On Demand and Digital across Canada on Friday June 5, 2020.
Trailer: https://www.youtube.com/watch?v=8--xifWHwoM
IT MUST BE HEAVEN (Palestine/France/Qatar/Canada/Germany/Turkey 2019) ***
Directed by Elia Suleiman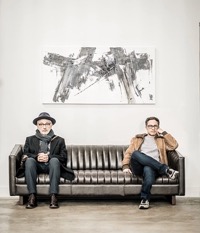 IT MUST BE HEAVEN is a light Palestinian film consisting of a series of dark comic vignettes shot in international locales by Palestinian director Elia Suleiman. Suleiman investigates the meaning of being in exile and the absurdities of nationalism, normalcy and identity. The film begins with a church in Nazareth with a door is shut closed by dissidents. Other segments are set in Paris and New York.
Suleiman's humour reminds one of the films of both Jacques Tati (PLAYTIME, JOUR DE FETE, LES VACANCES DE MR. HULOT) and Roy Anderssen (A PIGEON SAT ON A BRANCH CONTEMPLATING ON EXISTENCE), the latter for the absurdist humour and the former for the gentle humour of everyday life. Though Tati is a participant in the humour of his films, Suleiman is more of an observer. He watches his neighbour pinch the lemons off his trees in his backyard; he observes homeless man fed by social workers (even when his presence is absent).
Suleiman finds lot of humour is ordinary situations as can be observed on his trip on a plane in Economy Class to Paris. He worries about the jolts on the plane while the 'fasten seatbelt' flashes on. He peers out the window to see a shaky wing. One immediately recalls THE TWILIGHT ZONE episode where a passenger sees a monster on the engine of the plane.
In a scene set in Paris, Suleiman's pitch for his new movie is rejected by a producer because it is not Palestinian enough. This case could be true in the sense of the difficulty of this film being made. IT MUST BE HEAVEN can be classified as a Palestinian film that also is not Palestinian enough, in terms content. But on closer examination, Suleiman's film does contain quite a bit of Palestinian influence.
Not every sequence makes sense. The one with the girl drapped in angel wings in New York City's Central Park chased by police officers makes little sense nor offer much insight.
The film has an uplifting moment with Mexican superstar Gael Garcia Bernal playing a Mexican filmmaker and friend of Suleiman. He is a welcome known star in the movie, He claims that Suleiman is making a funny movie about peace in Palestine called HEAVEN CAN WAIT. The other star is Canadian Stephen McHattie who also has a cameo.
Suleiman's film is modern enough to include a few special CGI effects. One is the shot of the little bird yet keeps hopping on to Suleiman's laptop keyboard. The other is the Suleiman's acrobatics of a custom officer's security wand.
As the song "I will cast a spell on you" plays as Suleiman enters Paris, his film similarly will cast a spell on audiences.
IT MUST BE HEAVEN is financed by many countries and shot in many different languages including French and English.
The film had its premier at the Toronto International Film Festival last year. It can be viewed virtually thorough select cinemas on June 12th and then widely on VOD June 19th
Trailer: https://www.imdb.com/video/vi2396699673?playlistId=tt8359842&ref_=tt_pr_ov_vi
THE POSTCARD KILLINGS (USA/UK 2020) **
Directed by Danis Tanovic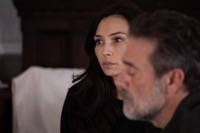 Gruesome Killings for whatever reason and obsessive detectives have become a good combination for films, most notably SILENCE OF THE LAMBS, THE ZODIAC Killings et al. In THE POSTCARD KILLINGS, a New York detective, Jacob Kanon (Morgan) sets up to investigate the horrible death of his daughter and son-in-law. They were murdered while on their honeymoon in London. Kanon recruits the help of a Scandinavian journalist, Dessie Lombard Cush Jumbo) when other couples throughout Europe suffer a similar fate.
THE POSTCARD Killings offers three reasons that make it worthwhile a look. The first is that the murder thriller is directed by Danis Tanovic, who many will remember directed the 2001 Oscar Winner for Best Foreign Language Film NO MAN'S LAND. The second reason is the main lead played by Grey's Anatomy's Jeffrey Dean Morgan and the third is that it is based on the best selling novel by James Patterson and Liza Marklund. Unfortunately THE POSTCARD Killings is an awful film.
Director Tanovic teases the audience in the first half of the film, which is a set upon things to come. The blaming of the daughter's death is argued between husband and wife, Valerie (Famke Janssen). As detective Kanon travels to London to unravel the clues, his police counterparts refuse him any additional information of the murder. Of course, this does not stop Kanon from digging deeper. The deeper he goes into his own investigation, the most paranoid he becomes, showing him to be the hard-assed cop that seems to be a favourite character in this kind of films. His wife then disappears from the story during the film's first half while director Tanovic intercuts Kanon's investigation with a couple of young tourists, who are also very good-looking, thus prompting the audience to believe that they will become the serial killer's next victims.
The purpose of the killing appear linked to some art. The victims are made to pose, after being murdered to resemble art pieces, paintings sculptures with quotable phrases like "Till death to us part," and "Love will never die" allocated to the victims. These make no sense whatsoever, and the story at this point looks totally ridiculous, lacking credibility.
The film makes a huge turn in regards to plot twist right in the middle half of the film. Though not to be revealed in this review, the identity of the killer or killers are made known to the audience together with the reason (an even more ridiculous one) for the killings.
The film runs totally downhill at this point, with the incredible plot reaching the point of silliness. The climax is Detective Kanon vs. the killers and it does not take much to figure out who wins.
The European setting of the film does not lift the film up in any way. The introduction of the Dutch detective and the journalist to aid Kanon's investigation does not help either. Never have gruesome Killings resulted in such a tedious enterprise.
Here is the info of how to screen the film:
EST/VOD (English & French) - June 9
DVD, Blu-ray - June 23
Trailer: https://www.youtube.com/watch?v=WAJXT0jI8as
THE REST OF US (Canada 2019) ***
Directed by Aisling "Ash" Chin-Yee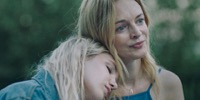 First to note that there are two films released this year with the same title THE REST OF US, the other from the U.S. about suicide at a University campus following 9/11.
A really unusual premise for a film, THE REST OF US boasts a story that revolves around an unusual alliance - the friendship between a wife, Cami and the ex-wife, Rachel (Jodi Balfour) of a recently deceased and their two daughters, Aster (Sophie Nélisse) and Talulah (Abigail Pniowsky). The male villain in this case of a female-dominated story is the deceased male who clearly has left his new wife penniless.
The film relates several relationships - between mother and daughter, between the ex-wife and wife and between daughter and step-mother. There are lots of potentially interesting material to be used, and the script by Ash takes advantage of the fact for its use.
Young actress Sophie Nélisse has the role of a lifetime as the daughter from hell. She intimidates both her mother and her late father's ex-wife who is staying with them. When told of her father's death by her mother by drowning in the bathtub while suffering a heart attack, her response is that she did not know he took baths. When Rachel tells her that she is married to her father and not her father's mistress, she replies: not any more..". Credit too, goes to the clever dialogue from the script by Alanna Francis.
THE REST OF US is an impressive debut feature by Canada's Rising Star (by Now Magazine 2019) who now proves to be a director to be reckoned with. A few interesting facts on Ash, as she is often called due to the Irish spelling of her name, include the fact that is the co-founder of the #AfterMeToo movement. Her film reflects the resilience of women, and how they aid each other under extenuating circumstances. Aisling is also an award winning producer of feature films, Rhymes for Young Ghouls, Last Woman Standing, The Saver and Inside These Walls, and has written and directed the short films, Sound Asleep and the multi-award winning documentary, Synesthesia.
Director Ash seems to be a male hater, as evident in several points in the film. For one, the dead man seems to have not cared for either wife, especially not for the second one, leaving her debts instead of an inheritance. "That's how men are…" is the comment made to Aster. Rachel (Judy Balfour) when she asked her girlfriend about a boy called Nathan.
The film has won a prize for Best Sound Editing at the Directors Guild of Canada and had been nominated for Best Canadian Feature at last year's Toronto International Film Festival.
THE REST OF US is a sweet Canadian drama celebrating the resilient of women. Too bad it had to put down the male species so much.
Trailer: https://www.imdb.com/video/vi4249272089?playlistId=tt8584722&ref_=tt_ov_vi
THE SURROGATE (USA 2020) ***
Directed by Jeremy Hersh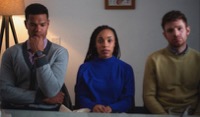 Written and directed by Jeremy Hersh, THE SURROGATE is an occasionally moving drama on a controversial issue. The film begins with a black girl, Jess (Jasmine Batchelor) deciding to be THE SURROGATE for her best friends, a gay couple Josh (Chris Perfetti) and Aaron (Sullivan Jones). In the film's first 5 minutes, she is tested positive for pregnancy and the three celebrate the pregnancy. But when they do prenatal tests, they discover that the baby is tested positive for Down's Syndrome.
The shock is enough to turn friends into enemies and this seeming comedy into controversial drama.
It is best that some background of Down's Syndrome be known in order to appreciate the message of director Hersh's movie.
Hersh has done thorough research for the movie and it is fair that audiences read up a bit on it prior to viewing his movie. Down syndrome or Down's syndrome is a genetic disorder caused by the presence of all or part of a third copy of chromosome 21. It is usually associated with physical growth delays, mild to moderate intellectual disability, and characteristic facial features. It is good to know that the average IQ of a young adult with Down syndrome is 50, equivalent to the mental ability of an 8- or 9-year-old child, but this can vary widely. The child that the gay couple will rear will face difficulties and raising one requires great commitment and love. The film emphasizes the parents of the affected individual are usually genetically normal. So there is no blame as to whose genetics is responsible. Down Syndrome can be identified during pregnancy as it is in the film by prenatal screening. Since the introduction of this screening, pregnancies with the diagnosis are often terminated. And this is the issue of Hersh's film.
So what happen after the prenatal discovery is that the gay couple decide to abort the child but Jesse decides to keep to and rear it on her own.
Hersh's script paints Jesse as a worthy saint with flaws. As a person, she works hard and has a solid job at a non-profit organization But she cannot commit to a relationship. She confesses to her boyfriend that she does not want a relationship as she cannot decide where she will be a year from then. When she asks her parents for her grandparents' trust money to buy a place and raise the kid, her parents say no. The confrontation between Jesse and her mother (Tonya Pinkins) marks the film's best segment. Pinkins is simply an incredible actress, having won numerous awards in theatre. The other confrontation scene between Jesse and the gay couple marks the film's second best scene. He takes no sides in the film. The arguments are solid. Director Hersh also makes his audience see both sides the argument. There is no right or wrong. One admires Jesse's dedication to do good in changing the world but she is imperfect and unstable at times.
Despite the large amount of data contributed Jesse's character (the audience sees her at work, with her mother and her sister and in her other friendships) where hardly anything is known of the gay couple. Except for a brief meeting of the couple's gay friends at a coffee shop and a hint of Aaron's work in his law film, nothing is known about either Aaron or Josh. The focus on Jesse takes away some of the importance of the issue of Down's Syndrome at hand.
THE SURROGATE opens ones eyes to the little seen problem of raising kids with Down's Syndrome. Thankfully, the film ends with an open ending as anything else would be trivializing the situation.
Trailer: https://www.youtube.com/watch?v=OQ2o-AIfeYA