15
Jun
2020
Details

Category: Movie Reviews
Written by Gilbert Seah
With cinemas still closed in most parts of Canada, new films can still be found on digital and similar platforms, virtual theatres and streaming services. Below are the new films released this week and how to watch them.
FILM REVIEWS:
MR. JONES (UK/Ukraine/Poland 2019) ***1/2
Directed by Agnieszka Holland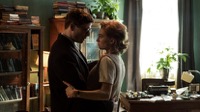 It has been a while since Polish born director Agnieszka Holland trained in the Czech Republic graced the screen with her atmospheric period war dramas. Holland, known for excellent films like ANGRY HARVEST (1985), EUROPA, EUROPA (1990) and OLIVIER, OLIVIER (1991) returns with her Berlin International Film Festival debut MR. JONES, a biography with thriller elements, set pre-WWII. This is the true story follows a Welsh journalist, Gareth Jones (James Norton) as he breaks the news in the western media of the famine (now known as Stalin's Holodomir) in the Soviet Union in the early 1930s. The Soviet Union wants the news suppressed and goes to extraordinary lengths at silencing the truth. Hence, the thriller element.
MR. JONES is described in the press notes as a biography and thriller. Holland's establishes the fact that it is a story of Gareth Jones from the very beginning of the film where the audience sees him being laid off work as a journalist and researcher, the company falling onward times. His commitment to uncover the truth takes him to the Ukraine where he opts to interview Stalin. So far Gareth has had success in managing the task of interviewing Hitler. But this new formidable task proves even more difficult especially when his colleague who has uncovered the truth has been silence by the Authorities. Spies are not taken lightly in the Soviet Union, which Gareth is about to find out. The film then turns into thriller mode.
As in all of Holland's films, MR. JONES is a handsomely mounted period piece. Even if the narrative does not all come together, her films are always glorious to behold. The same can be said here, courtesy of her d.p. Tomasz Naumiuk. The film's most stunning scene takes place in the rail carriage of a train transporting dozens of starved residents. The only light visible comes from the daylight that creeps in through the cracks of the wooden walls of the carriage. It is depressing grey outside, so that the film, though shot in colour often looks like a black and white film. Other stunning scenes involve Gareth running through the woods covered with snow on the ground trying to escape the soldiers.
The dialogue by Andrea Chapula contains Russian poetry indicating the hardship and poverty of the pope. Consider the words of the poem recited by children out loud twice in the film: Hunger and cold; Are in our house; Nothing to eat; Nowhere to sleep; and our neighbour; has lots his mind; and eaten his children. The words of ANIMAL FARM, the novel by George Orwell (played by Joseph Mawie) mention that the pigs on the farm are no more recognizable from human beings; words that echo the then current state of the Soviet Union.
The atmosphere is enhanced by the superb music originally written and assembled by Antoni Lazarkiewicz. Whether heard on the soundtrack during the lavish parties that Gareth attends or the more intimate romantic moments in his room with his love interest Ada (Vanessa Kirdby), the music makes its mark.
The film also marks a solid triumph for the truth in journalism.
How to view MR. JONES:– June 19th EST, July 3 VOD
Trailer: https://www.imdb.com/video/vi392806169?playlistId=tt6828390&ref_=tt_ov_vi
THE REST OF US (Canada 2019) ***
Directed by Aisling "Ash" Chin-Yee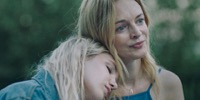 First to note that there are two films released this year with the same title THE REST OF US, the other from the U.S. about suicide at a University campus following 9/11.
A really unusual premise for a film, THE REST OF US boasts a story that revolves around an unusual alliance - the friendship between a wife, Cami and the ex-wife, Rachel (Jodi Balfour) of a recently deceased and their two daughters, Aster (Sophie Nélisse) and Talulah (Abigail Pniowsky). The male villain in this case of a female-dominated story is the deceased male who clearly has left his new wife penniless.
The film relates several relationships - between mother and daughter, between the ex-wife and wife and between daughter and step-mother. There are lots of potentially interesting material to be used, and the script by Ash takes advantage of the fact for its use.
Young actress Sophie Nélisse has the role of a lifetime as the daughter from hell. She intimidates both her mother and her late father's ex-wife who is staying with them. When told of her father's death by her mother by drowning in the bathtub while suffering a heart attack, her response is that she did not know he took baths. When Rachel tells her that she is married to her father and not her father's mistress, she replies: not any more..". Credit too, goes to the clever dialogue from the script by Alanna Francis.
THE REST OF US is an impressive debut feature by Canada's Rising Star (by Now Magazine 2019) who now proves to be a director to be reckoned with. A few interesting facts on Ash, as she is often called due to the Irish spelling of her name, include the fact that is the co-founder of the #AfterMeToo movement. Her film reflects the resilience of women, and how they aid each other under extenuating circumstances. Aisling is also an award winning producer of feature films, Rhymes for Young Ghouls, Last Woman Standing, The Saver and Inside These Walls, and has written and directed the short films, Sound Asleep and the multi-award winning documentary, Synesthesia.
Director Ash seems to be a male hater, as evident in several points in the film. For one, the dead man seems to have not cared for either wife, especially not for the second one, leaving her debts instead of an inheritance. "That's how men are…" is the comment made to Aster. Rachel (Judy Balfour) when she asked her girlfriend about a boy called Nathan.
The film has won a prize for Best Sound Editing at the Directors Guild of Canada and had been nominated for Best Canadian Feature at last year's Toronto International Film Festival.
THE REST OF US is a sweet Canadian drama celebrating the resilient of women. Too bad it had to put down the male species so much.
Trailer: https://www.imdb.com/video/vi4249272089?playlistId=tt8584722&ref_=tt_ov_vi
THE WALRUS AND THE WHSTLE BLOWER (Canada 2020 ) ***1/2
Directed by Nathalie Bibeau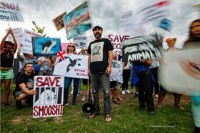 THE WALRUS AND THE WHSTLE BLOWER is a stranger-than-fiction tale of a Marineland trainer turned whistleblower, Phil Demers who sparks an online movement to end marine mammal captivity.
The doc contains three stories. One is, as the titles implies, is that of Marineland's whistle blower, Phil Demers and a walrus known as Smooshi that he saves from abuse. Smooshi arrives at mainland as a baby, likely caught by Russians in the wild. The other is of Marineland, the famous theme park in Niagar Falls featuring rides, marine creatures and land animals, founded in 1961 nu John Holder that was responsible in animal abuse, thanks to a whistleblower, Phil Demers and other ex-employees and the third a subplot involving the Canada's litigation system. All three are equally interesting, though their stories may be familiar to audiences from news regarding animal rights activists storming Marineland in the past.
One of the key points that the film makes is the dynamics of a litigation. A pissed off Demers says on radio interview at the one hour post of the film: "I want to go to trial (and hopefully win), not to negotiate. He confesses that he is disappointed with his lawyer, Run who explains that this is how the judicial system works, with very few cases actually going to trial. Demers says that he is akin to 90% of the population who do not understand but this is the way the litigation system works. This fact is absolutely true. When one gets arrested, for example by the cops, they plead guilty to a lesser charge for fear that they might be found guilty even when innocent, thus getting a police record even when innocent. This way, more and more people get a record resulting in the police gaining full time employment. Someone also once told me; "How can they be justice on stolen land?" The film also goes on with Bill-21 illustrating the red-tape, pain and money involved in proposing a bill. The bill was finally voted upon and passed, though the walrus Smooshi never benefited from it.
Despite the film being a crowd pleaser, it is a very say story. How sad would it be for anyone if the person or animal you loved is so close by and ill with a high chance of dying and there is little that you could do? Demers is in this sad condition and forced to relive the fact living so close to Marineland when Smooshi was ill and still there. On a positive note, Marineland has announced that Smooshi the walrus had just given birth to a baby walrus.
THE WALRUS AND THE WHSTLE BLOWER is this year's top winner of the Hot Docs Audience Award. It premiered at Hot Docs Canadian International Film Festival May 28th and has been launched across screens on CBC main network and CBC's streaming service Gem.
Trailer: (unavailable)
YOU DON'T NOMI (USA 2020) ***
Directed by Jeffrey McHale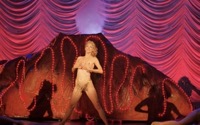 YOU DON'T NOMI is a documentary made on the 1996 Razzie Award winner for Worst Picture, Paul Verhoeven's SHOWGIRLS and explores how the film crawled back from a disastrous release to cult status and redemption. SHOWGIRLS was panned by most critics (not by myself as I wan not reviewing films at that time). Though it was touted as totally cheesy and a blast for the gay community, I did not think it too much, being gay. I recalled that I was not that turned off nor impressed by the film. This is case of hearing too much hype on a film before seeing. I was studying form my MBA at that time, which was more important than watching film about a sexy showgirl making it big in las Vegas by stepping over anyone who gets in her way.
McHale's doc is as bold as Verhoeven's SHOWGIRLS. McHale makes sure he includes all the controversial scenes especially the ranch sexy ones, like Nomi's lap dance with Kyle McLachlan. Yes, its looks as stupid as it is erotic. McHale makes the assumption that his audience will be convicted that SHOWGIRLS is not only an exceptional film but one that is with a second look. One cannot fault a person for his beliefs and he almost gets away with it. The only trouble is that once SHOWGIRLS has been watched, the shock value is gone. s a critics, my best test for an exceptional film, whether exceptionally good or bad, is that it should offer insight on a repeated viewing. SHOWGIRLS does not but McHale makes the audience believes otherwise.
Verhoeven as a director has made a few excellent films among them TOTAL RECALL and THE FOURTH MAN in Dutch when he was still working in the Netherlands. His other Dutch film like SPETTERS and MAN OF ORANGE are film classics. Mchale includes clips of many of Verhoeven's past films, which makes this doc more interesting to watch though not relating the films to the issue at hand. The audience can witness Verhoeven as a visionary from his past films.
Director McHale enlists the services of several film critics to say more than a few words about SHOWGIRLS. The selection includes Toronto's own Adam Nayman who has written an entire book on SHOWGIRLS. McHale allows him Carte Blanche to have his say, but odd that he did not show him in person. But one can see the connection between Nayman and McHale. McHale has made an entire doc on SHOWGIRLS where Nayman written a book it. These two must share a lot in common and lots to talk about.
YOU DON'T NOMI ends up as interesting a watch as SHOWGIRLS is as interesting a film. It is often said that a documentary is often judged to be as good as its subject. McHale celebrates controversy and cheesiness. Can one complain? After all, Hollywood is also famous for all its cheesiness.
Trailer: https://www.imdb.com/video/vi499760665?playlistId=tt10011412&ref_=tt_pr_ov_vi