24
Jun
2020
Details

Category: Movie Reviews
Written by Gilbert Seah
FILM REVIEWS:
HAMMER (Canada 2019) ***
Directed by Christian Sparkes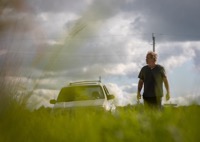 The second feature of Newfoundland's Christian Sparkes after his impressive 2014 debut CAST NO SHADOW shows the director in solid form with a good old-fashioned thriller about a troubled father and son relationship put to the test.
A father, Steven Davis (Will Paxton) faces a personal crisis when he discovers his estranged son Chris (Mark O'Brian) is fleeing a botched drug deal. The two men embark on a violent odyssey that grapples with themes of fatherhood, family and fate.
Sparkes' film is immediately differentiated from other films from its maintained atmosphere of angst that is felt from start to end of the film. It is as if director Sparkes had pushed you to the edge of your seat and you are hanging in there not to fall out. Whether the son is in the jewellery store trying to pawn off a ring, there is always something in the background that the audience would just wish the son would get the money right over with before something drastic else happens or whether the father is on the phone with his wife that something else is happening as well.
HAMMER is pretty much a male film with females left to the side. The girl in the botched drug deal is shot an just left to die in the corn field. The mother in the family has nothing much to do either, but to say a few comments of why she is not involved in the troubles. This is a male's world and it is expected that the male get themselves out of the troubles which they themselves got themselves in. This means that the target audience of the film is halved. But to the script's credit, the wife is given effective lines to say.
The film has a short running time of only 82 minutes, which is good as it does not have time to lag, which it does not. Sharp and to the point, the film is.
There is nothing to complain in the the acting department. Paxton is scruffy looking from start to end, which means he does not need any time to dress up for his role. He is given one scene to show his acting chops - the one where he breaks down crying in the car. Mark O'Brian is a real hottie who also is not bad and convincing enough in the role of his troubled son.
The film's setting could be anywhere in Canada or even in the United States. A lot of the action takes place in farmland. The cinematography by award winning cinematographer Michael Robert McLaughlin of the wide open spaces including the corn fields deserves mention and is gorgeous to look at.
The film suffers from a satisfying climax because anything else that might happen might seem too ridiculous or stereotype. It ends in reality and reality could not be over exciting. One must give writer/director Sparkes credit for not compromising.
The film will be released and can be seen as follows:
May 26 - EST and VOD (English Version)
July 7 - EST and VOD (French Version)
July 7 - DVD and Blu-ray
Trailer: https://www.imdb.com/video/vi2614476313?playlistId=tt6853934&ref_=tt_ov_vi
IRRESISTIBLE (USA 2020) ***
Written and Directed by Jon Stewart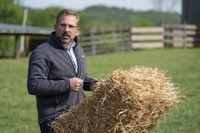 IRRESISTIBLE is talk how host Jon Stewart's debut as writer and director of a political comedy. One might think it to be a solid effort given Stewart's success as a talk show host. But his foray as an Oscar host proved otherwise resulting in one of the dullest Oscar ceremonies that I have watched or perhaps even on record. His debut film?
The simple plot line for the movie reads: A Democratic strategist helps a retired veteran run for mayor in a small, conservative Midwest town.
For the first half of the film, the audience sees a city misfit trying to fit into the country living style of America. Ot is a good comedic premise and everyone has seen Oliver Douglas being a misfit in the country in the very funny though silly, hit TV-series GREEN ACRES. Steve Carell plays the Democratic strategist, Gary Zimmer. The film takes a whole 20 minutes or so at the start to offer the reason he has to travel to the country to seek the aid of war veteran Jack Hastings (Chris Cooper) help in his political campaign. But this is unconvincing and just an excuse for low brow GREE ACRES humour. So, the audience sees many unfunny parts - Gary trying to open a twist off beer bottle; getting uncomfortable by seeing Jack's pretty daughter (MacKenzie Davis) in a cow trying to pull out a calf at birth among other things. Stewart is not that observant as a director and the previous scene is not even noticed till it is mentioned in dialogue in the following scene.
Stewarts's film is not short of good actors. Steve Carell can be funny as well as dramatic as witnessed in Bennett Millers 2014 hit FOXCATCHER in which Carell was nominated for an Academy Award. His performance is matched no less by Oscar Winner Chris Cooper (ADAPTATION) as the hard-lined war veteran. The script hands the role of 'chief schmuck' to Carell. Carell creates a most despicable political character, a two-faced manipulator but still manages to elicit some sympathy from the audience at the end.
IRRESISTIBLE is less funny than anyone episode of GREEN ACRES. Thankfully, Stewart's film improves during the second half where he concentrates more of the dirt of politics. "Good people have to do shitty things for the greater good…" is one of the lines used, but Stewart shows in his film that there is more than meets the eye. The film succeeds in its plot twists (that will not be revealed in this review), and this makes the movie. The low-brow humour for example, mentioning the romance between rivals Faith (Rose Byrne) and Gary as the toast of NYC and L.A. amidst a toaster is pretty desperate humour.
Credit to the wardrobe department? Carell wears a shirt in one scene that I have and bought for $100+ at the Hudson Bay.
How to view the movie: Starting on June 26th, IRRESISTIBLE will be available on demand for a 48-hour rental period for $19.99.
Trailer: https://www.imdb.com/video/vi4140744217?ref_=tt_pv_vi_aiv_2
SOVEREIGN SOIL (Canada 2019) ***
Directed by David Curtis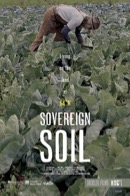 How much does one know of ones country? This question is more relevant when the country happens to be Canada, a country so large that it reaches into the Arctic Circle. Living in say, the largest city in Canada, Toronto, a Torontonian will likely be unaware of what is going on in say, Dawson City, way up north in the Yukon. Dawson City is just several miles south of the Arctic Circle. SOVEREIGN SOIL serves to education the ways of farming the land.
Sounds boring? But far from it, SOVEREIGN LAND is as much an education as an unforgettable experience. Every human being eats off the land and should know a bit of the process of farming Dawson City has rich black soil, full of organic minerals, and surrounding it wild animals, rivers and lots of woods.
One would obviously question the choice of interviewees director Curtis had selected for his documentary. Those chosen are not experts, officials or agriculturalists but some farmers who have worked the land and indigenous people who lived the land.
The film explores and reveals what it means to living off the land, as seen through the eyes of the contemporary people living it. Among them are a German immigrant farmer (one can tell obviously as he has not lost his German accent), a matriarch of a family who humorously describes how she shot and butchered a moose for the family to eat, an indigenous youth who became a farmer instead of a hunter and a young family who taps syrup from birth trees. Curtis' film moves on at a leisurely pace so that the audience can relax and digest the information easily. The film is undoubtedly an eye-opening experience in which one need not have to travel to the Yukon to know what is going on there. The different subjects are intercut so that every person is put into context as to was they have to say. Each subject are equally interesting and director Curtis gives them equal screen time.
Director Curtis also blends in current issues to his film. Females are also put into prospective into an environment which could be mainly male. The caring of the elderly is also brought into focus.
Among other topics examined in the film is the sheltering of trees. Trees need to be saved from the harshness of winters. The plants have to be kept happy as they give to human beings what they put in. As one elder First Nations subject says: "Every plant has something."
The effect of climate change is also brought into the picture as it affects the lives of these peoples. One cannot deny the devastating effects of climate change.
Curtis' film is short of a climax, which is understandable as this is no Hollywood film. It ends on a sober note that is expected from a film with this theme.
The film is now available in collaboration with Toronto's Revue Cinema as part of the virtual release. Streaming is available for at least 3 weeks from June the 17th.
Trailer: https://www.youtube.com/watch?v=CzUsQTogtaA
STEALING SCHOOL (Canada 2019) ***1/2
Directed by Li Dong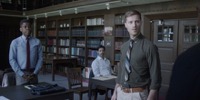 STEALING SCHOOL feels and works like a courtroom drama - except that it is a student tribunal where accused Asian student April Chen (Celine Tsai) stands trial for plagiarism. There are lots at stake for everyone in the tribunal as it soon becomes apparent, the accused, the accusers the board and other associated persons.
A week before her college graduation, April Chen, a Chinese-Canadian tech prodigy, is accused of plagiarism by an unrelenting teaching assistant and must fight to prove her innocence in a secret trial held before an academic tribunal made up of the college academics. As the day progresses, the motives and interests of all parties concerned are slowly exposed to reveal a complex web of corruption, greed and moral failings.
STEALING SCHOOL is a very impressive debut by writer and director Li Dong. He has a lot to say about the school system while infusing his ethnic roots into the script. He criticizes the value of the school's or any institutions's diploma as observed at many points in the film. The most obvious is when a witness who gets paid to write students essays says it out direct when questioned why she does this, answering that institutions likewise get paid for dishing out diplomas. Another, slightly more subtile comment is made when it is mentioned that April could get a job in Silicon Valley even without a diploma. The politics of Canadian institutions also come into criticism by director Li Dong. He questions the need of Canadian universities to do just as well, if not better than their American counterparts, especially on the issue of Asian acceptance. Li's treatment of plagiarism is also admirable in the detail that has gone into the script. Li has obviously done much research.
On the other hand, the supposed villain of the piece is the TA (teaching Assistant) who accuses April of plagiarism. TA, Keith Ward (Jonatahn Keltz delivering an exceptional performance) would stop at nothing to indict April. It is as if this is his chief mission in life. This is all Ward has in life which makes him more a pitiful character rather than a despicable one. But as the story progresses, it turns out that others in the tribunal are no less guilty of questionable deeds. Not even the supposed innocent April Chen is innocent, though nothing more should be said in order not to reveal any spoilers. The script puts April for full audience sympathy as not only her parents but her grandparents have flown in from China to attend her graduation which she might no be able to participate if found guilty for plagiarism.
The well-written and directed film is an absorbing watch from start to end, running at an efficient crisp time of an hour and 10 minutes. Acting all around is superb with no complaints in the main and supporting roles. Theonly complaint is the fact that April Chen is able to speak almost perfect English which is impossible for a studnet who has come from China to Canada to study.
It will be an eager wait to catch Li Dong's next feature. Dong has managed to combine his personal commitment into his filmmaking creating a superb emotional entertainment in the process.
The film is is available on June 23 on Apple TV and iTunes.
Trailer: https://www.youtube.com/watch?v=6NiNcNIqXqo