09
Jul
2020
Details

Category: Movie Reviews
Written by Gilbert Seah
The ICFF Lavazza Drive-In Film Festival July 2020
The ICFF (International Contemporary Film Festival) takes on a different format this month of July as a result of the Covid-19 pandemic. It is a new initiative with huge screen built at Ontario Place. The Lavazza Drive-In Film Festival is a 12-night series, featuring a selection of the latest not only Italian but international films from countries most affected by the recent COVID-19 pandemic, including France, China, Russia, USA, UK, Brazil, India, Canada and Italy.
Following the Toronto event, a continuation of the Focus on Italy series will take place in the city of Vaughan.
After months of isolation, The Lavazza Drive-In Film Festival will provide Canadians the perfect opportunity to engage with the community once again, in a safe and physically-distanced manner.
A portion of ticket sales will be donated to the Canadian Red Cross. The event is presented in partnership with Ontario Place, the Embassy of Italy, Rogers Communications, Christie Digital, LiUNA, Rio Mare, the Istituto Italiano di Cultura a Toronto; is sponsored by Pizza Nova; and is supported by media partners OMNI and RAI. Please find official event poster attached.
I have previewed selected films screening links provided courtesy of the ICFF, to aid you decide which films suit you taste.
See Promo clip:
https://mail.google.com/mail/u/0/#inbox/FMfcgxwJWhxQPDKJLNXQbzrxpKkRbTDt?projector=1
For complete list of films, dates and times, click on link below. Prices are also listed under Box-Office: I Car 1 Person: $20 ; 1 Car 3-5 Persons: $60)
CAPSULE REVIEWS OF SELECTED FILMS:
BACK TO MARACANA (Israel/Brazil 2018) ***
Directed by Jorge Gurvich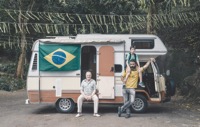 Itai is the young spoiled son of separated Brazilian father and Israeli mother. He travels to Brazil's Rio de Janeiro during the 2014 World Cup with his dad and grandfather both soccer fanatics. Many will remember that Germany won the World Cup and Brazil lost them in the semi-finals, the setting of the film's climax. It is good to watch films that tie the World Cup results into it script like this film and the recent LES MISERABLES set during the day in Paris when France won the World Cup in 2018 (the day I myself was in action in Paris). The film is both about the love of soccer and the family drama that ensues. Despite the love for soccer. director Gruvich's film shows the destructive elements of soccer fanaticism. A good enough script aptly made into a film that is initially erratic but finally comes together at the end. By the way, Maracana is the name of the stadium where the World Cup soccer matches were played.
Trailer: (unavailable)
(Opening Night Movie)
THE CUBAN (USA 2020) *
Directed by Sergio Navarretta

The film about a frontline worker, Mina (Ana Golja) connecting with a dementia patient in a nursing home is especially relevant in the difficult times of Covid-19. It highlights the important role a caregiver plays in his or her daily duties. Mina goes out of her way to make THE CUBAN Cuban food while playing him Cuban jazz to awaken him out of his dementia. But the film does come with its cliches. The hospital authorities frown on Mina's acts, admonishing her that one needs to follow hospital procedures. How does music connect with the brain? The film shows, naively that the information get be obtained through Google, as Mina uses Google on her laptop to find her information. But in the filmmakers aim to make a feel-good movie, THE CUBAN ends up with quite the few unbelievable segments. The audience is led to believe that this old man with dementia can suddenly open up after eating Cuban food and listening to Cuban music and begin talking again like a normal human being. The connectivity between Maria and him is also too good to be true. They become fast friends. Though the film won the Audience Award at the L.A. Pan African Film Festival, this manipulative feel-good film is almost, for film critics unwatchable.
Trailer: https://www.imdb.com/video/vi140361497?playlistId=tt7671124&ref_=tt_pr_ov_vi
I HATE SUMMER (ODIO L'ESTATE)(ITALY 2020) ***1/2
Directed by Massimo Venier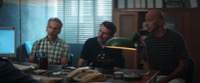 What happens when 3 families accidentally book the same vacation house? Aldo Baglio, Giacomo Poretti and Giovanni Storti play 3 husbands who find their families in his predicament. The families abhor each other but eventually bond to discover happiness and friendship. Sounds corny? It is but director Venier is in solid form with his 3 leads, whom he has worked with before. Giancomo is a struggling shoeshop owner, Giovanni a dis-respected dentist and Aldo (the funniest) as the laziest of the lot who sits in a wheel chair for show. The antics are funny enough, including a good one in which the three cannot agree how to call for a lost dog. The wives have good lines including skinny-dipping and smoking joints as well. Director Venier pokes fun particularly of stereotyped Italian behaviour adding subtle note to the comedic proceedings. Director Venier demonstrates his skill at making comedy look so effortless as reties his tidy comedy to a wonderful feel-good climax. Corny but everyone loves a bit of corniness in ones life.
Trailer: https://www.imdb.com/video/vi1533919001?ref_=tt_pv_vi_aiv_1 (no Eng sub-titles)
MAGARI (IF ONLY) (Italy/France 2019) ****
Directed by Ginevra Elkann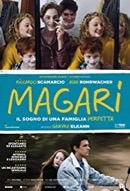 IF ONLY the kids' divorced parents are back together again. The three children are boys Seb and Jen and the youngest girl, Alma from whom gives the point of view of the story. They spend 2 weeks with their Italian dad (Riccardo Scamarcio) in Italy before moving permanently to Canada with their French mum and stepfather. Do not let the family label of the film put you off. As much as I myself, dislike sappy family films, MAGARI is a totally charming film from start to finish that will grab your attention and glue you to the plot. Director Elkann knows how to work the emotions of the audience as in the film's most moving scene where the three children embrace in a group hug when realizing that their father wants to abandon them. The film, set in the 70's where there are no cell phones and Marcello Mastroianni was still hot in demand as an actor, is shot in both French and Italian with English, Italian and French subtitles. Clearly, the best film of the Lvazza Drive-In Film Festival. Pack your whole family into the car and go see this one.
Trailer: unavailable
THE PEANUT BUTTER FALCON (USA 2019) ***
Directed by Tyler Nilson and Michael Schwartz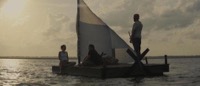 Written and directed by Tyler Nilson and Michael Schwartz, THE PEANUT BUTTER FALCON gets its inspiration from Mark Twain's THE ADVENTURES OF HUCKLEBERRY FINN. The setting is around the Mississippi River where crab fishing is common and boats motor around the high grown reeds. Tyler (Shia LaBeouf) is a crab fisherman who is upset with his work and lifestyle and acquaintances. The other character is Zak (Zack Gottsgen), a teen with Down's Syndrome. He is sent to a home under the care of a sympathetic social worker, Eleanor (Dakota Fanning). Zak escapes with the aid of a resident (Bruce Dern) with Eleanor in pursuit. Zak dreams of becoming a wrestler and hopes to travel to a wrestling school conducted by his hero, with the professional name Salt Water redneck (Thomas Haden Church). Gottsgen as the Down Syndrome kid is utterly winning and charming in his naive and goofy way, holing his own and often stealing the limelight from LaBeouf and his other co-stars. The impressive and authentic setting soundtrack brings together bluegrass, folk songs, and spirituals, for a mix of contemporary and timeless.
Trailer: https://www.youtube.com/watch?v=ACze83fG4wM
SHEEP WITHOUT A SHEPHERD (China 2019) ***1/2
Directed by Sam Quah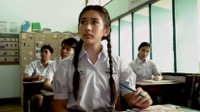 Re-make of an Indian/Malaysian film DRISHYAM, SHEEP WITHOUT A SHEPHERD is the Chinese box-office champion in 2029 that looks like the typical Hollywood action flick where a protagonist has to fight thugs to save his family. The father in this case is a Chinese living in Thailand. His daughter has been taken advantage of by the Thai son of a politician and police chief and accidentally killed by mother and daughter. So, it is up to father, trying to bring his estranged family together as well as protect them. Why the film is set in Thailand is a mystery, perhaps to give the film a more exotic flair. It is odd that this apparently backed u Chinese production puts down a corrupt government, though it be the Thai, which likely could stand in for the Chinese government. It is not the typical action flick where the father is a martial-arts champion fighter. He is in this film, an ordinary man using brain instead of brawn trying to save his family, a scenario that includes two surprise plot twists that makes the film more credible.
Trailer: https://www.youtube.com/watch?v=9BSXUkUkwA0
TOMORROW'S NEW DAY (Domani e un Altro Giorno) (Italy 2018) **
Directed by Simone Spada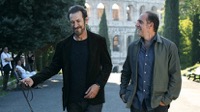 TOMORROW'S A NEW DAY is a drama with a little comedy that tells the story of two friends, the taciturn Tommaso and the exuberant Giuliano - the former lives in Canada, while the latter is in Rome. When Giuliano, who is seriously ill with lung cancer, makes an irreversible decision, Tommaso overcomes his fear of flying and visits him in Rome to spend their last four days of friendship together. The two are not alone: the third star is the Giuliano's dog, called Pato. The film is light in the way Giuliano dismisses death the way Tommaso seems to be uptight about everything else. Director Spada's film unfortunately is full of melodrama as can be clearly observed by the many hugging scenes. Dying man teaches boring life long friend how to live and living man teaching the other how to die. How more cliched can a film get? The film is a difficult watch in the way an upcoming death is dealt with.
Trailer: https://www.imdb.com/video/vi4067867161?playlistId=tt8664050&ref_=tt_ov_vi