16
Jul
2020
Details

Category: Movie Reviews
Written by Gilbert Seah
FILM REVIEWS:
FATHER SOLDIER SON (USA 2020) ****
Directed by Catrin Einhorn and Leslye Davis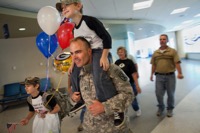 FATHER SOLDIER SON is a gruesome often difficult-to-watch earnest sensitively made documentary about life with all the bad that comes with it. Whether one is in the military or not, the doc will still be emotionally riveting and often powerful.
This intimate documentary is a New York Times production. A bit of background on its making enhances the appreciation of the documentary. Originating as part of a 2010 project on a battalion's yearlong deployment, New York Times reporters-turned-filmmakers Catrin Einhorn and Leslye Davis stuck with the story to trace the longterm effects of military service on a family - the Eisch family.
This is an 11 year filmed story. It begins with the father, Brian, a single father coming home for a two week furlough, being deployed in Afghanistan. They are greeted by sons Isaac and Joey who worship their dad. Brian Eisch, is a decorated, third generation soldier who spends most of their childhood deployed in Afghanistan while other family members care for the boys. When Brian is injured and returns home a different man, all three must reconcile with the aftershocks of war. As Brian fights to retain control of himself and his loved ones, fate continues to challenge his belief in justice and self-determination. Catrin Einhorn and Leslye Davis's personal document of a family in stress takes the audience for a long haul with the family from Brian's re-marrying to Maria (the marriage proposal and wedding ceremony are both filmed) right down to the elder son Isaac finally entering the military and graduating from recruit combat training. Fate is not kind to the Eisch family, though details of the story will not be revealed in the review.
But besides what appears on screen to the Eisch family, there is another story that is told, while reading between the lines. Brian is proud to have sacrificed his all, performing his duty proudly for country. There are a lot of Americans in the same boat. But Brian is not the sharpest tool in the shed, as he himself admits. He did not get good enough grades to enter college and he does not think Isaac is able to complete college either. Enlisting in the military or working for Walmart might be the only other options.
FATHER SON SOLDIER ends up as a study of American masculinity and generational tragedy follows the Eischs. There is sacrifice but mostly anguish and pain. The one scene where Brian loses his temper at his amputated leg not healing fast enough for prosthetics is incredibly moving. The narration mentions Brian being impossible to live with, him losing his temper at his children and Marian half the time. Fortunately, the audience is spared from witnessing more of such outbursts.
One must admire the family for allowing directors Einhorn and Davis to shoot many candid scenes - many of them (like the funeral and wedding ceremonies, the hospital scenes) which are really personal ones in order for their story to be told. Indeed, this is a story that needs be told so that those in Government will realize the toll affecting the country that results from their often brash decisions.
FATHER SOLDIER SON is a Netflix original documentary that premieres on Friday July the 17th.
Trailer: https://www.imdb.com/video/vi269008409?ref_=tt_pv_vi_aiv_1
THE OUTPOST (USA 2020) ***
Directed Rod Lurie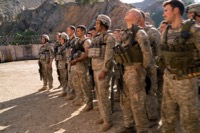 THE OUTPOST is all about soldiers based in an outpost, which is adapted from the best-selling nonfiction book The Outpost: An Untold Story of American Valor by CNN's chief Washington correspondent Jake Tapper. The film chronicles the true story of the 53 U.S. soldiers who tried to repel an overwhelming attack by almost 400 Taliban insurgents at Combat Outpost Keating in northeastern Afghanistan.
The film's press notes claim that this is the most heroic American battle in a generation – as two soldiers, Staff Sergeant Clint Romesha (played by Clint Eastwood's son, Scott Eastwood, looking as well as sounding very much like his father) and Specialist Ty Carter (Caleb Landry Jones from THREE BILLBOARDS OUTSIDE EBBING, MISSOURI) received the Medal of Honour, the first time in fifty years that two living servicemen were recognized with the award for the same battle.
The film spends a lot of time showing what macho men do when stuck together without women. So what do they do? Exactly as what would be expected. They cuss and swear half the time. If not fighting or arguing with each other, they make degrading remarks about almost everything. Of course, each will act as if he is more superior regarding masculinity. If not for watching the men behaving badly, they are being shot at, by unknown and often unseen forces, mostly at night. They retaliate, fight and shoot back, but no victory is apparent on either side. The first 30 minutes of the films pretty much the same with all this goings-on and become quite repetitive with no clear narrative. The only one character that stands out is the Captain Benjamin Keating (Orlando Bloom) as the men resort to him and he has the most say during the 30 minutes.
The suspenseful segment involve the trucks driven during the night in the mountain terrain - taking a whole night to travel some 10 odd miles, looking like something stolen from Henri-Georges Clouzot's 1953 thriller, LE SALAIRE DE LA PEUR.
When the new commander arrives, the men question what he might do next. "Close the outpost down?" one asks. If only and why not is the question indeed.
The overall atmosphere of the film creates a mistrust of the Afghans. They do not seem to honour any agreement and seem all out dishonest. They are depicted sitting in groups speaking their own language, scoffing the intent of the American soldiers, who are equally questionable at honouring their promises. This is clearly a no-win situation, which could result in an all-out war at any moment.
The sudden attacks and explosions, as in war films (example: the going off of land mines in the 2015 Danish film, Martin Zandvliet's LAND OF MINE) always occur when audiences least expect. In this case, two soldiers could be chatting about their dads in the military when they get blown up.
THE OUTPOST feels at times like Ridley Scott's excellent 2001 BLACK HAWK DOWN though it never reaches those heights. Still, director Lurie has created a realistic atmosphere of what hell must be like or any soldier stationed in an outpost.
The English EST/VOD date for The Outpost is July 21st
Trailer: https://www.imdb.com/search/title/?year=2020&title_type=feature&ref_=tt_ov_inf
WORKING MAN (USA 2019) ***
Directed by Robert Jury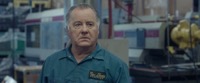 A small and quiet picture, WORKING MAN tells of what happens when a factory closure threatens a small Rust Belt town.
One older factory worker, Allery Parkes (Peter Gerety) continues going to his former job every day, despite the shutdown. His peculiar decision has a profound effect on the whole community, beginning with a black colleague, Walter Brewer (Billy Brown) who becomes his friend.
The ultimate question that will be asked is why Allery continues to go back to work when the factory is closed. The answer given is that there is no where else to go. But the film shows another reason, that people go to work so that they become useful and mean something.
The script which is also written by director Jury pays sufficient attention to Allery's wife Iola played by Francis Ford Coppola's daughter Talia Shire who was in his GODFATHER films as well as in ROCKY. Shire is an exceptional actress (nominated twice for an Academy Award fro GODFATHER 2 and ROCKY) and it is good to see her in the difficult role of the concerned and loving wife of a man who is almost impossible to understand. "He is not the man I married," her character admits to a friend.
The film also looks at the effects on a long term marriage. The two obviously do not have sex any longer and it is still a question whether they are still together out of convenience as their relationship shows no communication at all. In fact, Allery is so quiet a man that he is only heard speaking into 30 minutes of the movie.
Director Jury paints a very grim but realistic picture of an American small town struggling to survive. One can understand no why people like these would be pro-Trump as these people need promises of jobs and security which Trump promises.
On the negative side writer/director Jury appears too eager to please with his feel-good movie. The segments where Walter speaks out to call on the company's bluff comes across as cliched. It feels that the story needs to steer away from the Martin Ritt's NOMA RAE territory. Fortunately it does with the story taking a turn, but no spoiler will be revealed in this review.
The story has more significance during these difficult times of Covid-19 when many have also lost their jobs. Staying at home doing nothing makes one feel bored and useless. On a personal note, I teach in a college which is down to me teaching just two classes the next 3 months. The pay comes to around $2000 a mont which I would be able to get as a benefit if I do not work the 6 hours a week. But I chose to work, which in in monetary terms means I am teaching for free. My reason? I do not like to take advantage of the Government and Justin Trudeau is my hero.
Trailer: https://www.imdb.com/video/vi3870146073?playlistId=tt8391044&ref_=tt_pr_ov_vi