23
Jul
2020
Details

Category: Movie Reviews
Written by Gilbert Seah
FILM REVIEWS:
THE CUBAN (Canada 2018) *
Directed by Sergio Navarretta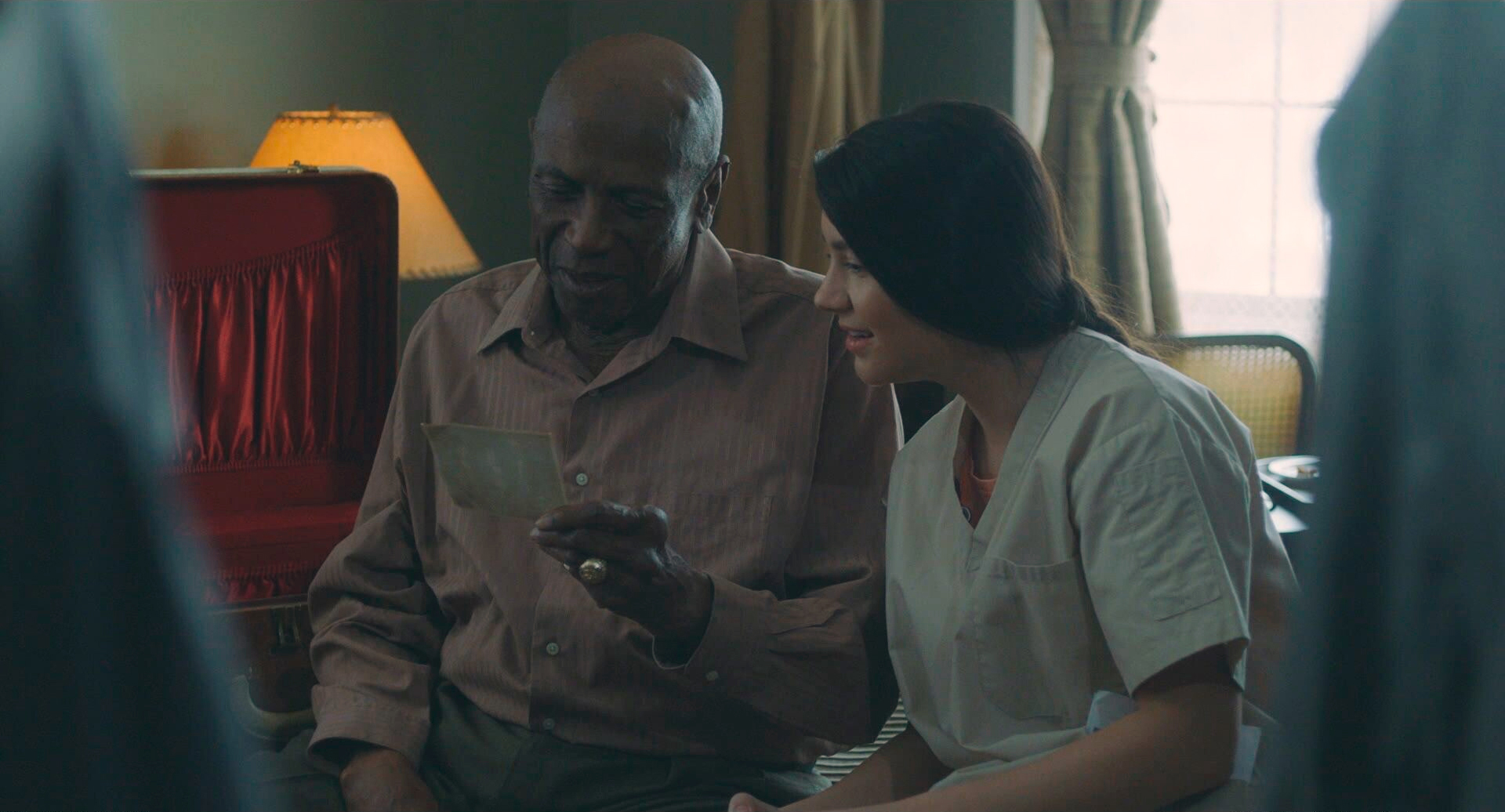 The film about a frontline worker, Mina (Ana Golja) connecting with a dementia patient in a nursing home is especially relevant in the difficult times of Covid-19. It highlights the important role a caregiver plays in his or her daily duties. Mina goes out of her way to make THE CUBAN, Luis Garcia (Louis Gossett Jr.) Cuban food while playing him Cuban jazz to awaken him out of his dementia. But the film does come with its cliches. The hospital authorities frown on Mina's acts, admonishing her that one needs to follow hospital procedures. How does music connect with the brain? The film shows, naively that the information is obtained through Google, as Mina uses Google on her laptop. So, as expected, Mina ignores her promise to obey the hospital rules, feeding him Cuban food, playing music for him to hear via headphones, just waiting for the opportunity to get caught.
To highlight the effect of Cuban jazz - undoubtedly, the film includes an amazing soundtrack of well-known and new tunes, but raising the volume up a few notches every time the music comes off shows the film's lack of confidence in the material.
THE CUBAN contains a familiar story, with Mina learning about her new friend while experiencing romance as well. But in the filmmakers intent to make a feel-good movie, THE CUBAN ends up with quite the few unbelievable segments. The audience is led to believe that this old man with dementia can suddenly open up after eating Cuban food and listening to Cuban music and begin talking again like a normal human being. The connectivity between Mina and him is also too good to be true. They become fast friends. The confrontation scene between Nina and her aunt is downright corny and unbelievable with the audience taking the aunt's side and not Mina's, which should be. The story also involves Mina coming in and out of the facility after being fired, tending to Garcia. What happening to facility security? She also sneaks him out of the place at one time. Though the film won the Audience Award at the L.A. Pan African Film Festival, this manipulative feel-good film is almost, for film critics unwatchable.
Gossett Jr., an Academy Award Winner for Best Supporting Actor in AN OFFICER AND A GENTLEMAN is entirely miscast as THE CUBAN, Luis Garcia. Gossett Jr, an activist (he was handcuffed by L.A. police to a tree in 1966 for 3 hours) is clearly an African American and not Cuban. Gossett has Sierra Leone and Liberian roots. He has nothing much to say or do as the character with dementia.
The film's arguably outstanding feature is its music. The film's soundtrack was composed by multi Juno Award winner and Grammy nominated artist, Hilario Duran. He relies too much on well heard popular tunes like Guantanamera and Quiza, Quiza, Quiza). Duran grew up and received his musical training in Havana and has since gone on to work with legendary musicians such as Chucho Valdes, Dizzy Gillespie and Arturo Sandoval. He is a widely respected piano virtuoso on the international jazz scene.
THE CUBAN has been chosen to open the Lavazza Drive-In Film Festival, part of the International Contemporary Film Festival (ICFF) on the Monday 20th of July, followed by a Drive-in theatrical rollout beginning July 31st with a SNEAK PREVIEW with cast & crew July 28th at the 5 Drive-in.
Trailer: https://www.imdb.com/video/vi140361497?playlistId=tt7671124&ref_=tt_pr_ov_vi
https://www.youtube.com/watch?v=iRJ12zvC5sM
THE LAST PORNO SHOW (Canada 2019) **
Directed by Kire Paputts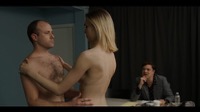 One must wonder about a film with a title as titillating as THE LAST PORNO SHOW. The title itself would definitely catch ones attention, for the better or worse. For those who like their entertainment raunchy, the film would definitely whet the appetite. It looks like the filmmakers (actually one filmmaker as Paputts, wrote, directed and produced the film) attempt at grabbing a larger audience for what is a raunchy film with a little dirty setting. The link to the story of the film is the derelict porno theatre that the protagonist inherits from his late father.
Wayne (Nathaniel Chadwick) is a struggling actor who was traumatized as a child while living with his father Al (Christian Aldo), whom he hasn't seen in years. The film opens with Wayne taking an acting class from hell. This is the kind of class where the acting coach is a real asshole (played by Italian Canadian actor Frank D'Angelo) - saying that his class is not about acting and about getting into the character, emphasizing that one needs to get into pain to achieve this. "Performance comes from emotions." Unfortunately, Wayne takes this to heart. Wayne sports a (false) moustache at the hour mark of the film, which one assumes to get into his character.
Wayne is obviously in an emotional mess. Wayne is uninterested when a lawyer tells him Al has died and left him his proudest possession: the decaying porn cinema they used to live above. The cinema looks like "The Eve" porn cinema, located on Floor Street, Toronto. Initially Wayne wants to sell it but he's also pursuing a part in a movie, and realizes his memories of Al and their life together may help with the role. But, as someone tells Wayne, "That's the thing about memories; they get weird" — and soon Wayne's part and his painful past threaten to consume him.
One of the problems of Paputts' film is that there is nothing to keep the audiences interested as the film progresses from one scene to another. The film moves aimlessly and one wonders of the purpose of the film - which would likely be Wayne trying to figure out or remember his relationship with his father. The reason Wayne has forgotten is never made clear. One could suppose it is the shock of the porn he experienced as a child that blocked out his memories. But there are a few solid segments as in the acting audition Wayne tests for. After doing his lines twice, the director asks him to go through an act totally in the nude to see if Wayne is comfortable with being in a nude scene with the actress.
In one segment of the film, the audience is told that there are two kinds of people - the ones that are happy and the people that make you happy. Ironically, there are two kind of directors - the ones that are entertaining and those that make entertaining films.
THE LAST PORNO SHOW had a scheduled release Friday March 27th but the release date has been over to this week July 31st.
Trailer: https://tiff.net/events/the-last-porno-show
RANDOM ACTS OF VIOLENCE (USA/Canada 2019) ***
Directed by Jay Baruchel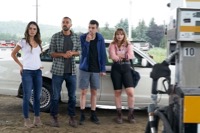 The starting few minutes of the film with animation and dialogue that attempts to define truth as understood by the film's lead character, a comic book designer, Todd Walkley (Jesse Williams) ends with the words: "Everything else is masturbation." "I am seeking a way to put a proper end on saying it," says he, of the final issue of his comic book. The film obviously attempts to show audiences with perhaps RANDOM ACTS OF VIOLENCE that truth can been hypothesized. Is there a proper way for the film to end? The identical question is asked.
Then there is an appearance of bad-ass actor Jay Baruchel (the GOON films, THE SORCERER'S APPRENTICE, and the voice of Hiccup in HOW TO TRAIN YOUR DRAGON) who also happens to be the film's producer, co-writer and director. This is immediately followed by some loud and disturbing opening credits, which undoubtedly suit the mood of the upcoming flic.
Todd Walkley (Jesse Williams) and his publisher Ezra (Jay Baruchel) made their careers crafting a comic book based on a real-life serial killer called Slasherman. On a press tour to announce the launch of their final issue in which Todd is seeking an ending, they visit the town where Slasherman wreaked havoc twenty years earlier. Upon their arrival, a series of new murders unfold… murders that look eerily familiar to imagery in Todd's Slasherman comics. Speculation and paranoia build regarding the identity of the mysterious killer.
Baruchel attempts to put a reasoning behind the slasher killing made by a serial killer hat just goes by that name, Slasherman. Todd and Ezra writer begin to notice scary similarities between the character they created and horrific real-life events as they go on a road trip with their girlfriends.
Director Baruchel creates a horror atmosphere similar to THE TEXAN CHAINSAW MASSACRE where a lone killer in the country appears to create havoc on non-suspecting visitors. There is no skimping on the violence and blood-letting. Heads are severed, bodies gutted and arteries slashed. Baruchel's Ezra provides a bit of humour amidst all the killings, though not compromising the horror. It is these no-compromising horrific scenes that makes the film with the appropriate title stand out as a film that would give audience nightmares. Worst is the fact that innocent families and children are not exempt from the killings.
The script calls for truth with everything else but the truth coming to random acts of violence. There is little logic to this and of talk though one can try to make this talk convincing. Baruchel has created a nasty piece of horror in the guise of some art form,. The truth that essentially emerges is that RANDOM ACTS OF VIOLENCE is yet another run-of-the-mill horror flick with nothing rally fresh to offer except more blood and gore. An all right watch if one knows that violence reigns supreme in the film.
Trailer: https://www.youtube.com/watch?v=jl5s389SS7s&feature=youtu.be