27
Jul
2020
Details

Category: Movie Reviews
Written by Gilbert Seah
FILM REVIEWS:
THE BURNT ORANGE HERESY (UK/Italy 2019) **
Directed by Giuseppe Capotondi
An odd title, THE BURNT ORANGE HERESY - what does it mean? Nothing, says the lead character, an art critic James Figueras (Claes Bang) at one point in the film of the painting he is working on. THE BURNT ORANGE HERESY, a neo-noir thriller by Italian director Giuseppe Capotondi (his second feature after THE DOUBLE HOUR) and writer Scott B. Smith (A SIMPLE PLAN) builds high expectations of a classy Hitchcockian thriller but fails to deliver the goods. A sad disappointment as the film boasts four exciting actors.
There are still solid reasons to view this thriller. The leads are Claes Bang, who rose to fame after THE SQUARE where he played a similar character, an art curator. Elizabeth Debicki had a supporting role but stood out in WIDOWS. The two play lovers in a relationship driven more by sex than love - a very odd couple similar to the couple played by Bang and Elisabeth Moss in THE SQUARE. Rolling Stones' Mick Jagger plays Joseph Cassidy a powerful art dealer who steals the show as a classy speaker who always has a snide smile when making remarks that often have a second meaning. Donald Sutherland plays recluse painter Jerome Debney who has a Lake Como estate. The film is based on the Charles Willeford's 1971 novel with the setting moved from Florida to Italy. Lake Como with its mountain and lakes never looks both stunning and sinister, courtesy of cinematographer David Ungaro. Ungaro is fond of filming disgusting looming multi-coloured flies with their compound eyes.
Hired to steal a rare painting from one of the most enigmatic painters of all time, ambitious art dealer, James Figueras becomes consumed by his own greed and insecurity as the operation spins out of control.
The film's plot does not follow a logical flow. For the intense sexual relationship between the couple, one would expect the couple to stay together instead of falling apart. Another problem is the character of the protagonist. Though James possess a few redeeming qualities, it would help if his character been made more sympathetic. The film's mystery element is inconsistent and emerges in bursts, breaking the film's continuity. Near the film's end, one also is uncertain as to the purpose of the film. The film provides an unexpected non-Hollywood but it would help it it makes more sense or followed the logic of the story.
The film was scheduled to open on March the 20th but its release date is now August 7th.. Best to see the film on the big screen.
Trailer:
I USED TO GO HERE (USA 2020) ***1/2
Directed by Kris Rey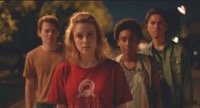 The title I USED TO GO HERE sums up the mood for this fresh comedy about a writer who visits her alma mater on the invite of her former crush and writing professor. Of course trouble must brew, which in the case of the film arises from the protagonist's awkward relationship with the professor as well as the twenty year-olds taking his course.
The film has a fresh and credible look, probably because writer/director Rey faced similar circumstances. When her Sundance movie UNEXPECTED was screened, she was invited to many colleges to speak. She got invited to many beer and keg nights, hanging round undergraduates who thought Rey was a full success. Well, Rey has had a few films made (this is her 4th feature) and is successful in a way, but like her central character, is one that is looking for something more fulfilling. I USED TO GO HERE tells the story of both and in a comical and especially refreshing way in these Covid-19 times when a lot of films are just too depressing to watch.
Following the lackluster launch of her debut novel, 35-year-old writer Kate Conklin (Gillian Jacobs) receives a welcome invitation from her former professor and old crush, David (Jemaine Clement) to speak at her alma mater. With her book tour cancelled, and her ego deflated, Kate hopes that returning to her old college as a published author will give her the morale boost she sorely needs. Instead, she falls into a comical regression—from misadventures with eccentric twenty-year olds to feelings of jealousy toward her former professor's new favourite student. Bittersweet emotion and awkward humour abound as Kate journeys through her past to redefine her future.
Rey is brave enough to say in her film that critics are the worst kind of humans. (I take the comment with a pinch of salt.) These are the words of advice given to Kate by the professor when one critic pans her work.
Rey's film contains a few precious inspired highlights. One is the scene where Tall Brandon (Brandon Daley) after getting caught sneaking around in her backyard, eats popcorn while watching television moments with his roommate's mother (Jennifer Joan Taylor). "I just spent the greatest night of my life," Brandon describes the evening. It is great that director Rey has her audience feel the same way about that segment in the movie.
Rey's film is about a writer and her experiences after writing her first book. In the process, she learns that life is not what it really is but the surprises that life dishes out makes it all worthwhile. The audience never really gets to find out what her book entitled "Seasons Passed" is all about. There is a short paragraph of it read out by Kate during a lecture, not that it really matters.
A somewhat wonderful comedy and the perfect solution to the Covid-19 blues. In theatres and On Demand August 7th.
Trailer: https://www.imdb.com/video/vi2969943577?playlistId=tt10887902&ref_=tt_pr_ov_vi
SONG WITHOUT A NAME (Cancion Sin Nombre) (Peru/Spain/USA/Chile 2019) ****
Directed by Melina Leon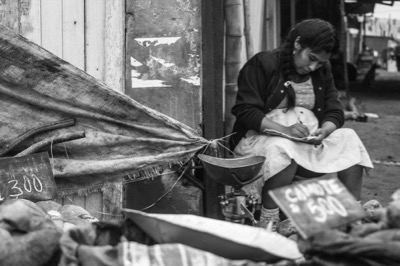 The 2019 Cannes Camera d'Or nominee SONG WITHOUT A NAME sets its assured footing in the bleak opening sequence. The 1880 newspaper articles on the screen read of unemployment, runaway inflation, riots and looting. Director Leon shoots her film with a scratchy black and white look, similar to the British 2019 art-house cinema hit Mark Jenkin's BAIT, arguable the best British film last year. The film's look suits the film's bleak theme.
Director Leon introduces her audience to the protagonists, an indigenous Andean couple while displaying their culture and simple beliefs of healing and nature. The husband dances and does menial jobs for a living while his pregnant wife helps along with the selling of the produce like potatoes.
They are poor. Poverty breeds misery. In order to deliver the baby for free, Georgina (Pamela Mendoza) hears on the radio of a free clinic in downtown Lima. As the ex-Prime Minster of my country, Singapore used say: "Nothing in the world comes free". Georgina is ushered out of the clinic after a painful delivery and her newborn baby whisked away. When she returns with her husban, Leo (Lucia Rojas) the next day, the clinic is gone and the building locked up and empty. With no papers, no education and intimidated by the authorities like the police and government officials, the poor couple are given the runaround. If they had been more educated or forceful they would have gotten a better treatment.
Shot in black and white, this surrealistic nightmare at its best feels like a Kafka thriller without the humour that normally comes with it.
In the midst of the goings-on, the film intercuts the story with that of a lonely journalist, Pedro Campos (Tommy Parraga), initially reluctant to take on the case. They all meet. The journalist takes on the story of the fake clinic and stolen baby. Nothing else should be revealed of the story in this review.
Mendoza delivers a riveting performance. She looks a bit like the maid protagonist in Alfonso Cuaron's ROMA thus giving this film a similar feel. Leon's fondnest of putting her figures in a larger than life landscapes also gives the film a German impressionism look. But Leon's film is a simpler though no less effective one.
Leon's film works on many levels. Besides the obvious social commentary on past and present Peru, family drama, investigative reporting and misery are mixed into the film that covers different genres.
SONG WITHOUT A NAME, based on actual events, is the deserving winner of more than 30 international awards including "Best Film" at the Lima Latin American Film Festival and "Best Film by an Emerging Director" at the Munich Film Festival. The Latin American period piece has garnered raves around the world.
The film premiers in Film Movement's Virtual Cine on August 7, 2020. A highly recommended watch!
Trailer: unavailable
PENINSULA (Bando) (South Korea 2020) **
Directed by Sang-ho Yeon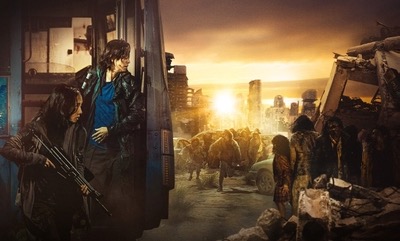 PENINSULA is the sequel to the Korean internationally successful 2016 zombie movie TRAIN TO BUSAN also directed by Yeon, where Koreans flee zombie by train for Busan. When PENINSULA opens, the audience is informed by voiceover that Busan was contaminated and refugees are now fleeing on boats to foreign countries. The audience sees the protagonist, Jung Suk (Dong-Won Gang) on such a boat heading for Japan but then re-routed for Hong Kong when chaos arrises with an infected human found on the ship's lower deck.
A segment of the film is set in Hong Kong where the South Koreans live as refugees. But when recognized, they are treated with prejudice as virus carriers. This is what is happening right now in the U.S. where the moronic President Trump thinks it is a joke when making racist comments like 'China Virus' and Kung Flu'. There is racist backlash. Though PENINSULA is a zombie flick, humans become zombies from contacting the zombie virus, so director Bong has plenty of opportunity draw parallels and also make social comments on the current Covid-19 pandemic.
The zombie flick contains a story that includes a group of mercenaries who are paid (or rather given an offer they cannot refuse) to go back to Korea to retrieve a truck that is supposed to contain a load of American money. The group is supposed to locate the truck and drive it to the port where they will be brought back to Hong Kong, rich! But they encounter a whole lot of flesh eating zombies as well as soldier survivors who are so crazy that they serve as a worser threat than the zombies.
PENINSULA takes the look from the typical zombie movies (NIGHT OF THE LIVING DEAD) championed by George Romero. Where the zombies move in slow motion in the Romero films, the zombies here move at break-neck sped, similar to the ones in Marc Forster's WORLD WAR Z that starred Brad Pitt. The plus is that one knows what to expect and the negative is that it is harder for director Yeon to dish out fresh surprises in a well-worn genre.
PENINSULA bears scary similarity with the current Covid-19 pandemic around the world. One can imagine the same infection occurring, one human infecting another but without the blood sucking and flesh eating. Viruses are passed on in the same way.
The cinematography, filming and production design are nothing less than spectacular. The only trouble is that the zombie genre is a well worn genre. I did not see TRAIN TO BUAN and I don't know how to compare the one to that hit. But the ending of PENINSULA is stretched out or far too long, resulting in a bit of a ridiculous mess, not to mention the unnecessary melodrama that goes with it. The film could have been shortened by at least 15 minutes or so.
PENINSULA is currently playing in theatres where theatres are allowed to open. In Toronto, it is playing at the Cineplex Yonge and Dundas.
Trailer: undefined
THE SECRET GARDEN (UK 2020) **
Directed by Marc Munden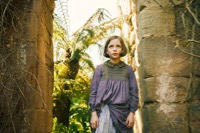 THE SECRET GARDEN by Frances Hodgson Burnett was first published in book form in 1911, after serialization in The American Magazine (November 1910 – August 1911). Set in England, it is one of Burnett's most popular novels and seen as a classic of English children's literature. Like Burnett's other famous novel, LITTLE LORD FAUNTLEROY, several stage and film adaptations have been made. When this new 2020 film adaptation opens, the words "India 1947 - the eve of partition between India and Pakistan when conflict and disease cause many to flee their homes." appear. The novel's time setting has already been changed from the early 20th century to mid-century and for what reason, I am puzzled. I personally do not favour classic novels like this children classic literature changed arbitrarily. The last (altogether 5 including this one) filmed version in 1993 by director Agnieszka Holland left the time period at 1911.
The story centres on young Mary Lennox (Dixie Egerickx), orphaned in India and moved into the care of her uncle, Archibald Craven (Colin Firth) in Yorkshire. As in many British literature classics, the characters are all wealthy and upper-class. Mary is a spoilt brat who expects to be fed with a proper cooked breakfast and dressed up by servants every morning. No such luck in Yorkshire when under the stern watch of the head of the household, Mrs. Medlock (twice Academy Award nominee Julie Walters of EDUCATING RITA, the HARRY POTTER films and BILLY ELLIOT).
The film, despite its period setting is still relevant in today's times where women celebrate their independence and individuality. This can be observed as Mary matures from spoilt brat to pre-teen with a conscience. When the kids play, they shout: "We are Lords and conquerors", something that the English seem very fond of.
The film takes half the running time to get a sure footing, the first half just plodding along rather boringly. For those familiar with the book or have seen the other film adaptations, there would be no new surprises. There is nothing really wrong with this adaptation, but it looks like the filmmakers have just gone through the motions with what has resulted in a mediocre period piece remake.
Though the setting of the book is Yorkshire, England only part of the film was shot there. Being a period piece with the story set in a magical garden walled up, locations sets are important. Filming has also taken place within Iford Manor Gardens, near Bath and the National Trustee of Bodnant Gardens, near Conwy, North Wales. Filming locations also include Woodhall Estate, Hertfordshire, Trebah Gardens, Cornwall, Harlaxton Manor in Lincolnshire, Abbotsbury Subtropical Gardens, Dorset & Puzzlewood, Forest of Dean and Helmsley Walled Garden in North Yorkshire. Credit goes to D.P. Lol Crawley who captures both the interiors of the magnificent manors to the exteriors of the gardens, woods and countryside.
The film is available on Premium Digital and On Demand - Aug 7th.
Trailer: undefined
SHE DIES TOMORROW (USA 2020) *
Directed by Amy Seimetz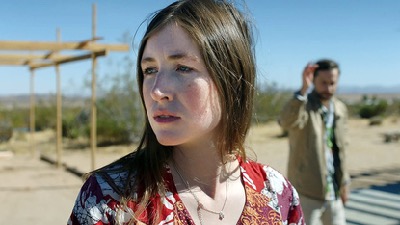 Amy thinks she's dying the next day. And it's contagious. The next and then next person begin to feel the same way as Amy that death awaits them the following day. The film poses the question of what one what one is to do if a close friend suddenly out of the blue claims that he or will die the next day. Advertised as a thriller psychological comedy, the film is not that funny, as evident in the first very serious initial 30 minutes. Funny it is not but silly, it sure is.
Director Seimetz uses the tactic of loud classical music to create emotional scares as observed in similar other films like Michale Haneke's home invasion horror FUNNY GAMES. Whenever classical music is hear on he soundtrack, one is almost sure nothing wicked is about to happen. Seimetz also utilizes the maximum effect of annoying strobe lights, as observed by the changing colours on Amy's distorted face in one extended segment that really serves no purpose but to annoy the audience. Beware! There are segments in the film where strobe lights are used simultaneously with classical music.
In fact Amy is quite the high maintenance psychotic friend anyone would avoid. She summons her friend Jane (Jane Adams) to her house one night saying that she needs her. Upon arrival, Jane finds her loaded and suicidal saying that she will die the next day and her being made into a leather jacket. "I am not going to waste my day babysitting you," is Jane's response. The audience on the other hand, is force to do this babysitting and it is such an annoying and thankless task, This is when director Seimetz uses the strobe lights on Amy's face.
One good point of the movie is that at its midpoint, the audience is amiss at what is going on or going to happen. Amy is dead drunk. Jane is paranoid once Amy has told her that she is going to die the next day and as a result broken into her house. Jane leaves this message on Amy's phone. The Jane feels the same way. Paranoid, she shows up at her ex's party, but in her pyjamas.
Advertised as a part comedy, the only funny thing about the movie is that it is all over the place with no direction or even decision on which character would be the protagonist. The frustration grows in intensity but there is final relief when the film ends.
However, the films's most fascinating segment occurs when Jane crashes a party in her pyjamas. (Great wardrobe design?) The party talk about dolphins being like human beings Dolphins have dicks that can grab things and they deliberately bump into puffer fish to get high. These are statements that can never be proven. Then hilariously, someone quotes Albert Camus out of the blue: "Man is the only creature who refuses to be what he is."
The magic question then is: Will they all die? The film has gotten too ridiculous at this point that no one really bothers.
The film is available digitally and on demand August the 7th.
Trailer: undefined
SPINSTER (Canada 2019) ***1/2
Directed by Andrea Dorfman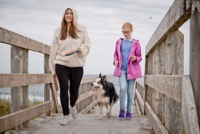 Andrea Dorfman is a Canadian (from Halifax) director who makes small movies about women. Her PARSLEY DAYS, that premiered at the Toronto International Film Festival back when made her relatively well-known.
SPINSTER follows the misadventures of 39-year old Gaby (Chelsea Peretti), who is a spinster. She declares that at her age, many of her contemporaries have been married, had children or even divorced while she has not. She ditches the idea of the freedom of having one night stands. The film follows her as she talks (mainly) her way in and out of these spinster situations. Finally petrified she'll be alone forever, she embarks on a dating spree only to discover that her problem isn't that she doesn't have a love life – it's that she doesn't have a life. The plot and perhaps message of the story on life involves Gaby's dating quest becoming a journey of self-discovery. As her 40th birthday rolls around, she finds that her dreams of finding the perfect partner have given way to new dreams of empowerment and independence.
By nature of the film's concept, the film has a nice and easy smooth flow allowing the audience to sit back and to laugh at Gaby and at her life at the same time. The film is broken into seasons beginning with summer going to fall and winter. A few of her antics are funny - especially in the ways she looks for new dates - and fails. "Is the doctor married" she asks the receptionist to which she answers: "Yes, to me!"
A few segments go on for too long a time for comfort. If the segment is funny, then it goes well and if not, the opposite. The beginning segment where Gaby returns home to find her boyfriend moving his stuff out is an example. Nathan is too chicken to confront Gaby while Gaby is too desperate to lose him. This segment is funny and stretched out a bit, just out of the comfort zone. The other, with Gaby talking about her spinsterhood in the car with her best friend and two kids in the back seat is the opposite. The jokes are not that funny and the fact that Gaby goes on talking about sex, oblivious of impressionable children is not that fresh comedy either. This segment plays way too long.
It helps that actress/comedienne Peretti plays Gaby to be a smart, likeable and funny person. Her winning personality and attractiveness help too. She looks like a young Barbra Streisand. (Both are Jewish.)
As advertised, SPINSTER plays against the romantic comedy mold while celebrating feminine strengths - though one clearly knows where the story is heading because the advertisement paratactically give away the surprises. Dorfman's winning film proves that a good idea can go a long way in a small independent movie.
The film is available to iTunes Canada and Vimeo on Demand on August 7
Trailer: https://drive.google.com/file/d/1ZYWSWh0Hx4mJjMjOCJAFEKBD1-3Eq_XT/view