FILM REVIEWS:
THE BROKEN HEARTS GALLERY (USA/Canada 2019) *
Directed by Natalie Krinsky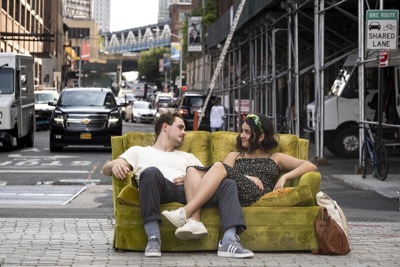 The Broken Hearts Gallery in this film is an art gallery comprising of artifacts left behind from failed relationships. The reason this type of gallery does not exist in real life is that it is a really stupid idea. This equally silly film, in the guise of a romantic comedy has one believe that people will contribute to this idea of a gallery. And donate some money into it as well.
The gallery is obviously the idea of the film's protagonist, Lucy (Geraldine Viswanathan), a 20-something art gallery assistant living in New York City, who also happens to be an emotional hoarder. She saves a souvenir from every relationship she has ever been in, She dislikes being called a hoarder, but she clearly is one.
It all begins, rather obviously, when Lucy gets dumped by her latest boyfriend. Lucy is inspired to create The Broken Heart Gallery, a pop-up space for the items love has left behind. Word of the gallery spreads, encouraging a movement and a fresh start for all the romantics out there, including Lucy herself.
If the above description of the film sounds tiresome, so is the film, a Harlequin type romance so predictable (when Lucy is picked up by Nick in a car by accident, one knows that she will meet Nick again with a romance in the buds) with a protagonist who is supposed to be funny as well as a sort of standup comic. There are more irritations than laughs in this film.
And what is screen and stage legend Bernadette Peter doing in this movie?
Avoid!
The film opens in theatres September 11th.
Trailer: https://www.imdb.com/video/vi3418013977?playlistId=tt2140571&ref_=tt_pr_ov_vi
I AM WOMAN (Australia 2019) **
Directed by Unjoo Moon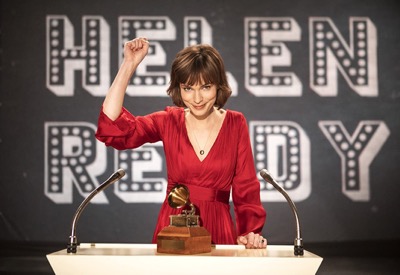 I AM WOMAN is the famous female anthem that stands for woman's rights and also Australian singer Helen Reddy's most popular hit. Moon's film is part biopic part feminist movement set in NYC of 1966. It traces the difficult climb to fame of the talented singer at a time when women were fighting for their rights of equal pay, voice and employment. Tilda Cobham-Hervey plays the 24-year old singer who starts making headway with the fiercely ambitious Jeff Wald (Evan Peters) who sweeps Helen off her feet and rapidly becomes both her husband and her manager. Jeff's dogged insistence ensures that Helen's golden voice gets heard. Every famous person has his or her downfall and Reddy's takes the form of her coke snorting husband. Wald is an easy target since the film promotes women and puts down men. The film also stereotypes coke users and Wall is portrayed as a totally bad husband with no redeeming qualities. The film plays to the popular audience with lots of her popular hots (Delta Dawn, Angie Baby, I Don't Know How to Love Him) and offers little new insight on the female movement. Reddy can do no fault in the entire film.
Trailer:https://www.imdb.com/video/vi4083793433?playlistId=tt9185316&ref_=tt_ov_vi
OUR TIME MACHINE (China/USA 2019) **
Directed by Yang Sun and S. Leo Chiang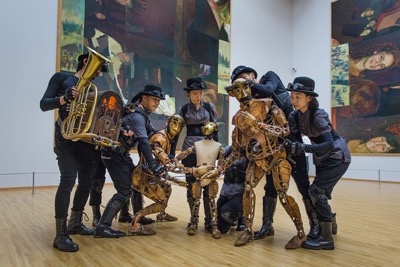 The concept of the doc is that every single person has his or her own time machine. As H.G. Welles, the author of THE TIME MACHINE wrote, those take take us back in time are called memories and those that take us forward are called dreams. OUT TIME MACHINE covers both dreams and memories.
The film, winner of the Best Cinematography Award at the 2019 Tribeca Film Festival, is a personal and intimate look at Chinese artist Maleonn (Ma Liang, who appears in almost every scene) as he sets out to stage an ambitious performance piece about time and memory when his father, the former artistic director of the Shanghai Chinese Opera Theater, is diagnosed with dementia. Maleonn hopes the work will bring the them together artistically and personally but as time goes on, and his father's condition deteriorates, he is torn between the original goal to honour his father and the pressure of finding commercial success.
Maeonne's father's Alzheimer's prevents him for recalling his memories while the creation of Maleonn's puppet play serves as the dreams to recover lost memories.
The doc largely filmed in Mandarin and shot in China with a few segments in NYC is a very intimate and personal study of the creation process. It is at times too personal that it disaffects the audience. The majority of the doc is devoted to the preparation and final performance of the puppet play. All the major problems are involved including the logistics, scheduling, the mechanics and particularly the financing. The company runs out of money and needs to have more sponsors come on board. It is odd that so many of the troupe travel to New York to find finance. One would think that only a few would go in order to save resources. The doc turns dark at one point for no real reason at all with gothic images appearing amidst the puppetry.
It is quite obvious that a lot of re-enactments were carried out in the film, especially that it is impossible to shoot father's surprise or saying when he has his memory loss. The film also praises the efforts of Maleonn to reconnect with his father. This goes a bit beyond the comfort zone. One really wonders the purpose of all this. Alzheimer's is part of growing old, I should know as my mother passed away from Alzheimer's and Maleonn and family should start thinking of moving on. At one point, father and mother were looking for old age homes, which is a good sign.
At the film's best, the film examines the struggles of old age. The best segment shows the shiny glimmer of a tear on Maelonn's mother's eye as she complains about the enormous effort involved in looking after her husband. At its worse, the doc over praises Maleonn's efforts to no end in putting the play together.
The mechanics of the puppets are impressive but this is no robotics. The puppeteers that move them can also be seen on stage during the performances.
OUR TIME MACHINE opens in over 35 virtual cinemas across the nation on September 11th.
Trailer: https://www.youtube.com/watch?v=h97dwAcNf9k
THE TAX COLLECTOR (USA 2020) **
Directed by David Ayer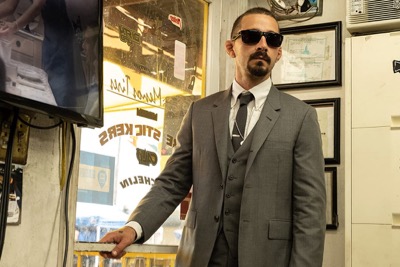 David Cuevas (Bobby Soto) is a family man who works as a gangland tax collector for high ranking Los Angeles gang members. He makes collections across the city with his partner Creeper (Shia LaBeouf) making sure people pay up or will see violent retaliation. An old threat returns to Los Angeles that puts everything David loves in harm's way.
There is nothing surprising in this cliched ridden delivery of story of a family caught in gangland drug drama. It is expected of writer/director David Ayer who has doctored several similar scripts including the famous Antonio Faqua's TRAINING DAY that starred Denzel Washington that earned Washington his Oscar. Both films share similar scenes of two buddies by 'career' driving together in a car. The tax collector meets his due with David's wife and children targeted by his rime rival. He realizes the error of his ways and changes for the better. The violence that ensures; the ultra vision villain; the loving wife or girlfriend - nothing occurs in the film that has not seen before. But to Ayer's credit, his film is still entirely watchable as Ayer is able to put in little details that enhance each segment. Example is the blood dripping cockerels that the villain uses in a scene where he pledges his soul to the devil so as to be rewarded by being victorious in the battles with his enemies; or David's children taken out of school. Ayer makes the urgency real in his fictitious story. The basic message of the story is simple enough - stay away in any shape or from from drugs; Drugs are bad!
Writer/director Ayer clearly aims for authenticity in his tale. The gangsta slang use is heavy. Some of the language will obviously pass over the heads of the average viewer, though not very line of dialogue needs be understood to get the gist of the story. For added authenticity, actor LaBeouf reportedly had his whole body tattooed for the role. His performance as a sleazy over dedicated hitman is impressive. His character is also the most interesting of all of the film's characters. "I am born to be the terror of the herd," he says. His character of Creeper is actually a supporting role, to that of David who is the tax collector of the title. Jose Martin Conejo, a famous rap artist who has over 100 albums plays the villain Canejo with super charged force, evil relishing from his mouth as he utters his dialogue.
But the cliched story ends with little surprises. The villain and hero end up battling a fight to the death in hand to hand combat. A segment in the script worth mentioning is the combining of the latino and black gangs to overthrow the evil Conejo.
Films like THE TAX COLLECTOR is necessarily violent as films of the genre need this violence to make them work. The TAX COLLECTOR is ultra-violent that will put many audiences off.
The film is available on VOD September the 8th.