Toronto International Film Festival 2020 (45th Edition)
It is different this year - a real challenge for all. The 45th edition of the Toronto International Film Festival, takes place September 10–19, and is tailored to fit the moment, with physical screenings and drive-ins, digital screenings, virtual red carpets, press conferences, and industry talks. This year's selection comprises a lineup of 50 new feature films, five programmes of short films, as well as interactive talks, film cast reunions, and Q&As with cast and filmmakers.
Films on offer will reflect first-rate international cinema, documentaries, and Canadian creativity. The representation of women amongst TIFF's film programmers is reflective of the organization's continuing commitment to normalizing gender parity and equality for future generations.
Over the first five days, TIFF's full slate of films will premiere as physical, socially distanced screenings. Festival-goers can also enjoy drive-ins and outdoor experiences that take them beyond the movie theatre. TIFF is working closely with the Province of Ontario, the City of Toronto, and public health officials on the safe execution of the Festival, with its number-one priority being the health and well-being of both Festival filmgoers and the residents of the entire community. This presentation of TIFF's traditional in-person film festival will be contingent on the Province's reopening framework to ensure that Festival venues and workplaces practice, meet, and exceed public health guidelines. Press attends screenings via streaming.
For the first time in its history, TIFF will launch a digital platform for the Festival, affording new opportunities to connect with audiences beyond Toronto. TIFF has partnered with Shift72 to develop this industry-leading online platform. Over the 10 days, the platform will host digital screenings, as well as numerous talks and special events.
Capsule Reviews: (Please check this site for daily updates during the festival)
180° Rule (Iran 2020) ***
Directed by Farnoosh Samadi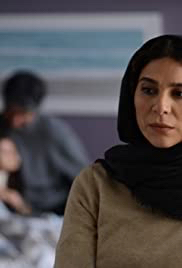 Sara (Sahar Dolatshahi), a beloved school teacher, lives in Tehran with her husband, Hamed (Pejman Jamshidi), and their five-year-old daughter, Raha. They are preparing to attend a wedding in northern Iran. Hamed cannot attend and forbids Sara and the daughter to go. They go against his wishes and a freak accident kills Raha. Sara decides to keep the fact that they went to the wedding from him and that Raha was killed by being hit by a car. This is story of secrets and lies and what blame, mistrust and anger can do to an individual. In this story, vividly told so that the audience sees and feels the anguish that unfolds, there is clearly no one that will emerge unscathed by the tragedy. Samadi also tackles the issue of male domination in Iran, Iranian tradition, family fabric and the court system.
Trailer: https://vimeo.com/456600418
76 DAYS (USA 2020) **
Directed by Hao Wu, Wei Xichen and Anonymous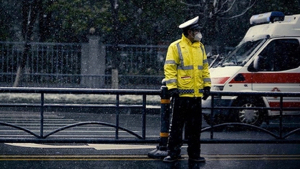 76 DAYS is the period of time Wuhan, China remained in lockdown as a result of the Covid-19 virus that is still affecting the world today. The film records life in the city of Wuhan for the 11 million people who lived there while focusing on the local hospital. There, dedicated staff, the front line workers go beyond their duty to care for the infected, mainly old people, some who recover and others that do not. A segment shows a hospital staff informing the family of those who passed away. It is a raw look at the stress and trauma in a lockdown but the film, which does not contain a voiceover, does not inform or educate what many already know from the news that have saturated the media. One wishes there would have been more insight on perhaps how a strict lockdown works, and how the virus is contained, but no such luck. Everybody in the film is good intentioned. The film is one-sided in that there is no record of dissidents who do not obey the lockdown procedures or flaunt the hospital rules.
Trailer: (unavailable)
AKILLA'S ESCAPE (Canada 2020) ***
Directed by Charles Officer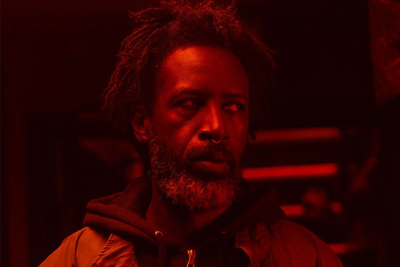 An assured sophomore piece after his 2008 NURSE.FIGHTER.BOY, AKILLA'S ESCAPE is writer/director Charles Officer violent drug drama demonstrating that black lives matter. When a routine deal goes bad, a drug trader, Akilla (Saul Williams) tries to set things right while unexpected circumstances force him to confront his traumatic origins. Narrowly making it out alive, he captures one of the thieves, a teenaged Jamaican boy named Sheppard. Sheppard reminds Akilla of his past that he now tries to escape from. But circumstances do not allow Akilla to do so easily. The film is aided by an awesome soundtrack by poet-musician-actor Saul Williams — who also collaborated with Massive Attack's 3D. Though the story is familiar, Officer crafts a moving and exciting drama leading to an explosive climax. The film boasts a cast of familiar Canadian actors that deliver convincing performances to boot.
Clip: https://deadline.com/video/akillas-escape-tiff-world-premiere/
APPLES (Greece 2020) **
Directed by Christos Nikou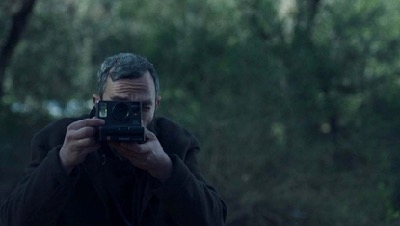 Director Nikou worked as the assistant director on Yorgos Lanthimos's absurdist surreal comedy DOGTOOTH in 2009. His debut film, APPLES direct from the Venice Film Festival, obviously draws many similarities to Lanthimos's style of direction. APPLES, however is a drama rather than a comedy making it a much harder and slower watch. The film opens with the main character played by Aris Servetalis being awoken on a bus, not remembering anything including who he is. He is brought to a hospital for examination. Apparently there is an epidemic going around where many are suffering amnesia out of the blue and for no reason. The character eats an apple and is seen eating apples which is the reason the film is so called. Nothing really happens except that the film visualizes the pain and suffering due to the unexplained illness. The character is offered a new identity by the hospital to survive as his memory is not improving at all, as evident in the tests (very slow ones) conducted. The film might be more current due to the Pandemic Covid-19 virus, but Nikou's film requires patience and goes nowhere. An OK watch if you like this sort of Kafka-ish thing, otherwise this exercise will be totally boring.
Trailer: https://www.firstshowing.net/2020/promo-trailer-for-greek-comedy-apples-exploring-selective-memory/
BANDAR BAND (Iran 2020) **
Directed by Manijeh Hekmat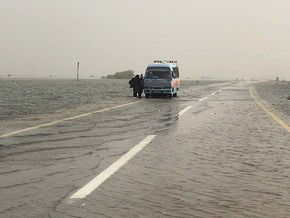 Bandar Band is an Iranian drama film that has a documentary feel, directed by Manijeh Hekmat. The setting is the 2019 Iran floods where most of the country's provinces were underwater. The Khezestan Province is the area where the film is shot and it is a magnificent look at waters in the landscape. Amidst the mayhem, a trio of musicians including an expecting woman who have entered a music competition in Tehran are trying their best to drive their van in time to compete. An few tunes, mainly folk songs, nothing really impressionable are sung by the trio. Nothing much happens - they encounter other vehicles stuck in the mud; visit a village destroyed by the floor waters and so on. The road trip is a bit of a bore, unless one likes this kind of meandering film with lots of flooded landscape to look at.
Trailer: https://cineuropa.org/en/video/391533/
BEGINNING (France/Georgia 2020) ****
Directed by Dea Kulumbegashvili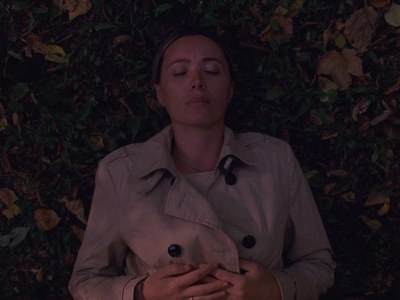 BEGINNING is the story of Yana (Ia Sukhitashvili), wife of David (Rati Oneli), a Jehovah's Witness missionary in a predominantly Christian Orthodox mountainside village in Georgia. Their Kingdom Hall is attacked during a service and the modest place of worship left in ashes. David manages to obtain CCTV footage of the attack and Yana, who is searching for purpose in life, becomes fixated on justice. The film plays like an Andrei Tarkorvski film from director Dea Kulumbegashvili's long takes and meticulously composed scenes where her actors often move in and out of the frames. There is a segment in which the camera lingers on Yana lying still on the ground for a full 5 minutes only to end with her telling her son: "I'm only kidding. I am alive." The film takes a turn when Yana is visited by local police officer (Kakha Kintsurashvili) who has come in to question her about the fire. "Does your husband fuck you on the couch?" he asks her at one point during the interrogation. What follows is to be seen to be believed. A remarkable and assured work from Kulumbegashvili.
Trailer: (unavailable)
THE BEST IS YET TO COME (China 2020) **
Directed by Wang Jing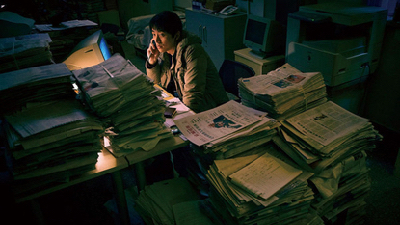 There are several issues on display here - the urgency of current journalism, prejudice of the employment system and personal principles against personal ambition. Also on showcase is the city of Beijing, shown its all its modernity as well as its nastiness. The protagonist and his friends stay in a leaking basement of a rundown building in contrast to the skyscrapers that crowd the city. The setting is 2003, in the aftermath of the SARS epidemic, where a driven, stubborn, and a gifted but unqualified writer, Han Dong (White K) shows up in Beijing to pursue his dream of becoming a reporter in a big city. He uncovers an illegal operation of forging medical papers, but just as his piece is about to be published he pulls it out due to his principles as he figures that it is the prejudice of the medical reports that is the more important issue. Unfortunately Jing's film does not flow smoothly from one issue to the other. Jing's first half of this film is more interesting but Dong's indecision to pull out his piece is unconvincing, though the film is supposedly based on a true story. Though Jing deals with pressing issues, there is nothing here that has not been seen before.
Trailer: https://www.hollywoodreporter.com/news/venice-the-best-is-yet-to-come-exclusive-trailer
CONCRETE COWBOY (USA 2020) ***
Directed by Ricky Staub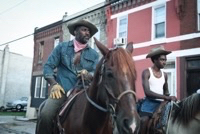 The rare image of two blacks (a father and his estranged teenage son) riding horses is likely to draw one attention to CONCRETE COWBOY, a city western set in Philadelphia where blacks run abandoned stables housed with horses. A rebellious son, Cole is expelled from school in Detroit and left by his fed-up mother to his father played by Idris Elba. CONCRETE COWBOY based on the novel 'Ghetto Cowboy' is a well acted and executed father and son drama (including the expected confrontation scene) with some excellent filming of horses and humans. Despite a rather cliched plot and cliched though quite biting dialogue, CONCRETE COWBOY still has enough pull due to the unfamiliar setting of horses in the city. Much of the humour involves the boy learning discipline especially when he is cleaning up the stables hauling horse shit.
Clip: https://deadline.com/video/idris-elba-stranger-things-caleb-mclaughlin-concrete-cowboy-clip-toronto/
DAVID BYRNE'S AMERICAN UTOPIA (USA 2020) ***
Directed by Spike Lee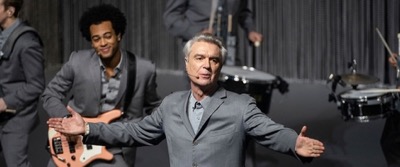 Chosen as TIFF's 2020 opening Gala, DAVID BYRNE'S AMERICAN UTOPIA is an exuberant musical that rocked Broadway in 2019. The opening number in which Byrne croons 'Here' while holding a model of the human brain indicates more delights that are to come. Spike Lee directed his stage musical/play. Based on Byrne's album and musings on life and living in the modern age, the film is entertaining, funny, inventive (theatre wise) and insightful the David Byrne's way. He includes a segment on nonsense poems - trying to make sense of a senseless world. There is a bit too on the Black Lives Matter issues. A few of Byrne's old favourites like 'Once in a Lifetime' and 'Burning Down the House' are performed as well. For the most part, the ageless Byrne has a wonderful voice that is heaven to listen to.
Trailer: (unavailable)
ETE 85 (SUMMER OF 1985) (France/Belgium) ***** Top 10
Directed by Francois Ozon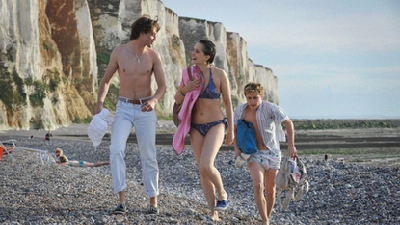 French director Francois Ozon in top form with a moving and complicated film about youth, the way older directors like Eric Rohmer make superior films on the subject. The film opens with 16-year old Alexis (Felix Lefevre) taken into questioning by the police on the death of an older boy David (Benjamin Voisin). It takes 30 minutes into the film before Ozon presents the first gay scene of the two young boys in bed. The film is told in dual time lines. Ozon teases his audience often creating the audience in anticipating what is to come creating both excitement and mystery. One is the death of David and it is only revealed how Alexis is involved after two thirds of the film. Alexis has a hard-on early in the film while entering the bath, and one wonders (before it is revealed of the gay relationship) whether that was due to the sexuality of David or David's beautiful mother (Valeria Bruni Tedeschi). The love relationship is revealed to be a complex one with the idea of falling in love not with any person but an idea of a person one conjures up - the idea well communicated by Ozon. ETE 85 is based on the English novel DANCING ON MY GRAVE by Aidan Chambers which Ozon brilliantly adapted to the Normandy setting while putting his personal imprint on the story. (The film has already played in France.)
Trailer: https://www.youtube.com/watch?v=JLaZBRT6Ev4
THE FATHER (UK 2020) ****
Directed by Florian Zeller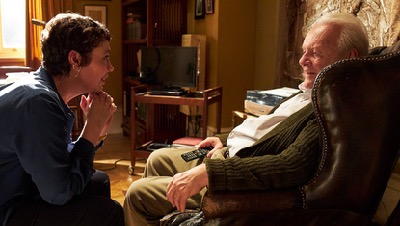 In these times of Covid-19 when all the theatres are closed, it is indeed a refreshing pleasure to watch a good play even though it is an adaptation to the screen. Written by Christopher Hampton based on director Florian Zeller's play, it is fortunate to have Oscar Winner Anthony Hopkins play the main character, an elderly named Anthony suffering from memory loss. Anthony refuses all assistance from his daughter, Anne (Oscar Winner Olivia Colman) as he ages. As he tries to make sense of his changing circumstances, he begins to doubt his loved ones, his own mind and even the fabric of his reality. The play puts the audience in Anthony's shoes. When he forgets someone from his memory loss, the audience sees another actor playing that someone. It is an amazing device that allows the audience to really feel for the demise of old age. A simple story about old age sensitively and beautifully told. Hopkins is superb as is Coleman.
Trailer: (unavailable)
FALLING (UK/Canada 2020) ***
Directed by Vigo Mortensen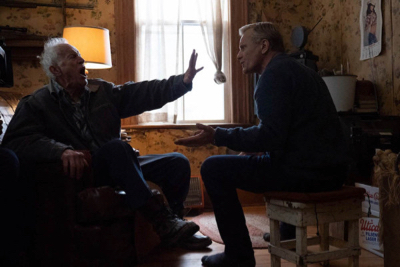 Actor Vigo Mortensen's writing and directing debut follows a conservative father, Willis Peterson (horror film staple Lance Henriksen delivering arguably the best performance of his career) as he moves from his rural farm to live with his gay son's family in Los Angeles. The gay son, John is played by Mortensen. Mortensen proves here is is a better director of actors than a scriptwriter. His script has well written confrontational scenes, the climax obviously being the one when John finally having had taken enough and blowing up at his ass-hole unforgiving obnoxious and rude father. But his characters are given little explanation why they behave in that state - why Willis got so mean; why John's husband us too accommodating or the little known state of John's sister, nicely played by Laura Linney. Sverrin Gudason (who played Borg in BORG McENROE) is especially good as the younger Willis, totally unrecognizable from that role. The message of the film is not that clear, if there is one, but maybe that one should be a nicer person in life.
Trailer: https://www.imdb.com/video/vi3267281177?playlistId=tt9143112&ref_=tt_ov_
FIREBALL: VISITORS FROM DARKER WORLDS (UK/Austria/USA 2019) ***1/2
Directed by Werner Herzog and Clive Oppenheimer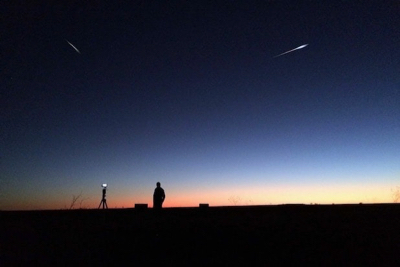 German director Werner Herzog works once agin with University of Cambridge professor Clive Oppenheimer (they worked together in INTO THE INFERNO) in a fascinating doc about meteorites. The doc takes the audience all around the world including India, France, Australia and the Antarctica, just to mention a few countries. An incredible amount of research and effort have been assembled for the benefit of the audience as clearly evident If at first, it seems a bit too technical, the filmmakers' enthusiasm quirky catches on. One scene involves the ecstatic discovery of a South Korean scientist screaming his head off in happiness. The doc also warns of possible dangers of giant meteors hitting the earth as clips from the Hollywood film DEEP IMPACT show, but the doc also shows the keepers of the world who observe images of the skies taken from telescopes around the world.
Trailer: (unavailable)
FAUNA (Mexico/USA 2020) ***1/2
Directed by Nicolás Pereda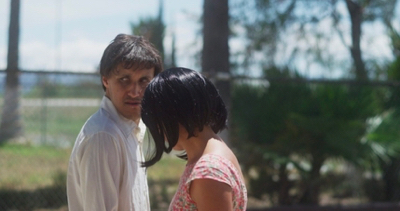 Nicolás Pereda's latest feature is a slow moving yet arresting tale of two stories, the first a family drama that strangely transforms into the second, a mysterious whodunit. It is director Pereda's camerawork and script's dialogue that makes her film standout as a work that should be noticed. The first story, initially told through the windshield of a car tells the story of siblings Luisa (Luisa Pardo) and Gabino (Lázaro Gabino Rodríguez) as they visit their parents in an eerily deserted mining town in the north of Mexico, with Luisa's boyfriend Paco (Francisco Barreiro). Awkward situations arise. Pereda moves into the second tale of an disappearing activist in the same town through the story in the book that Gabino is writing. Again another awkward situation arise which explains the activist's disappearance. Mesmerizing is the best word to describe Pereda's FAUNA - patience has its rewards.
Trailer: https://www.youtube.com/watch?v=H7K7wR5Ysfk
GARCON CHIFFON) (My Best Part) (France 2020) ***
Directed by Nicolas Maury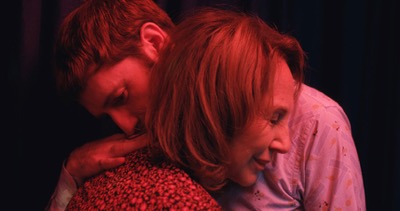 If there is one film about the destruction jealousy plays on ones life, this film is the one. Not only is Jérémie a totally jealous mess but he attends a jealousy group that yields one of the film's best segments. Director Maury gives a sad-sack performance as gay Jérémie Meyer, an out-of-work actor plagued by doubts, jealousy (he suspects his partner may be cheating on him), and an unhealthy emotional dependency on his mother, played by veteran French actress Nathalie Baye. Jérémie, in the film claims that he knows the smell of his partner's sperm in one scene where he accuses him of cheating. Maury delivers a sympathetic performance and one wishes his character will succeed not only as an actor but in life as well. Great to see Bye again in a role deserving of her talents. The film is part of Cannes 2020 official selection.
Trailer: http://www.allocine.fr/video/player_gen_cmedia=19589541&cfilm=277935.html
GET THE HELL OUT (Taiwan 2020) **
Directed by I-Fan Wang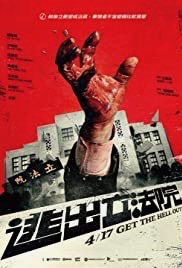 This is a very bad all-over-the place zombie movie. The film warns at the start that a bad film causes audiences to suffer 90 minutes whereas a bad Government has the people suffering for 4 years. Taiwan's parliament has been know to have had brawls and in this film, the story satirizes the fact with Taiwan's parliament turning deadly when a virus transforms politicians into ravenous zombie mutants. The story involves two young parliamentary representatives: the brash and badass Hsiung (Megan Lai), and her meek, unrequitedly lovesick confidant, security guard Wang (Bruce Ho). Cruelly kicked out of office after her martial arts prowess makes her a liability to her corrupt and sexist rivals, Hsiung must rely (reluctantly) on Wang to enter the political arena on her behalf and fight (literally) for her policies. Not that the plot matters. Director Wand directs all the goings-on with total mayhem slapstick - too much screaming and kicking; but the film unfortunately fails to engage being too unfocused with no direction. Yes, GET THE HELL OUT if you don't want to suffer 90 minutes.
Trailer: https://www.youtube.com/watch?v=Dj4idtC43u8
GOOD JOE BELL (USA 2020)
Directed by Reinaldo Marcus Green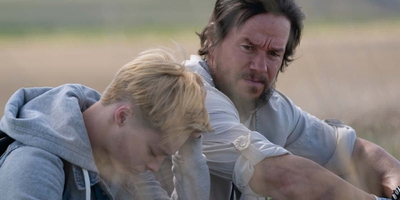 GOOD JOE BELL is based on a true story of the suicide of gay teen Jadin Bell. But it is the father,Joe Bell, (Mark Wahlberg) who undertakes a walk across the United States to raise awareness on bullying following the suicide. The film stresses the reason Joe Bell is taking the long walk. The least one knows about the film the better. In fact Jadin's death is kept from the audience (I myself was unaware of the fact as I did not read anything of the story) till half way through the film even though Joe had started his walk. This is a brave film with stars like Wahlberg (delivering an excellent subdued performance; he also produced), Jake Gyllenhaal (one of the producers) and Gary Sinise (playing Sheriff Weston) lending a hand in what is a very impressive film with a message. Though it might seem that GOOD JOE BELL aims at being a feel-good movie, it is the complete opposite. It takes a very sad film to send an important message effectively.
Trailer: (unavailable)
A GOOD MAN (France 2020) ***** Top 10
Directed by Marie-Castille Mention-Schaar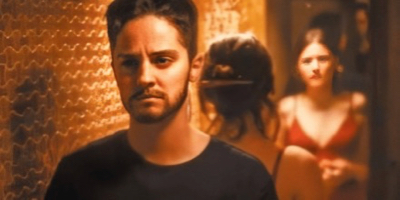 Benjamin Adler (Noémie Merlant from PORTRAIT OF A LADY ON FIRE) and Aude (Soko) want to have a baby, but when they find out that it is not possible for Aude to conceive, Benjamin comes up with a plan to solve their dilemma. Benjamin will carry the baby. This sounds really strange but the less one knows about the film's plot the better. I knew nothing of the story nor that the actor playing Benjamin is female as Benjamin is shown with a thin beard and lifting barbells in one of the film's scenes. Shot in the region of Bretagne (Brittany), director Mention-Schaar makes good use of the location, with the sea visible in many of the film's segments. One might think that subjects of LGBT films have run thin, but A GOOD MAN is totally original and a solid drama. A GOOD MAN is a Cannes 2020 Official Selection. At one point in the film, Ben and Aude remark: "Don't you think we will be the coolest parents ever?" Truly they are and A GOOD MAN is clearly one of the coolest films ever!
Clip: https://www.youtube.com/watch?v=tW8DaOLVys4
I AM GRETA (Sweden 2020) ***1/2
Directed by Nathan Grossman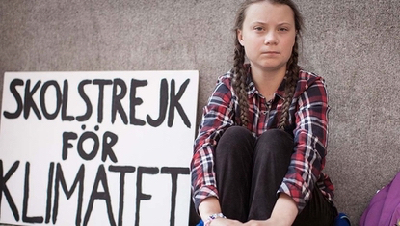 A doc is often as interesting as its subject. Greta Thunberg a 15-year old Swede child climate change activities could not be a better find. The film begins with her sitting alone outside Stockholm Parliament with a sign saying she is striking (school strike) for climate change. It looks really silly and unimportant but Greta eventually gets to speak at U.N. conferences on climate change, and even having an audience with Pope Francis and French President Emanuel Macron at the Elysee Palace. Director Grossman captures both the intimate moments and big moments of her speeches. At one point, her father is exasperated with her for not eating. And she has Asperger's, Still the moments where she admonishes the world leaders that they have failed their people are incredibly moving and well worth the price of the ticket. Like Jesus says in the Bible: " and a child will lead them." and the world might be 'Greta' again.
Trailer: https://www.youtube.com/watch?v=6B56wLQOmdo
I CARE A LOT (USA 2020) ****
Directed by J Blakeson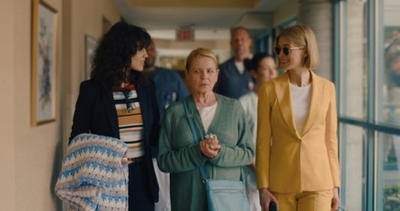 J Blakeson (THE DISAPPEARANCE OF ALICE CREED) writes and directs this black thriller that is so absorbing that one is glued to the screen from start to finish. The story concerns Marla Grayson (Rosamund Pike), an unscrupulous money grabber who becomes the legal guardian of elderly clients through manipulation of the courts while sapping them of their wealth and belongings. Her latest victim is Jennifer Peterson (Dianne Wiest) who turns out not to be as harmless as expected. Jennifer happens to be the mother of a ruthless Romanian gangster (Peter Linkage) who has connections with the Russian mafia. Marla has met her match and has to release the elderly Jennifer unless face unbearable circumstances. Blakeson moves the plot along with breakneck speed all the while keeping the story several steps ahead of the audience. With the film working so well, one can only hope the climax meets up with the thriller build up. It does in one of the most deliciously wicked film of the year. Pike, Linkage and Wiest are superb!
Trailer: (unavailable)
INCOVENIENT INDIAN (Canada 2020) ***
Directed by Michelle Latimer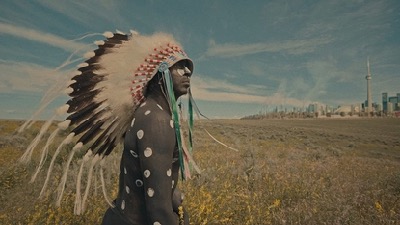 This doc tells what most people mostly already know that the indigenous people are poorly represented, especially by Hollywood films (including surprisingly NANOOK OF THE NORTH) and past abuses such as residential education and stolen land, but with more insight. Though NANOOK looks authentic, the audience is informed, as in many cases, that that was the way Indians lived a hundred years back, not recently. King can be seen as an intellectual, master storyteller from the way director Latimer tells King's story inspired from his bestselling book 'The Inconvenient Indian'. But taking the audience on his critical journey through the colonial narratives of North America turns out a bit too artistic and confusing that often blurs the point he wishes to make - he as an Indian ravelling in a cab with his driver dressed in a coyote outfit through the doc. The most fascinating segments in the film are both the archive footage King uses to tell his story and the protest clashes between the Indians and the military. With the latter, the film makes its point. A fascinating watch with an all important message to heed.
Trailer: https://www.facebook.com/watch/?v=685544755643725
KILL IT AND LEAVE THIS TOWN (Poland 2020) ***
Directed by Mariusz Wilczynski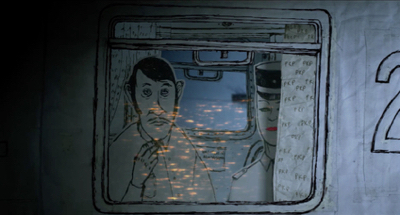 The difficult to follow story, if there is one is described by this line: Fleeing from despair after losing those dearest to him, the hero hides in a safe land of memories, where time stands still and all those dear to him are alive. This animated feature from Poland is reported to have taken 6 yers in the making - a film about memories. The animation is often squiggly and difficult to figure out, but the drawings are often grotesque and dreary, often changing from one form to another. Insects seem particularly the favourite of director Wilczynski, though spiders and others get squished along the way. Other strange things like fish head bobbling up and down appear repetitively in the film. An animated feature that is not for everyone, but an intriguing one, nevertheless with one trying to figure out what is in the mind of Wilczynski when he was making the film.
Trailer: https://www.imdb.com/video/vi642563609?playlistId=tt8387918&ref_=tt_ov_vi
LIMBO (UK 2020) **
Directed by Ben Sharrock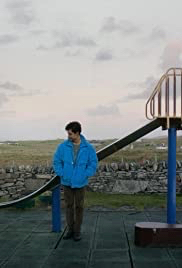 Omar (Amir El-Masry) is a promising young musician. Separated from his Syrian family, he is stuck on a remote Scottish island awaiting the fate of his asylum request. Director Sharrock's minimalist deadpan comedic and sometimes absurdist look at events (the adapting classes; the lone phone booth out of nowhere) reminds one immediately of Swedish director Roy Andersson, whose films SONGS FROM THE SECOND FLOOR and A PIGEON SAT ON A BRACH REFLECTING ON EXISTENCE share similar qualities. But Sharrock is no Andersson. His film's over dry humour often falls flat and his film ponders on too slowly. The plight of the refugees is examined fleetingly when they try to adapt to their new land. Sharrock's film shows the beauty of the remote Scottish isle with its icy landscape and howling gales. The ending where Omar gets to perform was totally predictable from the inset.
Trailer: (unavailable)
MEMORY HOUSE (Brazil/France 2020) ***
Directed by João Paulo Miranda Maria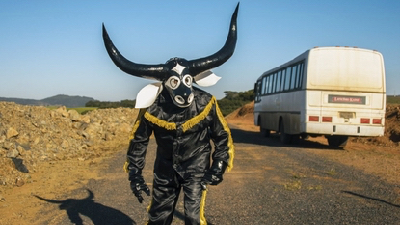 In writer/director João Paulo Miranda Maria's sad take on misplaced culture, a black indigenous man, Cristovam (Antonio Potanga) has made sacrifices to adapt to the Austrian colonism of the north. Christovam has moved to the south and in the film's opening, is given a long speech by management to explain his wage cut. He moves into an old abandoned house, the MEMORY HOUSE of the film's title, which contains artifacts reminding him of the past. This is the story of a man pushed to the limits with disastrous results not only for him but for the community. The film is a slow burn with many long takes. Still, one has to be attentive as to what is going on onscreen. The cinematography by Benjamin Echazarreta is magnificent as is the soundtrack by Nicolas Becker. MEMORY HOUSE is a Cannes Festival Official selection and the only latin-American film in the selection.
Trailer: https://www.youtube.com/watch?v=xm63773htIo
NEW ORDER (Mexico 2020) ****
Directed by Michel Franco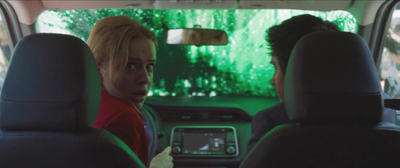 Director Franco demonstrates his talent for building chaos as his film begins with the evacuation of patients in a public hospital to make room for new ones who have more pressing wounds. The scene looks like something right out of a zombie movie, which is probably Franco's intention. But unlike Hollywood type chaos, the ones witnessed in NEW ORDER is terrifyingly real. The setting is Mexico City where a violent coup d'état is under way. As the mayhem at the hospital ensues, an elderly man is informed that his wife is to be brought to a private clinic incurring him additional expenses. He ends up seeking financial help from his employer's family where when a wedding is now taking place. The young bride decides to help and more chaos ensures due to the coup d'état. Franco's gripping film looks at the points of view of the servants of the wedding and the political unrest and they are not a pretty ones. Franco's excellent grasp of his material has just won his film the Grand Jury Prize at the Venice Film Festival.
Clip: https://www.youtube.com/watch?v=CLFCiiUEkyM&feature=youtu.be
LA NUIT DES ROIS (NIGHT OF THE KINGS) (Cote d'Ivoire/France/Senegal/Canada) ***1/2 Directed by Philippe LaCote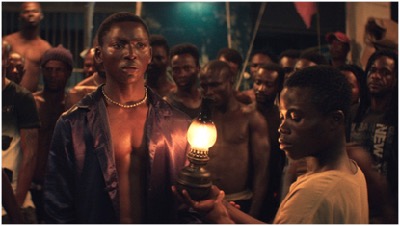 NIGHT OF THE KINGS is set in a God-forsaken place known as the Maca. The Maca is a 5-star prison set in the deep jungle of the Ivory Coast. It is the place where inmates rule. When the current Lord of the cellblock, Blackbeard (Steve Tientcheu) is about to die from terminal cancer, the prison is thrown into chaos. Into the mayhem enters a new inmate, who the prisoners call Roman (Kone Bakary). He has to tell a story lasting the whole night in order to survive at the order of Blackbeard. Director LaCote, himself from the Ivory Coast weaves a fascinating tale of horror and survival - a world seldom seen and hardly imagined. French actor Denis Lavant as a cameo as a character called 'Crack' who gos about with a white chicken on his shoulder. Lacote builds the story to an intense climax where all hell breaks loose in the Maca. The film also contains a message that one cannot change destiny (God decides all!) and demonstrates the enormous power of storytelling. A remarkable film!
Trailer: (unavailable)
NOMADLAND (USA 2020) ****
Directed by Chloe Zhao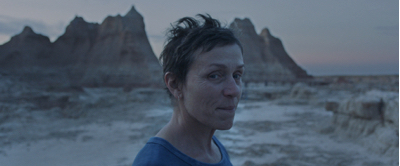 After the closure of the plant that operated for 88 years in Empire, Nevada because of the low demand on sheetrock, Fern (twice Oscar Winner Frances McDormand) takes to the road in her van like a nomad. NOMADLAND is one of the most anticipated films at TIFF with McDormand delivering an excellent performance totally different from FARGO and 3 BILLBOARDS - that of a tired sixty-something woman who has lost everything including a loving husband. Based on the novel by Jessica Bruder and adapted to the screen and directed by Zhao, best remembered for her excellent THE RIDER, Zhao captures the difficulty of living on the road like a nomad (the 10 commandments of stealth parking ; how to shit on the road) with some humour while dishing out a charming, heart-warming (including songs and line-dancing) and moving film with a message on life to boot. Joshua James Richards serves as the d.p. capturing some magnificent scenes of rural America.
Trailer: https://www.youtube.com/watch?v=UCauQhxMF-s
THE NEW CORPORATION: THE UNFORTUNATE NECESSARY SEQUEL
(Canada 2020) ***1/2
Directed by Joel Bakan and Jennifer Abbott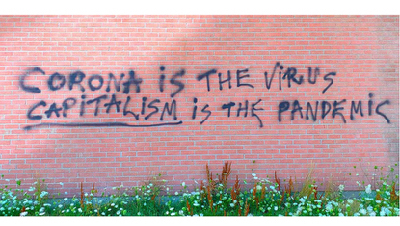 THE NEW CORPORATION is as the title states, the necessary sequel to The CORPORATION made in 2003 where legal decisions defined corporations as persons and gave them the same legal rights as people. And the bad results that followed. The new film examines how, since the 2008 economic collapse, corporations claim to have changed, passing themselves off as socially responsible. It ends with he current events of the George Floyd riots and the Covid-19 pandemic. The film is extremely business technical in the first half before becoming more accessible to everyone when poverty and human rights are addressed. The directors have assembled impressive footage as well as important interviewees and subjects. While taking down corporations by examination of how they continually fool the world (through the rules of an imagined corporate playbook), the film ends on a positive note of change. A documentary that is educationally informative that calls everyone to action in creating a better planet to live in.
Trailer: https://www.youtube.com/watch?v=yWnxlFES2Oc
NEW ORDER (Mexico 2020) ****
Directed by Michel Franco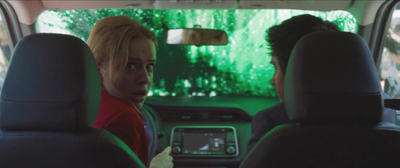 Director Franco demonstrates his talent for building chaos as his film begins with the evacuation of patients in a public hospital to make room for new ones who have more pressing wounds. The scene looks like something right out of a zombie movie, which is probably Franco's intention. But unlike Hollywood type chaos, the ones witnessed in NEW ORDER is terrifyingly real. The setting is Mexico City where a violent coup d'état is under way. As the mayhem at the hospital ensues, an elderly man is informed that his wife is to be brought to a private clinic incurring him additional expenses. He ends up seeking financial help from his employer's family where when a wedding is now taking place. The young bride decides to help and more chaos ensures due to the coup d'état. Franco's gripping film looks at the points of view of the servants of the wedding and the political unrest and they are not a pretty ones. Franco's excellent grasp of his material has just won his film the Grand Jury Prize at the Venice Film Festival.
Clip: https://www.youtube.com/watch?v=CLFCiiUEkyM&feature=youtu.be
ONE NIGHT IN MIAMI… (USA 2020) **
Directed by Regina King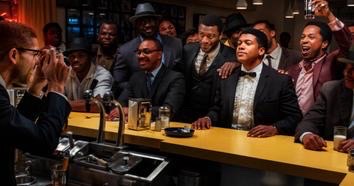 Regina King's anticipated follow-up to her 2018's IF BEALE STREET COULD TALK) is based on Kemp Powers' play, which is a fictionalized account (inspired by the true events though the meting never took place) of a 1964 meeting between Malcolm X, Muhammad Ali, Sam Cooke, and Jim Brown. Themeeting takes palce at the 30 minute mark of the film, Sounds like quite an evening, which it is from the banter among the friends discussing black life matter issues. How should black celebrities tackle racism or use the stars to serve the community? King again tackles the racist issues which she did in her 2018 film, occasionally playing to manipulate her audience against racism. King also takes a lot of the action out into the open (Ali's boxing match at emblem; Cooke's performance at the Copacabana; Brown's white benefactor's mansion) so that her film feels less stagey.
Trailer: https://www.youtube.com/watch?v=V0wVmCkt3wI
PASSION SIMPLE (France/Belgium/Lebanon 2020)
Directed by Danielle Arbid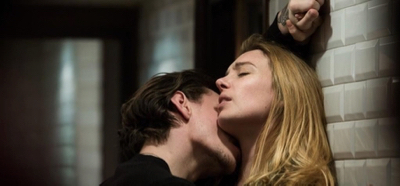 Simple passion or obsessive love? The film traces a mother's falling into an addictive relationship with a Russian diplomat, with whom she has nothing in common. Hélène (Laetitia Dosch) cannot function without sex with the man (Sergei Polunin) who does not give her his name or address. She has to wait for his call for unbridled sex which causes her to go crazy. The sex scenes are erotic enough to show how passionate their love making is. Much, much more of the same, repeated and repeated as if the audience does not get the idea that she cannot function without him. Her relationship with her son Paul also deteriorates with her unable to focus on anything but sex. So what happens in the end? Two options - she either totally breaks down or she moves on. 90 minutes one has to wait for the answer.
Trailer: (unavailable)
Trailer: (unavailable)
PENGUIN BLOOM (Australia 2020) ***
Directed by Glendyn Ivin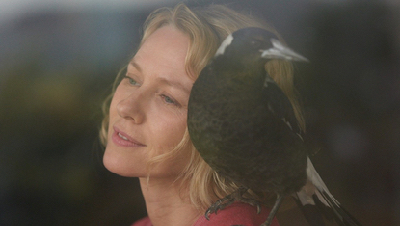 Probably a love project from two time Oscar nominee Naomi Watts who serves as a producer and main actress in the film, PENGUN BLOOM which is a true story based on a novel. The story tells of a mishap of the Australian Bloom family and the family's slow but painful recovery. The family takes a trip to Thailand where a freak accident leaves the mother Sam (Watts) paralyzed from the waist down. Sam and husband (Cameron (Andrew Lincoln) love to surf being the typical Australian couple. The family tries to cope but Sam also suffers physically and emotionally. Enter an injured magpie the children rescue, which cannot fly. The magpie is named penguin for its black and white colours and hence the film's title. The magpie and Sam attempt to escape from their comfort zones in this otherwise uplifting film about the triumph of the human spirit. Excellent camerawork done with the magpie. A bit laboured and predictable in its execution, but sincere (they thought they rescued a bird, but the bird rescued them), nevertheless.
Trailer: (unavailable)
PIECES OF A WOMAN (USA/Hungary/Canada 2020) ***
Directed by Kornél Mundruczó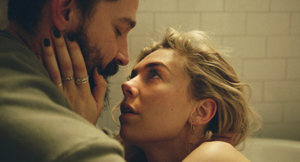 The PIECES OF A WOMAN on display in Hungarian director Kornél Mundruczó's first American film are examined in the segments of her life in intervals of around 3 weeks from the of of her baby during childbirth. The woman is Martha (Brit actress Vanessa Kirby),a tightly wound executive married to Shawn (Shia LaBeouf) a construction worker with a volatile past, as observed in the film's opening scene at his work site. They have found love across a class divide and are eagerly expecting their first baby. The next scene is the long and excruciating long take of the complications with a midwife (Molly Parker) that interrupt their planned home birth, causing the baby's death, bringing the film to the quarter mark of its running time. The rest of the film sees the couple spiralling into tragedy. But the main point of view is Martha's as director Mundruczó navigates her loss to the end of her suffering. The film mainly showcases the acting performances of the apt cast. Everyone is almost perfect here, though the subject matter proves a difficult watch throughout.
Clip: https://www.youtube.com/watch?v=hC3aOXokDuc
QUO VADIS, AIDA? (Bosnia and Herzegovina, Norway, The Netherlands, Austria, Romania, France, Germany, Poland, Turkey 2020) ***
Directed by Jasmila Žbanić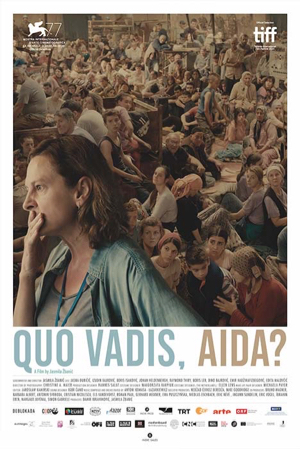 The film is staged so well, the film, based on true events, feels so real and relevant. The setting is the United Nations military base free zone operated by the Dutch. The local city have evacuated there though most of the people are outside the base, the base being too small to house everyone. The Serbian general, Mladić (Boris Isaković) and his troops have occupied the town and are forcing the people to relocate from the base. The film narrows into the protagonist,Aida (Jasna Ðuričić), a middle-aged English teacher and translator taking shelter in the base. She tries to save her husband and two sons by having the family travel together with the U.N. forces but with little success. The narrative is simple and clear enough with the rest of director Žbanić's efforts left to managing the logistics of the film. Many of the scenes involve hundreds of people and the filming must have been quite the effort. Žbanić makes her point clear showing how Aida's trauma results from ethnic and war violence.
Clip: https://www.youtube.com/watch?v=Euu9zkCMR-c
SHADOW IN THE CLOUD (USA/New Zealand 2020) ****
Directed by Roseanne Liang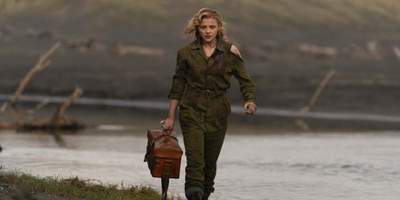 There is one film every year that is totally different in theme that it will blow one away in terms of plot and story. SHADOW IN THE CLOUD is that movie for 2020. What first appears to be a tribute to women fighter pilots during WWII turns 180 degrees into a Twilight Zone episode complete with a monster on the exterior of the aircraft as observed by WAAF Officer Maude Garrett (Chloe Grace Moretz). Being the only female in the plane and supposedly carrying a top-secret package that is not to be opened under any circumstances, she is made the brunt of male chauvinist jokes. "A package? I also have a package for her," seems the typical response from the male crew. Even when Garrett shoots down a Japanese fighter plane is she still being ridiculed. But through brilliant very funny humour and excellent logistics and production design, SHADOW IN THE CLOUD becomes totally believable despite its sci-fi distraction. Moretz is also excellent in her role. The film deservedly got a buyer doing TIFF and will be released in 2021 in theatres.
Trailer: (unavailble)
TRICKSTER (Canada 2020) ***
Directed by Michelle Latimer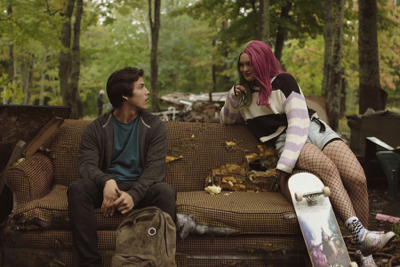 How do you turn $30 into $3 grand? Can TRICKSTER do it. Based on the novel by Eden Robinson 'Son of a Trickster', TRICKSTER is the new 6 episode CBC original series, shown here at TIFF as a primetime movie copping of 2 episodes of 45 minutes each. The series is co-created and directed by indigenous filmmaker Michelle Latimer who also directed INCONVENIENT INDIAN, an artsy doc for the National Film Board also screened at this year's TIFF. TRICKSTER is more commercial than artsy and follows the difficult life of an indigenous teen (Joel) and her crazy mother. Latimer provides an authentic look at a typical out of their luck indigenous movie. But this darkly humorous coming-of-age story, is actually a supernatural thriller though the supernatural element is little seen in the first 2 episodes. The first two episodes clearly whets the appetite for more that is to come.
Trailer: https://www.youtube.com/watch?v=6IHLDWHxSLw
TRUE MOTHES (Japan 2020) **1/2
Directed by Naomi Kawase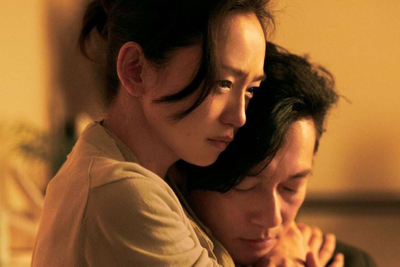 TRUE MOTHERS is an adaptation of a 2015 novel by Mizuki Tsujimura which tells the stories of several mothers, the most important being the adoptive mother and the birth mother. The film shows an incident and than flashbacks in time to show the emotions of the mothers and the incidents that led to that state of affairs. Asato the adopted son is accused of pushing and injuring a classmate. After that matter is resolved, the film goes back to show how Asato is adopted. Then there is a scene with the birth mother. The film goes back to show she got impregnated with him. TRUE MOTHERS is emotions shown raw but it is a slow burn with the film running 2 1/4 hours. In 2018, Jeanne Herry's film PUPILLE (screened at Cinefranco) which shows the emotional and personal pains of the entire adoptive process in France achieved the same results more efficiently and effectively.
Trailer: https://www.youtube.com/watch?v=4lWKozrsAxc
THE TRUFFLE HUNTERS (Italy/USA/Greece 2020) ***
Directed by Michael Dweck & Gregory Kershaw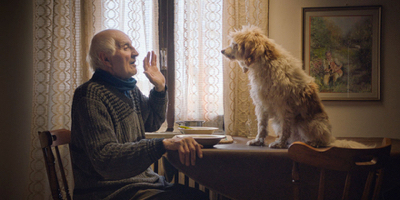 This documentary on the rare object of truffles is set in the forests of Piedmont, Italy, where a handful of men, 70 or 80 years of age hunt for one of the world's most expensive ingredients – the rare white Alba truffle, coveted by Michelin-starred chefs. But it is also their dogs, the faithful companions who are the hunters. Men and dog are shown in many segments -one with a hunter having a birthday with his dog; another with one shopping for a muzzle for his dog cannot partake of poison; and yet another with the two of them in a bath tub. With a camcorder placed on the dog, the film has vivid scenes of the dogs rushing through the forests or digging up truffles. The film also shows how truffles are eaten by connoisseurs. And also how they are bought by different kind of buyers - the rich conglomerate ones and the traditional ones. The film also depict a different kind of lifestyle, where these hunters know nothing else yet are experts in their field, often not wanting to pass down information to new generations. This is an
eye-opening doc though one wishes the film would also show truffle hunters in France and other countries.
Trailer: https://www.thehollywoodnews.com/2020/09/10/trailer-for-feature-documentary-the-truffle-hunters/
UNDERPLAYED (Canada 2020) **
Directed by Stacey Lee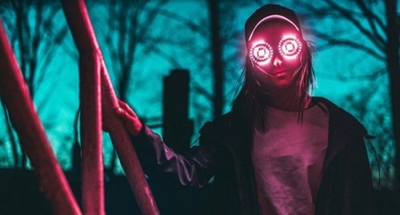 UNDERPLAYED features women (and women of colour) in the electronic music scene. DJs like Alison Wonderland, Sherelle, and Canada's own REZZ are featured with much emphasize on REZZ. There is a segment on her in her Canadian home in Niagara Falls working very hard in the basement before getting famous and becoming a headliner in music festivals and clubs. But the emphasis of the doc is to highlight the under-representation of females in the industry. One wishes the doc has more music on display more than the artists complaining about females being underrepresented in the electronics music world. The fact is obviously true as 5% of the top 100 DJ's were women, in a survey recently, but the film just goes on too much about it. At its best, the doc shows the realistic the 2019 summer festival season, criss-crossing around the world.
Trailer: https://www.youtube.com/watch?v=nPi-NZtlUSk
VIOLATION (Canada 2020) **
Directed by Madeleine Sims-Fewer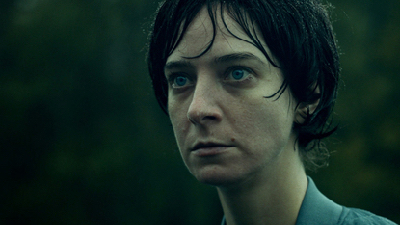 Madeleine Sims-Fewer does triple duty in VIOLATION serving as writer, director and actor which is a messed up film about messed up people. She plays Mariam a troubled woman on the edge of divorce returns home from London to her younger sister in Canada after years apart. But when her sister and brother-in-law betray her trust, she embarks on a vicious crusade of revenge. Miriam does not know what she wants and the script does not make any effort to make the audience care for her character either. The film also randomly tackles issues like sexual abuse but never follows it anywhere. The imaginary sequence where a male is gutted is puzzling if not disgusting. The directors also seem fond of filming creates like spiders, rabbits and wolves. Too many things shown going on on the screen in a story in which little happens in a pretentious, slow burn of a pretentious psychological drama.
Clip: https://bloody-disgusting.com/exclusives/3631326/violation-exclusive-clip/
THE WAY I SEE IT (USA 2020) ***
Directed by Dawn Porter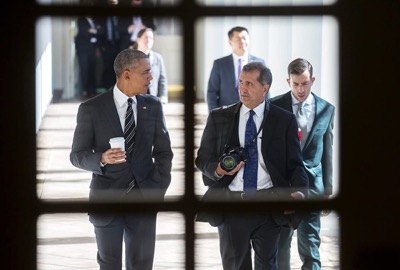 The subject is former White House chief photographer Pete Souza and the subjects are ex-Presidents Ronald Reagan, Barrack Obama and to a lesser extent, current President Donald Trump. Souza reflects mostly on the Obama presidency and what it stood for, in this timely, election-year documentary. Director Dawn Porter also knows the power of images from her documentaries such as John Lewis: Good Trouble and Bobby Kennedy for President. THE WAY I SEE IT, a fast moving and informative documentary with a huge chunk on politics is a doc for everyone including those who hate politics because of he way director Porter treats her material. The amazing thing about Souza's photographs, is the fact that they show more of the subjects than the photographer. And that is the way it should be.
Trailer: https://www.youtube.com/watch?v=7L4ktHbelhc
WILDFIRE (UK/Ireland 2020) ***
Directed by Cathy Brady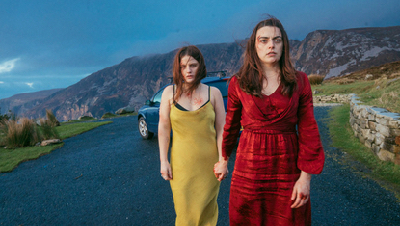 WILDFIRE centres on sisters Lauren and Kelly, an inseparable pair brought up in a small Northern Ireland town by the Irish border. When the film opens, Kelly has returned to the town after an unexplained one year absence. Their lives fell apart with the mysterious death of their mother. Left to pick up the pieces, Lauren is confronted with their dark past when Kelly returns home having been missing for a year. Director Brady keeps the mystery from her audience. In the meantime, Kelly is shown to be a bit unstable, jumping into the water fro a swim in the night and digging up the garden in the backyard in the wee hours of the morning. But it is the caustic actions resulting in the sibling bond that causes trouble. Director Brady's film is truly Irish in all aspects from the landscape to the people and slang and to the incidents taking place in the story (like the chucking of rubbish out of vehicles, which is a common problem in Ireland). Actress Nika McGuigan who plays Kelly passed away last year from cancer and the film is dedicated to her.
Clip: https://deadline.com/video/wildfire-first-clip-for-toronto-drama-from-the-last-king-of-scotland-happy-as-lazzaro-once-producers/
Related articles