20
Sep
2020
Details

Category: Movie Reviews
Written by Gilbert Seah
THE BEST OF TIFF 2020
In the Covid-19 year of the Toronto International Film Festival which featured just 50 films instead of the over 300 plus films of the regular year, I have managed to view a total of 44 films, which include 3 from TIFF Industry Selects and 2 from Private Screenings, the latter 2 categories not open for public purchase or viewing.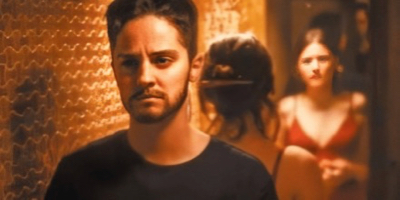 Of the 44 films I have viewed the best of the lot comes from France in the Industry Selects section, a film called A GOOD MAN (no English title) directed by Marie-Castille Mention-Schaar and co-written by her and Christian Sonderegger. What made this film stand out as my best is the film's originality and execution. The film is stunningly shot in the surroundings of Normandy where the sea is always in view. Just as one would think LGBT films have run out of new issues, out comes one that will both surprise and shock. The least said or known about the film the better - the synopsis is just given in 2 lines: Aude and Benjamin have been in love for six years. Because Aude suffers deeply from not being able to have a child, Benjamin decides he will carry the pregnancy. The question is how a husband can carry a child. This turn of events only occurs at the film's has way mark. The big revelation is that Benjamin is trans-gender and can still bear a child having not fully transformed to a male. A bigger revelation that I only found out after watching the film is that the good-looking actor who plays Benjamin, with a trim beard, is Noenie Merland from PORTRAIT OF A LADY ON FIRE. Mention-Schaar's moving film covers prejudice, love, passion and purpose. It also puts a new meaning to the label of wife, husband, father and mother. A GOOD MAN was not one of the films sold on the list of TIFF announcements, but I would buy it without any hesitation if I work for a distribution company.
The Best 10 films at TIFF in order:
1. A GOOD MAN
2. BEGINNING
3. ETE '85 (SUMMER OF 1985)
4. I CARE A LOT
5. NOMADLAND
6. THE FATHER
7. NEW ORDER
8. FAUNA
9. SHADOW IN THE CLOUD
10. GOOD JOE BELL
Other Winners:
The Toronto International Film Festival, alongside the International Federation of Film Critics (FIPRESCI) and the Network for the Promotion of Asian Pacific Cinema (NETPAC), announced award winners for work screened at TIFF 2020.
FIPRESCI Winner: BEGINNING
NETPAC Winner: GAZA MON AMOUR (I did not see this film)
People's Choice Awards:
Overall Winner: NOMADLAND Runner up: ONE NIGHT IN MIAMI….(I found this boring)
Midnight Madness: SHADOW IN THE WIND
Documentary: INCONVENIENT INDIAN
Canada Goose Amplify Voices Awards:
Winner: Best Canadian Feature Film: INCONVENIENT INDIAN
Special Mention: FAUNA