FILM REVIEWS:
ASK NO QUESTIONS (Canada 2020) ***
Directed by Jason Loftus and Eric Pedicelli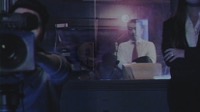 Can anyone ever trust the Chinese Government? Making a film condemning the Chinese Government like the Canadian doc ASK NO QUESTIONS is obviously risky as no one can foresee what they are up to which means that they can exact a terrible retaliation. The above statement may sound racist, but I am Chinese by race. So, to be clear, I can get away with saying it. The film reminds me of the artist Ai Weiwei's documentary by Alison Klayman AI WAIWEI: NEVER SORRY in which China's most famous internationalist artist who spoke out against the Chinese Government was eventually kidnapped and re-educated. When emerged, he had nothing further to say and sadly he seems resigned at having anything else bad to say about the Chinese Government. Their re-education process is notorious for its 'effectiveness' in dealing with dissidents. If the Chinese can do this to their own people, one can only shudder in horror to think what they would do to their enemies.
The film becomes only too relevant in these times of Covid-19. President Trump has accused the Chinese of not coming clean with the Corona virus. and he might be correct (as much as I dislike him) on that. The magic question is whether the world would have benefited if China had come clean, assuming they had not.
ASK NO QUESTIONS is a documentary that employs actors to play the parts of the real victims and people involved. The cast is comprised of mainly unknowns who are to their credit, quite convincing.
This is the story of Falun Gong - a very popular spiritual practice, second only to Buddhism. The Chinese Government first embraced it before calling it an evil cult. The story is told initially from the point of view of a Canadian who practices Falun Gong. His voiceover informs the audience of what the practice is as well as to what the government did to forbid its practice. Innocents lives lost? This Canadian meets a Chinese named Chen Ruichang (played by Jian Shi) who worked at a high level in the propaganda division of Guangdong TV till he was discovered praising Falun Gong and then brainwashed. The process of self immolation is the term used.
The doc steers towards a different path after the first third leading the audience to believe the the Chinese Government has staged what has been telecast on the media through the world. Questions like: Did one of those who set themselves bonfire at Tiananmen Square be staged? This is one of the many questions posed and directors Pedicelli and Loftus go to great lengths to convince the audience that all could be done as part of government propaganda. The conspiracy theory is all quite convincingly assembled together.
The doc was nominated for the Grand Jury Prize for Best Documentary at the Slamdance Film Festival 2020. One thing is for sure, the research done by the filmmakers is most impressive.
Trailer: (unavailable)
THE ANTENNA (BINA) (Turkey 2019) ***
Directed by Orçun Behram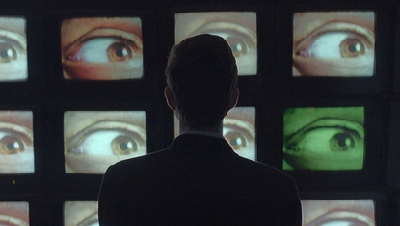 Things begin to go awry when a satellite antenna is first installed on the roof of an apartment building in Turkey. First of all, the installation man falls to his death. Then, black oozing sludge begins seeping through the wall of the residents' apartments followed by the boiler blowing up.
The inhabitants of an apartment building are now caught in a living nightmare.
All this happens under the watch of the building superintendent, Mehmet (Ihsan Önal) under orders from his supervisor not to say a word of the happenings.
The big thing that all the residents are waiting for, that also forms the film's climax is the midnight broadcast to everyone that will come through this satellite.
Though THE ANTENNA plays s a horror movie, it is at times reminiscent of Lars Von Trier's EUROPA where the new train conductor stands in for the superintendent. The film feels like a Kafka horror movie with the black slime. It is Mehmet stuck in a horror movie of his own. He has to fix the problem and locate the source of the black tar while frequently awaking from nightmares from his claustrophobic job in which he has to sit in a booth most of the time. And when he does off, his boss catches him for sure.
What makes THE ANTENNA tick is the scary dystopian atmosphere director Behram creates with the use of both his camera and logistics. Behram is fond of using aerial shots, often with the same aerial shot but with different incidents occurring below. The fall to the death of the installation guy is also seen from the window of the booth where Mehmet works, making the death looks even more eerie.
The horror is confined to a few families in the building rather than to show the effects on every tenant. One tenant happens to swallow the black guck that had dripped into his steak during dinner. He then turns murderous ending with scenes with his daughter running out of the apartment screaming. She faces faceless human beings, though no explanation is given as to where they come from. Another family has the father and mother electrocuted while watching television while the son is trapped in his room.
The one flaw of THE ANTENNA is the lack of a suitable ending. With all the suspense and incidents occurred, it is difficult to offer a satisfactory explanation. Behram leaves it as it is, which might infuriate some audiences.
THE ANTENNA (shot in Turkish) premiered at the Toronto International Film Festival last year (2019) and opens in virtual theatres (October 2) - Including: Los Angeles (Laemmle), New York and major cities (Museum Of The Moving Image (MOMI), Alamo On Demand) and Philadelphia (Film Society). Release on VOD (US & Canada) (October 20): Including: iTunes, Amazon, Google Play, Xbox, Vudu, Dish Network and all major cable providers. The film has won several awards at the Istanbul International Film Festival.
Trailer: https://youtu.be/nSWR4rz7EkA
THE BOYS IN THE BAND (USA 2020) ***
Directed by Joe Mantella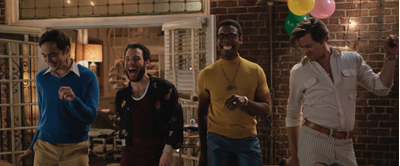 Netflix's new version of THE BOYS IN THE BAND (2020) is based on the Matt Crowley 2018 Broadway play of the same name featuring the original, and entirely openly gay cast. That 2018 play was based on his original 1968 play with was made into a film in 1970 that was directed by EXORCIST's William Friedkin. The film is dedicated to the memory of the play's author Crowly who died really this year at the age of 84.
The film's setting is 1968 New York City. It is a period piece today compared to being a contemporary piece in 1970 when the first film came out. The film is dated and looks that way, but contributing to the nostalgia of the times. It is one year before Stonewall and before the A.I.D.s epidemic. In one scene, a straight older couple cringe at the camp shenanigans of their gay neighbours. It clearly reveals the time when being gay was still considered to be best kept behind closed doors. Being gay is now largely accepted, a vast i reverent of the times.
The premise is the birthday party attended by a group of gay friends hosted by Michael (Jim Parsons from THE BIG BANG THEORY), a screenwriter who spends and drinks too much, in honour of the sharp-dressed and sharp-tongued birthday boy, Harold (Zachary Quinto). Other partygoers include Donald (Matt Bomer), Michael's former flame, now mired in self-analysis; Larry (Andrew Rannells), a randy commercial artist living with Hank (Tuc Watkins), a school teacher who has just left his wife; Bernard (Michael Benjamin Washington), a librarian tiptoeing around fraught codes of friendship alongside Emory (Robin de Jesús), a decorator who never holds back; and a guileless hustler (Charlie Carver) hired to be Harold's gift for the night. What begins as an evening of drinks and laughs gets upended when Alan (Brian Hutchison), Michael's straight-laced college roommate, shows up unexpectedly and each man is challenged to confront long-buried truths. Michael initiates a game where points are scored when one calls the person he loves and tells the person he loves him.
The film is based on a play and looks it. The classic line: "Who do I have to fuck to get a drink around here," might have been a funny surprising line back then, but now seems a line already too often used. The story also shows that prejudice also exists among themselves. They look down at the rent boy that is hired for the birthday boy. "He cannot talk intelligently about art," is the remark made of him. Lines like "She is the Queen of Spades" referred to the black member are common utterances in those days but not now. (Monty Python had a skit with the line uttered by a white housewife: "Did you see who moved next door? Blacker than the Ace of Spades?")
The acerbic conversations during the party end up hurting most of the guests. "If only we did to hate each other so much," is the comment that Michael makes at the end of the film. In these times of gay acceptance, this hatred has thankfully been largely diminished. THE BOYS IN THE BAND which can be now considered as a period piece, reveals an era that is past and perhaps not missed. It also serves to remind gays that so much have been accomplished (like gay marriage) since then for the better.
Trailer: https://www.youtube.com/watch?v=862Pb9oDDAo
EPICENTRO (Austria/France 2020) ***
Directed by Hubert Sauper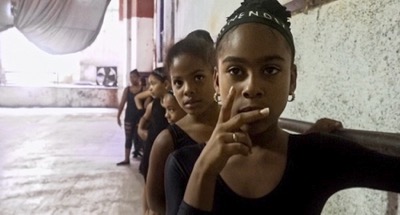 Cuba, a place many Canadians have traveled to, to bathe in the sun in all-inclusive resorts is like a time capsule where time stood still for a hundred years. Vintage cars are driven in the streets and the locals live a life of leisure.
Another Cuba is depicted in this artistically style documentary of Cuba - a mystical Cuba in which many truths are revealed.
EPICENTRO is an immersive and metaphorical portrait of post-colonial, "utopian" Cuba, where the 1898 explosion of the USS Maine still resonates. This Big Bang ended Spanish colonial dominance in the Americas and ushered in the era of the American Empire. At the same time and place, a powerful tool of conquest was born: cinema as propaganda. In his latest film, Hubert Sauper explores a century of interventionism and myth-making together with the extraordinary people of Havana—who he calls "young prophets"—to interrogate time, imperialism and cinema itself.
The history of Cuba should be known to better appreciate EPICENTRO. The territory that is now Cuba was inhabited by the Ciboney Taíno people from the 4th millennium BC until Spanish colonization in the 15th century. From the 15th century, it was a colony of Spain until the Spanish–American War of 1898, when Cuba was occupied by the United States (and when the film begins) and gained nominal independence as a de facto United States protectorate in 1902. As a fragile republic, in 1940 Cuba attempted to strengthen its democratic system, but mounting political radicalization and social strife culminated in a coup and subsequent dictatorship under Fulgencio Batista in 1952. Open corruption and oppression under Batista's rule led to his ousting in January 1959 by the 26th of July Movement, which afterwards established communist rule under the leadership of Fidel Castro. Since 1965, the state has been governed by the Communist Party of Cuba. The country was a point of contention during the Cold War between the Soviet Union and the United States, and a nuclear war nearly broke out during the Cuban Missile Crisis of 1962. Cuba is one of a few extant Marxist–Leninist socialist states, where the role of the vanguard Communist Party is enshrined in the Constitution.
Director Sauper appears himself in a few segments of the film. He offers his views on the decollate situation in Cuba. He is fond of using children to express their views. During a classroom showing of America taking over Cuba, the children show disbelief that the Americans are the good guys and fighters for freedom.
Sauper's film is not without humour. He illustrates how propaganda films were made in a bathtub with toy ships, firecrackers and people blowing cigar smoke to simulate explosions. It is easier to fool people than to tell people that they are being fooled.
Trump and the United States are once again a target in the film. The kids have their say about Trump, which makes him look even worse.
EPICENTRO is Cuba - as seen by the people of Cuba.
Trailer: https://www.youtube.com/watch?v=F2ycVtJ8leM
ETERNAL BEAUTY (2020) ***1/2
Directed by Craig Roberts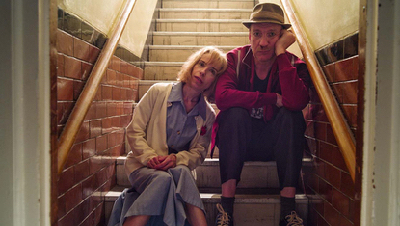 Sally Hawkins is reason enough to see ETERNAL BEAUTY. Twice Oscar nominated Hawkins who should have won for Woody Allen's BLUE JASMINE if not for Guillermo del Toro's THE SHAPE OF WATER plays a schizophrenic, Jane with problems getting her life in order. This is not so different with her breakthrough role in the 2008 Mike Leigh's HAPPY-GO-LUCKY where she plays an overly optimistic Poppy with quaint mannerisms. Hawkins in my humble opinion is one of the best actresses in cinema today.
Hawkins is supported by David Thewlis who also worked with Mike Leigh in films like NAKED and LIFE IS SWEET. Thewlis plays Jane's love interest, Mike an out-of-work musician who also has trouble fitting into society.
The film is called ETERNAL BEAUTY for when Jane was younger (played by Morfydd Clark, last seen as SAINT MAUD), she was entered in a beauty contest, but then taken over by her sister, Nicola (Billie Piper) upon the instance of an over-bearing mother (Penelope Wilton). This incident together with her left at the altar on her wedding day contribute partly to her mental state. Her family does not treat her illness lightly often giving her a hard time about it. The only one accepting her as she is is Mike.
Mental illness is treated with a positive attitude by director Roberts though he shows the problems that come with it. Jane obviously can get dangerous at times, as when she drives her nephew back from school. The film also contains humorous parts but it is more of a sad film, but with hope. A few loose ends are left in the film that should have been clarified. In one scene, Jane tells her nephew that she is actually her real mother and that he had been given up to her sister because of her mental state. The issue is never confirmed or death with again.
The film is incident driven rather than character driven. These include Jane's romance, her younger days with treatment at the institution, even with shock treatments, her relationship with family and her present state of mental illness. The film's important message is on acceptance. Jane is told at the start of the film that she should not fight depression, but make friends with it. Jane says that the voices she always hear gives her more friends than her sister. Jane also forgives Mike for a wrong doing (not to be revealed in the review) and accepts Mike for what he is. The film looks down on treatments like shock treatments, pills and other medication. "I don't feel better," Jane marks in one segment about her medication to the doctor. The film puts forward the idea to accept Jane's condition as it is.
Eternal Beauty is Craig Roberts writing and directorial debut. He had acted before with Hawkins in SUBMARINE. The film shows promise an Roberts to be a filmmaker with talent o be reckoned with.
Trailer: https://www.youtube.com/watch?v=NiqwtgZzbds
THE GLORIAS (USA 2020) **
Directed by Julie Taymor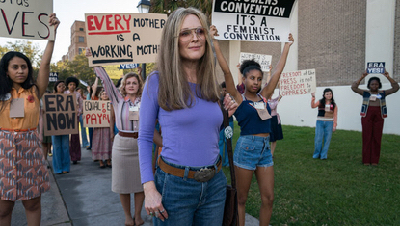 Maverick filmmaker Julie Taymor appears a good choice to direct a #me too movement drama biography of Gloria Steinem which is based on her book "My Life on the Road". Taymor has directed both film and theatre. Taymor is the first woman to win a Tony for directing a musical (THE LION KING) and she has directed acclaimed movies like MIDSUMMER'S NIGHT DREAM, ACROSS THE UNIVERSE, TITUS, FIDA and THE TEMPEST. THE GLORIAS is co-writtten by Taymor and Julia Ruhl.
Those who remember the films of Julie Taymor, say of TITUS (1999) and ACROSS THE UNIVERSE (2007), will recall her as a director willing to take risks to tell her story. This attribute is immediately recognizable in THE GLORIAS as well. The film has contains intercutting of scenes with Gloria at different ages or at different stages of her life. The audience sees intercut scenes of Gloria in a third class train carriage travelling in India and Gloria working as a journalist at a paper. In another segment two versions of Gloria (i.e. Julianne Moore and Alicia Vikander) appear in the same image. Yet another has the same Gloria smoking while another scene has just ended with the conversation of her therapy still going on. One surreal scene occurs during a live TV interview where Gloria is accused of wearing a sex object costume. The scene turns red and Gloria's costume turns into that of a nun's. It is admirable tat a filmmaker takes risks at telling a story. The segment comes together with the line from Shakespeare's MACBETH "double, double, toil and trouble" voiceover which showcases Taymor's work in Shakespeare.
The non-linear chronological order can be confusing especially when two versions of Gloria appear in the same scene. The surrealist element is commendable effort but again, it over emphasizes a point. Whatever happening to straight forward storytelling where the filmmaker is confident of the material?
The portrayal of the white man or in this case a white woman in a third world country is typically stereotyped. The scene with Gloria riding in a 3rd class train having all the sympathy for the poor Indians, including the incumbent riots is the typical accepted too often seen scenario where the white does good in a foreign land looking like God-given saints where the foreigners are unable to help themselves.
Director Taymor pushes all the buttons whenever she can to push for audiences to rile up against female inequality. Almost every single scene highlights the anger from the more subtle ignoring of Gloria's father (Timothy Hutton) of her mother's condition to the riots, protests to the prejudiced treatment of Gloria in her journalism work. All the men in Taymor's film are women haters except for just one, the husband of an Indigenous activist,
THE GLORIAS runs at two and a half hours and is laboured watch. The film could be shorted without Taymor's surrealistic interpretations without demising the film's message. THE GLORIAS is a strong female voice made by dedicated females with a valid story to tell.
THE GLORIAS opens in Canada on October 2 on VOD/Digital.
Trailer: https://www.youtube.com/watch?v=0XDYdZSkJ8Y
MONEY MACHINE (USA 2020) ***1/2
Directed by Ramsey Denison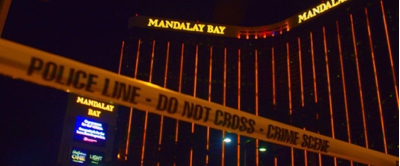 If you love to get all riled up in anger with blood gushing though your veins, especially with lies that been told to you and how unethical and evil man can be, then MONEY MACHINE is the number 1 doc to see. It involves the body of lies following the October 1 mass shooting in Las Vegas - the largest mass shooting in history. The doc also arrives at the anniversary of that tragic day.
On October 1, 2017, Stephen Paddock opened fire on a crowd of more than 20,000 concertgoers from his hotel room at MGM's Mandalay Bay in Las Vegas. In a matter of minutes, Paddock killed 58 people and wounded more than 400. It was the largest mass shooting in the history of the United States. Yet, just a couple of years later, Vegas seems to have forgotten it completely. Needless to say, mass shootings are not good for business and it did not take long for the Vegas money machine to get to work making this one disappear.
Director Denison takes on again the LVPD as he did in his 2017 doc WHAT HAPPENED IN VEGAS where he uncovered police corruption then. But this corruption is still rampant but only one of the many issues Denison tackles in his latest film.
Director Denison first covers the shooting. Assembling key interviews of Route 91 survivors which include difficult to watch archive footage and personal cell phone footage of the shooting, the doc feels like a blockbuster action/thriller at the start.
Denison then goes into the conspiracy theory following the aftermath. Was there just one or several shooters? Leaked images of the weapons on to the internet were never explained by the LVPD. The FBI, Police Department and Government trivialized the danger to get people to forget the deaths and to return to Vegas to spends their money.
The third and most infuriating issue is the #VegasStrong movement. Money was raised for the victims who never saw the money and when they finally relied it, only a small portion of it.
Yes, and there is more. Denison scores bonus points in getting the shooter's brother to talk to the camera. His 'fuck this… fuck that' dialogue is not only hilarious but his words shed light on the reason his brother got mad at corporate for stealing his money.
The last and crucial issue is the corruption of the Police Department and the villain of the piece the sheriff. Joe Lombardi. Denison goes on to mention how MGM sued the victims - outrageous as it sounds. Worst still is the lawyer that represented the victims against MGM who ended up amassing a fortune for his work.
As they say, Karma returns to bite you in the ass. For all that Vegas authorities have done to reopen and make the people and victims forget, Covid-19 finally emptied the streets and casinos of Vegas. Denison capitalizes on the fact. He ends his doc with the voiceover saying that corruption came to Vegas when the mob left. Denison might have covered too many issues in his angry doc but he clearly has lauded his message.
Trailer: https://www.youtube.com/watch?v=6lN2In-qfp8
ON THE ROCKS (USA 2020) ***1/2
Directed by Sofia Coppola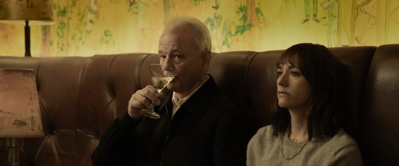 In lighter mode than in her other films (LOST IN TRANSITION, THE VIRGIN SUICIDES and her previous THE BEGUILED), ON THE ROCKS is arguably Sofia Coppola's best movie despite it being a comedy. Being less ambitious in scope, writer/director Coppola keeps in all together in a tight sophisticated comedy about characters mired in an uncomfortable sophisticated lifestyle. Coppola is aided by veteran actor/comedian Bill Murray who basically plays himself a billionaire playboy, who cannot have enough of the opposite sex. Murray receives top billing in what is clearly a supporting role.
Infidelity in marriage has always been a favourite theme in films. Way back when, there was a film with an almost identical title Jack Donahue's MARRIAGE ON THE ROCKS with Frank Sinatra and Dean Martin. So the title ON THE ROCKS implies a marriage on the rocks in Coppola's movie.
Despite its light theme, writer Coppola offers some insight on the fragility of an honest and successful marriage - her insight if one wants to take it or not. This comes after the film examines both sides of view, with the wife and husband, amidst pressures of daily routines and business life.
Set in a world of privilege and sophistication, Laura (Rashida Jones) thinks she's happily married with two daughters, but when her husband Dean (Marlon Wayans) starts logging late hours at the office with a new co-worker, Fiona (Jessica Henwick), Laura begins to fear the worst. She turns to the one man she suspects may have insight: her charming and impulsive father Felix (Bill Murray), who insists they investigate the situation. The investigation results in Felix hiring a private investigator keeping tabs of Dean's whereabouts and credit card spending. Things take a turn when it is discovered that Dean has planned a business trip to Puerto Vallarta, Mexico. Felix convinces Laura to fly down with him to investigate. Nothing more should be said of the plot at this point.
The funniest parts are when Coppola writes the man lines. When Felix offers Laura the excuses why he cheated on her mother, it is plain hilarious and ridiculous. And Murray pulls a straight face in delivering the lines. Funnier still is when Laura finally confronts him with all his bullshit. When cornered, Murray once again pulls on his hilarious straight face. Most of the humour comes from Murray with funnyman Marlon Wayans playing a mostly straight role. Wayans has played stupid in comedies like A HAUNTED HOUSE and the famous WHITE CHICKS.
The introduction of a mixed race marriage is also good to see - that Coppola does away with racial prejudice. Not once does the colour issue come into the picture, which is a good thing and definitely makes a step forward in movie making.
ON THE ROCKS premiered at the 2020 New York International Film Festival. The film has a Limited Engagement in Cineplex Odeon and select theatres starting October 2nd, and premieres on Apple TV+ on October 23rd.
Trailer: https://www.youtube.com/watch?v=Xn3sK4WiviA
POSSESSOR (Canada/USA/UK 2019) ***
Directed by Brandon Cronenberg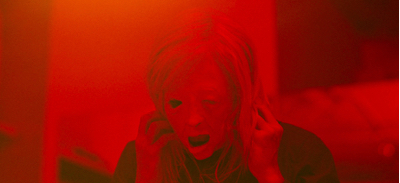 POSSESSOR tells the horror that goes about when a company that uses brain-transplant technology to commit killings for high paying clients. How this works is that assassins enter victim's mind from a distance and this victim will kill the target and then shoot him or herself. As in films with this kind of theme, something goes wrong as nothing goes as well as planned. POSSESSOR is filled with lots of blood and gore saturated red, similar to the old Gallo horror films, like those made by Mario Bava and Dario Argento. Yes, and also David Cronenberg. There is a reason as the writer/director of the film is David Cronenberg's son, whose second feature POSSOSSOR after ANTIVIRAL made 8 years back, not only shows similarities to his father's work but also holds promise as an important work.
Being the son of a famous director, Brandon has managed to secure some solid acting talent for POSSESSOR. Among them is Jennifer Jason Leigh (who was in his father's best film eXistenZ together with Sean Bean and Rossif Sutherland (son of Donald and brother of Keifer Sutherland).
When the film begins, the audience is taken on a tour of a company headed by Girder (Leigh), the founder of a brain control company. But it is Tasya Vos (Andrea Riseborough), her replacement that is the centre of the story. She is married but her husband (Sutherland) is clueless of her job. But the next project runs her in trouble as the new host (Christopher Abbott) and her both compete for control of the mind.
POSSESSOR plays like a classy old horror film, not like the modern slasher flick. So, one has to be patient, but when the horror comes, director Cronenberg dishes out more than expected to satisfy the horror fan. One scene has the assassin using a fireplace stoker to gouge out an eye ball but not after using it to break his teeth as he jabs the stoker into his mouth. If this is not enough, there are repeated scenes of a needle entering the scalp of the assassins.
The only flaw with the feature are the characters that the audiences will not care for. Whether Vos succeeds (or not) in her mission, no one really bothers. Nor who gets killed. As in many of the David Cronenberg films, as long as there is plenty of gross-out gore, the audience will be satisfied. Brandon and David at least know their audiences.
The film also contains lots of flickering images with strobe lights, so for those sensitive to these effects, be forewarned to stay away from the film. To Cronenberg's credit, beside the blood and gore, his film contains very scary images, like the distorted face of Vos, that looks like a torn mask. (See image inset).
POSSESSOR plays like an art horror film, so an open ending is to be expected instead of a Hollywood one.
POSSESSOR premiered at this year's Sundance and opens in theatres this weekend.
Trailer: https://www.youtube.com/watch?v=FyRkoL45JGk
THE PROJECTIONIST (USA/Greece 2019) ***
Directed by Abel Ferrara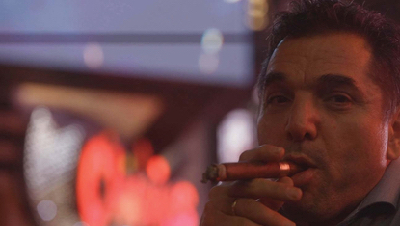 The doc is dedicated to the independent theatre owner rather than the projectionist of the film title. The doc contains no mention whatsoever about projectionists, a dying breed of workers in the cinema.
The film director Abel Ferrara (KING OF NEW YORK, BODY SNATCHERS) converses with the proprietor of a Cinema complex in Queens, (THE PROJECTIONIST of the film title) about the 1970s era of film making and exhibition in New York City, when things were edgier and sleazier than they are in today's cleaned up scene.
This is a love letter to independent theatre owner Nicolas "Nick" Nicolaou tracking his life in the movies from 1970s Times Square adult film houses through decades of city regulation, chain takeovers, and cultural shifts, charting a charming odyssey through the history of film exhibition in New York City. A moving tribute to friendship, tenacity, and the love of cinema, THE PROJECTIONIST is also a timely piece to what 'going to the movies' is all about.
Director Ferrara appears himself in the doc, though acting as a clown, making silly comments regardless of the situation. This must be deliberate, as he would have edited the scenes out from his movie. Ferrara is known for his over the top movies, so it is not surprising that the film clips showing the movie are over the top films. One of these is the Martin Scorsese's film TAXI DRIVER where Robert de Niro takes Cybil Shepherd on a date to watch a pornography movie. The next scene is one that will evoke laugh out loud laughs - taken from Alex de Iglesias' THE LAST CIRCUS with the killer clown encountering a little boy who tells him right after a killing spree: "I am not afraid of you." The clip has nothing much to do with the flow of the doc, but who cares? It brought laughs and demonstrates the rare kind of films Nick brings to his patrons.
Ferrara's doc offers a few valuable insights. One is the fact that Nick charges the filmmakers to screen their films in his theatre for revising by press. If a film is not 'officially' released in a theatre, it will not be reviewed or considered for award status. So, his theatre offers a chance for new films by new filmmakers to be noticed, Another insight reveals the intricacies involved with combining two screens into one theatre, especially with different projectors (16 mm or 35 mm) or digital units. Another quaint fact is that all the business part of his theatre is done remotely in Greece, by his son and daughter, where it is cheaper than having an office in NYC. His wife, Christina also has her say in the film, emphasizing how much work her husband puts into his work. Indeed, this a a work of passion.
The doc highlights the fact that repertory cinemas play a big role in a film lovers life. My interest grew because of one such cinema which was 10 minute walk from house as a kid (in Singapore) and moving to Toronto, the rep theatres enabled me to catch up on all the classics I had missed.
THE PROJECTIONIST is a nostalgic walk down memory lane for anyone in love with the movies.
Trailer: https://www.youtube.com/watch?v=ZIbSKMYgkWQ
SAVE YOURSELVES! (USA 2020) **
Directed by Alex Huston Fischer and Eleanor Wilson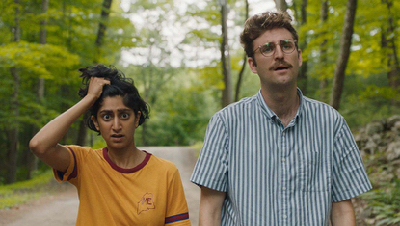 A Brooklyn couple, Jack (John Paul Reynolds) and Su (Sunita Mani) decide to "disconnect from the world" by ditching their cell phones for a weekend while staying at a friend's cabin up north. They wind up missing the initial news of an alien attack.
This is not the first film where a secluded family is under attack by aliens in which the only information of the attack is heard on the news. M. Night Shyamalan's best film SIGNS had a family holed up with attacking aliens only at the end of the film. In SAVE YOURSELVES! again the audience only hears on the news of the alien attack and it only becomes real, affecting the protagonists at the end. This is classic Hitchcock technique. In Hitchcock's THE BIRDS, the first attack occurs only after the film's half way mark. However, though SAVE YOURSELVES! is a comedy, the audience anticipation tactic still works.
What is novel in this movie is the couple, a sort of dysfunctional working class where Su is just fired the week of their trip to the cabin. Jack is also a sort of loser, who has never properly assimilated in life, as he himself admits in the film. Together, they form a loving couple, which is a nice premise of a horror comedy.
The first alien shows up in a big puff ball which Su describes as a pouffe. A pouffe is actually a firm cushion that can be sat on, though one surely does not want to sit not this spiky puff ball alien creature that can spit out gooey stuff and drink ethanol.
The couple is played by Sunita Mani and John Paul Reynolds, both TV comedians. Amy Sedaris (STRANGERS WITH CANDY) has a small role as Jack's mother. Mani and Reynolds barely carry the whole movie, which is understandable, they being TV actors. Reynolds is more annoying than funny (oddly enough, he has performed in Annoyance Theatre) while Mani is more endearing.
For a small budget movie, the small budget shows, especially the cheesy (though quite comical) but effective special effects. The pouffes, as Su calls them can move at lighting speed and attach themselves to the roof and walls of the cottage.
SAVE YOURSELVES! based on a simple premise unfortunately runs out of ideas as well as fresh humour after a while. The introduction of an abandoned baby does not help much either, but emphasize that this couple needs to have a child. It is not surprising that the film ends in a non-Hollywood ending (not to be revealed in this film) as the film clearly aims to be as different as possible. However, different does not always work that well.
The film premiered at the 2020 Sundance Film Festival. It is scheduled to be released on October 2, 2020 by Bleecker Street. Bleecker Street specializes in small budget films, and has released a few solid dramas on odd individuals settling in their work places like PATERSON and THE ASSISTANT.
Trailer: https://www.youtube.com/watch?v=8pAsb2SJJyE
SNO BABIES (USA 2020) ***
Directed by Bridget Smith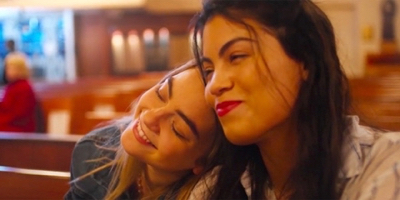 When SNO BABIES starts, a younger Kristen (Katie Kelly) is offered a pill and told that taking it would change her life. Indeed it will. Kristen puts it in (an oxycontin pill, which is relatively easy to get medically) in her mouth and swallows it. "You are not so boring after all," her friend (who is male) tells her. The film then moves forward in time, 15 weeks later to her trying to get enough marks on her SAT score to enter Princeton University. But that candy popping has changed her life. She is now a heroin addict, together with her friend, Hannah (Paola Andino). Kristen's parents are unaware of her problem, too involved with work and family issues. During a party, Kristen passes out on heroin and is drug raped. She gets pregnant.
A large chunk of SNO BABIES involves Kristen keeping the secret of her addiction and pregnancy from her parents who are too busy at their relative jobs to notice that something is wrong.
From the very beginning of SNO BABIES, director Bridget Smith impresses that her film will be a no-nonsense realistic and captivating watch. The scene of injecting heroin through the tongue (one of the most sensitive organs of the body) is one that will make one cringe, and even more in yet another scene when Hannah's tongue injection is interrupted and she injures herself in the mouth. Worse, is the sight of her toe infection that results from her frequent injections between the toes. These are places were the scars from injections can be hidden and go unnoticed.
SNO BABIES also looks at heroin addiction through the eyes of the female, which is a rarity. The other film I can really that dealt with heroin addiction and recover was the very difficult to watch Canadian drama made way back when in 1990, Darrell Wasyk's H. That was a very intense difficult watch ins his two heroin addicts lock themselves in a basement undergoing painful withdrawals to wean themselves off the addiction. That film was unforgettable for its content. Director Smith's portrayal of Kristen's cold turkey recovery is less detailed.
Director Smith covers quite a few issues in her story. In addition to what is going on with Kristen, another twin story involves a young couple Matt (Michael Lombardi who also serves as one of the executive producers of the film) and his wife Anna (Jane Stiles). Matt has land he and his sister inherited from their late father. Matt has promised him to to sell the land but increasing bills force Matt and his sister to reconsider. Matt and wife Anna can afford to buy their dream home if the land is sold. The realtor of the dream home is Kristen's mother. This is how the two stories connect.
SNO BABIES tackles too many issues even with Kristen trying to recover, cold turkey. One feels that the film has taken too much on its plate instead of dealing with fewer issues with more depth. The soundtrack that involves songs from quite a few famous artists tends to dictate how the audience should feel at different parts of the film.
Both young actresses Katie Keely and Paola Andino deliver impressive performances that drive the narrative. The film's message is delivered loud and clear. The film opens VOD Sept. 29
Trailer: https://www.youtube.com/watch?v=vNjnBn5KE8w
URSULA VON RYDINGSVARD: IN HER OWN (USA 2020) ***1/2
Directed by Daniel Traub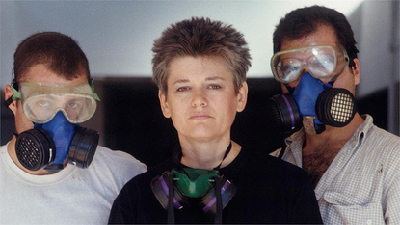 The name of Ursula von Rydingsvard will be unfamiliar to many unless one is specifically interested or living in the world of art, and even so, Ursula von Rydingsvard is involved in a very specific area of that art. She sculpts from wood, creating objects that are out of this world, but yet reflects her difficult life.
Von Rydingsvard's work has been featured in the Venice Biennale and is held in the collections of some of the world's great museums, including New York's Museum of Modern Art, the Art Institute of Chicago, and the San Francisco Museum of Modern Art. But she may be best-known for her staggering, triumphant body of work in public spaces – imposing pieces painstakingly crafted with complex surfaces including: a series of early installations reminiscent of wings in what became New York's Battery Park; a monumental yet inviting piece outside Brooklyn's Barclays Center and the stunning "Scientia" at M.I.T. which evokes the power of nature and the firing of brain synapses.
Ursula von Rydingsvard is the daughter of a woodcutter from a long line of peasant farmers. She was born of a Polish mother and a super strict father from the Ukraine, with 4 siblings. Her father used to beat her and called her useless and stupid, which made her more determined to succeed in life.
Daniel Traub's fascinating documentary of Ursula von Rydingsvard, now 78 and her work is as fascinating as her artwork and life. Director Traub's rather short but sharp doc only lasts 57 minutes but it is 57 minutes of power and enlightenment. He begins his doc with images of Rydingsvard work, which is nothing less than a marvel to look at. He then goes into detail fo her cruel life, as she and her brother speaks of their childhood. Von Rydingsvard was born in Deensen, Germany, in 1942. Her brother and her were close as they were the ones most often beaten by their father. During the WWII. they became displaced families. After the war, her parents and five siblings lived in eight refugee camps before coming to New York by ship. Only until her family moved to the United States that she began to etch out a decent living. The film comically mentions how her father loved America and bragged about the $500 he got in compensation for losing a finger whilst working in a factory. He had survived three years of forced labor in Nazi camps.
Von Rydingsvard's art are hard-worked by the artist and her often, many collaborators. Her most common material is cedar. And their crafting — a laborious process that involves stacking, gluing and cutting planks of cedar — is labor-intensive. Their softly aged presence (von Rydingsvard rubs graphite into their surfaces) can feel strange in the hygienic space of a museum which is the reason her works are often found on the outside.
Director Traub dedicates a segment of the movie to one of her projects - a two year work, a copper structure commissioned by Princeton University. The audience not only gets to witness von Rydingsvard diligent at work but at work with a difficult material she is not familiar with.
Other interviews include her daughter who had moved with her mother to NYC after the failure of von Rydingsvard's first marriage. Again, von Rydingsvard's life enhances her art.
Director Traub's doc is thorough, insightful and entertaining.
The doc is available September 29th in the US and Canada on DVD and VOD (Including: iTunes, Amazon, and Vimeo).
Trailer: https://youtu.be/zOUsRnwSkXw