INSIDE OUT 2020
Because of Covid-19, INSIDE OUT the LGBT film festival 2020 will take place largely vitally. Most of the films can be streamed to ones PC remotely for the price of an admission ticket. Most festivals including TIFF is done this way. A few firms can be seen in phyla theatres or in Drive-ins.
Go to the Inside Out website for full details as to how to access the films this year.
Capsule Reviews of Selected Inside Out Feature Films:
DRY WIND (VENTO SECO) (Brazil 2020) **
Directed by Daniel Nolasco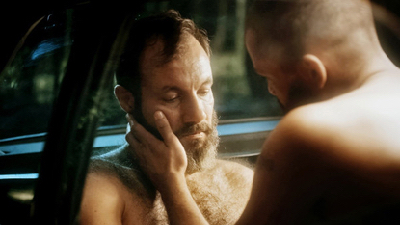 The dry wind of the title comes from the climate of the area around Catalan in Brazil's state of Goiás which is dry, very dry. The climate is reflected in the life of the film's protagonist, a beard gay who works in the local fertilizer plant. Sandro's life here is somewhat monotonous. He divides his days between the city club, work, soccer with friends and city parties. He has a purely sexual relationship with his colleague Ricardo. He always seems to be a bit of an outsider, not comfortable in his own skin, not really belonging. When Maicon, a man straight out of a Tom of Finland illustration, shows up in their small town and flirts with Ricardo, his burgeoning feelings of jealousy set a change in motion. DRY WIND is a pretty nasty movie, so if you do not have the stomach for very, very explicit sex scenes it is best to void this film that plays like a soft porn film. Nothing makes much sense in the story and it really does not matter. The sex scenes are erotic enough even if you do not like bears.
Trailer: https://www.youtube.com/watch?v=Ca3LPQ5kK50
JUMP, DARLING (Canada 2020) **
Directed by Philip J. Connell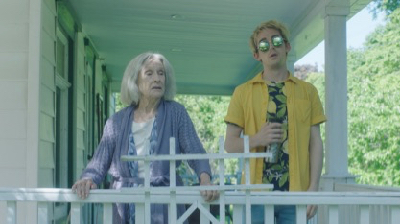 Nothing really new or insightful in the Inside Out opening movie JUMP, DARLING that moves like a limp. A rookie drag queen, reeling from a break-up, escapes to the country, where he finds his grandmother in steep decline yet desperate to avoid the local nursing home. The drag queen, Russell is played by Thomas Duplessie who was hired for the role for his two drag performances on video that that he had sent to the casting director. Acting-wise he delivers an ok performance, especially in the company of Hollywood legend and Oscar Winner Cloris Leachman (now at the age of 94) as the grandmother. The film contains two of Fishy Falters (Russells''s drag name) performances which are not bad, but the lightning is pretty dim for what is supposed to be a breakout performances. The predictable story goes on as expected and the humour could have been better.
Trailer: (unavailable)


SHIVA BABY (USA/Canada 2020) **
Directed by Emma Seligman

Writer/director Seligman's comedy of discomfort takes place during a shiva. A shiva is the time of mourning practiced by Jews following the funeral of a loved one, where comfort is brought to the grieving. Those below the age of 30 need not be involved in a shiva so it is rather strange that the protagonist focuses on twentysomething Danielle (Rachel Sennott) who attends the shiva. Danielle is a perennial student who's been lying to her supportive but overbearing parents about her faltering academic career. Then again, she has a lot of secrets she's keeping, including her relationship with an older man, Max (Danny Deferrari), who also gives her money. At the shiva, everything goes wrong for her, including losing her cell phone, the appearance of Max and his family at the shiva and the appearance also of her lesbian fling at the prom. The film is not that funny and discomfort comedies cause audiences to feel uneasy. The result is a discomforting film that generates few laughs or satisfaction despite the fact that the actors try quite hard to make it all work.
Trailer: https://www.youtube.com/watch?v=sbOEtyKJ17A
SPIRAL (Canada 2019) ***
Directed by Kurtis David Harder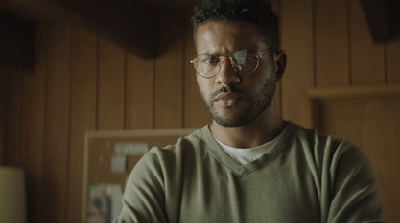 SPIRAL, an atmospheric horror film set in 1995 is a well-made original - a gay horror movie. And one in which of the gay couple, the black and not the white is the protagonist. It is ten years after a traumatic incident in which Malik is still haunted by his past. To start afresh, he and Aaron, with Aaron's daughter Kayla, move to a small town. Initially, they are warmly greeted by the town's residents, but soon Malik senses that something is wrong. His discomfort escalates when his new house is vandalized, and he begins having visions of hooded figures that are lurking in the dark. Director Harder ties in the gay element into the horror story. Malik initially thinks the problem was that the town was not ready for a gay couple, but the trouble lies deeper. SPIRAL is a bit of a slow burn, but the suspense is well built up. At its best, it feels like Roman Polanski's ROSEMARY'S BABY, and its premise is totally believable, thanks to Harder's meticulous handling of the material.
Trailer: https://vimeo.com/454424536