FESTIVAL DU NOUVEAU CINEMA 2020 (Montreal)
The Festival du nouveau cinéma or FNC (meaning Festival of New Cinema) is an annual independent film festival held in Montreal and features independent films from around the world. Over 160,000 people attend the festival each year, this year being the exception because of Covid-19. It is one of the oldest film festivals in Canada. This year the films can be accessed through purchase from their website:
The festival runs from Wednesday October the 7th till the 17th in theatres but this has been changed because of Covid-19 second wave closings. Below, please ind capsule reviews of self films screened at the festival. Capsule reviews will be added daily till the festival ends. But the majority of films can be rented for streaming beginning the 7th till the 31st of the month.
CAPSULE REVIEWS OF SELECT FILMS:
APPLES (Greece 2020) **
Directed by Christos Nikou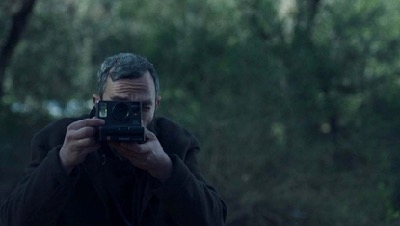 Director Nikou worked as the assistant director on Yorgos Lanthimos's absurdist surreal comedy DOGTOOTH in 2009. His debut film, APPLES direct from the Venice Film Festival, obviously draws many similarities to Lanthimos's style of direction. APPLES, however is a drama rather than a comedy making it a much harder and slower watch. The film opens with the main character played by Aris Servetalis being awoken on a bus, not remembering anything including who he is. He is brought to a hospital for examination. Apparently there is an epidemic going around where many are suffering amnesia out of the blue and for no reason. The character eats an apple and is seen eating apples which is the reason the film is so called. Nothing really happens except that the film visualizes the pain and suffering due to the unexplained illness. The character is offered a new identity by the hospital to survive as his memory is not improving at all, as evident in the tests (very slow ones) conducted. The film might be more current due to the Pandemic Covid-19 virus, but Nikou's film requires patience and goes nowhere. An OK watch if you like this sort of Kafka-ish thing, otherwise this exercise will be totally boring.
Trailer: https://www.firstshowing.net/2020/promo-trailer-for-greek-comedy-apples-exploring-selective-memory/
ATLANTIS (Ukraine 2020) ***1/2
Directed by Valentyn Vasyanovych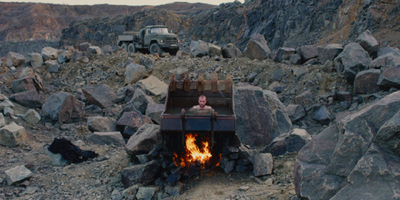 The film setting is a dystopian society in the future of the year 202., a year after the war ended. It is not a pretty sight to be living there but a marvellous sight, cinematography wise. Director Vasyanovych's film contains stark and stunning images. The film is made up of vignettes that last around 10 - 15 minute each, where characters walk into the scene and move in and out the stationary frame. The vignettes are connected, creating a narrative that involves an ex-soldier by the name of Sergiy (Andriy Rymaruk). His mate jumps into the fire in factory in the beginning segment leaving Sergiy to run some errand involving travel into 'the zone' where he meets a girl in the business of locating, identifying and properly burying soldiers and other war casualties found in unmarked, often mass graves. A strange but remarkable film that won the top price in the Horizons Section at the Venice Film Festival 2020.
Trailer: https://www.youtube.com/watch?v=Nc5hZBzAfBs
CAUGHT IN THE NET (Czech 2019) ***
Directed by Barbora Chalupova and Vít Klusák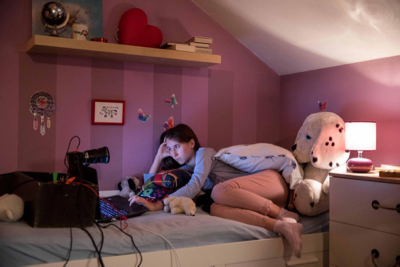 Three adult actresses pose as 12-year-old girls with three fake bedrooms, three cameras, three chat boxes with fake profiles. A social experiment on the sexual abuse of young people online conducted live on camera is captured in this Czech doc. The aim is to catch the child predators caught in the act (net). It is scary to see how far the majority of these predators go - jerking off; blackmailing the girls; enticing them with money. Only one on the net, a 20-year old is decent warning one girl of the dangers of chatting. The film went on to be number one at the Czechoslovakian box-office and is Grand Prize winner (Czech competition) at One World International Human Rights Film Festival. But as the doc unfolds, it appears aimless as to what the filmmakers want to do with all the information received - besides shocking the world on the information. The faces of the predators and blurred, except for the decent 20-year old who turns out to be good-looking. Still, one of the film crew recognizes one of the predators as one working with kids int he city.
Trailer:
DROWSY CITY (Vietnam 2019) ***
Directed by Dong Long Dinh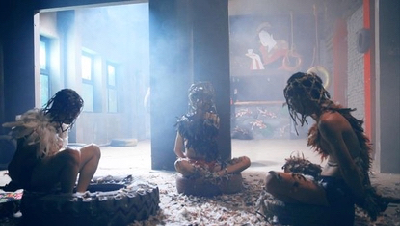 The film's setting is a crowded city called DROWSY CITY in the country of Vietnam. The lead charter is Tao, whose sole occupation is to slaughter chickens and the occasional duck for a living. So, expect a lot of fowl abuse - such as the pouring of hot water from a kettle to kill the poor animals. If this is not enough, there is is feather plucking off live chickens and the poisoning of adorable little chicks. Tao's quiet and uneventful life is rudely interrupted by three squatters, 3 gangsters who move in next door together with a prostitute who Tao gets involved with. The film shows what happens when a quiet man is pushed far past his limit of endurance. Tao turns nasty and exacts a cruel revenge. Director Dong is fond of overhead shots which often depict both the poverty and hustle and bustle of the city. One might wait patiently for some message in this film but there is none.
Trailer: https://www.dmovies.org/2019/11/22/drowsy-city-thanh-pho-ngu-gat-film/
KILL IT AND LEAVE THIS TOWN (Poland 2020) ***
Directed by Mariusz Wilczynski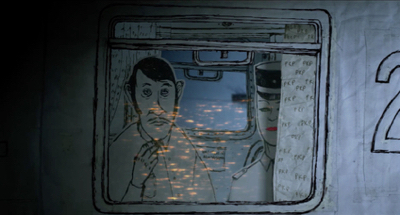 The difficult to follow story, if there is one is described by this line: Fleeing from despair after losing those dearest to him, the hero hides in a safe land of memories, where time stands still and all those dear to him are alive. This animated feature from Poland is reported to have taken 6 yers in the making - a film about memories. The animation is often squiggly and difficult to figure out, but the drawings are often grotesque and dreary, often changing from one form to another. Insects seem particularly the favourite of director Wilczynski, though spiders and others get squished along the way. Other strange things like fish head bobbling up and down appear repetitively in the film. An animated feature that is not for everyone, but an intriguing one, nevertheless with one trying to figure out what is in the mind of Wilczynski when he was making the film.
Trailer: https://www.imdb.com/video/vi642563609?playlistId=tt8387918&ref_=tt_ov_vi
NIGHT HAS COME (Belgium 2019) ***1/2
Directed by Peter van Goethem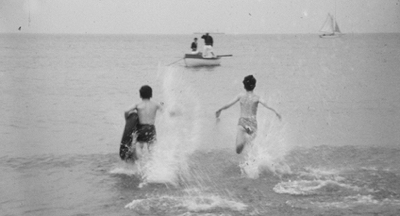 This dreamy mainly black and white meditation is composed of scratchy archive footage retrieved from the Royal Belgian Film Archive. The hour or so long film offers an interpretation to old images as it ponders memory and existence. This is a disturbing and mesmerizing exercise that is definitely thought provoking. The premise is a mysterious virus that causes amnesia in its victims that is on the loose in a dystopian Kafka looking society. The people call it "night" because it infects the brain, eating away at memories and leaving nothing but darkness. To protect its citizens, the State steps in with a program to harvest and archive their memories. But all this appears to be actually happening today all over the world. Virus or not, old age, dementia or Alzheimer's cause human beings to lose their memory and if memories are lost we have nothing. As the voiceover goes: "We live to forget everything to be forgotten very quietly."
Trailer: https://www.youtube.co
OASIS (OAZA)(Serbia/France 2020) ****
Directed by Ivan Ikic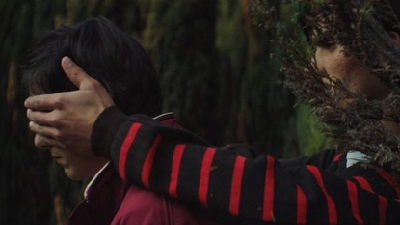 This deserving winner of the Best European Film at this year's 2020 Venice Film Festival is a slow burn but an amazing look at mentally challenged teens. The film opens with the note that in the past, children that are backward were often drowned in the river. Maria and Dragana fall in love over Robert, all three in an institution in Serbia. The manipulative Dragana ends up slitting her wrists while Maria ends up pregnant. The authorities separate Robert and Maria while aborting the baby. What starts as a love triangle ends up a social study of what it means to be challenged. The challenged have feelings too and are as much human as anyone else and should be allowed to make decisions on their own, lest allowed to fall in love as well. Director Ikic works his wonders with his winning grey looking feature making his audience eventually care about his characters. The three are played by non-professional actor and they are either very good actors or act their part. The heartbreaking drama is one of the best films I have seen at the festival so far!
Trailer: https://online.nouveaucinema.ca/film/oasis/
LE QUATOUR A CORNES - LA-HAUT SUE LA MONTAGNE
(Way Up the Mountain) (France/Belgium 2019) ***1/2
Directed by Benjamin Botella and Arnaud Demuynck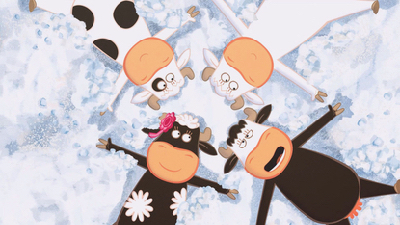 This absolutely charming and hilarious 37 minute animation follows 4 cows way up high in the mountain stuck in ice and snow. The 4 cows Clarisse, Maggie, Aglaé and Rosine venture on the journey after accepting the invite from JB, a ram to discover the snowy peaks. But when they learn from the sheep that JB has disappeared after leaving looking for edelweiss, the four heroines decide to go looking for him and save him from the terrifying bélébélé (bellybelly). They meet however, an ibex who reluctantly helps them in their quest. There is much to enjoy including the yodelling soundtrack, the imaginative animation, the goofy bovine antics and the laugh-out loud humour. A total delight! In French.
Trailer: http://www.allocine.fr/video/player_gen_cmedia=19589962&cfilm=283954.html
THALASSO (France 2019) ***
Directed by Guillaume Nicloux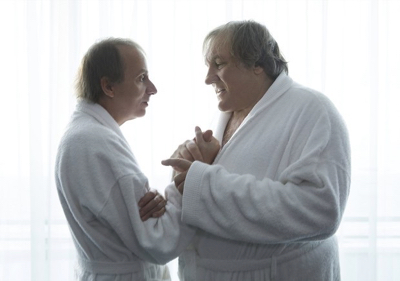 As weird as films go during this festival, this weird one is rather ingenious in the way it mixes fiction and reality for the purpose of absurdity. THALASSO refers to saltwater therapy and it is in such a saltwater therapy spa that audiences of this film find actor Gerard Depardieu and arguably the most important French literalist living today, Michel Houellebecq meet. Michel is now recuperating after a kidnapping, supposedly orchestrated by ex-President Lalonde to prevent Michel for running for office. Michel survives the kidnapping but will he survive the strict rules of the spa like no wine, no smokes and no more than 2 allowed in a room? Depardieu helps him with smokes and bottles of wine which he sneaks in. Things get weirder when Sylvester Stallone is rumoured to be frolicking naked on the nearby beach. Stallone played by look-alike/impersonator Jade Roberts appear at the end of the film with a machine gun, RAMBO-style. This film needs to be seen to be believed. And, there is a hilarious segment of the discussion of pussy transplant rejection.
Trailer: https://www.imdb.com/video/vi913226777?playlistId=tt9699640&ref_=tt_ov_vi