BLOOD IN THE SNOW (2020) Film Festival
The Blood in the Snow Film Festival is a unique and imaginative showcase of contemporary Canadian horror, genre and underground cinema that exists to challenge social boundaries, explore artistic taboos and support and exhibit independent Canadian genre media artists. BITS takes place in Toronto near the end of October, and brings together audiences, media coverage, community partnerships and the filmmaking industry to exhibit and celebrate Canadian genre film. BITS began in 2012 and was registered as a not-for-profit in 2015.
A good chance to see blood in the snow and horror films made in Canada.
Below are casual reviews of select films, a few of them well worth a viewing.
CAPSULE REVIEWS (of select feature films):
ANYTHING FOR JACKSON (Canada 2020) ***1/2
Directed by Justin G. Dyck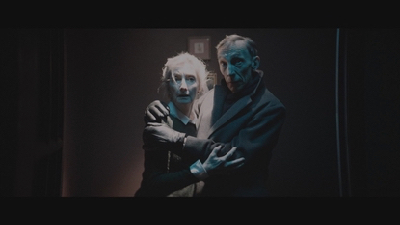 Premiering at Montreal's FANTASIA film festival, ANYTHING FOR JACKSON refers to whatever it takes for a bereaved elderly couple to bring back to life their grandson who had been killed in an accident. The couple, Audrey (Sheila McCarthy) and Henry (Julian Richings) are Satanists who have devised a very detailed and somewhat foolproof plan to kidnap a pregnant woman and have the spirit of the grandson inhabit the new yet to be born baby. Audrey and Henry are no spirit conjuring experts and they end up summoning more than they bargained for. Writer Keith Cooper and director Dyck realizes the potential of the premise including the possibility of injecting some scary humour into the proceedings. McCarthy best remembered as the organizationally impaired secretary in Patricia Rozema's I'VE HEARD THE MERMAIDS SINGING is back in top form here. Totally entertaining and totally watchable, ANYTHING FOR JACKSON, scary, funny and exciting was a hit at Fantasia and should do well at BIT and when it finally opens. The film comes with the clever caption: "Fear your Elders".
BLEED WITH ME (Canada 2020) ***1/2
Directed by Amelia Moses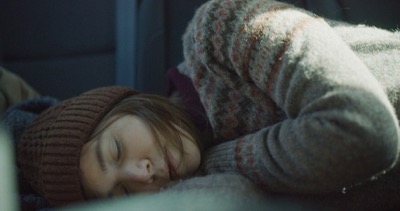 A 90 minute slow burn psychological thriller/horror in which not much happens in the first half, which is a good thing as director Moses builds up her audience's anticipation in which not much can be guessed regarding the horror that will occur. Rowan (Lee Marshall), a shy and awkward young woman, struggles to integrate herself on a weekend getaway with her best friend, Emily (Lauren Beatty) and her boyfriend, Brendan (Aris Tyros). Feeling like a lamp post, she drinks to calm her nerves, pushing her body and mind deep into a hazy trance, where she begins to witness nightmarish late-night visions that make her feel increasingly unwelcome, unsure and unstable. Moses drops little hints of the horror that islet to come like a revelation that Emily has just recovered from some breakdown or the scene where Emily sucks the blood from the Rowan's cut finger. The best scene is when Emily serves Rowan tea that Rowan knows has been drugged and Emily says to her: "Don't you trust me?" A good old-fashioned satisfactory thriller that makes good use of suspense tactics that is worthy of Hitchcock.
BLOODTHIRSTY (Canada 2020) ***
Directed by Amelia Moses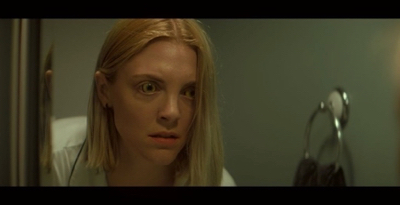 Grey (Lauren Beatty) is an indie singer who has just had a successful first album out. She is worried that her second album may be a flop. Grey suffers from hallucinations and has to take pills for it. She sees herself as a wolf eating human flesh. She decides to work with a notorious music producer Vaughn Daniels (Greg Nryk). Vaughn had been tried for murder of his wife but had been acquitted. Vaughn invites her and her girlfriend, Charlie (Katherine King So) to his studio cottage in the woods to write the songs for second album . Charlie is weary of Vaughn and the two clearly do not get along. Vaughn is weird pushing Grey a lot in order to create superior songs for the second album. Grey accepts it as she is desperate to succeed. The things Vaughn says to push Grey are kind of odd: like asking her to run at top speed in the snow with him coming across like a weird asshole. Charlie wants Grey and herself to leave. But they stay. At half point of the movie, the audience is yet to know where everything is leading. Which is a good thing. All the weird happenings are explained in the second half as director Moses turns her film into a horror story, with the horror convincing though not entirely logical.
HALL (Canada 2020) **
Directed by Francesco Giannini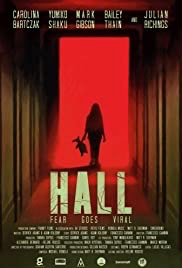 When a debilitating sickness spreads across a long hotel hallway (the HALL of the film title), a few scattered victims fight for survival, and try to escape from the dark narrow stretch of isolated carnage. The horror in this film comes from a Covid-19 like virus that affects human being. The virus causes repository problems visible by ugly veins that pop up on the neck. Apparently the villain of the film is Julian (Julian Richings), the man who spreads the virus believing he is creating a better world. The story narrows down two two protagonists, two females, Val (Carolina Bartczak) and Naomi (Yumiko Shaku). Naomi is a pregnant mother who gets infected. In the same hotel is the other female, who is trying to escape with her daughter from her husband (Mark Gibson) who she does not get along with. The husband becomes infected. Too much moaning and groaning in this otherwise silly movie that took 3 writers to pen.
THE RETURN (Canada 2020) ***
Directed by BJ Verot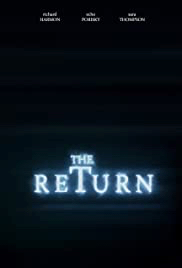 After the death of his father, a brilliant college student, Rodger (Richard Harmon) returns to his family home with his girl friend, Beth (Sara Thompson) and best friend Jordan (Echo Andersson). His mother and younger sister have died and Rodger is determined to solve the mystery of the deaths. The three encounter a scary ghost. Rodger learns that the horrors from his childhood aren't as dead and gone as he once thought and that he is somewhat responsible. This is the typical ghost coming through a portal and it must be destroyed. The film delves deeper into the characters spinning a web of puzzles that only Rodger can reveal. THE RETURN is an ok horror flick with sufficient scares (thongs that go bump int he dark) and with more character development than usually accompanies horror films. Jordan, Rodger's best friend confesses she loves him. The film runs into trouble when it tries to give a logical explanation to the proceedings, when the film gets a bit confusing and tedious. In the end the ghost has to be destroyed with the film turning into GHOSTBUSTERS without the comedy.