FILM REVIEWS:
AMMONITE (UK/Australia/USA 2020) Top 10 *****
Directed by Francis Lee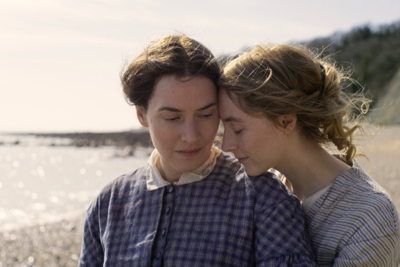 The setting of AMMONITE (predator shell creatures now extinct) is set in 1840s England. Acclaimed, self-taught but overlooked fossil hunter Mary Anning (Kate Winslet) and a young woman, Charlotte (Sairise Ronan) sent to convalesce by the sea by her stand offish husband, Roderick Murchison develop an intense relationship, altering both of their lives forever. Mary lives and supports her ailing mother (Gemma Jones) but her work hardly suffices a decent living.
Subtlety and mystery are the two elements that elevate Francis Lee's (GOD OWN COUNTRY) AMMOITE to one of the best films this year. Lee has impressed with his last gay film GOD'S OWN COUNTRY (1997) about a about young farmer's gay relationship. Both films share common threads though AMMONITE is a period piece on women while GOD'S OWN COUNTRY on men. But both films see the navigation of love through personal lives that need be changed. In GOD'S OWN COUNTRY, the male is satisfied with rural life and casual sex. In AMMONITE, the female is content with her shuttered land sexless life. Both films involve a stranger entering the protagonists' lives, awakening their dormant desires resulting in life altering decisions. Yet ideas are not forced unto the face of viewers. There is much to be read between the lines or rather to be seen between the images.
Director Lee first developed interest in the real life true character of palaeontologist Mary Anning while looking for a fossil gift for his ex-boyfriend. But Lee decided not to create a biography of her but to deal with her wok and relationship in a film that deals with her survival, class, gender and landscape. The result is a lush and emotional gut wrenching story that on paper (about two women discovering a same sex relationship in the quiet seaside of Dorset, England) might sound dull, but on the contrary. A lot of details and preparations had begun before filming took place. Actress Winslet learnt about excavating fossils through a real fossiler by spending weeks digging on the beaches in Lyme Regis where the film is set. Ronan mastered the piano and for her piano playing and needlework for embroidery scenes so that no hand doubles were needed. Their sex scenes were also done without doubles.
Subtlety is key in the revelation of the story of the two women. Nothing is said of Mary's past relationships or whether she had any. Her displeasure with a local lady, Elizabeth (Fiona Shaw) also a fossiler suggests that they might have had something together. This is suggested in a scene when Elizabeth places her hand on Mary's to comfort her. The attraction of the two is gradual starting from stares and glances. The relationship between Charlotte and her husband is also left murky. How Mary lost her father is also omitted in the story as in how Mary gained her wide reputation.
The film is foremost backed by the powerful performance of it two leads, Winslet and Ronan. Winslet delivers a quiet performance where more can be read from her mannerisms an actions than from the dialogue. Rona does likewise, hardly speaking a word till she blooms after the spark of love ignites.
AMMONITE is a powerful story led by powerful performances that reveals that much meticulous deliberation is required in the navigation of ones loves and relationships. Lee's film, is nothing short of brilliant!
Trailer:
CHICK FIGHT (USA 2020) **
Directed by Paul Leyden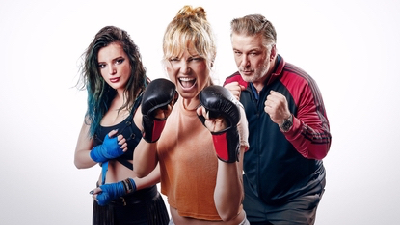 It had to happen - a female version of the FIGHT CLUB. Thankfully, the filmmakers did not attempt to outdo that series classic. Instead, it takes a lighter look at the sport from a female point of view.
The premise of CHICK FIGHT is utterly over-the-top unbelievable. Yet, the audience is to accept the reason of the club's formation and everything else in the story that goes with it.
The film begins with an early morning in the life of Anna (Malin Akerman). Anna had just got her car re-possessed. She has to walk to work. She later finds that her father is now dating some Chinese dude, so as to explore all aspects of life. She is then brought by her best friend, Charlene (Dulcé Sloan) to a female fight club where she discovers a revelation. Her mother founded the club for women, an underground association so that female can bond and release stress. If they win a fight, they pin dollar to the wall. Anna aims to continue the tradition.
There are too many absurd things that the audience have to believe. Among them:
- a female fight club exists
everyone respects the rules

winner gets nothing in return

the reason Anna's mother kept the club a secret from her

why Anna herself wants to train

if Anna is such a loser in real life, why the sudden drive

the list goes on and on.
So, Anna enlists the help of a dead drunk, Jack Murphy (Alec Baldwin) to train her to fight, so she can beat Olivia (Bella Thorne) one of the club's star fighters, who she challenges for a match. Again, why did Anna challenge her? An she also challenges two others in the process. Also, Murphy admits to Anna that he gets his fight methods for YouTube, so why is she hiring this man?
For some kind of action comedy, there is nothing really funny about all the antics. Unless you consider Baldwin falling down drunk half the time and making fool of himself. But Baldwin still manages to be amusing despite the limited comedic material, having proven himself portraying Trump on SNL.
Males might go for this kind of film to see some skin and to see women beat the shit out of each other. To each his own. But for the filmmakers who make the film with the #MeTooMovement in mind, the purpose is totally defeated.
With the lack of a true villain, the story lacks a strong purpose. Anna's main opponent, Olivia is just a lady with attitude.
The only other film I remember about women fighting is Robert Aldrich's THE CALIFORNIA DOLLS about women wrestlers. That was tacky because it was meant to be, sexy, funny and entertaining while delivering a subtle message on the side. CHICK FIGHT comes nowhere close in comparison. CHICK FIGHT, good only for a few laughs is mainly an unfunny, unbelievable and mediocre piece of filmmaking.
Trailer: https://www.youtube.com/watch?v=3wMCCiCSNAY
THE CLIMB (USA 2019) ****
Directed by Michael Angelo Covino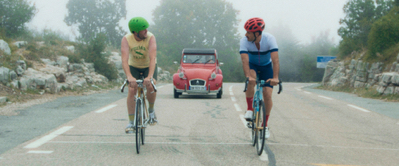 THE CLIMB is clever comedy written by Michael Angelo Covino and Kyle Marvin about two characters also named Michael and Kyle. The characters Michael and Kyle as well as their writers are bff's (Best Friends Forever). Being best friends forever is a huge commitment requiring lots of sacrifice, tolerance and the occasional screaming, which the film attempts to demonstrate. It also involves forgiveness especially in the case of the fictitious story of Kyle and Michael.
Why can be the most critical test of a friendship? This is likely the question posed to the two writers during the progress of the script. The worst is when a man sleeps with his best friend's girl. Michael does worse. He has not only slept with Kyle's fiancee but is still in love with her and in fact ends up marrying her. When the film opens, Michael confesses to Kyle while cycling together in a hilarious sequence that sets the audience for a film that is radically different from the norm. The first segment is titled "I'm Sorry" followed by 6 other chapters.
This girl dies before the second chapter begins. A punishment? The second chapter called "Let Go" opens with the funeral. As the other chapters unfold, Michael and Kyle put ways their differences and become friends again. Then, Kyle is to be married, to Marissa (Gayle Rankin), but Michael ends up sleeping with her, yes, again.
Nothing more should be said on the story so as not to spoil any surprises. And there are many.
THE CLIMB is not merely a storytelling experience but a very artistic and cinematic one. The first chapter for example is filmed in one long take lasting a full 10 minutes. It also looks like a film taken right out of the 70's. The camerawork is occasionally outstanding. In the third segment where a Christmas dinner takes place, the camera spans different rooms from the outside of the house. Musical numbers are also used to inject some spirit into the storytelling. At the end of the funeral service in Chapter 2, there is a beautiful a cappella rendering of "They Shall Not be Moved". In another three Ukrainian musicians embark on a violin performance. In the ski segment, the audience gets to enjoy some ski ballet and later on in the film a velodrome bike performance.
THE CLIMB is an extremely well paced film that builds up to a neat climax. The segment where Kyle falls into the ice while ice fishing is also exciting.
The filmmakers Kyle and Michael appear to love French culture. Many segments involve French personalities like a French doctor, French cyclists with a few French songs (like 'What now my Love (et maintenance)'. The film premiered at Cannes in 2019.
THE CLIMB comes up as totally enjoyable fresh entertainment, demonstrating that smart and funny always works. This comedy demands a sequel.
Trailer: https://www.youtube.com/watch?v=Mr4MKhV5QVw
COME AWAY (UK/USA 2020) **
Directed by Brenda Chapman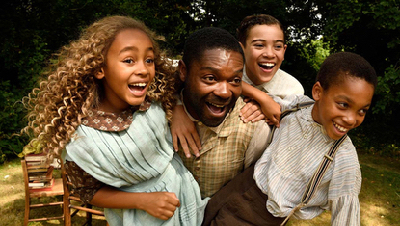 COME AWAY depicts the story of a young Peter Pan and a young Alice in Wonderland before they became famous with their stories. The premise assumes that the audience believe that the two could be siblings. The problem of Peter and Alice being black is never questioned, but they are children together with their eldest sibling, David of mixed parents, Rose (Angelina Jolie) and Jack Littleton (David Oyelowo). The film follows Peter and Alice helping their parents overcome the death of David in a drowning accident.
It should be noted that director Brenda Chapman is the first female to win the Academy Award for Best Animated feature, the Disney/Pixar action comedy BRAVE. BRAVE was totally hilarious and brilliant pitting the young female protagonist up there on par with all the other action heroes. None of the hilarity or freshness of BRAVE is found in COME AWAY. Chapman appears to go for glossy sappiness and a half baked plot where the idea of a budding Alice in Wonderland and Peter Pan never comes to full fruition. Perhaps, she is hoping to a few sequels after COME AWAY.
To Chapman's credit, the film has an impressive fairy tale look that often looks Christamassy at times, making the film ideal to open during the advent season. The film is shot in Shad Thames (around Tower Bridge) in London as well as Windsor Great Park in both the South Forest and around Johnson's pond.
The filmmakers are daring enough to go for a mixed raced family where the father is black and the mother, white, both dominated by a wealthy white aunt, Aunt Eleanor (Anna Chancellor) who is symbolized as a wicked witch.
The cast is impressive, consisting of heavyweights like Michel Caine as Charlie, Gugu Mbatha-Raw as the adult Alice and Derek Jacobi, very briefly. There is no adult Peter Pan though. Jolie and Oyelowo are also star names that should draw a decent crowd.
Though basically a family picture with lots of scenes with children playing, story-telling and fantasy and imagination, the main plot of overcoming the death of a child is adult material that will scare children. The origin of Peter Pan and Alice is dabbling with classic storytelling, which might not go very well with fans of the classics either.
There is hardly any magic or wonder in this outing where the death of the boy, David lingers throughout the film, which Chapman keeps reminding her audience of. It does not help that father is always in trouble especially regarding his gambling debt. The scene where he wrecks all his work in a fit of anger also reduces the happiness factor in a holiday movie. Other darker moments include Rose taking to drink and Peter's befriending of the lost boys, a group of street urchins that seem to come out of Dicken's OLIVER TWIST.
COME AWAY will be releasing for EST (English only) on Friday, November 13th. It will be available in both French and English on EST and VOD. The DVD/Blu-ray date is still TBC.
Trailer:
DATING AMBER (Ireland 2020) ***1/2
Directed by David Freyne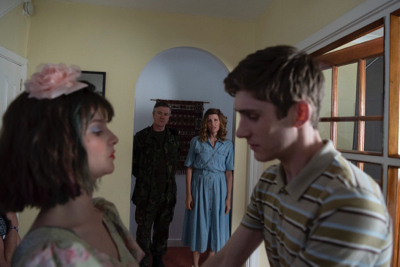 Eddie (Fionn O'Shea) is DATING AMBER (Lola Petticrew) - but for show. These two high school students embark on a fake affair to combat same sex prejudice in 90s Ireland.
Set in Kildare County, Ireland, Eddie lives with his often absent military father, his mother and know-it-all hilarious younger brother. Eddie is shy, awkward and is keen on passing the military physical exam to join the army to please his father. Amber is tom-boyish, lives with her single mom and cleans trailers, which she occasionally rents out by the hour to her schoolmates for a safe place to have sex.
Director Freyne is careful with the details of each scene. Like they say - the devil is in the details and it is in these details that he gives the film that extra edge. Take the scene where Eddie and Amber and watching a movie in the theatre each with their bags of popcorn. Behind them on the right about three rows back is another teen couple. The girl's arm is having an up and down motion a bit of humour easily missed if one is not paying attention. Another detail is at the end when the father offers the son a phone card so that Eddie will call home. It is so quickly forgotten the important reliance on phone cards to make trunk calls especially in Ireland and the U.K Yet another detail is the small character of Tracy (Emma Willis). Eddie choses Tracy to snog with, before meeting Amber. Tracey reminds one of one of comedienne Catherine Tate's schoolgirl characters, Lauren Cooper in terms of mannerisms and looks. Lauren is the one with the "Am I bothered?" attitude skits.
The last gay teen comedy that reminds one of HANDSOME DEVIL which incidentally also starred Fionn O'Shea. The teen actor looks like he is going to make it big in the film business if he can out of being type cast as the awkward gay teen. Another similarity between the two films is he discovery of another classmate who is gay while seeing him in a gay bar.
DATING AMBER could have very well be a straight romantic comedy if the script is slightly altered. As such, DATING AMBER would be better enjoyed by the gay persuasion than straight. For one, coming out and hiding ones sexual identity as a teen is a big thing and every gay teen goes through the same process. The gay audience can relate as each one have gone through the identical hassle. Straight audiences would more than likely just brush off the incident.
The homophobia in the 90's is effectively captured in the film. Eddie's straight teacher means well but is homophobic as well, worried than if anyone who night think him gay would cost him problems at work. The script skips Eddie's parents reactions at their son's coming out. On the other hand, time is invested on Amber's coming out to her mother.
What is neat in this film is the even distribution of screen time and importance of its two main characters. Both Eddie and Amber are gay, both have to deal with coming out and both finally come to terms with their sexuality.
DATING AMBER is totally entertaining, more so if one is gay made more effective for the detailed craftsmanship director Freyne puts into his well meaning coming out, coming-of-age comedy.
Trailer:
INSIDE PIXAR (2020)
Pixar Animation Studios, commonly known as Pixar is an American computer animation studio, a subsidiary of The Walt Disney Studios owned by The Walt Disney Company. Pixar began in 1979 as part of the Lucasfilm computer division before Disney purchased it in 2006. The desk lamp from the studio's 1986 short film of the same name, is the studio's mascot.
Pixar has produced 22 feature films, beginning with Toy Story (1995) which was the first ever computer-animated feature film to its most recent film was Soul (2020), the latter featured in the first episode. All of the studio's films have debuted with CinemaScore ratings of at least an "A−," which indicates a positive reception with audiences.
INSIDE PIXAR - Inspired is a documentary series of personal and cinematic stories that provide an inside look into the people, artistry, and culture of Pixar Animation Studios the - first collection of stories explores what sparks inspiration and the journey from idea to execution.
The doc includes sneak peaks of the upcoming Pixar movies LUCA and SOUL.
The Original Docuseries Premieres on Disney+ November 13, 2020.
Trailer: https://www.youtube.com/watch?v=kdgpeBpPyiA&feature=youtu.be
FIRST EPISODE:
INSPIRED (S1E1)
KEMP POWERS, WRITING SOMETHING REAL
Directed by Tom Kaplan
Kemp Powers is one of the main writers and co-director (with Pete Docter) of the upcoming Pixar film SOUL that opens Christmas Day. It offers a valuable sneak peak of SOUL and from it, one can tell that this is top class animation and entertainment. In the episode, Kemp Powers discusses the personal experiences that led him to write a pivotal scene in SOUL. As the title goes, Powers talks of how he finds inspiration and connection in his writing. He also emphasizes the team work that goes along with the job and how important it is to meet datelines. SOUL concerns a jazz musician, Joe (voiced by Jamie Foxx) who has lost his passion for music is transported out of his body and must find his way back with the help of an infant soul learning about herself. Kemp talks about his inspiration to create a segment that would make Joe more human. So, Kemp creates a scene about a black barbershop. He visits on in his neighbourhood to observe the goings-on in the haircutting place. The episode shows part of the final product which is amazing. Afro hair is captured with all its textural complexity. The goal of making Joes human with this necessary and repeated activity indeed works.
FIRST EPISODE:
INSPIRED (S1E2)
DEANNA MARSIGLIOSA, THE ART OF PIVOT
Directed by Erica Wilson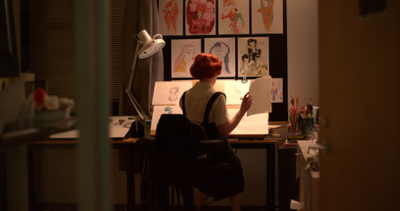 Deanna is the character art director at Pixar. She works with the film director and production designer to create the looks of characters from human features to the wardrobe they wear. She talks about the vintage clothing (which she loves to wear) of one of her characters, Edna Mode in the INCREDIBLES films. In this short, she tells of the important of having to pivot in order to get inspiration, often when one's mind goes blank. This could be just getting out of the house and observing people. Deanna is currently working on the new Pixar animated film LUCA, directed by Erico Casarosa set in Italy where Deanna herself comes from. LUCA is set in the Italian Riviera where an unlikely but strong friendship grows between a human being and a sea monster disguised as a human. Disney sent Deanna to Italy to get inspiration for her work. Here, she observes notably the sights but the people and their mannerisms and nuances. She says that it is the details that lifts the animation to greatness.
JINGLE JANGLE A CHRISTMAS JOURNEY (USA 2020) ***
Directed by David E. Talbert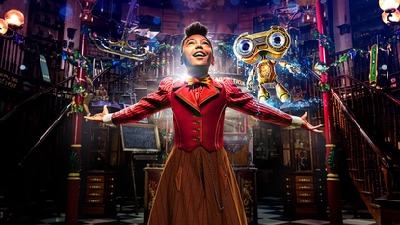 If the story of widower Jeronicus Jangle (Forest Whitaker) and his toy inventions seem familiar, it is also the story of widowed inventor Charactacus Potts played by Dick Van Dyke in the Ken Hughes co-written Roald Dahl film 1968 musical family fantasy CHITTY CHITTY BANG BANG based on the Ian Fleming (James Bond) novel. This is of no surprise as writer/director David E. Talbot has claimed that this film among others was an inspiration for JINGLE JANGLE. The fact that the film has been inspired by so many musicals is apparent as the film is a lavish production with over-the-top musical numbers, many Carol Reed's OLIVER-style but with little surprises as evident in the film's first scene.
When grandmother (Phylicia Rashad ) is asked by her to tell again the 'Twas was the night before Christmas story', one knows immediately granny is going to tell another story, one in which it will turn out that she is one of the story's characters.
It is a story where the protagonist, Jeronicus Jangle (an obvious Christmas name). Jeronicus is a Victorian-era toymaker in the imaginary town of Cobbleton. The rather unimaginative plot, which would be a major irritant to film critics, revolves around Jeronicus falling on hard times after the death of his wife and this lost spirit and about to be lost shop, the shop of Wonders and Magic. The old man will learn lessons from his grand-daughter, Journey (Madeken Mills) who will make him see the light. The villain of the piece is his ex-apprentice, (Keegan-Michale Key) who has stolen his key toy, Don Juan Diego (voiced by Ricky Martin) and his invaluable book of inventions.
The town of Cobbleton looks something right out of a typical Charles Dickens film, where the town folk go around dressed in festive garb carrying baskets and women donning colourful bonnets.
One must give credit to the musical numbers, giving the film the look of a modern stage musical. The songs by John Legend (who also produced the film) and Philip Lawrence are catchy and worthy of mention.
Talbert's film is a stunning combination of CGI, stop motion animation and live action. The elaborate costumed action figures are elaborately detailed and most impressive.
Despite the film suffering from a tedious middle section - the film could have been shorted from its lengthy 2 hours - one must admire and give credit to Talbert for his efforts. It is clear that he hopes the film become a Christmas classic. This is also a film caters to the target audience of the Black American with Whitaker, who can sing all his songs beautifully, in the lead and half the folk seen in the film being of colour. This is not a usual sight for a Christmas film where an all-white cast is the norm, but it is a welcome change - thank you Netflix for offering filmmakers a chance to make a difference.
Trailer:
THE LIFE AHEAD (La Vita Avanti de Ase) (Italy 2020) ***
Directed by Edoardo Ponti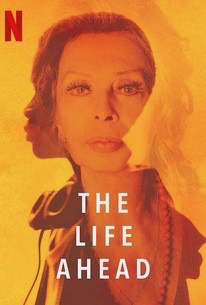 Sophia Loren, star of the Hollywood Golden Age and Italian actress and Academy Awards Winner for her performance in Vittorio De Sica's (1961) TWO WOMEN, is the prime reason to watch the Netflix distributed Italian movie THE LIFE AHEAD directed by Edoardo Ponti, the son she had with Carlo Ponti.
THE LIFE AHEAD is a 2020 drama film directed by Ponti from a screenplay by Ponti and Ugo Chiti, based upon the novel The Life Before Us by Romain Gary.
Now at the age of 88, the age of course shows. No amount of plastic surgery can hide the fact but Loren's beauty at the ripe age also shows. She delivers a fierce performance as Madame Rosa, a Jewish concentration camp survivor, now living a secluded life looking after kids of the neighbouring prostitutes. If the name Madame Rosa sounds familiar, that is also the name of another film, which is also an adaptation of the same novel which starred the late Simone Signoret as the title character.
The film begins with her bag snatched by Momo (short for Mohamed) (Ibrahim Gueye) at the local market. She is pushed and almost falls down as she claims, when the boy is forced to return the candlesticks (shared from Victor Hugo's LES MISERABLES?) that he had stolen from her by the priest who is looking after him. The priest asks her to look after Momo. In return for the favour of the returned candlesticks plus a sum of money, Madam Rosa agrees to look after Momo.
Momo is no innocent kid. He sells for the local drug dealer and makes enough money to buy a nice bike. Rosa does not really care.
The film examines the bond between the two lonely souls. Despite differences in age, the two form a bond, especially when they get into difficulties.
Director Point's film indulges in some melodrama, though there is the usual loud shouting, typical of Italians, which provide some of the film's humour. The boy's mouth is matched by Rosa's with swear words coming out as common as day.
Loren is a pleasure to watch, reminding one of the days of her youth when she used to deliver unforgettable performances. The young black actor playing omg holds his own in the presence of the Italian star.
As of the two different versions, I prefer Signoret's version of MADAME ROSA, just as I prefer watching Signoret to Loren, no disrespect intended.
It should be noted that THE LIFE AHEAD is set in an Italian port compared to the original French setting. The current topic of immigrants is brought into Ponti's picture and one can feel the director trying to make a point. Momo is himself one, from Senegal, now transported to a new place where he has to learn to survive. Ponti's film also shows the need for different races to work together. The image of both Momo and Rosa holding each other's hands - black and white hands intertwined - is a powerful one.
The film has a limited release on November 6, 2020, followed by digital streaming on Netflix November 13, 2020.
Trailer:
MARTIN EDEN (Italy/France 2019) ***
Directed by Pietro Marcello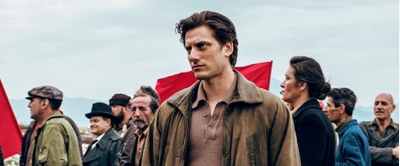 Based on the Jack London novel of the same name, Pietro Marcello's latest film follows a sailor, MARTIN EDEN (Luca Marinelli) trying to remake himself as a writer, in this passionate and timeless story of class consciousness and failed ideals.
The story is reset to a port town in Italy. Eden has two things going against him in life. The first is his falling in love with Elena (Jessia Cressy) who s wealthy and upper-class and way over his social standing. This second is his desire to succeed and make his living as a writer that is as difficult a vocation as his survival in poverty. Worst still, his ideals in socialism makes him extremely unpopular with Elena's family while getting him into trouble with the locals. Does Martin Eden survive? Hardly as displayed in a rigorous telling of a tale of hardship and perseverance.
The period piece is beautifully shot by cinematographers Francesco Di Giacomo and Alessandro Abate, featuring hot new Italian star Luca Marinelli in he title role - all reasons to see this lavish production.
Actor Marinelli, who has been playing everything from a doomed lover to a drug pusher in the past few years (THEY CALL ME JEEG) has finally got a role to be reckoned with. I have noticed the young actor from films screened during the past few years at the ICFF (Italian Contemporary Film Festival) and he has instantly delved superior work.
MARTIN EDEN, which premiered at the Toronto International Film Festival in 2019 opens at Digital TIFF Bell Light box November the 13th.
Trailer:
THE NEW CORPORATION: THE UNFORTUNATE NECESSARY SEQUEL
(Canada 2020) ***1/2
Directed by Joel Bakan and Jennifer Abbott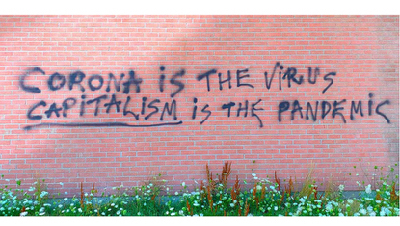 THE NEW CORPORATION is as the title states, the necessary sequel to The CORPORATION made in 2003 where legal decisions defined corporations as persons and gave them the same legal rights as people. And the bad results that followed. The new film examines how, since the 2008 economic collapse, corporations claim to have changed, passing themselves off as socially responsible.
The film is very current. Have they really changed? The FAANG (Facebook, Apple, Amazon, Netflix and Google) stocks are also ruling the world in NASDAQ. They get in trouble with the government and they claim to self censor. It ends with the current events of the George Floyd riots and the Covid-19 pandemic.
The film is extremely business technical in the first half before becoming more accessible to everyone when poverty and human rights are addressed. Another recent doc and a good companion piece, CODED BIAS also addresses human rights looking from the view of face recognition technology.
The directors have assembled impressive footage as well as important interviewees and subjects. While taking down corporations by examination of how they continually fool the world (through the rules of an imagined corporate playbook), the film ends on a positive note of change. A documentary that is educationally informative that calls everyone to action in creating a better planet to live in.
The doc had its premiere at this year's Toronto International Film Festival.
Trailer: https://www.youtube.com/watch?v=yWnxlFES2Oc
QUEEN OF HEARTS AUDREY FLACK (USA 2019) ***1/2
Directed by Deborah Shaffer
Co-directed (and edited) by Rachel Reichman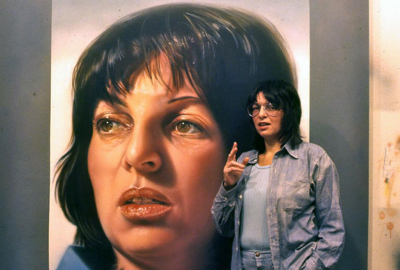 There are two movies here in this insightful documentary entitled QUEEN OF HEARTS. One shows the work of a photo realist (explained later) and the other the life a devoted mother and housewife. Audrey Flack has her ups and downs, at one time ready to end it all having lost her passion for living and at another giving others advice on the joy of living.
Audrey Flack had given up on her art. Her manager is infuriated at her as she can make money at an instant with anything, she then reaching the height of her fame. Now at the age of 88, Audrey Flack returns to her canvas for the first time in decades, revealing her longtime struggles as an artist and mother to find her rightful place in the art world.
For those not familiar with the art world or who have not heard of Audrey Flack, Audrey has held a unique place in the history of contemporary art in America. Feminist, rebel, mother, painter, sculptor and teacher, Audrey's often controversial 40-year career evolved from abstract expressionism in the 1950s to photorealism in the 1970s. A photo realist is an artist who paints using a photograph as the source - a case of more real than real. It was at the time, looked down by fellow artists, but now more generally accepted. One of the first women ever included in the famed Janson's History of Art, Audrey continues to create, explore, and inspire with her unique style and indomitable spirit.
QUEEN OF HEARTS also follows Flack as she takes her work in a brand new direction and reveals her long-term struggles as the mother of a child, Melissa with autism. The portion of the film on Melissa is ready to break any mother's heart. Autism was not that understood at the years around the birth of Mellisa. Audrey knew that something was wrong with Melissa. As an adult she could hardly speak and communicate. Audrey had to tend to her while working as an artist. Because of Melissa's disability, Audrey was classified as a refrigerator mother. She was deemed the reason being unfeeling and secluded Melissa turned out that way. She makes her point when she says that men can work on their art and then return home to for a good dinner made by their wives. For her, after work which included tending for Melissa, she has to go home and cook for her husband. Thank God he second daughter turned out normal. Both daughters as adults appear on screen. It is this part of the doc that works into the audience making a solid connection between the human being and the artist. It is also is what keeps the do so compelling to watch. Flack is thus a feminist with a reason and one can sympathize with her.
Director Shaffer also shows Audrey at work at her art and has her speak to the camera for a fair bit of the doc.
A solid doc, Shaffer's study of Audrey Flack clearly shows her as a Queen of Hearts.
Trailer:(unavailble)
ROCKS (UK 2019) ***
Directed by Sarah Gavron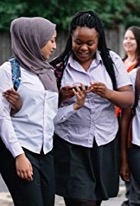 Director Sarah Gavron's (BRICK LANE, SUFFRAGETTE) is another strong female film this time entering around a black teen school girl under serious duress. Her mother has not returned home and she has to look after her younger brother while trying to dodge social services. Her mother has left before but this time has not come back and looks like never going to. This is the story of Shola (a remarkable performance from newcomer Bukky Bakrov) in what translates to guerrilla filmmaking where the camera follows the girl on all her activities. Director Gavin demonstrates that life is not easy for the less fortunate. She shows Rocks maturing as she takes on responsibility. Stull, Rocks is not the perfect human. She steals money from those who aid her. But what is important is her perseverance and humanity towards her younger brother who is too young to understand what is going on. One wishes the film would take a stronger narrative and a solid path for Shola, but this is Gavron's style for this film. ROCKS premiered at the Toronto International Film Festival in 2019.
Trailer:
SAINT FRANCES (USA 2019) ***1/2
Directed by Alex Thompson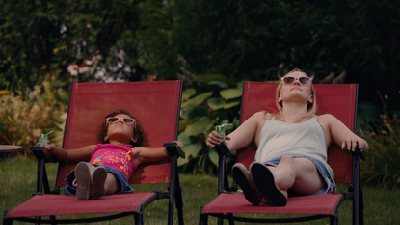 SAINT FRANCES is a comedy drama that follows a stage in the life of a thirty-something named Bridget (Kelly O'Sullivan) searching for some meaning and purpose in her life. The film is written by its lead actress O'Sullivan and directed by Alex Thompson. Though strong in female content, the male female combination makes a good balance of its content. The guy who impregnates Bridget for example, is seen from a positive light, being supportive, kind and loving.
SAINT FRANCES begins with a scene at a party where a 34-year old loser is telling Bridget about his dream of jumping out the window after not achieving anything at his age, with no money, no job and no relationship. When asked of her job, Frances says she is a server in a restaurant too and the audience gets it that she is like the loser she had been speaking too when she is interrupted by a guy who says he is a server at a restaurant too. The segment is absorbing as the main character shifts from the guy to Frances to the couple who then have sex after the party. In the morning, there is blood everywhere as Frances is having a period. An excellent and good solid start with some drama, humour and true to life characters.
It is difficult to continue to impress like the beginning. Unfortunately, the film does not though it tries and it shows. The script follows Bridget as she gets the job of a nanny to a gay couple Maya (Charin Alvarez) and Annie (Lily Mojekwu). Bridget is to look after a 6-year old , precocious Frances (Ramona Edith Williams). The film is likely called SAINT FRANCES as the child acts like a saint entering and doing wonders for not only Bridget but for her two mothers.
O'Sullian's script covers key issues like gay parenting, depression, abortion, counselling and companionship and lesser though irritant issues like the right to breast feed in public. The 2 mothers suffer from depression. The abortion issue is covered by Bridget's decision to abort her baby after a fling with Jace (Max Lipchitz). It helps that all the characters in the film are endearing. Even Jace, a lovable lug is supportive. And the woman who confronts Maya for public breast feeding is not that nasty either. All this positive character traits in the script create pleasant entertainment without undue stress and pretentiousness on the audience.
The script is brave enough to cover realities such as bleeding post abortion and also bleeding during sex while the female is having her period. The script jokes that there are men who like this kind of sex and they are called 'bloodhounds'.
The characters are well-written, they eventually figuring out for themselves what is wrong and how to deal with their problems. The tactic is used for Bridget and two mothers and even the kid Frances.
Winner of the 2019 SXSW Audience Award for Best Narrative Feature and Special Jury Recognition for Breakthrough Voice, SANT FRANCES will be released November 13 by Game Theory Films on iTunes Canada and on-demand.
Trailer: