BLACK BEAUTY (USA/UK/Germany/South Africa/France 2020) ***
Directed by Ashley Avis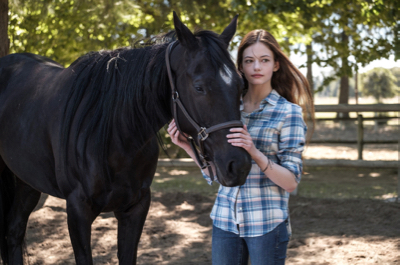 The title BLACK BEAUTY is immediately recognizable from one of the best selling books of all time, Black Beauty by Anna Sewell.
In the 1944 novel, the story is narrated in the first person as an autobiographical memoir told by the horse named Black Beauty - beginning with his carefree days as a foal on an English farm with his mother, to his difficult life pulling cabs in London, to his happy retirement in the country. Along the way, he meets with many hardships and recounts many tales of cruelty and kindness. Each short chapter recounts an incident in Black Beauty's life containing a lesson or moral typically related to the kindness, sympathy, and understanding treatment of horses.
Disney's version turns the gender of Black Beauty from male to female. BLACK BEAUTY is now a wild mustang living the wild life with other mustangs including her mother. With her curiosity to cross into forbidden territory, BB sees humans, who trace her to capture her and the other mustangs into captivity. She ends up in the farm ranch of John Manly (Iain Glen). It is here that she meets a kind human being, an orphaned girl, Jo Green (Mackenzie Foy) who is sent to live with her uncle John. Two lonely souls meet, horse and human and the wild mustang is tamed only by Jo. A strong relationship exists between the pair. Circumstances result in Black Beauty being leased and sold several times. BB loses contact with Jo but being a Disney film that demands a Hollywood ending, it takes no genius to guess that the two will re-unite in a super sappy ending.
Another big change in this is the modernization of the story, which is set to the current. Whether this works better for the story is up to the individual but I am not one who likes dabbling with the classics.
Kate Winslet plays the horse in absentia. Her voice narrates the story from start to finish with the audience seeing the equine point-of-view of life. "It is impossible to break the spirit of a mustang" are the words told to her by BB's mother before passing on. To make things cornier, these words are added: "If things get tough, close your eyes and think of good things."
BLACK BEAUTY contains a few exciting sequences. The one with the overflowing river where BB saves the day is a well done sequence.
During current times, all Studios attempt at making politically correct films. As such, the horse and protagonist are female and one of the kindest owners of BB happens to be Terry, a black fella (played by Hakeem Kae-Kazim), who treats BB with care and concern. The villains of the story are the wealthy white trash - the mother and daughter Winthorps. The dreamy Winthorp boy, George (Calam Lynch from DUNKIRK) plays Jo's romantic interest.
The Anna Sewell book, BLACK BEAUTY is a children's book and the film plays as one (or as a family film). The film is currently playing on Disney+.
Trailer:
FATMAN (USA 2020) ***
Directed by Eshom Nelms and Ian Nelms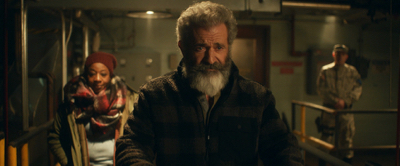 Santa Claus has gone by many names including Father Christmas, Chris Cringle, Pere Noel and Saint Nicholas and now a new one FATMAN. Apparently, because most kids are no longer nice but nasty, Santa has his workload reduced, unable today his bills like his electric bill, and now putting on a bit of weight. FATMAN is a new American black comedy on Santa that is not for children. In fact one wonders what the target audience of this film will be, as it is a bold step to invest money in a film that has a very narrow target audience - likely those who like their films nasty rather than nice and with an odd sense of humour that the general public do not get. And with FATMAN played no less than by Mel Gibson who has been getting a lot of negative publicity as of late. Maybe people have forgotten and will give him a second chance being the Christmas season.
In this film, Chris Cringle (Gibson) lives with his wife Ruth (Marianne Jean-Baptiste, best known from Mike Leigh's SECRETS AND LIES and still keeping her Brit accent in this film) and runs his Christmas present shop on a farm near the town of North Peak, Alaska. With his income on the decline because of too many children turning too vicious, the United States government, who maintains an interest share in Chris' business, sends Captain Jacobs (Robert Boackstael) to propose a two-month contract for producing components for a new jet fighter for the US military. The liasion agents override Chris' misgivings by virtually threatening to withhold the government's subsidies, but Ruth manages to restore his spirits.
Here comes the clincher. On Christmas Eve, spoiled rich boy Billy Wenan Chance Hurstfield, a child actor who has an adult face and looks like the real mean kid) receives a lump of coal from Chris for his selfishness (the film's singular best joke), and swearing revenge, he hires his personal hitman Jonathan Miller aka Skinny Man (Walton Goggins) to kill Chris. They should have known that Chris is immortal and can heal from any mortal wound, which he does at the close of the film.
Santa's good deeds include convincing men trying to pick up at the local bar to go home to their families. The bartender is puzzled why all the good-looking men suddenly disappear from her bar once Chris arrives. This Santa keeps weapons like guns and rifles. He also swears and drinks. He has lost his faith (I'm just a fatman in a red suit", he says) which his good wife Ruth, with her British accent tries to restore. Yes, there is a semi-nude scene with Santa and his good missus in bed. Not to worry - no nasties on display just intentions.
The climax comes with a showdown, western style between FATMAN and the Skinny Man. Every bad person gets his comeuppance in the film including the kid who got a lump of coal for Christmas.
FATMAN because of its weird premise does not always work, but when it does makes for quite fresh entertainment. I would recommend it!
Trailer:
FUNNY BOY (Canada/USA 2020) ****
Directed by Deepa Metha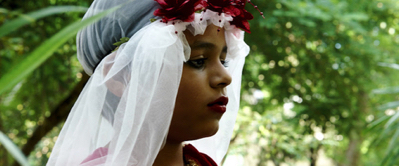 FUNNY BOY is Canadian/Indian Deepa Metha's adaptation of Shyam Selvadurai's 1994 novel of the same name, the film centring on the coming of age of Arjie Chelvaratnam, a young Tamil boy (Arush Nand) in Sri Lanka who is coming to terms with his homosexuality. The setting is Colombo, Sri Lanka against the backdrop of the increased tensions between Tamil and Sinhalese people before the breakout of the Sri Lankan Civil War. This war only recently ended in 2009.
The film traces Arjie's school days when he was a teenager (Brandon Ingram). The transition from child to teen is realized when Arhjie attends school when the actors change from Band to Ingram. Director Metha superimposes the image of the boy in the teen to facilitate a smoother transition of the characters, the transition very important in films where characters undergo large age in age. Arjie's first gay encounter is sensitively portrayed, with the teen unsure of his budding sexual emotions. The danger of the civil war is always in the background when he is bullied by Singhalese in school to the final days when his family has to leave Sri Lanka for Toronto, Canada. Arjie's aunt plays a big part in Arjie's life.
There is one scene in the film where a pianist at a bar is playing Maurice Jarre's famous and beautiful Lara's Theme from David Lean's 1965 massive epic DOCTOR ZHIVAGO. Perhaps director Metha is paying homage to Lean, hoping her film reaches similar heights. To Metha's credit, one of the best things in FUNNY BOY is its cinematography by Canadian d.p. Douglas Koch who has done marvellous work before as in the dystopian piece, Don McKellar's LAST NIGHT. Sri Lanka has been praised by many to be one of the most beautiful spots on the planet, some saying that it was the original Garden of Eden. The stunning landscapes on display attest to the fact. The beginning shot of the train chugging along (reminiscent of Lean's THE BRIDGE ON THE RIVER KWAI), just steps away from the stunning beach and sea is unforgettable. The production sets and props are impressive from the tennis outfits and vintage racquets seen during the family games. The dialogue is partly in English with British terms such as 'fatty-fatty bom-bom' not heard in North America but common in British colonies like India and Singapore where I come from.
Lean has made a film in India A PASSAGE TO INDIA, which might be a good companion piece to FUNNY BOY.
Praise to Metha for directing another gay themed film after her lesbian drama FIRE resulted in protests in India and a theatre burnt down. She also made a fierce film on spouse abuse in MIDNIGHT'S CHILDREN which was based on controversial author Salman Rushdie's novel. FUNNY BOY is produced by her husband David Hamilton. I have great admiration for Metha as a director who is brave enough to follow her unique vision.
Though FUNNY BOY is no cinematic epic reminiscent of director David Lean, Deepa Metha's film aims high and is still a pleasurable watch. FUNNY BOY is one of my favourite Metha's films alongside BEEBA BOYS and MIDNIGHT'S CHILDREN.
FUNNY BOY is selected as Canadian's 2021 entry for Best International Feature (formerly Best Foreign language Film).
Trailer:
THE GREAT INVISIBLE (The Impact Series) (USA 2014) ***
Directed by Margaret Brown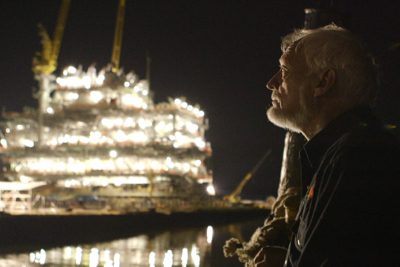 On April 20, 2010, the Deepwater Horizon oil rig exploded in the Gulf of Mexico. It killed 11 workers and caused the worst oil spill in American history. The explosion still haunts the lives of those most intimately affected, though the story has long ago faded from the front page. Director Margaret Brown fashions her doc as a corporate thriller and a human drama involving the victims while exposing the evils by uncovering the deeds of the secretive oil industry. BP has refused to participate int his doc, as expected.
The culprit is BP, which had cut safety corners in the construction and operation of the Deepwater Horizon. The result is a huge explosion resulting in the oil spill which they have up to this day only cleaned up a third. The explosion is shown through the eyes of oil executives, survivors and Gulf Coast residents who experienced it first-hand and then were left to pick up the pieces while the world moved on.
The doc, through the eyes of a few survivors recount the event of the explosion when everything went dark and the workers on the rig panicked. One wishes Brown did more research on the cause of the explosion, rather than giving the blanket reason that it was owing to lack of safety measures.
What is moving is the testimony given by one of the survivors of the explosion Doug Brown . At one point after the accident, he had contemplated suicide. His wife moved all the material (books, new articles BP pamphlets) that would remind him of the disaster from the house. Gordon speaks to the camera that he feels guilty working for BP. This shows that there are good people around, typically the foot soldiers that worked for the company. A bit too much camera time is given to a volunteer worker as he gos about his rounds delivering food and supplies to the affected residents. The CEO of BP makes his false promises saying that the company will take full responsibility of the spill, all bullshit as far as most people are concerned, showing once again the unethical behaviour of the conglomerate entity. Unsurprising is the fact that the company gave huge bonuses to the top executives that year. BP had the gall to say that the Deepwater Horizon accident aside, the company met most of its safety requirements. The doc goes on the emphasize that the compensation the company for the disaster offered was less than 1% of its profits.
Barack Obama was the President of the United States at the time of the accident, and Brown has Obama bragging that the U.S. has the largest rig count in the world and a major player in oil production. And don't expect Trump to do any better. In fact he did much worse - taking the U.S. out of the Paris Climate Accord and reversing California's legislation to go carbon free by the year 2025. It is a shame that since the disaster, nothing much has changed. Congress has not passed any new legislation in safety measures in offshore oil drilling.
Trailer:
HILLBILLY ELEGY (USA 2020) ****
Directed by Ron Howard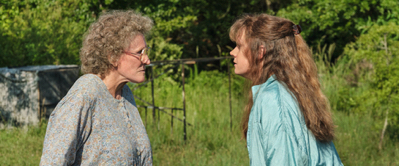 HILLBILLY ELEGY is a film about a hillbilly family. Such families do not like to be called rednecks, as evident in one key seen in the movie where the boy lashes out at the term used to describe his family. The film is based on the best selling novel 'Hillbilly Elegy: A Memoir of a Family and Culture in Crisis', a 2016 memoir by J. D. Vance about the Appalachian values of his Kentucky family and their relation to the social problems of his hometown of Middletown, Ohio, where his mother's parents moved when they were young. The film traces J.D.'s coming-of-age stay from boyhood to being accepted at Yale Law School.
The film is a modern exploration of the American Dream through three generations of the Vances, an Appalachian family; most notably focusing on J.D. Vance's relationships with his troubled mother and her ongoing addiction to heroin along with the love and care of his supportive grandmother.
The film benefits from being a likeable tale of a sure fire hit premise - the triumph of the human spirit (J.D.'s) and even more so with so much against him (his dealing with his mother's heroin addiction).
The best seller was criticized for the reason that the author, J.D. formed conclusions and generalizations from his upbringing in suburban Ohio. The script by Vanessa Taylor avoids the pitfall and lets the action speak for itself and the audience to draw their own conclusions.
But it is the top-notch performances of the cast that elevates HILLBILLY ELEGY above other films in this genre. Amy Adams plays Bev Vance, the heroin addicted mother displaying both her strength and vulnerability while Glenn Close (bound to win her Oscar this time) as mamaw, the smart grandmother who holds everything together. Another heavyweight is Hayley Bennett who plays J.D.'s sister. Relative newcomer Gabriel Basso holds his own.
Ron Howard makes forgettable films. Maybe it is just me who thinks so. But I can hardly recall any memorable segment from his hit films like APOLLO 13, A BEAUTIFUL MIND, SPLASH except for maybe PARENTHOOD with the scene where Steve Martin gets a blowjob while driving. But HILLBILLY ELEGY contains many scenes that will remain in ones mind - as in the one Amy Adams hits her son in the car countless times or the one where the adult son bashes in the bathroom door to find his mother shooting up. HILLBILLY ELEGY is one of Ron Howard's best films to date and it clearly makes it point that family has to stick together regardless of circumstances.
It is also amazing what the closing credits reveal. The resemblances of Amy Adams and Glenn Close to the real life characters they portray are uncanny. Good job not only in the make-up department but in the casting and of course the Oscar winning performances by both Close and Adams. The credits are quick to note that Bev has been clean for 6 years and that J.D. made Yale.
Trailer:
MAKE UP (UK 2019) ***
Directed by Claire Oakley
(release now postponed to January2022)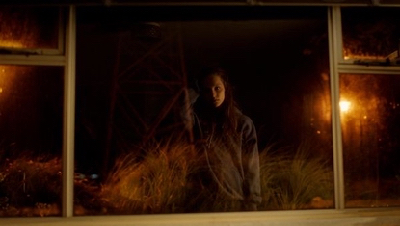 MAKE UP begins with a vehicle first seen only by its headlights, two small dots of light on the large screen as the vehicle manoeuvres around a windy road in the midst of a misty darkness. It is a metaphor for the film's protagonist a teen girl, Ruth (Molly Windsor) as she heads for an uncertain future, likely with equal twist and turns as she heads for a caravan park in Cornwall. She is to meet and live with her boyfriend, Tom (Joseph Quinn).
She is met in the dead of night by the campsite manager, Shirley (Lisa Palfrey). Shirley is such a character, with such an infectious and hilarious laugh that she could be the central character of another film. One wishes there were more scenes of Shirley in the film. Shirley offers a job to Ruth.
Nothing much happens in terms of stories or events in director Oakley's film. The rest of the film follows Ruth around the campsite, which is closed after the summer months. She is working, by clean g up the rented caravans and she meets the other two that work on the campsite, one of which is Jade (Stephanie Martini) who begins a friendship with Ruth.
Ruth suspects that Tom is having an affair with someone else but is unsure. She finds red hair on his clothes while doing laundry but the only red hair comes from a wig that Jade owns. Jade claims never to have worn that red wig.
When moving to a completely new place to live with someone that one is never sure of can be a nightmare and a really scary experience. Director Oakley knows it and shoots her film like a horror movie. The light go out in a scene reminiscent of a horror flick. She also uses shadows to create an eerie atmosphere. Her camera movement looks as if a predator is lurking around the corners.
The film contains a few light touches for a serious coming-of-age movie. Jade asked after making pot: "If there is anywhere in the world you would go where would it be?" When no one replies, she says "Mauritius ". "What is there in Mauritius?" she is asked. "I don't know. Wanna come?"
Directly Oakley charts the troubled relationship between Tom and Ruth as would normally be expected for young couples. But Ruth's transition towards the same sex as she develops a fondness towards a same sex relationship with Jade is not entirely convincing. Is this just another transitional phase of experimenting as she did withTom?
The beaches in Cornwall are white and generally flat, as depicted in the swimming segments by cinematographer Nick Cooke.
Oakley's film might be frustrating to come as her loose narrative of Ruth's coming-of-age journey seems to be meandering without direction. But it is for this fact, that her film stands out without falling into cliched pitfalls.
The film is called MAKE UP because Ruth dons make up for the first time towards the end of the film. The putting on of the make up is again a metaphor that she has now grown up.
The theatrical release date is November 27th.
Trailer:
ROCKS (UK 2019) ***
Directed by Sarah Gavron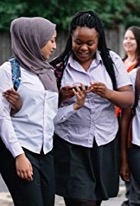 Director Sarah Gavron's (BRICK LANE, SUFFRAGETTE) is another strong female film this time entering around a black teen school girl under serious duress. Her mother has not returned home and she has to look after her younger brother while trying to dodge social services. Her mother has left before but this time has not come back and looks like never going to. This is the story of Shola (a remarkable performance from newcomer Bukky Bakrov) in what translates to guerrilla filmmaking where the camera follows the girl on all her activities. Director Gavin demonstrates that life is not easy for the less fortunate. She shows Rocks maturing as she takes on responsibility. Stull, Rocks is not the perfect human. She steals money from those who aid her. But what is important is her perseverance and humanity towards her younger brother who is too young to understand what is going on. One wishes the film would take a stronger narrative and a solid path for Shola, but this is Gavron's style for this film. ROCKS premiered at the Toronto International Film Festival in 2019.
Trailer:
STARDUST (UK/Canada 2019) **
Directed by Gabriel Grant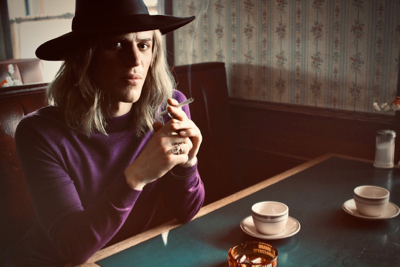 Though touted as a biography of David Bowie, it is really not. The film's start is quick to inform that what follows is (mostly) fiction. The film spans two years from 1971 and 1972, beginning with Bowie on a plane to Washington D.C. to promote himself to the Americans. It ends with a concert in 1972.
The film also runs into problems with this one fact. Bowie's estate did not approve the film and did not grant rights to use Bowie's music. Instead, STARDUST has Bowie performing covers the real Bowie performed in this period, such as "I Wish You Would" by the Yardbirds and "My Death" by Jacques Brel. So, none of Bowie's hits are heard or performed in the film.
It is not surprising that the Bowie estate did not approve the film as Bowie is painted in a film with no redeeming qualities. Bowies is shown prissy half the time, always in makeup wearing women's clothing, clueless, selfish, always thinking of himself, annoying his manager to no end, doing drugs and delusional, screwing up at every single opportunity he is given for exposure or success. He basically bungles his way through the two years of his life depicted in the film. After an argument with his wife, he annoys the audience by noisily plucking away at the piano. The film also shows all of Bowie's failures rather than his successes.
The most recognizable song in the film is not any David Bowie song. No "China Girl" or "(You Will) Set the World on Fire" but Anthony Newley's "What Kind of Fool Am I?" reflecting Bowie's foolish character depicted in the film. The film's climax is Bowie's stage performance, where once he succeeds in winning fans. Again the film is not allowed to showcase any of Bowie's songs resulting in a climatic letdown.
Bowie's wife, Angie is featured in the film. In real life, she was his first wife who married him in order to get citizenship and she admitted that they never loved each other. Angie's first appearance shows her nastiness as she reproaches a girl hitting on Bowie. No love is shown between the pair, though at one point she complains that when on tour, Bowie never thinks of her.
Bowie, in real life claimed he was a homosexual and later than he was bisexual. Was Bowie the man really that confused or delusional? His brother Terry was committed to an asylum and Bowie is afraid he would have similar problems. Bowie's gayness is hinted at in the film, but no same sex scenes are on display. Bowie wears a man dress and lady shoes and exhibita\s a lot of effeminate mannerisms.
Johnny Flynn who looks like Bowie and even more with his hair dyed red and wearing his famous garb, is passable as Bowie.
One wonders the reason they made a film on Bowie when such an awful picture is painted on the famous singer/songwriter. The film is equally tedious with little insight provided on Bowie.
STARDUST opens select theatres, and across all digital and on-demand platforms November 27.
Trailer:
TALES OF THE UNCANNY (USA 2020) ***1/2
Directed by David Gregory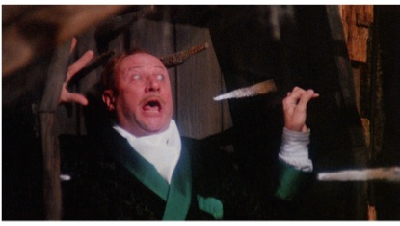 TALES OF THE UNCANNY is simply a documentary about Horror anthology films. The doc directed by David Gregory is a guilty pleasure, nothing really extraordinary but it contains short interviews of 60 experts in this area together with assembled clips from a whole lot of experts. The experts, who include legendary directors like Joe Dante and Roger Corman also talk to the camera giving their two cents worth on the subject. It is a wonder why no one has thought or done this before as is simply heaven for any horror fan to see this. It also allows fans to make lists of what horror films to see next, especially during the Covid-19 pandemic.
My personal BEST horror anthology is the 1945 British classic DEAD OF NIGHT (not to be confused by another American film made much later of the same title and a TV program) with various directors that include Basil Dearden and Alberto Cavalcanti. The framing story concerns a man visiting a country manor where he meets guests that tell each of their horror stories. The film ends with the man getting up from a nightmare and travelling to he same country mansion. The best and the last of these stories is the one of the ventriloquist played by Michael Redgrave who believes that his dummy is alive. Creepy, scary and extremely well done, watching TALES OF THE UNCANNY makes me want to see this classic again next. DEAD OF NIGHT is totally enjoyable with a bite of the British humour embedded in the scares.
Among the pleasures are watching the clips from the old Masters. There is a hidden gem that I never knew about - a short horror film called TONY DAMMIT by Italian Master Federico Fellini from the anthology called SPIRITS OF THE DEAD. Dario Argento and Mario Bava, two horror Masters are also mentioned as well as horror film production studios like American International Pictures and Hammer films
The doc also includes a few horror features and a few international classics. The Japanese WOMAN IN THE SNOW shows the typical Japanese scary apparition of the long haired female ghoul, which likely inspired all the new Japanese films like the killer doll and video films.
The best of the lot, according to the experts is 1980's CREEPSHOW. Everyone's favourite seems to be the episode with Stephen King playing the hick farmhand who discovers a meteor had landed in his backyard. "Meteor shit" is the term he uses of the green slime the meteor getsonnhis body. The doc ends with a list of the best anthology films followed by the best of the short features as selected by the 60 talents. DEAD OF NIGHT was voted the second best of the list.
These are in order:
The Twilight Zone

Night Gallery

Tales of Terror

Black Mirror

Dead of Night

Creepshow (1980)
The doc also lists the best of the individual segments.
Tickets and further details on the Winnipeg Cinematheque virtual theatrical run can be found here: https://winnipegfilmgroup.com/event/tales-of-the-uncanny/
Trailer:
TRIGGERED (South Africa 2020) ***
Directed by Alastair Orr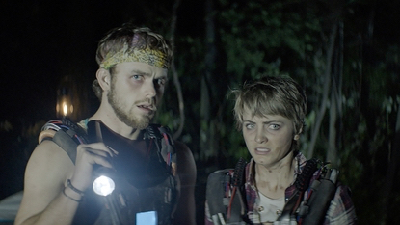 Never heard of this film before and where did it come from? Apparently from South Africa from director Alastair Orr with a script by David D. Jones. Billed as a horror movie with lots of violence and gore similar to the SAW franchise, Orr looks like he aims to be the next Eli Roth of South Africa. But all traces of South Africa are erased from this film. The setting of the film is not mentioned but all the actors speak with American accents so that the film would pass for an American film for the larger American market. The characters are all fool-hardy teens that all share attending the common high school and from the description of their high school and Universities attended, the setting is definitely American.
Nine 'friends', all harbouring a dark secret, go camping in the woods. After a wild night of partying, they wake up with bomb explosives strapped to their chests, all with varying times on their countdown clocks. Apparently an uninvited guest, their old science teacher, Mr. Peterson had shown up to take revenge on them as one of them had killed his son at a party. If the time on the clock runs out, the wearer explodes and dies. If he or she kills someone, the time is taken over and the killer has a longer time. Only the last one will emerge victorious and alive. And so goes the premise of the rather silly plot. The mechanics of how the invention is carried out is briefly explained, with just enough technical jargon for audiences to believe. In fact the explanation is so fast no one can follow but one would naturally assume it all works. The most logical thing for the 9 to do is to work out how to disarm the bombs or find help. But they discover it is easier if they can 'take' one another's time by killing each other.
The film comes with a few flaws. The nine friends are hard to distinguish from each other, worst still as the action takes place in the dead of night. The hunt and prey premise has also been done to death though one can argue that this would be a good variation of the theme. The teenagers are quite annoying with few redemptive qualities and no one really cares who survives or dies.
But the film though billed as a horror film comes with quite the few laughs, well paced and not unintentional. If one goes to see TRIGGERED for scary fun, then there will be no disappointment and the person will enjoy a good time. The dialogue is occasionally silly, hilarious. The funniest line of the film occurs in the film's last scene spoken by the stranger in the car stopped by the last survivor screaming out: "all my friends are killed."
The success of the film proves that no matter how silly the premise is, if all the departments are serious enough to put in their 100% and believe in the material, the result can be remarkable.
Trailer:
THE WALRUS AND THE WHSTLE BLOWER (Canada 2020 ) ***1/2
Directed by Nathalie Bibeau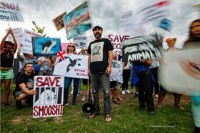 THE WALRUS AND THE WHSTLE BLOWER is a stranger-than-fiction tale of a Marineland trainer turned whistleblower, Phil Demers who sparks an online movement to end marine mammal captivity.
The doc contains three stories. One is, as the titles implies, is that of Marineland's whistle blower, Phil Demers and a walrus known as Smooshi that he saves from abuse. Smooshi arrives at mainland as a baby, likely caught by Russians in the wild. The other is of Marineland, the famous theme park in Niagar Falls featuring rides, marine creatures and land animals, founded in 1961 nu John Holder that was responsible in animal abuse, thanks to a whistleblower, Phil Demers and other ex-employees and the third a subplot involving the Canada's litigation system. All three are equally interesting, though their stories may be familiar to audiences from news regarding animal rights activists storming Marineland in the past.
One of the key points that the film makes is the dynamics of a litigation. A pissed off Demers says on radio interview at the one hour post of the film: "I want to go to trial (and hopefully win), not to negotiate. He confesses that he is disappointed with his lawyer, Run who explains that this is how the judicial system works, with very few cases actually going to trial. Demers says that he is akin to 90% of the population who do not understand but this is the way the litigation system works. This fact is absolutely true. When one gets arrested, for example by the cops, they plead guilty to a lesser charge for fear that they might be found guilty even when innocent, thus getting a police record even when innocent. This way, more and more people get a record resulting in the police gaining full time employment. Someone also once told me; "How can they be justice on stolen land?" The film also goes on with Bill-21 illustrating the red-tape, pain and money involved in proposing a bill. The bill was finally voted upon and passed, though the walrus Smooshi never benefited from it.
Despite the film being a crowd pleaser, it is a very say story. How sad would it be for anyone if the person or animal you loved is so close by and ill with a high chance of dying and there is little that you could do? Demers is in this sad condition and forced to relive the fact living so close to Marineland when Smooshi was ill and still there. On a positive note, Marineland has announced that Smooshi the walrus had just given birth to a baby walrus.
THE WALRUS AND THE WHSTLE BLOWER is this year's top winner of the Hot Docs Audience Award. It premiered at Hot Docs Canadian International Film Festival May 28th and has been launched across screens on CBC main network and CBC's streaming service Gem.
ZAPPA (USA 2020) ***1/2
Directed by Alex Winter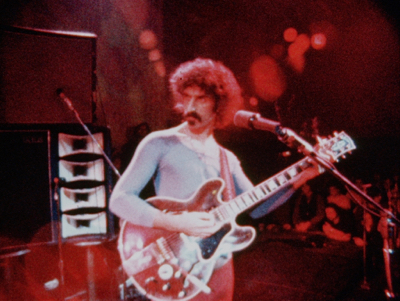 ZAPPA is the long due documentary of Frank Zappa who passed away in 1993. Frank Vincent Zappa was an American singer-songwriter, multi-instrumentalist, composer, and bandleader. His work is characterized by nonconformity, free-form improvisation, sound experiments, musical virtuosity, and satire of American culture. In a career spanning more than 30 years, Zappa composed rock, pop, jazz, jazz fusion, orchestral and musique concrète works, and produced almost all of the 60-plus albums that he released with his band the Mothers of Invention and as a solo artist. As a self-taught composer and performer, Zappa's diverse musical influences led him to create music that was sometimes difficult to categorize. While in his teens, he acquired a taste for 20th-century classical modernism, African-American rhythm and blues, and doo-wop music.
The doc by Alex Winter (from the BILL AND TED EXCELLENT ADVENTURE films) follows the path of most bio-pics. It includes a history of the artist from his childhood to his later days in his life while highlighting his ups and downs in his life. The doc also reveals ZAPPA as an inspiration to his fans and mankind.
The doc reveals that as a child, he started music late. He was more interested in film and audio recordings before he got into music at the age of 15. He was fascinated with the guitar and self taught himself to play it. He began writing classical music in high school, while at the same time playing drums in rhythm and blues bands, later switching to electric guitar. His talent and success led to his 1966 debut album with the Mothers of Invention, Freak Out!, combined songs in conventional rock and roll format with collective improvisations and studio-generated sound collages. He continued this eclectic and experimental approach whether the fundamental format was rock, jazz, or classical.
The doc benefits from lots of archive footage of Zappa speaking to the camera, working with his band and of course, his performances on various stages. The doc also reveals the genius of the man together at how difficult it is to survive and maintain ones principles and art in the often corrupt commercial in this case, record industry, field. He shows his disdain especially at Warner Bros. who he describes in one segment as a bunch of assholes. He is also a strong force against records/music censorship and expresses surprise that no one else in the music industry would speak out with him The comparison of China and the U.S., a favourite minor subject in many docs is included in the film.
Because of Zappa's early interest in film, he has kept in storage VHS cassettes of every recording he had done. This allows the doc to show many of its prized performances, which includes many famous artists like Joni Mitchell, Mick Jagger, Paul McCartney, John Lennon. Yoko Ono and notorious folk like Charles Manson.
Poignant moments in the film include the segment with widow Gail Zappa speaking of her husband with great fondness and admiration. The doc is dedicated to Gail who recently passed on.
One stage of Zappa's life involves him convalescencing after being thrown off the stage by a spectator. Being a hyperactive person, he started dabbing in clay stop-motion. A fair part of the doc has his claymation on display, often to make a valuable point.
Appropriately, the climax of the film leans towards the end of Zappa's life after he had been diagnosed with prostate cancer. Being the workaholic he is, he still worked 930 to 5, but with more bad days than good. His final concert with the Modern Ensemble that ended with a 20 minutes standing ovation says it all. Director Winter has through his earnest documentary shown Frank Zappa to be a great man who has transformed the world of music through his dedicated work and music.
Trailer: