29
Nov
2020
Details

Category: Movie Reviews
Written by Gilbert Seah
FILM REVIEWS:
BEYOND THE WOODS (Canada 2019) ***1/2
Directed by Brayden DeMorest-Purdy
Directed by Brayden DeMorest-Purdy which he co-wrote with Steven Roberts, BEYOND THE WOODS is a satisfying psychological Canadian thriller that still manages to keep the audience glued to their seats though one can easily guess the ending.
The film opens with Detective Reeves' (Broadus Mattison) investigation after Laura Bennett's (Christie Burke) death and the disappearance of her brother Jack Rogers (Jeff Evans-Todd). The suspect at hand is the mysterious and troubled Andrew Bennett (Steven Roberts). Andrew does not always speak out his mind, thus testing the detective's patience.
The theme of BEYOND THE WOODS is a grim one. It includes the harsh interrogation between detective and suspect in an enclosed room as the framing story. The kidnapping and threats of the suspect's wife as well as the mental anguish of the characters add to the morbid atmosphere. But director DeMorest-Purdy accomplishes a feat by alternating the moods and pacing his film so that his film flows smoothly with uplifting segments. One he does by music. Flashbacks with Laura and Andrew show them dancing to old tunes.. The landscape of the white snow brings in a brightness to alter the dark atmosphere. The intercutting of scenes between flashbacks and current times from the interrogation and kidnapping breaks the monotony of scenes that might drag on for too long. A little humour is injected in the form of details, though more would be welcome.
Films about kidnapping often omit the reality components of the kidnapped having to do their business. Here, the scene where Jack has to do his number 1 is shown when Andrew lets him out in the woods to pee. Jack makes an attempt to escape, but Andrew, the much bigger guy, empowersJack. No need to show Jack doing number 2, as one would naturally assume Andrew would let him out the same way.
The suspense is well built. Director Brayden DeMorest-Purdy includes a segment where the cops with the aid of a dog search for the missing Jack.
The insistence of Andrew to play word games with Detective Reeves annoys the hell of Reeves as well as the audience. Director Brayden DeMorest-Purdy works this portion well to invoke the anger of the audience as well as enhance the immense gravity of the situation. When Reeves finally loses it and beats Andrew up, the audience would be cheering him on.
One plot of the loopholes includes the point of Laura's glasses. Her glasses should have been burnt in the fire but were not and discovered by Jack. Her teeth in the ashes should have been enough of a clue of the disposal of Laura's body.
Zach Zhao's cinematography is as dramatic and it is stunning. One scene shows Andrew dragging Jack's bloody body across the snow - red against white. The image is startling. The film looks perfect for the Canadian BITS (Blood in the Snow) Film Festival held every October, a showcase of Canadian horror films.
BEYOND THE WOODS is one of the better Canadian features to turn up this year with solid delivery from all departments concerned. The film has already won 9 awards from various festivals where it was screened. The film is available December 15th VOD/EST.
Trailer:
HONEST THIEF (USA 2020) ***
Directed by Mark Williams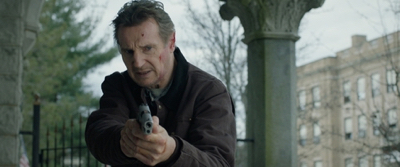 After TAKEN, TAKEN2, and TAKEN3, TAKEN4 might be a little too much for audiences to take in, in the Liam Neeson action revenge franchise. The franchise gets a reboot with HONEST THIEF where Neeson plays a 12-time bank robber, Tom Dolan who decides to come clean after he has met the woman of his life. He calls the FBI intending to return all the money he had stolen over the years in exchange for a light 2-year sentence with full visitation rights so that he can live forever ever after. The FBI agents who show up at his door are crooked, stealing his money and harming his girl. It is time for Tom Dolan, the in-and-out-robber (the name given to him by then police as apparently all other names had been TAKEN, get it?) to take action.
Nothing is really new in the story of HONEST THIEF and it is predictable as predictability gets. There are car chases, foot chases, fights (hand-to-hand) and shoot-outs, as expected in an actioner that takes place in an urban city. In fact the excuse for the car chase is extremely lame. Dolan's stolen van just happens to be seen by a parked police cruiser. The foot chase is also started by a chance meeting of an FBI agent and Dolan. Dolan turns around and the agent sees him, out of the blue, in the big city.
The main story sees Tom meeting his girl, Annie Wilkins (Kate Walsh) for the first time when he rents storage space to hide his stolen cash. This portion takes a whole boring 15 minutes. A year passes in the 15-minute time span of film running time. This is when Dolan decides to come clean and the 2 FBI agents steal his money from the storage, but are caught on camera by Annie. The agents go after Annie for the video memory. Tom has to save Annie while telling her the truth of his past, save the day and yes, to live happily ever after.
To be honest, (sorry, just could to help using this phrase), HONEST THIEF is not half-bad, delivering the action exactly as expected despite its mundane main plot. The film is lifted by Neeson's honest (promise not to use the word again) performance as well as Walsh's. The two make their romance considerably real. She is reluctant to accept him as he is, initially, but eventually love saves the day. And returning the full amount of the cash? Tom's excuse was that he did it because the bank had cheated his father who drove himself into a tree and that the adrenaline rush from the robberies was enough not for him not to use the money. He discovers that meeting Annie was what he needed to come clean. "That must be some woman," says one FBI agent. The mains story contains a few intriguing subplots that help lift the film out of the ordinary. Of the two agents, the latino, Agent Ramon (Anthony Ramos) is the one with the conscience coerced by his villainous partner, Nivens (Australian actor Jai Courtney) to steal the money. Nivens is trigger happy, killing many others in the process. Their boss Agent Sam Baker (Robert Patrick) is the good FBI agent who Dolan learns to trust. One can easily guess the rest of the story.
HONEST THIEF grossed an impressive $30 million despite Covid-19 restrictions. A solid guilty time-waster.
Trailer:
MODERN PERSUASION (USA 2020) **
Directed by Alex Appel and Jonathan Lisecki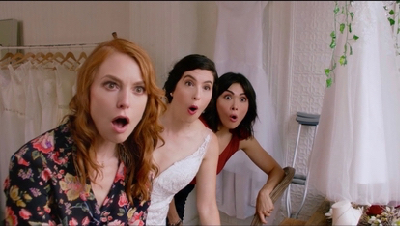 MODERN PERSUASION is billed as a romantic comedy, which happens to be one of my least favourite film genres. There have been plenty of these going around during the Advent season and they usually need some angle to distinguish it from the norm. It does not come as good news either that this is a film made in the U.S. and helmed by a Canadian. The Canadian is the writer, director and producer Alex Appel (THE DEATH OF ALICE BLUE). What is wrong with Canada? Is it all about the bigger market place? One can tell from the script as there is a lot of emphasis going on about the subway system, the way of living, the buildings and architecture and arts to convince (and fool) the audience that the film is American.
The film's premise concerns a successful single woman, Wren (Alicia Witt) who has focused on her career in New York over her personal life. She had put aside what could be a relationship with Owen (Shane McRae). As it turns out, Owen hires Wren's company with the two playing a cat-and-mouse game of relationships. Subplots include lesbians in her company, one of whom is expecting, two other suitors Tyler (Chris O'Shea) and Sam (Dominic Rains) and her domineering aunt (Bebe Neuwirth) and father (Mark Moses). But the Harlequin styled romance ends with Wren and Owen expectedly getting back together in a terribly tacked on last scene.
One of the film's problems is its dialogue. All the characters speak the same way - the way Appel writes the dialogue, sarcastically and with a hint of humour, delivered smugly. Whether it is Wren, her father, her associates or her ex, they all speak the same way. This is the ideal world of writer/director Appel where everyone is good-looking, wear the best outfits (men included), stay in beautiful houses or work in immaculate offices with perfect furniture.
There is also a lot of talk of nothing to nothings. Wren loves to talk to her cat. Her cat is forever around for no apparent reason. (Personally I hate cats, and I should not let the fact affect my review.) But Wren also talks to her pregnant colleague's unborn baby. (I love babies.)
Does Wren end up getting together with her ex? Or with two other possibilities that the script introduced her to? No one really cares!
Director Appel's Last film THE DEATH OF ALICE BLUE had a better and more original premise. Alice is an advertising intern hired at Raven Advertising, only that the company is run by vampires. The vampires find that Alice, genetically, has the possibility of becoming the greatest vampire ever. Forget MODERN PERSUASION and catch the vampire flick that went on to win quite a number of film awards instead.
MODERN PERSUASION is available in select Canadian theatres Friday December 11th and digitally and on demand Friday December 18th a week later. For Ontario, it opens in the following select theatres this Friday, December 11th:
Ottawa, ON - Bytowne Cinema (Dec 11-14, 2020)
London, ON - Hyland Cinema (Dec 11-17, 2020)
Pembroke, ON - Algonquin Cinemas (Dec 18-24, 2020)
Trailer:
THE PROM (USA 2020) ***
Directed by Ryan Murphy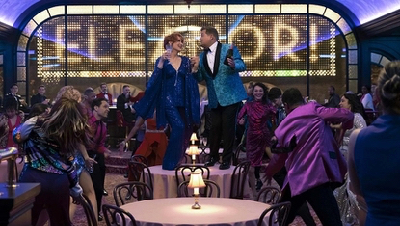 A Netflix original musical film THE PROM is based on the 2018 musical of the same name with music by Matthew Sklar, lyrics by Chad Beguelin, and a book by Bob Martin and Beguelin. The musical follows four Broadway actors lamenting their days of fame, as they travel to the conservative town of Edgewater, Indiana to help a lesbian student banned from bringing her girlfriend to high school prom.
Martin and Beguelin wrote the film's script that occasionally contains too many cliched silly lines. "I am surprised." "I am surprised that you are surprised." And another one: "And with the power to change the world, comes responsibility". However, one can argue that this is a film for the masses who do not demand Shakespearean-styled dialogue.
Dee Dee Allen (Meryl Streep) and Barry Glickman (James Corden) are Broadway stage stars with a crisis on their hands: their lavish new Broadway show, ELEANOR: THE MUSICAL is a major flop with horrid reviews destroying their careers that need saving. The reason for the flop is not the musical is bad but for their narcissistic personalities. Meanwhile, in small-town Indiana, high school lesbian student Emma Nolan (Jo Ellen Pellman) is experiencing a very different kind of heartbreak. Despite the support of the high school principal (Keegan-Michael Key), Mrs. Greene (Kerry Washington) the head of the PTA, who also happens to be her mother, has banned her from attending the prom with her girlfriend Alyssa (Ariana DeBose). So, Dee Dee and Barry decide that Emma's predicament is the perfect way to improve their public images. They take the bus to Indiana with Angie Dickinson (Nicole Kidman) and Trent Oliver (Andrew Rannells), another pair of cynical actors to take up the LGBT cause.
Meryl Streep and James Corden re-unite in their second musical after INTO THE WOODS. Streep plays what might be President Trump's description of a most over-rated actress. Streep appears to be loving being in musicals but she at least fares better here than trying to look like a teenager jumping on a bed in the disastrous MAMMA MIA! Corden does well with his gay mannerisms playing a gay character. (Corden is straight, married with a wife and children.)
Murphy's film is politically correct to the extreme. Besides its theme being LGBT positive, Dee Dee Allen's romantic interest and Emma's prom date are both coloured. The film also contains more female personalities than male and has a good representation of mixed dancers (including Asian and Latino), so hooray for Netflix.
Skylar's musical plays like one with Broadway style song and dance numbers. One number is inspired by Fosse as can be noticed by Fosse's choreographic style. Another is a Vogue-styled modified dance number with Vogue moves. The choreography by Matthew Libatique is overall impressive with all the stars participating and looking as if everyone is having a good time.
The film and musical is based on true events that took place in Fulton, Mississippi, but the prom that was cancelled never got reinstated.
THE PROM opens on Netflix Friday December the 11th.
Trailer: https://www.youtube.com/watch?v=TJ0jBNa6JUQ
QUEER JAPAN (USA/Japan 2020) **
Directed by Graham Kolbeins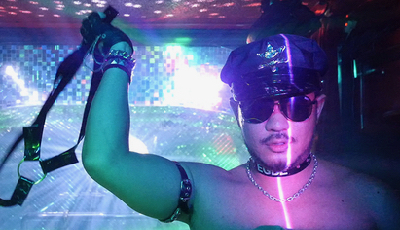 Director Graham Kolbeins' colourful documentary showcases railblazing artists, activists, and everyday people from across the spectrum of gender and sexuality thatdefy social norms and dare to shine in this kaleidoscopic view of LGBTQ+ culture in contemporary Japan.
Among those interviewed who have their say are Vivienne Sato, a drag queen, Nogi Sumiko with gender identity disorder whom loves to make things, Genjoroh Tagame a gay-erotic artist and Tomato Hatake transgender activist. As these interviewees are not famous people but taken at random or perhaps convenience, one wonders the director's choice of these individuals. To director Kolbeins' credit, the tactic does humanize the doc with ordinary people. But what they have to say is not especially revolutionary. Though one would grimace at piss drinking or fisting, one knows that these acts exist and that there are many who indulge in these acts. Apparently, more than a hundred interviews were conducted over a span of 3 years in locations across Japan before a few had been singled out. Of the more interesting ones are Councilwoman Aya Kamikawa who recounts her rocky path to becoming the first transgender elected official in Japan and at the legendary kink-positive hentai party Department H, non-binary performance artist Saeborg who uses rubber to create a second skin. Saeborg's creations, especially for the female sow are dazzling.
Audiences should beware as a few of the interviews talk about their sexual preferences that can get pretty nasty. One talks about his/her obsession on fisting and a friend says that he/she is satisfied with anything that goes up his/her ass. Another talks about liking almost everything including drink pee and rimming. Thankfully, none of these are displayed on screen.
The film includes a few commonly used Japanese terms. Hentai (the Romanized version of the Japanese sounding words) mens abnormal sexuality for example, not that these terms would be useful to non-Japanese audiences.
The film also explains the need for LGBTs to bond together to have a place where they can socialize and feel comfortable without being made fun of. Many talk about being bullied when young and being friendless. Places like Department H provide a safe outlet.
QUEER JAPAN is pale in comparison to another LGBT documentary, DEEP IN VOGUE that is also opening around the same time. Both docs discuss the issue of the need for identity, while showcasing the diversity of its subjects. But the latter has more to offer DEEP IN VOGUE with its Vogue dances, balls and houses has more content and than QUEER JAPAN which just focuses on a smaller group in only one country. Still one would expect more depth and insight from QUEER JAPAN which seems only too content to glamourize than anything else. IN DEEP VOGUE only lasts an hour and one does not want it to end while QUEER JAPAN lasts 99 minutes and grows tedious after the first third or so. QUEER JAPAN has a fresh and engrossing trailer (click on link below), but the full doc does not live to the trailer's expectations.
Trailer:
SONGBIRD (USA 2020) *
Directed by Adam Mason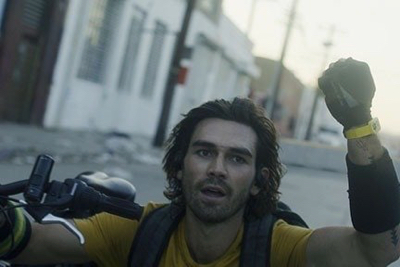 SONGBIRD is an exploitive sci-fi dystopian thriller that has no shame taking its premise the Covid-19 havoc that is currently rocking the world. It is of no surprise that the film is produced by TRANSFORMERS franchiser Michael Bay who has a reputation for producing and directing this kind of kitsch. But SONGBIRD runs into a few major problems in its concept and delivery.
SONGBIRD is a thriller with a strong romantic element. The premise involves humans with immunity to the virus, now named Covid-24 as Covid-19 has already been around since 2019 and the film's setting is 2024. So far in the Covid-19 pandemic there are no known cases of human immunity. But the concept is not far-fetched as in the time of AIDs, there had been known of many gays that still go fucking around without contacting the disease. Anyway, in the film, Nico (KJ Apa) who has immunity is in a relationship with Sara, (Sofia Carson) a young artist whose lockdown prohibits them from physical contact. When Sara is believed to have become infected from someone in her household, Nico races across the empty streets of Los Angeles in an attempt to save her by giving her a bracelet that indicates the wearer has immunity. The main problem with this story concept is that it is wrong and goes against the grain of human decency. Someone who is infected should not be wearing the bracelet as it is irresponsible, selfish and basically downright wrong. "We are just trying to protect the ones we love." That sorry line of an excuse does not cut it. So a decent audience should not be rooting for the selfish couple. The other fact is any filmmaker exploiting the Covid-19 pandemic for profitable gain should be punished. These two reasons are sufficient to put down SONGBIRD as an awful film. The third reason is that SONGBIRD is an awful film .
The lazy script is set in 2024, the 4th year of the pandemic in the United States. There is no mention of any vaccine or what the rest of the world outside the U.S. is up to. People infected with the virus are taken from their homes against their will and forced into quarantine camps, also known as "Q-Zones" where some fight back against the brutal restrictions. In these camps, the infected are left to die or forcibly get better.
KJ Apa, the actor that has the main role of Nico is a New Zealand actor who spends a whole lot of time in the film showing his 6-pact and sweaty sexy body. The only famous actor in the film is Demi Moore showing how much of a bitch she can be. There is a subplot regarding an ex-Afghan soldier and an abused singer songwriter. Lesser known actor Peter Stormare plays the villain, the corrupt head of Los Angeles' "sanitation" department which seizes those infected and transports them to the Q-Zone.
As Nico is a motorcycle courier, expect some bike chases. Otherwise there is a lack in action scenes.
Be a good and responsible citizen, save your money and avoid SONGBIRD.
Trailer:
SWIMMING OUT TILL THE SEA TURNS BLUE (China 2019) ****
Directed by Jia Zhang-Ke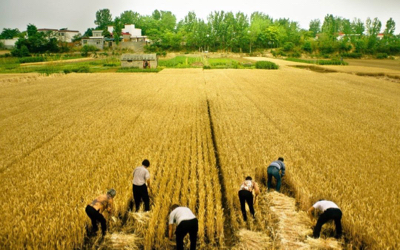 In May 2019, a large number of prominent Chinese writers and scholars gathered in a village in China's Shanxi Province (director Jia Zhang-ke's native province). Images from this literary event open an 18-chapter 'symphony' which spans the history of Chinese society since 1949. The documentary unfolds through memories of 4 writers, the late writer-activist Ma Feng and three major writers who are active today: Jia Pingwa (born in the 1950s), Yu Hua (born in the 1960s) and Liang Hong (born in the 1970s). Together, they weave a 70-year spiritual history of the Chinese people.
The film unfolds in chapters. Chapter 1 is entitled 'Eating', Chapter 2 entitled 'Love and so on, the change in chapters taking place amidst the interviews, as the stories overlap from one chapter to another.
There are several reasons I found this film especially endearing, the film often touching sensitive moments of my past, thus making the film somewhat special to me. First my background: I emigrated to Canada from Singapore and educated in a British missionary school where English was my mother tongue and Chinese (Mandarin) was the forced second language that most of us hated to learn in school, being something from the past and unfashionable. Worst was when the school forced students to take part in extracurricular activities like mass drill, where students had to perform Chinese like coordinated drills that mimic those practiced in China. When taking Chinese lessons, there was always emphasis on the success of the communists Government, with sayings like those (example: unity to win greater victory) that appear in Zia's film. Nostalgic too is the look of the old Chinese villagers that appear in the film. One particular woman with white hair is almost an exact replica of my late mother. I could not believe what I was seeing. That said, other viewers might not share the experience.
The first and most interesting Ma Feng, talks of his literary contribution to Shanxi history. A proud leader, he was involved in the formation of groups who campaigned to improve the village's agricultural output through initial treatment of the irrigated water to remove its alkalinity. The second Jia Pingwa, is the son of a counterrevolutionary who became a leading figure in China's roots literature movement. Next is Yu Hua, the one that swam out from the river to the sea till the water turned from yellow to blue. He explains what fame is: ' Before he has to send stories everywhere hoping to get published. Now, they are asking for his stories. He shows his friends the letters explaining that that is fame. Lastly the youngest Liang Hong, the only female reflects on her mother's death through her writings.
These talks are about people and times that I would not have been interested in when I was younger in school, but somehow Jia's film made me realize the importance of ancestry. Though a fair portion of the doc involves having to listen to what these 4 writers have to say, their talk invokes memories of a valued past. The revelatory film demonstrates the power of story telling without the use of archive footage.
What is touching is the simplicity of life of the authors. Jia's film has the appearance of being simply made with 4 authors telling stories but the effects are astounding.
The film theatrical starts December 11, 2020 (Exclusive digital TIFF Bell Lightbox) / December 18, 2020 (Rest of Canada)
Trailer: