The Christmas films are reviewed this week. Not as elaborate as last year ,due of course to Covid-19, byut there are gems to be sought. Watch for ANOTHER ROUND fron Denmark and the documentary NASRIN.
---
FILM REVIEWS:
CHICAGO 10 (USA 2007) ***1/2
Directed by Brett Morgen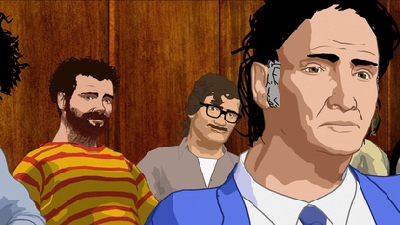 CHICAGO 10 is part of the IMPACT (films that impact us) series of films. The films are to be screened in theatres across Canada include, among others: NOW, WATSON. SING ME A SONG, THE GREAT INVISIBLE, LOVE CHILD and this one in review, CHICAGO 10.
This film and speaker series, focusing on social change, is the centrepiece of a multimedia platform that will initiate, extend, and sustain discussions across traditional and new media channels. Conceived to bring people together and take action, the platform will scale a discussion for the purpose of change.
The Chicago 7 are the 7 defendants brought to trial in Chicago accused of inciting riots during the Democrats Convention in 1968 when Nixon was President of the United States. The defendants represented a broad cross-section of the anti-war movement, from counter-culture icons Abbie Hoffman, Jerry Rubin to pacifist David Dellinger. What 15,000 people gathered at the park near the convention tried to do was to peacefully march to the Convention Centre at the Hilton to protest the Vietnam War. What occurred instead were violent clashes between the marches and the police. The organizers were charged. Needless to say, the kangaroo court will find these 7 people guilty and have them sentenced. An 8th person is Bobby Seales of the Black Panthers who did not have a lawyer and tried to represent himself with hilarious and disastrous results. Seales was gagged and tied to a chair by Judge Hoffman, no relation to Abbie Hoffman. Judge Julius is the pompous obstinate villain of the piece, the one you would love to hate, and represents everything that is wrong with the judicial system. The other 2 who make up the 10 are the two lawyers who defended the 7.
The events were witnessed live by a television audience of over 50 million. The events had a polarizing effect on the country.
The film is an animated documentary written and directed by Brett Morgen that tells the story that needed to be told. The film features the voices of Hank Azaria, Dylan Baker, Nick Nolte, Mark Ruffalo, Roy Scheider, Liev Schreiber, James Urbaniak, and Jeffrey Wright in an animated reenactment of the trial based on transcripts and rediscovered audio recordings. There is more footage than animation and animation is clearly used to fill in the blanks to strengthen the doc's narrative.
It should be noted that Netflix debuts their original feature based on these similar events earlier this year. THE TRIAL OF THE CHICAGO 9 directed by Aaron Sorkin (who wrote THE SOCIAL NETWORK) is not a documentary but a feature based on true events. That film was well praised and indeed a solid film. However, CHICAGO 10, though based on the same subject matter, is quite differently delivered.
Both films are worth a watch and both have sufficient material to anger audiences at the Nixon Administration and the Vietnam War, which is clearly the intention. The film streams December 23rd on theimpactseries.net
Trailer:
DRUK (ANOTHER ROUND) (Denmark/Sweden/Netherlands 2020) ***** Top 10
Directed by Thomas Vinterberg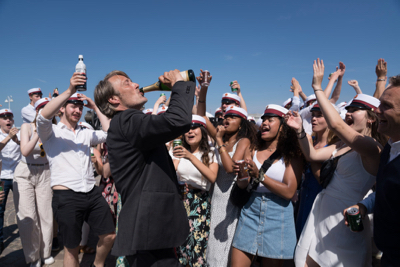 Writer/director Vinterberg (FESTEN) begins his film with exhilarating sequences on binge drinking. It is a race around the lake, which is in reality a drinking game where teams compete who can finish first racing around the lake while downing an entire case of beer. There are rules. If a team member pukes, a minute is added. The winning team gets to keep all the empties. The next segment has the drunken students in the metro creating havoc while being rowdy. A brilliant and hilarious introduction for a film on drinking.
Who would not like ANOTHER ROUND of drinks? Everyone, unless you are a teetotaler. There is a theory that humans should be born with a small amount of alcohol in our blood, and that modest inebriation opens minds to the world around, diminishing problems and increasing creativity. This film, appropriately titled is about this theory proposed by Skarderud, a Norwegian philosopher and about to be tested by high school teachers. The result is a really hilarious piece of filmmaking with some life lessons thrown in for good measure.
Heartened by that theory, Martin (Mads Mikkelsen) and three of his friends, all weary high school teachers, embark on an experiment to maintain a constant level of intoxication throughout the workday. Things get out of hand.
Their first experiment shows their performances improving at the 0.5% alcohol level. They find the theory working while having a good time. They then decide to go for broke.
Director Vinterberg emphasizes the theory on alcohol by inserting clips of world leaders (Brezhnev, Clinton, and even Boris Johnson) behaving as if intoxicated.
The family lives of the teachers form the film's subplots. As expected, the lives of the teachers are overturned by their drinking. There are a few excellent moments in all these. "Am I boring?" Martin asks his wife, at one point. "You are not the Martin I once knew," is her answer.
The script co-written by Vinterberg and Tobias Lindholm contains one excellent written riddle about the best candidate out of 3 to vote for. The first two are described by Martin in his History class as men consuming too much alcohol amidst other unforgivable behaviour. The third is a respecter of women, an animal lover, decorated war hero and one who occasionally has the odd drink. The moral of that story (the ending not to be revealed here) is to be careful of what the world dishes out. This riddle would be excellent to retell during a round of drinks.
The film's climax is the alcoholic-induced celebration of the school's graduation of its students. Martin and his friends get to join in. The highlight is Mikkelsen performing his drunken jazz ballet before ……..
ANOTHER ROUND, an official Cannes selection this year, opened at the Toronto International Film Festival where I first viewed the film. Second viewing proved just as entertaining! Definitely a film for all those who love drinking. One wonders if director Vinterberg made any of the segments following the advice of Skarderud.
Trailer:
LEAP (China 2020) ***
Directed by Peter Ho-Sun Chan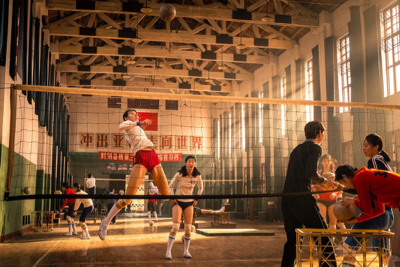 LEAP is the story of the trials and successes of the Chinese National female volleyball team as observed from its coach Lam Ping's (played by Gong Li) point of view. The film recounts the ups and downs, the sweat and sacrifice of the team over the past four decades. While the team's persistence and teamwork became a national inspiration and collective memory in the 80s, whether the team spirit can be pass down to the new generation as China goes through rapid changes? Volleyball is China's national sport, so the film should attract a large Chinese audience. The film could have very well been shot as a documentary but it is done as a feature based on true events, dramatized of course. The latter option means that there is more play allowed to manipulate the audience and to gear the film to the way the filmmakers wish. The film's setting is from 1978 to 2019.
Old Chinese films are known for their propaganda. And this old habit still runs true in LEAP. The audience is led to believe that the female Chinese volleyball team that has been having a losing streak playing their worst matches in a decade can suddenly come a winner after a night pep talk by the team's ex-ball hitter on the team's fighting spirit. This is pure propaganda.
The film is China's entry for the Best International Feature (formerly Best Foreign Film) and one can see why. Volleyball is the pride of the Chinese and hence the film should make the Chinese proud. But western audiences, particularly the Americans will not take the film the same way - especially during the matches between China and the U.S. The American audiences will be rooting for the U.S. while the Chinese audiences for China. LEAP also stresses the need for China to be a technology leader, something that Trump has been trying the best to prevent. In LEAP, the film acknowledges that China is behind in technology and needs to catch up. This message is shown amidst images of bright young smiling Chinese faces, again a great move to dish out propaganda.
Chinese star, Gong Li (Zhang Yimou's muse from films like RAISE THE RED LANTERN and THE STORY OF QIU JU) looks out of place looking like a tomboy in this picture. Gong Li, who has been reported as a star that could have made it internationally if she could speak English, utters a few English sentences in the film, as she plays an exAmerican coach for the American Volleyball team. To Gong Li's credit, she looks almost identical to the real Ping, as her real image revealed during the film's end credits.
It is strange that the filmmakers decided to shoot the match between the Chinese team and Brazil as its climax and not the real final during the U.S. team and them.
If the film is aimed at propaganda, it succeeds 100%. Otherwise, one might cringe at its shameless directness. LEAP has been selected as China's official entry for the Academy Award for Best International Feature. The short list for Best International Feature nominations will be announced on February the 9th 2021 instead of December because of Covid-19. It will be everyone's guess if this film will make the 10 film short list.
Trailer:
MAX CLOUD (UK 2020) ***
Directed by Martin Owen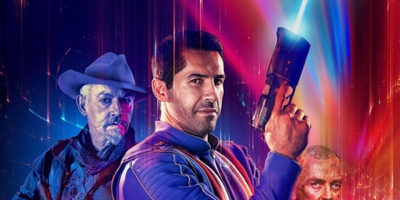 The original title of the video game movie, MAX CLOUD is THE INTERGALACTIC ADVENTURES OF MAX CLOUD, which is also the name of the video game featured in the film.
There are two video game movies opening this week. One is Paul P.S. Anderson's MONSTER HUNTER, a $60 million blockbuster from the director who made millions from the RESIDENT EVIL franchise based on the video game of the same name. The other is Martin Owen's ultra low budget cheesy MAX CLOUD. Both films share an identical theme of its protagonist entering into another world, trying to get back to their normal world, which they do at the end of the film. But before you dismiss MAX CLOUD, it should be noted that this is quite a promising film. Given its tight budget and special effect limitations, British director Martin Owen has achieved quite the feat by elevating this otherwise 'just another video game movie' into something fresh, funny and occasionally smart. Though the film does run out of steam in the mid-section, there is still plenty to go with it.
Though totally a British production, the film is set in 1990, Brooklyn. Teenager Sarah loves playing video games with her best friend Cowboy. Cowboy calls himself the 'paragon of cool'. One evening after an argument with her father Tony, Sarah finds herself magically propelled into her favourite game, The Intergalactic Adventures of Max Cloud. Don't ask how - as it is from a ridiculously silly reason related to an Easter egg. To make matters worse, Sally embodies the useless character of Jake (the chef of the spaceship). She finds herself immersed in Max Cloud's world and smack-bang in the middle of a galactic crisis. The spaceship has crash-landed on the planet of Heinous, a prison for the galaxy's most evil and dangerous criminals and ruled by the utterly bizarre Revengor (John Hannah, wheezing all his lines like a dirty old man from an obscene phone call) and the evil sorceress Shee. With no pause and only one life, (and sub-average gamer) Cowboy must control Sarah through a wacky, zany adventure as they help Max and his team face Revengor, Shee, and an army of space ninjas in order to escape the planet before the two suns burn them to a crisp! The film's dialogue is just as corny. "Never fear, Max Cloud is here." "I am Max Cloud… I have no time for death." And when Sarah is admonished by her dad for playing too many video games, her reply is so corny, it is laugh-out loud funny: "It's so unfair! You treat me like a child!"
To make up for the lack of budget for special effects, director Owen resorts to lots of saturated colour and cheap tricks like loud costumes and props. Revengor's royal chair, for example is three times too big for him. The action scenes are more comical than exciting, but the effect created feels right out of a video game.
A few words should be said about the director and executive producer, Martin Owen of MAX CLOUD. Owen started his filming with music videos before going into low budget slasher films like KILLERS ANONYMOUS and LET'S BE EVIL. After MAX CLOUD, he has a new film in post-production called TWIST, a modern take on Charles Dickens' OLIVER TWIST. Owen is a talent to watch!
MAX CLOUD is available on VOD/Digital Friday December the 18th.
Trailer:
MONSTER HUNTER (China/Japan/Germany/USA 2020) ***
Directed by Paul P.S. Anderson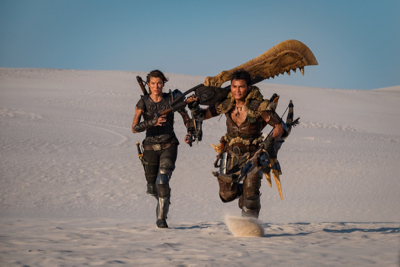 MONSTER HUNTER is film based on Capcom's series of fantasy-themed action role-playing video games. It is the company's second best selling video game after their RESIDENT EVIL series. Director Paul P.S. Anderson who gained fame by directing the RESIDENT EVIL franchise of films lends his hand in the new film MONSTER HUNTER which he hopes to spurn another series of blockbuster hits. Anderson is an expert in the field as this stunning-looking film indicates.
In the game, players can take different roles. The games feature multi players or can be played by the same player. The film features many characters though fans might be disappointed that only three of these roles are imminent.
The plot initially focuses on an elite military force, led by US Army Ranger Captain Artemis (Milla Jovovich). They all fall through a portal into a world populated by giant monsters. Artemis meets a hunter (Tony Jaa) who helps her survive in the world and fight against the monsters as she seeks a way home. They are aided by Admiral (Ron Perlman) who explains the portal to Artemis. The monsters escape from their world to our world through the portal near the end of the film causing more havoc.
Director Anderson and his wife Milla Jovovich are video gamers who know the MONSTER HUNTER game well. All the weapons and armour seen in the film are right out of those used in the game series. To make thing more realistic, this includes at least one character wearing a mis-matched set of armour, which reflects on the player's ability within the game to mix and match armour sets for beneficial results. Jovovich selected the weapons she wanted her character to be shown with, and used the fiery dual blades used to fight the dragon at the film's climax as well as other monsters. The monsters are based on the game, including the signature monster Rathalos, that should delight fans of the game. Palicos from the game, a cat like fighter is also featured, providing some catty humour as well. The game series' director Kaname Fujioka and producer Ryozo Tsujimoto provided input into the film's depiction of the monsters.
The action sequences and special effects are impressively put together making up for the thin story line. Despite having little suspense built in, the actions sequences, even the lengthy one between Jaa and Jojovich should keep fans at the edge of their seats. Jovovich and Jaa make a good pair despite the fact that the two do not communicate in the same language. They spend a fair amount of time fighting each tear before joining forces.
Playing he game, especially for fanatics might not be the same as watching the film. Anderson admitted he wanted to use various settings in the film to match the variety in a game, though recognized that one would not see as much variety in the film as one would see in playing a Monster Hunter game for several hours.
It should be remembered that MONSTER HUNTER is a video game movie. So, it will get panned by critics and make a whole bunch of money due to the popularity of the video game. To be fair, MONSTER HUNTER is a solid video game movie.
Trailer:
NASRIN (USA 2020) *** 1/2
Directed by Jeff Kaufman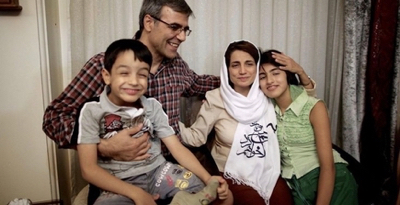 NASRIN is the first name of the world's most courageous human rights activists. Nasrin Sotoudeh is a leading figure in Iran's remarkably resilient women's rights movement. She is a lawyer working in Tehran, Iran, currently imprisoned for multiple crimes against the state after defending the rights of women and children in Iran.
She has represented imprisoned Iranian opposition activists and politicians following the disputed June 2009 Iranian presidential elections as well as prisoners sentenced to death for crimes committed when they were minors. Her clients have included journalist Isa Saharkhiz, Nobel Peace Prize laureate Shirin Ebadi, and Heshmat Tabarzadi. She has also represented women arrested for appearing in public without a hijab, which is a punishable offence in Iran.
Director Kaufman's documentary begins by praising all the camera crew for their work put in, as it is obvious that they have taken great risk in filming Nasrin, especially in prison.
Kaufman's doc spends a fair bit of its running time sharing Nasrin's personal life. Her family is comprised of her loving husband, Reza and her two children, a daughter and a son. Her courtship is also detailed. Reza is fully supportive and at several points in their lives, also arrested for crimes against the country. The film's most emotional moment is captured on camera with Nasrin touching her husband for the first time in 10 years during a prison visitation.
The doc includes several scenes with Iranian filmmaker Jafar Panahi (TAXI) who has also been imprisoned by the Iranian Government. Panahi has been banned from writing scripts, making films and leaving the country. There is a scene from Panahi's TAXI where he, (playing the taxi driver), picks Nasrin up as a passenger.
Watching NASRIN makes one wonder the reason Governments are insensitive and selfish ignorant bastards who should be hung and castrated. What is most surprising is what someone has said of the Iranian people in this documentary and in others as well. The Iranian people are so friendly and welcoming but the Government is the exact opposite. Watching NASRIN is indeed difficult, to witness the crimes committed against all humanity. It is just a wonder that activists such as Nasrin never give up fighting for their country. There is little hope, as evident from the doc.
The film is narrated by Academy Award Winning actress Olivia Colman, and filmed in Iran by women and men who risked arrest to make this film
NASRIN is thus an urgent film opening December 18th in virtual cinemas nationwide via Virgil Films/Kino Marquee. The doc sheds light on her work and life and hopefully will make an influence in getting her out of prison.
The latest is that On 7 November 2020, she was temporarily freed, having tested positive for COVID-19, then returned to Qarchak Prison on 2 December 2020. The United nations has supported Nasrin but it is, unfortunately the Iranian Government who has the finally say
Trailer:
ON POINTE (USA 2020) ***
Directed by Larissa Bills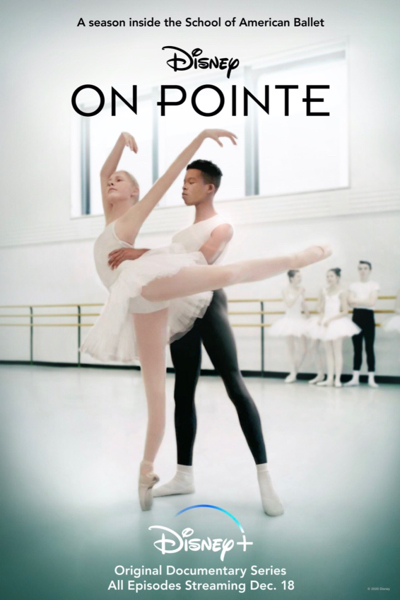 (Review embargo: December 14th)
(posted intros article after embargo lifted)
On Pointe is a ballet dance technique in which the entire body weight is supported by ones extended feet. It is also the title of a six-part docu-series that captures a season in the School of American Ballet (SAB) in New York City. Directed by Larissa Bills, the film has heavyweight names that include Ron Howard and Brian Glazer as its executive producers. Featuring unprecedented access to the famous ballet institution, the series follows the lives of the students ages 8 to 18 pursuing their dreams to become ballet dancers. While older students from all over the country rigorously train for professional careers, younger students from New York City are put through their paces as they rehearse and perform in New York City Ballet's holiday classic "George Balanchine's The Nutcracker" onstage at Lincoln Centre.
Streaming begins December 18th on Disney+, just in time for Christmas. Capsule reviewed are the first two episodes, the episodes provided courtesy of Disney+.
Eye-opening, entertaining and insightful!
Trailer:
Episode 1 (50 minutes) GETTING IN
Directed by Larissa Bills
As fitting for its first episode, the first episode contains the introduction into the SAB (School of American Ballet) with reference to its founder George Balanchine. The intro contains archive footage of Balanchine training his first dancers and moves on to impress the fact that his style has persisted over the years. The Balanchine style is compared to the classical ballet style. In the Balanchine style, every move is precise. For example the foot is not let to fall but pushed down after being lifted in the air.
The first episode is divided into parts with titles such as "Getting In", "The Audition" ad so on. This strives to put in some narrative structure in the episode which seems be allover the place, especially in the camera following a number of students randomly for a brief period of time for each. At its best, the film reveals the dedication fo each student, made even more effective as they are still very young and impressionable, 100% commitments is required with everyone being friends and family with no room for abuse or individualism appear to be the message drummed by the instructors of the school, all of them dancers in their own right.
The episode ends with a look at the Children's Division with the ages of students from 9 onwards.
Episode 1 (45 minutes) CASTING AND COMPETITION
Directed by Larissa Bills
Episode 2 covers a seasoning the SAB. Again the focus is on the younger children around the ages from 8 to 10. The teachers are always looking for that extra spark with the mission of training the best dancers out there. A segment shows the students at partnering emphasizing that it is not always about oneself. The Casting and Competition title of Episode 2 refers to the casting of the children's Christmas NUTCRACKER. Very child dreams of been in it. And so do their supportive parents. Of course, because of he numebrs, not very child gets to get their desired part or even to be in the show. The episode shows the children preparing for the casting, doing the auditions, getting the news whether good or bad. A touching human moment of the episode shows a black kid who has to repeat. But his diligence and determination finally gets him promoted to the next level. More emotional than Episode 1, it is really tough competition in a world where the children get to grow up too fast.
PROMISING YOUNG WOMAN (USA 2020) ***
Directed by Emerald Fennell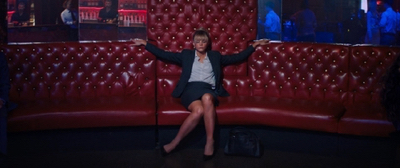 The film's excellent tagline reads: The best revenge is when they don't see it coming. Similarly, the film on women's revenge has a surprise ending that no one would likely see it coming. Reviewers of this film are asked not to reveal the film's ending as it would alter an audience's experience. So true!
The protagonist Cassie (Carey Mulligan) is the PROMISING YOUNG WOMAN of the films title. She is in Medical School getting top grades but an event derails her future. Her friend Nina is gang raped while at a party. Nina is now no more. And so is Cassie's life. Cassie drops out of school and spends the rest of her life exacting a revenge on the male species.
The introductory sequence shows Cassie at work. Cassie pretends to be totally inebriated at bar in front of a group of men. One, in this case Jerry (Adam Brody), with good intentions takes her back. Jeff takes her to his own place where his sexual desires get the better of him. While undressing her, Cassie stops him: "What are you doing?" she asks as he realizes that the woman he has brought home is totally sober.
Cassie has no friends and she keeps doing the same routine night after night. Her parents are worried. But when she meets and begins to have feelings for Ryan (Bo Burnham), she begins to question her revenge motives.
But Cassie ultimately wants to seek the ultimate revenge for Nina and for herself as her life had been derailed. Cassie intends to find out the ones who raped Nina and bring the culprits to justice. Of course, this brings her to up her plans several notches, which leads to quite a bit of danger.
The film benefits from a superlative performance from Carey Mulligan. Other heavyweights (Adam Brody, Christopher-Mintz Plasse of SUPERBAD and Connie Britton among others) lend in welcome cameos. Actor Clancy Brown who normally plays weird personalities takes a down a tone here playing Cassie's supportive father,
Fennell's film contains one horrid flaw. The film's soundtrack is insistent on telling the audience how to feel or that something ominous is about to happen. There is even a song with the lyrics that go: "Oh-oh! If it happened to you, what would you do?" A bit more subtlety allowing the audience also to feel without influence would be more welcome. On the plus side, director Fennell has made an important current film that complements the #MeTooMovement. She also achieves the feat to get the males of the audience to side with Cassie. The actors who portray the guilty males in the film are mostly very good-looking illustrating the fact that these guys can probably get any girl they want but are just being sexist pigs.
There is a lot of anger in Fennell's film. And with a revenge theme, one wonders the reason this angry film has a Christmas Day opening. Despite its flaws, PROMISING YOUNG WOMAN is entertaining and is definitely worth a look.
Trailer:
SAVE YOURSELVES! (USA 2020) **
Directed by Alex Huston Fischer and Eleanor Wilson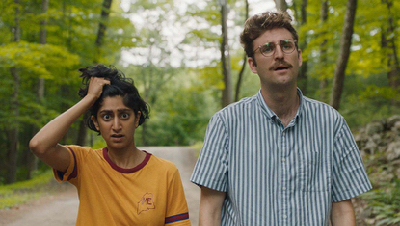 A Brooklyn couple, Jack (John Paul Reynolds) and Su (Sunita Mani) decide to "disconnect from the world" by ditching their cell phones for a weekend while staying at a friend's cabin up north. They wind up missing the initial news of an alien attack.
This is not the first film where a secluded family is under attack by aliens in which the only information of the attack is heard on the news. M. Night Shyamalan's best film SIGNS had a family holed up with attacking aliens making their presence only at the end of the film. In SAVE YOURSELVES! again the audience only hears on the news of the alien attack and it only becomes real, affecting the protagonists at the end. This is classic Hitchcock technique. In Hitchcock's THE BIRDS, the first attack occurs only after the film's half way mark. However, though SAVE YOURSELVES! is a comedy, the audience anticipation tactic still works.
What is novel in this movie is the couple, a sort of dysfunctional working class where Su is just fired the week of their trip to the cabin. Jack is also a sort of loser, who has never properly assimilated in life, as he himself admits in the film. Together, they form a loving couple, which is a nice premise of a horror comedy.
The first alien shows up in a big puff ball which Su describes as a pouffe. A pouffe is actually a firm cushion that can be sat on, though one surely does not want to sit not this spiky puff ball alien creature that can spit out gooey stuff and drink ethanol.
The couple is played by Sunita Mani and John Paul Reynolds, both TV comedians. Amy Sedaris (STRANGERS WITH CANDY) has a small role as Jack's mother. Mani and Reynolds barely carry the whole movie, which is understandable, they being TV actors. Reynolds is more annoying than funny (oddly enough, he has performed in Annoyance Theatre) while Mani is more endearing.
For a small budget movie, the small budget shows, especially the cheesy (though quite comical) but effective special effects. The pouffes, as Su calls them can move at lighting speed and attach themselves to the roof and walls of the cottage.
SAVE YOURSELVES! based on a simple premise unfortunately runs out of ideas as well as fresh humour after a while. The introduction of an abandoned baby does not help much either, but emphasize that this couple needs to have a child. It is not surprising that the film ends in a non-Hollywood ending (not to be revealed in this film) as the film clearly aims to be as different as possible. However, different does not always work that well.
The film premiered at the 2020 Sundance Film Festival. It is scheduled to be released on October 2, 2020 by Bleecker Street. Bleecker Street specializes in small budget films, and has released a few solid dramas on odd individuals settling in their work places like PATERSON and THE ASSISTANT.
Trailer: https://www.youtube.com/watch?v=8pAsb2SJJyE
WILD MOUNTAIN THYME (Ireland/USA 2020) **1/2
Directed by John Patrick Shanley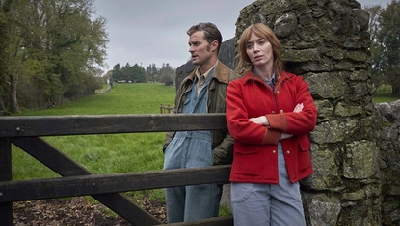 WILD MOUNTAIN THYME is an Irish/Scottish folksong, actually more Scots than Irish that is sung by Emily Blunt and again by herself and Jamie Dorman at the end of the film. The film is set in Ireland in County Mayo with lots of Irish landscapes in the background.
The film is a romantic comedy that takes the audiences to its expected happy ending, as in the other film written by writer/director John Patrick Shanley MOONSTRUCK. Occasionally it gets a bit odd, like his other script of FIVE CORNERS, which is my favourite Shanley movie.
WILD MOUNTAIN THYE is based on Shanley's recent play OUTSIDE MULLINGAR. There is one scene in WILD MOUNTAIN TYME in which a black and white spotted cow is framed by green pastures. This looks identical to the poster of one of the most successful Irish plays STONES IN HIS POCKETS. I am sure that image must have been inspired by that famous poster, which is unfamiliar to American audiences. But Shanley takes his film way out in the open with lots of shots of the Irish countryside. His story is about two large farms next to each other.
Though I am Asian, I have a lot of Irish connections, so this Irish film affects me more others. My best friend and colleague was half Irish and I visited and stayed with his family in County Cloughran, visiting Ireland (Dublin and countryside) no less than six times. My partner is also half Irish and I brought him to visit my best friend's aunts a couple of times. We did the whole Ireland as well, including Belfast and the Causeway in Northern Ireland. Critics have complained about the artificial Irish accents of he farmers. This is true as when the Irish farmers speak, (I know I was there in the pubs with many of them), an outsider can hardly understand their slang. Shanley's argument, and this I agree is that if he kept the country's Irish accent authentic, not many outsiders would be able to understand the dialogue. The Irish spoken is the one heard more commonly, the one spoken in cities like in Co. Dublin. One could also argue that Shanley could have sued subtitles.
The film begins with narration that is revealed comes from a dead man (Christopher Walken) talking with Irish accent about his son. His son, a little boy then is sitting by his bedroom window one night asking Mother Nature: "Why you make me so?" The film goes on to reveal a love that exists between the boy, Anthony and the girl in the neighbouring farm, Rosemary. They grow up but their unrequited love is never consummated. It is as if the Irish never know what they want. The audio knows that Anthony (Jamie Dorman) and Rosemary(Emily Blunt) will vie happily ever after at the end, but Anthony is so undetermined in his romance and unsure that his character becomes terribly annoying and that Rosemary's becomes too forceful. The catalyst is Anthony's American cousin, Adam (Joe Hamm) who will propose to Rosemary if Anthony does not quickly make up his mind.
This leads to a most awkward and finally courting scene that has to be seen to be believed. And it drags on.
WILD MOUNTAIN THYME is not the best of Shanley's scripts, It might have worked as a play. Still, it is a film that celebrates everything that is Irish and that should draw romantics to see this film during Christmas.
Trailer: