12
Dec
2020
Details

Category: Movie Reviews
Written by Gilbert Seah
FILM REVIEWS:
I BLAME SOCIETY (USA 2020) ***
Directed by Gillian Wallace Horvat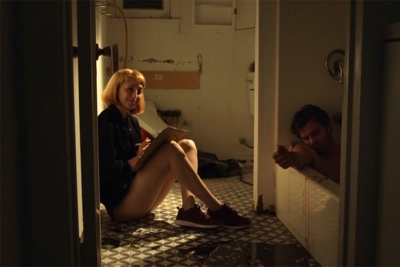 The film begins with Gillian, a wannabe filmmaker interviewing her best friend Chase with a proposition. She wants permission to enter his apartment for a strange reason. Gillian had been oddly complemented in the past by friends that she would make a good murderer at heart. Gillian takes the complement seriously and plans to murder Chase's girlfriend as in her opinion, the girlfriend is not a good person. So, she wants so scout Chase's place to check out possibilities to perform the murder. Not that she will carry it out. Chase does not realize he is being filmed and reveals a few secrets which ends up pissing him off. The two end up not speaking for a long interval of time.
I BLAME SOCIETY is a film within a film, a sort of black social comedy with a wicked twist and hint of satire directed and starring Gillian Wallace Horvat which she co-wrote with Chase Williamson who also appears in two crucial scenes in the film.
The movie in a movie with the weird concept described is to the director's credit, quite a fascinating and fresh idea. But the concept can be complicated to deliver as her film proves. At best, as in the opening interview sequence, the film can be awkward and funny at the same time, but when Horvat tries to piece everything together, it gets clumsy.
The film has a subplot of Horvat and her odd boyfriend played by Keith Poulson. They have an amusing love/hate relationship in which they show pseudo-support for each other. They behave like little children in adult bodies.
Horvat cheats too with her film within her film concept. While trying to be authentic by reminding audiences that her cameraperson is always round, it is clear that quite a few segments are staged. All for the sake of art?
I BLAME SOCIETY, the title applies directly to the film's protagonist. She blames everybody for everything except herself. It is obvious she has the problem and that she is the weird one. The result is a self unconscious comedy of awkwardness that is just as awkward to watch as its concept. A good textbook example of low-budget guerrilla filmmaking - plunk your camera down and do what you want and fuck everything else! To Horvat's credit, the few scenes involving special effects are aptly done.
At least her film is full of surprises. The film takes a totally different turn midway just as she, playing her protagonist, suddenly goes on a killing spree.
Her ending is subtly hilarious She is pitching her film to the two guys who have hired her to do work. The work she shows are the murders she had committed. They tell her exactly what they think which is contrary to what she wants to hear. Perhaps ironically, this is her film should be judged. Art imitates life. I BLAME LIFE is not the typical commercial film but it should draw a certain art-house festival crowd. To Horvat's credit, the film isn't half bad.
I BLAME SOCIETY Opens in Virtual Theatres January 8th and onVOD February 18th.
Trailer:
THE DISSIDENT (USA 2020) ****
Directed by Bryan Fogel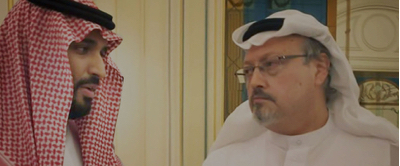 Directed and co-written by Bryan Fogel whose documentary ICARUS won the 2016 Academy Award for Best Documentary tackles another world issue with once again, excellent results. This time, it is an incident the whole world knows about. It is the assassination of Jamal Khashoggi. The world has seen footage of him entering the Saudi Arabian Embassy in Turkey to get his documents in order to get wed but never came out of the Embassy. Khashoggi was a Saudi journalist, author, and a former general manager and editor-in-chief of Al-Arab News Channel. He also served as editor for the Saudi newspaper Al Watan, turning it into a platform for Saudi progressives. Khashoggi fled Saudi Arabia in June 2017 and went into self-imposed exile (though the doc clearly states he hates using the word 'exile') in the US. He became a frequent contributor to publications like The Washington Post's global opinions section and continued to criticize the Saudi government from afar. He had been sharply critical of Saudi Arabia's crown prince, Mohammad bin Salman, and the country's king, Salman of Saudi Arabia. He also opposed the Saudi Arabian-led intervention in Yemen. His assassination proved anger throughout the world with the United Nations taking a major role in its investigation.
THE DISSIDENT opens with a different character - that of Omar Abdulaziz in Montreal in 2018 after the assassination. Director Fogel tells the story of his doc through the eyes of Abdulaziz, who claims that Khashoggi was killed because of their work together. Abdulaziz granted CNN access to his text messages with Jamal Khashoggi, where the two discussed their sharp criticism and political opposition to Mohammed bin Salman. The doc tells his story following him and having him talk to the camera.
The film unfolds like a suspense detective thriller complete with assassination plot and vicious killing. This seems like a trend following the recent Romanian documentary Alexander Nanau's also excellent COLLECTIV. The murder is described from tapes heard involving dismembering the body using a bone-saw and putting the body parts in plastic bags amidst laughter. The victim was described to be the sacrificial lamb. No one deserves to die in such an inhuman way, last of all, a man who has been fighting to be the voice of the voiceless, which was Khashoggi's motto in life.
In the documentary President Trump gets to rear his ugly head again as a chief villain. After the word has been made public of the guilt of the Crown Prince of Saudi Arabia, American Congress voted to stop billions of arms to be sold to the Saudis. "You don't sell arms to someone who kills his enemies with a bone-saw." Trump vetoed the decision.
One insightful fact that the doc reveals is the hacking of phones including that of Abdulaziz's. He clicked open an email from DHL courier regarding a package. One project was named Army of the Bees or The Bees Army. Abdulazziz and Khashoggi wanted to create a counterpoint to the regime's propaganda machine – "a network of pro-democracy activists who would post and amplify one another's messages about Saudi political issues".
Abdulaziz said they wanted "to talk about the dissidents, the political prisoners, freedom of speech, human rights" and "make people aware of what's really happening". And the Bee Movement should also provide cybersecurity to "people living in Saudi Arabia and other oppressive regimes in the Middle East" in need of a safe way to express themselves.
The film ends with both a positive and downward note. Despite the findings of the U.N., the officials involved in the murder are now walking Scott-free with Saudi Arabia getting away with its corruption, guilt and murder. The positive side is Abdulaziz is now holding a YouTube talk show where Saudis can hear and speak freely on the Regime.
More insight is provided by Hatice, the one Khashoggi was supposed to marry. Hatice speaks to the U.N. and is herself a journalist.
THE DISSIDENT is a furious doc that is both insightful and informative. It ranks up there as one for the best Docs of the year. It has a 100% rating currently on Rotten Tomatoes. The film is available on VOD Jan the 8th.
Trailer: