15
Dec
2020
Details

Category: Movie Reviews
Written by Gilbert Seah
TOP FILMS 2020
These are my BEST films seen during 2020 - those that are released for VOD, streaming or in virtual cinemas if not unphysical theatres.
AMMONITE (UK/Australia/USA 2020) ***** Top 10
Directed by Francis Lee
The setting of AMMONITE (predator shell creatures now extinct) is set in 1840s England. Acclaimed, self-taught but overlooked fossil hunter Mary Anning (Kate Winslet) and a young woman, Charlotte (Sairise Ronan) sent to convalesce by the sea by her stand offish husband, Roderick Murchison develop an intense relationship, altering both of their lives forever. Mary lives and supports her ailing mother (Gemma Jones) but her work hardly suffices a decent living. Subtlety and mystery are the two elements that elevate Francis Lee's (GOD OWN COUNTRY) film to one of the best films this year. The film is foremost backed by the powerful performance of it two leads, Winslet and Ronan. Winslet delivers a quiet performance where more can be read from her mannerisms an actions than from the dialogue. Rona does likewise, hardly speaking a word till she blooms after the spark of love ignites. AMMONITE is a powerful story led by powerful performances that reveals that much meticulous deliberation is required in the navigation of ones loves and relationships.
DRUK (ANOTHER ROUND) (Denmark 2020) ***** Top 10
Directed by Thomas Vinterberg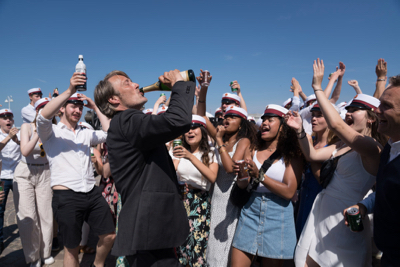 Writer/director Vinterberg (FESTEN) begins his film with exhilarating sequences on binge drinking. It is a race around the lake followed by drunken students in the metro creating havoc while being rowdy. A brilliant and hilarious introduction for a film on drinking. There is a theory that humans should be born with a small amount of alcohol in our blood, and that modest inebriation opens minds to the world around, diminishing problems and increasing creativity. This film, appropriately titled is about this theory proposed by Skarderud, a Norwegian philosopher and about to be tested by high school teachers. The result is a really hilarious piece of filmmaking with some life lessons thrown in for good measure. Heartened by that theory, Martin (Mads Mikkelsen) and three of his friends, all weary high school teachers, embark on an experiment to maintain a constant level of intoxication throughout the workday. Things get out of hand. Definitely a film for all those who love drinking. One wonders if director Vinterberg made any of the segments following the advice of Skarderud.
Trailer: https://www.youtube.com/watch?v=bj8Jmz_srDg
COLLECTIVE (Colectiv) (Romania/Luxembourg 2019) ****
Directed by Alexander Nanau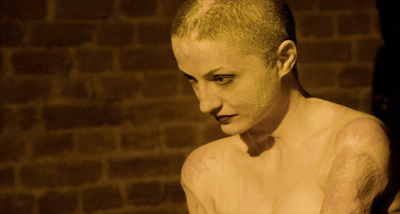 On October 30, 2015 a fire broke out at the COLLECTIVE club. 27 died and 180 were injured. 37 more died after 4 months in hospital. Unfolding in real time, Alexander Nanau's COLLECTIVE (Colectiv) is a gripping documentary that follows a team of journalists who expose Romania's health-care fraud in the wake of a deadly nightclub fire. The film feels more like a mystery thriller than a doc when the disinfectant firm's owner dies under mysterious circumstances and the health minister quietly resigns. Another health minster is appointed and he works doggedly at changing the health system. The doc also focuses on one of the burn victims. A young woman, Tedy Ursuleanu – with burn scars and amputated fingers – uses art to heal her trauma. Her image of her amputation and scarred body is scary. Director nano makes his point. What begins as a small doc turns out to be an ambitious voice reflecting the need for the world to change - from lying corrupt Governments (the Trump Administration) and the work that still needs to b done.
Trailer: http://www.mongrelmedia.com/index.php/filmlink?id=7ff260ec-72ef-e911-a998-0edcbcd33718
THE FATHER (UK 2020) ****
Directed by Florian Zeller
In these times of Covid-19 when all the theatres are closed, it is indeed a refreshing pleasure to watch a good play even though it is an adaptation to the screen. Written by Christopher Hampton based on director Florian Zeller's play, it is fortunate to have Oscar Winner Anthony Hopkins play the main character, an elderly named Anthony suffering from memory loss. Anthony refuses all assistance from his daughter, Anne (Oscar Winner Olivia Coleman) as he ages. As he tries to make sense of his changing circumstances, he begins to doubt his loved ones, his own mind and even the fabric of his reality. The play puts the audience in Anthony's shoes. When he forgets someone from his memory loss, the audience sees another actor playing that someone. It is an amazing device that allows the audience to really feel for the demise of old age. A simple story about old age sensitively and beautifully told. Hopkins is superb as is Coleman.
Trailer: (unavailable)
I CARE A LOT (USA 2020) ****
Directed by J Blakeson
J Blakeson (THE DISAPPEARANCE OF ALICE CREED) writes and directs this black thriller that is so absorbing that one is glued to the screen from start to finish. The story concerns Marla Grayson (Rosamund Pike), an unscrupulous money grabber who becomes the legal guardian of elderly clients through manipulation of the courts while sapping them of their wealth and belongings. Her latest victim is Jennifer Peterson (Oscar Winner Dianne Wiest) who turns out not to be as harmless as expected. Jennifer happens to be the mother of a ruthless Romanian gangster (Peter Linkage) who has connections with the Russian mafia. Marla has met her match and has to release the elderly Jennifer unless face unbearable circumstances. Blakeson moves the plot along with breakneck speed all the while keeping the story several steps ahead of the audience. With the film working so well, one can only hope the climax meets up with the thriller build up. It does in one of the most deliciously wicked film of the year. Pike, Linkage and Wiest are superb!
THE KING OF STATEN ISLAND *****
Directed by Judd Apatow
Judd Apatow's best movie blending comedy and drama. Co-written by him and star Pete Davidson, THE KING OF STATEN ISLAND is the autobiography of a loser who dreams of opening his own tattoo restaurant. Unfortunately, there is no demand for that kind of eatery, so the 'king' ends up just wasting his life. His life takes a turn when he tries to tattoo a boy resulting in the angry father dating his mother, much to his chagrin. The really hilarious film, thanks to Davidson moves along effortlessly, a coming-of-age story of not only the main character but of all the characters around him. Pure delight and a minor-masterpiece in comedy filmmaking.
KOKO-DI KOKO-DA (Sweden/Denmark 2019) ****
Directed by Johannes Nyholm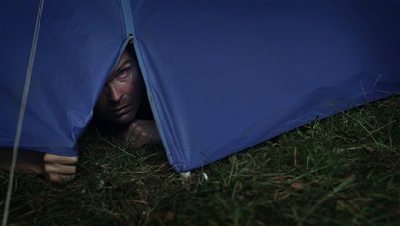 The words KOKO-DI KOKO-DA stand for the noise a rooster makes, and the song sung by travelling entertainer trouper (Peter Belli) wearing a white suit with cane while doing nasty things - like murder again and again. The film can best be described as a nightmarish psychological GROUNDHOG DAY where the audience is force to watch the same horrific sequence again and again with a few differences but with the same result. Director Nyholm who also wrote the script is an expert at creating horror with surprisingly little gore. Despite the repeating nightmare (or is it not a nightmare?), the scares get more intense. Unlike other films of this genre, the protagonist victims, Elin and Tobias learn only a bit from their past experience and end up in the same demise. The scariest film so far this year!
Trailer: https://www.imdb.com/video/vi850247193?playlistId=tt9355200&ref_=tt_ov_vi
NOMADLAND (USA 2020) ****
Directed by Chloe Zhao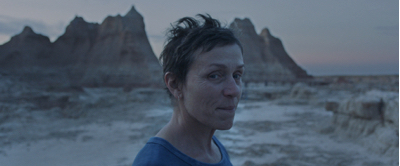 The film opens with the date setting of January 21, 2011. The plant that operated for 88 years in Empire, Nevada has been closed because of the low demand of gypsum sheetrock. The film focuses on one affected woman. Fern (twice Oscar Winner Frances McDormand), now out of a job, takes to the road in her van like a nomad. She manages to secure a bit of work at an Amazon facility packing deliveries until work runs out. Based on the novel by Jessica Bruder and adapted to the screen and directed by Zhao, best remembered for her excellent THE RIDER, Zhao captures the difficulty of living on the road like a nomad (the 10 commandments of stealth parking; how to shit on the road) with some humour while dishing out a charming, heart-warming (including songs and line-dancing) and moving film with several messages on life to boot. The resilience to survive and to be free and to enjoy America are all these people need. Joshua James Richards serves as the d.p. capturing some magnificent scenes of rural America.
Trailer: https://www.youtube.com/watch?v=UCauQhxMF-s
SOUL (USA 2020) ***** Top 10
Directed by Pete Docter and Kemp Powers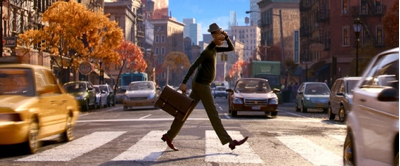 Disney does it again with this Christmas opening of SOUL about a jazz musician who refuses to die after he gets a chance to prove himself as a jazz pianist. "If I were to die today, my life would have amounted to nothing!" Joe Gardner (James Foxx) cries at the film's crucial scene. SOUL is about soul music and about the soul in human beings. Director and writers Docter and Powers, both musicians in real life, prove their passion in filmmaking just as Joe proves his passion in jazz. The jazz soundtrack is also amazing! An amazing inspirational and ocasionally fresh story (watch for the pivotal barbershop segment) about the wonder of life showing that even death cannot stop from stopping dreams from coming true.
Trailer:
TENET (UK/USA 2020) ****
Directed by Christopher Nolan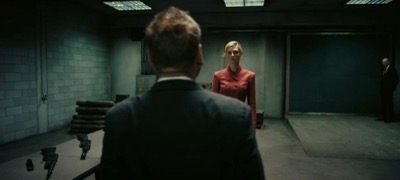 TENET is the new sci-fi adult spy fantasy by British director Christopher Nolan that is finally released - first in the U.K. and Canada on 26th August and a week later for the U.S. It would be good to know that water /director Nolan spent a whopping 5 years iterating his script, ideas developed as far as 20 years back and it is one that is as intricate, difficult and in a way fun to try to follow, if it is possible to. The film's protagonist is also called the protagonist (played by Denzel's son, John David Washington).in the film The film has an amazing start (looking even more stupendous in IMAX) with a takedown at the Royal Opera House in the Ukraine. The film uses logic like the Grandfather Paradox. The film plays with scientific teases like these, in fact it goes to the extreme in adopting the concept with the conclusion that the protagonist actually hired himself to do the job. TENET was supposed to save cinemas but resurgence of Covid-19 proved more powerful.
Trailer: https://www.imdb.com/video/vi2051194393?playlistId=tt6723592&ref_=tt_ov_vi