FILM REVIEWS:
BLIZZARD OF SOULS (Latvia 2019) ****
Directed by Dzintars Dreibergs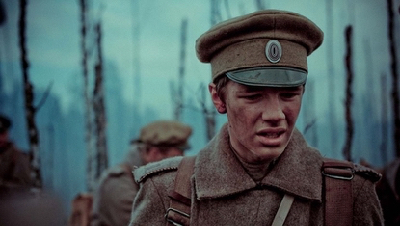 BLIZZARD OF SOULS is Latvia's official entry for Best International Feature at the 93rd Academy Awards - short list of nominees coming out later February the 9th. The film is shot in the native language of Latvian and has already broken all domestic box-office records. It is an excellent film, a companion piece comparable to last year's Sam Mendes WWI entry 1917, but more realistic and also based on a true story.
Latvia has a colourful history. Latvia gained its independence in 1918 in the aftermath of the war and the film tells the story of Latvia as occupied by the Germans and Russia. The capital of Latvia is Riga and the film incorporates the fight and liberation of Riga from its oppressors during WWI. The story, based on true events from the novel by Aleksandrs Grins, which was forbidden in the USSR is also the coming-of-age story told from the point of view of young solder, Artūrs Vanags (Oto Brantevics) as he ages from 16 when he enlists in the army to 20 after being wounded several times.
The film begins with Artūrs' impetus on joining the army. He witnesses first hand his mother and dog shot by Germans on their farm property. His father, brother and himself enlist. He is only short of 17, the age to enlist in the national Latvian Riflemen battalions of the Imperial Russian army but with a few more months before his 17th birthday and spurred on by his war decorated father, the army is coaxed into accepting him. Artūrs hopes of getting revenge and finding glory. Artūrs is not too young to fight but not too old to die. But as Artūrs goes on to fight in World War I, he loses his father and brother and quickly becomes disillusioned. Eventually, Artūrs returns to his newly-proclaimed country to fight in the Latvian War of Independence and start everything from scratch - which follows the history of Latvia during WWI.
No WWI film would be complete with morbid scenes in the trenches. The audience is provided more of the same (as in 1917), courtesy of cinematographer Valdis Celmiņš who does a marvellous job with his wintry battle scenes as well. Scurrying rats are again common among the corpses of the men killed during attacks by artillery. Artūrs is himself shot in the neck during one of these battles. While recovering in hospital, he meets a nurse, Marta (Grēta Trušiņa) his romantic interest and true love that keeps him fighting on. He finally fights for Latvia's independence, a struggle that destroys half the population of the country. The population is now over a million and a half.
BLIZZARD OF SOULS works for many reasons, the most important being the performance of young actor Oto Brantevics. This is also history that was being made with a solid story told from a personal point of view. Excellent direction and cinematography added on make BLIZZARD OF SOULS a strong contender for the Oscar for Best International Feature.
Trailer:
BRIGHT HILL ROAD (USA 2020) **
Directed by Robert Cuffley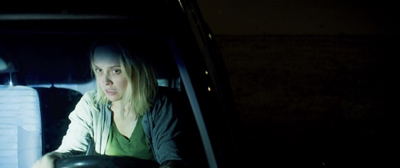 BRIGHT HILL ROAD is a Canadian psychological horror film set in the United States, directed by Robert Cuffley and written by Susan Moloney centring on Marcy (Siobhan Williams). When a misstep after a workplace shooting puts alcoholic Marcy on leave, she heads out to see her sister in California. Halfway there, she stops for a couple of days at the Bright Hill Road Boarding House. The walls close in on the deeply troubled Marcy, as she loses touch with reality and comes face to face with the misdeeds of her sordid past.
The film begins with a solid start in which the audience is kept in the dark as to what is happening. The girl, Marcy wakes up in her bedroom which is cluttered with weird pictures with images cut and pasted together. The camera reveals bottles of alcohol. The girl drives to work, downing little bottles of alcohol, arriving obviously with the appearance of lardy being drunk. She has to rush to the toilet to throw up when a gunman shows up and kills everyone from office to office before entering the toilet. She stands on the toilet bowl so that the gunman thinks the stall is empty.
The absorbing first 10 minutes of film continues.
"Don't worry about all that! Just come here." is the message from Marcy's sister, Mia the audience hears on the cell phone. She then drives, still downing little bottles of alcohol, driving up a hilly road with sliding lights shining on her face. The sign BRIGHT HILL ROAD appears. She poses out in the car and is awakened by a stranger. Luckily this house is empty, the house that she rents for a few days. Thus continues the horror.
Things go downhill at this point.
There are three things that are freaking poor Marcy out. One is the regular horrific appearance of a dead father brunt in a fire. She claims she is innocent and that it was an accident but feels guilty that she is somewhat responsible. Another is the owner of the boarding house she is currently staying at. Mrs. Inman (Agam Darshi) appears caring but too nosy for Marcy's comfort. She keeps insisting that Marcy is not well enough to travel as she is recovering from her alcoholism that she denies is a problem. The third is Marcy's own fault - the temptation to the drink which she is constantly fighting off, with little success. Marcy is having hallucinations that are probably due to alcohol withdrawal but she is unsure. She thinks the boarding house is haunted. Every time she attempts to leave, she cannot. It is as if the house is pulling her back. Another lodger, Owen (Michael Eklund) rents a room who Marcy initially thinks is a creep hanging outside her door. She eventually befriends him. Director Cuffley alternates among the terror haunting Marcy.
There are too many issues on display here. They are eventually tied in at the end, though not very convincingly. The combination between the supernatural and the psychological elements does not work either, not to mention the tacked on silly happy ending. BRIGHT HILL ROAD after the first 10 minutes only leads downhill faster and faster.
BRIGHT HILL ROAD premiere at the Calgary International Film Festival and is filmed in Alberta. The film is available VOD January the 12th.
Trailer:
CLIMATE OF THE HUNTER (USA 2019) ***
Directed by Mickey Reece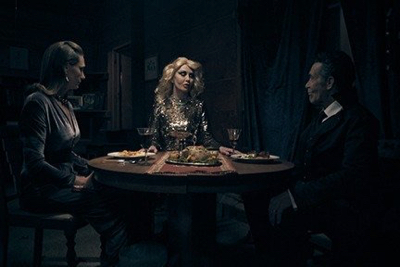 Two horny sisters meet up with an old friend who turns out pretty strange in a vacation house out in the country. Both sisters vie for his attention and romance. The man's son and a sister's daughter visit. These are children who hate their parents.
The hunter referenced in the film title could be a vampire, but one is not 100% sure while watching the story unfold. This strange man loves to speak Gothic (or is it Shakespearean) and dresses like a count.
The artsy looking occasionally surreal film directed by Mickey Reece, who co-wrote the film with John Selvidge stars Mary Buss and Ginger Gilmartin as sisters Elizabeth and Alma, who attempt to reconnect with their friend Wesley (Ben Hall), who may or may not be a vampire, after twenty years apart. The film begins with his arrival.
But there is warning that something unnatural is afoot. The audience is given some time to read Alma's patient file as the film opens. The audience reads that Alma has a delusional disorder that can lead to schizophrenia.
Director Reece and his co-writer Selvidge have plenty of material with horror potential. Schizophrenia is a psychiatric disorder characterized by continuous or relapsing episodes of psychosis. Major symptoms include hallucinations (typically hearing voices), delusions, and disorganized thinking. Other symptoms include social withdrawal, decreased emotional expression, and apathy. Symptoms typically come on gradually, begin in young adulthood, and in many cases never resolve. Alma suffered from the fact but the symptoms are also appearing on her sister's behaviour and then there is that strange stranger.
The film has an odd feel, made more prominent by occasionally odd camera shots. One questions director Reece's decision for example in one scene."I learn how to trust my intuitions and my prejudices, " says the guy smoking weed to Alma. The camera then settles on Alma's dog.
The film leaves a few loose ends - but perhaps director Reece wants the audiences to decide for themselves what is actually happening.
All the actors, the main three plus the two adult children perform well with Mary Buss looking the most eerie. Hall is a bit annoying with his often Gothic or is it Shakespearean quotes but it is a pleasure to hear him being told off by his son, Percy played by Sheridan McMichael. There is another looney in the woods, BJ Beaver played by Jason Snovel, who Alma confides in and who he convinces that Wesley is a vampire.
The film could have done with more humour - black humour that would suit the situation at hand. But director Reece keeps the humour away safe for the final scene. Director Reece's last scene is totally unexpectedly hilarious. If laugh-out loud humour would save a dozen film flaws, this joke almost saves the movie.
CLIMATE OF THE HUNTER was scheduled to receive a limited theatrical release on December 18, 2020, followed by a wider video-on-demand and digital release on January 12, 2021.
Trailer:
THE DISSIDENT (USA 2020) ****
Directed by Bryan Fogel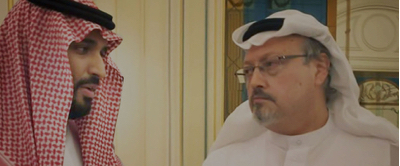 Directed and co-written by Bryan Fogel whose documentary ICARUS won the 2016 Academy Award for Best Documentary tackles another world issue with once again, excellent results. This time, it is an incident the whole world knows about. It is the assassination of Jamal Khashoggi. The world has seen footage of him entering the Saudi Arabian Embassy in Turkey to get his documents in order to get wed but never came out of the Embassy. Khashoggi was a Saudi journalist, author, and a former general manager and editor-in-chief of Al-Arab News Channel. He also served as editor for the Saudi newspaper Al Watan, turning it into a platform for Saudi progressives. Khashoggi fled Saudi Arabia in June 2017 and went into self-imposed exile (though the doc clearly states he hates using the word 'exile') in the US. He became a frequent contributor to publications like The Washington Post's global opinions section and continued to criticize the Saudi government from afar. He had been sharply critical of Saudi Arabia's crown prince, Mohammad bin Salman, and the country's king, Salman of Saudi Arabia. He also opposed the Saudi Arabian-led intervention in Yemen. His assassination proved anger throughout the world with the United Nations taking a major role in its investigation.
THE DISSIDENT opens with a different character - that of Omar Abdulaziz in Montreal in 2018 after the assassination. Director Fogel tells the story of his doc through the eyes of Abdulaziz, who claims that Khashoggi was killed because of their work together. Abdulaziz granted CNN access to his text messages with Jamal Khashoggi, where the two discussed their sharp criticism and political opposition to Mohammed bin Salman. The doc tells his story following him and having him talk to the camera.
The film unfolds like a suspense detective thriller complete with assassination plot and vicious killing. This seems like a trend following the recent Romanian documentary Alexander Nanau's also excellent COLLECTIV. The murder is described from tapes heard involving dismembering the body using a bone-saw and putting the body parts in plastic bags amidst laughter. The victim was described to be the sacrificial lamb. No one deserves to die in such an inhuman way, last of all, a man who has been fighting to be the voice of the voiceless, which was Khashoggi's motto in life.
In the documentary President Trump gets to rear his ugly head again as a chief villain. After the word has been made public of the guilt of the Crown Prince of Saudi Arabia, American Congress voted to stop billions of arms to be sold to the Saudis. "You don't sell arms to someone who kills his enemies with a bone-saw." Trump vetoed the decision.
One insightful fact that the doc reveals is the hacking of phones including that of Abdulaziz's. He clicked open an email from the DHL courier regarding a package. One project was named Army of the Bees or The Bees Army. Abdulazziz and Khashoggi wanted to create a counterpoint to the regime's propaganda machine – "a network of pro-democracy activists who would post and amplify one another's messages about Saudi political issues".
Abdulaziz said they wanted "to talk about the dissidents, the political prisoners, freedom of speech, human rights" and "make people aware of what's really happening". And the Bee Movement should also provide cybersecurity to "people living in Saudi Arabia and other oppressive regimes in the Middle East" in need of a safe way to express themselves.
The film ends with both a positive and downward note. Despite the findings of the U.N., the officials involved in the murder are now walking Scott-free with Saudi Arabia getting away with its corruption, guilt and murder. The positive side is Abdulaziz is now holding a YouTube talk show where Saudis can hear and speak freely on the Regime.
More insight is provided by Hatice, the one Khashoggi was supposed to marry. Hatice speaks to the U.N. and is herself a journalist.
THE DISSIDENT is a furious doc that is both insightful and informative. It ranks up there as one for the best Docs of the year. It has a 100% rating currently on Rotten Tomatoes. The film is available on VOD Jan the 8th.
Trailer:
EMPEROR (USA 2020) ***
Directed by Mark Amin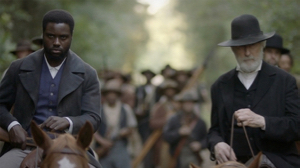 EMPEROR follows the adventures of an escaped slave, Shields Green (Dayo Okeniyi, HUNGER GAMES, TERMINATOR GENESYS) who travels north and has chance encounters with Frederick Douglass and John Brown. The film is based on the life story of Shields Green, written by his son who got the book published. Shields is given the name as though born a slave, his grandfather was supposed to be King where he originally came from.
The film has a solid story. The film is framed with the segment of the attack of the fort that made history at the start of the Civil War that ended with all slaves being freed. Shields kills the overseer (Tony Demil) at the plantation after he lashes his son. His wife killed during the escape, Shields is now a wanted man with a huge bounty on his head. He tries to make it up north to the underground railroad where he hopes to reunite with his son he had to leave behind when he escaped. The film follows his colourful adventures.
The violence is kept to a safe level that the film can be watched by general audiences. The lashings, for example, are never shown, just the wounds after the lashings.
Relatively newcomer Keean Johnson (ALITA, MIDWAY) has a small but memorable role as a young bank robber who crosses paths with Shields in the middle of the film. One wonders if any part of this segment is true, as this looks like a tall tale for the most part. Johnson steals the show as the handsome young bank robber, the first white man who treats Shields, a black man as his equal. Clearly, Johnson is a rising star in the making, having impressed audiences with the few roles he has had so far.
In contrast, Shields also crosses paths with Levi Coffin, played by veteran actor Bruce Dern who looks younger than he does lately.
The villain of the piece takes the form of many characters from the overseer to the feared bounty Hunter, Luke McCabe (Ben Robson),
EMPEROR is no 12 YEARS A SLAVE. As indicated at the start of the film, EMPEROR is inspired by true events. The events have likely been dramatized or over-dramatized for the purpose of entertainment. EMPEROR thus plays like an action film, like one of the many Martial-Arts films that the Hong Kong studios used to churn out - lots of action, lots of chases and a one-man against all. EMPEROR plays like a fiction action picture, easy to watch and quite entertaining, given what it is. It is the Emperor's journey to freedom and all the adventure that goes with it. It also is the universal message of hope - in this case of Shield's dream of freedom. One can also forgive the corny debate at the end of the film on the principles of fighting for freedom of the black man.
Director Amin, a white producer who makes his directorial debut with EMPEROR shows his prowess as a director, keeping all incidents tied together to form a cohesive whole, within an efficient 100 minutes.
Trailer:
I BLAME SOCIETY (USA 2020) ***
Directed by Gillian Wallace Horvat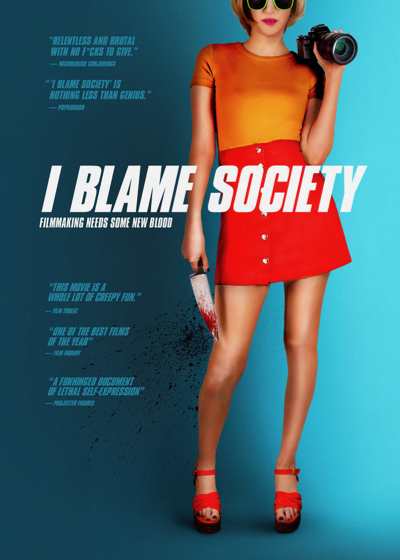 The film begins with Gillian, a wannabe filmmaker interviewing her best friend Chase with a proposition. She wants permission to enter his apartment for a strange reason. Gillian had been oddly complemented in the past by friends that she would make a good murderer at heart. Gillian takes the complement seriously and plans to murder Chase's girlfriend as in her opinion, the girlfriend is not a good person. So, she wants so scout Chase's place to check out possibilities to perform the murder. Not that she will carry it out. Chase does not realize he is being filmed and reveals a few secrets which ends up pissing him off. The two end up not speaking for a long interval of time.
I BLAME SOCIETY is a film within a film, a sort of black social comedy with a wicked twist and hint of satire directed and starring Gillian Wallace Horvat which she co-wrote with Chase Williamson who also appears in two crucial scenes in the film.
The movie in a movie with the weird concept described is to the director's credit, quite a fascinating and fresh idea. But the concept can be complicated to deliver as her film proves. At best, as in the opening interview sequence, the film can be awkward and funny at the same time, but when Horvat tries to piece everything together, it gets clumsy.
The film has a subplot of Horvat and her odd boyfriend played by Keith Poulson. They have an amusing love/hate relationship in which they show pseudo-support for each other. They behave like little children in adult bodies.
Horvat cheats too with her film within her film concept. While trying to be authentic by reminding audiences that her cameraperson is always round, it is clear that quite a few segments are staged. All for the sake of art?
I BLAME SOCIETY, the title applies directly to the film's protagonist. She blames everybody for everything except herself. It is obvious she has the problem and that she is the weird one. The result is a self unconscious comedy of awkwardness that is just as awkward to watch as its concept. A good textbook example of low-budget guerrilla filmmaking - plunk your camera down and do what you want and fuck everything else! To Horvat's credit, the few scenes involving special effects are aptly done.
At least her film is full of surprises. The film takes a totally different turn midway just as she, playing her protagonist, suddenly goes on a killing spree.
Her ending is subtly hilarious She is pitching her film to the two guys who have hired her to do work. The work she shows are the murders she had committed. They tell her exactly what they think which is contrary to what she wants to hear. Perhaps ironically, this is her film should be judged. Art imitates life. I BLAME LIFE is not the typical commercial film but it should draw a certain art-house festival crowd. To Horvat's credit, the film isn't half bad.
I BLAME SOCIETY Opens in Virtual Theatres January 8th and on VOD February 12th.
Trailer:
KNUCKLEDUST (UK 2020) ***1/2
Directed by James Kermack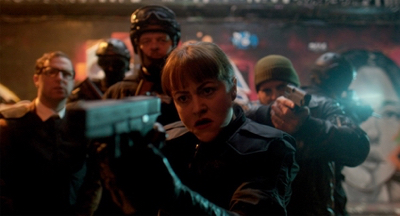 Written and directed by James Kermack, KNUCKLEDUST is an efficient action and incredibly manic thriller comedy shot between October and ending in December 2019 before the Covid-19 pandemic began. It will definitely not be everyone's cup of tea, but it will surely take audiences on a wild ride. Violent, lightning-paced and tremendously funny, the laughs will forgive the film's shortcomings. The title is the name of the underground (is there any other?) fight club in the U.K. where the action takes place,
The film begins with a fight at KNUCKLEDUST. A police raid is about to take place. There, police discover an elite fight club where they find seven underground levels, filled with the dead bodies of fighters from around the world. Only one man is found alive. He is known as Hard Eight (Moe Dunford), who turns out to be the hero of the story. The task force has to work out if he's a mass murderer or the lone survivor.
The film has a few French actors - mainly the uglier ones who are the fighters who get killed or severely damaged. In American films, villains are often British or speak with a Brit accent. In this film, it is hilarious to see the villain of this British piece, Serena (Camille Rowe) speak with an American accent. There are lots of humour in the film, non-stop laughs for start to finish, some subtle like the one just described and others out in your face. The one about the cop Maccready's (played by director Kermack himself) wife's weekly cooking classes is a riot. He complains to his nerdy partner that this was his weekly sex night when he had to be called on duty. When questioned on how his wife felt about this, Maccready replies that this is the night of his wife's cooking classes. Maccraedy later discovers that his wife got the better of him. She was cheating on him weekly on pretext of the cooking classes as he was realizing that her cooking never got any better.
The film contains quirky characters. They are introduced with flashing titles and they come with an assortment of names like 'Happy','Tick Tock', 'Hot Lips','Tombstone' and others. Of all the actors is Kate Dickie, best known for RED ROAD which won her a BAFTA Best Actress Award, playing the no-nonsense chief inspector Keaton. "I'm not your friend. I'm not your enemy. I'm your boss!" These are her words to her subordinates.
Oddly enough, director Kermack sneaks in a message about caring for vets soldiers who return after fighting, especially those who suffer from PTSD. The film is also politically correct in having strong female characters like Keaton and Serena in an otherwise all male themed fight film.
As if the film isn't odd enough, animation appears, with a little poetry thrown in at the one hour mark.
How good is KNUCKLEDUST? The Guardian calls it rubbish. But at least it is hilarious unforgettable rubbish. KNUCKLEDUST is available VOD January the 5th.
Trailer:
THE REASON I JIMP (UK/USA 2020) ***
Directed by Jerry Rothwell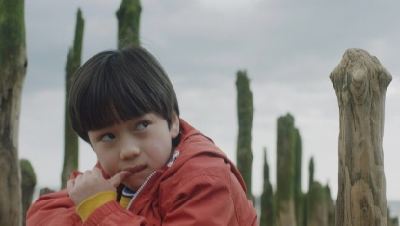 THE REASON I JUMP is the title of the book written by a 13-year old silent Japanese autistic boy, Naoki Higashida which was translated into English by David Mitchell who also has an autistic son. The phrase has meaning to those dealing with autism. Autistic children love to jump, as shown in one scene with one jumping on a trampoline. According to the narrator, autistic people are weighted down by their emotions which they feel, so jumping loosens these feelings allowing them to escape and feel free. Most audiences are unaware of this fact and the well-intentioned documentary on the subject of autistic children aims at helping more people be aware of autism and to help families cope with the world's unacceptance.
The film is quick to point out that autism should not be considered a problem. It is its unacceptance and lack of human rights that form the problem. The fact is related once more towards the end of the film. The boy stand-on for the Japanese author says that to him, autism is normal and that is the world he only knows - and he does not wish to have any changes.
One could criticize the director's decision not to use the author Naoki Higashida but a stand-in for his movie, as a betrayal to the issue of autism prejudice. But on the other hand, Higashida does not speak and working with an autistic actor in the principle role can be a lot more tiring, considering that he has already used real autistic children as his subjects in his global look at autism.
The first girl introduced is from India, Amrit who is much loved by her mother and is talented in painting. She finally puts up a show presenting her talent to the locals. The next is Joss, who demands much more care and patience. Here, in contrast, his father does most of the work, accompanying him with most of his routines. The father worries about who would take care of Joss when his parents are gone. The film moves to the U.S. where two children find solace in their sincere friendship, though they do not communicate by speaking. Ben (coloured) and Emma (white) both use the letter board to communicate. It is moving to see Ben type out that his civil rights are violated, showing that the boy is smart and aware of the outside world. The saddest of the lot is Jestina, from Sierra Leone in Africa where the unacceptance is greatest. There, autistic children are deemed as from the devil and should be tossed in the river or in the bush.
What is most remarkably illustrated in the film, which brings hope to the autistic children and the world in general, is the unfaltering love the parents have for their children.
Director Rothwell also goes to great measures to show the audience what these children go through - in terms of unbearable loud sounds, repeated images and the inability to speak out their thoughts. What calms the autism down is light and water. Rothwell's images illustrate this fact too.
One wishes Rothwell showed the real author Higashida and the translator Mitchell in his film, as they had a big part in the creation of the film.
Trailer:
STARS FELL ON ALABAMA (USA 2020) *
Directed by V.W. Scheich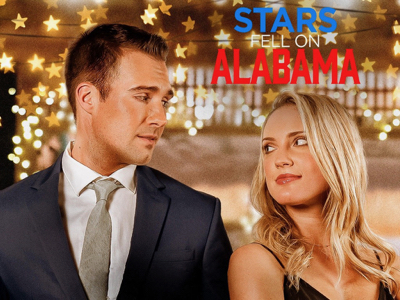 One can tell things are going downhill when after the first 10 minutes of the film - which is when the funniest joke happens to be 4 friends at a bar squeezing together to take a selfie. And if one thinks things can only get better, the next scene has its lead actor shamelessly showing off his body when he wakes up in bed and starts talking to himself so that the audience knows what is going on. (James Maslow has been on the cover of FITNESS magazine promoting his Muscle beach Workout.)
The romantic comedy follows Bryce (Maslow), a Hollywood agent and his client, Madison (Ciara Hanna) as they make it as a couple.
This is pretty much Maslow's movie. But he acts and behaves as if he was God's gift to women, posing all the time, while always talking to himself. One can only take so much of such a narcissistic performance. It also makes one wonder how many opportunities Maslow can find to take off his shirt. Ciara Hanna fares better as Madison, the love interest. Hanna looks totally natural and comfortable with the part. Maslow makes the corny and over-stretched ending all about himself as well.
To make matters worse, the soundtrack tells the audience how to feel and when to feel what in too many scenes.
Then the audience learns that the Hollywood agent is to take his client, Madison to his high school union, who will pretend to be his girlfriend. The reason? Everyone else in his class is married and he is the only one left leaving him to question that success in life means having a wife. So, the audience has to sit through 90 minutes of excruciating cliches before the two come together as a couple.
The film is a bit too obvious at being politically correct with Bryce's best friend David being black and Madison's secretary being Asian. All others are white. The film also puts down the people in the south - as in Alabama. "You know what these people are like," Bryce tells Madison while driving there. This is the excuse given for him not telling his class reunion the truth that Madison and him are not dating. Everyone in the south is expected to be married with children. Really?
The film's funniest part comes when Bryce tells Madison when asked if he dances. "I am full of surprise," he responds. This statement keeps the audience waiting for the moment Maslow surprises. Unfortunately, that surprise never materializes.
One scene has the reunion partiers break into a swimming pool for a midnight swim. The question here is where Madison and Bryce got their towels from?
Director V.W. Scheich (more of a special visual effects man) has one documentary to his directing credit, CARPE VEGAN in 2018, about an Atlanta couple going on a 12-month plant based diet. Sounds really boring and unimaginative!
One scene in which the couple, arguing has Bryce telling Madison: "I keep giving (apologies) and you keep taking (them). In the same way, studios keep dishing out rom-com's and the public keep taking them in, awful as they are. A romantic comedy that is neither funny or romantic, this one should be shoved right away as the worst roam com if not the worst movie of the new year.
Trailer: