Best movie opening or rather, streaming this week is the British entry THE DIG. The most anticipated film streaming is 'the little things' a crime mystery while the best horror film arirves from Indonesia THE QUEEN OF BLACK MAGIC in a busy week with 12 new films to choose from.
FILM REVIEWS:
#LIKE (USA 2020) ***
Directed by Sarah Pirozek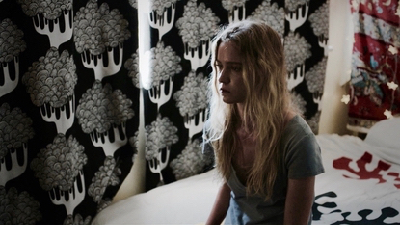 From the title #LIKE, it implies that this movie is catered to the modern young cell phones, gaming, computers and social media users. The opening credits are also done as if written on a laptop computer. The film begins with a scene of a high school girls soccer team training where the audience is introduced to Rosie (Sarah Rich). But as the film progresses, it is revealed that the theme leans towards a feminist revenger horror thriller rather than a social media teen drama.
Director Pirozek does not give the full picture of what is going on immediately to her audience. She deals out doses at a time, inviting the audience to work and put two and two together, filling in the gaps in order to put the story in place.
It soon becomes apparent that Woodstock teen Rosie (Sarah Rich) is mourning the first anniversary of her younger sister Amelia's (Samantha Nicole Dunn) death. Going through Amelia's account and finally figuring out her password, she enters her mail/chat account where she finds a site full of pedophiles. Rosie unblocks everyone that her sister had blocked in order to get clues of her death. Director Pirozek has left clues that Rosie feels guilty that she was not around to help her little sister, when she was in need of help. When she discovers that the mysterious man (Marc Menchaca, ALONE, "The Outsider") who she is convinced, sexploited and bullied her sister into committing suicide, is back online trolling for new victims.
Determined to bring the man to justice or at least to find out more, like the predator's address, she goes to the cops. This is the largely humourless film's funniest part. Armed with a folder full of evidence, she gets a scolding from Detective Horne (Jeff Wincott) instead of encouragement or help. After the authorities refuse to get involved, Rosie takes matters into her own hands. Little more should be said of the plot as more revealed would only spoil any surprises.
The script is simplified, likely for the reason of budgeting costs. The predator is a one-man construction company with no employees. The mother leaves on some business trip so she is left out. The film turns into a two handler. The script contains too many coincidences for comfort. Sarah encounters the predator out of the blue and when she does, he uses the same line "I double dog dare you,," the same line Sarah finds in Amelia's chats. The man also likes very hard rock which is also mentioned in the chat.
The story takes a twist with director Pirozek maintaining a good suspenseful pace. The only trouble is the script that has too many loose ends that though explained are too coincidental to be credible.
#LIKE will be available on TVOD January 26, 2021 on iTunes, Amazon Prime, Vudu, FandangoNow, and Microsoft Store.
Trailer:
BELOW ZERO (Bajocero) (Spain 2020) ****
Directed by Lluis Quilez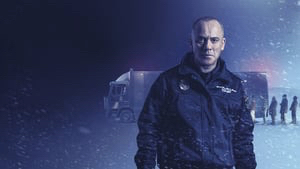 It is odd that of the three Netflix films (MALCOLM & MARIE, FINDING OHANNA and this one) premiering this Friday 29th January, the best of the lot is this little heard and least advertised action thriller from Spain called BELOW ZERO or BAJOCERO. Delayed from theatrical release because of Covid-19, the film finally made its way, thanks to Netflix.
The setting, as the film title implies, is winter with sub-zero temperatures. On a lonely road of Castilla-La Mancha, a prison transport carrying dangerous convicts is brutally assaulted. Martín (Javier Gutiérrez), the policeman who was driving, survives and fortifies his position while the con men search for a way to finish him.
The film works for one main reason that the script (co-written by director Quilez and Fernando Navarro) personalizes the action thriller. The criminals are not necessarily all bad. Nothing is black and white, not even the main villain of the piece who materminded the hijack. As an additional bonus, the film comes an over-the-edge slice of nastiness necessary to boost the audience's adrenaline.
The film takes its time before the vehicle goes on the road. Each prisoner is introduced as they undergo the security checks before entering the vehicle. Discretion and security form the key. The notices of transfer are not given to the prisoners till the very last moment. The transfers could be done at any time and in this story, at night The transfer will take more than 3 hours and you are going to freeze your balls off." the rookie, Martin is told of his first transfer.
For an action thriller on a hijack transporting convicts, the script injects clever dialogue at every possibility. The convicts engage in a debate on the state union when one asks for the heat in the truck to be turned up. Another series of dialogue (involving puncturing) entertains when the truck is stopped. The film goes to show that much can be done with a well worn premise with some thought and good execution. The climax, ultra-violent is a superb turn of events.
Director Quilez plays well with audience anticipation. With the varied criminal personalities, especially Ramis, who is supposed to be the most seasoned criminal, the audience is primed for some top notch action sequences. Not to spoil any surprises, Quilez does not let his audience down.
Icy, cold wintry weather appears to be the perfect backdrop for an action thriller. The 2014 Scandinavian thriller, Hans Petter Moland's IN ORDER OF DISAPPEARANCE which was later remade into a Hollywood film COLD PURSUIT with Liam Neeson is a perfect example. Also intrinsically hilarious, thanks to Molland's sense of humour, the film unfortunately did not translate well into Hollywood fare. The same fate might be in store for Lluis Quilez's film. BELOW ZERO is an excellent Spanish action thriller that hopefully will not be overlooked under the radar.
The film just opened and is currently available on Netflix. If selected, it plays in the dubbed English version. It is recommended to watch the film in its original European Spanish version and with English subtitles if you are not fluent in Spanish. The question is when Hollywood would buy the rights to this thriller.
Trailer:
THE DIG (UK/USA 2020) ****
Directed by Simon Stone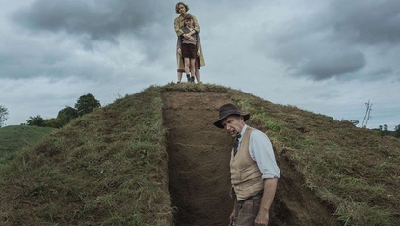 The Dig is an upcoming Netflix original drama directed by Simon Stone, based on the 2007 novel of the same name by John Preston, which reimagines the events of the 1939 excavation of Sutton Hoo. Based on a true story, THE DIG is based on excavations at Sutton Hoo. Sutton Hoo near Woodbridge, in Suffolk, England, is the site of two early medieval cemeteries that date from the 6th to 7th centuries. Archaeologists have been excavating the area since 1939. One cemetery had an undisturbed ship burial with a wealth of Anglo-Saxon artefacts; most of these objects are now held by the British Museum. Scholars believe Rædwald of East Anglia the most likely person to be buried in the ship. The site is important in understanding the Anglo-Saxon kingdom of East Anglia and the early Anglo-Saxon period, as it illuminates a period that lacks historical documentation.
The site was at first excavated under the auspices of the landowner during 1939 at the start of WWII. This is the Suffolk setting of THE DIG. The landowner is widower Mrs. Pretty (Carey Mulligan) who hires an archaeological expert, Mr. Brown (Ralph Fiennes) to dig up the mound on her land. "Should leave Mrs. Pretty's mounds alone," jokes one of Mrs. Pretty's workers.
There is a lot to learn in this insightful film on the subject of excavations. For one, countless amounts of work and dedication are involved and among intelligent people as well. It is a field rarely publicized and Stone's film brings a whole lot of understudying to the subject. Why do excavators perform such duty with so little pay? In one extremely moving scene, Mr. Brown tells his wife, May after she puts him down: "Why you have spent your whole life digging, with hardly any money to cover a month's rent." His reply: "Because I am good at it. It is what my father taught me and what his father taught him."
Director Stone allows the story to be seen from different points of view, which makes the film's watch even more endearing. Besides Mr. Brown's and Mrs. Pretty's, there is Robert's, Mrs. Pretty's young son. World War II is just beginning, and the young boy is afraid of death of a young pilot who has just crashed on the family property, Yet he is fascinated by the wonder of the stars. Robert is given a brief education in astronomy by Mr. Brown.
THE DIG is only the second recent film about fossils and archaeology after the excellent AMMONITE released a few months back. Despite the slow pace of the two films, both are meticulously filmed proving that care and thoughtful filmmaking pays off. "How very exciting!" says one of the characters Rory, in the film at the thought of finding an Anglo-Saxon ship in the excavations. Indeed it is exciting!
THE DIG is my sleeper of the year! It is a meticulous, fresh and smart piece of filmmaking full of life, wonder and passion.
Trailer:
FINDING OHANA (USA 2021) **
Directed by Jude Weng
FINDING OHANA is a Netflix original family film. It follows two Brooklyn teenagers on a trip to Oahu where they discover their Hawaiian heritage while finding their Ohana (spirit).
Leilani (Kelly Hu) had left Hawaii leaving her father for America with her two children when her husband passed away. She does all right in Brooklyn with her two children, now all grown up. When she brings her two children to Oahu when her father George (Ke Huy Quan) is sick, the children Pili (Kea Peahu), the younger daughter and son, Ioane (Alex Aiono) worry that worry that their mother might want to settle in Hawaii to look after George. Worse comes the discovery that George's is about to be evicted. Only one option, either George moves to Brooklyn or the family settles in Hawaii. But another option arises when the kids attempt to find hidden treasure, hoping this money will solve their problems.
Written by Christina Strain, FINDING OHANA has a strong female slant. Pili is given the hero's role, displayed as strong willed, clever and honest. Her elder brother, Ioane, however is portrayed as weak (always getting sick when something scary appears), dishonest (too eager to steal the treasures besides being warned that the treasures belong to the dead and are cursed) and not too bright (always corrected by her younger sister.) Ioane's love interest, Hana (Lindsay Watson) is also smarter than him, sensitive and always having the right words to say. Pili's and Ioane's mother is a strong woman. Her father is a bit of a clown and the only male character given a bit of respect. At its worst, the script gets sappy and silly. Silliest is when the script has the pirates mouth out the teen's dialogue - out of place and hardly funny at all, going on and on when the tactic does not work. Besides the males put in a bad light, so are the adults. The kids rule as the film is catered towards the kids. The script makes it all too obvious with lines like "Adults are dumb, I am adorable," mouthed by Pili. The children always get their way, do what they want and talk back at adults with little respect. The story is full of cliches, and one can guess the entire story of the film within the first 10 minutes of its opening. This is actually requirement at one time for many scripts to be approved.
For a family film, FINDING OHANA runs too long at over 2 hours. Not knowing to call it quits, the film ends with a senseless conclusion that is so silly that even the characters in the film are supposed to keep what has happened to them secret.
This silly version of a children's RAIDERS OF THE LOST ARK doesn't work! A few nice shots of the Hawaiian landscapes with a lot of staged segments that are supposed to have the audience believe that the characters are in a cave tomb do not improve matters much either.
Trailer:
KENBE LA (UNTIL WE WIN) (Canada 2019) ***
Directed by Will Prosper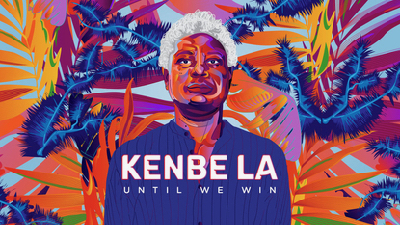 As the month of January comes to an end, new free-streaming content is being added to the NFB.ca (National Film Board of Canada) catalogue, with more to follow in February. Heading the selection of works from NFB studios across the country is the award-winning and profoundly human feature-length documentary in celebration of Black History Month: KENBE LA (UNTIL WE WIN) directed by Will Prosper.
Ranging from the lush Haitian countryside to the icy landscapes of Canada, this sensitive film chronicles the journey of the late artist, philosopher and activist Alain Philoctète, whose dreams remain universal, resonating across generations and continuing to inspire audiences.
More people have been to the Dominican Republican than to Haiti, also known as the Republic of Haiti. The reason is that the former is more tourist friendly with cheap and gorgeous all inclusive resorts. Myself, I have been to one of these and will return with good memories. Haiti, on the other hand, has been marked by political unrest and the bad disasters like the 2010 earthquake do not paint a good picture for tourism either. Haiti and the Dominical Republic are on the same island with Haiti on the east and the latter on the west.
Haiti is a country located on the island of Hispaniola in the Greater Antilles archipelago of the Caribbean Sea, to the east of Cuba and Jamaica and south of The Bahamas and the Turks and Caicos Islands. It occupies the western three-eighths of the island which it shares with the Dominican Republic. Since the turn of the 21st century, the country has endured a coup d'état, which prompted a U.N. intervention, as well as a deadly earthquake that killed over 250,000. Following a series of short-lived presidencies, François 'Papa Doc' Duvalier took power in 1956, ushering in a long period of autocratic rule that was continued by his son Jean-Claude 'Baby Doc' Duvalier that lasted until 1986; the period was characterized by state-sanctioned violence against the opposition and civilians, corruption, and economic stagnation. Since 1986 Haiti has been attempting to establish a more democratic political system.
KENBE LA is a moderately paced doc that follows its subject Alain Philoctète as he returns to Haiti from Montreal. The film begins with a voiceover of his poetry as the camera scans the Haitian landscape. The man is suffering from cancer. He meets with family and friends and speaks of his ambitions for the country, thus putting the audience in the light of the current events of Haiti. He also speaks of Duvalier. Alain Philoctète has the ambition of introducing the concept of permaculture to Haiti. He explains: Permaculture is based on three things: care of the land; care of the people and sharing. He goes to the countryside trying to convince against the use of a weedkiller.
"I will fight to the death for Haiti." Director Prosper shows why and what has been done by poet and activist Alain Philoctète to achieve his life's goal.
The film had its world premiere at the 2019 Montreal International Documentary Festival (RIDM), winning the People's Choice Award, and had successful theatrical screenings in Montreal as well as on a tour of Eastern Quebec. KENBE LA is available to stream free of charge from Tuesday, February 1st. Go to NFB.ca for more information on how to stream this documentary.
Trailer: https://mediaspace.nfb.ca/epk/kenbe-la-until-we-win/
the little things (USA 2020) ***1/2
Directed by John Lee Hancock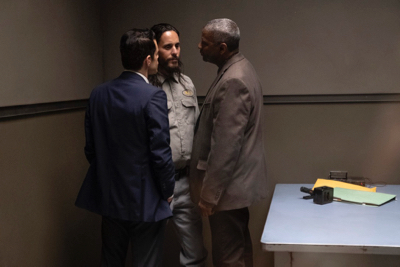 John Lee Hancock (THE FOUNDER, THE HIGHWAYMEN, SAVING MR. BANKS) is described by Jared Leto in an interview with Variety as an actor's director. Hancock has plenty to deal with as his latest film 'the little things' boasts three Oscar winners in the title roles - Denzel Washington, Rami Malek and Jared Leto. The film can be crap, which fortunately is not, but it would be worth the price of the admission ticket to see these three heavyweights on screen in the same picture.
The film is set in the 1990's. Clever, that there are no titles that state the year of the film's setting. But it is noticeable that no character carries a cell phone and that the pay phone is used a couple of times in the film.
The story is centred on a serial killer who appears to kill because it turns him on, no sexual penetration required. In the background of the murders that span different cities, it is slowly revealed that writer/director Hancock is more interested in the interaction and relationship between a Kern County deputy, Joe Deacon (Washington) and a Los Angeles college boy detective, Baxter (Malek) that occur during the investigation of a serial killer. Both are entirely different people, the former divorced and the latter with a family including two daughters. The two have a lot to learn and indeed they do learn from each other. One of their prime suspects is Albert Sparma (Leto) who the evidence points to. They bring him in and question him. Sparma, a crime fanatic who follows crimes committed with a passion, boggles as well as infuriates both them. When they are both in front of Sparma, it is clearly a case of bad cop, bad cop.
Besides the seriousness of the story, Hancock injects a lot of funny one-liners to elevate the sombreness. "No rest for the ugly." says an old acquaintance to Deacon, the man who is clearly ugly. Or the dialogue like: Baxter to Deacon: "Why don't you buy me breakfast?" Why would I do that?" is the answer. Final reply by Baxter: "I will buy you breakfast tomorrow."
On another clever line of dialogue, Baxter asks Deacon: 'When are you going to break my case?" It is a clever line with 2 connotations. It implies Baxter is in charge of the case and that he is both sarcastic and respectful of Deacon who has more years of experience.
What distinguishes 'the little things' from other misery thrillers (besides the three actors) is the script. The script, occasionally too smart for its own good contains lots of detective jargon that might fly over the heads of the ordinary viewer. Often, one has to listen attentively and to put the facts delivered in the dialogue carefully in order to figure what is going on. It needs work to derive pleasure, but at the same time it can be frustrating if one misses something. Ultimately, writer/director Hancock plays with the audience's curiosity on the identity of the serial killer. He lays out lots of clues, some relevant and some not. It is a clever game that works right up to the very end where one discovers finally that Hancock has the upper hand.
Trailer:
MALCOLM & MARIE (USA 2020) **
Directed by Sam Levinson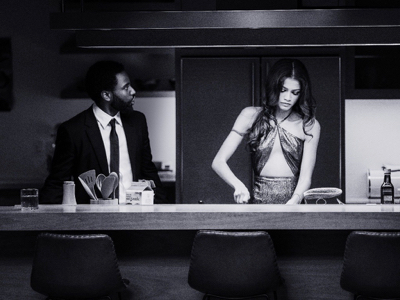 MALCOLM & MARIE is a 2 hander starring Zendaya and John David Washington (son of Denzel and who was in the recent Christopher Nolan futuristic epic TENET). Zendaya and Washington play a Hollywood couple already in a caustic relationship. The action takes place in the span of one night after an Awards gala sparked by an incident involving film director Malcolm forgetting to thank Marie in his acceptance speech for an award given to his new film. His new film is expected to be a success, both critically and financially. Malcolm had his film based on Marie's previous drug addiction.
It should be good to note that the film was shot during Covid-19 restrictions. The cast and crew were under lockdown in closed sets during the shooting. The script is based on director Levinson's experience when he himself had forgotten to thank his partner during an acceptance speech.
MALCOLM & MARIE, with its screaming matches between the couple, is reminiscent of Mike Nichol's WHO'S AFRAID OF VIRGINIA WOOLF? based on the play by Edward Albee. Both films were shot in black and white. But Levinson is no Albee in terms of script writing and neither is he Nichols in terms of directing plays. It is hard enough to watch a film during Covid-19 and even harder to watch a 2 hander film with lots of depressing fighting.
One difference between the two films is that MALCOLM & MARIE has black characters. The question for Levinson is how to bring in the issue of race into the picture. To Levinson's credit, he does it quite well, as the same issue is raised in one of the scene's segments. People watching a film with black characters or black filmmakers expect black issues or bring these issues when watching and criticizing the film. This rests in a huge argument between Malcolm and Marie.
Washington and Zendaya both put in their 100% worth into their performances, evident while watching them. If only Levinson's material was worthier.
Levinson's material based on his real experience is often self indulgent. There are too much arguing going on and over-written dialogue. Levinson writes about what he knows, which is the film business. Levinson also attempts to direct the complexities of a relationship - the extremes a couple will go through in their individual fight - how dirty they can be and how much they will dig up from the past. One thing is clear, which is is true for many couples fighting, what is said cannot be unsaid and what is done cannot be undone Even the opposite. When Malcolm forgets to thank Marie in his acceptance speech, no amount of apologizing can right the matter. What is missing in the relationship between Malcolm and Marie is tenderness, forgiveness and care. These elements are not laid out but can be seen as missing in their relationship. Malcom and Marie are both not prepared to sacrifice their own feelings to make the other feel better. In the end, their exhaustion is what makes them give in, which is the case for many couples in a fight. The audience can draw parallels between their own relationships and the couple display here.
MALCOLM & MARIE is a Netflix original movie that opens Friday. The film works more like a play and is recommended if one likes this sort of thing.
Trailer:
PALMER (USA 2020) ***1/2
Directed by Fisher Stevens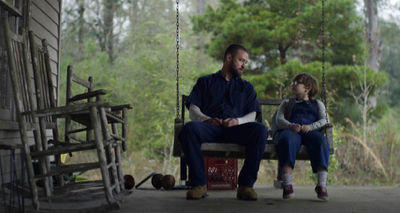 Former high-school football star Eddie Palmer (Justin Timberlake) went from hometown hero to convicted felon, earning himself twelve years in a state penitentiary. He returns home to Louisiana, where he moves back in with Vivian (June Squibb), the grandmother who raised him. While trying to keep his head down and rebuild a quiet life for himself, Palmer is haunted by memories of his glory days and the suspicious eyes of his small town community. Everyone calls him Palmer instead of Eddie. This is the story of Palmer and his relationship with the 7-year old boy next door, Sam (Ryder Allen) who lives next door. Life improves for Palmer, and a romance develops between him and Sam's teacher Maggie (Alisha Wainwright). An inspiring and unexpected journey unfolds for the three of them, but soon Palmer's past threatens to tear apart this new life.
If this sounds like the typical film where a big star bonds with a kid or kids, PALMER is different. It is a drama that stirs the audience's emotions within the story.
When Palmer moves back home, the town knows that he is back and has a record. His male friends are more forgiving but the older folk, especially the religious ones are more apprehensive. As writer/director Stevens shows, people are not willing to give felons a second chance. Palmer finds it almost impossible to get work, practically having to kiss ass and be incredibly polite in order to get a low paying job as the school's janitor. The film is an absorbing watch from the very beginning, director Stevens whetting the audience appetite on what is to come. One can guess that the situations Palmer has to deal with are going to be tough. It is a matter of time that Palmer will eventually explode and have to do what is right. The boy who lives next door, Sam is no ordinary boy. He is effeminate and loves playing with dolls. Sam is bullied by the other kids. Sam always hangs around Palmer and his grandmother, Vivian. Vivian is shown to be a kind but strict grandmother, but Palmer is polite enough to accommodate her. Palmer attends church Sundays with Vivian and the boy.
The story is aided by excellent performances by heavyweights Timberlake and Academy Award nominated veteran, June Squibb. Allen who plays the boy is not bad either. They act naturally without overdoing their roles and are a pleasant to watch.
Director Fisher creates a solid atmosphere of small town Americana. The townsfolk are suspicious of anyone they are unfamiliar with, Palmer included. The gossip, go to church and think they are better than anyone else. The town has a local bar where the males hangout get drunk and have sex with the loose women who attend, including Sam's mother, Shelley (British actress Juno Temple). Unfortunately, Palmer sleeps with her the first night he returns to the town. Where the husband is that night is conveniently left out. Director Stevens never insults the audience's intelligence by hammering any point to death in his film.
PALMER is an Apple original movie, able to be streamed from Apple+ TV. A sold drama which stresses important American values, PALMER is an entertaining watch aided by solid delivery in all departments.
Trailer:
PENGUIN BLOOM (Australia 2020) ***
Directed by Glendyn Ivin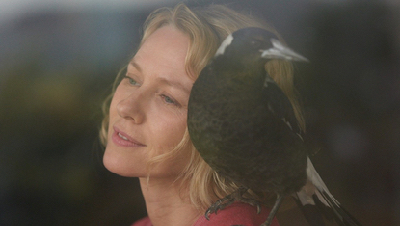 Probably a love project from two time Oscar nominee Naomi Watts who serves as a producer and main actress in the film, PENGUIN BLOOM which is a true story based on a book of the name name by Cameron Bloom and Bradley Trevor Greive.

The story begins in 2013, tells of a mishap of the Australian Bloom family and the family's slow but painful recovery. It is 2013 when the family takes a trip to Thailand where a freak accident leaves the mother Samantha (Watts) paralyzed from the waist down. Sam and husband, Cameron (WALKING DEAD's Andrew Lincoln) love to surf being the typical Australian couple. While enjoying a view, Sam fell off of a rooftop due to what was later determined to be a rotted railing...breaking her vertebrae in two places. Paralyzed from the chest down, Sam, being the outdoors surfer was unrecognizable to herself, and spent long months in a depression that made her question who she could be in the world and in her own family.

The family try to cope but Sam also suffers physically and emotionally. Enter an injured magpie the children rescue, which cannot fly. The magpie is named penguin for its black and white colours and hence the film's title. The magpie and Sam attempt to escape from their comfort zones in this otherwise uplifting film about the triumph of the human spirit. Excellent camerawork done with the magpie. A bit laboured and predictable in its execution, but sincere (the cliched premise being: they thought they rescued a bird, but the bird rescued them), nevertheless.

Veteran actress Jacki Weaver (Academy Award nominee) is terrific as Sam's other as twice Oscar nominee Watts herself delivering a memorable performance.

Good surfing scenes with stunning Aussie landscape with the ocean and beaches courtesy of cinematographer Sam Chplin (twice nominated 'Australian Emmy' fr TV's THE CRY and SAFE HARBOUR)
PENGUIN BLOOM though predictable in its delivery offers good performances by Weaver and Watts and some excellent Aussie cinematography.
,
PENGUIN BLOOM premiered at the Toronto International Film Festival 2020 and is released on Netflix January the 27th.

Trailer:
THE QUEEN OF BLACK MAGIC (RATU ILMU HITAM) (Indonesia 2019) ***1/2
Directed by Kimo Stanboel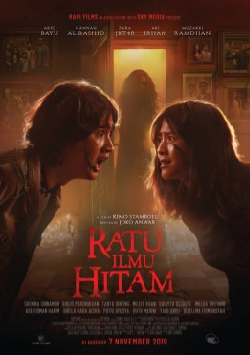 Horror fans are in for a treat the past month with the arrival of two magnificent horror films from the country of Indonesia. IMPETIGORE, directed by Joko Anwa who penned the script for this film was Indonesia's entry for Best International Feature for the 93d Academy Awards. IMPETIGORE was impressive and THE QUEEN OF BLACK MAGIC is even more impressively so.
Indonesia, a large Muslim entry with a solid history of folklore and black magic is an ideal setting for horror films. As a child, (My mother's family are from Indonesia), I was haunted by Indonesian ghost stories with famous ghouls like the Pontianak. The Pontianak is the demon from the banana tree. Urban Legend has it that if you tie a string from the tree, it will turn red the next morning from the Pontianak's blood. THE QUEEN OF BLACK MAGIC is equally footed in folklore in a countryside setting with the horror coming with lots of gore. If one likes their horror films bloody disgusting THE QUEEN OF BLACK MAGIC is it.
The film follows three orphans, the three all grown up and one with a family of wife and 3 kids and one other with a girlfriend reunited in a visit to their old orphanage in the countryside. They are paying respects to the old man who looked after the orphanage, on his dying bed. Anwa's script and director Stanboel are able to keep all the several different characters in the story distinct without any confusion. This is a great feat as there are altogether 5 children, the old master, the 3 grown up orphans, the wife and girlfriend as well as the orphanage's keeper and wife, a total of 15 characters. And more than half of these 15 harbour deadly secrets. Director Stanboel also blends in special effects into the terror. The effects are extremely eerie and well done, worthy of respect of any big Hollywood horror blockbuster.
The film contains classic themes of horror and psychological terror such as:
the inability to escape from a place; whenever the orphan children tried to run away in the past from the orphanage; they always returned back to the same place; as adults on revisiting the place, the same thing happens, they try to drive away but keep coming back to the orphanage

skeletons in the closet are let loose revealing that nothing is what it seems; the children ended up murdering and burying Mrs. Mirah

an egg that hatches into hundreds of crawly spiders; in the movie the spiders are replaced by centipedes which are more bloody disgusting creatures

creatures that enter through the orifices of human beings; the centipedes crawl into the mouths and creep through the skin and body of the victims

mysterious strangers; 3 families meet the caretakers of the orphanage and boy, are these people strange
Starting off with a few scares, director Stanboel steers his film to a full all-out terrifying climax that has to be seen to be believed making THE QUEEN OF BLACK MAGIC the horror film of the year.
Trailer:
THE SECRET MARATHON (Canada 2019) ***
Directed by Kate McKenzie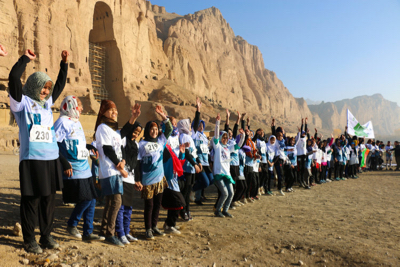 THE SECRET MARATHON centres on the first Afghan woman who stood up for her freedom and ran in the Marathon of Afghanistan. In doing so she started a movement for equality that spread around the world. Zainab's story inspired legendary marathon runner, Martin Parnell, to imagine what his life might be like if his gender prevented him from going outside to run. Martin vowed to run in the Marathon of Afghanistan the following year to support Zainab, and partnered with filmmaker and first time marathoner, Kate McKenzie, to tell the story. To avoid making the marathon a target for terrorist attack, they train, and travel to Afghanistan in secret and uncover unexpected beauty, incredible hardships, and amazing people who stand for change.
Because of the Taliban that could focus on attacks of public events, the venue of the marathon is kept secret. Participants are asked not to divulge on the internet any news of the marathon.
There are actually three stories in THE SECRET MARATHON - a sort of getting more for ones buck.
Firstly, there is the story of the secret marathon runner who is the catalyst for getting this doc made. The girl, afraid of repercussions does not initially reveal her face or her name. When training and jogging outdoors in public, she would get rocks thrown at her, insults and threats as well made on her life with words like" Who will marry you?". Such is the un-acceptance of females in Afghanistan. This girl runs because she feels free and it is the right of every human being to be free and to run outside.
The second subject is a seasoned marathon runner by the name of Martin Parnell. In one particular year, Martin ran 250 marathons. This breaks down to 5 marathons a week, He also ran the coast of England (he is British) in 25 days. He is married and his wife seems contented to have Martin do his running. The film also documents Martin coming down with a brain clot. Martin is on medication but his health has improved. He accompanies filmmaker Kate to Afghanistan to run and to film her subject, the secret marathon runner and also Martin himself. Martin is a cheerful man, always running and encouraging others.
Third and lastly Kate turns the camera on herself. She decides to travel to Afghanistan to do the shooting go her documentary. Her partner, Leor is not too happy but still gives his support. This segment in which he talks to the camera is inspiring as to how a relationship should be. They live in Canada. The Canadian Government advises against any travel, for whatever purpose to Afghanistan as it is a politically volatile and dangerous country. Kate also puts her country, Canada in a good light.
The film also captures the beauty of Afghanistan. The stunning scene of a huge lake shows that the country is not just rocky desert. And in countries where there is much danger, the film is quick to point out that the people are the friendliest. Beautiful scenery can also be observed during the marathon run.
THE SECRET MARATHON is a doc that reaffirms one's faith in the good of people.
Trailer:
SOFTIE (Kenya 2020) ***
Directed by Sam Solo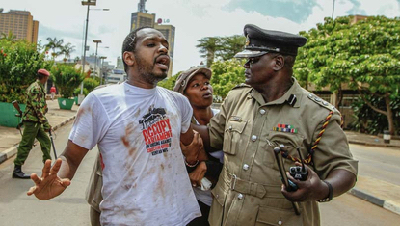 Rare is a film from Kenya. SOFTIE is the first film from Kenya ever to premiere at the Sundance Film Festival and it went on to win a World Cinema Documentary Special Jury Award for Editing
SOFTIE is the nickname of a daring and audacious photojournalist. His full name is Boniface Mwangi and is played in the doc by no less than the man himself. He decides to run for political office in an effort to change the corrupt political system in Kenya. Soko's film highlights how misinformation in politics can have long term effects on a voting population, a problem that is also facing in America. False news propagated by false prophets like Trump. This is the story of how one person trying to make a change in a system he finds does not work for all people. It also questions what should come first - family or politics?
The film begins with a protest. In it, pigs are used in the demonstrations, that of course turning violent and bloody. The pigs are painted and used to represent the rich politicians - the MPs who bleed Kenya dry. In 2007, Boniface Mwangi was assigned to cover the post election violence. What follows is the story for the doc.
Eventually Mwangi decides to run for office. His opposition is someone called Jaguar who engages in 'dodgy' tactics.
The doc's main issue that director Solo centres on is the conflict between family and country. Both the wife and Boniface have their say, and they both make sense separately. But they cannot agree, in what soon becomes a trial separation between the two. It is obvious that a compromise is the only solution. It is not who is right or wrong that counts but who compromises. It is a serious film but not without humour. At one of the film's lighter moments: Boniface tells his wife: "I am going to run for office. But I can change my mind." "Is this how you are telling me?" replies the wife.
Director Solo takes his film past the election date. Whether Boniface wins or not seems to be the climax but Solo shows that this is not that important in his movie.
Solo's SOFTIE turns out to be an emotional ride. The audience sees both sides and knows that there is no black or white solution. SOFTIE also shows the political climate of Kenya which is likely similar to many African States and other countries around the world where elections are often rigged and unfair.
The film is shot partly in English. The English portion comes with full English subtitles as it is difficult to decipher the Kenyan accent.
SOFTIE opens September 18th and expands to more on September 25th. Following its successful World Premiere at Sundance this year, the film was named an official selection at CPH:DOX, Full Frame Film Festival and the Opening Night Film at Hot Docs Film Festival. And it just won BEST DOCUMENTARY at the DURBAN INTERNATIONAL FILM FESTIVAL! A story that needs to be told and a doc worth seeing!
Trailer:
SUPERNOVA (UK 2020) ****
Directed by Harry Macqueen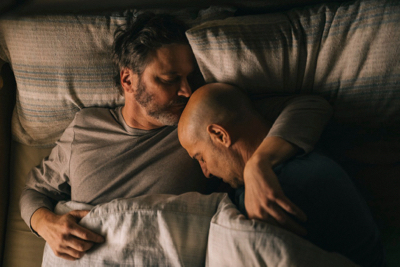 Sam (Colin Firth) and Tusker (Stanley Tucci) are traveling across England in their old RV visiting friends, family and places from their past. Since Tusker had been diagnosed with early-onset dementia two years back, their time together is the most important thing they have.
SUPERNOVA initially has the feel of the "THE TRIP TO…" series of films (THE TRIP, THE TRIP TO SPAIN, THE TRIP TO ITALY….) by Michael Winterbottom in which two food critics, Steve Coogan and Rob Brydon travel together joking and contemplating their lives. But the couple in this movie do not do famous people impressions but are a gay couple and their reason for travel of a more serious nature. It will determine what will happen to the rest of their lives together.
If it all sounds too damning that it might put one off, it is far from it. SUPERNOVA discusses a real problem in relationships when things beyond control start to fall apart. Here, the gay couple have had a wonderful relationship with a loving and unforgettable 20 years. But now, Tusker is suffering from dementia. Tusker and Sam are learning to deal with it with the only ammunition they have - their unfaltering love they have for each other,
SUPERNOVA gets my vote for top screenplay for its immensely powerful drama confronting the problem of growing old, and with all the ailments that go with it. The subject is an over 20-year old gay couple, but the same would also apply to a straight couple. The problem is looked upon from two opposing points of view - from the one suffering from dementia and the other one who has to deal with it. The script, however, does not give much background to the two characters. Tucci speaks in his native American, so one wonders how the American and Englishman met.
As the dementia gets worse, Tusker says: "I am becoming a passenger, and I am not a passenger." He goes on to say that he always wanted to be in control of himself. As the little signs manifest themselves like the dropping of dinner plates and the inability to write, Tusker decides that it is best to end his life so as not to be a burden. One of the film's saddest moments is when he tells Sam's sister that he will no longer be the same person but another person who looks the same as he was before. Tusker's point of view makes total sense. But when Sam finds out about the upcoming suicide, the two get into an argument over dinner. Sam makes his invaluable points as well. This is where the film begins a tug-of-war on emotions on who is right and who is wrong.
Tucci and Firth are great actors. Both deliver Academy Award winning performances. It is difficult to decide who performs better in their roles. If an actor is able to bring forth tears without dialogue, that is the sure sign of a winning performance. Watch for these two doing it.
My partner and I are ourselves a gay couple of 16 years and my mother and her mother had Alzheimer's. The film was a very difficult watch for me as I know I will likely inherit my family's Alzheimer's.
Trailer:
TRUE MOTHES (Japan 2020) **1/2
Directed by Naomi Kawase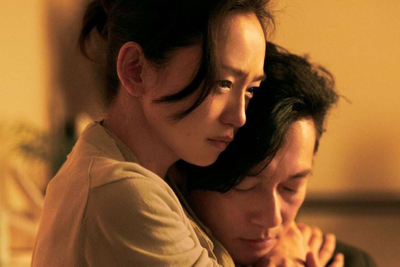 TRUE MOTHERS is an adaptation of a 2015 novel by Mizuki Tsujimura which tells the stories of several mothers, the most important being the adoptive mother and the birth mother. The film shows an incident and than flashbacks in time to show the emotions of the mothers and the incidents that led to that state of affairs. Asato the adopted son is accused of pushing and injuring a classmate. After that matter is resolved, the film goes back to show how Asato is adopted. Then there is a scene with the birth mother. The film goes back to show she got impregnated with him. TRUE MOTHERS is emotions shown raw but it is too slow a burn with the film running 2 1/4 hours. In 2018, Jeanne Herry's film PUPILLE (screened at Cinefranco) which shows the emotional and personal pains of the entire adoptive process in France achieved better results more efficiently and effectively.
Trailer: