FILM REVIEWS:
ANNE AT 13,000 FEET (Canada 2019) ***
Directed by Kazik Radwanski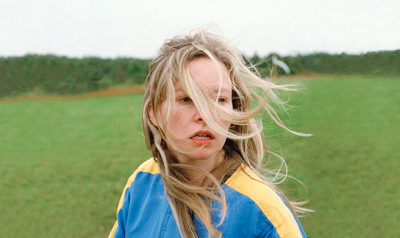 ANNE AT 13,000 FEET is released by Medium Density Fibreboard Films. Founded by Dan Montgomery and the director of ANNE AT 13,000 FEET, Kazik Radwanski in 2009, MDFF is committed to exploring naturalistic, narrative and documentary forms in filmmaking focusing on unique, director-driven projects that display a strong sense of cinematic handwriting.
This week sees MDFF's Canadian theatrical release of the breakthrough micro-budget feature Anne at 13,000 ft., from internationally renowned Toronto-based filmmaker Kazik Radwanski, starring CSA-nominated and award-winning actress Deragh Campbell in a star-making role.
The film is so-called because Anne, the protagonist who works at a child care centre in Toronto skydives at 13,000 feet during her colleagues bachelorette party. Anne enjoys the exhilaration and freedom skydiving gives her. She brings the new found exuberance into the workplace with not so good results. She is rebuked by a more experienced coworker who always seems to be on her case. Anne is picked on by her like a school bully. Anne also finds romance with Matt(Matt Johnson) who she meets at the bachelorette party. The film follows her during a short period of her romance and work at the centre.
One thing to notice about the film is that the camera is hardly more than a foot away from the subject objects. The keywords should be social-distancing. This is in your face filming that can be quite annoying and disturbing. Not a bad film if only director Radwanski would pull back his camera once in a while to show the film's background or set decoration.
Given what it is - in your face filmmaking, the technique does have its advantages. The camera keeps the audience constantly agitated and on their toes so that the audience is unable to take their eyes off Anne, whether she does good or bad. This is one way to keep the audience's attention throughout the film. Rawanski shoots primarily using a handheld camera as well, giving the film a jittery look. There is not much story in the film, just character observation, as we see And surviving or non-surviving her life. Campbell who plays Anne is very good.
The film had its World Premiere at the 2019 Toronto International Film Festival in the Platform Competition, where it received an honourable mention from the International Jury presiding over the section. The film also had its International Premiere at the Berlinale and screened at the prestigious New Directors/New Films festival curated by MoMA and the Film Lincoln Centre. Anne at 13,000 ft. was also nominated for four Canadian Screen Awards, including Best Film, Best Direction for Kazik Radwanski, Best Actress for Deragh Campbell and Best Supporting Actor for Matt Johnson, while Campbell took home best Canadian actress in 2019 from the Vancouver Film Critics Circle.
The film will screen virtually across Canada from February 19th on digital TIFF Bell Lightbox, followed by digital screenings at The Cinematheque in Vancouver from March 5th alongside an MDFF retrospective of shorts and features including Princess Margaret Blvd. (2008), Scaffold (2017), Fail to Appear (2017), Tales of Two Who Dreamt (2016), Tower (2012), East Hastings Pharmacy (2012) and more.
Trailer:
FLORA & ULYSSES (USA 2021) **
Directed by Lena Khan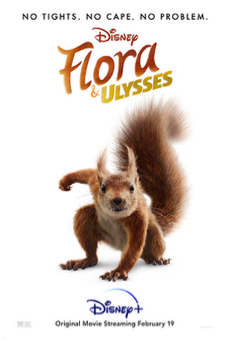 FLORA & ULYSSES is a live action animated new feature from Disney featuring a young girl, Flora and her new pet squirrel Ulysses, which she believes possesses super powers. It is a comedy-adventure based on the Newbery Award-winning book about 10-year old Flora, an avid comic book fan and a self-avowed cynic, whose parents have recently separated. After rescuing a squirrel she names Ulysses, Flora is amazed to discover he possesses unique superhero powers which take them on an adventure that ultimately changes Flora's life--and her outlook--forever. Only thing is that she is unaware what those powers are, though the squirrel appears to understand her and odd tricks - while also creating mayhem and major destruction knocking things about. Fiona's father works at a low level job at a store called Binders Keepers, whole mother is trying to write a book. Father is a failed super action hero comic book artist as his creations have all been rejected. The parents are separated though the film never explains the reason.
The film explains that Fiona is a cynic. A cynic never has hope, a cynic believes that hope gets in the way of action.
The film actually begins quite well, with lots of goofy hilarity but starts losing its mojo after 30 minutes or so, then dragging along miserably trying to hook on to its original humour.
The film is all over the place covering many issues without remaining on any. There is the super hero squirrel that Flora is trying to help. She thinks it has superpowers and the squirrel shows at one point that it has incredible strength. She still goes through a major part of the story trying to find its super powers and to train the squirrel to control its powers. It sounds funny and a little goofy but the humour is infantile and often too silly to be engaging. The segment where the surreal demolishes a donut restaurant, despite the special effects, is tiresome and unfunny.
A few good jokes do occur here and there. Some characters work and others do not. The father's young teen supervisor with his invisible remote, though goofy is quite funny and catchy. The pest control ranger demoted from game ranger to pest controller after a rabbit squirrel bit a camper is neither funny or inventive.
Fiona's parents are not that watchable either. Father is too much of a nerd , especially when he does his musical number in the store. It is neither catchy nor entertaining. Mother, writing a romantic novel in order to make the family some cash, is too much of a klutzy prude.
Director Khan steers her film towards a horrid climax - sappy, corny and totally silly.
Disney Studios has been known to deliver formulaic films, which they often work. FLORA & ULYSSES is that rare Disney flop that tries too hard, while using up all the cliches found in family animated animal movies. Rabid!
Trailer:
I CARE A LOT (USA 2020) ****
Directed by J Blakeson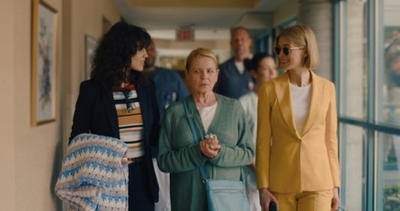 J Blakeson (THE DISAPPEARANCE OF ALICE CREED) writes and directs this black thriller comedy that is so absorbing that one is glued to the screen from start to finish. The story concerns Marla Grayson (Rosamund Pike), an unscrupulous money grabber who becomes the legal guardian of elderly clients through manipulation of the courts while sapping them of their wealth and belongings.
What Marla does is hunt out rich old people who have few or no relatives. She gets her conniving doctor friend to deem them incapable of caring for themselves and to issue an emergency court order to have Marla become their state guardian. Marla moves the victims to a home while possessing their assets - house, jeweller, art for herself and her partner.
Her latest victim is Jennifer Peterson (Dianne Wiest) who turns out not to be as harmless as expected. After being moved to a home, Marla finds out that as in the words of Jennifer: "You have fucked with the wrong woman." Jennifer happens to be the mother of a ruthless Romanian gangster (Peter Dinklage) who has connections with the Russian mafia. Marla has met her match and has to release the elderly Jennifer unless face unbearable circumstances.
Marla is at first threatened by the Romanian gangsters lawyer, Dean Ericson (Chris Messina). "Is this a threat? " She asks Dean after he threatens her. "No, it is data to be collated." When Marla's partner tells her to quit and let Jennifer go, Marla says that she has been threatened by men so many times and they were all baseless, except for 2." This is where one realizes the power of Blakeson's script. I have seen I CARE A LOT already once at the Toronto International Film Festival, and I always say that second viewing would be the ultimate test of a good film. The 2, which I realized here, only on my second viewing refers to 2 men, yes, but not in the past. One threat is current - Dean's and the other in the future - from a disgruntled son who threatened Marla at the beginning of the film. These two threats will be something to be reckoned with. I CARE A LOT, with its spicy dialogue, devious wickedness and the lightning pace gets my vote for Best Screenplay of the Year. As Blakeson moves the plot along with breakneck speed all the while keeping the story several steps ahead of the audience. With the film working so well, one can only hope the climax meets up with the thriller build up. It does. All the bad people get their comeuppance. That is the beauty of the story. With a most timely relevant and brilliantly entertaining script, I CARE A LOT is one of the most deliciously wicked films of the year. Pike, Dinklage and Wiest are superb. Awards all round!
Entertaining films like I CARE A LOT seldom, if ever win many awards because non serious films are often overlooked. This extremely entertaining film stands out for several categories:
Best Script by J Blakeson; Best Actress: Rosamund Pike; Best Supporting Actor: Peter Dinklage and Best Supporting Actress: Dianne Wiest
Trailer:
MAFIA INC (Canada 2020) ***1/2
Directed by Daniel Grou (Podz)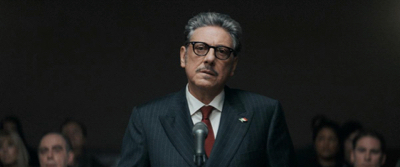 So brutally violent and scary, one can only gasp at the horrors human beings are capable of in the name of money and family. MAFIA INV is based on the non-fiction bestseller "Mafia Inc: The Long, Bloody Reign of Canada's Sicilian Clan" by André Cédilot and André Noël. The film runs a lengthy two and a quarter hours but fortunately is one of the best mafia films to come out of Canada.
The film is set in 1994. Frank Paterno (Sergio Castellitto), a Montreal mafia boss, hopes to legitimize his criminal operations by investing $180 million in an ambitious bridge project that would connect Sicily with southern Italy. This way, he can retire and not worry about being busted or any related crime wars. But first, however, he has to recover the necessary funds from his Greek creditor. Frank entrusts this mission to his protégé Vincent (Marc-André Grondin), the son of tailor Henri Gamache (Gilbert Sicotte), who has been dressing the Paternos for three generations. But after Vincent executes a ruthless plan to smuggle millions in drugs out of Venezuela, his reprehensible tactics ignite a war between the two families.
Director Grou noticeably leaves his mark during his direction. Three characters, when pushed to their limits, suddenly shout out loud in a burst of anger. The first incident occurs with Frank Paterno at Yap-Yap, the second with his son, Giaco (Donny Falsetti) at Vince and thirdly wth the Narcotics Detective uncertain with the way the investigations are going. These three outbursts appear at a distance from each other so audiences might not notice.
Superb performances are delivered all round, particularly from the film's two leads Sergio Castellitto as the family patriach and mafia boss and Marc-André Grondin as Vince, his Godson who carries things too far to please the boss.
The film, besides being set in a male dominated world, manages to show the strength of women despite the setbacks. No to reveal any spoilers, but Sofie (Mylène Mackay) emerges victorious over the men.
The film is supposed to be based true events. One of the most incredible events depicted in the film is the crash and death of the entire Venezuelan soccer team engineered by Vince. Vince had their bodies operated on, their insides removed and stocked with kilos of drugs. This was the event that sparked the mafia war. Wondering if the accident actually occurred in history, I googled the incident but nothing came up with references to any Venezuelan soccer bus accident. My guess is that this part of the story is fictionalized. Perhaps a reader of the review can shed more light on this matter.
Any mafia film is violent and sexually graphic, MAFIA INC being no different. The sexual segments contain scenes with female debasement, so female audiences be forewarned. To compensate, Sofie as a female rises over the men at the end.
MAFIA INC had problems with its theatrical run because of Covid-19, but is now widely premiering via virtual cinema, VOD and digital on Feb 19th.
Trailer:
THE MAURITANIAN (USA/UK 2020) ****
Directed by Kevin Macdonald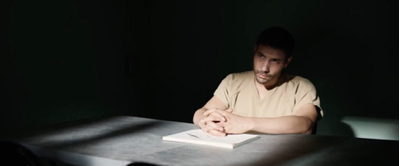 The illegal practices at Guantanamo Bay were made known to the world in Alex Gibney's TAXI TO THE DARK SIDE. The film that won the Academy Award for Best Documentary in 2007 examines US policy on torture and interrogation, specifically the CIA's use of torture and their research into sensory deprivation. THE MAURITANIAN tells again the story of one Mauritanian who was pulled out of his country and imprisoned for years without any charges laid against him. This is not a doc but a feature based on a true story. "This is a true story." The words clearly proclaim at the start of the film, which is based on the book entitled Guantanamo Diary written by the said Mauritanian after he was finally freed.
The feature THE MAURITANIAN is so called because the film's protagonist, Mohamedou Ould Salahi (Tahar Rahim) is from that west African state called Mauritania. The film is directed by Kevin Macdonald, no stranger to documentaries as he is also an Oscar winner for his doc ONE DAY IN SEPTEMBER in 1999 about the 1972 murder of 11 Israeli athletes.
The film follows Mohamedou Ould Salahi, who is captured by the U.S. government and languishing in Guantanamo Bay detention camp without charge or trial. Losing all hope, Salahi finds allies in defense attorney Nancy Hollander (Jodie Foster) and her associate Teri Duncan (Shailene Woodley, THE DESCENDANTS). Together, they face countless obstacles in a desperate pursuit for justice. Their controversial advocacy, along with evidence uncovered by formidable military prosecutor, Lt. Colonel Stuart Couch (Benedict Cumberbatch), eventually reveals a shocking and far reaching conspiracy.
The film's most difficult scenes to watch are the dimly lit torture scenes, shown mainly in flashback. As everyone knows by now, torture never befits any party as the tortured are so desperate, thy end up to confessing to everything. "I can now sleep again," Salahi says once the torture is over. The expressions of the faces of both Couch and Hollander say it all. Director Macdonald uses the images of their faces to say enough is enough.
The film is clearly on the side of political democracy. And it is clear that democracy and decency are violated at Guantanamo Bay proving that the Americans are worse than the terrorists that bombed 9/11.
The film goes into detail of the work involved in finding the truth. The amount of redacted material, the boxes and boxes of files, the hours put in by both the defence and prosecutor are clearly on show. The film centres on the change of heart by Couch who had his brother-in-law killed during 9/11. Couch was clearly out to get Salahi the death sentence but he finally discovers the torture he had gone through. The first meeting between Couch and Hollander makes the film's most interesting segment where the two debate on principles.
Foster and Cumberbatch are excellent. But the prize performance goes to Tahar Rahim, a name not that familiar to American audiences. Rahim is a Fresh actor of Algerian descent who shot to fame in Jacques Audiard's UN PROPHET in 2009.
THE MAURITANIAN does not provide any information that most audiences are already aware of from the news and past films but it is still an absorbing watch from start to end as it is a personal story of a man who was finally freed from Guantanamo Bay. Director Macdonald has never disappointed.
Trailer:
NOSE (France 2020) ***
Directed by Clément Beauvais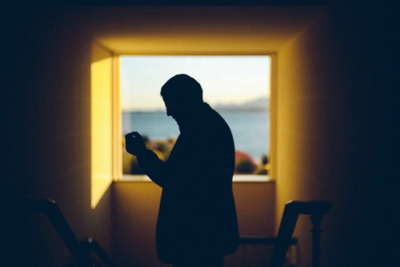 Despite the playful title NOSE, this feel-good or smell-good documentary is quite the serious look into the art of perfection of perfumery.
The documentary had its World Premiere at the Tribeca Film Festival last year. With exclusive access to Dior's "Maison de Parfums" creative process, this documentary unveils the fascinating role of the Nose at Dior; the most prestigious Fashion et Perfume brand in the world initiated by Christian Dior. For the first time in a documentary feature, the prestigious Maison Dior opened its doors to access the wonders of perfume creation. Travellers at heart, directors Arthur de Kersauson and Clément Beauvais followed the star of the doc and of Dior, François Demachy, during two years and over 14 countries, from Grasse to Nosy Be, through the coasts of Ireland, in his search for inspiration and the most precious raw materials.
The film opens with Demacchy in Indonesia smelling one of the raw materials, patchouli. after travelling for 3 days. The doc shows him sniffing other perfumery ingredients like roses of Grasse (a small town in France which specializes in growing the raw materials like roses) to Calabrian (in Italy) where a sour citrus fruit, bergamot is cultivated. One funny scene has him sniffing fruit, the red hairy rambutan that has only a slight scent. (I had a rambutan tree in the backyard of my house in Singapore when I was young.)
The film's subject Francois Demachy is quite the serious person who does not say much. The directors, therefore, uses his personality as a catalyst to explore other avenues , rather than use him to entertain. One of the women Demachy subcontracts to, says the same thing. She thought she was not given the job when Demachy left as he hardly had said anything during the initial meeting. But within this man lies a vast bed of knowledge, and it is this knowledge that makes NOSE such an intriguing film.
Demachy emphasizes the raw materials that go into the perfumes, akin to the fresh produce that makes a class Michelin star meal. One such ingredient is the ambergris. The scent of the ambergris is unmistaken and unique. The doc takes the audience to the wild coasts of Ireland where dogs sniff out ambergris, after being trained by the master. Ambergris is the extract of sperm whales. These creatures eat cuttlefish without being able to digest this thin flexible backbone which is sharp and damages the whales intestines. In time, these are eventually coated and excreted. Being less dense than water, the excretion floats to the surface of the sea and eventually gets deposited with rock or sediment offshore.
Other more common materials used are roses. The doc takes the audience to Grasse where the essence of the roses is distilled. Around 15 to 50 different raw materials go into the making of a single perfume and hence the high price of the product.
NOSE is available on demand on the following platforms: iTunes, Google Play, Amazon and Microsoft, February the 22nd.
Trailer: (unavailable)
IL PECCATO (SIN) (Russian/Italy 2019) ***1/2
Directed by Andrey Konchalovskiy
(Note alternative spelling of director's name: Andrei Konchalovsky)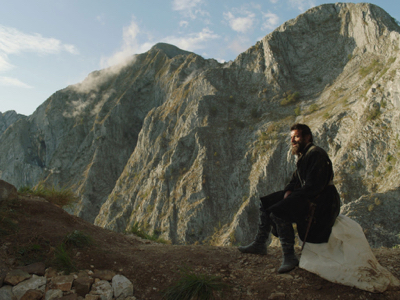 IL PECCATO (SIN) is Russian director Andrey Konchalovskiy's ambitious story of the life of one of the world's greatest artists of all time - Michelangelo Buonarroti (Alberto Testone) set during the span of his life when he was employed by two different warring families of the papacy. History and politics of the era would be good to know read up before watching the film, but director Konchalovskiy's narrative is not difficult to follow.
Michelangelo - deceiver, scoundrel or genius? That is what the film's poster reads. Director Konchalovskiy shows Michelangelo as all three including madman. The film opens in
Florence, early XVI century where the audience gets their first glance of Michelangelo, walking the streets in rags and tatters, spewing out complaints about Florence for its whores and ugliness.
Despite being the most famous sculptor and painter of the Renaissance, Michelangelo is reduced to poverty and depleted by his struggle to finish the ceiling of the Sistine Chapel. While painting the Chapel he is also pressured to simultaneously complete the statues which are part of the tomb designed and intended for Pope Julius II. The film moves on to the death of Julius II.
Michelangelo becomes obsessed with sourcing the finest marble to complete his tomb. The sourcing of the marble makes an important part and comes off as the most absorbing watch of the film. The artist's loyalty is tested when Leo X, of the rival Medici family, ascends to the papacy and charges him with a lucrative new commission – the façade of the San Lorenzo basilica. Forced to lie to maintain favour with both families, Michelangelo is progressively tormented by suspicion and hallucinations, leading him to ruthlessly examine his own moral and artistic failings.
The film's location scouts must be commended for the stunning looking expansive backdrop of the rock quarries. The logistics involving moving the marble, the raw material for the sculpturing must be incredible. The segment where the workers lift a gigantic back so big that the workers nickname it 'the monster' is breathtaking. The feat is achieved using Physics and the efficiency of using pulleys, the credit in the film also given to Michelangelo. The monster marble block had to be transported to the loading dock.
SIN contains the most impressive of all production design of any film seen this year. The coordination of work among all the departments must have been a tremendous task and headache.
There is not much of a story in Konchalovskiy's portrayal of Michelangelo. His film is a biography of a small section in the sculptor's life while showing all his deficiencies and madness. Konchalovskiy's display of the times are hard and disgusting. If not for constant reminding of the suffering of the poor (there are always chickens running around), the wealthy such as the new Medici, Leo X are struck down by sickness and ugliness.
It is hard to believe that this enormously impressive work came from the director who also made Hollywood trash like TANGO AND CASH and RUNAWAY TRAIN. His next film that is to be released soon is entitled DEAR COMRADES!
Trailer:
THE SINNERS (Canada 2020) ***
Directed by Courtney Paige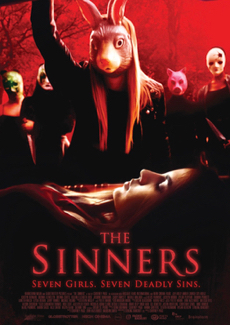 A Canadian film though set in the U.S., THE SINNERS is a treat for those like me, love films of the bad girls doing bad things genre. With a religious slant, THE SINNERS ends up meaner than MEAN GIRLS.
When schoolboys have problems, they meet for a fight in the schoolyard and duke it out. For girls, the problems are settled in a much different and complicated way, as observed in THE SINNERS. One member of the group has problems with the other members. The members deal with it by kidnapping her and dumping her body in the lake. No spoiler here, as this is how the film begins with the victim's voiceover. The film then moves back in time to explain how this event came about and then continues from there. The narrator of the film changes as well.
THE SINNERS follows seven girls (seven is picked because of the 7 deadly sins in the Bible) from a religious high school who decide to rebel by starting a cult in which they embody the seven sins. The seven deadly sins are greed, envy, sloth, gluttony, wrath, pride and sex. The film introduces all the 7 characters each assigned to their associated deadly sin. The most evil of them all is Grace Carver (sex which is called adultery in the Bible), the pastor's daughter and most popular girl in school. Trouble starts when she discovers her friend is about to air out all of their dirty little secrets. Action must be taken. As a scare tactic, the girls kidnap Aubrey (who denotes pride), but in the heat of an argument, she goes missing and is presumed dead. The sheriff is called into the picture.
In true Hitchcockian tradition and thanks to the script's 3 writers, their friend group begins to dwindle one by one. Grace and the remaining cult members realize there is a much darker secret behind their small town. The girls question whether they'll survive the rest of the school year and investigate the mystery behind the missing bodies. If they cannot figure it out, they could be suspects, or worse, victims.
Director Paige appears to be having a field day with her cult comedy mystery. "In my high school years, I was a big fan of Jawbreaker, Cruel Intentions, and Scream," says Paige. "I love thrillers and teen cult classics, so I wanted to tell a story that was based on something I was familiar with. Growing up as a cheerleader in the same type of small town surrounded by people who were raised in strict religious households, inspired me to choose this as the theme of my directorial debut."
Prior to release, THE SINNERS toured the world festival circuit including being invited to the UK's prestigious FrightFest, Brazil's Fantaspoa Film Festival, and the Women in Horror Film Festival. The film has won several festival and cinematography awards including Best International Feature at the Catalina Film Festival, Best Horror Film at the Canadian Cinematography Awards, and Best Aerial Cinematography at the Los Angeles Cinematography Awards.
THE SINNERS will be debuting on Apple TV, Bell, Cineplex, Cogeco, Eastlink, Google Play, Microsoft XBOX, Rogers, Shaw, and Telus February 19, 2021.
Trailer:
SOME KIND OF HEAVEN (USA 2020) **
Directed by Lance Oppenheim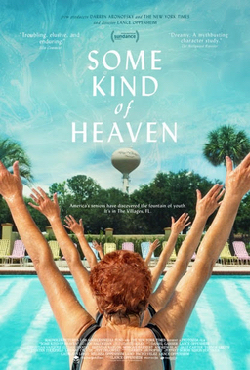 The SOME KIND OF HEAVEN referred to in this documentary is The Villages, a huge retirement community in central Florida.
Every human being deserves to be happy. Or to be in heaven. The trouble is that the longer one waits, the harder it gets. SOME KIND OF HEAVEN offered this opportunity to elderly folk. Oppenheim's doc takes a candid look at the Villages, from the residents' point of view.
The Villages, America's largest retirement community is a massive, self-contained utopia located in Central Florida. Behind the gates of this palm tree-lined fantasyland, Some Kind of Heaven invests in the dreams and desires of a small group of Villages residents – and one interloper – who are unable to find happiness within the community's pre-packaged paradise.
Anne and Reggie have been married for 47 years, and looked forward to a happy retirement life. But Reggie got lost somewhere along the way, both to dementia and to the pursuit of drugs. It is up to Anne to try to bring him back, and help him out of a drug charge he finds himself facing. David is not actually a resident of The Villages, but lives in his motor home and is cruising around the community looking for a woman who will let him move in with her. He is running out of money and needs to find someone quickly. Barbara is a widow who moved to The Villages from Massachusetts with her husband, who died shortly afterwards
The most interesting subject is the couple. Reggie annoys his wife, especially with his addiction to drugs, yes even at his age. His wife tolerates. His wife looks at ways to handle things. And she wonders how she can help him go through what he is dealing with. It is a tough time for both. Eventually, Reggie is arrested for possession and has to attend court.
Religion, the staple of old people, is brought into the picture at the Villages. One sermon is played for the audience, the typical one where it is preached about being saved and the safety and comfort of being saved.
Does the Villages live up to expectations? That is the question Director Oppenheim poses. The film reflects both answers.
Old people have to be careful of scammers who take advantage of old people. The film shows that old people are just as guilty as there is an elderly who is looking for a wealthy woman to invite him to live with him, while supporting him at the same time.
Lock it in at today's price and you are locked in for the rest of your life. You can go in at any time. This is the sales pitch given to the elderly to buy a place in 'heaven'.
One noticeable thing is that all the residents are all white - with no black or minorities.
SOME KIND OF HEAVEN is a light and easy watch, both for those elderly and those aching the age where they are considering their options, but not for teens and younger. But as a doc on the subject of retirement in senior homes, it is a shallow look, focusing only on a few more interesting residents while not going into any depth into the institution or the system. A few insights, a few warnings and a film to watch while taking things with a pinch of salt.
SOME KIND OF HEAVEN will be released in theatres and on virtual cinema as of February 19th, 2021.
Trailer:
TELL ME YOUR SECRETS (TV Series - 10 Episodes)
Created by Harriet Warner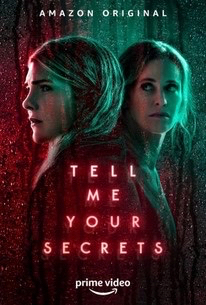 Premiering on Amazon Prime on Feb the 19th with all 10 episodes, the first of the series of 10 introduces the audience to the 3 main characters of the series - two women and one man, so as to get the gender number correct.
The deliciously wicked title means that each character has his or her own secret. Which secret is the most deadly?
The complex thriller revolving around three characters, each with troubling pasts clouding their intersecting motives: Emma (Lily Rabe) is a young woman who once loved a dangerous killer, John (Hamish Linklater) is a former serial predator desperate for redemption, and a grieving mother Mary (Amy Brenneman) who is obsessed with finding her missing daughter.
All written by Harriet Taylor, the first episode is interesting enough for the audience to want to watch the next episode. The paths of the three characters, one would expect would eventually crosspatch, but to so early as in the first episode.
Trailer:
https://mail.google.com/mail/u/0/#search/tell+me+your+secrets/FMfcgxwLsKFQGRjBDKsvqnZTKJsDwzdB?projector=1
TEST PATTERN (USA 2019) ***
Written and Directed by Shatara Michelle Ford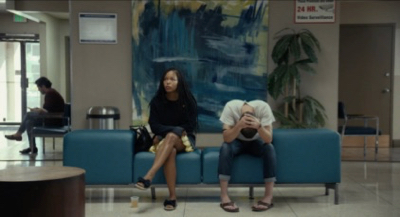 TEST PATTERN is a film to be praised for covering several urgent world issues all at one go. The film is a female themed film with a female director and female protagonist. She is black covering equitable employment and the story involves a rape thus including the #metoo movement in its sphere of filmmaking. The film also touches on the topic of health care and policing, thus scoring full marks as a relevant film of the times.
Writer/director Shantara Michelle Ford tells her story from a strong feminine viewpoint while not putting down the masculine gender as is the trap a lot of female oriented films fall into. The black woman's white boyfriend is considerate, kind and likeable, despite having an occupation most people would look down upon - that of a tattoo artist. The film scores yet another point playing against stereotyping.
Ford's film begins with the meeting of the couple, him drunk getting his Dutch courage to ask her for a phone number while she is chatting wth her girlfriends. A simple date leads to an invitation to her place, and a rather posh one at that, an apartment with a view. Sex follows.
What is remarkable about Ford's film is the seemingly effortless flow of her story. There is a certain uneasiness when the two first meet, just as one is uneasy on a first date with a stranger. Ford taps the audience's uneasiness as well as their curiosity as to how the relationship will unfold. There is a feeling of something ominous about to happen.
The trouble occurs during a girl's night out. Renesha (Britany S. Hall) leaves her boyfriend, yes, they are now a couple, Evan (Will Brill) at home while she meets Amber (Gail Bean) at a bar. Two men entice them with drinks and dance and before long, both have taken edible gummies. Renesha wakes up in Mike's (Drew Fuller) bed, not remembering what had happened. She return home to her boyfriend, who insists she get tested at a hospital to determine if she was date-raped.
It is at this point that the story takes a different turn. The couple's relationship takes a different turn as well The first signs of a strained relationship is the couple's problem in being able to get a rape kit test.
Getting tested with a rape kit is tremendously important for both Evan and Rashida. A rape kit is a package of items used by medical personnel for gathering and preserving physical evidence following an allegation of a sexual assault. The evidence collected from the victim can aid the prosecution of a suspected assailant. DNA evidence can have tremendous utility for sexual assault investigations and prosecution by identifying offenders, revealing serial offenders through DNA matches across cases, and exonerating those who have been wrongly accused
Revealing much of the story would spoil it for the film, safe to say that the film changes from a romantic to a psychological drama.
Trailer:
TRUTH TO POWER (USA 2020) ***
Directed by Garin Hovannisian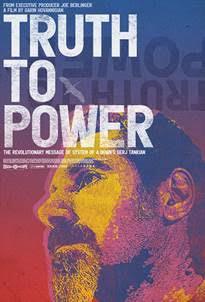 Can music change the world?
The doc TRUTH TO POWER shows how the power of music can indeed change the world.
System of a Down (also known as SoaD or simply System) is an Armenian-American heavy metal band formed in Glendale, California, in 1994. It currently consists of members Serj Tankian (lead vocals, keyboards), Daron Malakian (guitar, vocals), Shavo Odadjian (bass, backing vocals), and John Dolmayan (drums), who replaced original drummer Andy Khachaturian in 1997. The band achieved commercial success with the release of five studio albums, three of which debuted at number one on the US Billboard 200. System of a Down has been nominated for four Grammy Awards and their song "B.Y.O.B." won a Grammy Award for Best Hard Rock Performance in 2006. The headliner of the doc TRUTH TO POWER is the lead vocal Serj Tankian, who has quite a lot to say about anything and everything on camera.
The doc is not a biopic on Tankian. There is only a brief mention of his childhood and how his band got started. And also how he got into politics. He decided while driving that he wanted to get into music and make a difference.
Serj Tankian helps to awaken a political revolution on the other side of the world, inspiring Armenia's struggle for democracy through his music and message.
Millions fill stadiums across the world for the sound of Serj Tankian, the Grammy-winning lead singer of System Of A Down. With exclusive interviews, adventures, and original footage personally filmed by Serj, TRUTH TO POWER allows audiences backstage access to an international rock star whose faith in music not only revolutionized heavy metal, but also world events. Throughout his life, the musician has pursued social justice, harnessing the power of his songs and celebrity for real political change. Serj's voice is equally likely to take on American corporate greed as lambast the corrupt regime of his homeland. His decades-long campaign for formal U.S. recognition of the Armenian Genocide was finally approved by Congress last year.
In this documentary as well as in many docs, the ex-President Trump rears his ugly face to do the world more harm than good. After the Armenian Genocide was finally approved and recognized by Congress last year, Trump continued to sell arms and military equipment to Turkey.
TRUTH TO POWER is also an artist portrait with a revealing look at the musician as he writes music--from inception to recording--and pursues ambitions outside of the band. It includes memories from legendary producer Rick Rubin on System Of A Down's early years and its unlikely breakthrough, the bandmates' candid insights about the splinters and high points for the group, and stories from Rage Against the Machine's Tom Morello on his bond with Serj as social justice advocates and their "Axis of Justice" nonprofit.
Director Hovannisian steers the film to its moving climax with Armenia's largest protest of social disobedience showing how music can change the world.
Trailer: