FILM REVIEWS:
BAD CUPID (new title: PRICK'D)(USA 2020) *
Directed by Diane Cossa and Neal Howard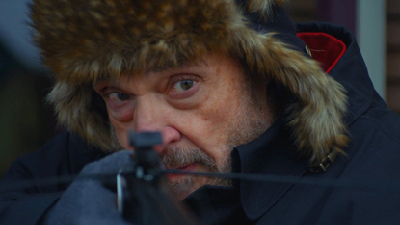 BAD CUPID shows how difficult it is to do good comedy. Just as a standup comic could be on a roll or just die in front of a love audience, a similar situation arises for a film comedy.
IN BAD CUPID, the first 15 minutes or so are just terrible. My first laugh came after that when David (Shane Nepveu, who in this film proves to be an actor delivering the worst performance of the year) defends himself by throwing a toilet roll at Bad Cupid. That is how bad awful the film is, if that action is the film's funniest part.
The film's premise has Cupid (John Rhys-Davies) in the form of a man named Archie with a British accent (luckily he is not going around in diapers). Archie is a God on a mission to ensure that true love always wins. Or, short of that, that someone is going to die trying. Not that he particularly cares which outcome it is. That's Archie's approach to romance and beware anyone who gets in his way, especially anyone he's actually trying to help.
The unfortunate couple Archie is trying to help is David and Denise. Denise has just broken up with David at the start of the film. David is heartbroken believing that he and Denise will get back together again. Things are not helping when his cousin, Morris (Briana Marin delivering the second worst performance of the tear) is constantly offering a helping hand. If one is wondering if Morris and Dave will get together as a couple, the script makes sure the answer is a no. For one, Morris is his cousin. Secondly, she is a lesbian. So, help finally arrives, courtesy of BAD CUPID.
In an attempt to see Denise again, Dave discovers that Denise is about to be wed. At the bar where he sadly pops out his heart to Morris, the all eavesdropping Cupid decides to help. He abducts the groom-to-be in a toilet stall.
All the above actually sound pretty hilarious. Unfortunately, the film is quite uneven. This is both bad and good. A bad thing because the film sucks at the beginning and the good thing is that it got so bad that the film has no way to go but get better. This is when Rhys-Davies appears. Davies hams it up to the fullest making all his silly lines sound like top of the line jokes.
BAD CUPID suffers from the filmmakers trying too hard to be funny. The actors playing Dave and Morris are not very good comedians either, and in a lot of scenes, just appear to be reciting their lines. The desperation to be funny is evident too, in many scenes like the one where Morris pushes a bagel at Davies face as if it was a very funny move. The desperation arrives at its worst when animation is brought into the film. One animated sequence has Dave and Stela riding on a smiling bull.
BAD CUPID might just be a bad decision of a film to take a date to during Valentine's Day. After BAD SANTA and BAD CUPID, what will come next?
Trailer:
BARB & STAR GO TO VISTA DEL MAR (USA 2021) ***
Directed by Josh Greenbaum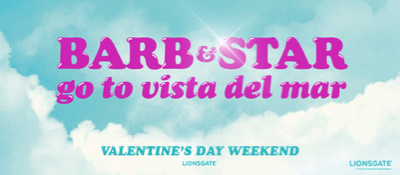 The new comedy by Kristin Wiig has the feel of MICHELLE AND ROMY'S HIGH SCHOOL REUNION and BRIDESMAIDS. Add in the comic antics of Damon Wayans Jr. (who actually is not that funny here) and what would be expected is a top-notch comedy, just what the doctor ordered to get rid of the Covid-19 blues. As the title BARB & STAR GO TO DEL MAR implies, it is a story of two close friends who go for an all-inclusive holiday and the non-serious title indicates anything can happen in terms of plot. And it does!
Barb (Wiig) and Star (Annie Mumolo) lose their jobs at the start of the film. They work a horrid job at a furniture store in a mall. But to them, it is the best job in the world. They get to be together all the time. Even if one is working and the other not, they both show up at the store to support each other. They share laughs and the tales of their good old times. Best Friends! Then one day, the store closes due to a takeover. Not knowing what to do after being kicked out of their 'Chat Club' they decide to caution the wind and take a holiday to Vista Del Mar.
The plot is complicated by an evil lady who wants to destroy the town of Vista De Mar by a horde of mosquitoes. She sends her number one man (Jamie Dorman), the cutest male at the resort. He is also the hottie from FIFTY SHADES OF GREY and the recent WILD MOUNTAIN TYME. His presence should be enough for hundreds of females to buy an admission ticket. The film includes a 10-minute sequence celebrating his chiselled body.
There is a laugh a minute and there is enough comedy here to satisfy comedy fans. Wiig is good at timing and the jokes aren't half bad. The plot, however, is not top rate. It is predictable and one can tell that the romance will come to fruition. Actually, this is the best film I have seen related to valentine's Day. The plot that includes destroying Vista Del Mar is too over-the-top especially at the end with the appearance of Trish, a water spirit. Barb and Star are also saved from a huge fall by their culottes. If you do not know what what culottes are, don't worry - the film explains what they are at the start.
The film's message on the importance of friendship is all a bit stretched and the writers know it. At the end they play it up with the well known saying that of all the ships, friendship is the most important. The soundtrack contains well known cheese hits including the theme song from TITANIC, Celine Dion's 'My Heart Will Go On'.
If one is also to throw caution to the wind and not expect a comedic masterpiece, then BARB & STAR GO TO DEL MAR should satisfy.
The film is available February 12, 2021 on PVOD.
Clip:
BREAKING NEWS IN YUBA COUNTY (USA 2020) ***1/2
Directed by Tate Taylor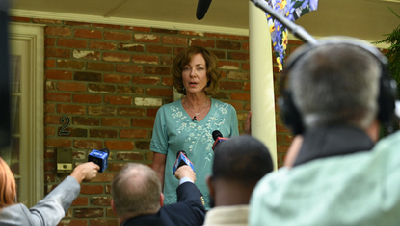 BREAKING NEWS IN YUBA COUNTY is a timely female slanted comedy about self-worth and taking hold of one's worth. It is excellent to watch a low esteemed person take control of her life and make it all worthwhile. This makes the new comedy BREAKING NEWS good news for moviegoers to have solid laughs during these depressing times.
The film has an excellent cast, credit going to the casting director. Allison Janney, from I, TONYA deserves full credit as the main character delivering an excellent performance eliciting the audience's sympathy and later cheers. Mila Kunis from BAD MOMS, Juliette Lewis, Golden Globe Winner Awkwafina, Wanda Sykes and even Regina Hall all lend their hand in giving this comedy that extra drive.
The film begins by establishing the main character's low esteem. When Sue Buttons (Janney) collects the birthday cake she ordered for herself, she finds her name spelt Suc instead of Sue. When she queries the lady at the cake counter, she is brushed off with a "Credit or cash?" In the parking lot, Sue has to dodge a vehicle while going to her car. Her husband (Matthew Modine) has forgotten her birthday, and so has her sister (Kunis). Worst still and funniest is when she puts on the headset at the call centre where she works. She greets the person on the phone only to get the response: "Fuck you!" All in the while, Sue is muttering: "I am strong. I am important. I am capable. I matter."
The film then shifts to introduce all the other characters in the story. There is her husband's brother (Jimmi Simpson) who works in a store with Rita (Wanda Sykes), a petty thief who gets his brother, Karl, who works in a bank to launder money for him. The money comes from crooks, one of which is Mina (Awkwafina) who has to prove to her father that people need to be scared of her. Then, there is Gloria Michaels (Juliette Lewis) who hosts a show that tells public stories to get her high TV ratings. Her latests news is the disappearance of a missing child Emma Rose.
If it seems that there are far too many characters for the plot, the script by Amada Idoko ties everything together neatly and effortlessly. When Sue finds her husband(Matthew Modine) cheating on her at a cheesy motel and dies of a heart attack, she buries him and claims him missing. She makes up the story that her husband was abducted and lies that he mentioned to her that he knew the whereabouts of Emma Rose. All this brings Sue Buttons celebrity status and her self worth shoots up sky high.
Nothing more should be said of the story as the surprise is important to enjoy the film. Safe to say, the comedy gets black and blacker towards the climax in this extremely well paced film.
The film contains an eclectic cast, again credited to the casting director. It is good to see a film with whites, blacks, asians and hispanics all blend together in the story so that race doesn't matter.
Though a bit uneven in delivery, BREAKING NEWS IN YUBA COUNTY is still a stand-out black comedy.
Trailer:
COWBOYS (USA 2020) ***1/2
Directed by Anna Kerrigan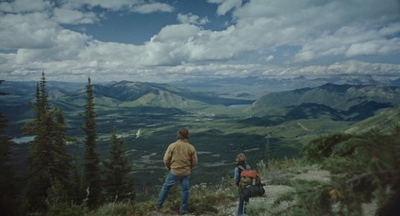 COWBOYS is the story of a troubled family. It follows a troubled but well-intentioned father who has recently separated from his wife who runs off with his trans son into the Montana wilderness after his ex-wife's refusal to let their son live as his authentic self.
COWBOYS benefits greatly from all 3 main performances.
Steve Zahn with full beard looks and acts the part of the overactive father, Troy. With his full grown beard and wide smile, Zahn looks like a kind of crazed hillbilly who would suddenly pop up and sock you in the head with a good one. His character shows two different sides of the man. Troy is taking medication, which one assumes is to moderate his moods, as he is shown in one scene hyperactive, unable to slow down taking in everything together at once. Troy also has an affectionate side which he shows to Joe. Troy is able to understand and respect Joe whereas the mother cannot.
Jillian Bell, a funny actress who has always been great in whatever film she has been in, my favourite being BRITANY RUNS A MARATHON, does full drama here without comedy. In one moving scene, she complains that no one wants to be a woman, the gender that is stuck with chores like cleaning the toilet and cooking compared to the male who has cooler things to do. Bell creates a character that the audience can identify with and feel sorry for. She wants to help her daughter, but goes about it in the wrong way. Bell does wonders for this wonderful role.
As for the kid, the casting of a boy, Sasha Knight for the girl, Hoe's part is a good idea. To make the character of a transgender believable, it would be best to cast a boy in a girl's part. Knight's features are definitely masculine, and whether Joe wears a wig or a dress, Joe still looks like a boy, like a boy in a girl's body, which is what the film is supposed to depict.
"Joe is not some lump of clay. Joe is Joe. We either accept that or you fuck him up." these words from Troy to Sally, and what is most remarkable is his referring to H=Joe as a he and not a she.
As for the supporting cast, Anm Dowd and Gary Farmer do wonderful work as Detective Faith and Troy's pal respectively,
The story unfolds in a non-linear timeline. The audience sees the father and daughter camping in the wilds of Montana, but these scenes are intercut with flashbacks to the events that led before the camping.
COWBOYS is a drama covering several key issues like child kidnapping, PTSD, transgender acceptance, child custody and respect for the wild.
The cinematography is stunning, courtesy of cinematographer John Wakayama Carey. He captures the beauty of the Montana wild while creating a very exciting segment occurring at night with little light when Joe almost drowns in a gushing river, only to be saved just in the nick of time by Troy.
COWBOYS is a solid drama covering several key issues that plague many families. One wishes, while watching throughout the film, a good ending for the story's tortured souls. Whether they achieve it is another matter, but the film shows that the difficult achievement comes with lots of hard work, love and most of all, tolerance.
Trailer:
JUDAS AND THE BLACK MESSIAH (USA 2021)
Directed by Shaka King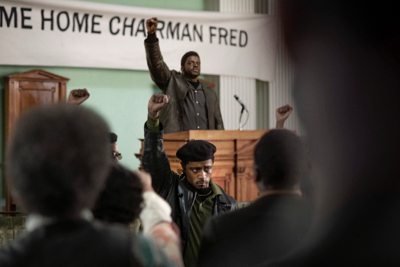 Trailer:
THE MAP OF TINY PERFECT THINGS (USA 2020)**
Directed by Ian Samuels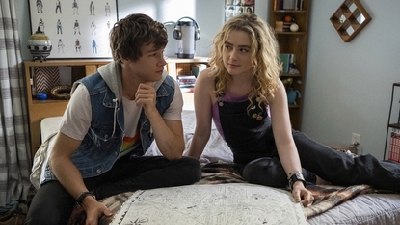 THE MAP OF TINY PERFECT THINGS is a film based on the overdone well-worn genre with the theme of a character or characters stuck in a time loop. In THE MAP OF TINY PERFECT THINGS, Mark is stuck in what he describes, as a temporal anomaly. At midnight, he goes to sleep, waking up the next morning to the sound of a honking car to relive the same day again and again.
Ever since Ivan Reitman's GROUNDHOG DAY (1993), the same day theme has been popularized and also quite widely used. My favourite is two time loop horror films HAPPY DEATH DAY in 2017 and last year's KOKO-DI KOKO-DA by Johanne Nyholm. The latter is my favourite where a couple keeps getting killed by psycho killers while camping in a tent. They relive the same situation and the guy still gets killed, horribly, but never learning from the past. It is both hilarious and also terribly scary as the killings become more and more violent and a bit different. In THE MAP OF TINY PERFECT THINGS, the gimmick is used in a teen love story - unfortunately quite a boring one, particularly for adults. Mark is a non-ambitious teen, who behaves as if he is the smartest boy on the planet, just because he relives the same day. and knows what exactly is going to happen next. When his father wants to have a man-to-man talk with him about the future, he lashes out, seeing no use at being ambitious since he will relive the same day.
Mark falls in love after noticing a girl who is stuck in the same time loop. However, for no main reason, she thwarts his romantic advances. Mark makes a map of tiny perfect things that occurs daily, hoping to make a perfect day of things.
The script tries to tie in current issues like global warming and aging, but never leads anywhere. Mark needs a waking up, and the story uses Margaret to help on his coming-of-age. mark's sister, Emma thinks Mark should consider important things like saving the planet.
Of course, there are two ways of looking at things. Mark's sister loses her soccer game 3-0. He sees her losing all the time but Margaret sees it as an opportunity to change the day.
The ultimate aim of Mark is to get out of the time loop. He thinks that taking a flight (to Tokyo) might do the trick. Where does the writer get his weird ideas from?
Despite a few fresh segments (like the beginning rather cool sequence that the film never matches up), THE MAP OF TINY PERFECT THINGS ends up as a teen romantic fantasy with the time loop as an unnecessary gimmick. Adults should find the teen romance quite tiring.
THE MAP OF TINY PERFECT THINGS is an Amazon Studios original movie available on Amazon Prime on February the 12th.
Trailer:
SAINT MAUD (UK 2019) ***1/2
Directed by Rose Glass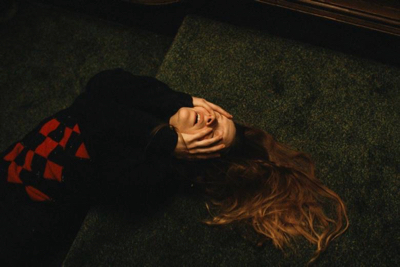 SAINT MAUD opens at night time, which suits the bleak nature of the film's content, with nurse Maud (Morfydd Clark) visiting her new but dying patient for the first time at her residence. "What's she like?" asks Maud to the last care-giver leaving the residence. "A bit of a cunt," comes the answer.
Cunt or no cunt, Maud delivers her all to her dying patient Amanda (Jennifer Ehle) a vivacious character who used to be a minor celebrity in the dance scene. Now Amanda is homebound, chain-smoking and drunk half the time. The pious Maud makes it her duty to save Amanda's soul at all costs, thus elevating her monotonous palatial job to a higher calling. Maud believes herself to be a saint (she wears a necklace of Saint Magdalene) and her belief is encouraged when Amanda tells Maud that she is her little saviour. Amanda has a female lover, Carol (Lily Frazer) who she gets drunk with. Carol gets told off by Maud in one of the film's more amusing scenes. The trouble is that it is eventually revealed that Amanda has no intention of being saved and that she is just playing around with Maud.
This is where nothing is totally clear as to what Maud is doing. The ambiguity here is a good thing, which writer/director Glass utilizes to the fullest. The ambiguity is often revealed in split second edits - such as one scene where the audience sees Maud with angel wings and then she burns in fire. Maud is also shown to be human with sexual desires as in the disturbing sex encounter with a portly bearded man she rides on.
It helps that Glass has the excellent Morfydd Clark deliver one of the most disturbing and obsessive behavioural characters - a sort of Carrie's mother (played by Piper Laurie) in Brian De Palma's CARRIE coming to life as a nurse. Clark also shows vulnerability in Maud's character.
The story is straight forward. It centres on the character of Maud such as in the recent film THE ASSISTANT where the film delves totally on the occupation of the subject. It is not a plot twist that is important but the character of the subject. SAINT MAUD tracks the downward spiral of Maud from do-gooder to crazed paranoid maniac.
The film's backdrop is a North Sea seaside town in Scarborough, England, a town with casinos, a trashy pier and dodgy bars. It reflects how society has degraded to this low level of entertainment and recluse. Director Rose knows how to use atmosphere - the town and the old house to evoke genuine scares. At times, her film feels both like a Gothic horror and psychological thriller.
SAINT Maud is not a feel-good film about a likeable character doing good for the world but it is a very well-made document of the failure of society to care for the disturbed and those who really need help. A little film about obsession that has made its mark where it has been screened.
Trailer:
SKYFIRE (China 2021) ***
Directed by Simon West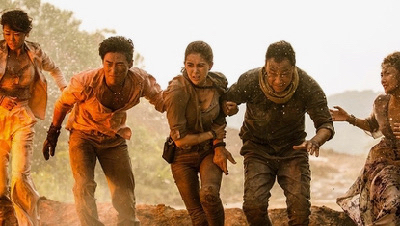 Finally coming from China - JURASSIC PARK with volcanoes instead of dinosaurs.
SKYFIRE contains the standard cliched storyline for a disaster movie. Has China stolen American trade secrets here?
Little Meng Li loses her mother (Alice Rietveld) escaping a volcano eruption. Estranged from her father (Wang Xuegi), adult Meng Li (Hannah Quinlivan) is now working as some volcano scientist expert at the island of Tienhoa, which in English means SKYFIRE. Father, also an expert in the field, now comes to the island to warn Meng Li of impending danger. Lo and behold, surprise, surprise! Volcano erupts, a big disaster movie in the making with big box-office receipts exploding. The island contains a luxurious tourist resort owned by a white developer, Jack Harris (Jason Isaacs). People need to be saved! And I need to go to a resort like this after Covid-19.
To give director West and the film crew credit, the heavy CGI and special effects are quite impressive. The most impressive on the list is the look of the tourist resort with expensive cable cars going through the mountains, structures and mountain scenery. When the volcano erupts, the stunts where the escapees have to jump from one moving cable car to another is exciting as in the one with a truck having over the cliff, held only by a rope. Some scenes are one the top, like the fireballs shooting out from the volcano crater like bullets and tossed hand grenades.
The women engineers appear to have all the answers to solve the problem of the erupting volcano and save the city. Here is another one up for the female presence. But here, it all seems too obvious when the women talk about solutions and all the male counterparts just stare in disbelief.
The music is hilarious in that it tells the audience how to feel at any point in the film. It crescendos during the action sequences and moves to quiet and dialogue in the sad scenes.
The young actors in the film are perfect specimens of human beings - all looking drop dead gorgeous - both male and female. Lots of eye-candy to distract from the nonsense disaster at hand.
The villain of the piece appears to be the rich developer of the resort, Jack Harris who at one point in the film, assures the vacationers at the resort that the place is completely safe and no eruption has occurred for a very long time. But at least he is not shown to be all bad. He gets to save a crying young Chinese girl, when the volcano erupts.
Extremely tacky, silly, cliched and outlandish made worse by white people speaking Chinese with incorrect accents, SKYFIRE is exactly what is expected in a blockbuster disaster move from China. It is best to take it all in with a pinch of salt and be prepared to laugh a lot.
Director Simon West moves from Hollywood to the east shooting his first big Chinese disaster blockbuster. West owns the title of being a director making more than $100 million for his first 3 movies - THE GENERAL'S DAUGHTER, CON AIR and LARA CROFT: TOMB RAIDER. But wait, THE GENERALS DAUGHTER and well as LARA CROFT both won awards for the worst movie of the year.
At least the film runs for only 90 minutes, which is as much anyone can take.
If one stays for the closing credits, there are some neat scenes that reveal how a few of the disaster sequences are shot. But beware! The closing credits also come with a music video of a new song sung by Quinlivan's husband, Chinese pop star Jay Chou, performing as if he was God's gift to mankind. If this doesn't give one the goose pimples, nothing will! The film gets three stars for cheesiness.
Trailer
SUPERNOVA (UK 2020) ****
Directed by Harry Macqueen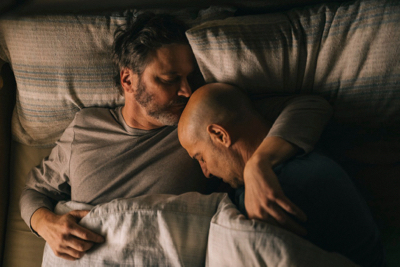 Sam (Colin Firth) and Tusker (Stanley Tucci) are traveling across England in their old RV visiting friends, family and places from their past. Since Tusker had been diagnosed with early-onset dementia two years back, their time together is the most important thing they have.
SUPERNOVA initially has the feel of the "THE TRIP TO…" series of films (THE TRIP, THE TRIP TO SPAIN, THE TRIP TO ITALY….) by Michael Winterbottom in which two food critics, Steve Coogan and Rob Brydon travel together joking and contemplating their lives. But the couple in this movie do not do famous people impressions but are a gay couple and their reason for travel of a more serious nature. It will determine what will happen to the rest of their lives together.
If it all sounds too damning that it might put one off, it is far from it. SUPERNOVA discusses a real problem in relationships when things beyond control start to fall apart. Here, the gay couple have had a wonderful relationship with a loving and unforgettable 20 years. But now, Tusker is suffering from dementia. Tusker and Sam are learning to deal with it with the only ammunition they have - their unfaltering love they have for each other,
SUPERNOVA gets my vote for Best Screenplay for its immensely powerful drama confronting the problem of growing old, and with all the ailments that go with it. The subject is an over 20-year old gay couple, but the same would also apply to a straight couple. The problem is looked upon from two opposing points of view - from the one suffering from dementia and the other one who has to deal with it. The script, however, does not give much background to the two characters. Tucci speaks in his native American, so one wonders how the American and Englishman met.
As the dementia gets worse, Tusker says: "I am becoming a passenger, and I am not a passenger." He goes on to say that he always wanted to be in control of himself. As the little signs manifest themselves like the dropping of dinner plates and the inability to write, Tusker decides that it is best to end his life so as not to be a burden. One of the film's saddest moments is when he tells Sam's sister that he will no longer be the same person but another person who looks the same as he was before. Tusker's point of view makes total sense. But when Sam finds out about the upcoming suicide, the two get into an argument over dinner. Sam makes his invaluable points as well. This is where the film begins a tug-of-war on emotions on who is right and who is wrong.
Tucci and Firth are great actors. Both deliver Academy Award winning performances. It is difficult to decide who performs better in their roles. If an actor is able to bring forth tears without dialogue, that is the sure sign of a winning performance. Watch for these two doing it.
My partner and I are ourselves a gay couple of 16 years and my mother and her mother had Alzheimer's. The film was a very difficult watch for me as I know I will likely inherit my family's Alzheimer's.
Trailer:
TO ALL THE BOYS: ALWAYS AND FOREVER (USA 2021) **
Directed by Michael Fimognari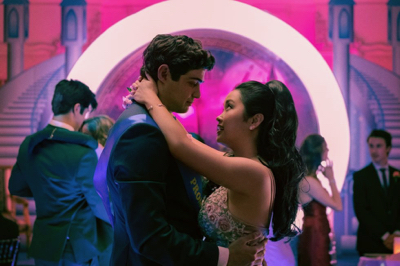 (embargoed Feb 11 at 9pm)
The 3rd film in the franchise, after TO ALL THE BOYS I'VE LOVED BEFORE and TO ALL THE BOYS P.S. I STILL LOVE YOU, FOREVER AND ALWAYS comes directly to Netflix on Feb the 12th just in the for Valentine's Day. Warning: this is a feel good teen romantic comedy so adults be forewarned that it is best to stay away. The other Valentine's Day movie for adults also opens on the same day called BAD CUPID. That film is even worse.
The film again centres on teen Lara Jean (Lana Condor) a half Korean half white student. She spends a vacation in Seoul, Korea at the start of the film, not that it has anything to do with the rest of the film. Though based on the 'To All The Boys' books, the plot of this film looks as if it is made up as it is going along. It is also the lamest of the three stories.
Lara and her boyfriend Noah (Peter Kavinsky) who always seems too good to be a boyfriend plan to spend college days together studying and romancing at Sanford. Noah is always forgiving and Lara can do no wrong. The only explanation is that the story is for the female gender, so males have to take a step backward. Noah gets admission to Sanford while Noah does admission to Sanford is declined. Lara is, of course, devastated by the news. She has told everyone except for Noah. Again, there is no reasoning why she should be doing this as she eventually tells him in a coffee shop on a tour of celebration in NYC. So when it happens, Noah is again all forgiving in the female flick. Noah tells Lara that it is not her fault and that she is smarter than Noah. Well, one thing male audiences can see is that Noah is quite wimp and his future will be that of a hen-pecked husband.
If this is not sufficient to put you off watching the rest of the film, the film has hardly reached its half way mark. So what other surprises or non-surprises, rather are there in store to amuse the audience?
The film's soundtrack is dotted with pop that should amuse the teen target audience.
The film leads towards the prom where the two are each other's prom dates. What is most embarrassing about the film is the segment which shows that the couple has finally had sex.
There is not much of a whole lot to write in this review except to warn adults to stay away from this lame teen whimsical romantic fantasy.
Trailer:
X (USA 2019) *
Directed by Scott J. Ramsey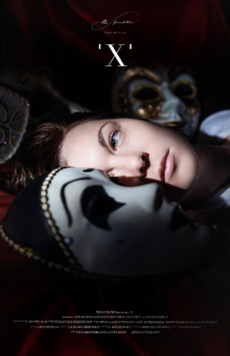 X is the title given to the host of a monthly masquerade sex ball that is supposedly to be for the wealthy and select few. Armed only with masquerade masks and invitations, guests arrive at a seaside estate for a charity ball hosted by a mysterious foundation. With identities hidden from their fellow party goers, they partake in the sinfully seductive surroundings with their charming host Christian (Hope Raymond), known as X. The monthly masked debauchery is all fun and games until the arrival of an unexpected guest, Stella (Eliza Boivin) from Christian's past, who threatens to bring to light her darkest secret. These guests pay a lot to attend. X, who goes by other names as well, benefits richly from the proceedings.
All good things must come to an end or a big challenge at least. When a voyeuristic video reveals a violent crime, Christian must decide if the truth is worth exposing the world she has created. The mystery too, is who the person is that stole video.
` The two leading ladies are a total bore. Hope Raymond overacts most of the time, if not moaning and groaning like a sow in heat. Raymond deserves this year's award for most over-acting. Boivin is awful too. The highlight of the film (in a bad way) is expectedly the confrontation of the two characters.
During one of the balls, Stella gets to deliver what is supposed to be the prize performance of the evening. Stella is given a chair and top hat on stage and she is dressed just as Liza Minelli did when she performed the classic number 'Maybe This time' as Sally Bowles in Bob Fosse's CABARET. In contrast, Stella's performance is dull, pathetic and unsexy even thought she gets to remove the top at the end of the song. The number before her is a song crooned by Lynda, Christian's mother (Valerie Façhman), again her out-of-pitch song stretched too long.
It is clear after a while what director Ramsey' obvious message is. It is about shame and how to overcome it i.e. redemption. But this requires actress Raymond to learn from her past. Terrible as she is, she is neither convincing or likeable in her character. The script co-written by Ramsey and Hannah Katherine Jost explains plot points as well as provides flashback. This is tantamount to explaining a joke or insulting the audience's intelligence. "You are a good person," is one used by two different characters in the film. Not everyone speaks the same way the scriptwriter pens the dialogue.
X has been touted in its publicity as a Hitchcockian mix of melodrama, thriller and camp. There is in reality nothing Hitchcockian about X. The only thing that X has in common is the theme of voyeurism in Hitchcock's PSYCHO, where Norman Bates watches Janet Leigh through a hole in the wall. As for camp, camp humour is usually over-the-top hilarious. X lacks humour and could do with funnier lines.
The film stretches too long at over 2 hours. Never has a film about sex been so boring.
But the film somehow manages to find its fans somewhere. After its World Premiere at the Starburst International Film Festival in Manchester, UK, the sexy thriller was screened at over a dozen festivals around the world. During its extensive film festival run, X took home Best Overall Film at the 2019 Indie Gathering in Cleveland, Ohio.
Note too, that The filmmakers are also releasing a complimentary music album called "At the Devil's Ball" on Feb. 16th with standalone music videos, as well, for an immersive multi-media experience.
Trailer: