03
Feb
2021
Details

Category: Movie Reviews
Written by Gilbert Seah
FILM REVIEWS:
DOORS (USA 2021) **
Directed by Jeff Desom, Saman Kesh, and Dugan O'Neal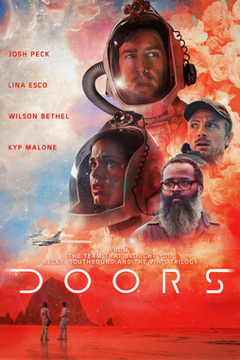 The chiller film DOORS begins with several weird happenings as heard from distress 9-1-1 calls. One call for help has a woman calling for assistance when her husband begins walking into the woods, as if sleepwalking and in his underwear. Another call involves a question. "How many of them are there?" "Six or seven" comes the answer. And yet another call: "Something is blocking my door"
Without explanation or warning, a number of mysterious, alien doors suddenly appear in every corner of the globe. While many of those that encounter these sentient visitors feel the strange urge to interact with them – never to be seen again – others stay behind to face the potential threat of what their ultimate agenda towards mankind is.
The first segment has 4 students eventually entering one of these doors that appear in their school hall. According to the film, a million of these do appear all over the world. The kids are scared as they are curious. The school is in lockdown and no reason is given. Their teacher, Mr. Johnson puts Rory in charge but Mr, Johnson never returns to the classroom. The students leave their classrooms and encounter the door. The segment is relatively well done - good dialogue interaction with youth dialogue and lots of cursing. The segment expresses stunt issues in school such as youth conflicts; infatuations and romance. The story of these 4 kids could make the entire film itself.
The film shifts into a different mode after the kids enter that door.
It is 2 weeks later. In a rush to determine the reason for the arrival of these cosmic anomalies, the government enlists volunteers (nicknamed 'knockers') to brave the journey to enter the doors so that we might learn more about their origin or purpose. But even these brave volunteers are not prepared for is what lies beyond the threshold as the second segment reveals. They have 12 minutes inside, after entering the door before getting out. What these knockers discover is a parallel society. This segment is reminiscent of THE TWILIGHT ZONE episodes - scary and mysterious.
The third segment involves a hermit who communicates with a door.
DOORS plays like a sci-fi anthology with the doors as the framing story. The individual segments (titled: LOCKDOWN; KNOCKERS and LANAJ) are different in atmosphere, quite absorbing and stand well alone as short horror sci-fi featurettes. Together, however, the separate stories do not hold well for the main reason that the characters are totally unrelated.
Of the three, the first entering the high school kids works the best. The claustrophobic setting with no one around and no information of the reason for the lockdown is an excellent example of how mental anguish and fear can invoke one's emotions and hidden feelings. The hidden forbidden romance emerges; a fight erupts and so on. The scene of students stuck in the classroom looking out the window is reminiscent of Hitchcock's THE BIRDS where a group of unrelated people are stuck in the cafe for a oil station when the birds attack. The second segment plays like a space sci-fi and is a bit confusing, resulting in the segment being a bit too ambitious.
threshold, and a lonesome hermit manages the seemingly impossible: establishing communication with a door.
The framing story ends in a final segment that proves too artsy for its own good. Instead of bringing the stories together, it poses more questions. DOORS is a mixed bag of tricks that do not for the most time work.
Trailer:
ENFORCEMENT (Shorta) (Denmark 2020) ****
Directed by Anders Olholm and Frederik Louis Hviid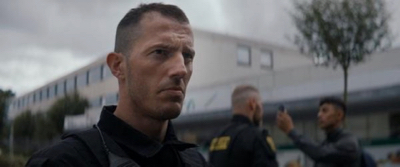 SHORTA is the original title of this tough no-nonsense cop thriller now re-titled ENFORCEMENT. Shorta is Arabic for Police. The film could very much be a follow on, of last year's excellent French film on the similar theme of police brutality and youth riots as seen in Ladj Ly's LES MISERABLES.
The film opens with an Arab suspect, Talib Ben Hassi, given a choke hold by the police, he is hospitalized after, thus creating an atmosphere of racial tension. The Arab's words are: "I can't breathe," identical words to those uttered in the States last year in the Rodney King incident, by coincidence. As one can see, the film is right out of today's headlines, only that the story is set in Denmark. In this film, the Arabs are the ones victimized by the police compared to the blacks in the United States. Other minorities are also brought into the picture. A Pakistani who owns a grocery store complains that the cops do nothing when he calls for help when being harassed by the Arabs.
LES MISERABLES ended with the words: There are no bad people, just bad rearing. These words are echoed in the theme of Anders Olholm and Frederik Louis Hviid's action packed police action drama where an Arab youth troublemaker, Amos (Tarek Zayat) is having problems being controlled by his apparently single mother living in the Arab ghetto. The two cops that arrest him for throwing a milkshake at their cruiser are over-the-edge, too quick into action, Mike Andersen (Jacon Lohmann) and his partner for the day, a more sympathetic Jens Hoyer (Simon Sears). Jens, at the end of the film, finds himself on the same route as his partner after a twist of events. At the time of the arrest, a 19-year old lab youth Talib Ben Hassi dies in police custody igniting uncontrollable, pent-up rage in the ghetto's youth, lusting for revenge. Suddenly, the two officers with Amos find themselves fair game and must fight tooth and claw to find a way out.
The confrontation between good cop, bad cop reaches boiling point in a vicious fight between the two.
Scary too is the film's depiction of what can happen when things go totally out of hand. The police have no more control and the country does not have the National Guard to be called in like the United States.
SHORTA is action packed and illustrates the problems of violent youth crime as observed from both the police's and victims' points of view. There are no easy solutions to the problem as the film reveals, with things going out of hand quickly and uncontrollably. The audience sees both points of view taking with the directors not taking any sides. Not as good as LES MISERABLES but still an excellent and worthwhile watch. Directors Olholm and Hviid bring their film to an exciting climax.
Trailer:
THE FATHER (UK 2020) ****
Directed by Florian Zeller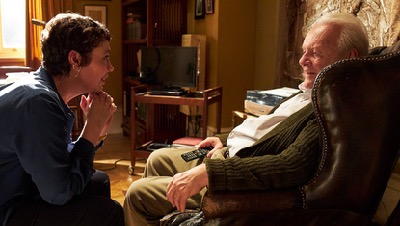 THE FATHER is based on a play written by its director Florian Zeller. Though film adaptations do their best to take their story into the open, as evident in the first scene where the audience sees Olivia Coleman walking the streets to her father's flat, the stage origins are nevertheless clear throughout, from the dialogue, set-ups and staging. Still there are many reasons to see THE FATHER. For one, in these times of Covid-19 when all the theatres are closed, it is indeed a refreshing pleasure to watch a good play even though it is an adaptation to the screen. And THE FATHER is an inventive well-written play at that. The film contains the best of British acting provided by Oscar Winners Coleman and Anthony Hopkins who plays the main character, an elderly named Anthony suffering from memory loss. Anthony refuses all assistance from his daughter, Anne (Colman) as he ages.
"I don't need her." He refers to Anne referring to a live in care worker. "I don't need anyone." "I can manage well on my own." These are words of denial that many who have an old aged parent developing dementia will face.
As Anthony tries to make sense of his changing circumstances, he begins to doubt his loved ones, his own mind and even the fabric of his reality. The play puts the audience in Anthony's shoes. When he forgets someone from his memory loss, the audience sees another actor playing that someone. The first time director Zeller does this, in the film's second act at around the 15-minute mark, he puts the audience in disarray. The audience then knows what it is like for Anthony. Zeller has Anne and her husband played by different actors. He also has Anne tell her father that she is moving to Paris and later show her married and staying put in London. At one point , one wonders if this is an Agatha Christie like mystery where Anthony's daughter is playing a game to trick her father to be institutionalized so that she can inherit his flat.
A moving moment is the segment where Anthony overhears Anne and Paul talking about patin him in a home. He appears and they realize he had been listening.
The film poses many problems about growing old and dementia. It also offers a different point of view of what might be possible alternatives. But director Zeller is less interested in the solution as to the dynamics of the problem and how the different parties deal with it.
After all, THE FATHER is a simple story about old age sensitively and beautifully told and with raw emotions.
Hopkins is superb as is Coleman.
The film had its premiere at the Toronto International Film Festival and opens Friday in theatres where allowed, if not on demand. I have viewed the film a second time after 3 months and the film still packs a punch!
Trailer:
IRON MASK (USA/Russia/China 2021) **
Directed by Oleg Stepchenko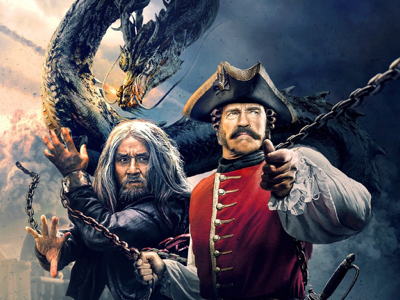 RUSSIAN films exist in extremes. They can be deadly serious and depressing such as the critically acclaimed BEANPOLE last year or they could be right out crazy fantasy like IRON MASK. Russian filmmakers have proved competent in both genres. IRON MASK belongs to the latter rarer commodity.
IRON MASK is the sequel to VIY made by the same director in 2014 - the year the film became number uno at the Russian box-office. In VIY, An eighteenth century English cartographer, Jonathan Green (Jason Flemyng) sets out on a journey to map the uncharted lands of Transylvania, only to discover the dark secrets and dangerous creatures hidden in a cursed, fantastical Romanian forest. The success of the first film brought in heavyweights to IRON MASK which include Arnold Schwarzenegger who also served as an executive producer, Jackie Chan and Rutger Hauer.
IRON MASK, the sequel, shot mainly on location in China is set in the early 1770's. English traveller Jonathan Green (Jason Flemyng again) receives from Peter the Great (Yuri Kolokolnikov) an order to map the Russian Far East. Once again he sets out for a long journey full of incredible adventures that will eventually lead him to China. The cartographer unexpectedly faces a lot of breathtaking discoveries, encounter bizarre creatures, meet with Chinese Princesses, and confront deadly martial arts masters, and even the King of all dragons, the Dragon King.
But what is most dangerous is once again meeting eye-to-eye with Viy, except doing it again? What would be stronger this time, a staunch skepticism of the scientist or the old black magic that has seized power of Eastern lands? Though IRON MASK is a sequel, it can and alone hold its own.
The film includes an extended fight sequence, a comical one between Schwarzenegger and Chan. The fight contains lots of acrobatics and humour, supposedly to entertain the fans of both action stars. Schwarzenegger uses his brute strength while Chan his martial-arts while speaking with their respective accents.
The most tacky is the ancient London backdrop as a fair bit of the action takes place around Tower Bridge in London. It is clear the filming is done with paintings showing old London in the background.
No expense has been spared in this lavish production. Costumes, props, international stars and action set-pieces are all present to entertain those that love both Swashbuckling and martial-arts movies. If one can ignore the silliness of the plot and the unexplained weird combination of magic, history and clash of cultures with Russian, English and Chinese, which is asking quite a lot, that one might be able to ignore the film's outlandish flaws. For the lavish production sets and effort put into the film, IRON MASK is enjoyable for its incredible outlandishness and stupidity.
I have not seen the origin VIY which went straight to video in North America. In anticipation of another success of the adventures of Jonathan Green, the next sequel entitled VIY 3 is already in the making.
Trailer:
LORO (France/Italy 2018) ***1/2
Directed by Paolo Sorrentino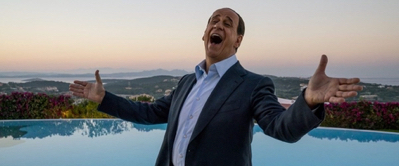 Supposedly a film that depicts the part-career but more an exposition of the outlandish character of Italy's one-time Prime Minister, Silvio Berlusconi (Toni Servillo), LORO shows writer/director Paul Sorrentino in top mature form after his hits like IL DIVO, THE YOUNG POPE and THE GREAT PARTY. While watching the film, one can only wonder how Sorrentino manages to capture all the visual delight like his great parties and destructive earthquakes on screen. Sorrentino is undoubtedly a master of his craft. LORO proves it. Despite it being a lengthy 2 and a half hours, after being cut from a greater extensive length made for TV, LORO is a compulsive watch. Apparently an hour of footage had been edited out.
The film begins with the actions and study of Sergio Morra (Riccardo Scamarcio). Sergio is a guileful businessman who manages a group of young escorts which he uses to bribe local politicians and authority figures. With a desire for increased political leverage, he sets his eyes on bigger game and makes it his duty to work his way into the ranks of a man with a notorious taste for both hedonism and corruption — Italy's Prime Minister, Silvio Berlusconi. The film then shifts to Silvio as its subject with Sergio appearing only fleetingly after.
Director Sorrentino wanted to tell a story about the group of businessmen and politicians – the LORO (Them in Italian) – who live and act near media tycoon and politician Silvio Berlusconi. For the record, one obstacle arose during the preparation of the film: Sorrentino's usual Italian co-producer, Medusa Film, refused to participate in the film. The reason is that Medusa Film is controlled by none other than Berlusconi himself.
LORO besides being a blatant in your face film, contains a few quiet moments. One is a 20-year old's rejection of Silvio's advances. Stella (Alice Pagani) says that Silvio's breath smells like her grandfather's. It is not bad smelling nor sweet but the smell of an old man's. Silvio quietly accepts Stella's rejection and does not force any sexual advances towards her. One has to respect the powerful man for his restraint. That conversation is brought up again later on in the film, when Silvio confesses that his breath smells the same as Stella's grandfather's is that they use the same denture cleanser.
Silvio's character comes out during the film's key confrontations scene between and his second wife Veronica (Elena Sofia Ricci) who at that point is asking him for a divorce. They relationship is brought out to the front and key issues revealing Silvio's true character is up for the audience to see.
One might argue definitely that there is too much on display from Sorrentino. The film feels like an indulgent mess at times, but one has to give the man credit for his difficult staged excesses. It is easy to make a simple film with nothing going on but more difficult to make a film where lots are going on despite it not always working. So, which effort should be given credit? For artists, I would say the latter, as nothing ventured, nothing gained.
It should be noted that according to the press notes, the characters portrayed in the film and all sequences depicting their private lives remain entirely fictional, and the film is the result of the imagination of its authors. One might note from the film is that the imagination has gone pretty wild. From the depiction of the parties and the amount of cocaine used, one wonders how much of what is shown on screen is actually true.
Made in 2018, it is taking close to 3 years before LORO is available to audiences in North America. A remarkable visual achievement and equally nasty expose of a very egoistic and nasty man.
Trailer:
OPERATION VARSITY BLUES: THE COLLEGE ADMISSION SCANDAL (USA 2021) ***
Directed by Chris Smith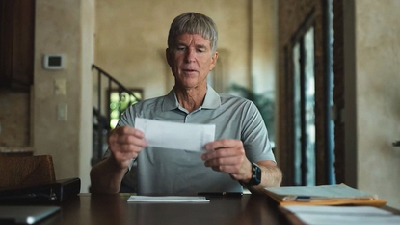 OPERATION VARSITY BLUES: THE COLLEGE ADMISSION SCANDAL is a Netflix original film based on the recent scandal that rocked the educational world by storm.
Actor Matthew Modine (best known for Stanley Kubrick's FULL METAL JACKET playing Private Joker), also an activist has been my personal hero for a number of reasons. He has made films that make a difference, like this latest offering that exposes and informs of the college admissions scandal in the United States that broke news all over the world. He played a doctor in Roger Spottiswoode's expose of the AIDS crisis in AND THE BAND PLAYED ON. Modine also exposes other bad stuff. In an introduction to one of his films at the Toronto International Film Festival, I remembered him showing up early in the morning to make a public appearance. I can never forget what he said about Madonna - "Bad Energy". He should know as he had worked on several offer videos in the past. He was a gorgeous male hunk way back then but has aged now as can be seen in this film and in his recent BREAKING NEWS IN YUBA COUNTY where played an unfaithful husband Karl Buttons.
Tens of millions of dollars have exchanged hands illegally to get admissions into top universities. Modine plays Rick Singer, the villain of the piece, in a re-enactment of what could be classified as a documentary.
This film would anger many like myself who've got into university legally and had worked very hard during all my pre-university school years to do so. I am the first in my family to enter and graduate from university. I got admitted on my merit and hard work, with no bribes or any other nasty things involved. Imagine if my place were then away by some rich family. Those involved in this scandal should be jailed if not tortured or put to death for being a sorry case of a human being. That is how strong I feel and I am sure many others feel the same way about the scandal.
OPERATION VARSITY BLUES begins by tapping this injustice by an introduction that shows students of many races excited that they got into the universities of their choice. By their skin colour, one can tell that they had worked hard and are not of the category of privileged wealthy white folk.
The film most interestingly goes into the dynamics of how Singer's company got all the dirty work done, as well as how he got caught. More important too, are the people who paid to get their children into their college of choice. They are equally guilty and should but were never prosecuted. The film is also quick to put out that with money in America, one can get away with almost everything.
It would have been really difficult to make a documentary on the subject as the real Rick Singer would definitely not agree to be on film. The film is still based on real taped recordings, with a few changes made for artistic dramatization. OPERATION VARSITY BLUES might appear too crowd pleasing and commercial for it to be classified with top docs or films based on true events but it is still an entertaining and informative watch. It is good to see the guilty get their due.
Trailer:
ROSE PLAYS JULIE (Ireland/UK 2019) ***1/2
Directed and Written by Christine Molloy and Joe Lawlor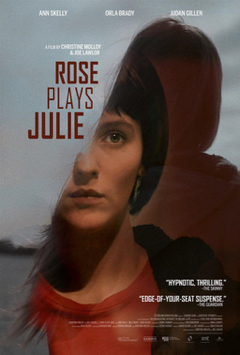 Rose (Ann Skelly) is at university studying veterinary science. An only child, she has enjoyed a loving relationship with her adoptive parents. However, for as long as Rose can remember she has wanted to know who her biological parents are and the facts of her true identity. After years trying to trace her birth mother, Rose now has a name and a number. All she has to do is pick up the phone and call. When she does it quickly becomes clear that her birth mother has no wish to have any contact. Rose is shattered. A renewed and deepened sense of rejection compels her to keep going. Rose travels from Dublin to London in an effort to confront her birth mother, Ellen (Orla Brady).
Julie is the name given to Rose before it was changed. Julie is Rose's birth name. Ellen recognizes the name Julie in the telephone call. The confrontation leads to revelations unexpected by Rose. Her birth father is revealed and she now attempts to contact him. Nothing more should be revealed of the plot in order to
The story shifts its protagonist from Rose to her adoptive mother Ellen after the film's half way mark. Then, Ellen has a total change of heart. From not wanting to get involved, she sees the error of her original decision. She then decides to take action. This point reflects the #meToo movement. It is important that those involved in any sort of sexual abuse need to speak out, instead of remaining quiet, hoping that the evil will go away. One must definitely do ones part in stopping sexual abuse.
The film's script is clever in using the veterinary setting in providing a dark look at Rose's situation. Rose has to euthanize animals like a dog, a cow and a horse. Human beings seem kinder to animals than to each other. The serum used to euthanize the animals are also used by Rose later on in the film.
The film's villain Peter is shown to be a person unable to control his human sexual desires. It is clear from the depiction of several segments that it is still no excuse for Peter to commit such acts. The film is clear to show that a predator will continue to do so, and has to be stopped one way or the other. One of the film's flaws is the point that Ellen and Rose not considering the option of going to the police to report the sexual abuse.
ROSE PLAYS JULIE is a definite slow burn. My partner and I watched the film initially after having a few drinks. Being a little inebriated, we could both follow the events occurring, but it was too slow and tough to watch. We gave up after 30 minutes. I re-visited the film from the very beginning a few days later, totally sober. The second viewing proved more fruitful. ROSE AND JULIE is a compulsive but slow rewarding watch, and one must be prepared to give one's full attention to the film to reap the film's rewards.
Trailer:
SLAXX (Canada 2019) **
Directed by Elza Kephart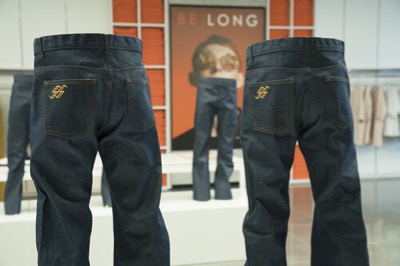 SLAXX derived from the word slacks is a sorry excuse of a comedic horror film that supposedly tackles the issues of every day life like GMO products and child labour. When a possessed pair of jeans begins to kill the staff of a trendy clothing store, it is up to Libby McClean (Romaine Denis), an idealistic young new salesclerk, to stop its bloody rampage.
All the action take place at the CCC Clothing store where an assortment of managers and workers attempt to survive the mayhem. The villain of the piece is the bumbling store manager Craig (Brett Donahue) aka robot king who demonstrates accurately in the film what overacting is. Co-written by director Kephart, SLAXX (whuch could be called ATTACK OF THE KILLER JEANS) is one movie that wears its plot thin and dreary. Over-violent for a horror comedy that is generally unfunny! So-so special effects with the slacks walking on their own.
Trailer:
VIOLATION (Canada 2020) **
Directed by Madeleine Sims-Fewer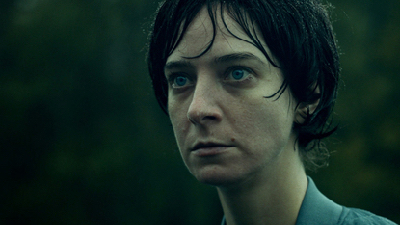 Madeleine Sims-Fewer does triple duty in VIOLATION serving as writer, director and actor which is a messed up film about messed up people. She plays Mariam a troubled woman on the edge of divorce returns home from London to her younger sister in Canada after years apart. But when her sister and brother-in-law betray her trust, she embarks on a vicious crusade of revenge. Miriam does not know what she wants and the script does not make any effort to make the audience care for her character either. The film also randomly tackles issues like sexual abuse but never follows it anywhere. The imaginary sequence where a male is gutted is puzzling if not disgusting. The directors also seem fond of filming creates like spiders, rabbits and wolves. Too many things shown going on on the screen in a story in which little happens in a pretentious, slow burn of a pretentious psychological drama.
Clip: https://bloody-disgusting.com/exclusives/3631326/violation-exclusive-clip/
WOJNAROWICZ (F**K YOU F*GGOT F**KER) (USA 2020) ***
Directed by Chris McKim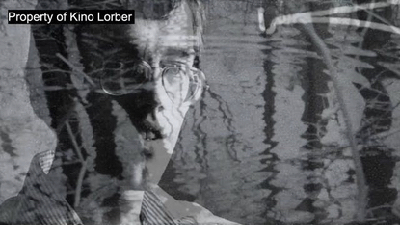 "You had a rough childhood. Your father abused your mother. You were put in an orphanage. Your father kidnapped you. You went for a while into sex, a hustler. How did you begin in art?" These are the opening humorous comments from an interviewer questioning her subject, artist WOJNAROWICZ at the start of this remarkable fresh documentary of an age old controversial subject of AIDS.
WOJNAROWICZ, born David Michael Wojnarowicz (September 14, 1954 – July 22, 1992) was an American painter, photographer, writer, filmmaker, performance artist, songwriter/recording artist and AIDS activist prominent in the East Village art scene. He incorporated personal narratives influenced by his struggle with AIDS as well as his political activism in his art until his death from the disease in 1992.
McKim paints a detailed picture of his subject's biography - warts and all. A lot can be seen from the archive footage and old family photos. Wojnarowicz was born in Red Bank, New Jersey, where he and his siblings survived physical abuse by their father, Ed Wojnarowicz. After his parents' divorce, he moved to New York as a teenager with his mother, Australian-born Dolores McGuinness. During his teenage years in Manhattan, Wojnarowicz worked as a street hustler around Times Square. He graduated from the High School of Music & Art in Manhattan. The doc also shows the period outside New York, Wojnarowicz returned in the late 1970s and emerged as one of the most prominent and prolific members of an avant-garde wing that used mixed media as well as graffiti and street art. His first recognition came from stencils of houses afire that appeared on the exposed sides of East Village buildings.
Also included in the doc is his work in the band 3 Teens Kill 4, which released the independent EP No Motive in 1982. He exhibited his work in well-known East Village galleries and New York City landmarks, notably Civilian Warfare Gallery, Ground Zero Gallery NY, Public Illumination Picture Gallery, Gracie Mansion, and Hal Bromm.
Director McKim also humanizes his doc with the friendship between two artists mainly with Peter Hujar. The two helped and supported each other in the art scene. Hujar was also Wojnarowicz's mentor and lover.
Director McKim, besides showing his subject's works and life ensures his audience also understands the artist's state of mind, beliefs and quirks. Wojnarowicz hated wealthy white people, even though they paid him handsomely for his art. This can be seen in one extended and amusing segment in which Wojnarowicz was commissioned to do a wealthy couple's basement. He collected a whole lot of junk including insects like roaches as if to outwardly spite his admirers.
McKim's film ends with the devastation the AIDS crisis in America caused for those infected, their loved ones and the neglecting Government. The film ends with Wojnarwicz's death from the disease. This was a man who had suffered most of his life, from a tough abused childhood to a painful death. But he said when he lived, the number one thing in his life was his art, and on that note, that is what he had left as a legacy of his life. This is the essence director McKim achieves in his otherwise riveting documentary.
Opening March 19 with Toronto's TIFF Bell Light Box Digital https://digital.tiff.net/
Trailer: