13
Feb
2021
Details

Category: Movie Reviews
Written by Gilbert Seah
SXSW FILM FESTIVAL 2021
runs from March 15th.
Keep checking here for more capsule reviews....

LUCHADORAS (Female Fighters) (Germany 2020) **
Directed by directed by Paola Calvo & Patrick Jasim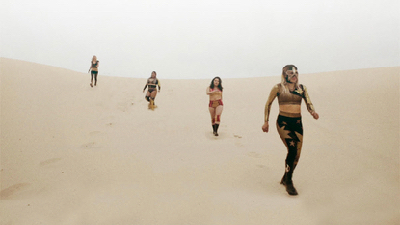 The film is set in what the voiceover tells the audience is the most dangerous city in the world - Juarez in Mexico. Women in particular disappear and are likely murdered. The city, as a result of the Global Free Trade, grew with plenty of new factories the women work at. They are normally transported by bus, but it has been known that the buses drive off to the desert and the women passengers raped and killed. The film moves to focus on the lives of 3 women wrestlers and how they deal with the situation. These are three courageous female wrestlers (Luchadoras) from Ciudad Juarez. Despite being surrounded by machismo they redefine the image of women in Mexico. The short statured Mini Serinita's dream is to become a full time Luchadora and leave the factory work that disenfranchises so many women for good. Lady Candy can see the U.S Border from her house. Her daughters were taken to the US, but due to visa regulations she cannot cross the border to see them. Baby Star is a young single mother with a Lucha Libre childhood past. She is looking to make a comeback. With Mexican passion they present a new image of what it means to be a woman in Mexico. An ok watch but the filmmakers do not really link the issue of Juarez convincingly with the women fighters.
Trailer: (unavailable)
THE NIPPLE WHISPERER (France 2021) *** (Short film)
Directed by Jan Van Dyck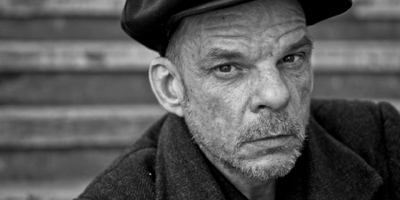 The title NIPPLE WHISPERER is exactly what it is supposed to be - a man gifted as said, who can make women go crazy by playing (without touch) their nipples.
Maurice Sanders (Denis Lavant from HOLY MOTORS, LES AMANTS DU PONT NEUF)has a gift. He is a nipple whisperer. Once he was known as "Magic Sandy". But that was years ago, before Doris (non-actress Wendy Dresner), a famous model and Sander's muse, fell ill. Now, after more than a decade, Doris wants to meet Maurice again. The film shows Sandy at work before he meets up with Doris again. At 15 minutes, the film and its subject stand as a curiosity piece. And that is exactly what it is.
VIOLATION (Canada 2020) **
Directed by Madeleine Sims-Fewer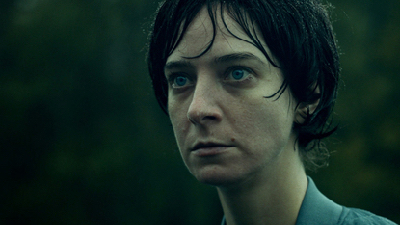 Madeleine Sims-Fewer does triple duty in VIOLATION serving as writer, director and actor which is a messed up film about messed up people. She plays Mariam a troubled woman on the edge of divorce returns home from London to her younger sister in Canada after years apart. But when her sister and brother-in-law betray her trust, she embarks on a vicious crusade of revenge. Miriam does not know what she wants and the script does not make any effort to make the audience care for her character either. The film also randomly tackles issues like sexual abuse but never follows it anywhere. The imaginary sequence where a male is gutted is puzzling if not disgusting. The directors also seem fond of filming creates like spiders, rabbits and wolves. Too many things shown going on on the screen in a story in which little happens in a pretentious, slow burn of a pretentious psychological drama.
Clip: https://bloody-disgusting.com/exclusives/3631326/violation-exclusive-clip/