21
Feb
2021
Details

Category: Movie Reviews
Written by Gilbert Seah
FILM REVIEWS:
ABOVE SUSPICION (USA 2017) **
Directed by Phillip Noyce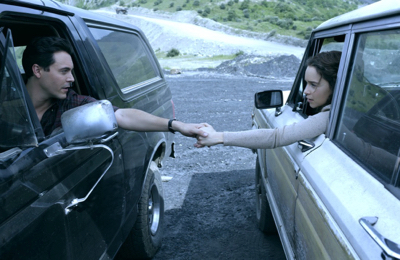 FBI agent Mark Putnam, good looking poster boy and recently married is the man that is ABOVE SUSPICION of the film's title. But he is guilty as f*** - guilty of almost everything, abuse, infidelity, murder and more. ABOVE SUSPICION is the true story of informant Susan Smith's (Emilia Clarke) murder in Kentucky in 1989, not so long ago.
The film opens with the character of an abused, overworked middle-aged mother, Susan Smith (Emilia Clarke). She is shown in her home with horrid surroundings with the men in her family doing drugs while dealing at the same time. The family is busted. The only way out is for her to become an informant. This she does, without any knowledge of her immediate family. She is fed up with them anyway. This script by Chris Gerolmo and Joe Sharkey makes sure the audience sympathizes with Susan. Then arrives the FBI newly married F.B.I. poster boy (as described by Susan, in voiceover) assigned to an Appalachian mountain town in Kentucky. There he is drawn into an illicit affair with Susan who becomes his star informant. She sees in him her means of escape; instead, it's a ticket to disaster for both of them. This scandal shook the foundations of the nation's top law enforcement agency, ending in the first ever conviction of an F.B.I. Agent for murder.
The problem with the film is that there are no surprises in the story - just a retelling of events in all their grimness. From the first frame to the last, the audience knows it is about Susan's murder, and it happens as expected. The script does not go to any length at providing a break from the bleak series of events. There is little humour, just a lot of of drama, housing screaming and reckless sex.
Apart from the film's opening sequence, the script could do more to affect the audience's sympathy for the two main characters. Susan, often shown to be loud-mouthed feisty, is hardly c character one can be sorry for. Mark's wife, Kathy (Sophie Lowe) also does not seem too upset with her husband's affair.
At the age of 70, Australian veteran director Phillip Noyce is still a hard-working man with current yet to be related films like KILLER 10 and COWBOY BOB. Noyce has made, in my opinion, the BEST Australian film ever made the 1977 NEWSFRONT, one of the first Aussie films I had seen and one I have seen more than three times. Noyce has made commercial hits like CLEAR AND PRESENT DANGER and PATRIOT GAMES. ABOVE SUSPICION is unfortunately Noyce not at his best, though the film contains a few scenes that remind one of Noyce's promise. ABOVE SUSPICIONS is a boring film that seems to be made just because it is based on a true story.
ABOVE SUSPICION is available March 16: EST, VOD, DVD, Blu-ray (French and English).
Trailer:
CRISIS (USA/Canada/Begium 2021) **
Directed by Nicholas Jerecki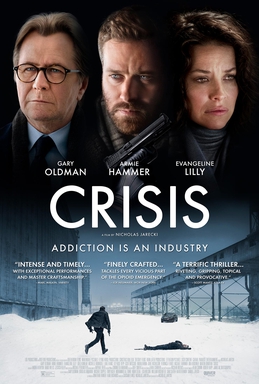 Director Nicholas Jerecki known for his debut feature ARBITRAGE (2012) tackles another topical issue - opioids down to the level of fentanyl that has been killing addicts by storm. Jerecki's more ambitious features interweaves three stories, loosely connected and stars a few heavyweights including Oscar Winner Gary Oldman and perhaps contains the last performance of Armie Hammer after the actor has been discredited for bad sexual behaviour in the bedroom.
One story follows an undercover narcotics DEA agent, Jack Kelly (Hammer) as he tries to bring down two cartels. The film opens with a scene, beautifully shot in which a courier, a young kid flees agent south of Montreal at the Canadian/U.S. border in the midst of winter. He toboggans down a snowy hill in order to escape, but is caught. His backpack reveals hundreds of green pills. The question being brought up after this extended sequence, that is not really necessary except maybe to give audiences a good first impression is the mole in the services. Who tipped the Canadian police? In this story, the audience follows Kelly as he goes about his business. The second story follows recovering addict, Claire Reimann (Evangeline Lilly) whose missing son is found dead. Claire opens her own investigation. The third story concerns the discovery of a new nonaddictive painkiller by a pharmaceutical company, eager to make millions. But testings show otherwise and they wish to hush up the experimental findings led by a University professor, Dr. Brower (Oldman)
Director Jerecki's somewhat un-involving film, despite three promising stories is a classical textbook example of what went wrong in the film narrative. Jerecki tries his best to insert segments to spice up the action, like Kelly travelling incognito in the trunk of his car and the opening tobogganing sequence. One reason inherent in films with spilt stories is the change that results once another one story is left and anther interweave in. After the audience has invested so much concentration, he or she is then left to start over with another story's sequence. The three stories are so loosely connected that it becomes quite unbelievable. Again, not only are Armenians are type-cast as the bad drug traffickers but their bearded, ruffle look also stereotypes their race. The real nature of the protagonists (whether they are good or evil) like Dr. Brower and agent Kelly is left ambiguous at the beginning which is confusing and annoying to the audience.
The film also runs into other stereotyping, like the impatient mother of the dead son diagnosed with an overdose. She is cocksure he does not use drugs. She comes across in every segment as a screaming impatient bitch, but the script supposes her worthy of that fault. She gathers evidence that as expected, the police discredits. Films with police work done by concerned individuals and discredited has been seen countless times in films, and made fun of in many films. The story that emerges the most interesting is that of University professor Brower (Oldman) as he fights against the authorities and the big pharmaceutical companies. Again, it is a well worn tale of corrupt companies, but this story works best primarily of Oldman's performance, with him ditching completely his British accent. Oldman looks completely credible as your average professor, dressed in the typical cardigan.
CRISIS runs almost two hours, but at the 30 minute mark, one can tell that the film is in crisis. The film never recovers, plodding to its climax with the audience hardly caring whatever happens.
Trailer:
DEATH OF A LADIES' MAN (Canada/Ireland 2020) ***
Directed by Matthew Bissonnette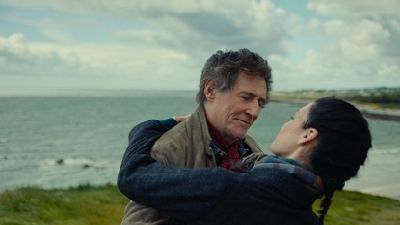 DEATH OF A LADIES' MAN is a Canadian-Irish drama directed by Matthew Bissonnette about a carousing college professor, Samuel O'Shea played by Gabriel Byrne. Samuel's life takes a series of unimaginable turns, and all the old stories are given a new twist, when he begins to have surreal hallucinations and learns he may not be long for this world when diagnosed with terminal cancer.
The film opens with him rushing back to his apartment in a cab having left his wallet there, that contains his plane tickets. Entering, he discovers his wife having sex with a young stranger. His wife accuses him of having affairs. She leaves him. A solid absorbing introduction to a drama about a man's life taking a turn for the worse.
To prevent the film with a somber topic getting stuck in the doldrums, director Bissonnette ups the angst with many quirky incidents. As Samuel is a college professor who is both a womanizer and drunk, his hallucinations include a student answering a question with fanfare and cheers in unison with the rest of the class, a talk with his dead father's (Brian Gleeson) ghost, Hamlet-style, a bar room chat with Frankenstein's monster and then some. This tactic works to elevate the story of a dying protagonist whose past sinful life catches up with him. But because of the fact that films of a dying man trying to redeem himself after a wasted life can only go one way, the film is limited in its options.
This is pretty much Byrne's film. Byrne is a good-looking Irish actor, even more so in his younger days and a known drinker. At a past Q&A at the Toronto International Film Festival, he admitted drinking too much the night before. This role suits him and he plays it well. He is aided by an impressive cast of actors, particularly from Quebec Canada, among others Jessica Pare and Suzanne Clement, the latter well-known for her roles in the Xavier Dolan's films.
Being a Canadian Irish co-production, the film includes lots of scenes of the Irish landscape when Samuel takes a trip to Ireland. He intends to write his book. There are a lot of quotes and music from Canadian music icon Leonard Cohen. The Cohen songs are very suited to a story of this nature. Cohen's songs are distinctive - also heard is one of his most famous songs "Hallelujah".
Things get worse for Samuel. He is diagnosed with a tumour in the brain. Not only that, but according to the doctor, the largest one she had even seen. "What do I do now?" she asks. When told he has a few months, maybe a year, one knows where the story is headed - for Samuel to pick up the pieces and make good.
The romance between Samuel and Charlotte (Pare) is not convincing - a shame but there is a neat twist that corrects the problem.
Given the film's limitations due to the storyline, writer/director Bissonnette still makes good with his quirky storytelling aided by lots of surreal encounters.n
Trailer:
DUTCH (USA 2021) ***
Directed by Preston A. Whitmore II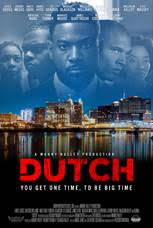 The film opens, innocently, in a pizza store, which the owner and his wife operate, a black kid sweeping the premises. A black robber enters and commands the owner to give him the money and fast. As the robber is about to leave, the kid says that there is more money. The owner looks disbelievingly at the black kid. When the owner empties the cash from the safe for the robber, the kid shoots the robber right in the chest. The owner brings the kid to his chief who then sets him up for life while giving him the new nickname, the title of the film DUTCH.
The film moves 20 years later to Dutch, previously Bernard James Jr. (Lance Gross) is all grown up. He is a drug lord but is charged for one terrorist act.
Director Whitmore's film is filled with characters who all cocksure themselves. The main protagonist is cocksure of what he wants and has achieved his goals. He now seeks the services of a female attorney, one who is really good and also cocksure of herself. Every other character appears the same way. This rubs on the film that has a standoffish feel that it knows exactly what to do and what to dish out to the audience. Though there are advantages of this method, the disadvantage is that the film does not allow the audience to think for themselves nor does it leave any matter in the grey area. Everything is black and white, good or bad, to be done one or no other way.
DUTCH is a player who will use any means necessary to dominate the streets and beyond. For Bernard James, Jr. aka "Dutch" (Gross), survival is the ultimate score and power is the deadliest high of all. There isn't an angle he can't work or a woman he can't seduce. When he gains control of an African drug lord's stolen heroin business, Dutch quickly makes it the most feared drug empire on the East Coast. Naturally, there are plenty of enemies vowing to take him down, including a vengeful Mafia heir, an ambitious DA and a conscience-stricken former friend. With Dutch fighting for his life, while on trial, he plays the game and scores a winning hand in the face of all that betrayed him and finds justice his way ... the street way!
The courtroom scenes and speeches are a little simplistic (despite its flowery language) and the speeches seem to talk down to the audience, and the jury. This is especially true of the prosecutor's opening remarks. The proceedings that follow are not that outstanding either. It is District Attorney Anthony Jacob (James Hyde) vs Dutch's lawyer, Michelle (Natasha Marc) and what transpires in court are quite predictable and expected.
The best thing about the film is the soundtrack, especially the song played during the closing credits 'Rockstar'.
DUTCH will be opening in select theatres nationwide on March 12, 2021. Closer to home in Toronto, ON it will open in Pickering. This is upped to be the first film in a trilogy.
Trailer:
JUMP, DARLING (Canada 2020) **
Directed by Philip J. Connell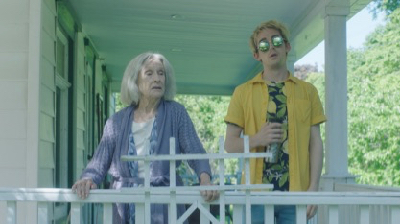 Nothing really new or insightful in the Inside Out opening movie JUMP, DARLING that moves like a limp. A rookie drag queen, reeling from a break-up, escapes to the country, where he finds his grandmother in steep decline yet desperate to avoid the local nursing home. The drag queen, Russell is played by Thomas Duplessie who was hired for the role for his two drag performances on video that that he had sent to the casting director. Acting-wise he delivers an ok performance, especially in the company of Hollywood legend and Oscar Winner Cloris Leachman (now at the age of 94) as the grandmother. It looks like Duplessie was hired based on his drag performance rather than his acting ability.
The film contains two of Fishy Falters (Russells's drag name) performances which are not bad, but the lightning is pretty dim for what is supposed to be a breakout performances. The predictable story goes on as expected and the humour could have been better.
JUMP, DARLING is a sad last film for Cloris Leachman who recently passed and will surely be missed by movie fans everywhere. If only this film would have been good as her last farewell swan song, but the film is just horrid. One can see Cloris Leachman trying her best to up the film another notch.
Point to note is that I previewed the film at the INSIDE OUT's drive-in opening, which is not the best surroundings to watch a film. The car ahead had his back light on the full time causing a whole lot of distraction before an usher came and told the idiot to be more mindful of others. I would likely have had a better critique of the film if I had previewed it normally in a theatre.
Trailer:
INHERITANCE (USA 2020) ***
Directed by Vaughn Stein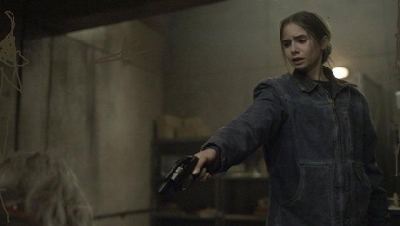 A suspense thriller, INHERITANCE is an absorbing watch that keeps the story always one step ahead of its audience. The film begins a little slow initially, but it slowly grabs the audience into its story, thanks to its careful plotting and convincing performances from its apt cast.
A patriarch of a wealthy and powerful family, Archie Monroe (Michael Warburton) suddenly passes away while driving a car, leaving his wife, (Connie Nielson) and daughter with a shocking secret inheritance that threatens to unravel and destroy their lives. Like they say, everything is not all it seems. The daughter, Lauren (Lily Collins) is a respected and honest district attorney. Lauren reaching this position has strong principles of what is right and wrong. She refuses to compromise and thus gets into serious disagreement with her father. The will, read by lawyer, Michael Beach (Harold Lewis) leaves her only a paltry sum of 1 million compared to the 20 million left to her brother, William (Chace Crawford).
One of the strangest casting is Brit Simon Pegg (who has got rid of his Brit accent totally) as the prisoner, Morgan Warner with long hair. Pegg who is well known for the early Edgar Wright films SHAUN OF THE DEAD and HOT FUZZ and then got incredibly famous for both the new STAR TREK and STAR WARS franchise films is totally unrecognizable in INHERITANCE in what is a totally serious role. Pegg is normally shown in short hair but here with long white flowing hair. Pegg is a totally different person. Fortunately, he is quite good here. Lily Colins as Lauren Monroe fares quite well too.
The film questions the protagonist's decision as to which path to take. Her wealthy family obviously deals with quite an assortment of shady activities. Being the honest D.A. she is, Lauren is torn between doing what is right and honest or to ride it out with her family. This choice of the path is not an easy one - highlighted by the fact that the family has kept a lot of secrets from her.
Well shot with solid production values, the night scenes as well as the interior scene look impressive.
The INHERITANCE of the title come from Lauren's inheritance from her deceased father. The inheritance turns out to be the person of Morgan Warner, imprisoned in the family backyard and only discovered by Lauren after the father's death.
The film's climax does not, unfortunately match up to the film's careful build up. The film turns from suspense thriller with a solid story of familial conflict to a slasher killer horror flick by the end. At the end it is a fight, literally between Morgan and Lauren, and there is no doubt who will emerge the winner.
Trailer:
LA NUIT DES ROIS (NIGHT OF THE KINGS) (Cote d'Ivoire/France/Senegal/Canada) ***1/2
Directed by Philippe LaCote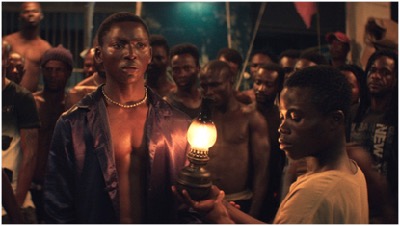 NIGHT OF THE KINGS is set in a God-forsaken place known as the Maca. The Maca is a 5-star prison set in the deep jungle of the Ivory Coast. It is the place where inmates rule, giving the film a feel of MAN OF LA MANCHA.
When the current Lord of the cellblock, Blackbeard (Steve Tientcheu) is about to die from terminal cancer, the prison is thrown into chaos. Into the mayhem enters a new inmate, who the prisoners call Roman (Kone Bakary). He has to tell a story lasting the whole night in order to survive at the order of Blackbeard. This is when the film gets surreal and different.
Director LaCote, himself from the Ivory Coast weaves a fascinating tale of horror and survival - a world seldom seen and hardly imagined. French actor Denis Lavant as a cameo as a character called 'Crack' who (hilariously) goes about with a white chicken on his shoulder. Lacote builds the story to an intense climax where all hell breaks loose in the Maca.
The film also contains a message that one cannot change destiny (God decides all!) and demonstrates the enormous power of storytelling. A powerful, unforgettable and remarkable film!
Trailer: (unavailable)
UNDERPLAYED (Canada 2020) **
Directed by Stacey Lee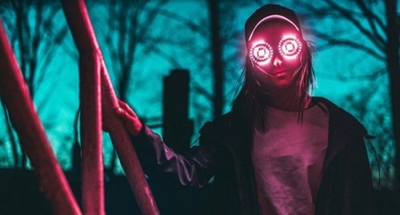 UNDERPLAYED features women (and women of colour) in the electronic music scene. DJs like Alison Wonderland, Sherelle, and Canada's own REZZ are featured with much emphasis on REZZ. There is a segment on her in her Canadian home in Niagara Falls working very hard in the basement before getting famous and becoming a headliner in music festivals and clubs. But the emphasis of the doc is to highlight the under-representation of females in the industry.
One wishes the doc has more music on display more than the artists complaining about females being underrepresented in the electronics music world. The fact is obviously true as 5% of the top 100 DJs were women, in a survey recently, but the film just goes on too much about it.
Director Lee's doc is quite shallow without going into the depth of the problem and perhaps a possible solution. The doc is a series of one complaint after another and this gets really tiresome and boring. Myself, going to the clubs weekly and partying in my younger and prettier days, it made no difference to me whether a DJ is male or female as long as they play good, cool tunes, whether with vocals or without, electronic or non-electronic. I am sure the public, like myself could not care less of the DJ.'s gender. In fact, me and my mates have two favourite female DJ.'s but the doc is right in that the clubs never hired that many females. The doc does not examine the issue - if 5% of the top DJ's were women, what is the real percentage of female to male DJ's?
At its best, the doc shows the realistic 2019 summer festival season, criss-crossing around the world.
The doc premiered this year's Toronto International Film Festival and is available on demand March the 8th, Monday.
Trailer:
YES DAY (US 2021) **
Directed by Miguel Arteta
Director Arteta got famous for his daring adult movie CHUCK AND BUCK. His latest film is a complete reversal in genre. YES DAY is a flat feel-good family pic that needs to move really quickly (at least Arteta realizes this) to keep his Netflix audience watching and not wander away to the kitchen or bathroom.
Yes, YES DAY is a Netflix original movie and though the premise might seem original, what follows is definitely not. One can tell that eventually the children will learn to appreciate their hardworking and long suffering parents, especially their mother (since female presence is currently deemed more important) and parents will understand their kids as well.
Allison and Carlos decide to give their three kids a "yes day", where for 24 hours the kids make the rules.
The film begins by establishing the fact that mother and father when single before marriage were loads of fun. Allison (Jennifer Garner) is game for anything including skydiving and rock climbing while Carlos Torres (Edgar Ramirez) loves her spontaneity and character. They say yes to anything. And they try everything different. When they are wed, it is of course, Yes, yes , yes. Then the no becomes the new word. Allison offers the excuse of parenting where she has to say no in order to keep discipline and safety in the family. Dad says no all the time at his work, so at home, lets his wife do the 'no sayings'. All this comes to a halt when teacher Mr. Deacon (Nat Faxon) suggests a yes day to help improve family relations. The Torres have been told in a parent teacher meeting that their kids are having problems with an over-strict mother who they compare to Mussolini and Hitler.
So Allison decides to grant the YES DAY. The YES DAY begins at the film's 20 minute mark of the 90 minute running time.
The word yes is a word filmmakers love to use. In the all time family 1990 hit HOME ALONE, directed by Chris Columbus, Macaulay Culkin would chant: 'Yes, Yes, Yes" whenever the crooks Daniel Stern and Joe Pesci get clobbered by his traps. The word Yes can be heard in YES DAY even more times than in HOME ALONE.
YES DAY is a sorry family film that runs out of steam fast, despite it moving at breakneck speed. Watching YES DAY is like watching and tolerating a friend's annoying growing-up kids. The only way the film would work if it is laugh-out loud hilarious. It is not!
At the recent Sundance 2021, Netflix co-founder Marc Randolph said: "What you have to demonstrate is that you have content, content, content." The dominance in the world of online streamline is built on quantity, not quality. What keeps people glued to their TV, laptop or cell, he argues is choice. Content is King. This explains likely mediocre projects like YES DAY getting the yes go-ahead. (The above reference is from the SIGHT & SOUND article April, 2021, written by Thomas Flew in the magazine's Sundance Report.)
NETFLIX has also got major hits such as ROMA and MANK, their best films recently. But these are among the few from the large number of content available. YES DAY unfortunately falls into the 'no' category.
Trailer: