FILM REVIEWS:
AWAKEN (USA/United Arab Emirates 2021) ***
Directed by Tom Lowe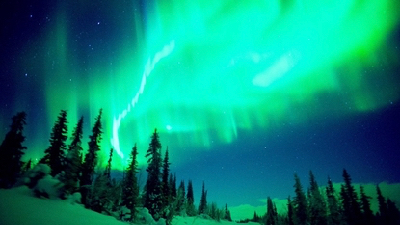 Just in time to lighten up the dreary mood caused by the Covid-19 third wave lockdowns, AWAKEN should provide some relief with the beauty the world has to offer.
AWAKEN, is a globe-spanning, immersive, 75-minute 4K documentary, narrated by Liv Tyler (Lord of The Rings trilogy, Ad Astra, The Strangers), that showcases the world's natural wonders. A few man-made wonders are also included in the film such as the letting floating of hundreds of candle lit lanterns at night.
AWAKEN comes with the talents of several veteran filmmakers. The film's director is the acclaimed cinematographer and photographer, Tom Lowe. The executive director is none other than the Award winning director Terrence Malick whose most famous film THE TREE OF LIFE was voted by the TFCA (Toronto Film Critics Association) as Best Picture of the year. The other executive producer is Godfrey Reggio who directed KOYAANISQATSI. The one scene with the traffic moving in fast motion is reminiscent of the images from that film, a classic at the time of the film's release.
Shot entirely in 4K over a 5-year period in more than 30 countries, and pioneers state-of-the-art time lapse, time-dilation, underwater, and aerial cinematography techniques to give audiences new eyes with which to see our world. One can experience an unique and timely film experience featuring immersive imagery, beautiful cultures, and an inspiring message.
Director Lowe appears fond of using slow motion. There are dozens of slow motion segments, notably with many of children running in slo-mo. The already short 90 minute running time can be even shortened if all segments run in real time.
Most of the scenes shot are natural except for a few. Of the naturalness, many stand out such as:
a girl among different coloured horses

awesome and strange looking trees

dolphins

diving out of the water

elephants in armour and decoration

hovering over the clouds

underwater swimming in the sea close to the sea bed with one diver carrying red starfish.

The scenes are accompanied by soothing music and poetic prose.
But the doc has no direction or narrative. The doc is strictly for cineastes who enjoy images without the influence o anything else.
AWAKEN debuts on Apple TV, Amazon and all other major VOD platforms on April 9th.
Trailer: https://youtu.be/P1teZQpCQYI
BREWMANCE (USA 2020) *** or **
Directed by Christo Brock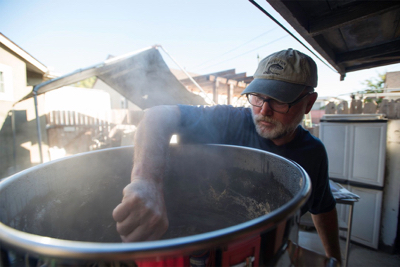 BREWMANCE is about home and craft beer brewing. The target audience would be anyone who drinks beer and even more for those who love and drink beer regularly. Others should stay away from this amusing and well-intentioned doc, as there would be nothing much to interest non-beer drinkers.
First thing about this reviewer with regards to the topic of the doc: I have home brewed beer myself, not now but in my earlier years when I used to consume as much as a 2-4 every week. So, I tried home brewing and did it for a short while. So this reviewer knows his beer. This reviewer's favourites are bitters and wheat beer with Hacker Pschorr (Germany) as my favourite brand. One cannot get a good cask conditioned beer easily in Toronto. Only a few places serve it.
So the first question addressed by the doc is why home brew. The following reasons are put forward, many of them being right spot-on:
the U.S. has a limited amount of beer varieties, mostly watered down lager.

home brewing allows different beers.

(I used to brew ciders as ciders were unavailable in Toronto 30 years ago, unlike now.

I also brewed bitters which is still difficult to find in Toronto.)

a good way to express oneself in terms of being innovative in what one loves to consume
But the doc leaves out the disadvantages of home brewing which are:
lots of trouble bottling and capping the beer

batches can often go off as bad batches

can create quite the beer stench when fermenting

tagging along one's own home brew is often looked down upon as being cheap as it is much cheaper than buying beer from the store
The doc also focuses on craft beer companies and how they started up, which is intercepting from a business point of view.
The interviewees include mailing home brewers such as John Palmer, author of "How to Brew", Charlie Papazian, a self professed Godfather of home brewing, Steve Hind of Brooklyn Brewery among others.
The film also amusingly educates on how simple it is to make beer. Beer is explained as containing only 4 constituents: water, hops, malt and yeast. Then comes the waiting time involving the fermenting. It is simple but a lot of work which I myself can attest. Myself, it works more like a hobby than anything else. My cider turned out quite well though my bitter turning out too dark. One example of successful home brewing is given of a father and son who never got along until they started working together home brewing.
There are two ratings for this doc. If one does not drink or like beer, forget this doc, it will be worth two stars just for being a curiosity piece with the person likely being bored most of the time. On the other hand, if one loves beer, this amusing easy-going doc is an entertaining time waster. i.e. Strictly for beer drinkers!
Trailer:
FELIX ET LE TRESOR DE LA MORGAA (Felix and the Hidden Treasure of Morgaa) (Canada 2021) ***
Directed by Nicola Lemar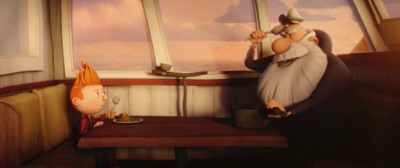 Maison 4:3 presents a new family animated feature FELIX ET LE TRESOR MORGAA, which will be seen in Ontario and other English speaking regions in the English dubbed version instead of the French version original that will be shown in Quebec, where the film originates. It is an adventure film with family values.
The protagonist is Felix, a young boy who lives with his now single mother, younger sister and pet dog (that might be a cat, from the looks of it). Convinced that his father, who had disappeared at sea two years earlier, is still alive, 12-year-old Felix sets out to find him in the company of old Tom, a retired sailor, Quack, the one-legged pickpocketing parrot and Ulysses the cat. who behaves like a dog. Their journey leads them to the Isle-of-the-Eternal-Night, in an underground city where hides a secret society led by the megalomaniac Morgäa, holder of a treasure.
The treasure of Morgaa is actually in the form of a spider. When stung by it, the victim would gain immortality in the form of the fountain of youth. Move aside Ponce de Leon! Films seem imperative that they must include a message and here is one about the futility of wealth here, though it does not really work convincingly.
The animation is pleasant enough, not too elaborate nor stylish that will attract attention. Still, the animation encompasses a lot of shadows that require more work, that also creates more reality into each scene. The difficult animated sequences requiring water and fire are done with minimal efficiency.
The film's humour is slight and the film could be improved had it been funnier or even goofier. The cat pretending to be a dog, barking and always grabbing a bone in its mouth is only slightly funny, as is the rest of the film's humour. Segments are predictable. When the parrot and cat fight for the bone on the ship deck, it does not take a genius to predict the bone falling into the water. When Felix and Ulysses are capsized from their dingy the first time they venture into the sea, again it does not take genius to expect Tom to show up in his boat to rescue them.
The voices of the characters are dubbed in by local actors, none too famous unlike American animated features from Dreamworks or Disney. They work well enough. No one needs Brad Pitt to voice Tom, Robin Williams to voice the parrot or Lassie to bark like Ulysses.
FELIX ET LE TRESOR DE LA MORGAA is an all right watch for young kids, especially boys who love fishing or to go treasure hunting or who love the open sea. For others like adults or even girls, the film might be less interesting.
FELIX ET LE TRESOR DE LA MORGAA is available on VOD/digital April 9th 2021.
Trailer:
THE GOOD TRAITOR (Denmark 2020) ***1/2
Directed by Christina Rosendahl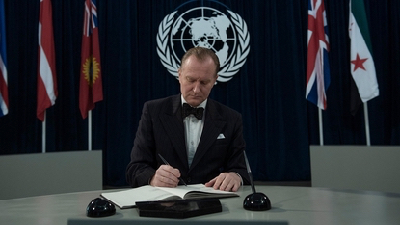 THE GOOD TRAITOR begins with a scene in a sanitarium in Skodsborg, Denmark in 1963. A woman pines over and kisses the forehead of what is assumed to be her beloved husband, lying in bed before….… It is a sad scene. One naturally assumes that the couple have gone through a lot together in the past. Indeed this is true and the film flashes back to WWII in 1939 where the younger couple is living in America and the man, Henrik Kauffmann serves as the Danish Ambassador to the United States.
THE GOOD TRAITOR follows the story of Henrik Kauffmann (Ulrich Thomsen), who was the Danish ambassador to Washington in 1939 when World War II started and who declared himself to be the only true representative of a free Denmark in opposition to the Nazis.
The reason is that Henrik does not and will never support the Nazis. The Nazis had given Denmark an ultimatum: "Surrender Copenhagen or it will be wiped out." Henrik's argument is that he is serving free Denmark and no longer as it is not more free, but one working at gunpoint. So Henrik declares his embassy independent from the King and government. President Franklin Roosevelt tells Henrik at one point (conically) in the film: "You have a problem."
THE GOOD TRAITOR is a spy thriller where the war is fought with a battle of words. Even though shot in Danish with English spoken only whenever the Danes speak to the Americans, the translation as seen in the subtitles is efficient enough. "Diplomacy is 50% information and 50% gambling," says Charlotte, Henrik's wife. What is not said is that diplomacy is 100% words and dialogue.
Besides therapy intrigue, director Christina Rosendalh, being female, inserts romance as a strong influencer into the film's mood and atmosphere, creating a nice break from all the spy stuff. Besides a very romantic relationship between husband and wife throughout the first half of the film, The Kauffmann's marriage runs into trouble when Charlotte (Denise Gough) catches her husband kissing her sister. As a result, Henrik sleeps in his office and discovers one of his employees at the Embassy going behind his back. The marriage trouble provides two plusses into the story. One is to humanize Henrik that despite him being a proud and righteous diplomate, Henrik is a man with human desires and one that can fall into temptation. The other is blending the problem into the spy story smoothly.
THE GOOD TRAITOR is a film that displays a solid period atmosphere. The film was nominated for both Best Picture and Best cinematography (d.p. (Årets fotograf) for the Danish equivalent of the Academy Awards, while winning the latter.
Though THE GOOD TRAITOR is mostly talky and in Danish, Rosendlah's film is still an engaging spy thriller. Rosendahl manages to manoeuvre her directing skills like an expert military fighter finally steering her film into a victory as what might look like entertaining spy fluff but is actually a story that is inspired by true events.
THE GOOD TRAITOR is available on VOD/digital from April the 13th.
Trailer:
Trailer:
HELD (USA 2020) ***
Directed by Travis Cluff and Chris Lofing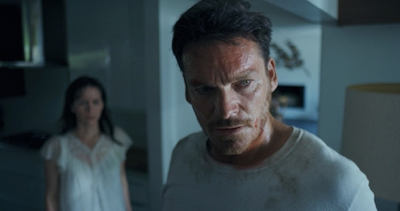 The new horror chiller HELD covers a scenario in which a couple is trapped in a house where modern technology becomes their enemy instead of their friend. They are forced to obey commands given by a voice while they hope and plan to escape. But the house is so modernly innovated that it seems impossible to do so. Ever since HAL in Stanley Kubrick's 2001: A SPACE ODYSSEY, the computer has the capability to take over man. In the recent 2019 thriller Mariano Cohn's 4X4, that is supposed to be based on true events, a car thief is trapped inside a high tech car that locks him in.
HELD has a simple scenario but a huge house compared to the confines of a car that the characters are trapped in.. This allows a less claustrophobic film with more opportunity for scares. The directors also use every opportunity to turn up the volume of the soundtrack to scare their audience from the sound of opening a fire door to a phone ringing, even the unzipping of a suitcase.
The film begins with a teenage girl being trapped by two males inside a car. The car is locked by Shawn who turns to the other male in the car to say: "She is all yours. " Then he turns to the girl: "Relax, you are not going anywhere." This scene is then left and the film moves to another story involving another couple.
The directors' best scary parts are the creepy, vague ones. When Emma (Jill Awbrey) is brought to the house by a driver, the driver is shown to be super creepy. He shakes Emma's hand and holds it longer than she is comfortable and utters words like: "Is your husband really coming tomorrow?" while even asking her for a larger tip.
The story is made more interesting by having the couple losing their spark in their marriage. Emma (Jill Awbrey) and Henry's (Bart Johnson) relationship is strained. It is later revealed (by the computer in the house) that Emma is having an affair. In an effort to reconnect, they vacation to a remote high-end rental, complete with automated smart house features and integrated security. However, after suspecting a nighttime intruder (seen only as a nightmare that Emma has - could be true, could be imagined - they decide to flee, only to become forcibly trapped inside by the automated security system. Emitting from the house, an unknown 'Voice' watches their every move through an array of hidden cameras, revealing an intimate and unsettling knowledge of their relationship. The audience is taken for a solid mysterious ride as to what is really happening and how can this computer or person controlling it know so much about the couple. While the situation grows increasingly brutal, Emma and Henry must work together to uncover the truth and find a way out before it's too late.
Warning! There is one scene that made me jump out of my seat. And this was not a false alarm or sudden increase in volume of the soundtrack.
The climax (not revealed here) contains one glaring inconsistency unless this reviewer has missed something here. However, that aside, HELD just rises above the average thriller.
Trailer:
LOOKING FOR A LADY WITH FANGS AND A MOUSTACHE
(Nepal/Mexico/Singapore 2019) ***
Directed by Khyentse Norbu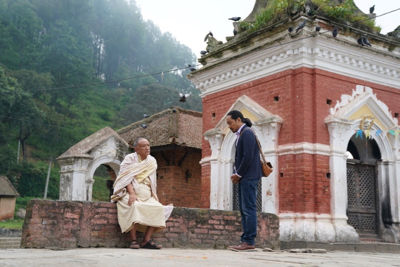 Though the film is listed as a mystery drama, LOOKING FOR A LADY WITH FANGS AND A MOUSTACHE is a slow trudge of almost 2 hours, but not without its subtle rewards. As the playful title indicates, the protagonist is in search of such a lady and the search itself is half the fun.
The protagonist is Tenzin (Tsering Tashi Gyathang) who has his eyes on making money as an entrepreneur, opening a western style coffee shop. Being ambitious is looked down upon by the monks, unlike in the west. As it does, Tenzin wanders around trying to find a site for the shop in Kathmandu, at the base of Mount Everest, obviously a small but attractive tourist site. With the help of local friends, he embarks on his quest. Unfortunately, the man has a series of dreams that disturb him. When led by his friend to see an eccentric Buddhist monk (Ngawang Tenzin), the monk predicts his death unless he finds this woman with fangs and a moustache and perhaps also having three eyes.
Comically this monk asks him if he can postpone his death after the weekend, or it will affect his family with even more deaths. This is quite the monk, as the audience will discover. The monk bets Tenzin his headphones thatchy will be given to him if he is wrong and Tenzin does not die. The monk constantly moves around with his headphones over his ears while wearing cool shades. The monk (with no name) has the cheek to refer him to a higher monk for help, one with the title Master of Left Hand Lineage (Orgyen Tobgyal Rinpoche) . The Master of Left And Lineage turns out to be a month eve more attitude, who ends up insulting Tenzin most of the time, calling him too stupid to understand his advice. This monk is the one who tells Teni to look for the lady of the film's title, so that he will not die. The trouble is that this lady is no easy find which leads Tension to go around the village seeking the lady like a complete idiot. Also funny is that the Master gives him a secret signal so that the lady when she sees it will respond and Tenzin will know that she is the one. But Tenzin can only show the signal twice. And so goes Tenzin in his crazy search while his coffee house collaborators get really annoyed because of Tenzin's reactive behaviour.
Tenzin has the talent of meeting strange people. When going to the doctor for a cat scan to determine if he will really die, the doctor asks if he wants antidepressants.
Enjoyable too is the film's soundtrack that is quietly soothing and pleasant. Included are local songs played on seldom seen instruments and simple dances. All this creates a solid few for the atmosphere and tone of the story.
The mystery is comically solved and director Norbu brings his film to a rather neat conclusion.
Trailer:
MOFFIE (South Africa 2019) ****
Directed by Oliver Hermanu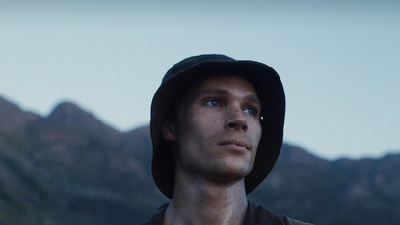 A moffie is a weak, effeminate and illegal male in Apartheid's South Africa. The portage hides his 'moffie' qualities when serving his 2 years compulsory military service.
Before going on to the review, I would like to disclose my background as this would bring more incite to this review. I was raised in my early years in Singapore where I was born. There, I had to serve two and a half years National Service. I am gay and hid it throughout the service. I had not come out then. It was my time after high school before entering University. As in the film, I pretended to be straight even putting down gays. It is what everyone did that time - hide their same sex orientation. I did first 3 months boot camp (basic training) and then after graduating from the NCU course as a corporal, served the rest of my time as a boot camp instructor, when the tides were turned and I became the merciless, screaming relentless instructor of recruits. I remember as a recruit, I wondered how humans can be so inhuman, but I became the same way. That is human nature that is basically bad!
MOFFIE is set in 1981 and South Africa's white minority government was embroiled in a conflict on the southern Angolan border. Like all white boys over the age of 16, Nicholas Van der Swart must complete two years of compulsory military service to defend the Apartheid regime. The threat of communism and "die swart gevaar" (the so-called black danger) is at an all-time high. But that's not the only danger Nicholas faces. He must survive the brutality of the army – something that becomes even more difficult when a connection is sparked between him and a fellow recruit.
The ilm can be divided into three parts, unfolding in non chronological order - the introduction and his life before the army; his basic training; then fighting the blacks at the Angora/South African border.
Hermanu' Nick is not openly gay. Nick does not display effeminate gestures, hiding them well. He denies any homosexuality. In fact fro the first third of the film, it is not certain of Nick's sexual orientation. Only during a flashback where Nick, as a boy is caught observing another boy in the public toilets and getting caught that Nick is revealed as gay. The boot camp section is similar to Kubrick's FULL METAL JACKET, right up to the super strict sergeant Brand. One other tittered weaker recruit picked on by Brand ends up shutting himself just as in FULL METAL JACKET. It is at Boot Camp that Nik encounters another and gfalls for a fellow recruit who is taken away and sent for 're-education.
Director Hermanu's film is often subtle despite the fact that one can tell where the story is headed. He ends the film in an open note as well.
MOFFIE is a carefully crafted film, filled with sexy gay eroticism without the need to show any nudity or sex. The sight of sweaty naked recites playing volley ball, underwater swimming scenes and even a peck on the lips can be erotic. Hermanu also captures the prejudice and unacceptable of the times in what can be concluded to be a powerful message drama.
MOFFIE is available to rent on AppleTV on April 9th, and will be available this summer on IFC Films Unlimited.
Trailer:
THE POWER (UK 2020) **
Directed by Corinna Faith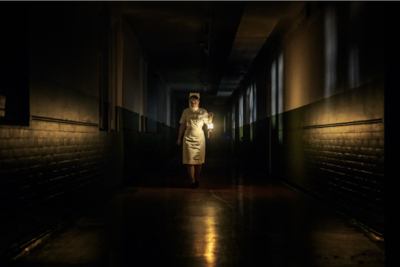 A Shudder original, THE POWER written and directed by Corinna Faith is to be commended for its detailed creation of a creepy and scary atmosphere typical for a horror thriller.
The film is performed by a cast of unknowns, with Rose Williams in the lead. The cast is eclectic to the casting director and filmmakers' credit who perform well as an ensemble cast. It is immediately noticeable that the film slants towards the female gender firstly with so few male characters in the story. Where there is one like Dr. Franklin (Chareles Carrick) and D.J. Mike (Joe Haddow) they appear only for a short period of time.
The setting is January 1974, in East London. It is a time of a failing economy where the Trade Unions and fighting against the government. Rolling blackouts are common in order to save power in the crumbling economy. A young nurse, Val (Williams) is forced to work the night shift by the overtly strict and nasty matron (Diven Henry) in a crumbling hospital as striking miners switch off the power across Britain. But inside the walls lurks a terrifying presence that threatens to consume her and everyone around her.
Director Faith makes use of many tactics to create an eerie, creepy and scary atmosphere. These include a ward of dying patients, many in a comatose state; a new nurse in a new and unfamiliar hospital; lockouts; the nurse's feat of darkness; long dark corridors between wards as well as weird colleagues who cannot be trusted. Poor Val. Not only has she had to deal with all these problems, she comes under the spell of some demon because she wears some bracelet she finds in the hospital basement. Note to the audience never to wear strange objects found in basements. If she took out the bracelet in the first place, the film would just have ended right then and there.
Director Faith offers few breaks from the chilling tale. One has a d.j. play the 70's hit song "Chirpy, Chirpy Cheep Cheep" by the Scottish band Middle of the Road, a song that I have not heard since the 70's when I was in high school. When Val goes into a seizure, she claims that she is normal to high, another nurse's reaction is a loud "Huh!" Otherwise, the film is devoid of any humour or lightness.
The film has a few distractions. "Why are you so nice to me? asks a nasty nurse to Val. "That is what nurses do," is the answer. Val's character is one of timidness, desperate, kindness and obedience. The presence of d.j. Mike could be left out of the story with hardly a difference.
Despite impressive creations of a horror film atmosphere including its period setting, the film lags because of its lack of a solid story, its slow pace and meandering of the storyline. The film is entitled THE POWER though it fails to fully utilize the full potential horror from power blackouts.
Trailer:
(unavailable)
THE SEVENTH DAY (USA 2021) **
Directed by Justin P. Lange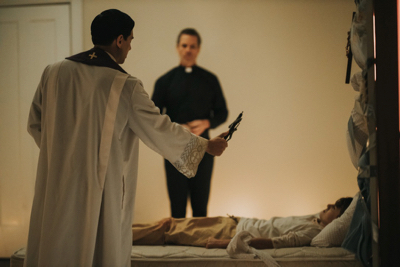 THE SEVENTH DAY is a decent earnestly made exorcism horror film with a bit of comedic bite directed by Justin P Lange. The story follows two cops, a rookie, Father Daniel and a 25-year old veteran Father Peter played with tons of cynicism by Guy Pearce who seems to enjoy playing odd roles these days.
The film plays like a rookie cop/seasoned cop movie. It reminds one immediately of THE ROOKIE with Charlie Sheen and Clint Eastwood. I remember hearing someone young say in the subway when THE ROOKIE opened, who would want to seed Eastwood and not Sheen? But Eastwood continues to astound and is still much respected. The same can be said of Pearce as he clearly shows his clout in the role.
The film opens with your Peter experiencing his first exorcism with a fellow priest - one that failed and left Father Peter scarred with the failure for life. And it's the guilt. It seems that 25 years have still not allowed him his redemption and that he has something to prove, some challenge that he needs to conquer, which leaves the audience guessing as to what that challenge is. And also why the film is entitled THE SEVENTH DAY.
The trouble with THE SEVENTH DAY and all exorcism films is that these films have hard shoes to fill after classics like THE EXORCIST and THE OMEN, and with all their mediocre sequels. Director Lange's film follows most of the stereotyped dialogue that the priests utter to exorcise the demons, down to the distorted faces of the possessed. To be fair, there is hardly any stone uncovered with this respect.
With director Lange playing his horror film like a rookie/veteran buddy cop movie, it is difficult to laugh at a horror exorcism film. The one-liners do not turn out that funny (unless one wants to count the silliness of the film's climax) though the script tries very hard. "Did you get his name (of the demon)?" is the question asked to Father Daniel by Peter when he enters the possessed kid's (a 12-year old who went on a killing spree) house for the first time alone.
Director Lange's attempts to make his exorcist flick stand out is apparent. He includes video gaming kids speaking their 'talk' (dude; fuck off) while employing an eclectic cast of actors, black and hispanic, primarily. The tying in of current issues like mass killing are tied into this story. One admires the attempt but it does not really work - coming across as not only too obvious and not really believable.
It is good as always to see Guy Pearce in a meaty role and the same can be said in THE SEVENTH DAY. Unfortunately, he cannot save the piece.
THE SEVENTH DAY fails not for lack of trying, so-so entertaining, but for taking too much that it can handle and not too convincingly. The film might be worth a look as a curiosity piece.
Trailer:
SLALOM (France 2020) ***
Directed by Charlene Favier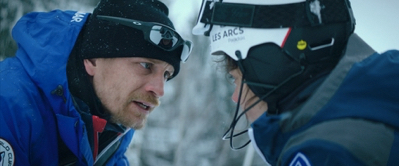 Slalom is an alpine skiing and alpine snowboarding discipline, involving skiing between poles or gates. These are spaced more closely than those in giant slalom, super giant slalom and downhill, necessitating quicker and shorter turns. Internationally, the sport is contested at the FIS Alpine World Ski Championships, and at the Olympic Winter Games.
Under the guidance of a strict ex-champion known only as Fred (Jérémie Renier) in the film a promising 15 year old girl Lyz (Noée Abita) trains as a professional skiing star. The question is whether she will be able to endure the physical and emotional pressures.
The effect of pressures of training for a particular sport on an individual has always been interesting fodder for film scripts. Just last year saw Nadia, an Olympic swimmer break down under enormous training and expectation pressures in Pascal Plante's Quebec entry NADIA BUTTERFLY.
SLALOM was the 2020 Cannes selection which allowed me to review the film then. SLALOM bears similarities with NADIA BUTTERFLY. But slalom skiing is a different sport from the butterfly stroke. Both films attempt for authenticity. NADIA, BUTTERFLY excess in this respect as the script is a closer and more scrutinizing study of human endurance while SLALOM focuses more on the protagonist Lyz, coming-of-age. There is a scene of the 15 year old having her period in the shower. The issue is also addressed by her coach, Feed who tells her the effects on her muscle during that time of month.
Needless to say, the skiing segments are exhilarating to watch. This point lifts the film above other sports films, as it is more difficult to shoot and to illustrate slaloms.
The story of SLALOM follows an all too familiar path, with a lot of incidents predictable as the story unfolds. The Lyz has an accidental first glance at her icao Fred totally nice taking a shower, one can tell that she will be involved sexually with him. As a pre-teen, one knows too that she will be pressuring Fred to continue the affair. Unfortunately, this fact undermines the severity of the coach's sexual abuse. Fred's abuse is revealed in stages. He notices her period. He measures her body fat with no-one else in the room. Lyz's rebellious nature towards her mother is also expected and leads to the same old story where the mother has found a new boyfriend and she is left jealous and abandoned, here during the Christmas holidays.
The sexual abuse is left hanging with the guilty left uncharged. The director has based her story on true events so one wonders if and how bad she herself have encountered in terms of sexual abuse.
SLALOM is an ok watch, not too demanding but unfortunately too commercial for many critics' liking. But it is a good sign to see more French films released in Ontario in what is a bilingual country.
Trailer:
THUNDER FORCE (USA 2021) **
Directed by Ben Falcone
(Embargoed till Friday 12:01 am)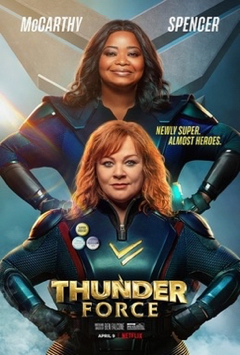 WILLY'S WONDERLAND (USA 2020) **
Directed by Kevin Lewis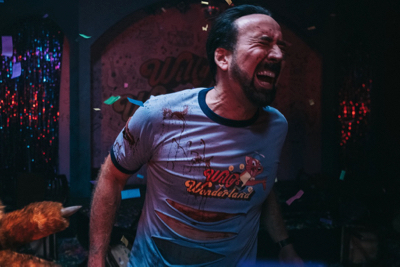 Academy Award Winner Nicholas Cage (LEAVING LAS VEGAS) stars in yet another crazy horror movie WILLY'S WONDERLAND. So one can expect super nonsense from Cage as is expected and delivered by the actor in all his recent films. So the question is what WILLY'S WONDERLAND has to offer that is different and perhaps worthy of notice?
As expected in this Nicholas Cage movie, every character present including Cage's has an attitude. What makes this character of Cage is that he does not utter a single line of dialogue. He has no name either. According to the press notes, this was what attracted Cage to the role. So he plays a janitor with no name similar to the Clint Eastwood spaghetti action westerns.
So whatever the excuse is, which is that he is the town's next fodder for the killers, is that Cage's character gets a job at WILLY'S WONDERLAND. What ensures the movie.
As Cage has no Marvel super hero role, he creates his own. As Super Janitor, he is able to do away with all the amusement park's killer mascot animals without any weapons. In one scene, he kills one often by choking him with his one knee so that it can't breathe - Rodney King style. One can imagine that the filmmakers must be half crazed and having a ball of a time making this movie.
So the story involving WILLY'S WONDERLAND is a history of serial killers. The serial killers who murder the children of the town make a pact with the devil when convicted. They possess all the animal mascots of WILLY'S WONDERLAND, thus able to do major damage forever - not that all make much sense no of the rest of the plot. So the residents of the town make an agreement with the possessed mascots not to kill their children and to leave their town alone on condition that the town will provide them victims - any visitors from out of town, Cage's character is one of them. He is hired as a one night janitor of Willy's Wonderland. Everyone expects him dead the next morning. But no, the new janitor fights off the killer mascots one after another while cleaning up the place spic and span at the same time.
The film also introduces a band of teenagers who attempt to burn the wonderland down, led by Liv (Emily Tosta). Liv knows exactly what is going on and hates being controlled by Sheriff Lund (Beth Grant) and the other adult folk. Liv tries to save the janitor.
WILLY'S WONDERLAND shifts among protagonists at one point - Cage's janitor, Sheriff Lund and Liv. The film pays nods to past horror films like FUNHOUSE, the FRIDAY THE 13th series and THE NIGHTMARE ON ELM STREET franchise as well. When a film takes mediocre horror films as its model, one cannot expect too much from it.
WILLY'S WONDERLAND is occasionally fun (such as the Rodney King reference), though one might complain it being of bad taste) but it does not have enough bite to make it rise above the average horror spoofs.
Trailer: