07
Apr
2021
Details

Category: Movie Reviews
Written by Gilbert Seah
FILM REVIEWS
---
---
3½ MINUTES, 10 BULLETS (USA 2015) ***1/2
Directed by Marc Silver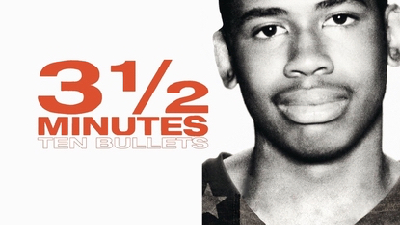 Black Friday, the day after Thanksgiving November 2012, four boys in a red SUV pull into a gas station in a Florida neighbourhood after spending time at the mall buying sneakers and talking to girls. With music blaring, one boy exits the car and enters the store, a quick stop for a soda and a pack of gum. A man and a woman pull up next to the boys in the station, making a stop for a bottle of wine. The woman enters the store and an argument breaks out when the driver of the second car asks the boys to turn the music down. 3 1/2 minutes and ten bullets later, one of the boys is dead. 3 1/2 MINUTES dissects the aftermath of this fatal encounter.
The doc begins with the court case. The boys take the stand and tell their story. So does the shooter's girlfriend, who together have left a wedding after consuming a considerable amount of alcohol. David Michale Dunn is on trial for murder of Jordan. Jordan's parents also have a say to the camera making the doc a very personal one.
Director Marc Silver's well crafted and executed documentary 3 1/2 MINUTES. 10 BULLETS unfolds with more emotional drama than most fiction films. There is also an important message in the tragic story of two families. It is the question of tolerance and repeat. If these two values were observed by the victim and predator, the tragedy could surely be avoided, to the relief of both families. But what is done is done and the doc shows the horrid consequences both parties have to face in the court of Florida.
What actually happens is quite straightforward, but there are so many points of view or ways of examining the situation as demonstrated in the courtroom. Basically there was an argument about the loud music. When the victim came out of his car, he was shot, the shooter claiming it to be self defence.
Director Silver shows both sides of the story but clearly his film is one the side of the victim. The audience will be too, as there is absolutely no reason for anyone to get shot no matter what the circumstance. And self defence can be an argument used as some excuse but killing someone is no excuse for bad behaviour that should be punished. The sight of the killer sitting in the courtroom trying to look sad and sympathetic makes him look even more pathetic. Silver's camera settles on him a number of times before he is revealed to be the defendant.
One of the film's most moving and surprising parts is Dunn's girlfriend's testimony. Dunn claims that he perceived the boys having a weapon. When cross-examined she tells the truth that Dunn never mentioned to her of him seeing or imagine seeing a gun to her that day, evening or next day. This testimony has a big effect on the jury as it implies Dunn lying about his self-defence defence.
It took a while before this 2015 doc premiering widely on Hollywood Suite, Monday, April 26 at 9pm ET. The doc is definitely worth a look.
Trailer:
THE BANISHING (UK 2020) **
Directed by Christopher Smith
Review emabargoed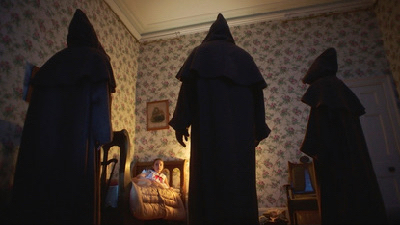 Trailer:
BEAST BEAST (USA 2021) ***
Directed by Danny Madden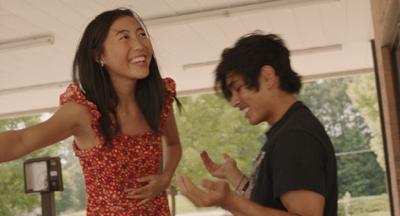 The film begins with the words: "Today is the day of reckoning. BEAST BEAST, ready to act" which are chanted by kids, all a premonition of some horror yet to unfold, though the film just breezes through the activities of the kids in the first half hour of running time.
The kids in the film do supposedly cool stuff like skateboarding tricks, partying, making videos, and attending acting classes. The adults, however, are shown to always be in conflict with the kids and idiots. Having fun seems to be the only thing of importance in the kids' minds.
The actors are given a free hand in the film to express themselves, as their characters are told the way to act in a scene by their professor where they study in an acting class.
The characters are shown their personalities by their actions. For example, one kid fires a weapon near a road in the woods, thinking it is cool. That is the personality of an asshole. Another puts her feet up while in a class. This reveals a personality of a kid with an attitude who thinks herself better than others.
After a lengthy introduction, the film focuses on three of the kids. All three carry on their own brand of charisma. One is Krista (Shirley Chen) who is one of the spirited participants in the drama class. There is one short scene where she is shown auditioning for a role, which could very well be the role of this film. Krista is confident, makes friends easily and ends life a breeze. The opposite can be said of Adam (played by the director's brother, Will Madden), a gun-totter who hopes to make money on the internet by posting 'how to' with various weapons. He is charismatic in his own way, talkative and would be successful if guided in the correct path. However, his parents have left Adam to disown devices, leaving him locked up in his room all day and ending up a loser with no real goal in life. He initially only gets 46 views for his effort and when he gets over 4 thousand views, they all criticize his work negatively. The third is Into (Jose Angeles) good looking, well built and pretty cool with his skateboard. With his good looks, Into can charm almost anyone. Unfortunately he runs into a gang of thieves. Bad company leads to stealing and doing other bad things.
The paths of the three intersect.
Director Madden appears to be having fun with his cast as evident in most of the film segments which are amusing despite bad undertones. For example, when Nito steals stuff from the grocery store, the cashier is described as bitch face and the incident unfolds comically rather than in a tense fashion.
Nito's locker is above Krista's locker in school. They meet and become friends. Krista says hi to Adam's dad in one scene as she walks by Adam's house. But what eventually happens (not disclosed in the review) is totally tragic and avoidable. Director Madden's film gets more serious and darker as his film progresses towards its tragic climax leading to a film with a solid punch.
Trailer:
BEATE (BLESSED (Italy 2018) **
Directed by Samad Zarmandili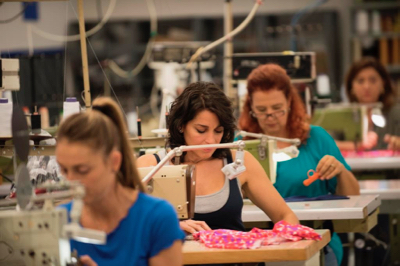 A comedy about nuns always appears quite an attractive concept on paper. But comedies about nuns seldom make the mark - not even Monty Python spin-off's NUNS ON THE RUN was remotely funny. The Italians get a go where with their 2018 venture entitled BEATE which means BLESSED in English. They succeed with just a little more humour (though the film is credited with 3 writers) though one could hardly call it a success. This could be the reason this Italian comedy (in Italian with English subtitles) took this long to be available in North America.
This comedy comes with a message of displaced workers who should be given rights and respect. To the film's credit, the message is not pounded into the audience but just left in the storyline.
A small lingerie sewing operation on the Italian northeast coast is betrayed by a boss who wants to move their skilled labor to Serbia. The seamstresses team up under Armida (Donatella Finocchiaro) with an endangered local convent, famed for its lace work, to try and save both institutions. Armida's aunt (Lucia Sardo) is one of the convent's nuns. Armida is also the sewing company's boss' pet, thus she is given a rude awakening as well as 'shit' from her co-workers. The boss, Veronica is played with more humour than evil cunning by Anna Belato. It is time for the females to unite. This is pretty much a female story - no harm in that - with hardly any men in the feature except for the pope and Armida's always in-heat boyfriend who seems to be around only as Armida' sex object. He is described by her as a nobody but he claims that at least he is quite the hunk of meat.
The Italian town is not identified and it is very apparent that it is a very small town. How then can there be a large enough market to buy all the merchandise made to pay the salaries of all the workers as well as the convent renovations?
The best thing about this Italian female comedy is its colour - from the wardrobe, set decoration and props. The art decor is reminiscent of the female Pedro Almodovar comedies like WOMEN ON THE VERGE OF A NERVOUS BREAKDOWN. (Almodovar has also made a 'nun' film - DARK HABITS.
Despite the film's unfunniness, the characters are quite hilarious. Lucia Sardo's aunt is quite hilarious with her huge eyes and fussing personality. The Mother Superior is in ill health with a semi-stroke but still insists on bossing every nun around. Unfortunately, Finocchiaro's Armida falls flat as comedy. Her character is a 40ish single mother, who walks with a lifelong limp due to being born with a clubbed foot. A minor character is young Sister Caterina (Maria Roveran) who takes over running the convent and saving it. When the other nuns complain about making the devil's garments, Caterina's reply is for them to shut up and just do it.
BEATE wastes a good concept with cheap and unimaginative humour - but at least it is filmed in glorious colour.
Trailer:
BILL TRAYLOR: CHASING GHOSTS (USA 2018) ***
Directed by Jeffrey Wolf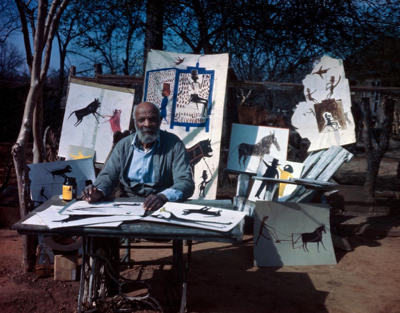 Many have not heard of the artist Bill Traylor. As one of the interviewees says at the introduction of the film, Bill Traylor is the greatest artist one has never known. Director Jeffrey Wolf attempts to show the reason in his intriguing new documentary on Traylor entitled BILL TRAYLOR: CHASING GHOSTS. One of his paintings has a ghost-like figure being chased. The film's opening words begin with the quote: One may have a blazing hearth in one's soul and yet no one ever comes to sit by it.
The documentary explores the life of a unique American artist, a man with a remarkable and unlikely biography. It begins with the history of Traylor. Bill Traylor (1853 - 1949) was born into slavery in 1853 on a cotton plantation in rural Alabama. After the Civil War, Traylor continued to farm the land as a sharecropper until the late 1920s. Aging and alone, he moved to Montgomery (the town in Alabama) and worked odd jobs in the thriving segregated black neighbourhood. A decade later, in his late 80s, Traylor became homeless but living in the busiest street in Montgomery, and started to draw and paint, both memories from plantation days and scenes of a radically changing urban culture. He eventually lost one leg due to gangrene before his death.
What is most intriguing is the history of the black slave captured on film and illustrated with images, many of Traylor's. Having witnessed profound social and political change during a life spanning slavery, Reconstruction, Jim Crow segregation, and the Great Migration, Traylor devised his own visual language to translate an oral culture into something original, powerful, and culturally rooted. He made well over a thousand drawings and paintings within his life time. This colourful, strikingly modernist work eventually led him to be recognized as one of America's greatest self-taught artists and the subject of a Smithsonian retrospective. What made Trayor unique was the fact that he was a slave, he was self taught and he was pure. A subject joked that if he was a woman he would become even more famous.
Using historical and cultural context, Bill Traylor: Chasing Ghosts brings the spirit and mystery of Traylor's incomparable art to life. Making dramatic and surprising use of tap dance and evocative period music, most of it quite uplifting, the film balances archival photographs and footage, insightful perspectives from his descendants, and Traylor's striking drawings and paintings to reveal one of America's most prominent artists to a wide audience.
A fair portion of the film is narrated by Charles Shannon, the white man who claims himself to be the one who discovered Traylor. His narration puts Traylor's drawings into time perspective. Bill's grandchildren and great grandchildren, also interviewed create more personality and intimacy (many humorous) for the film. Many knew that Bill drew, but did not know that his drawings became famous and precious. This had resulted in a big lawsuit.
This film opens April 16 in select theatres and virtual cinemas nationwide.
Trailer:
KENNY SCHARF: WHEN WORLDS COLLIDE (USA 2020) ***
Directed by Malia Scharf and Max Basch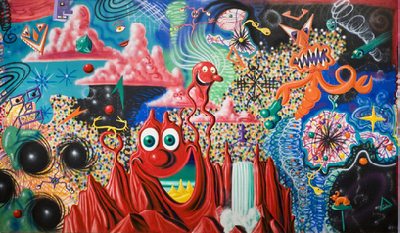 KENNY SCHARF: WHEN WORLDS COLLIDE is an intimate portrait of American artist Kenny Scharf, whose unique brand of "pop-surrealism" made him a 1980s art star.
Kenny Scharf, born November 23, 1958, still alive today, is an American painter known for his participation in New York City's interdisciplinary East Village art scene during the 1980s, alongside Jean-Michel Basquiat and Keith Haring. Along with friends Keith Haring and Jean-Michel Basquiat, Kenny Scharf grew from a graffiti artist into a major force in the 1980s NYC art scene. Obsessed with garbage, cartoons, and plastic, Scarf, with his playful Peter Pan's roller coaster career flourished despite the decimation of the AIDS crisis and the fickle tastes of the art world. From street art to museums, Scharf continues to create colourful and complex work that puts him at the forefront of where popular culture meets fine art.
Scharf's do-it-yourself practice spanned painting, sculpture, fashion, video, performance art, and street art. Growing up in post-World War II Southern California, Scharf was fascinated by television and the futuristic promise of modern design. His works often include pop culture icons, such as the Flintstones and the Jetsons, or caricatures of middle-class Americans in an apocalyptic science fiction setting. Unfortunately, Scharf's contemporaries are dead, Basquiat at 27 and Haring, his soul-mate at 31. This doc benefits from the fact that Scharf is still alive. Still at a ripe age and alert mentally, he talks to the camera of his past and of the present.
The doc also shows Scharf at work producing his masterpieces But as the artist himself admits at the start of the film: he just does it; no planning. He mixes everything, whatever comes out of his head. It is therefore of no surprise that he is obsessed with collecting trash. When he was living with his true love in a remote part of Brazil away from everyone with no electricity, he would collect trash from the sea and turn it into trash sculptures. As Scharf sees faces in everything, there are always eyes embedded in most of his abstract paintings.
Though he gained fame in the 80's there is no information on his use of drugs. So one can assume if he did any, it was under control as Scharf had no addiction problems.
Every artist has a downfall in life. In fact every person artist or non-artists do. Scahrf's downfall was the period where his artwork went out of style. He was not a businessman and could do nothing else. His family suffered from poverty during those times.
The doc benefits from an impressive list of interviewees that say their two cents worth on Scharf. These include Yoko Ono, Kaws and from archive footage Haring and Basquiat. There is footage of Scarf with Andy Warhol as well.
Scharf is as playful now as he was in his youth, "Many people think I am ok," he says. "I think I am ok." Spanning the 80's from the Vietnam war to the nuclear war to AIDs, the doc represents a good portion of the history of American as experienced through the art and mind of Kenny Scharf.
Trailer: