FILM REVIEWS:
AN AMERICAN SATAN (USA 2019) **
Directed by Aram Garriga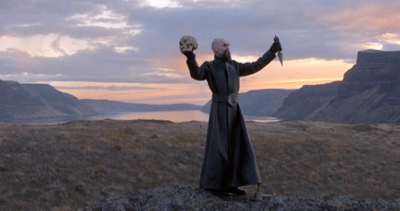 A documentary is often as interesting as its subject. In the documentary AN AMERICAN SATAN, it is the Church of Satan that is the subject. Though the church boasts members across the globe, many know very little of its practices. Thus, the title of the doc alone should pique the interest of many. Any devil worshipper is preconceived with nastiness such as indulgence in human sacrifice, animal killings, unusual sex and cult suicides.
The doc is quick to offer information on the Church of Satan. Founded in 1966 in California by a former organist and lion tamer named Anton Szandor LaVey, the Church of Satan has often been surrounded by mysteries, scandals and moral panics. Some of today's active members of the church and other free-styled Satanists will share their views, memories, ritual practices and personal stories about how they got involved with Satanism, discussing the false myths that still surround the movement. AN AMERICAN SATAN, from director Aram Garriga (who co-wrote the script with Xavi Prat), intends to take his audience into an immersive journey into one the most fascinating phenomena of American religious pluralism.
Unfortunately, AN AMERICAN SATAN is NOT the first doc to examine people who supposedly worship Satan. Last year, Penny Lane's 2019 doc, HAIL SATAN? looked at the Satanic Temple. The Church of Satan and the Satanic Temple are similar but Garriga's doc never mentions anything about the Satanic Temple. A lot of people will appear disappointed when told what the Church of Satan is all about. Despite its name, it does not worship the devil or burn human flesh or indulge in sex but is an alternate church with milder beliefs.
Garriga's doc ends up a noncontroversial and mild documentary that traces the rise of the Church of Satan through its founders, high priests and followers. The film gives a lot of screen time to LaVey. But LaVey and his high priests come across as life losers who cannot fit into society. Their excuse is not to follow the flow but to be individualistic. That is easy to say if society rejects you.
The doc also includes the reactions of parents to individuals when discovered of their interest in Satanism. Some could not care. Others encourage their children. Others ignore and pretend their children are uninvolved. Does the audience really care?
Garriga references several horror classics like THE EXORCIST, ROSEMARY's BABY, THE DEVIL'S RAIN and THE OMEN. But the connection is weak and unconvincing.
The interviewees also talk about hate speech aimed at them. One claims the existence as to what really is hate speech. One also talks about the first and second amendments and how he reasons out the having the right to bear arms is his belief. Again who really cares what these society rejects believe. Director Garriga expresses the views of his Satanist as if what they say is the Gospel (or Satanic) truth.
With Satanic worship de-demonized and the followers shown as ordinary people wanting to express their individuality, the doc ends up a boring collage of interviews. By inevitable comparison, Lane's HAIL SATAN? was more interesting and dealt with the Satanic Temple with more depth than AN AMERICAN SATAN does with the Church of Satan.
Trailer:
BOYS FROM COUNTY HELL (Ireland/UK 2020) ***
Directed by Chris Baugh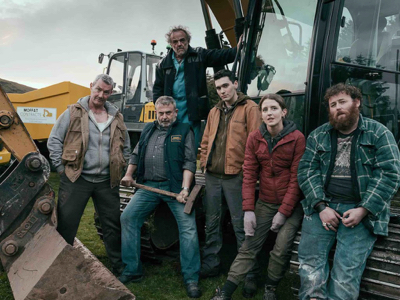 Writer/director Chis Haugh vampire horror comedy arrives with a fresh look at the blood sucking legend. Set in the county of Six Mile High (a fictitious one as no such county exists according to Wikipedia), it purports that Dracula author Bram Stoker made a visit to Six Mile High and encountered the blood sucking monster before it was defeated that give him inspiration to write the most famous horror novel of all time. The film is quick to point out that Stoker was an Irish author, a true fact, according to Wikipedia. But this vampire or vampire spinoff tale does not follow the vampire rules. In other words, a stake through the vampire's heart, garlic and sunlight all do no harm to the beast. This beast even when decapitated, can survive. (How the monster is disposed of, will not be revealed in this review.)
Baugh injects lots of humour into his vampire cautionary tale. To his credit, he exhibits a keen sense of humour. When a pair of tourists (Canadians, hilariously, recognizable by the Maple Leaf badge one wears on his sleeve) gets scared, he asks: "Don't you guys have anything else better to do?". "No, we don't", comes the reply. Or in the scene when the father gets his leg injured and the son asks his father, while running away from the monster, "Can you run?" "I can hobble", comes the hilarious reply. Baugh has to indulge in graphic violent scenes to counteract the comedy to induce the horror back into his tale. This includes ghastly scenes like poles jammed into the master and a leg chopped off.
Baugh incorporates a lot of Irish into his Irish film - giving it a solid Irish flavour. All the characters (except for the two Canadian tourists) speak with Irish accents and use Irish terms like (That's grand! and sentences with the word 'wee' - the words grand and wee always used in Irish dialogue). The stones underneath the monster were initially buried is typical of Irish folklore. The Irish countryside and landscape all add to the film's 'Irishness', not to mention all the characters' fondness for the drink.
The story revolves around the boys of the title, led by Eugene Moffat (Jack Rowan), a layabout who spends most of the time drinking his life away in the local pub called 'The Stoker' after the author Bram Stoker. His father (Nigel O' Neill) is displeased with his son's laziness and the pair finally get to bond after their many differences at the end of the film. It all begins when the rocks covering the grave of the beast are disturbed by Eugene's friend, Michael after a drunken fight leaves some blood on the stones. The monster resurrects, creating havoc on Eugene and his friends, as his father and friends have got a contract job excavating the land containing the burial site. So the monster attacks them and they have to destroy it before the monster kills off the town of Six Mile High.
Baugh's film is fresh and entertaining while sticking to its Irish roots. The film opens on Shudder on April 22nd and is worth a look, despite the film lagging a bit towards the middle.
Trailer:
BROTHERS BY BLOOD (Netherlands/France/Belgium/USA 2020) **
Directed by Jeremie Guez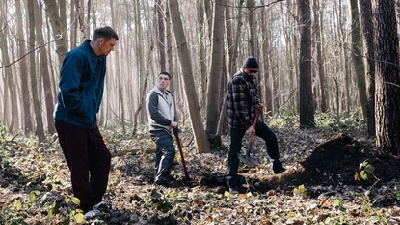 BROTHERS BY BLOOD is a thriller/drama based on the novel "Brotherly Love' By Peter Dexter. It has two actors that I admire and love to watch - Joel Kinnaman and Matthias Schoenaerts. If you are wondering what Dutch actor Matthias Schoenaert is doing in this movie, the reason is that the film is a Netherlands co-production with other countries. Unfortunately, these two are unable to save this awfully executed movie that ends so abruptly that one wonders if something must have been left out.
Director Guez has the knack of confusing audiences with his story-telling technique. It is really confusing for the first half of the movie as the two actors play Michael and Peter, both with the same last name. One would assume that Peter and Michael are brothers as the title even implies so. But Peter keeps warning others about his cousin. No cousin is seen. So, one would assume that maybe the two are cousins and not brothers. The fact is cleared only after half the film has passed. As a kid, Peter is brought to stay with his cousin after his father, Charlie (Ryan Philippe) is killed. So they are cousins but are like brothers by blood.
In the beginning, Peter and Michael indulge in a drinking binge and Peter jumps off the edge. Michael tells the other friend: "He has done that before." It seems odd as Michael is the crazier one and Peter the saner one, so one would not expect Michael to be doing silly things. Incidents also appear out of the blue. The beginning meeting with a business proposal is also confusing.
The film's story unfolds in two timelines. Peter is also shown as a kid with his explosive father as the main story unfolds with Peter's relationship with Michael.
The main story involves crime gangs. Michael is rising in the ranks as he kills off his rivals. It is a gang war between the Irish and the Italians. And the Italians are winning as the Irish have no control of their emotions. Charlie puts it spot on when he says: Only an Irish would bang his fists on the wall. But when he hits a stud, it is damage done with no turning back. Or only an Irishman would open a beer with his teeth. Only an Irishman would hurt himself and there is no excuse for this. Obviously these words must have fallen on deaf ears, as Peter is constantly hitting himself in danger by protecting Michael.
If one wonders the reason Peter is putting up with all of Michaels bullshit, the reason is given by Michael telling Peter: "You have to be on my side. You are my brother. You are the only one I trust."
For an action drama, there is not much action. Director Guez not only likes to confuse but tease his audiences as well - especially with the abrupt ending in which he brings his tiresome film to an end.
Trailer:
SPIDERMABLE - A REAL LIFE SUPERHERO STORY (Canada 2020) **
Directed by Kelly Wolfert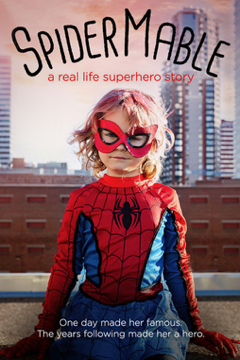 SpiderMable is introduced as a film based on a real story. The talking head admits that the film will pull at one heartstrings and is a good feel movie. Director Wolfert knows that his story of cancer kid, 6-year old Mable who draws her inspiration from Stan Lee's comic book hero SPIDER-MAN is such a film and milks it for all the drama and feel-goodness that can be mustered.
Tragedy strikes, a superpower is revealed, and the hero must come to terms with their new abilities. That's the story arc of great comic book heroes. It's also the real-life journey of a selfless 6-year-old cancer patient's desire to help others even while she is in the battle of her life. SpiderMable - a real life superhero story is a feature documentary following cancer-fighter Mable Tooke who lives out her dream of fighting crime with her hero Spider-Man and is then thrust into the realm of celebrity after her wish day becomes a viral sensation. Mable must learn to manage her newfound popularity and harness her power in an attempt to give back to the community that is helping her survive.
The Children's Wish Foundation made Mable's wish come true with support right down from the Mayo of Edmonton. Telecast on Alberta TV, the mayor gives SpiderMable free access to the city in order to complete the dauntless task of finding a purple caped villain and rescue missing Edmonton Oilers Captain. SpiderMable is laser focused and enters the police station, in the midst of an important police meeting to talk to the police. SpiderMaple is in charge. All this make belief is to make a child's wish come true. Lots of people, including working folk in Edmonton were tweeting as to where SpiderMable is.
Famous talents on display includes Canadian News Anchor Peter Mansbridge, filmmaker Kevin Smith (in total serious mode here) and the creator of Spider-Man, Stan Lee among others who lend their time for Mable.
The film also follows Mable as a daffodil champion in raising money for Charity for cancer patients. This is her true super-hero ability.
But Mable has to return to reality. This means she has to remember she has cancer and to continue receiving hospital treatment of chemotherapy.
SpiderMable will be inevitably be compared to the Swede documentary, Nathan Grossman's I AM GRETA which follows Greta Thunberg, a teenage climate activist from Sweden, on her international crusade to get people to listen to scientists about the world's environmental problems. SPIDERMABLE fails to show Mable's shortcomings which every child or person has, instead of an all-perfect human being. In I AM GRETA, Greta is also shown in a segment as a child who sometimes acts spoilt because of all the media attention, disobeying her parents.
Despite the film's good intentions, and this reviewer not wanting to be a wet blanket but the film ends up a bit much, beating its theme to death. A shorter featurette would have served the purpose of the story just as well.
Trailer: (unavailable)
STILL THE WATER (Canada 2020) ***
Directed by Susan Rodgers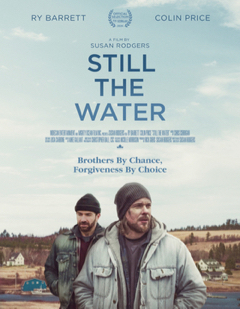 STILL THE WATER is a film about second chances, as it is made known to the audience at the start of the film. Nicky (Colin Price) scolds his brother Jordie (Ry Barrett), the two of them having a troubled past, "Helping a coward like you does not make me a believer (in second chances), but makes me a sucker." This is the theme of STILL THE WATER - the relationship of the two brothers with Nicky, especially hating Jordie, but one can guess where the film will be heading.
It is strange for a female to make a film with hockey as its central theme - especially when hockey is a male chauvinist sport, one that involves fighting and violence often during the crucial matches. But the film is also about the trouble and reconciliation of two brothers, a film about forgiveness and truth that females should have a better grip of than their male counterparts. The brothers take their aggression to the ice in the rink when they play hockey on the same team, though this is no excuse for Nicky to slam and punch out his brother.
STILL THE WATER can be described as a decent film - for a decent film it is, one that has human values like accidents and fate and how normal human beings have to deal with their anxieties and blame. In the story, two brothers are having problems from an incident in the past. The problem is not made known to the audience till after the first half of the movie. "You'll be surprised at how much I know about you and Nicky" says Jordie's 'girl' to him, even though the audience has no clue at this point what had transpired between the two brothers.
The best thing about STILL THE WATER is the cinematography (d.p. Christopher Ball) of Prince Edward Island where the film was shot. The setting is not a familiar one, even for Canadians, as P.E.I. is a small island that few have visited though many wish to do so, including myself. The island is shot in all its glory from the lobster fishing to the fishing docks that the fishing boats react to the causeway from the island to the Canadian mainland. Indeed, P.E.I. is a beautiful place and director Rodgers was wise to expose the island's beauty in her film.
The film's beginning that cannot be forgotten for its brutality has Jodie punching up his hockey opponents that caused his disgrace and suspension. Near the end of the film, he is told that he is an inspiration for the kids in terms of hockey. The two do not go together, how a fighter that goes against the rules can be a role model for future hockey players.
One knows that the estranged brothers will eventually recondite, putting their difference aside by the film's last reel. They do. But director Rodgers does not have to overdo it with cheap theatrics like the two brother kneeling on the ground with their arms around each other.
Trailer:
TINY TIM: KING FOR A DAY (Croatia | Norway | Sweden | USA 2020) ***
Directed by John Von Sydow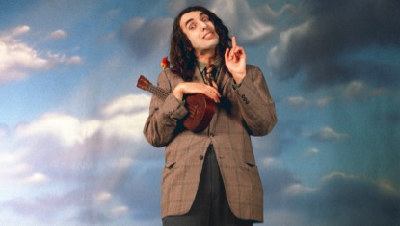 The more interesting the subject, the more interesting the documentary. The do cTINY TIM: KING FOR A DAY can hardly go wrong as it is based on one of the weirdest celebrities ever performed in history - TINY TIM. Tim is also lovable, funny, amusing, immensely talented while leading a very interesting life at the same time. Director Von Sydow talks about these traits in his doc on the tragic but magnificent life of Tiny Tim.
TINY TIM: KING FOR A DAY is a biographical doc about a musician who is not only well known for hits such as TipToe Through The Tulips but for his trailblazing personae that paved the way for other rock stars such as David Bowie, Prince, Iggy Pop and Boy George. An outcast from a young age, Herbert Khary's rise to stardom as Tiny Tim is the ultimate fairytale. Considered a freak by many of his peers, Tiny Tim left no one unaffected. His wedding on the Carson Show was watched by over 45 million Americans and his queer personality have been celebrated by the likes of Bob Dylan, Marilyn Manson and Lady Gaga.
Tim suffered a difficult life primarily because of his talent. His talent was at the same time odd and silly icing him little respect though his audiences loved his silliness. This can be observed in the looks of Johnny Carlson when Tim guests on his shows. Carlson can be seen rolling his eyes back as can also be observed in other shows that Tim guests on. It is not surprising that Tim was picked on in school and even kicked out of the house by his parents.
One sure good trait that Tim radiates is his love for people. Married 3 times, he is revealed to be forgiving to his wives though the first two had left him. Tim also had his mother and father sit in the front row on the Ed Sullivan Show when he was on. He was also buried with his parents nearby in close plots. Tim was also loving Jesus Christ in his religion.
Tiny Tim is not so tiny. In his later years, especially before his death, the footage shows Tim to be getting quite used in size, not considering his over 6 foot height. It is not surprising that he suffered from diabetes, weight and other health problems that eventually led to his heart attack.
It is fitting that entertainer Weird Al Yankovic serves as narrator of the doc, reading from Tim's own diaries. The audience can see Tim as a sad and tragic but talented man, eager to be loved, with plenty of love to give and most tragic because he was a man who begs to be understood for the character that he is. Now that he rests in peace and with this new documentary out, one can look more objectively on this remarkable personality.
Tiny Tim died from a heart attack in the midst of a performance while he was on stage. He had admitted to his 3rd wife that he was not feeling well at that stage. His remains are entombed in a mausoleum in Lakewood Cemetery in Minneapolis. A large mural of Tiny Tim with tulip themes by famous Australian artist Martin Sharp is in the Macquarie University Student Council in Sydney, Australia. Sharp has previously worked with Tim advancing his career in Australia.
Trailer: