FILM REVIEWS:
ABOUT ENDLESSNESS (Sweden/Germany/Norway 2019) ****
Directed by Roy Andersson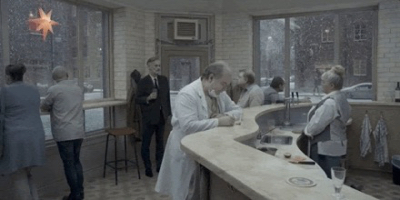 ABOUT ENDLESS is an extremely slow moving film. But doesn't slowness imply endlessness? ABOUT ENDLESSNESS, a Roy Andersson film is as slow as any other Andersson film but his films (SONGS FROM THE SECOND FLOOR, A PIGEON SAT ON A BRANCH REFLECTING ON EXISTENCE) are not without their pleasures. Warning: Some patience is required! And lots of contemplation would help as well.
The film is a quiet reflection on human life in all its beauty contrasted with cruelty, displaying both of life's splendour and banality. Inconsequential moments take on the same significance as historical events: a couple, hugging, floats through the clouds over a war-torn Cologne; on the way to a birthday party, a father stops to tie his daughter's shoelaces in the pouring rain; teenage girls dance outside a cafe (the most uplifting segment); a defeated army marches to a prisoner of war camp.
The trait of an Andersson film is a beautiful still image, that could be an exterior or interior shot. His figures then move and in and out of the image. This technique is repeated again with several other images, some related to each other while others not. Dialogue is sparse, and could be the narrator contemplating the scene on display of the characters saying a few words.
Among the many segments many precede with the words: I saw a man or I saw a woman…
I saw a man who lost his way…
I saw a man begging for his life…
I saw a woman who had problems with her shoe…
I saw a man who wanted to protect his family's honour but changed his mind…
I saw a man who wanted to conquer the world but would fall….
These vignettes last no longer than a few minutes, but are keen observations of human nature and behaviour. Most of Andersson's subjects are older or at least middle-aged people except for the segment with the 3 dancing girls.
Most of the vignettes are quite serious, many sad and many left for audiences to just look and contemplate their emotions. Only a small handful are funny. The most hilarious is the visit to the dentist. A man complains of a toothache yet refuses anesthesia because he cannot stand needles. Whenever the dentist prods, the man screams: Ow! Ow! The dentist finally gives up and walks out of the room, to which the dental assistant says that he had had a bad day. Another funny segment has a priest who has lost his faith insisting to see his shrink but arriving at closing time. But whatever form the vignette is, they share the same trait of wry humour or sadness with the subjects moving in and out of the frame like controlled puppets.
The images are all beautifully shot and a lot of thought have obviously been given to each individual vignette. The result is an excellent piece of filmmaking, proving once again director Andersson's talent at filming with his customary aloofness.
Trailer:
AMBER'S DESCENT (Canada 2020) ***
Directed by Michale Bafaro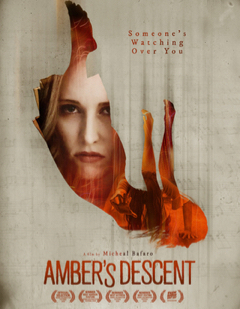 Amber Waltz (Kayla Stanton) is suffering mental trauma after her husband's attempt to slit his own throat while giving the reason that Amber was not devoting enough time into their relationship. To Amber, a gifted pianist and composer puts her craft first. Her goal in life is to complete her latest symphony.
With her disturbing past and hope of putting it away, Amber buys and retreats to a huge isolated country house in Okanagan. Though the county is not mentioned in the film but in the closing credits, one can safely assume that is the place the story is set.
The Okanagan, also known as the Okanagan Valley and sometimes as the Okanagan Country, is a region in the Canadian province of British Columbia defined by the basin of Okanagan Lake and the Canadian portion of the Okanagan River. It is part of the Okanagan Country, extending into the United States as Okanogan County in north-central Washington.
The region is known for its dry, sunny climate, dry landscapes and lakeshore communities and particular lifestyle. The landscape is rightly displayed in the film making it look like a retirement place that suits Amber's wants. Agriculture in Okanagan has been focused primarily on fruit orchards, with a recent shift in focus to vineyards and wine. Amber's house has an orchard out in the back and it is in the orchard that Amber experiences her few encounters with the spirit.
Throughout the film, the film poses the question of the cause of the hauntings. Is Amber really going crazy after the emotional trauma she had faced? Is AMBER"S DESCENT into madness really happening? Or is the isolated mansion in the country really haunted with the spirit of the previous owner waiting to possess Amber?
The script co-written by director Bafaro and Michael Mitton includes several characters of 'questionable' personalities to enhance the creepiness of the story. One is Miss Murphy, the 'certified crazy' old lady (Sheron Russell) who Amber visits to find out answers as to the history of her house. Her nurse (Kirsten Khorssand), is as strict and nasty as Nurse Ratchet in ONE FLEW OVER THE CUCKKO'S NEST. And there is the creepy handyman Jack (played by co-writer, Mitton) who comes on to Amber, not to mention Mark who keeps appearing to Amber in her hallucinations. Some humour is provided by the local priest, Other Lawrence (Don Knodel) who seems to have all the answers with his sense of humour.
Weird happenings, though not clearly explained also add to the chills. A door opens and shuts itself when Amber enters a back room. Her symphony appears to be writing itself.
The answer to the cause of the hauntings is finally answered by director Bafaro to the film's end. Though the reasoning of the hauntings is not very convincing, one has to admit that the final scenes are indeed quite chilling, and mentally scary in what can be described as a satisfying psychological horror thriller.
AMBERiS DESCENT, an IndieCan Entertainment production, will be available on iTunes, Rogers, Telus and Amazon Prime on May 4th.
Trailer:
THE COUNTY (Iceland/Denmark/Germany/France 2019) ***
Directed by Grímur Hákonarson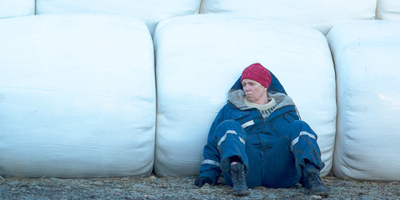 Icelandic director Grímur Hákonarson whose best known film the 2015 RAMS that won the top prize at Cannes in the Un Certain Regard section returns with a female protagonist film. An Icelandic woman takes on the corruption of her local co-op and the outdated, exploitative system that supports it. Inga (Arndís Hrönn Egilsdóttir) has always questioned the slavish devotion of her husband, Reynir (Hinrik Ólafsson), to the co-op, even as the co-op's debt has spiralled out of control and their prices remain much higher than those of their competition. When disaster strikes, Inga decides to openly take action against the co-op via social media. As her campaign progresses, she soon finds out just how low her adversary (the villain of the piece) is willing to go.
Themes of the underdog versus the establishment make good small movies like THE CASTLE (a farmer's fights for his house to be bought over for a new airport runway, women seeking unionization NORMA RAE, MADE IN BANGLADESH) and THE COUNTY is no exception. Iceland like most Scandinavian countries has been admired for their advancements but the film shows an uglier seedier side of it, like the harsh conditions Icelanders face for their land. Hákonarson's uncompromising film ends with a realistic 'unhappy' ending that makes his film even more effective in getting his message across.
Trailer:
EAT WHEATIES! (USA 2019) ***
Directed by Scott Abramovitch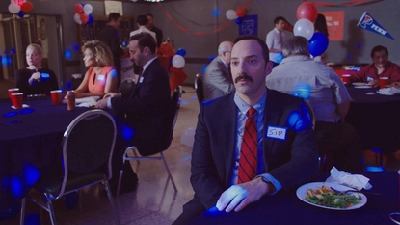 EAT WHEATIES! is the story of a segment in the life of loser Sid Straw (Tony Hale). Sporting a moustache, a receding hairline and a slight gut, this unfit middle class male is not exactly not one who would count as a good catch. Yet he manages to catch a date with Kate and goes around thinking and telling others that Kate is his girlfriend. He even says his phone call "Kate is my girlfriend", though Kate's phone comes out with the rebuttal "Kate is just a friend."
The segment of life examined in the film is Sid's pleasure of being co-organizer of his school reunion party. Sid had the pleasure of dating Elizabeth Bank's sister, and so this forms Sid's claim to fame though he actually dated Bank's sorority sister, and not her real one. Of course no one, not even his immediate family, brother, sister-in-law or parents believe this to b e true. Sid Straw's life begins to unravel as he tries to prove that he was friends with a celebrity in college.
Written by, Michael Kun, based on the book "The Locklear Letters" and directed by Scott Abramovitch, this is the decent story of a lovable lose or sad sack reminiscent of Jared Hess's 2004 comedy also of a lovable loser (but a teen) NAPOLEON DYNAMITE. In fact, it would have been credible if the character in EAT WHEATIES! is a grown up Napoleon Dynamite.
There are films about winners and films about losers. Films about losers are a little trickier. If the loser turns out to be loud, obnoxious and unlikeable it will be a tougher film to like if the protagonist annoys the audience. Fortunately in EAT WHEATIES! Sid is a hapless loser, that despite a few annoying outbursts like his speech at his brother's party where he insults everyone including his parents (by talking about his mother's breakfast lasagne, which was quite funny), he is still quite likeable as he is well intentioned.
One wonders the reason the film is called EAT WHEATIES! A brief hint is given at the start of the film but the full explanation is revealed only during the court case.
There are various similarities between the two films. One of the most glaring ones is that both films rely on the climax of the film for its success. For this film, it requires NAPOLEON DYNAMITE, the protagonist to prove to the audience his talent and his winning abilities despite his awkward outward appearances. Fortunately for both movies, the climaxes work and both films succeed.
The ultimate question on every audience's mind while watching the film is whether the real star Elizabeth Banks will appear at the end of the movie. The answer will not be revealed in this review but be in for an unsuspected surprise. This does not necessarily mean the answer being yes.
A winning film about losers, which has won a few awards in the festival circuit, opens VOD/LevelFilm on May the 4th 2021.
Trailer:
GOLDEN ARM (USA 2020) *
Directed by Maureen Bharoocha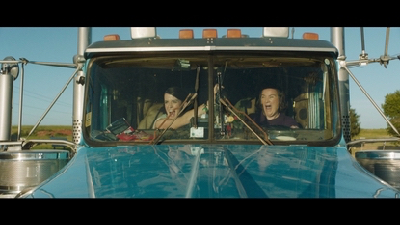 Written by Ann Marie Allison and Jenna Milly and directed by Maureen Bharoocha, GOLDEN ARM is about the golden arm of arm wrestling - with women. The big question is whether anyone would want to watch a film about female arm wrestlers at a national competition.
At least the filmmakers do not take the matter more seriously to make it a ROCKY type sports film. But as a comedy, GOLDEN ARM has nothing much going for it either. A sorry premise of a plot, an unconvincing story line with unliveable characters and no villain hardly amen a movie with any hope of interesting audiences.
A tough lady trucker, Danny (Betsy Sodaro) trains her wimpy best friend, Melanie (Mary Holland) to compete in the National Ladies Arm Wrestling Championship.
Girls talking tough! Or girls trying to talk tough! "I got motorcycle grease in my butthole and I don't even know how it got there." Lines like these are supposed to be funny and are not not, and disgustingly low-life humour.
The performances look as desperate as the film's theme attracting a mass audience. Sodaro comes across as a female version of Jack Black. Think boisterous, in-you-face annoying. Imagine having to put up with her for a full 90 minutes. The only time I can tolerate Jack Black is watching the KUNG-FU PANDA movies when his face cannot be seen. Sodaro needs a female KUNG-FU PANDA equivalent. It is surprising Melanie can deal with Sodaro's character. Danny. Danny lies to her half the time, forces her to do things she does not like and screams at her face half the time. They do not see convincing as best friends. In real life, both Sodaro and Holland are comedians.
Romance comes in, in the form of Greg (Eugene Cordero). But the story does not need another distraction. The romance is both forced and predictable and would have been best to have been omitted from the story to no detriment.
Another question is the sexual orientation of Betsy. Betsy is established at the film's start as gay, which might suit her tough nature but later is shown bringing a man back for sex.
The supposedly 'funniest' line in the movie. "I have seen bigger bites from a balloon animal. And I have seen a lot of balloon animals.'" says someone snubbing Melanie as an arm wrestler. The humour in the film is generally weak at best and offensive at worst. I didn't laugh once during the entire comedy.
On the plus side, cinematographer captures the greasy, seed side of underbelly America with the back bars and strip clubs. Which makes the film look even more unattractive.
Other attempts at comedic set-ups include Melanie trying on different outfits for an arm wrestling match - from cartoon bear, to the pope to killer cleaning lady.
The result of stupidity taken to the next level is a film like GOLDEN ARM.
Trailer:
THE MITCHELLS VS. THE MACHINES (USA 2020) ****
Directed by Mike Rianda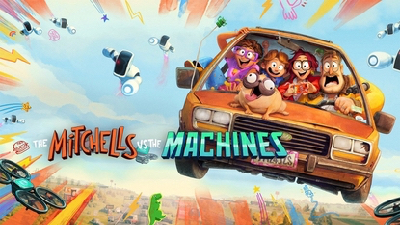 Every family has its challenges. For the Mitchells it is the machine apocalypse.
The machine apocalypse does not take place till the one third mark of the movie, when Mark Bowman (pardon the pun) is captured by the machines.
The first third of the film centres on the Mitchell family. When Katie Mitchell (Abbi Jacobson), a creative outsider, is accepted into the film school of her dreams, her plans to meet "her people" at college are completely upended when her nature-loving dad Rick (Danny McBride) plans for an ultimate family road trip. This means instead of flying there as she planned, Rick, her wildly positive mom Linda (Maya Rudolph), her quirky little brother Aaron (Mike Rianda), and the family's pet pug Monchi, will drive Katie to her school together. However, Rick's plan of getting all of them to truly bond as a family for one last time is suddenly interrupted by a tech uprising: all around the world, the electronic devices that Katie, Linda, Aaron and most all other people love – from mobile phones to home appliances to an innovative new line of personal robots – decide it is time to take over. With the help of two friendly malfunctioning robots, the Mitchells will have to get past their problems and work together to save the world.
Who or what can be more menacing than the ever smart controlling computer that took over the spaceship in Stanley Kubrick's space masterpiece 2001: A SPACE ODYSSEY? The answer is the new computer PAL in the new animated feature THE MITCHELLS AND THE MACHINES where smart machines take over the world. It is up to a typical all-American family to save the world and destroy those damned machines led by Oscar Winner Olivia Coelma. Actually it is Coleman who lends her voice to the evil machine brain of the machine takeover. All this came about after overconfident CEO Mark Bowman led his smartphones get too smart for his high tech company. Mark shares the same first name as the head of Facebook but given a politically correct new look as a black man.
THE MITCHELLS VS. THE MACHINES is a very clever satire. It satirizes the typical American family and high tech while being absolutely laugh-out loud funny half the time, making this new Phil Lord and Christopher Miller production (the duo responsible for CLOUDY WITH A CHANCE OF MEATBALLS and THE LEGO MOVIE). It is good to laugh at oneself or one's family or at a family that resembles the one depicted on screen at least. Myself, the Mitchells represent a family I know very well with the alpha male dad acting the same way right down to the pet dog.
The film celebrates differences. The Mitchells are a weird family and it is for that reason that they are the last family alive - and the one to save mankind. "It is the difference that makes one great!", coons Rick, the father.
Director Mike Rianda co-wrote the script with Jeff Rowe. The pair must have a really keen sense of humour as there are tons of laugh-out loud bits that tend into today's high-tech world. The audience is given statistical information such as 90% of calls from moms get ignored to machines getting fed up with their faces (or screens ) being constantly poked and swiped (poke, poke, swipe, swipe) all the time.
Worth a look! Opens Netflix May 30th.
Trailer:
THE OUTSIDE STORY (USA 2020) ***
Directed by Casimir Nozkowski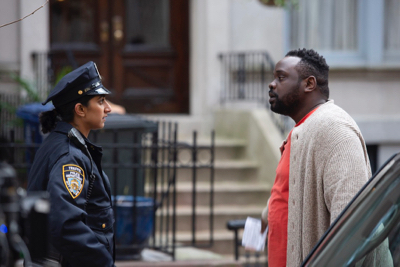 Written and directed by Casimir Nozkowski, THE OUTSIDE STORY is a comedy of discomfort - a comedy where unfortunate incidents keep happening to the main character or characters. If one is unable to root for the films characters, then the comedy can be annoying not to say very uncomfortable which results in the comedy not being very funny. In comedies like Neil Simon's THE OUT-OF-TOWNERS, made into two versions, bad things keep happening to a married couple that visit NYC. In the new comedy THE OUTSIDE STORY (the title a play of WEST SIDE STORY as a segment involves the protagonist on the outdoor fire escape steps, which is seen in the WEST SIDE STORY poster), the misfortunes are surprisingly not annoying but funny, as Charles (a wonderful performance by Brian Tyree Henry (IF BEALE STREET COULD TALK, ATLANTA) who has previously only been given supporting roles, now gets his big main role takes everything in stride.
Charles is an introverted video editor, trying to recover from a broken heart. His lover has left him after making out with another woman. Perceiving a betrayal of trust as a sign his girlfriend Isha (Sonequa Martin-Green) is leaving him, Charles preemptively blows up his relationship and sequesters himself at home (before it was cool). What happens is a burrito delivery incident that leaves Charles locked out, outside. Hence, the title THE OUTSIDE STORY.
Charles encounters one weird incident after another, every one appearing to be testing his patience. To make matters worse, he is running around in socks, having left his shoes indoors, his phone running out of juice and money also low.
A lot of the comedy arises from the unaccommodating people who he meets. One is the East-Indian traffic cop (Sunita Mani) outside his place who seems to be having a whale of a time giving out tickets. She is wearing a police uniform, obviously many sizes too large, looking like a misplaced cop trying to prove herself.
Other characters that Charles has to deal with include his friend who supposedly has an extra set of his kets. He shows up with a bag full of keys and it turns out that not one key fits. Another is his landlord who is never seen in the film, as he shows up at the door when Charles is not there. "Do not get a locksmith," is the landlord's advice thinking that all locksmiths make an extra set of keys ignorer to enter and rob a place later. Charles also meets his upstairs neighbour who has two sex visitors (the term 'a swinging couple' that is used these days) from Norway.
Director Nozkowski's script is pretty cool too. Who can dislike a character like Charles who has a job as an editor for TCM? The script sneaks in a romance and messages like "Everything happens for a reason" and helping one's neighbours.
THE OUTSIDE STORY is a low budget but efficient title comedy that is entertainingly funny enough with a message to boot. The film has already won numerous awards in the festival circuit and opens VOD/digital on May the 4th.
Trailer:
SON OF THE SOUTH (USA 2021) ***
Directed by Barry Alexander Brown
A film on the fight for the Civil Rights Movement could not arrive at a more appropriate time. Based on Zellner's memoir "The Wrong Side of Murder Creek: A White Southerner in the Freedom Movement," SON OF THE SOUTH is a passage-of-rites story of activist Bill Zellner, the grandson of a famous Ku Klux Klansman and his involvement in his fight against racism.
The film opens with a bloodied Bob Zellner (Lucas Till), dragged by two whites and hung from a noose for the crime, as Bill says in voiceover for writing a college paper on the Civil Rights Movement. He continues to add that many whites have a very short fuse with regards to tolerance of the Civil Rights Movement. The film then moves back in time to the true events leading to the segment.
Bob Zellner is the son of a Methodist minister, a senior attending all-white Huntingdon College in Montgomery, Alabama in 1961. Seeking information with which to write research papers on race relations, Zellner and four fellow students attended an event held in a Black church to mark the fifth anniversary of the 1955-56 Montgomery Bus Boycott. The event is conducted by Ralph Abernathy (Cedric the Entertainer) and Rosa Parks (Sharonne Lainer). When police arrive to arrest them, the white students evade arrest by fleeing through a back door. Dubbed the 'Huntingdon Five' in a newspaper, a cross is burned on the yard outside Zellner's room. Zellner's klansman grandfather (Brain Dennehy) warns him not to involve himself in the civil rights movement.
Later on in the film, witnessing a mob attack on the Freedom Riders, Zellner helps Jessica Mitford get to safety.
Initially a passive supporter of the movement, Zellner goes on to become SNCC's first white field secretary by the film's end.
The late Brian Dennehy who passed away in April has a solid unforgettable role as the racist grandfather of Bob. His role is so different from the major leading role he had in DRIVEWAYS where he played a lovable senior neighbour. This ultimately evil character threatens to put a bullet in the head of his grandson if he keeps fighting for the blacks. another solid supporting performance is delivered by comedian Cedric The Entertainer (the name he goes by) in a totally serious role as a black minister of the church who fights for civil rights. Lucas Till should also be given credit as lead actor for carrying the film successfully.
Director Barry Alexander Brown, best known as Spike Lee's talented editor does a decent directing job in the film, especially blending the real events in basically his selected re-enactments of Bob Zellner's Civil Rights fight. Though treading precariously in cliched territory, he builds the drama effectively from reluctant activist to a full blown committed one - and one who would give up his fiancee for doing the right thing. Spike Lee serves as executive producer to support Brown's film.
SON OF THE SOUTH, based on a true story, words proudly displayed at the start of the film is a film that matters, and one that riles up righter anger against racism and puts up Civil Rights Activists up on a pedestal, which is where they should be for all to admire and perhaps emulate.
Trailer:
TOM CLANCY'S WITHOUT REMORSE (USA 2021) **
Directed by Stefano Sollima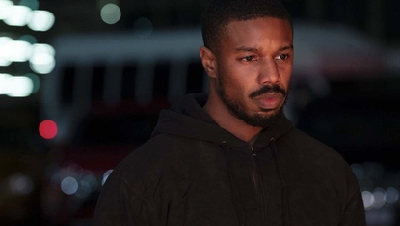 TOM CLANCY'S WITHOUT REMORSE has been finally released for audiences after a tumultuous past. After many, many production attempts including Keanu Reeves and Tom Hardy in the title role of John Clark, the role eventually went to Michael B. Jordan. The film was delayed again due to the Pandemic and finally bought over by Amazon Prime. One would expect the film to be a mess after such problems. And it is a mess.
For one, the John Clark character had been portrayed by white actors Willem Defoe and Liev Schreiber before in early films so the switch to a black actor might be considered politically more correct, though it might throw a bit of confusion to the story. The film is supposed to be based on the 1993 Tom Clancy novel WITHOUT REMORSE but the story of the film based on a script written by Taylor Sheridan and Will Staples contains an entirely different premise. For one the Vietnam War and the wife kidnapping has been changed to the War in Syria and a murdered wife. The only thing retained is the character of John Clark.
The film opens with the setting in a war-torn region of Syria. An elite team of US Navy SEALs led by Senior Chief John Clark (Michael B. Jordan) rescues a CIA operative taken hostage by ex-Russian military forces. Three months later, in apparent retaliation for his role in the mission, Clark's pregnant wife Pam (Lauren London) is murdered by a squad of Russian assassins. Despite being shot multiple times himself, Clark manages to kill all but one of the attackers before being rushed to the hospital.
Meanwhile, in Washington, D.C., Clark's friend and former SEAL team member Lt. Commander Karen Greer (Jodie Turner-Smith) meets with CIA officer Robert Ritter (Jamie Bell) and Secretary of Defense Thomas Clay (Guy Pearce) to discuss response options. Leaked news of Russia's unprecedented attack on American soil has caused the already-strained relations between the two nations to sour further. If something isn't done soon, the result could be a full-scale war.
This script gets my vote as the laziest script of the year. Execution is not much better. The full scale war is finally explained to Clark that it is good for America. America needs a common enemy for the production of military equipment and weapons to keep the economy going and to keep the U.S. having an external enemy, for if not, they will be fighting among themselves. This, as everyone knows, is a message that rings so true. But still. the U.S. is so fucked up that the sorry state of events is still taking place. Thank you, Donald Trump. Thank God, Biden is trying to undo the damage. All the execution of the action scenes are mediocre at best and have been seen in other action films. This film is primed for a Tom Clancy/John Clark sequel - and that is all there is to this sorry excuse of an action film.
Trailer: