FILM REVIEWS:
AHEAD OF THE CURVE (USA 2020) ***
Directed by Jen Rainin and Beth Medow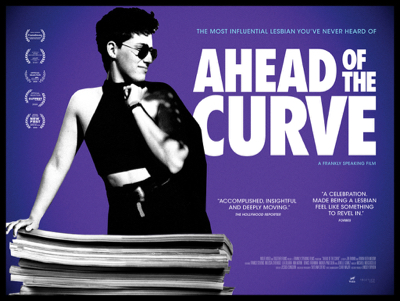 Curve (magazine) is global lesbian media. The magazine covers news, politics, social issues, and includes celebrity interviews and stories on entertainment, pop culture, style, travel, and a website that hosts an internet forum focusing on lesbian issues, active since 2000.
The film focuses on the beginnings of the magazine as seen from the eyes of its founder, known amicably in the doc as Franco, who is in almost every frame of the film. Frances "Franco" Stevens in San Francisco in 1990, first published Curve as Deneuve but was renamed in 1996 after a trademark dispute with French actress Catherine Deneuve. The film says the magazine was so called because Franco had a cat called Deneuve and the magazine name translated means 'new'. But the film does include an image of the lesbian vampire film cover THE HUNGER which starred Catherine Deneuve.
Diane Anderson-Minshall was editor-in-chief when the magazine was acquired in October 2010 by Australian media company. Avalon Media.Merryn Johns became Curve's editor-in-chief. With the change in ownership, Curve became headquartered in Sydney, this fact not mentioned in the film.
The doc works best when it deals with the magazine itself - its contents, the difficulty of it being made, how it grew in popularity and what type of articles made its sell. This provides insight to those working in magazines particularly gay themed ones, like Dragon Magazine and Banana Magazine, two Toronto gay Asian magazines (like Curve) that catered to a niche gay target audience. This reviewer started his film reviewing career writing for free for Dragun Magazine that lasted less than three years. Curve covers articles of importance, often getting gay women in politics to submit articles or well known personalities who have come out to agree to be on the cover. When Budweiser and Subaru advertised with Cure, the magazine became more mainstream and popular. The doc also documents many lesbians from small town America who probably were the only gays in the village. They claim that the magazine was their only connection to the gay world.
The film also follows its founder, Franco, talking about the magazine. Franco goes about in a motorized wheelchair as a result of an accident of boxes falling on her feet.
Nothing is also mentioned of other gay magazines, particularly the male ones that would either complement or be in competition with Curve. Curve magazine got a bit of free publicity when it tried to out gay actress Michelle Rodriguez. Many then, got to hear of the magazine for the first time. Nothing in the film was mentioned about the controversy, which made a big impact on Curve. It is quite clear that the editor and publisher of Deneuve/Curve are not well versed with legal and business practices.
Like the magazine Curve, the film would have limited appeal being catered to the niche target audience of lesbians. But the directors make a conscious effort in making her doc more widely appealing in its content. The result is an interesting and insightful documentary that affects more of the LGBT community. A fair bit of screen time is devoted on the importance of LGBT rights. Ex-President Trump again, rears his ugly head in passing back the law that lets employers fire LGBT employees.
AHEAD OF THE CURVE opens on digital TIFF Bell Lightbox (or https://www.google.com/url?q=http://digital.tiff.net&source=gmail&ust=1622238904955000&usg=AFQjCNGogCfr9ejlwCfc4HQQprtcfKYHNw">digital.tiff.net) starting May 28th
Trailer:
BLUE MIRACLE (USA/Mexico 2021) **
Directed by Julio Quintana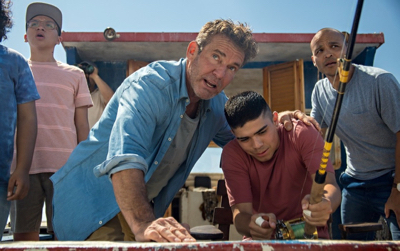 Mexico. Papa Omar needs to save Casa Hogar, a home for orphans from shutting down forever. In order to do, Papa Omar (Jimmy Gonzales) has to team up with a bitter fisherman, Captain Wade Molloy (Dennis Quaid) to win the grand cash prize of a fishing tournament. Lots of young orphan boys would be sent out into the streets if the orphanage is not saved. Based on a true story. Director Julio Quintana ups the angst with melodrama and tons of cliches. Lines like "God does not always work in ways you think he should." should be enough to turn many away from the film. To make matters worse, Netflix has written these line to promote the movie: Once out on the open ocean, unexpected friendships are created, strengths are tested, and with the power of faith, we see miracles do come true. Yes, avoid if you are a film critic or a seasoned cineaste but for others, BLUE MIRACLE as the title implies, might be ones feel good movie. The closing credits are quick to reveal what the real characters, Papa Omar and Captain Wade look like.
Subtlety is not director Quintana's stronger qualities. To emphasize the dire straits situation of the orphanage, a big storm is shown to create more desperation for repairs. Omar's girl who also helps out in the orphanage is also quick to remind the audience how desperate everyone are.
Dennis Quaid does his best to save the movie and he is actually quite good as the captain who has lost all faith in living. He has abandoned his own son in Dallas and has been told to reconcile with him. Wonder whether this part of the story is true and it would seem too coincidental. The non-professional young actors playing the orphans look natural enough to get away with their credibility. Half the time, they look lost as to what those damn adults are up to.
On the positive side, the cinematography is not half bad with stunning shots of the sea and the surroundings. The editing showing the blue marlin being reeled in with cuts to the facial expressions of the orphans, Captain Wade and Papa Omar is similar to the style observed in the ROCKY boxing movies.
The film's climax where the crew actually reel in the prize winning blue marlin (ate the last minute, breaking all odds) is so awfully cliched, that it forms a rather anti-climax.
Writer/director Julio Quintana has said that he believes the story that is the basis for BLUE MIRACLE is so crazy that if it was not true, one could never write a movie about it. Perhaps he should not have written about it and saved seasoned filmgoers 90 minutes of their lives. I do not, in general like feel good movies and I did not like BLUE MIRACLE.
BLUE MIRACLE is a Netflix original film from the United States and Mexico, suitable viewing for the family and orphans.
Trailer:
Trailer:
BODY BROKERS (USA 2020) **
Directed by John Swab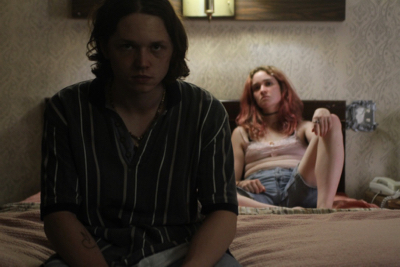 John Swab wrote and directed this social commentary piece on drug treatment centres called BODY BROKERS. It is an ambitious, well-intentioned piece that is occasionally all over the place, and only settles back to its goal at the very end.
A body broker in the film refers to as its title implies, a broker of bodies. The body in this case is a drug addict, and one who would go to a treatment centre for rehabilitation. The body broker gets a commission, often a very large one, as the film informs, and even more when the body re-enters many times after rehabilitating. The film also informs it is a million dollar industry and goes on to show how everything works though no solution is offered to the problem. Yes, this is one of the based untrue fact films.
The film begins with a store robbery with two addicts, Utah (Jack Kilmer) and Opal (Alice Englert) getting away with the loot. The loot is used to pay for drugs as the couple are addicts of heroin and crack. They stumble across a body broker, Wood (Michale Kenneth Williams) who buys Utah burger and convinces Utah to check himself in. Utah does, but alone, Opal ditching him. Utah, unknown to the business of body broking, comes out clean. Wow then introduces Utah to the ins and outs of the body broking business. Body broking is a very lucrative business as Utah soon finds out, moving into a nice house and purchasing a nice car soon after. That is about it story-wise, except for a few twists in the plot, which will not be revealed in this review. A muder element is introduced into this info drama as well.
The success of the film rests largely on the performance of its main lead Jack Kilmer who plays Utah. Kilmer is in almost every scene, is not bad and carries the film effectively. Two seasoned heavyweight, Melissa Leo and Frank Grillo lend their expertise too.
The victims in the story are the drug addicts who are not only used but become brokers of their own bodies themselves, eventually getting a cut of the reference fee for checking themselves in. It is a sorry state not only for that reason but for the fact there is no incentive for them to get better.
Director Swab finally reveals that the treatment centres are not meant to help people but instead a coverup for a fraud operation enlisting addicts to recruit other addicts, with a few other nasties like implants added to get more money into the already million dollar industry. In all of this, there is no crusader fighting the system. Perhaps someone would come along and take on the industry or at least make a solid documentary on it. At least Swab has managed to provide some exposure to the system.
BODY BROKERS is available VOD/Digital on May the 25th, 2021.
Trailer:
CRUELLA (USA 2021) **
Directed by Craig Gillespie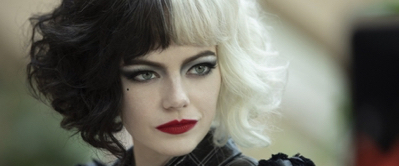 CRUELLA is Estella "Cruella" de Vil (Emma Stone), an ambitious and aspiring fashion designer, who will stop at nothing to become famous. This she does as a notorious and dangerous criminal obsessed with Dalmatian furs. She is bad but her rich rival is just as bad. Baroness von Hellman (Emma Thompson) is the head of a prestigious fashion house and a renowned haute fashion legend, who is also Estella's boss. She not only plays a pivotal role in Estella's transformation but there are more in the genes.
CRUELLA has universal appeal among ladies, which makes the character so popular. CRUELLA is evil, ultra pretty and campy. Who wouldn't like to dress as CRUELLA at Halloween?
Cruella has two helpers in crime - Jasper Badun (Joel Fry), a common thief hired by Estella to help her in her crimes and Jasper's brother, Horace (Paul Walter Hauser). These two are terribly annoying and do not do much for the plot.
As far as the 101 DALMATIANS go , there are only 4 of these dogs on show - and they are really nasty growling ones that one would stay away from.
CRUELLA has the same look as the successful fashion film THE DEVIL WEARS PRADA. The Emma Thompson and Emma Stone roles are similar to Meryl Streep and Anne Hathaway roles with even Mark Strong looking like Stanley Tucci. Two-time Academy Award Winner Thompson is excellent in her role as the diva fashion queen. She never stops to amaze. Consider her totally diverse role as the frumpy and dumpy mother in Robert Carlyle's THE LEGEND OF BARNEY THOMSON.
Despite its over two hour running length, there is not much plot to the film, and even so a least interesting one. Who really wants to see the reason Cruella became so evil? It really does not make interesting fodder. The reason or reasons are never made clear either. Is it because of boredom, or heritage or outside influences or pure ambition? Not that anyone cares. The script is shallow, the protagonist boring and the film brutal watch.
The best thing about CRUELLA is the film's varied soundtrack, with a new song played every 10 minutes or so. The soundtrack album also includes popular songs, such as Nina Simone's "Feeling Good", Supertramp's "Bloody Well Right", Queen's "Stone Cold Crazy", Blondie's "One Way or Another", the Doors's "Five to One", Electric Light Orchestra's "Livin' Thing", and the Clash's "Should I Stay or Should I Go". Getting the film's soundtrack would be a treasure. Nicholas Britell composed the film's score. The film also features "Call Me Cruella", an original song performed by Florence and the Machine, which appears in the end credits of the film.
CRUELLA releases simultaneously in theatres and on Disney+ with Premier Access on May 28, 2021. Disney+ subscribers can pre-order Premier Access to "Cruella" from May 14 – May 27 for [$34.99] in Canada. Once subscribers get Premier Access to the movie, they can watch it as many times as they want on any platform where Disney+ is available, with an active Disney+ subscription.
Trailer:
EQUAL STANDARD (USA 2020) ***
Directed by Brendan Kyle Cochrane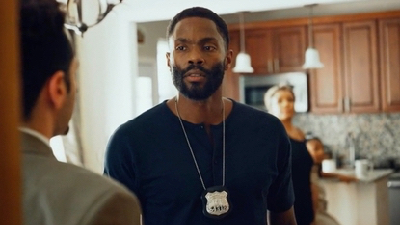 New York City police officers' lives collide in interweaving stories of race, rank, loss, and betrayal. If the themes sound familiar, a similar film, the 2019 French Academy Award Oscar Nominee for Best Foreign Film (Now called the Best International Feature), Ladj Ly's LES MISERABLES threaded identical ground. EQUAL STANDARD is not that bad a feature but never reaches the dizzy heights of LES MISERABLES.
The trouble faced by the characters in EQUAL STANDARD all begins with the confrontation scene where two white cops confront two off duty civilian black cops coming out of a local bar creating some noise. When one of the black cops reaches for his cell phone, after cleaning that they are also police officers, the white one. McKenzie draws his pistol and starts shooting. The resultant tragedy is McKenzie shot by the black cop, Detective Jones (Tobias Truvillion) beginning an uncontrollable and angry chain of events. This pits back against black and also, white against white and black against black as a result of principles and doing what is right. EQUAL STANDARD is an occasionally powerful film, well paced, with tensions and angst cleverly built up towards an explosive climax.
The supporting characters are well written in the script by Taheim Bryan, creating more depth into the story. Director Cochrane gets the audience to feel for the Jones family,
There is also some solid writing here. One can be witnessed in the scene, when Jibes reflects a little with the words "Why am I fighting with these people when I am standing alone in this world" Says Justice to a hood, Blue (played by the writer Bryn himself).
What makes this anti-racist film stand out among others including IF BEALE STREET COULD TALK is the credibility given to the white man. Though the white cop and his white partner are clearly in the wrong, the drama is carefully examined by the film from the white man's point-of-view instead of just the black man's. Writer Taheim, doing a superb job here, is black. Director Cochrane is Irish-Indian thus, his film shows a bit of how the Irish family comes into the drama. Thus the more difficult target makes more sense. The dead white cop's parents and his one brother are still as angry as ever but the other brother who is a cop does what is right, standing for his principles. Chris Kerson, who plays Kevin McKenzie delivers a powerhouse performance making him worthy of a Best Supporting Actor prize. The other white man that makes his mark is Internal Affair Detective Rullan (Robert Clohessy) who calls a false white witness his bluff. The white police captain is also displayed as a tough but fair person.
Another of the film's solid lines comes from Jones when he is asked by reporters at the end of the film: "What have you learnt from all this?". This is also a lesson that writer Bryan and director Cochrane bravely want to pass on their audience as well.
Trailer:
THE MERCY OF THE JUNGLE (France/Belgique 2018) ***1/2
Directed by Joël Karekezi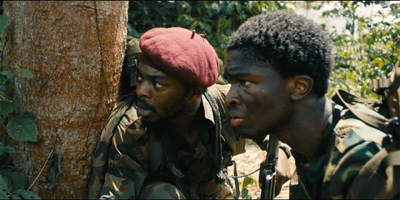 THE MERCY OF THE JUNGLE premiered at the Toronto International Film Festival back in 2018 but now gets its North American premiere through Film Movement Plus. (See below). It is a well-made film from Rwandan director, Joël Karekezi (his second feature) covering many key and current world (the central Africa conflict between the Congolese and fighter rebels) as well as the personal issues of its two main characters.
The film follows two soldiers accidentally left behind by their comrades during the Second Congo War. One is a seasoned war veteran, a sergeant, Xavier (Marc Zinga) who has lost both his dignity and faith in mankind. The other is a young Faustin (Stephane Bak) who is a peasant boy, suddenly finding himself stuck in the midst of a bloody war. Xavier's wife is dead while Faustin's (wife) is pregnant. It is a good concept and the entire film sees the two bonding, thought reluctantly, in order to survive. Both are put in the hands of the war, or fate if one wants to look at the bigger picture. The film's most moving scene has the two sharing a Marie biscuit.
The two have to find the troops while staying off the road, as their enemies will be ready to slaughter them on the spot. They are at the mercy of the jungle, but not without the jungle's own threats. Credit goes to cinematographer Joachim Philippe and director Karekezi for an authentic creation of the jungle atmosphere, complete with both wonder and dangers. The shots of sunlight shining through the overhead trees are reminiscent of Akira Kurosawa's signature scenes in his Samurai epics. The two face dangerous animals from the sound of trumpeting elephants and a huge ape in the background. They have to deal with the intense heat, the sergeant coming down with a high fever and hallucinations, while being thirsty yet unable to drink the poisoned water found in some streams. At one point, the sergeant drinks from Faustin's water bottle only to spit out what was Faustin's urine, which Fasutin was drinking to survive. At the same time, the stunning sights like the natural waterfall and clear streams are also on display in the film. The two are also forced to fend for themselves. Fasutin's boar trap manages to get them a rabbit for a meal.
As the film draws to its climax and conclusion, Faustin's coming-of-age story is complete as the audience of Karekezi's film learn more about the life of two solitary human beings who are not as fortunate as them, living in a cruel and unforgiving world.
How to view this film:
The film premieres from FILM MOVEMENT PLUS. Check the website: filmmovementplus.com.
FILM MOVEMENT PLUS (www.filmmovementplus.com) opens up a world of provocative, compelling and award-winning films from Film Movement's singular library. Priced at $5.99 per month with a free 30-day trial, the SVOD subscription service, currently available on Roku, Apple TV, Amazon Fire, Android TV, mobile (iOS and Android), and Chromecast, offers consumers immediate access to over 400 festival favorite feature films and 100 short films.
Trailer:
THIS IS NOT A BURIAL, IT'S A RESURRECTION (Lesotho/South Africa/Italy 2020) ***
Directed by Lemohang Jeremiah Mosese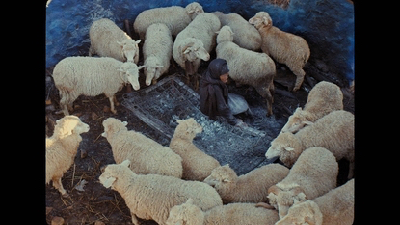 A poetic essay about life, death and what passes. THIS IS NOT A BURIAL, IT'S A RESURRECTION is an extremely slow paced (commercial audiences be forewarned) piece of filmmaking that is quietly stunning sending a message about progress and displacement by following an 80-year old woman who has no shortage of suffering.
The film is shot entirely in the country of Lesotho. I have never heard of Lesotho before and I am sure many have not either. Lesotho is an enclaved country within the border of South Africa. It is by far the largest of the world's three independent states completely surrounded by the territory of another country, with Vatican City and San Marino being the other two. It has a population of about 2 million. Its capital and largest city is Maseru. The official languages are Sesotho and English. This is the first film from that country to submit a film, this one, for consideration for the Academy Awards prize of Best International Feature. The film never made the short list for the nominations but many critics have given the film accolades of praise. The film is stunning in its look, beautifully shot in terms of camera placement and framing.
The film is told from the point of view of Mantoa, thus making the film more personable.
When modernization creeps in, it is not just nature that must give way. In the mountains of Lesotho, plans to build a new dam threaten to submerge a small village. But the villagers, led by an 80-year-old widow, are prepared to fight. This lady is Mantoa, the protagonist of the film.
Mantoa is awaiting the return of her only remaining family member, her beloved son, when the film opens. When she instead receives news of his accidental death, Mantoa is distraught and struggles to find meaning in her existence. It is indeed a sad story, and Mantoa is never seen with a smile on her face throughout the entire film. She is played by a local, and judging from her age, she is still very fit with all her mental faculties despite looking dreary with wrinkles of old age. Poor Mantoa has nothing more to look forward to in life. Worse still, is the fact that she is going to have to move because of the new dam. She incites her fellow villagers to fight. She visits the Minster to file a complaint but is met with insurmountable red tape. She now makes plans for her own funeral at the local cemetery, hiring a man to dig her own grave while she is still alive. In a world that is constantly evolving, traditions are always confronted to the present, but is change always for the better? This is what the film examines.
Taking place in the mountains of Lesotho, the film takes full advantage of its spectacular setting. Through poetic language and music, director Lemohang Jeremiah Mosese tells a slow-paced story of life, death and the strength of the human spirit. His background as a visual artist shines through in his use of composition and mood, to create a meditative and touching experience.
THIS IS NOT A BURIAL, IT'S A RESURRECTION is definitely worth a look if one is prepared to sit though its slow 2 hour running time.
Trailer: