FILM REVIEWS:
ALL THE STREETS ARE SILENT (USA 2020) ***1/2
Directed by Jeremy Elkin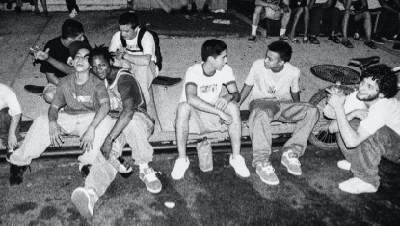 The doc ALL THE STREETS ARE SILENT: The Convergence of Hip Hop and Skateboarding, the new documentary is an examination of a culture many cineastes are unfamiliar with - a good thing as the culture will likely be fascinating and educational. Despite the uneasy and unfamiliar subject, director Elkin uses standard filmmaking of archive footage and talking head interviews to tell his story. To his credit, he has assembled quite a massive amount of talent, particularly the DJs of the NYC scene of the time as well as selected archive footage which appears very related to the story he wishes to tell. Elkin also interviews many skateboarders, many unknown, as many are unfamous and never made it big with money or fame, but their say is still relevant. The beauty of all this is that everyone, no matter who he or she is, has something important to say.
Of all the talking heads, Elkin gives the most screen time to actress Rosario Dawson and DJ Stretch Armstrong. Adrian Bartos known professionally as DJ Stretch Armstrong is a New York-based DJ and music producer, known as a former co-host of hip hop radio show The Stretch Armstrong and Bobbito Show, alongside Bobbito Garcia. Utterly talented to the max, Stretch had a major influence on the NYC club and street scenes. He is seen in the doc, working his gig as a DK at the club while informing the audience with insight. Dawson is an American actress and producer. She made her feature-film debut in the 1995 independent drama KIDS. The film KIDS has a special significance to the street kids. The director of KIDS, Larry Clark hung around the skateboarders filming them many, many times. Clark eventually went on to make the minor classic doc KIDS on the kids. Clark was much older and always hanging around. The kids admit that they did not know him at first, thinking that he was some kind of pervert.
The doc is narrated by Eli Morgan Gesner. Gesner is a film director known for his work on CONDEMNED (2015), CONCRETE JUNGLE (2009) and TONY HAWK'S PROVING GROUND (2007). He is also a co-founder of the famous brand ZooYork. That brand incorporated street graffiti into its designs.
Other guests on display in the film include most of the important people in hip hop and the NYC skateboarding scene, many from the latter group may not be familiar with. The music artists include musicians Darryl McDaniels, Fab 5 Freddy, and even Moby (recently seen in his own doc called MOBY DOC), among others, with skaters like Jeff Pang, Mike Carroll, Josh Kalis, and many more. There are lots of shots inside the clubs with lots of serious hip hop music. Of all the famous clubs in NYC, Club mars is singled out as the only one featuring hip hop and street music.
The important thing is that the raw spirit and energy of the NYC street scene is captured in this do, rubbing off on the audience making ALL THE STREETS ARE SILENT an amazing watch. The doc can be watched by clicking on the website: filmswelike.ca
Trailer: