FILM REVIEWS:


DACHRA (Tunisia 2018) ***1/2
Directed by Abdelhamid Bouchnak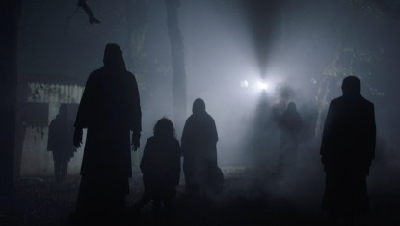 Though the titles at the start of the film boast that DACHRA is inspired by true events, the horror depicted in the film often seems unreal. But in the remote areas of North Africa where isolated villages abound, what transpires on screen could very well be true. The film's country of origin is Tunisia in North Africa.
The film and story centre on three journalism students who are given the task to film something original as their academic project. Their professor warns that there must be genuine effort put in with no plagiarism. The three decide to interview Mongia, in an insane institution. They get more than they bargained for. The trio is led by the headstrong young investigator Yassmine (Yassmine Dimassi) who spends half the time trying to control the action of her other two 'friends' Bilel and Whalid, who act like children always fighting and arguing.
Seeking new clues about the cold case and intrigued and perturbed by the deranged woman's story, the trio take their camera to the scene of the crime deep in the woods.
The film is divided into two parts. The first deals with the journalist students in the asylum. They interview the institution's director who seems only too happy to brag about the intuition's success and being filmed on camera but gets angry and denies the existence of Mongia. When Yasmine keeps insisting that he is not informed of what is going on, he throws them out. As a last resort, they bribe the guards and film Mongia at night, only to have Mongia viciously attack Yassmine as she gets too close to the chained up Mongia.
Mongia was discovered on a road 20 years back, mutilated and abandoned. So, the three head out to the area. This is the second part of the film where they discover weird goings-on in the nearby village which is called DACHRA. They are welcomed to a secluded, hushed village where goats have free rein and raw meat hangs drying in the wind. "We eat a lot of meat, " says the host to the three during dinner. The foggy, isolated hamlet is the creepy location which is almost totally dark at night. Director Bouchnak shoots one brilliant scene with flickering lights, evoking a really creepy and scary atmosphere.
Director Bouchnak keeps his film always interesting. When not scaring his audiences she provides much hilarious humour with the antics of the two male students. "Stop kissing me, shit head!" says one to another in the car on the way to the village. When one gets sick while in the car, the other asks whether he has seen his gynaecologist. Amidst all this, Yassmine is warned by her grandfather to be careful.
This is director Abdelhamid Bouchnak's debut feature. He weaves together North African folklore and the successful B-movie magic as found in the BLAIR WITCH PROJECT. DACHRA is an excellent first effort proving director Bouchnak to be a new talent to be reckoned with.
Trailer:
FEAR STREET PART 2: 1978 (USA 2021) ***
Directed by Leigh Janiak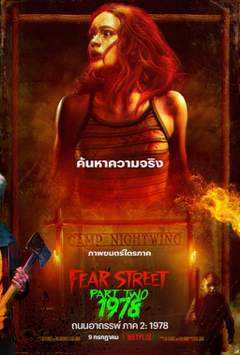 FEAR STREET is a trilogy of three teenage slasher films that opens on Netflix a week apart from each other, beginning July the 2nd. Similar to teen horror flicks like SCREAM and FRIDAY THE 13TH, the first of the series called FEAR STREET PART 1: 1994 based on the book of the same title, is not bad and should (it does not take much) satisfy horror fans. The second one, called PART 2: 1978 is set at a teen camp called Camp Nightwing where teens, especially the annoying fucking ones get killed away, very similar to the FRIDAY THE 13TH films which was also set in a camp by a lake. The sequel is a prequel with events taking place before the first film.
The common theme of the witch, Susan Fier who has in the past possessed killers is regurgitated in this second instalment. The spirit of the FEAR STREET Part 1 and the slasher films are well alive in this one.
Fear Street has its origins as a teenage horror fiction series written by American author R. L. Stine, starting in 1989. R. L. Stine stopped writing Fear Street after penning the Fear Street Seniors spin-off in 1999. In summer 2005, he brought Fear Street back with the three-part Fear Street Nights miniseries. As of 2010, over 80 million copies of Fear Street have been sold. Stine revived the book series in October 2014. In 2021, a trilogy of films based on the series will be released on Netflix.
The title of the film comes from a fictional street in a small American town called Shadyside. The town has been cursed with serial killers who appear to be possessed by a witch in the past called Fier who was burnt by the town at the stake. It was Fier's revenge on the town. Apparently the family changed its name from Fier (the letter that could be rearranged to spell fire) to Fear.
In the first one, the character that survives gets a call from C. Berman, the only survivor of the Camp Nightwing murders. Cindy Berman is the main character in Part 2, set in Camp Nightwing. She is the heroine of this film, who discovers the witch, Fier's hut where she made a deal with the devil for eternal life.
Part 2 never really covers new territory in the horror genre, but rehashes the favourites of the genre. It works and despite repeated incidents, is still relatively entertaining as a teen horror film. The film is still surprisingly watchable despite the fact that the audience knows that only Cindy will survive.
Director Zaniak who directs all the three films and also co-wrote the script knows her teen horror films. She keeps the action fast and furious with lots of blood and gore in the killing scenes. The first film was made politically correct with coloured lead characters and a lesbian theme to boot, but Part 2 contains mainly an all white cast with only one short scene where a lack and Asian teen meet their quick death. But the lead characters are at least all female.
PARTs 1 and 2 should see fans tune in to the third and final FEAR STREET.
Trailer:
Trailer:
COMMENT JE SUIS DEVENU SUPER-HEROS
(HOW I BECAME A SUER HERO) (France/Belgium 2021) ***
Directed by Douglas Attal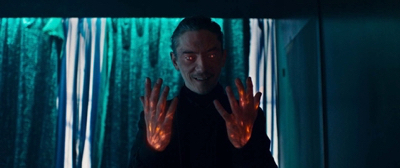 The French tackle the super action hero genre in this latest international Netflix original movie. The premise is a society (like Paris, the story's setting) where normal human beings and super powers heroes live together. Expect a different kind of film - as would be expected if such a film comes from a country different from the United States. And HOW I BECAME A DIFFERENT HERO is different kind of action hero film but in a good way.
First things first. It is best not to judge a book by its cover which means not to judge a film by its title. Though it may sound so, this is not a kids movie. It is an adult film with adult issues and some violence though teens form a major part of the story. The setting is a place where super powered action heroes and human live together. But not in harmony. A lot of the super powers are villains and those who are not - have not mastered their new powers, including the story's protagonist, Moreau. For teen with super powers, many have been abducted by a villain, Naja (Swann Arlaud) and their blood and powers sucked out for the use of evil.
Paris 2020, super­heroes are perfectly assimilated with­in soci­ety and want to be famous at all costs. A drug that gives superpow­ers to mere mor­tals is spread­ing all Paris. Lieu­tenants More­au (Pio Marmai) and Schaltz­mann (Vimala Pons) are investigating the case with the sup­port of two ex-super­heroes, Monte Car­lo (the always excellent Benoit Poelvoorde) and Cal­lista (Leila Bekhti). They'll do what­ev­er it takes to dis­man­tle the traf­fic. But More­au's past resur­faces and the inves­ti­ga­tion becomes more com­pli­cat­ed.
There is much to be liked and entertained in this movie. For one, there is more story here than in any of the Marvel super action hero Universe films. The film blends with the cop genre, another very popular one that the French have mastered. The French have done well in their touch detective buddy movies like the LES RIPOUX franchise. France's second last Academy Award for Best International Picture entry, Ladj Ly's LES MISERABLES was the best cop film in the last three years. In HOW I BECAME A SUER HERO, Moreau is a no-nonsense streetwise cop. His new partner is follow-the-book but intelligent detective, here female for political correctness. The two are initially at loggerheads with each other - (Boil his ass, she says of him at one point) but they eventually get along, with a romantic kiss at the end after they have worked together on the case.
As this is a lower budget film, the special effects, are modest but no less effective. The action sequences with all super powers in full view are well executed.
With humour and action, this French super action hero movie which blends in the cop genre is a welcome addition to the family of international Netflix originals.
Trailer:
LAST SUMMER (GECEN YAZ) (Turkey 2021) *
Directed by Ozan Açıktan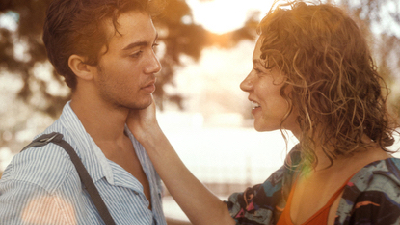 Adolescence is a wonderful time to remember and be re-visited. Films on the topic of adolescence often attempt to capture this unforgettable period of one's lives. Unfortunately, director Ozan Açıktan coming-of-age story of one 16-year old Deniz is one boring aimless piece of filmmaking that is a torture to watch from start to finish. Not only is this film totally boring, but it is annoying, pretentious and totally aimless. The only thing Deniz gains in his summer at his parent's holiday plan is a kiss from his crush.
Açıktan's film offers a portrayal of teens free of any responsibilities in summer. They spend their time playing, swimming, flirting, and partying. There are half a dozen or so of them, and it takes the audience a while to figure out who is whom - and who is Deniz's sister or who is his girlfriend. Asli is his crush and Ebru is his older sister. They pass the time by drinking, smoking and getting high. and some experimentation and discussion of sex, though there's also a sense of innocence and discovery.
The story focuses on Deniz as he spends the summer of 1997 in Bodrum, Turkey in a holiday resort with his parents and sister. Deniz has a crush on an older teen, Asli who likes someone else and does not reciprocate Deniz's feelings. Deniz tries to impress her, sometimes in ways that could be detrimental to his own well-being, such as drinking too much, smoking, and jumping off a cliff into the sea. He gashes his foot on a rock and gets a deep wound that bleeds and bothers him for days afterwards. Some of the older teens appear to be having sex, and one whose parents died in a car crash scares the passengers in his car by turning his headlights off on a road and nearly getting hit by other cars.
The film contains a lot of scenes that justify unacceptable acts. These include drinking and driving, binge smoking and drinking, taking drugs, dangerous diving off a cliff (I know someone who became a paraplegic as a rule of such an accident), driving at night with the car lights off, boasting abut sex, among others.
The young actors are all unknown to western audiences. Ece Çeşmioğlu (looking like a young Jude Law), who plays Deniz acts as if he is God's gift to girls. In reality, his character is a skinny, good-for-nothing narcissistic spoiled brat that the audience could not really care for.
Açıktan's camera is fond of lingering on the curves of the teen girl's bodies as well as their skimpy outfits. Açıktan seems like a dirty gawking old man.
There have been many excellent films on adolescence such as another American film of the same title, Frank Perry's 1969 LAST SUMMER (with the words: LAST SUMMER was too beautiful to forget and too painful to forget) and of course the Eric Rohmer's French classics. LAST SUMMER is NOT one of them nor does it come anywhere close. This is just one boring last summer for everyone.
Trailer:
MAJOR GROM: PLAGUE DOCTOR (Russia 2021) ***1/2
Directed by Oleg Trofim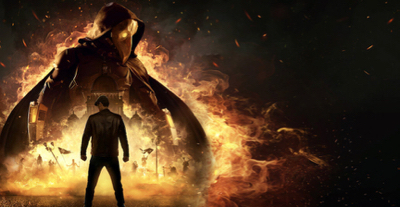 One of the three international Netflix originals to open this week, the other two from Turkey and France, MAJOR GROM: PLAGUE DOCTOR, based on the comic book of the same name and shot in St. Petersburg, is a fresh action hero thriller that covers several popular genres - vigilante crime (the DEATH WISH franchise), action super heroes (The Marvel Universe), cop crime mysteries (too many to list) executed with lots of style and aplomb. With nods from the most entertaining and popular commercial films, the ideas might not be truly original, but assembled together, credit to the director and script, MAJOR GROM is quite the entertaining film, if one can ignore the large amount of cheesiness. In fact, cheesiness is a plus in this film. Current social issues like political corruption (The Trump Administration) and social media (THE SOCIAL NETWORK ad FACEBOOK) are also added for good measure. A bit of irony - the Mark Zuckerberg character , Sergey Rad in the story, a mastermind of social media with his new software, has a conscience. A villain with a conscience? True to real life? Sergey unleashes a platform where information is safe He also fights against any city corruption. "You are a great man," he is told in the film. The Chinese and Russians are also in collaboration in the pursuit of wealth.
However, it is a cop called Igor who is the hero and protagonist of the story. A slim and sleek man, he is shown to be a loner eating badly and living in a neglected apartment with nothing inside his fridge. His favourite food is a meat wrap bought from the nearby train station. But with a punching bag in his hall and various equipment, Igor is quite the fighter. The action segments are executed with a mix of special effects and Martial-Arts techniques.
MAJOR GROM: PLAGUE DOCTOR is the name given to the vigilante crimefighter. His identity is not known to Igor or the authorities, but the audience knows who he is from the very start.
A dystopian society of crime with the streets full of garbage that looks like a really dirty Gotham City is created. The film also pays a nod to BATMAN. The vigilante crime fighter also dresses in a bird costume that resembles a pterodactyl with a long beak (THE PHANTOM OF THE PARADISE?). He possesses super powers the origins of which are explained later in the film. The art decor and set decoration are stylish, especially Sergey's condo with all the art sculptures.
The script is smart and sassy with a bonus of wicked humour while keeping the plot twists always one step ahead of the audience. Audience anticipation (a tool that the Master of Suspense, Alfred Hitchcock always utilizes in his films), so important to keep audiences intrigued, is always present. The cool dance moves performed by the hero and his girl at a super sexy and classy party are worthy of mention.
Though running at two hours, the time flies just as fast as the vigilante crime fighter disposes of his victims.
Trailer:
Trailer:
THE MISFITS (USA 2021) ***
Directed by Renny Harlin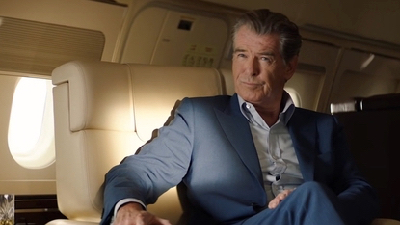 THE MISFITS, not to be confused with the 60's Marilyn Monroe/Clark Gable drama is
the new 2021 American heist comedy film directed by Renny Harlin and written by Robert Henny and Kurt Wimmer. The film boasts an impressive all-star cast of former James Bond, Pierce Brosnan, Rami Jaber, Hermione Corfield, Jamie Chung, Mike Angelo, Tim Roth, and Nick Cannon.
The name Renny Harlin will ring a bell to many as Harlin was the big name of his time, when he directed Sylvester Stallone in the cliffhanger of a film entitled CLIFFHANGER. Harlin has made hits and misses including one hit and one miss in the same year 1990 with DIE HARD 2 and THE ADVENTURES OF FORD FAIRLANE. THE MISFITS his latest, though he has other projects he is currently working on, is a mix between a hit and a miss. At the time of writing this review THE MISFITS has scored a mere 20% approval on Rotten Tomatoes. THE MISFITS, like many of Harlin's films, is super cheesy.
The best thing going for the film is its super cast. Brosnan, plays the lead character Richard Pace as if he was the James Bond of thieves. He is suave, passionate, cool and very clever at planning. Roth is always good and makes a solid sinister and cunning villain as Schultz, who owns all the penitentiaries, using them to hoard gold for the big crooks. It is this gold that Pace and his cohorts steal to make the world better place. Was it not already mentioned that the film is cheesy? Nick Cannon overdoes his role, though many might still find him amusing. The young teens especially the Asian ones should flock to this movie in order to see their Thai pop superstar Mike Angelo who plays a member of pace's gang. Angelo is arguably the sexiest man on the planet. He gets two excuses to take off his shirt to show a glimpse of his chiseled body - once, when he hides in a steamer at the penitentiary's and another when he is vacationing in the sun. As the film's dialogue goes: He still has the looks of a 12-year old. There are two ladies in the cast, Hermione Corfield who plays Pace's daughter and Jamie Chung who plays Violet that pace tries to score. "I don't date men, I kill them!" is the response she gives Pace when he makes his moves on her. "At least I tried," is Pace's response. So, the film is devoid of any romance.
Harlin's film has a script filled with cliches. The fact is also humorously admitted in the film. Pace tells his daughter at one point in the film: "I know it all sounds cliche but I did it for you." But just because it is admitted in the film does not mean it is ok to fill the film up with cliches. Another line of dialogue used in the film as verbalized by Brosnan (when his group attempts to convince his character to take part in the heist) could also be used to describe this film: "If this was not so amusing, it would be sad!"
Trailer:
RUNNING AGAINST THE WIND (Ethiopia 2020) ***
Directed by Jan Philipp Weyl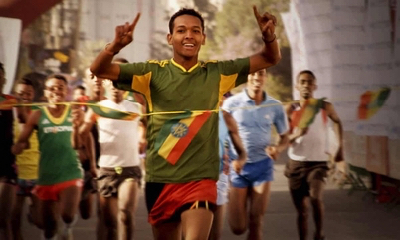 The Ethiopian entry for Best Foreign Film at the Academy Awards (though it did not make the short list of nominations) gets its debut all over the world. It is a decent and well-intentioned feel good movie, though a little violent for the genre, the type that film critics generally dislike and audiences love. It tells the twin stories of two Ethiopians who are running (one metaphorically and the other literally) to chase their dreams. They succeed of course.
The two dreamers are introduced at childhood. The connection is that the two were childhood friends who often played together in the bush. When a father dies, the orphan is taken in and looked after by the other's father, so that the two grow up as close brothers. They promise to look after each other. As boys, one has the gift of a runner while the other is enamoured by a visiting photographer who gives him a camera. One dreams to run, the other to photograph. The story is set in the remote countryside of Ethiopia, away from the capital Addis Ababa, the city that the boys adore.
The boys end up separated when they grow up. While Abdi (Ashenafi Nigusu) trains under a super tough coach to be a runner - Abdi is actually the best in the business winning a huge sum of money as the Best Ethiopian runner, Solomon (Mikias Wolde) is dead broke with a wife and kid. He suffered from diabetes as a kid though the ailment is never mentioned again when he is an adult. In the midst of all this, Abdi is searching all over Addis Ababa for his best friend. To those unfamiliar, the capital of Ethiopia is a huge place. But as movie scripts go, this one co-written by director Weyl and Michale Wogh, the two find each other.
Just as in romantic comedies where there is a big obstacle put in to be overcome before true love happily ever after is achieved, there needs to be an equivalent obstacle to be overcome before our two heroes can achieve their dreams. The obstacle in this case is the mafia who wants all of Abdi's money that he had won or Solomon's wife and kid will be killed. This results in some violence in the film and some so-so fight scenes near the climax. Film critics can only shrug at cliche ridden territory. The majority of audiences might just love it.
The best thing about a foreign film is the beauty of an unknown land. Ethiopia is stunningly captured on film from its remote villages, to the sparse dry baked lands to the hustle and bustle of its capital. The lifestyle of Ethiopians are all on display here.
RUNNING AGAINST THE WIND is a cliche-ridden, well intentioned, feel good movie aided by the beauty of Ethiopia displayed on screen. It opens July 9th, VOD/Digital.
Trailer:
SON (Ireland/UK/USA 2020) ***
Directed by Ivan Kavanagh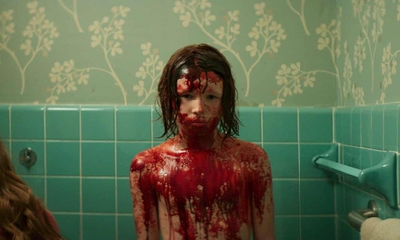 The film begins with an apparent pregnant lady having coffee in a diner. Two strangers enter the diner and sit behind her. She gets up and leaves and in the car while driving off, has her baby delivered. All this occurs during a storm which creates a more sinister atmosphere. As she gives birth in the car, she screams: "No, I don't want you!"
The film flash forwards to the present when the baby is now an adorable boy, 8-year old David (Luke David Blumm) who is very much loved by the single mother, Laura (Andi Matichak). At this point in the film, it is still the beginning and anything can happen. The audience should be wondering who the two strangers who appear in the diner are.
Suddenly one night in Laura's house, finds strangers standing over her son in his room, The door slams, locking her out. When she calls the police, the police seem unsympathetic when they find no trace of break and entry. No fingerprints could be found either. The head detective Paul (Emile Hirsch) is more sympathetic.
Things go downhill for Laura and David. David succumbs to a rare illness that the hospital cannot identify. David breaks out and is in extreme pain. David loses his appetite. When the hospital keeps David for observation, Laura frees David and the two escape. But David has eaten and killed their neighbour who Laura asks to look after David. Not the police are after them.
The film is called SON as it shows how much a mother would do and sacrifice for her son. SON is a horror film with chases, witch hunts and mysterious forces. SON feels like a cross among several classic horror films like THE OMEN (The boy, David looks as innocent as Damien in THE OMEN), ROSEMARY'S BABY (Did Laura gives birth to a devil's child?), HEREDITARY and cult movies (EYES WIDE SHUT).
The script written by director Kavanagh contains enough chilling elements but it lacks detail in its narrative. The time between the boy David as a baby to his age at 8 is totally left out in the film and left unexplained. Why do the cult wait till the boy reaches 8 before claiming him back? Laura's background is also omitted. What does Laura do for a living? She apparently has enough cash money to buy a used car at the whim of the moment. The supernatural and psychological elements do not blend well together. When the film toys between reality and fantasy, it works. When Laura's actions are questioned by the police, sincerely supernatural she has a past of mental problems, Detective Paul wonders if what has occurred could have been her imagination. Paul thinks that she could have imagined the strangers in David's room. But when David eats flesh, the supernatural element sets in. Obviously evil supernatural forces have come to play.
Stories like this one have little possibility of a happy ending, so it is best not to expect one.
Though director Kavanagh does his utmost best to have the audience root for poor Laura, one can only hope for so much. SON makes its debut as a Shudder original July the 8th.
Trailer: