10
Jul
2021
Details

Category: Movie Reviews
Written by Gilbert Seah
This week's films demonstrate that it is the craft of the filmmakers that make the movie and not the subject. CREATION STORIES and THE LONELIEST WHALE have the most inrtirguiging subjects but end up boring whilst the domestic drama ALICE rises way above its subject matter,
FILM REVIEWS:
LA DECISION DE ALICE (ALICE) (Australia/France/UK 2019) Top 10 *****
Directed by Josephine Mackerras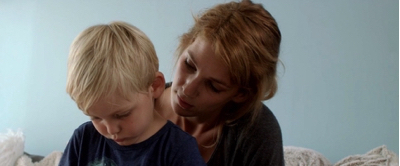 ALICE is a man-hating film and with reason.
ALICE is an Australian-French-British co-production. Australian writer/director Josephine Mackerras shoots her first feature in Paris, France and it is one wallop of a debut.
The film opens with what is seemingly a happy family. Alice (a powerful performance by Emilie Piponnier) is cooking while hubby, Francois (Martin Swabey) plays with their son, Jules (Jules Milo Levy Mackerras). Later at a party, Francois shows his passionate affection for his wife in front of all the guests. Then the unexpected happens. Alice is served with an eviction order and her husband disappears. Visiting the bank manager (Christophe Favre), she learns that her husband has stolen all her money and defaulted on the apartment payments. He is nowhere to be contacted and does not return Alice's calls. Alice finds out what happened. Francois had spent all her money (that she inherited from her father) on his addiction - escorts. Alice calls one of the agencies he visits and ends up working there to pay for her flat and support herself and Jules. Then just like in Robert Benton's KRAMER VS. KRAMER, the spouse suddenly appears half way through the movie and wants things back to normal. When refused, he threatens child custody. Enough said of the plot, and saying more would just spoil one's entertainment and the dramatic effect of the film, safe to say there is much, much more in the occasionally brilliant script that seems to demonstrate the power of women while also touching on their vulnerability. As strong a will that Alice possesses and utilizes, she is also subject to emotional feelings and hurt.
The film feels at times like Luis Bunuel's 1967 classic BELLE DE JOUR where Catherine Deneuve prostitutes herself during the day. But this film is different in theme and structure. Though Piponnier is an incredibly beautiful actress, ALICE is not an erotic film. The sex scenes are done with class and elegance, often with a touch of humour and much sensitivity. The only complaint is that all of Alice's clients are too nice and wealthy. She never encounters any abusive or physically unattractive clients. Director Mackerras quite trivializes the oldest profession in the world.
Director Mackerras teaches that domestic abuse can take different forms. Francois is shown at one point almost hitting Alice. But the abuse here is more than psychological. Francois had abused the trust she had in their marriage - and that is worse than any psychological and physical abuse any husband can inflict on a partner. The film hints of Alice forgiving him, especially when he appears sincere. Donc, quelle LA DECISION DE ALICE?
The film's best scene that deserves mention is the one where Alice confronts her best friend, Lisa (Chloe Boreham) over a wrong she perceived had been done to her. Another powerful scene is the one Alice makes to her mother, this one made even more powerful as it is only the dialogue that is heard on screen.
ALICE is full of surprises. One of the biggest ones is that this minor masterpiece cost less than $1 million to make. Australian director Mackerras filmed most of it in her own apartment with her own son playing Jules in the film. The ending too, is a solid surprise!
Distributed by Game Theory Films in Canada, Alice will be available to stream on Vimeo On Demand, iTunes and Apple TV beginning July 20. Visit gametheoryfilms.com/alice for more info.
Trailer:
THE CALL (USA 2020) ***
Directed by Timothy Woodward Jr.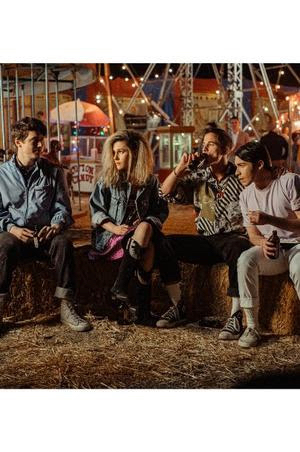 THE CALL centres on four teen friends including a newbie that has just joined the group. THE CALL refers to One Phone Call in which each of the four is given 60 seconds to stay alive after receiving the call.
It is the fall of 1987. This group of small-town friends must survive the night in the home of a sinister old couple after a tragic accident. Needing only to make a single phone call, the request seems ordinary until they realize that this call could change their life…or end it. This simple task quickly spirals into terror as their worst nightmares become reality.
The magic question is whether this Shudder original movie is any good. If one reads the horrid reviews written by the public on imdb, this film really gets panned with horrid ratings from the public. But truthfully, as they say, film critics and the public often differ on their take on films. THE CALL is actually quite a solid thriller that despite a quite unbelievable story that hinges on psychology and the supernatural. Though the story, silly that it turns out, actually kept me intrigued for the first half of the film, after which it goes downhill in trying to come up with a good ending, despite some unexpected twists. The film works during the first half when the script by Patrick Stibbs keeps the audience guessing.
Chris is the new boy in town. He meets Tonya who introduces him to her friends, tough guy, Zack and his brother Brett. They terrorize an old lady Edith Crankston (Lin Shaye) who Tonya believes is responsible for her missing younger sister. They toss rocks at the old lady's house, breaking her windows before she confronts them as they try to run away. Edith commits suicide. The four are invited to the house by Edith's husband, Edward (Tobin Bell) with a proposition. They have to make one phone call (to Edith in her grave) for a whole minute, each at a time staying on the line. If they do so, each will receive $100,000 cash. But when Zack goes first, he is scared and slams down the phone. He is killed while trying to get out of the house. Up to this part, the film provides solid scares using props like colours, long corridors, a toy rocking horse that rocks by itself, and creepy nursery rhymes in slow motion. The film also contains jump scares, as expected of films in this genre.
There are a few flaws with this film. One is that the four are bad kids, rude and obnoxious. The audience would rather have them killed, especially Tonya and Zack, rather than root for their escape from the house. The other main flaw is the uneven blend between the supernatural and the real. One would expect the story to be real with psychological scares but the script contains unexplained incidents which could only occur if there is some supernatural force present.
The cast is made up of relative unknowns except for the older Tobin Bell (SAW) and Lin Shaye (INSIDIOUS) who are a pleasure to watch.
Despite horrid audience reviews on imdb, THE CALL is still an entertaining horror flick with an intriguing premise and some solid scares.
Trailer:
CREATION STORIES (UK 2020) **
Directed by Nick Moran
CREATION STORES is the story of the founding and the dissolving of Creation Records, told from the point of view of its chief founder Alan McGee, portrayed in different ages of his life. For those unfamiliar with this British independent record label, it has a
sixteen-year history, focusing on alternative rock, releasing several influential indie rock, shoegazing, and Britpop records, but also featured well known famous bands like Oasis and featured in the film The Jesus and Mary Chain and My Bloody Valentine. CREATION STORIES is not a documentary, though what occurs on scene actually happened. Instead it is a stylized version, TRAINSPOTTING style told from the view of director Moran, the actor in Guy Ritchie's LOCK STOCK AND TWO SMOKING BARRELS. It is of no surprise then that TRAINSPOTTING's director Danny Boyle is executive producer and actor Ewan Bremner stars in a story that originated in Glasgow, Scotland.
The film is most interesting when it tells the story of the young McGee with his family. He is shown enamoured by punk rock especially the Sex Pistols. His father does not tolerate his love for punk and wants him to have a steady job and not be involved with bands like what he calls Sexy Pistols. He calls punk the American slang for homosexuals in private. McGee grows up and because he says he has no talent, becomes a promoter who changes the face of music. He and his mates have trouble with money. Surprisingly the film gives credit to Margaret Thatcher, whose government grant allows each of the Creation records founders to obtain a 40 quid grant to get their work going.
Director Moran loves the uses of surrealism as director Boyle did in TRAINSPOTTING. There is a nod to the famous TRAINSPOTTING toilet scene where McGregor has a trip through the toilet bowl. In CREATION STORIES. Bremner sees his face swirling in the toilet bowl as he fishes the toilet.
It was reported that McGee did not want Ewan McGregor to star in the film but got Bremner instead. This is odd as the young McGee is portrayed by Leo Flanagan who is a very good looking lad. Bremner portrays McGee as manic as he can be, screaming hard the time. Bremner can look years younger wearing a wig or look much older when he portrays him in his later years. Michael Socha and Thomas Turgoose portray the other two Creation Records founders Joe Foster and Dick Green respectively.
CREATION STORIES is too manic. Though one cannot dispute the spirit of the film, Moran's effort is all over the place. The stories are at least brought to the ground as McGee is interviewed, though Mcgee goes off on a tangent during a television interview. Moran includes archive newsreel footage (of protest and world leaders) to create the period atmosphere of the film.
The film was adapted from McGee's 2013 autobiography of the same name, by Irvine Welsh and Dean Cavanagh and it premiered at the virtual Glasgow Film Festival. Muddled, manic and ultimately boring as a TRAINSPOTTING wannabe! It finally opens July 20, on Digital/VOD.
Trailer:
FEAR STREET PART 3: 1666 (USA 2021) ***
Directed by Leigh Janiak

FEAR STREET is a trilogy of three teenage slasher films that opens on Netflix a week apart from each other, beginning July the 2nd. Similar to teen horror flicks like SCREAM and FRIDAY THE 13TH, the first of the series called FEAR STREET PART 1: 1994 based on the book of the same title, is not bad and should (it does not take much) satisfy horror fans. The second one, called PART 2: 1978 is set at a teen camp called Camp Nightwing where teens, especially the annoying fucking ones get killed away, very similar to the FRIDAY THE 13TH films which was also set in a camp by a lake. The sequel is a prequel with evens taking place before the first film. The 3rd and final part is a prequel of the prequel and is set in the year 1666 and explains the origins of the witch Sarah Fier.
The common theme of the trilogy is the witch, Susan Fier who has in the past possessed killers is regurgitated in this second instalment.
Fear Street has its origins as a teenage horror fiction series written by American author R. L. Stine, starting in 1989. R. L. Stine stopped writing Fear Street after penning the Fear Street Seniors spin-off in 1999. In summer 2005, he brought Fear Street back with the three-part Fear Street Nights miniseries. As of 2010, over 80 million copies of Fear Street have been sold. Stine revived the book series in October 2014. In 2021, a trilogy of films based on the series will be released on Netflix.
The title of the film comes from a fictional street in a small American town called Shadyside. The town has been cursed with serial killers who appear to be possessed by a witch in the past called Fier who was burnt by the town at the stake. It was Fier's revenge on the town. Apparently the family changed it name from Fier (the letter that could be re-arranged to spell fire) to Fear.
Part 3, the final film is the only one that is a period piece with a 1666 setting. The costumes and dialogue reflect the time. One can say that Part 3 is the most ambitious of the three. The question is whether it is the best. It is the goriest, undoubtedly with a segment in which Fier hets her wrist broken and her hand torn off from her body. The film also includes a lesbian slant. The result is a more serious and deliberate horror , not so much fun as the first two parts.
Director Zaniak who directs all the three films and also co-wrote the script knows her teen horror films. She keeps the action fast and furious with lots of blood and gore in the killing scenes. The first film was made politically correct with coloured lead characters and a lesbian theme to boot, but Part 2 contains mainly an all white cast with only one short scene where a black and Asian teen meet their quick death. The last part has a full blown same sex theme with a coloured and white teen. But the lead characters are at least all female.
All three parts make a sufficiently fine horror trilogy of three related stories. An entertaining time waster.
Trailer:
GUNPOWDER MILKSHAKE (France/Germany/USA 2021) **
Directed by Navot Papushado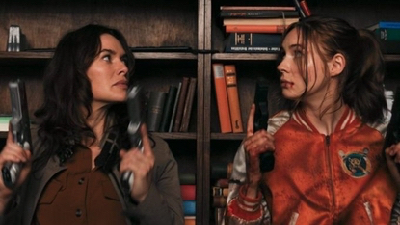 GUNPOWDER MILKSHAKE is a glossy, stylish auctioneer from France similar to the ones that director Luc Besson (ELEMENT CINQUEME, THE PROFESSIONAL) used to churn out back in the 70's and 80's. Less inventive, it looks more like a KINGSMEN, JOHN WICK franchise rip-offs. Its nod to women seems a bit too superfluous to be taken seriously in this generally man-hating version of an action flick.
The man-hating script co-written by director Navot Papushado is clear from the film's very start when an organization called 'the firm' is introduced. The firm consists of men who get what they want with their rubbish cleared up, (like the cleaners) by hiring women. One of these female cleaners happens to be super efficient fighter Scarlet (Lena Headey) In an assignment gone wrong, she has to abandon her daughter, Samantha. The introduction is shown in a clumsy flashback set in a diner which moves back to the present when the daughter after 15 years is now played by Karen Gilian.
Now, Sam has also grown up into a cold blooded hitwoman. After a high-stake mission spins out of control, putting an innocent 8-year-old girl in the middle of the gang war she has unleashed, Sam has no choice but to go rogue (MISSION IMPOSSIBLE: ROGUE rip-off). This ultimately leads her back to her mother and her former hitwoman sidekicks, who all join forces in an avenging war against those who took everything from them.
The villain of the piece, the head of the firm Nathan is played by veteran actor Paul Giamatti who is initially assigned the task to look after Sam.
The cast is impressive at least with heavyweights like Michelle Yeah and Angela Bassett playing two of the hitwoman sidekicks, though not enough to save the movie. There are a few humorous lines sufficient for a giggle or two. "We got our whole gang of men with us." ''Sam, replying: "I have my mom"
The fight sequences are executed with sufficient aplomb like the fights at the diner and the bowling alley. Trouble is that this kind of action has been seen many times in countless films before. Running at two hours, the film does not really run at breakneck speed, and watching the film is a mixed bag with quite a few boring stretches. This is not aided by a strong narrative but a weak thin plot with hardly anything to connect the audience to the story. The assassins helping a young kidnapped girl does not qualify.
The soundtrack sounds like something lifted right out of one of the John Wick movies. On the plus side, the film's soundtrack contains a good selection of oldies especially highway songs.
Opening just last Wednesday, GUNPOWDER MILKSHAKE, a film as unimaginative as its title can be currently streamed on Netflix. The film is another example of the streaming company's business model of quantity vs.quality.
Trailer:
THE HIDDEN LIFE OF TREES (Das geheime Leben der Bäume) (Germany 2020) ***
Directed by By Jorg Adolph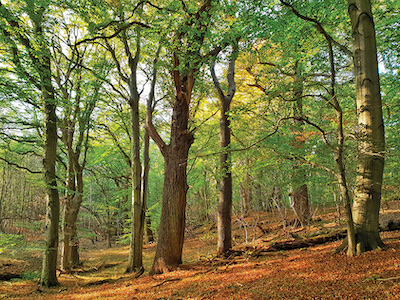 Can trees talk? Can they communicate? Do they have a social life? These are a few questions the new documentary on trees THE HIDDEN LIFE OF TREES, filmed almost entirely in German attempts to answer. Audiences who have seen nature docs before already know that nature allows them to connect with each other and to warn each other of dangers. So they do possess certain common human traits. But trees are NOT human. Making them like humans piques one's interest in the subject. It is of no surprise then that Peter Wohlleben's book THE HIDDEN LIFE OF TREES became an immediate best-seller when it debuted in 2015. His german book was translated to English in 2016. He opens eyes to the hidden world of the woods.
Wohlleben studied Forestry and was a civil servant at the State Forestry for over twenty years. As he grew more familiar with the woodlands he was overseeing, he became disenchanted due to the damage caused by the techniques and technologies he was expected to employ, including the felling of mature trees and the use of insecticides.
The film educates audiences through Wohlleben in an entertaining and enlightening fashion about the solidarity and cohesion of the trees and strikes a chord with his ever-growing community of readers. The film takes audiences across the globe to tell its story, making a greater impact when set in Vancouver Island, especially for Canadian audiences, Wohlleben also travels to Sweden to see the oldest tree in the world. Surprisingly this oldest tree is quite alone and does not look as if it survived that long.
In Vancouver, The film is brought down to earth as he talks to the loggers. The loggers only think short term to make money but do not care if the forests are self-sustaining. It is sad to see so many narrow-minded short sighted people. This is true too, especially in the fishing industry. Now, the cod population is close to zero in any seas. Director Adolph includes interviews and footage of many prominent environmentalists like David Suzuki who also creates a bit of needed humour in the doc. Wohlleben also sides with the Hambacher Forst demonstrators. Because he knows that we humans can only survive if the woods are healthy.
Director Adolph realizes the power of his source material. He does not resort to cheap theatrics like animation to emphasize a point. Instead he makes use of more relevant techniques like time lapse photography and camera workings with nature to tell his story. It is not surprising therefore to find the nature segments to be the most intriguing parts of the documentary. These are and there are many of these footages of insects and creatures that feast on decaying wood. These are creepy to watch but director Adolph makes his point.
THE HIDDEN LIFE OF TREES, the intelligent, quiet and insightful documentary will definitely make an impact on audiences. It will make one think twice when kicking a tree out of anger. The leaves of that tree might just emit chemical substances that will teach the kicker a lesson or two.
Trailer:
THE LONELIEST WHALE: The Search for 52 (USA 2021) ***
Directed by Joshua Zeman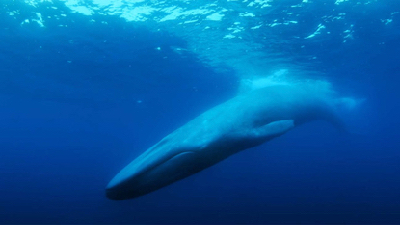 The subject of this documentary is a whale that vocalizes at 52 Hertz (cycles per second), a frequency that is particular only to this species of whales. It is assumed then that this whale cannot and is unable to communicate with any other whale and hence its nickname and title of the doc THE LONELIEST WHALE. If one sits back and thinks, this would be an interesting subject but to make a 90 minute doc that keeps the audience interested throughout would be quite the formidable task. True enough, there is hardly any sufficient material and director Joshua Zeman stuffs his doc with lots of padding, much of which could have been eliminated from the doc without much effect. Two examples, one a scene in a record store where customers purchase the Roger Payne 1970 hit album "Songs of a Humpback Whale '' and Kate Micucc's performance of her song.
One thing too that any curious person should consider is the fact whether this whale is indeed lonely. Perhaps the whale communicates in other ways or perhaps this whale species is supposed to live a secluded life for some biological reason. Also, the question of how this whale species mates is never answered. Director Zeman poses lots of curious questions and hardly answers them. His only goal seems to be to find the whale and thus use this as the climax of his doc. He hints at another title for the doc: "The Search for 53", which would be a more appropriate title, since THE LONELIEST WHALE makes certain assumptions that cannot be proven or disproven.
Director Zeman tries to relate the whale's predicament to that of the emotions of human beings. It is obvious he is trying to find more relevant material for the film but without much success. Zeman claims that it is very immortal for human beings to find out about the whale's communication. It is basic in understanding the most fundamental element of communication.
The film's trailer really piques one's interest in the subject but the interest wanes quickly while watching the movie.
It has just been a few weeks since another doc about whale searching FATHOM was released. FATHOM looks at the songs of the humpback whale, their communication and the search for the humpback whale that had a song recorded. The same problem exists for both films. A lot of screen time is devoted to searching and the eventual finding of their tagged whale. One also wonders whether their bouts of joy are re-enacted. This search in both cases is, as one researcher says in this doc, ie finding a needle in a haystack. In FATHOM, the voyage is described as having a high probability of failure. Finding their whale also involves other required findings, as this doc illustrates,
Like Drew Xanthopoulos' FATHOM, THE LONELIEST WHALE spends a lot of screen time with researchers at sea than providing very answers to the questions posed. Intriguing as the subject matter is, THE LONELIEST WHALE feels like a very lonely watch.
Trailer:
PIG (USA 2020) ***
Directed by Michale Sarnoski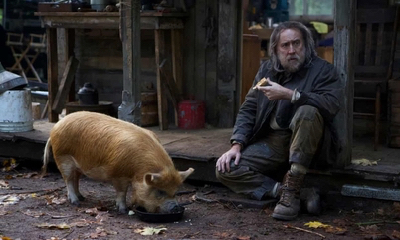 Those who have watched the Cannes sensation THE TRUFFLE HUNTERS would have realized the importance and value of an animal that sniffs out rare underground truffles. Imagine a crazy played by Nicolas Cage (Academy Award for Best Actor in Mike Figg's LEAVING LAS VEGAS) who now has the prime choice of playing weirdos has his prized truffle sniffing animal stolen and himself beat up. The animal in this case is a pig. The film is entitled, simply PIG. It is a hard contest of who wins the prize for the ugliest character in the film. Cage or the pig?
The plot revolves around Robin (Cage) who has his valuable pig stolen. With the help of his truffle buyer, he finds the thief.
The film begins with Robin digging up truffles as his valuable and lovable (but ugly) pig sniffs out the valuable commodity chefs pay a future for. The setting is the Oregon wilderness where director Sarnofski's has painted a hermit's existence for his hero, Robin. Robin lives in a dirty shack, but he is able to conjure up some magnificent dishes to eat. Robin makes a rustic mushroom tart, the title of the dish forming the title of director Sarnoski's film's first chapter. His film unfolds in two chapters, the second one entitled 'Mom's French toast and deconstructed scallops'. Sarnofski's tale is as strange as Robin's character.
Director Sarnofski churns up the action fast. After the introduction of his characters he begins the action. One night, Robin is violently attacked and his pig stolen. He enlists the aid of Amir (Alex Wolff), his truffle buyer who reluctantly aids him in the search for the pig. Amir, too, has to protect his livelihood. No pig means no truffles for him to sell.
Robin has been wronged. His pig and livelihood has been stolen. He has been beaten up. Robin's very existence has been violated. Robin has to find his pig and exact revenge. But director Sarnoski has other plans for what might seem as a violent revenge story. Robin's troubled and mysterious past unfolds and Robin has to come to grips with his past - as well as to solve the mystery.
This Robin does but the result is not as satisfactory as the audience would expect. Robin is shown to be able to take quite a lot of physical abuse, as demonstrated in an underground 'fight club'. Robin is revealed to be quite the brilliant debater. The film's best scene has him, filthy and dirty and horridly attired, enter a posh Michelin star type restaurant and asking to talk to the chef as his meals arrive. "Where is my pig?" he questions the chef, who then recognizes Robin as the chef he was working for years ago. It is also the funniest and key scene where Robin finally finds out what has happened to the pig.
Director Sarnofski elicits superior performances from Cage and Wolff. Wolff has already proven himself a proficient young actor, winning many acting awards. He is immediately recognizable playing the son of Colette's character in Ari Aster's 2018 HEREDITARY, the troubled boy who banged his head hard on the desk in the classroom. Sarnofski's film is not perfect but the director shows promise from his cinematography, creation of mood and atmosphere and setting up of key segments. What the film seems to lack in a goal or message, it more than compensates in its depiction of the drama and desperation resulting in living in isolation.
Trailer:
Trailer:
ROADRUNNER: THE FILM ABOUT ANTHONY BOURDAIN (USA 2021) ***
Directed by Morgan Neville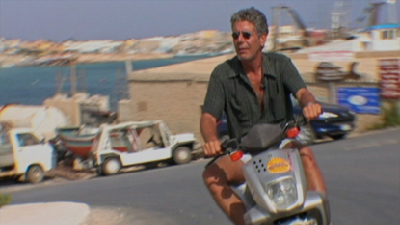 Anthony Bourdain is one of the most colourful subjects if not the most that can be found in a documentary. The film is called ROADRUNNER as the man travelled the world as a travel celebrity chef with a TV series program. He recently committed suicide by hanging himself 4 years ago. He used to be a heroin addict. He used to light up a cigarette the first thing when he got up in the morning, but gave up smoking when taking Jiu-Jitsu and winning first prize at a Jiu-Jitsu competition. So, there is plenty on display in this documentary about him. But his suicide casts a dark cloud over the documentary. The audience is likely to wonder the reason of his suicide and everything seen in the doc appears to reach back to this question.
The documentary covers these parts of the man's life. Anthony Michael Bourdain was an American celebrity chef, author, and travel documentarian, who starred in programs focusing on the exploration of international culture, cuisine, and the human condition. Bourdain was a 1978 graduate of The Culinary Institute of America and a veteran of a number of professional kitchens during his career, which included many years spent as an executive chef at Brasserie Les Halles in Manhattan. In 2013, he began a three-season run as a judge on The Taste, and concurrently switched his travelogue programming to CNN to host Anthony Bourdain: Parts Unknown. Though best known for his culinary writings and television presentations, along with several books on food and cooking and travel adventures, Bourdain also wrote both fiction and historical nonfiction. On June 8, 2018, Bourdain was found dead due to a suicide by hanging while on location in France.
The doc contains a massive amount of footage on Bourdain as he was always being filmed. Bourdain talks about his life, his thoughts, his troubles and often about death. At the film's start he talks about not caring what happens to him or his ashes after he passes on. But he says that it is good therapy to ponder about death each day for a few minutes. He says that he will advise others on how to live life but he has been very lucky. These are ironically words articulated by the man before he took his own life. He talked about life having no happy ending, and indeed it wasn't for hi,
The doc shows Bourdain to be a shy man often with lack of communication. He is described by those interviewed in the film as an occasional pain in the ass.
Director Neville takes his audience where Bourdain travels. The doc has wonderful exotic scenes of the Sahara Desert, the magnificent dunes de Pyla (in France) where I have visited myself twice, and takes the audience to Asian countries like Japan, Vietnam and Thailand. Though Bourdain is a chef, there is surprisingly not much gourmet food on display in the doc.
Director Neville leaves the reason of Bourdain's suicide aside as no one is certain of the reason. One can only speculate. ROADRUNNER is indeed a strange journey, but one that makes one think about life in total and perhaps it is good therapy, as Bourdain says, to meditate about death for a few minutes every day.
Trailer: