25
Jul
2021
Details

Category: Movie Reviews
Written by Gilbert Seah
FILM REVIEWS:
6:45 (USA 2020) ***
Directed by Craig Singer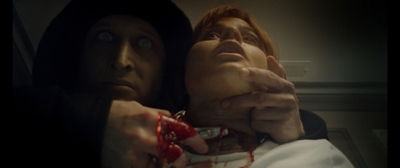 Bobby wakes up every day at the time indicated by the film's title and lives the same nightmare again and again.
6.45 is a time loop GROUNDHOG DAY film that involves the protagonist, Bobby (Thomas G. Waites) waking up every morning at the same early time of 6.45. Time Loop films are usually either comedies (GROUNDHOG DAY) or horror films (KOKO-DE KOKO-DA, HAPPEY DEATH DAY) or sometimes a combination of both. 6.45 belongs to the latter category. In horror time loop films, the protagonist always tries to prevent the horror from recurring. KOKO-DE KOKO-DA was so interesting as the protagonist never learns from the previous day and the same horror keeps happening where he and his wife keeps getting slaughtered by strangers while camping. In 6.45, Bobby tries to prevent the murder of his wife, Jules (Augie Duke) and him from happening, learning from the past, so that in the current, no murder can take place. If it does, he will keep getting stuck in the time loop. So the logic is to prevent the murder so that time can go on and Bobby can continue to live his life, which in this particular case, is quite a strange one.
The film also answers the question of why it is only Bobby that is involved in the time loop. His wife thinks him crazy. Perhaps he is!
The film opens in chapters with the headings DAY 1, DAY 2, DAY 3 up to DAY 9 (before jumping to DAY 100). 6:45 is one of the rare time loop films that is devoid of humour.
The common thing occurring everyday is a wake up call by Gene, the hotel manager, Gene (Armen Garo) informing them that breakfast is ready. Bobby also find hair from a previous guest stuck on the bar soap in the bathroom. Soon downstairs he is informed that the cleaning lady will correct the problem. As they go about their day, their day ends abruptly with a vicious attack by a stranger in a black hoody, only with the killer's eyes. The killer attacks Jules from behind slitting her neck with a knife following which he snaps and breaks Bobby's Neck. Bobby is then awakened the next morning, which turns out to be the same morning, at 6:45. Gene then gives them a wake up call again informing them breakfast is ready. Hair is found on the soap in the bathroom.
The script written by Robert Dean Klein dishes out a bit of information every day instead of everything on a single day. This allows the audience feeling the same monotony of the same events of the same day while at least keeping some interest with new information added. On Day 1, the couple go through their normal day before the killing. Day 2, they are informed that something very bad had happened in the town in the past while wondering the reason the two is so deserted. On Day 3, they find out what had happened in the past. Day 5 is the day Bobby decides to spend the entire day in the room making love so that thy will survive the killing. They don't.
The film finally ends after Day 100 with a reasonable explanation to the events. 6:45 ends up an interesting enough variation of a psychological horror movie.
Trailer:
12 MIGHTY ORPHANS (USA 2021) **
Directed by Ty Roberts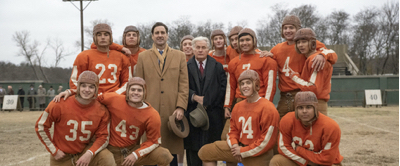 12 MIGHTY ORPHANS is a sports feel-good sports drama based upon the non fiction book Twelve Mighty Orphans: The Inspiring True Story of the Mighty Mites Who Ruled Texas Football by Jim Dent. It is the typical kind of sports film churned out by the Disney/Touchwood Studios - the worst example of formulaic film - just look at the title of its source material. It is shamefully manipulative, over melodramatic with overdone feel-good moments designed to wring out tears from unsuspecting audiences. On the positive side, director Roberts is extremely successful in directing a movie by the book. To his credit, the period setting is impressive and convincingly done. As expected, this is the kind of film audiences love and cry. It is not surprising then that the film has so far received mixed reviews since its release in the United States.
More than a century ago after the First World War, a school was constructed in Fort Worth, Texas, for the purpose of housing and educating the orphans of Texas Freemasons. It was a humble project that for years existed quietly on a hillside east of town. Life at the Masonic Home was about to change, though, with the arrival of a lean, bespectacled coach by the name of Rusty Russell (played with straight-face no-nonsense by Luke Wilson). Russell arrived with his wife (Vinessa Shaw) and kids. He was a war-hero and orphan himself. Director Roberts shows the man teaching the classroom as well as coaching football - a tough but sensitive man.
In the 1930s and 1940s, there was nothing bigger in Texas high school football than the Masonic Home Mighty Mites, the name given to this group of orphans bound together by hardship and death. These youngsters, in spite of being outweighed by at least thirty pounds per man, were the toughest football team around. They also have no parents to cheer them on in the stands, not like the players from the other schools. The film is quick to emphasize, by voiceover, as if the audience has not already got the message that it has to be drummed into them multiple times, that in a depression, people need something to cling to and what more than these orphans with, in the exact words of the voiceover, full of bull piss and vinegar.
Martin Sheen adds a little kick to the film as the drinking 'Doc Hall' while Oscar Winner Robert Duvall has a cameo as Mason Hawk.
The film's worst scene, has a mother come back to the school to reclaim the son she had given up 10 years ago, the quarterback called C.D. right after the team starts getting famous after winning games. It is a scene full of melodrama, cliche ridden with its dialogue.
Women are not portrayed in a positive light in the film. The wife and the female orphans sew footballs for the males. C.D. 's mother is shown to be abused by her husband and a bad mother unable to stand up for herself.
The film might be a tribute to a courageous band of underdogs from a time when America desperately needed fresh hope and big dreams but unfortunately, it is a terrible one. Best skip the movie and read the book.
Trailer:
ANNETTE (France 2021) ***1/2
Directed by Leos Carax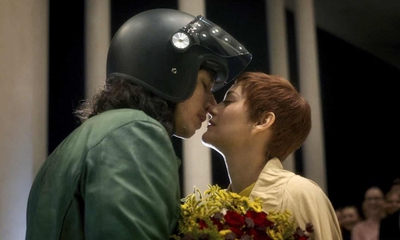 The film is set in present day, Los Angeles. Henry McHenry (Adam Driver) is a stand-up comedian with a fierce provocative humour and Ann (Marion Cotillard), an internationally renowned opera singer. Together, under the spotlight, they form a happy and glamorous couple. The birth of their first child, Annette, a mysterious girl with an exceptional destiny, will turn their lives upside down.
ANNETTE begins stupendously. A voice tells us to kindly remain silent throughout the show. This could be the show coming on in the film or be referring to the film itself. The voice tells the audience that breathing is not allowed during the show, so to then take a long deep breath. The film then commences with strobing lights with the two main leads Adam Driver and Marion Cotillard joining the chorus in song and movement. Music is by Sparks in what would turn out to be the strangest musical to be witnessed on the screen. ANNETTE feels like a rock opera. Carax intends to break all the rules of filmmaking. His enthusiasm and energy show. The film is more suited for cinephiles than for the mass commercial audience who might think everything is strange and not appreciate the enormous effort that have gone into arak's brand of filmmaking.
The introductory song goes: "Now may we start ? It's time to start…" Then Driver and Cotillard part ways to perform separately on different stage venues, one as a comic and the other, an opera singer.
One distinguishable feature of director Leo Carax's films is their energy. There are bounds of it as observed in his last feature HOLY MOTORS and his most famous feature LES AMANTS DU PONT-NEUF, which I would arguably consider one of the best love stories ever put on film. ANNETTE is also a love story - but a tragedy, between two show-biz celebrities. The lovers are portrayed with gusto by Adam Driver and Marion Cotillard respectively both willing to try anything for the purpose of art, as witnessed by the musical no holds-barred erotic love-making scene in the first third of the film.
Carax's fluid camera can be witnessed many times during the film, as in the driving of a vehicle as in through a tunnel and in other scenes. Carax is game to try new things like Ann performing opera walking on stage through the woods, where the woods turn into real woods as she trudges through the vegetation. The intercutting of the performances of Ann and McHenry are remarkably executed in style and aplomb. Baby Annette grows up, there is one scene where Annette is portrayed by a human girl.
ANNETTE went on to win Carax the coveted Best Director prize at Cannes. The film also won the prize for Best Cannes soundtrack. Though this is only my second film from Cannes that I have yet seen, I am sure Carax is well deserving of his grand Prize. I have always admired Carax and will continuously do so.
Trailer:
DREAM HORSE (UK 2020) ***1/2
Directed by Euros Lyn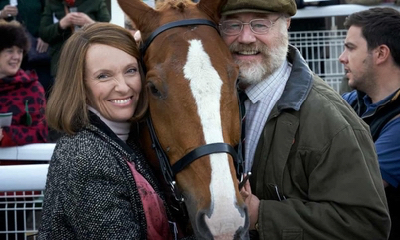 DREAM HORSE makes its Toronto premiere at the Italian Contemporary Film Festival Lavazza Drive-In Film Festival, opening on August 6th. DREAM HORSE is a cautionary feel-good film set in Wales about obviously a dream horse that is called Dream Alliance.
The story is set in a little Welsh village. Vokes is a woman who is always ever so busy, as the film informs. She has double jobs, looks after her aging parents, makes meals for her husband and cares for the animals around the countryside from ducks to horses. With very little money and no experience, Jan Vokes (Toni Collette) — a small town Welsh bartender — convinces her working-class neighbours to help raise a race horse named Dream Alliance. As they chip in with their meagre earnings, Dream Alliance ends up dying giving birth to a healthy young fowl. The fowl is good enough to compete against the racing elites — rising through the ranks with grit and determination. When the group makes it to the Welsh Grand National, the unlikely horse becomes a beacon of hope for their struggling community.
Critics like myself generally frown upon feel-good movies. Audiences generally love them. One reason for the critics' skepticism is that feel-good movies are too formulaic. A happy ending is normally included after some obstacle is overcome. The film is normally cliche-ridden with lots of audience manipulation. However, DREAM HORSE has a few advantages that lift it above the uvula feel-good fare. One is its Welsh setting. There aren't many films set in Wales and it is a welcome site to check out the little villages and customs of Wales. The accent is also a welcome change. Horse racing and breeding are also not too common a theme in films. So breeding a race horse with all its difficulties teaches audiences a thing or two about a little known subject. The climate segment where Dream Alliance gets to win the race is executed with the usual editing - camera focuses on race, switches to faces of the characters, then to the other spectators, the cheering and so on. But director Lyn ups the angst with lots of spirit exhibited from his actors, particularly Collette, who is just winning in her role.
Toni Collette is an actress that I am like very much, as she is able to do both drama and comedy very well. Collette is an Australian actress and the first film I saw her in was MURIEL'S WEDDING, a comedy where she played an ugly duckling. My favourite film is the horror flick HEREDITARY where she demonstrated good dramatic skills. In DREAM HORSE, she is an Australian playing a Welsh bartender, putting on the required local Welsh country accent. I have been to Wales only once, so many like myself cannot really tell the Welsh accept - whether accurate or not. One might get a little exposure of the accent from the hit comedy series LITTLE BRITAIN.
As the film is used on a true story, as announced at the start of the film, the closing edits show the real characters, what Jan and the other characters really look like- and they look quite alike the actors portraying them. The crowd pleasing feel-good DREAM HORSE should entertain audiences and critics alike with its winning story and setting.
Trailer:
THE FIVE RULES OF SUCCESS (USA 2020) ***
Directed by Orson Oblowitz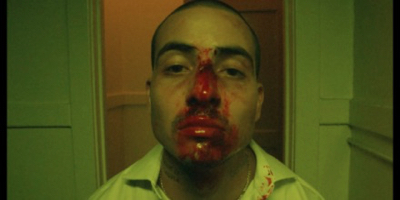 This low budget but enterprising drama comedy follows an ex-convict (Santiago Sgura) with no name but will be referred to as 'X' in the film, as he tries to assimilate into society with what is termed THE FIVE RULES OF SUCCESS. The question is what success refers to. The film unfolds in 5 chapters according to these five rules - humorously but dead serious from the perspective of the ex-convict.
X sets out to rebuild his life with a bulletproof mindset but when society proves to be more treacherous than imagined. He treats 5 rules embarking on a ruthless phantasmagoric journey through the underworld in pursuit of the American Dream. The film unfolds with these 5 rules as its chapters.
The film pays a nod to Martin Scorsese's famous TAXI DRIVER. In TAXI DRIVER, Robert De Niro stands in front of a mirror chanting: "You talking to me? Are you talking to me?" repeated several times. In this movie, X also talks to himself in the mirror. One expects his character to explode as the De Niro character did in TAXI DRIVER, but X is more controlled.
The film paints a horrid view of women. They are displayed in the film as hookers that satisfy X's partner in crime and other low-life. The other female role in the film is X's parole officer. She is the parole officer from hell. During her first meeting with X, she warns him that parole is a privilege and is a vocation from prison. She is clearly intent on sending X back there. One night, she shows up at his apartment demanding a urine test that he has to perform in front of her. She has no qualms in holding the urine dripping sample container. Director Oblowitz resists the temptation of giving her a deserved comeuppance.
Director Oblowitz offers a sympathetic view of his protagonist. X is shown as a decent man who just wants to, in his own words, make money and have a clean slate. For this reason, he has come up with the five rules of success. Rule one: Aim High, Be delusional; Rule 2: Block all negativity and so on. But contradicting all those rules, he finally admits that in prison the is a code that every convict is forced to obey while in society there is no code.
Oblowitz's film is serious most of the time except for some wry humour. Funny is the segment where X speaks in ex-President Trump's voice about Trump's America. here, the audience knows the director is poking fun at and against Trump's policies.
The film works well (I loved it till..) till the near end when it goes all crazy. The restaurant that X finally opens, though a final success for X, is a bit over the top to be believable. What happens afterwards, not to be revealed in the review, could have been done away and softened for a more satisfactory ending. But given what the director wants, who is one to argue?
The film had its World Premiere at Fantasia Film Festival and also screened at the Oldenburg Film Festival. It is currently playing on Amazon and iTunes.
Trailer:
RISING WOLF (ASCENDANT) (Australia 2020) *
Directed by Antaine Furlong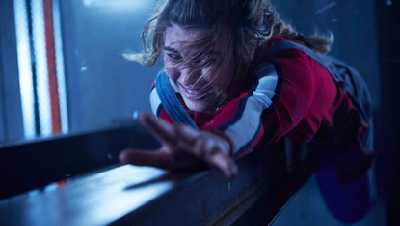 Directed and co-written by Antaine Furlong and Kieorn Holland, RISING WOLF, previously called ASCENDANT is a horrific horror sci-fi fantasy from down-under.
A protagonist waking up in a strange enclosure with no memory of how he or she got there has been a favourite premise in films - THE MAZE RUNNER and CUBE just to mention two. In RISING WOLF, a female awakes and finds herself gagged and bound. It is obvious she had been kidnapped and she is. She finds herself in an elevator that travels up and down at breakneck speed. If versed with the Laws of Physics, one knows that if the elevator falls at a high enough acceleration, one will experience weightlessness as the protagonist, Aria (Charlotte Best) does. And many times.
"Your daddy is hiding someone from us." "Need to find him." "I will never talk." "You will." These are the conversation dialogue going on between the Russian tormentor (Alex Manglet) and Aria. The result is torture like the horror SAW franchise. First Aria father's Richard (Jonny Pasvolsky) ear is cut off and then his fingers torn out with a plier. But the latter is not shown on the screen but is heard, which is much worse. These torture scenes are necessary and awaken the audience from he slumber of a monotonous plot. But maybe, it is better to slumber…..Aria gets to experience the full horror of her father's tortue through live streaming to the elevator, thanks to modern technology.
Even when the Russian villain is not torturing anyone, director Furlong is. As Aria clambers in and out of the elevator shaft, a nasty piece of meal scraps her skin and wounds her.
The villain is Russian, with Russians stereotyped. The Russian villain is bearded, speaks with an accent and with sentences with missing propositions.a
Aria is on her cell phone conversing with her rescuers. They tell her to stay on the line as they are three buildings away. In the meantime, the Russian operative continues to torture her father - if not extracting his teeth, tooth by tooth with a plier, then breaking his fingers.
The mystery slowly unfolds as the story progresses. Director Furlong reveals that Aria's father used to work with the CIA. Through flashbacks, the audience sees Aria with her sister and father . But the story is not really convincing and no one really cares about the silly espionage either.
To make matters even more annoying, the film contains a lot of strobing lights especially at the beginning. There is no warning to the audience so those who suffer from epilepsy best stay away from this film.
Just as everything seems hopeless and Aria's father is about to be killed while she is still trapped in the elevator, the story takes a supernatural turn that makes absolutely no sense. Yes, Aria has been shown to be a special girl in the flashbacks but what comes on next is also unbelievable. Aria has supernatural powers.
RISING WOLF ends up a confusing mess that leads nowhere, yes like trapped in an elevator. Trapped in an elevator would end up just as entertaining than watching RISING WOLF.
Trailer:
SWAN SONG (USA 2021) ***
Directed by Todd Stephens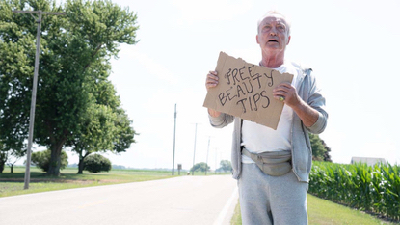 As the titles indicate at the start of the film, SWAN SONG is inspired by a try icon. The icon in this case is Pat Pitesenbarger played by Udo Kier, known for always preferring roles of an outrageous nature. Pat is a retired hairdresser who escapes from his nursing home to fulfil a former client's dying wish for him to style her final hairdo.
This is the simple premise for a rather simple film, so one should not expect too much from Todd Stephens's film.
The nursing home Pat escapes from, lies on the outskirts of Sandusky. Life here is a far cry from the days when Pat (Kier) ran his own salon and catered to the town's rich socialites like Rita (Linda Evans). Initially, Pat is hesitant to grant Rita's request, given that the two had a falling-out many years ago. "Bury her with bad hair." But a change of mind sends him on an odyssey, where he confronts his past – and looks gorgeous while doing so.
SWAN SONG is a specialized film that does not cater to the masses. It is a definite queer film, and even so, commercial gay audiences might be bored, except maybe for the cup scenes. It is hard to identify the target audience for this film, so the film will be a hard sell. Actor Udo Kier tends to strut his stuff so fans (though not that many) will be delighted.
Kier is in almost every scene in the film. He prances around, does his gay swagger and utter the campy dialogue given to him. All this gets a bit monotonous after a while, added by the fact that the dialogue is not all that funny. "Gay is not what it used to be, " says Pat in one scene, when he is rebutted: "Tell that to your green dress pants." These are one of the few funnier lines. Pat prances around town in this mint green suit (a long-stemmed More cigarette in hand). Pat finally get to perform at his old gay bar with a chandelier atop his head. This segment forms the claim of the films and expected things to go haywire.
The soundtrack, a mix of the past and present is appropriate and creates the film's proper mood, with songs from Dusty Springfield to Melissa Manchester to Robyn.
The AIDs tragedy also comes into the story. Pat's friend, David, a gardener, shown only in flashbacks passed away from the disease and makes an impact on Pat's present decisions.
But the gist of the story is the death of Rita. Pat is designated to do air at Rita's funeral. After much hesitation, Pat finally agrees. Pat had a falling out with Rita but finally forgives her and does her hair. The film at this point shows that it is a lot about hair. Ritas hair looks fabulous finally after Pat has done a super job.
Given what it is supposed to be, Stevens' film is what it is. Produced, writte and directed by Stephens, the film is part of his "Sandusky" trilogy, following Edge of Tomorrow
and Gypsy 83.
Trailer
La Nuée (THE SWARM)(France 2020) ***1/2
Directed by Just Philippot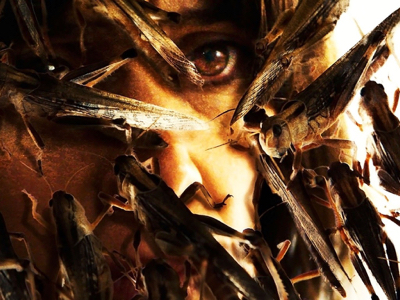 The intentional Netflix movie premiering this week is another French winner - THE SWARM, a well executed (in all departments) horror drama with a hint of environmental commentary.
The story/plot is simple enough, so best not to expect any twists in the storyline. The film ends where it is supposed to - a cautionary tale of greed and tragedy.
The film was awarded the Cannes' 2020 Critics' Week label, and has won critical acclaim in various film festivals around the world. Because of its cinematography, the film is best viewed on the big screen.
The film follows a single mother, Virginie (Suliane Brahim, de la Comédie Française) who, with two children. teenager Laura (Marie Narbonne) and Gaston ((Raphaël Romand) slog out a meagre existence on their rural farm in France after their father has died (reason not detailed except that it has something to do with goats). Virginie gets into the business of protein obtained by cultivating locusts, disgusting creatures that director Philippot shows, cannibalizing themselves in a close up scene where the audience gets to witness them eating each other. These locusts also develop an appetite for blood and this is where the problem of greed arises. Virginie discovers the immense growth (speed and health) of these insects after they devour blood. She feeds them blood from herself, and other various sources till they multiply at a rate impossible to control. At the same time, Virginie begins to lose it. No need to disclose the ending, as one can guess what will occur given the circumstances.
The family drama is heightened with two relationships - one between Virginie and her daughter Laura who is growing up quickly and difficult to control, given the mother's immense work and being single at the same time. The other is the budding romance between her and a sympathetic Arab, Karim (Sofiane Khammes) who lends her a hand with finances.
The drama and the horror element are effectively blended together so that THE SWARM becomes that rare horror film where the audience cares for the characters, displayed warts and all. The film at times feels like a horror JEAN DE FLORETTE flick thing JEAN DE FLORETTE meets THE FLY. But what makes the film really tick are the special effects by Antoine Moulineau. Besides the sights of the huge swarm of locusts in the sky coming down on human beings, on a warm feasting on the blood of a human victim, it is the closeups of these insects with their ugly heads, hairy legs and compound eye that give the film a really creepy feel, making one's skin crawl.
Director Philippot also comments on the unfriendly male environment faced by the family. Laura has trouble with her male friends at school.. She is made fun of because of her mother's business. Virginie is also given the run around with low prices aid for her locust products. The only exception is the kind Karim who also admits to her that he is treated as an outsider in the area.
THE SWARM is a compulsive watch from start to end with lots of drama and special horror effects. What more can one ask from Netflix?

Trailer:
WHAT WE LEFT UNFINISHED (Qata/Afghanistan/USA 2019) ***
Directed by Mariam Ghani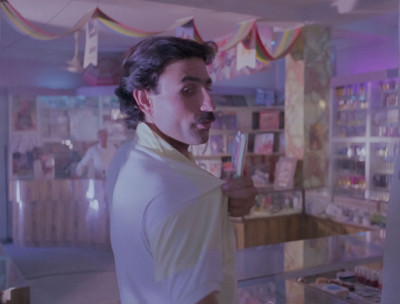 WHAT WE LEFT UNFINISHED are the films that have been left behind in Afghanistan as a result of political oppression and deliberation. These are not complete films, but often works in progress, with no sound, continuity but the individual segments could be spliced together to make a story. Documentarian Mariam Ghani is a Brooklyn-born filmmaker, whose father is the President of Afghanistan. She has spent years collecting these incredible stories and crafting this deeply personal tale. And this documentary is the culmination of her work.
It Should be noted that in April 1979, the Afghan Communist Party found power in a violent revolution, The party nationalized the film industry. They commissioned 5 films that were left unfinished. These films depict an ideal Afghan Cmmunits society that obviously does not exist.
Director Ghani includes lots of archive footage of these five films. Most of these films, being unfinished, have no sound as production had not been completed and sound and still not been mixed into the films. Despite the period look of the films' s the films were created. they could be considered as recently made.
The five films left behind are: "The April Revolution'' (1978), "Downfall" (1987), "The Black Diamond'' (1989), "Wrong Way" (1990) and "Agent" (1990). Director Fghani had got a lot of cooperation from the State of Afghanistan Film that provided archive footage of the 5 films for use. (The films look like Bollywood action flicks and the Afghan language sounds very much like Iranian.)
Whatever government, there always seems to be cooperation between them and the filmmakers. But the films made had to put the ruling party in a good light. This rule holds true not only for Afghanistan but for many, many countries as well. Coming from Singapore, it is the same rule, despite Singapore being so modern. If any film paints a picture of Singapore, it will be banned. A case in point is Peter Bogdanovich writing a false script called JACK OF HEARTS to get permission to shoot SAINT JACK in Singapore about a war veteran (Ben Ganzara) returning after the war to open a brothel. Singapore approved the file script but when they later discovered what was flamed was different the film and Bogdanovich were banned forever from entering Singapore. In the case of Afghanistan, as the voiceover says, one could get thrown in jail if it is said that the hair of a minister is crooked.
Entertainment or propaganda? The Afghanistan Communist ruling party seems to use cinema as the latter, never underestimating the power of film. Director Ghani attempts to answer this question. Whatever the answer, cinema could also be both.
Is WHAT WE LEFT UNFINISHED entertainment or propaganda? This documentary, more suited for cinephiles than the general public, serves to educate and inform, while putting into perspective cinema as in Afghanistan's history. A curiosity piece if not totally absorbing depending on one's interest.
WHAT WE LEFT UNFINISHED opens in theatres and virtual cinemas nationwide in the U.S. on Friday, August 6th.
Trailer: