FILM REVIEWS:
THE CAPOTE TAPES (USA 2021) ***
Directed by Ebs Burnough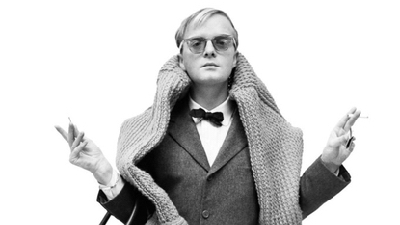 It seems the public will never tire of the nasty little celebrity, the famous and glamorous writer Truman Capote. Philip Seymour Hoffman portrayed him in the 2005 film CAPOTE and 2020 saw the doc TRUMAN & TENNESSEE that concentrated on the relationship between these two giant icons. THE CAPOTE TAPES attempts to serve as a biopic on Truman Capote while concentrating on the topic of THE CAPOTE TAPES.
Truman Streckfus Persons, (September 30, 1924 – August 25, 1984) was an American novelist, screenwriter, playwright, and actor (MURDER BY DEATH, with a short clip included). Several of his short stories, novels, and plays have been praised as literary classics, including the novella Breakfast at Tiffany's (1958) and the true crime novel In Cold Blood (1966). His works have been adapted into more than 20 films and television dramas. Capote rose above a childhood troubled by divorce, a long absence from his mother, and multiple migrations. Capote earned the most fame with In Cold Blood (1966), a journalistic work about the murder of a Kansas farm family in their home.
The film does a fairly decent job at being a biopic covering his childhood (living with his 2 aunts, after being abandoned by his mother) prior to his rising to fame. The last third of the film is devoted to THE CAPOTE TAPES, which is supposedly his lifelong novel that was never published, except for three chapters. Those interviewed on film swear that he had completed writing them though the manuscripts are nowhere to be found. This doc serves to provide a glimpse of Capote's life and understand the influences on him as well as how he influences the high society of NYC.
THE CAPOTE TAPES is director Burnough's debut documentary and he follows the rules of a typical doc. The subjects background from childhood are mentioned, notable interviewees assembled and archive footage interspersed during the interviews. The downfall of Capote, his excessive alcohol and drug abuse, together with his party-going (Club 54) led to his health and reputation in decline. As a fabulous gay person, he did not care. He was cruelly described a s an ageing dwarf at one point in the film. Like a trueThe subject, on archive footage is presented multiple times to effect the impression that he is still 'with us'. The result is a fairly entertaining doc for the primary reason that Capote was such an entertaining personality.
The film is largely narrated by George Plimpton, the journalist who befriended Capote. He helped Capote organize the grand costume ball at the Plaza Hotel, which is one of the highlights of the documentary. The other are the partying photos of the celebrities at Club 54 where he frequented. The most insight on Capote is provided by the many interviews with Kate Harrington, Capote's adopted daughter. Her father was Capote's manager and the two had become lovers. Director Burnough also spends time talking about Capote's most famous work, his short book OTHER ROOMS, OTHER VOICES and his masterpiece IN COLD BLOOD.
THE CAPOTE TAPES premiered at the Toronto International Film Festival in 2019 and will be finally opening in theatres September.
Trailer:
THE CARD COUNTER (USA 2021) ***1/2
Directed by Paul Schrader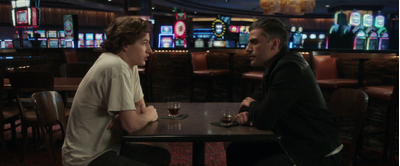 Paul Schrader, best known for and who rose to film fame with his script for Martin Scorsese's TAXI DRIVER, has always had films that he wrote and directed about characters with inner demons pushed to the limit. In his latest film THE CARD COUNTER, which ranks as one of his better films, the voiceover at one point in the film even asks: "Is it possible to reach one's limit?" His best and my favourites of his films include AFFLICTION that won James Coburn the Oscar for Best Supporting Actor (likely from the scene where he tells off his Scripture quoting daughter at a funeral to 'fuck off'), AMERICAN GIGOLO and THE COMFORT OF STRANGERS. Schrader's writing can by nail-biting top notch as in the James Coburn AFFLICTION scene or in the script he wrote for Scorsese again in THE LAST TEMPTATION OF CHRIST where Christ played by Willem Defoe returns to his own village and un-respected as a prophet as the Scripture says that a prophet will not be known in his own home. In that scene, the villagers say after listening to him preach that his head is fucked up because he is not married and therefore his sperm goes directly to his head.
In THE CARD COUNTER that Schrader wrote and directed, there are no such forever unforgettable written lines but it is a solid script that covers all corners of the plot as well as impresses with the intricacies of gambling games like roulette, blackjack and poker, though not always correct. The data provided in the voiceover at least sounds convincing. The voiceover at one point confidently states that the safest bet to play in roulette (this is true) is to place a chip on a red or a blue with a chance of 47 point something % of winning. The probability is actually 60/121 X 100 = 49.59% (because there are 60 red and black and one green). Still this script belongs on my list of the top 5 scripts of the year.
The film follows the life of a card counter, affectionately known as William Tell (Oscar Isaac, looking appropriately slick), an expert gambler who had served a decade in military prison as a result of torturing prisoners while working as a military interrogator . His superior, Major John Gordo (Willem Defoe) gets off Scott-free. In prison, he learns to count cards which explains his expertise at card games. He is not out of prison and winning himself sufficient cash to survive when he meets a young Cirk (Tye Sheridan the Cyclops of the X-MEN) who works with him to exact revenge on Gordo. Tiffany Haddish plays La Linda, a gambling associate who has a sexual affair with Tell.
As expected, Tell is a character that is pushed to the limit. The violence that erupts is understandable and necessary and pushes Schrader's film to the boundaries - a good thing.
THE CARD COUNTER is Schrader at his best with a film that is totally his trademark - violent, intense, emotionally disturbing, occasionally nasty but ultimately an engrossing watch.
Trailer:
Trailer:
DATING & NEW YORK (USA 2020) *
Directed by Jonah Feingold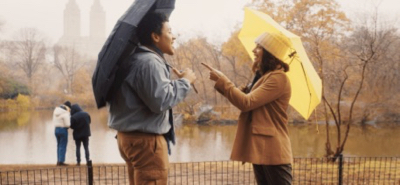 DATING & NEW YORK is produced, written and directed by Jonah Feingold. The film's first 10 minutes indicate clearly what to expect - whether to dump it or cherish the director's debut feature.
So who is this young filmmaker? According to imdb, Feingold appears to be an internet prodigy. His directorial work online has accumulated over 100 million views and can be seen on: Facebook Watch, BuzzFeed, Funny or Die, CNN, and HuffPost and more. His viral Kickstarter backed short film Bangarang (a prequel to Rufio from HOOK) broke the internet trending number one on Reddit, and number four on Twitter global.. As a writer, he wrote REALITY QUEST, a short film for Sony's JUMANJI marketing campaign starring THE ROCK. He also wrote a feature for the BAZELEVS COMPANY (Searching) a screen reality story in the vein of E.T. In addition, he was the co-host of Hinge's official dating and relationship podcast Dating Sucks, which has been ranked third most popular relationship podcast on iTunes - now titled Seeing Other People.
The opening credits open in fairy tale mode together with the words: Once upon a time In New York City…. The cartoon drawings are impressive enough and remind one of those seen in the old Rock Hudson and Doris Day movies. But when the first scene opens, and the voiceover begins and the two young torso upper on the first date, it is clear this is an ego trip of the worst kind - that of a filmmaker who thinks that he is hot material and his material is cool, funny and inventive. What the audience sees is right through his material, a shallow unfunny, childish and not silly but stupid comedy that is best left in the garbage that is observable by the dating couple when they make out in the alley. a shallow unfunny, childish and not silly but stupid comedy that is best left in the garbage that is observable when the dating couple make out in the alley.
There's worse. Artificial and poor performances, horrid camera work, inappropriate annoying fairy tale music and infantile teen dialogue add to the horror of this entry. The film's dialogue might be realistic in the way geeky internet teens talk, but would a parent want to watch a film to listen to the way their annoying teen kids communicate?
The story is a Harlequin type romance complete with cliches and predictability.
It might perhaps have some truth to say that this type of current social media teen romantic comedy might not be suitable or those not in theatre audience ad only those would be able to appreciate what Feingold is attempting - which is a smart-talking relatable film connecting his target audience of twenty-somethings. Does this make a stupid movie for stupid people good because stupid people love it?
There is one review on the imdb website that gives the film a 10 out of 10. (Really?????) This posting (false obviously, which is quite common these days) is as relevant as this teen comedy is to the art of filmmaking. The film is an IFC Midnight feature that one should clearly avoid.
Trailer:
FLASHBACK (Canada 2019) **
Directed by Christopher MacBride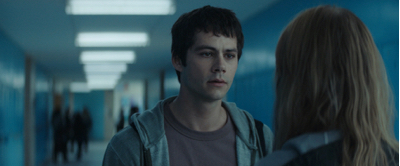 FLASHBACK is a young adult/yuppie thriller following a successful executive (a video artist, whatever that means) as he slowly experiences a downfall spiral that could be real or imaginary.
According to the film's synopsis as stated in the press notes, FLASHBACK is a window into the world of a man on the precipice of adulthood. With a new corporate job, a long-time girlfriend pressuring him to define their future, and an ailing mother, Fred's (Dylan O'Brien) chance encounter with a man from his youth results in terrifying flashbacks that send him on a wild journey into his past. Fred is a man with lots of baggage. Fred slowly begins to unravel a long-hidden mystery about a missing girl, a drug called Mercury (called Merc for short), and a terrifying creature that has been with him every step of the way. As his past, present and future begin to both intersect and parallel each other, Fred begins to question his entire reality and explore all of the possible lives he could lead.
The plot sounds an interesting one but it unfolds as a boring slow burn of a thriller mystery. If one has read the synopsis of the film prior to watching the film, nothing new unfolds in the first half of its 90 minute running time. What is stated occurs, without much fanfare. Even the segment in the strip club looks un-enticing as in the sex scene where Fred's girlfriend has her undies on while doing the deed.
O'Brien, the actor has been seen in quite the few young adult movies including THE MAZE RUNNER franchise. Which budding young actor has not been in the MAZE RUNNER? O'Brien delivers a lacklustre performance despite his good looks, brooding along most of his scenes. He reminds one of Freddie Prinze Jr. who suddenly disappeared from the film scene.
There are two alternative timelines that Fred could choose.
FLASHBACK ends up a disappointment despite its intriguing premise of a choice of alternative lives one could lead. Missed opportunities and a general lack of spirit in the film's delivery in all departments. The film does contain one important message though. "Don't do drugs!" or perhaps another one: "Be careful of films that sound interesting!"
FLASHBACK is a Canadian film that is shot in and around Toronto.
Trailer:
SMALL ENGINE REPAIR (USA 2021) ***
Directed by John Po.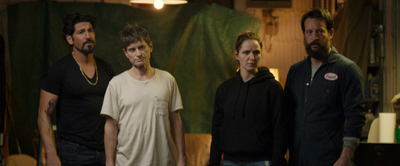 Bells are ringing, but not in a good way when one hears that a film is directed and starring the same person who wrote his own play. This is true in the case of the play and film SMALL ENGINE REAPIR which is yes, starring directed and produced by one of the main actors in the film, John Pollono. But to be un-prejudiced as possible, though he film is prejudiced against middle working class white folk especially drinking males, the film isn't half bad. Though it is not what audiences (especially female audiences) might want to see, particularly of drunk macho whites trying to pick up women at a bar while pissed and then getting into fights, Pollono's depiction of his characters is necessary and important in the story of how men behave. Despite the fact that women are talked about in a degrading fashion by the three friends in the film, one of them fights for the rights of his abused daughter, by a spoilt rich wealthy brat who believes he is privileged enough to get away with anything.
Frankie (Pollono) has just got out of prison. He meets with his two buddies Swano (Jon Bernthal) and Packie (Shea Wingham, who bears an uncanny resemblance to Scots actor Robert Carlyle, and even more so when wearing his cap). They go to a bar and a fight breaks out in which Frankie is pissed at the two for starting it. After, he makes amends. He invites them to his place for drinking and watching a fight game. But he has another agenda in mind - something nasty that needs three guys to carry out more effectively.
The film takes a while to get its footing, but once the college brat delivering MDMA (Molly's) shows up at Frank's place, the film picks up. Before it is a slow trudge but Pollono moves his film really fast with complete audience attention during the second half.
SMALL ENGINE REPAIR is a black comedy with lots of male drama. It was originally an Award Winning play and director Pollono has shot his film such that the film's origin as a play cannot be noticed. Being a play director, he handles and elicits superior performances from his cast, especially Shannon Asper who plays his foul mouthed ex-wife who finally has the guts to solve the problem her ex-husband had created.
Not a bad film based on not a bad play either, SMALL ENGINE REPAIR is a gritty and realistic well written, acted and directed drama on a controversial and male dominated subject.
Trailer: