FILM REVIEWS:
DOGS (Romania 2016) ***1/2
Directed by Bogdan Mirică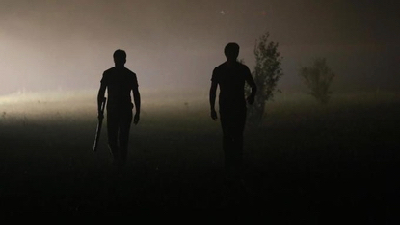 Even as the Toronto International Film Festival approaches September the 9th, next week, there are still films - discovery style and festival quality that can be viewed outside the festival. One of these films is DOGS that premiered at Cannes in 2016, just getting here after 5 years. The film is surprisingly a real winner after it came away with the coveted FIPRESCI Prize in the Un Certain Regard Section. This reviewer sits on the FIPRESCI jury this year at TIFF picking out the prize winner out of 18 Discovery Films.
Though there is only one dog in the film, the title likely refers to the cohort of crooks that squat on an inherited piece of land. That only dog in the film is a fierce, barking and biting , scroungy looking mongrel that one would definitely one to avoid, especially when it shows its teeth when being ferocious.
DOGS begins with an impressive opening that reminds one of Alfred Hitchcock's PSYCHO ending scene where a car bobbles in and out of a pond. One wonders whether the film inspired director Mirică's opening scene. In a dense marsh covered with green vegetation, a bubbling from beneath the water can be observed. As the scene piques audience interest, the audience would probably strain their eyes to determine what is the object bobbling out of the green water. It turns out to be a chunk of flesh, barely discernible, but revealed later to be the foot of a victim who had the unfortunate luck of having it bitten off by some pig.
DOGS can best be described as a mystery noir spaghetti western. The man with-no-name happens to be called Roman (Dragos Bucur, from POLICE, ADJECTIVE), who has just arrived on his inherited land from his recently passed grandfather known around the parts as Uncle Alecu. The land is far and wide, the ends of it cannot be seen while standing on most parts. There is nothing growing on the land, the land is just vacant and barren. He is told the land is precious as it is not what it is but what is surrounding it, like the Black Sea that makes it valuable. Roman wants to sell the land but is advised against it because of shady goings-on in the past.
A mystery film noir is never complete without a femme fatale. The lady who suddenly appears out of the blue, in this case at the halfway mark of the film, is Roman's girlfriend. She is out there in God's forsaken country because she misses him - and he, her.
The Romanian DOGS is one of the slowest police mystery noirs but one that is so impressive for the director's attention to detail and unique style of story-telling. This is likely the reason the film came away with the FIPRESCI prize, as international critics love to award odd, fresh, different and well shot films their prize.
The villain of the piece is Samir (Vlad Ivanov) and the police chief (Gheorghe Visu) who aids Roman, a funny character who can only do so much.
There is a lot of humour in the film - the director's brand. Though not overtly funny or laugh-out loud, the humour helps in making the film amusing and interesting.
DOGS opens in theatres and virtual cinemas nationwide on Friday, September 10th. Filmed in Romanian with subtitles.
Trailer:
FINDING YOU (USA 2020) **
Directed by Brian Baugh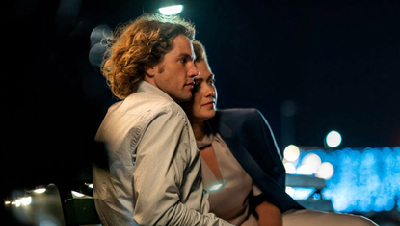 FINDING YOU based on the Jenny B. Jones' book 'There You'll Find Me' is a teen romance with the excuse of being set in Ireland.
After an ill-fated audition at a prestigious New York music conservatory, a Violinist Finley Sinclair (Rose Reid) travels to a coastal village in Ireland to begin a semester studying abroad. At the B&B run by her host family she encounters the gregarious and persistent heartthrob movie star Beckett Rush. They first meet on the plane on the way to Dublin. They begin an unlikely romance. Beckett Rush (Jedidiah Goodacre). Rush is filming a GAME OF THRONES (what else would he be in?) type series. Goodacre plays a bad actor badly.
There is a lot of green on display in the cinematography from the green grass and meadows right down to of the colour Beckett Rush' green convertible. A few of the sights of Ireland are visited for Finley which are really for the benefit of American audiences. The first of these is the Cliffs of Moher which is grand, amazing and magnificent, bringing back memories of the Ireland which I visited . Yes, been to Ireland no less than half a dozen times including the Cliffs of Moher. A lot of castles are visited too.
Still, this is a teen movie and being one, is filled with cliches. Writer/director Baugh has the idea that the typical teen might not be aware of stuff done in other romance films before but he is forgetting the other adult audiences and also the fact that teens are quite a bright group too.
One of the major heavyweights in the cast is Academy Award Winner Vanessa Redgrave (HOWARD'S END, ISADORA and dozens of other films). As expected, she is given a juicy role, that of a 'witch' , the term used to describe her by Finley. Finally has to look after Miss Sweeney in the senior home as part of her college assignment. Finley has to get a good grade in order to get into the conservatory. The other well known name belongs to Patrick Bergin who plays Seamus, a fiddler. Bergin played Julia Roberts' menacing husband in SLEEPING WITH THE ENEMY.
There are two secrets in the film that lead to unnecessary melodrama when revealed. One is the secret of the cross in the drawings of Finley's late brother's book that he left her. The other is Miss. Sweeney's other sister who she wants to meet. It is these two screws that lengthen the film to almost two over-bearing hours.
It takes a lot of patience to sit through this Harlequin styled romance, complete with silly obstacles to the couple's final romance. At least director Baugh captures a bit of the true Irealnd, that I see. One is the Irish hospitality. The Irish, I find, are the friendliest people in the world and this can be seen in the film. Their love of the drink is also on display.
FINDING YOU might be bearable for a few but it's unlikely to be a film remembered as a romantic teen romance.
Trailer:
THE MADNESS INSIDE ME (USA 2020) ***
Directed by Matthew Berkowitz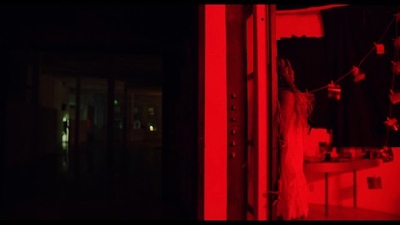 As the title THE MADNESS WITHIN ME implies, the film is a psychological thriller that examines the downward spiral of its protagonist, Madison (Merrin Dungey) when a home invasion results in the brutal killing of her husband, Jeremy (Anthony DeSando).
Madison is a forensic psychiatrist, spending her days interviewing prison inmates and evenings with her husband Jeremy. vWhen he is killed in a home invasion by Francis Tate (Devon Graye), her world begins to turn itself inside out. Madison's fascination with morbid crime begins to gnaw away at her character. She becomes sleepless, spending her evenings stalking and photographing strangers. Photography is apparently her hobby and she does the night photos to relax herself. She refuses to identify her husband's killer (she initially identifies him i a line-up and then changes her mind) and instead chooses to stalk him. Whether this is for the purpose of revenge is left to the film's climax and twist in the plot. Now finding pleasure in her new thrill-seeking, dangerous life choices, she starts to put herself in compromising situations for arousal. Francis and Maddy meet up and he is extremely attracted to her. It is also hinted at the beginning that Maddy and her husband's relationship is in question, which gives her an excuse to finds ex outside the marriage. Is her relationship with criminals an excuse for her to rebel or is this the person who has always been inside her?
The film questions how one should cope in a tumultuous experience as in the tragic loss of a loved one. Madison first copes with changing her residence claiming that she cannot live in the place where her husband was killed. She ponders changing jobs but her current work allows her to plan some satisfaction though she is not sure where everything is leading to. She stalks the suspected killer. The killer admits to killing her husband busby accident. The killer is hot and the sexual chemistry between the two poses more questions.
Her nosy sister-in-law, Cynthia (Jennifer Gelfer) is not much help either. She becomes more of a busybody than a help, showing up at Maddy's place when she is working.
The one problem abut the film is that the crazier Maddy gets when she gets into the deeper relationship with the killer, it gets more difficult for the audience to root for her. She screams at James and Cynthia who wishes to helper that all they want to do is to control her. Her erratic decision at work do not help her case either. During this time, it is left vague as to the purpose of Maddy's intentions. Is she just confused or is she planning a revenge?
The subject is an intriguing one that makes it all the more relevant as it questions Maddy's position as a psychiatrist. If she is so shaken, how can she be deemed qualified to make the decision of whether a prisoner should be granted parole. In the same way, it is disturbing to think how many fucked up primary school ethers are teaching our young children.
The intriguing subject matter brought up by the script that is also written by director Berkowitz is never addressed further. The film ends with a logical conclusion but one wishes the film would delve deeper into the controversial issues brought up.
Trailer:
MEMORY HOUSE (Brazil/France 2020) ***
Directed by João Paulo Miranda Maria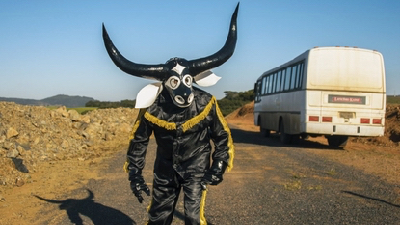 In writer/director João Paulo Miranda Maria's sad take on misplaced culture, a black indigenous man, Cristovam (Antonio Potanga) has made sacrifices to adapt to the Austrian colonism of the north. Christovam has moved to the south and in the film's opening, is given a long speech by management to explain his wage cut. He moves into an old abandoned house, the MEMORY HOUSE of the film's title, which contains artifacts reminding him of the past. This is the story of a man pushed to the limits with disastrous results not only for him but for the community. The film is a slow burn with many long takes. Still, one has to be attentive as to what is going on onscreen. The cinematography by Benjamin Echazarreta is magnificent as is the soundtrack by Nicolas Becker. MEMORY HOUSE is a Cannes Festival Official selection and the only latin-American film in the selection. This film also screened at TIFF 2020.
Trailer:
POWDER KEG (Denmark/Norway 2020) ***1/2
Directed by Ole Christian Madsen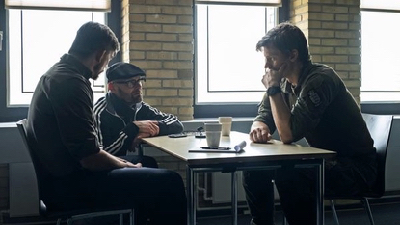 POWDER KEG is based on true events that occurred in Copenhagen, Demark as a result of the terrorist assassination in Paris on the Charlie Head employees, cartoonists who poke fun at Islam and the Prophet Mohammed that turned int death. Co-written by director Ole Christian Madsen and Lars K. Andersen, POWDER KEG follows the path of 4 different individuals who reside in Copenhagen whose lives are allowed to explode.
In Copenhagen, the newly released criminal Omar has his own agenda. Meanwhile filmmaker Finn, Jewish watchman Dan and the worn-out action force officer Rico live their various everyday lives unaware of their common destiny. All of them are affected by a rapidly changing world while they try to make sense of their own, and too late realize that life changes in an instant, fast and merciless, leaving only one of them left to tell the story about the tragic attack that forever changed the country.
The script divides almost equal screen time among the 4 principles of the story. Each is just as interesting and the audience is left to decide who is right or wrong as well as consider the unfortunate circumstances that have resulted. The message is the ability of the individual to adapt, though adaptation is not specifically mentioned as the message, though definitely implied.
Omar has just been released from prison. He is unfortunate enough to have his leg stabbed in the metro that has prevented him from being a success at kickboxing. He himself has stabbed others a number of times, the last one that got him into prison When released, he has no job or place to stay and is forced to live with his mother. Dan Uzan is a political science graduate who has trouble landing a job. He coaches sports and works as a security guard. He is kind, and a model citizen but life has not been too kind of him. When Dan is questioned to change his last name Uzan, he says that it is the only thing his father has left him. Finnis a filmare who has finally had it. "I had enough," he quips He is truly upset when his programming idea is then over by another department at work. He lashes out at the system during a dinner in what is a lively debate with valid points brought up by the dinner guests. Then there is Rico, again one where life has cheated him. Injured, he is forced to take it from the SWAT team. His boss calls him a model employee that all should follow. The story unfolds primarily from his perspective.
When Rico rides his bike on the fateful day that forms the film's climax, the camera pulls back to an overhead shot showing him riding toward a crossroad. Indeed, this is a metaphor for the 4 principles whose paths are now about to meet.
POWDER KEG works better in the first half where anger and fate rule. The film is understandably intense but this intensity unfortunately cannot be maintained in the second half. Still POWDER KEG is a story that needs to be told, the best thing about the film being the message which is up to the apiece to figure out right than being handed out on a platter.
Trailer:
RAGING FIRE (HK 2021) **
Directed by Benny Chan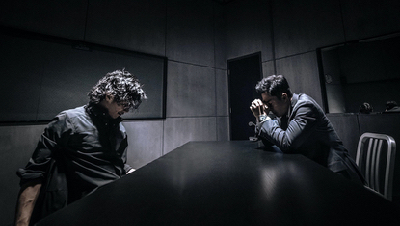 RAGING FIRE should attract action fans of Ho Kong actioners for two reasons. Number one is that it stars the ever popular Donny Yen who has achieved international fame after the successful IP MAN franchise. The second is that it is the last film from director Benny Chan who has made a name in directing martial arts films.
The film follows Bong (Donnie Yen), a hardline cop with a long history of success, but his past comes back to haunt him when a sting is attacked by a group led by his former protégé (Nicholas Tse), a man set on destroying everyone who ever wronged him.
The film attempts to be a more humanistic act flick initially showing Bong with his wife and in court forced by conscience to tell the truth but eventually the character development is forgotten when the action starts. The action then is numero uno priority. Action fans should be delighted whereas more serious cinephiles will brush RAGINF+GFIRE as just another action flick.
RAGING FIRE ends up the typical Hong Kong actioner where lots of well staged fight exist to entertain the action loving crowd with nothing more, just as its ordinary generic title RAGING FIRE might suggest. Whatever high aims the filmmakers might have aspired to are washed away by the decision to up the angst in fighting technology..
RAGING FIRE has just opened in theatres and will be available for streaming October the 22nd.
Trailer:
SUPERHOST (USA 2021) **
Directed by Brandon Christensen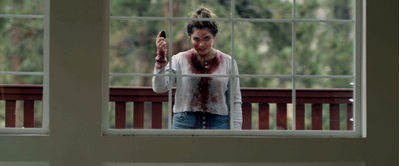 The term SUPERHOST might not be familiar to some, but for the internet savvy who travels a lot using airbnb's or better still hosts them, it is a familiar and desired term. A superhost has hosted his or her listing multiple times with generally favourable reviews so it makes them a desired host of places to stay.
In the new SHUDDER original film, SUPERHOST, travel vloggers Teddy (Osric Chau, Supernatural) and Claire (Sara Canning, Nancy Drew) share their experiences in and around vacation homes with their subscribers while maintaining a moderate level of internet fame. They are as geeky as computer nerds come. When their follower count starts to dwindle it is not difficult to see the reason as Teddy can come across as incredibly annoying, not to say the least that all these postings are also very corny. They now pivot to create viral content around their most recent host, Rebecca (Gracie Gillam, Z Nation). With all eyes turned towards their "superhost," Rebecca, they slowly start to realize something is not right and as they investigate further. Rebeccas is quite the character - super weird. They unlock a horrifying truth, thus making the scary circumstances ideal fodder for the SHUDDER streaming service.
Actors Chau and Canning as well as director Christensen serve as producers to the film, which means they are touting their own projects. This often means caution as it might have been difficult to otherwise get their project off the ground.
SUPERHOST is a fair piece with low aims and thus low achievements. There is nothing much in the story with the story reaching its expected climax. The little twist at the end is nothing short of exceptional either. As a SHUDDER scary film, it is less scary than most but there is (beware!) one horrid bloods and guts segment,
Young internet bloggers can be very annoying. Teddy is. But even more so is their superhost, Rebecca. Does the director really need to inlaid pauses in the film to emphasize their ability to annoy? Gracie Gilliam wins the grand prize of being the most annoying actress in this film or of any film this year.
Despite the current relevance of its subject, SUPERHOST turns out to be a cliched minor horror flick that is just mildly scary and entertaining.
Trailer: https://www.ign.com/videos/superhost-official-trailer
TED BUNDY: AMERICAN BOOGEYMAN (USA 2021) *
Directed by Daniel Farrands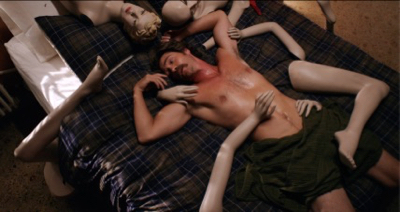 Ted Bundy is one of America's most notorious serial killers. There have been more than a half dozen films including a documentary series on Bundy which shows America's or Hollywood's fascination with the man. TED BUNDY: AMERICAN BOOGEYMAN is the latest of the lot and it is frankly, plain awful. The last Bundy film is best remembered and paints a more intriguing portrayal of the man. That film showed Bundy to be EXTREMELY EVIL, SHOCKINGLY WICKED AND VILE, the words Judge Coward used on Bundy and also the title of the film on Bundy, directed by Joe Berlinger and starring Zac Ephron as the titular killer. That film was based on the book written by Bundy's former girlfriend, Elizabeth Kendall. This film is based on a script written and directed by Daniel Farrands.
Director Farrands' Ted Bundy film plays like a B-horror flock with a slasher on the loose. The boogeyman could have been Freddy Kruger from NIGHTMARE ON ELM STREET or Jason from FRIDAY THE 13th but only less interesting. From the low budget, Farrands' film looks more like a TV movie than one made for the big screen.
Director Farrands cannot decide whether to concentrate on the character of Bundy, the detective investigating or Bundy's next prey. He jumps from one character to the other without much aim. Bundy is displayed as a real creep, initially introduced as a man faking injury using crutches as he stalks a young girl. The young girl is unwittingly saved by her boyfriend before he stalks another one. Whether this is true is assumed but does one really care? Bundy loves to play with mannequins and does not have enough money to pay rent. His landlord tells him that she can wait for him to go to the bank for the deposit because she is a good judge of character. Again, does one really care? Chad Michael Murray plays Bundy as a good looking man who can get any girl he wants, sporting a moustache as many men doin the 70's.
Tracking him the killer are the intrepid female detective Kathleen McChesney (Holland Roden), working out of the Seattle Police bureau, and rookie FBI profiler Robert Ressler (Jake Hays), the government agent who coined the term "serial killer." The silliest part of the film is its climax where Detective Kathleen breaks into the house to save the victim just in the nick of time as he almost kills his last victim. A true story behind the manhunt that brought America's most fearsome boogeyman to justice? Highly unlikely!
Another ridiculous part has the detective visiting Ted's mother out in the boonies questioning his whereabouts. The mother (Lyn Shaye) is shown as a person who is not all there. At one point she describes Ted as the best son in the world and the next as one born right out of hell. Though one of the more amusing segments, it makes little sense.
The film opens on VOD/DVD September the 3rd.
Trailer:
WE NEED TO DO SOMETHING (USA 2020) ***1/2
Directed by Sean King O'Grady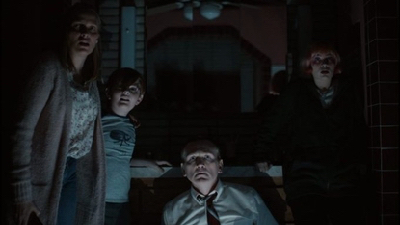 WE NEED TO DO SOMETHING is as the title implies, a film in which a family is in a catastrophe and they realize that they need to do something. The age old message of family and blood is everything is again put to the test. The family in this case might not be considered dysfunctional, not at the beginning anyway, but they each get on each other's nerves. By the end of the movie, director O'Grady would have proven that this is the most dysfunctional family depicted in a film for some time. An interesting film with an interesting scenario, when the family is trapped in their house due a storm and all emotions run loose.
The protagonist chosen could have been any one of the family members - father, mother, daughter or son. As films tend to be politically correct these days, the one choses is the female lesbian Melissa wears make up like a circus clown or a mentally disturbed person. After Melissa and her family see shelter in their home from a storm, they become trapped. With no sign of rescue, hours turn to days and Melissa comes to realize that she and her girlfriend Amy might have something to do with the horrors that threaten to tear her family and the entire world apart. The film falls under the horror genre.
Director O'Grady takes his time before the film shows itself as a horror film. The family dynamics are first on display. As expected, the teen daughter is one of a rebellious nature, annoying her father and her mother. Melissa herself is annoyed by every other family member. She is mad at her father for dropping her phone in the storm. Her mother is always on her case and her little brother, a know-it-all, irritates her deliberately and she is constantly chided for getting back at him. The father is short tempered and is never too shy to use foul language like fuck and shit. He is also not good at helping and seems more bark than bite. No one is particularly funny, but this is not a comedy. Still, it cannot hurt to insert some needed humour in any horror film. But to director O'Grady's credit, he has mastered the art of pacing with his film racing towards its horrific climax. O'Grady ups the angst several times. By the end, not to reveal any spoilers, he has his audience gasping in horror at what has happened to the family. The rattlesnake in the story is an inspiration in horror. It first bites the boy, and later the father in the face with him finally biting the snake's head off. The camera's close-up of the hissing snake in close up demands mention.
The film has graced film festivals including the Tribecca Film Festival and Outfits 2021 because of its slight gay relationship between the daughter and her schoolmate. The film is an IFC Midnight premiere and is worth a look.
Trailer:
WILD INDIAN (USA 2021) ***1/2
Directed by Lyle Mitchell Corbine Jr.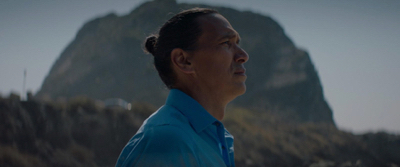 WILD INDIAN is a moody thriller that follows a troubled protagonist Michael as he tries to live with the guilt of a murder he has hidden from the past.
Decades after covering up his classmate's murder, Michael (Michael Greyeyes) has moved on from his reservation and fractured past. When a man who shares his violent secret seeks vengeance, Michael goes to great lengths to protect his new life with his wife (Kate Bosworth) and boss (Jesse Eisenberg) from the demons of his past.
It is early on in the movie that it is revealed that Michael has murdered an adversary. Even though he was a kid at the time, the murder was pre-meditated and Michale is guilty as hell. When grown-up, the murderous act is constantly haunting him - affecting his family life and work. The point that the murder is revealed at the start and not at the end as a skeleton in the closet as might be done in other films that prefer a nonlinear timeline, offered the audience the ability to judge Michael for the act. This leaves the audience two options. One to convict Michael of the fact and to want him to pay penance. The other is to absolve Michale of the crime as the circumstances of him being bullied and tormented justifies the act (even more so in the film and not in actual real life). Director Corbine does not judge Michale and leaves it to his audience.
A film about minorities with important current issues like bullying stands a better chance of success of getting made. This very point is emphasized, ironically in the film when Michel's boss claims that he got to be where he is - in the company's comfortable position because of the fact that he is a native, something that might not have happened a decade or two ago.
One problem of the film, which is coming with films with a larger time frame is when the protagonist and the other characters grow up, from pre-teen to teen to adult and occasionally to old age. Different actors need to be employed, who seldom ressembler the initial appearance of the character or characters when first introduced in the film. The transition is difficult and causes the audience some disorientation to put the two different actors into one of the same character that they are portraying. In WILD INDIAN, the Michael portrayed by the different actors takes some time to sink in.
WILD INDIAN is a moody slow burn but effective thriller covering timely issues like bullying and minorities. Well worth a look. It opens Select Theaters and On Demand September 3rd
Trailer:
YAKUZA PRINCESS (Brazil 2021) ***
Directed by Vicente Amorium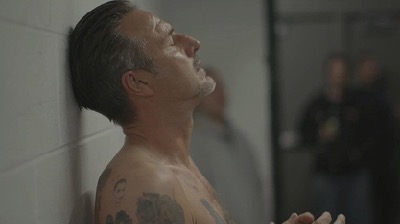 YAKUZA PRINCESS begins in Osaka,Japan where a killing is in progress before switching 20 years later in a country far away to Sao Paulo in Brazil where the little girl in Osaka who has witnessed the slaughter of her family is now all grown up. She is not taught and well equipped with the art of kendo (Japanese sword fighting, which I myself took for only 3 weeks but did not achieve the status of 'samurai critic'. I quit when I started getting blisters on my feet for having to shuffle on barefoot during training). The film contains some magnificent kendo fight scenes.
While all the above is happening, the audience is introduced to a handsome patient who wakes up in hospital with amnesia, BOURNE IDENTITY-style. If the patient looks familiar, he should be, as he is Jonathan Rhys Meyers in a rare action role, kicking butt. Meyes looks efficient and convincing enough as an action star. He has the rough figures for it, including a real nasty scar across his face, courtesy of the make-up department.
How are the two interconnected? The connection is a mysterious sword that is supposed to possess special powers drawn from the blood of those who have been killed by its blade.
Based on the acclaimed graphic novel "Samurai Shiro" by Danilo Beyruth and set in the expansive Japanese community of Sao Paulo, Brazil — the largest Japanese diaspora in the world — YAKUZA PRINCESS follows orphan Akemi (played by pop star MASUMI), who, upon turning 21, discovers that she is the heiress to half of Japan's expansive Yakuza crime syndicate. After forging an uneasy alliance with an amnesiac stranger (Jonathan Rhys Meyers) who believes an ancient sword binds their two fates, Akemi unleashes war against the other half of the syndicate who wants her dead.
YAKUZA PRINCESS turns out to be a slightly above average action thriller and rip-roaring action flick for a variety of reasons. It has a slightly above ordinary though slightly convoluted plot that stands out, yet the story is engrossing proving that it is not the story that counts but how it is told. The devil is in the details.
Trailer:
ZONE 414 (USA 2020) ***
Directed Andrew Baird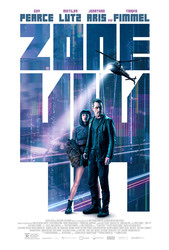 Australian Guy Pearce has chosen his films to be weird, odd and very strange. If they turn out bad, his films would at least be very intriguing. One of these, BRIMSTONE (2016) where he plays an evil villainous preacher is a minor-masterpiece while his 2021 SEVENTH DAY is kind of a mess. In ZONE 414, Pearce plays a guilty private detective hired to find the missing girl of a very wealthy businessman lost in ZONE 414.
ZONE 414 is the only zone where androids and human beings are allowed to live together.
Everything is not what it seems. This adage seems to be the film's followed rule and it works giving the film an air of strange mystery whilst keeping the audience's anticipation piqued at all times.
Set in the near future (where the characters still use rotary dialled telephones), the film follows private detective David Carmichael (Pearce), who is hired by Marlon Veidt (Travis Fimmel), an eccentric businessman, to find his daughter, Melissa (Holly Demaine). David teams up with an advanced A.I. to solve the mystery. The businessman owns the company that makes the androids. What do wealthy men want? Everything! Wealthy sickos pay lots of money to have kinky dealings with the androids (yes, like sex) who are almost human perfect. The A.I. is Jane (Matilda Lutz) an android who, like Pinocchio, wants to become human. Jame has befriended David and helps him get into contact with an assortment of characters in order to find Melissa. Melissa is the opposite of jane. Melissa is a human who hates her father so much that she disappears into ZONE 414. She was an android.
The intriguing characters encountered include Marlon's brother, Joseph (Jonathan Aris), a sort of right-hand man who does nothing for the company. Another is Royale (Olwen Fouéré) who sets up the client and customer, forming the 'madame'of the android brothel. Royale has all the answers in good business, always realizing that she is paid money to do the job and will not risk anything to ruin her employment.
Pearce is an excellent actor who can inhabit any role. His starring role of David was initially taken by Travis Fimmel who now plays a supporting role. Fimmel is an actor one can describe as one that chews the scenery, hamming up his performance every opportunity he gets. Given what it is, he is extremely watchable and is as weird as the story's setting.
The film is written by Bryan Edward Hill who is an author, screenwriter, graphic designer and comic book author. The film's impressive cinematography by James Mather and production design, reminiscent of BLADE RUNNER is to be commended given the film's limited budget of only $5 million.
ZONE 414 succeeds as a strange and fascinating sci-fi thriller that stands above the film in the genre for its weirdness and creepiness. An absorbing watch, credit to director Andrew Baird.
Trailer: