All capsule Reviews are embargoed until their first screening (Press and Industry or Public) at the festival. Dates embargo lifts are stated below. Capsule Reviews will be posted once embargo lifted; what follows is just the brief synopses with no comments.
FILM REVIEWS:
AFTER BLUE (PARADIS SALE) (France 2021) **
Directed by Bertrand Mandico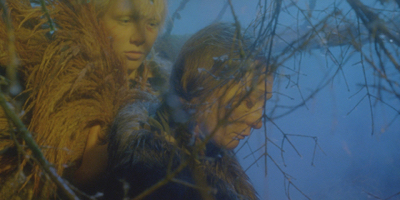 Described as a sci-fi acid western, whatever that means, in the press notes, director Mandico's sci-fi dystopian opus has the audience believe that humans have left the planet Waert and colonized another called After Blue. Males are irradiated but their sperm keep to fertile the flames and continue the human race. If here are no males around, all the females have left is to make love to each other, in what is director Mandico's gay lesbian fantasy. The story has Roxy (Paula Luna), the lonely teenage daughter of the colony's hairdresser Zora (Elina Löwensohn), impulsively unearths a notorious criminal called Kate Bush, who promises to grant her three wishes, the ensuing violence exiles mother and kin from the settlement, so they may track down and bring this legendary killer to justice. Armed with designer Gucci rifles and Paul Smith pistols, the duo ventures into a hostile alien landscape rife with toxic gases, slime-encrusted crystalline entities, and promiscuous fashionistas. From there, things get pretty weird. The film is not as good as it sounds and is likely for acquired tastes, not to mention that the film is too long, running just over 2 hour
Trailer:
ALI & AVA (UK 2021) ****
Directed by Clio Barnard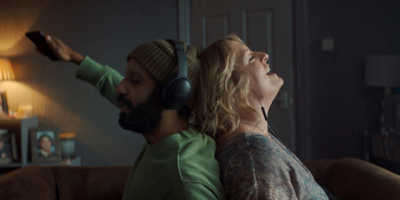 The latest from acclaimed British writer-director Clio Barnard (THE SELFISH GIANT, one of the best films made that year) is a tumultuous, fiercely affecting working-class love story between a British Pakistani and an Irish lady. Both are middle-aged and carry baggage from the past. Ali (Adeel Akhtar), is a working-class landlord who forges close bonds with his tenants.while Ava (Claire Rushbrook) is an Irish-born teacher and single mother of five. Barnard is one of my favourite British directors and she does not disappoint here. Her use of music as in the one scene where Ali drives a load of kids in a car, all doing hip-hop is one of the most spirited pieces I have seen in a film this year. Watch this clip, link below, where director Barnard turns a situation of racial intolerance into one of fun and unity, Barnard shoots her film in Yorkshire, with her characters based on people she has met. This is a wonderful love story celebrating differences and what a great movie!
Trailer:
ANATOLIAN LEOPARD (Turkey/Germany/Poland/Denmark 2021) ***
Directed by Emre Kaysis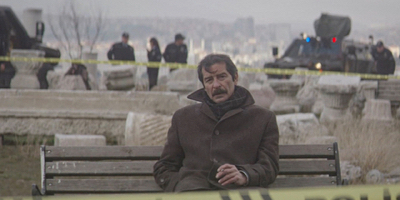 Like his country's counterpart Nuri Bilge Ceylon (WINTER SLEEP, ONCE UPON A TIME IN ANATOLIA) , director Emre Kaysis debut feature is a slow burn drama but a very well thought out one that plays with a wry sense of humour as in Kafka. The period and mood of the film is deliberately depressing. It is New Year's Eve and it is raining buckets. The protagonist misses his bus. Everything seems to be going wrong which suits the film's theme. To help save the Turkish zoo where they work, two employees collude to hide the death of a leopard. Firstly, Fikret (Uğur Polat) is a melancholic divorcé who leads a lonely life. Dedicated to his work of 22 years, he is the director of Turkey's oldest zoo in the historical yet somnolent capital of Ankara. The second is his co-worker and assistant Gamze (Ipek Türktan). Together they conspire to fake the leopard's escape, setting in motion an absurd charade that inevitably turns the ensuing capture attempt into a three-ring circus while rousing Fikret's long-buried idealism, while Kikret finds her his true romance, which director Kaysis cleverly sneaks on his audience. A worthy watch for the patient!
ATTICA (USA 2021) ***1/2
Directed by Stanley Nelson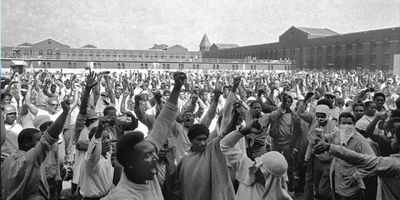 A doc on the longest prison hostage ever in the United States when September 9, 1971, inmates at the Attica Correctional Facility in upstate New York enacted the largest prison uprising in United States history, taking staff as hostages. After protracted negotiations and a five-day standoff, the New York State Police raided the facility with shocking brutality, leaving 43 dead, followed by vicious reprisals against survivors and then an elaborate cover-up. It was the bloodiest one-day clash on American soil since the US Civil War. Now, five decades later, when the country has the world's highest incarceration rate, the story of what happened at Attica deserves fresh attention. edit to director Nelson for assembling archive footage and for the research he did on his controversial subject. Nelson also knows how to push the right buttons and play on the emotions of his audience. The segment on Jerry the jew on the judge seal would have one easily cheering before Nelson informs after that Jerry was wrong. The all important message the doc delivers is the need to treat everyone with respect even those incarcerated for crimes committed. The inhuman prison conditions revealed in the doc are also disturbingly real. Note that this is not the only but one of the many films made on the prison takeover.
Trailer: unavailable
AS IN HEAVEN (Du Somer Er I Himlen) (Denmark 2021) ***1/2
Directed by Tea Lindeburg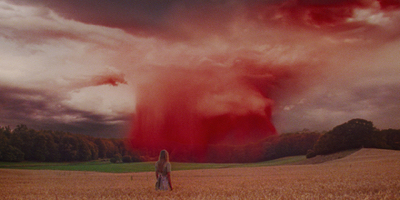 The title AS IN HEAVEN is taken from The Lord's Prayer that Lise, the film's protagonist recites in the religious horror drama. Director Tea Lindeburg's assured debut feature is a true horror story seen from the eyes of a budding young woman, Lise, imprisoned by religion and her own guilt. Set in rural Denmark in the early 19th century, Lise lives and looks after her siblings with her mother and largely absent father. When her mother gets really ill during pregnancy and refuses to see a doctor, Lise's faith comes into question. She had also borrowed her mother's hairpiece without permission and lost it. Bound by guilt, she believes God might take her mother aways as punishment. All the horror is made worst as she has no one to confide too and ironically, is forced to instead take on additional responsibilities. At the same time.Lise is going through puberty and starts to long for romance. Director Lindeburg paints a horrid picture of life for poor Lise. Rural Denmark looks stunning through Lindeburg's camera (especially at the film's beginning with the menacing crimson clouds hovering around the open wide fields as if God is about to lease out punishment to the disobendient), contrasting the beauty and the horror that exists. AS IN HEAVEN is an engrossing and powerful horror film illustrating that real horror can be present all around us.
ARE YOU LONESOME TONIGHT" (China 2021) ***1/2
Directed by Wen Shipei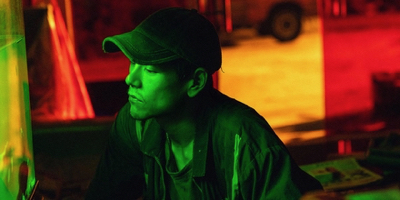 An assured and impressive debut by director Wen in this Chinese neo-noir pic with the mood and atmosphere heightened by the famous Elvis Presley song "Are you Lonesome Tonight?" crooned by a blind night-watchman. The lives of three people converge in Wen Shipei's thrilling debut: a young man who believes he's killed someone, the dead man's widow, and the policeman in charge of the investigation. A lot of the story is revealed through flashbacks, but not in the conventional format. The occasionally seemingly clumsy flashbacks that occur are often disconnected with a character and come about non-chronologically. But it is this and other daring risks that make Wen's film stand out. For instance, a major plot revelation occurs when a band delivers fanfare amidst a lion dance. A shoot out in the warehouse filmed in red is also deserving of mention. Wen's shows ingenuity in his story telling. Director Wen's film is by no means perfect but his feature, filmed with spirit and flair shows promise that this director has the best that is yet to come.
Trailer:
LE BAL DES FOLLES (THE MAD WOMAN'S BALL ) (France 2021) ****
Directed by Melanie Laurent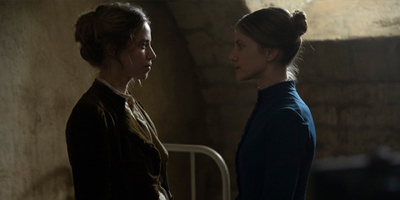 The trouble in the story begins when Eugenie becomes disoriented when combing her grandmother's hair one night. She stops and rummages through her grandmother's drawers to discover a lost locket in it, on the underside of one of the drawers. When she claims a dead spirit has led her to the locket, she is deemed crazy. This is pretty much a female movie with a tough female protagonist and with a family that is generally ruled by its women. THE MAD WOMAN'S BALL is a handsomely mounted period piece as evident from the films' art from everything to costumes and set design to wardrobe to lighting and soundtrack. Director Laurent provides some well needed humour in all the dire surroundings with Eugenie's night mate, Louise. Though described as a total nutcase, she humorously describes the illnesses of all the other inmates to Louise. Besides the suspense, there is much to enjoy and observe in LE BAL DES FOLLES. Highly recommended!
Trailer:
A BANQUET (UK 2021)
Directed by Ruth Paxton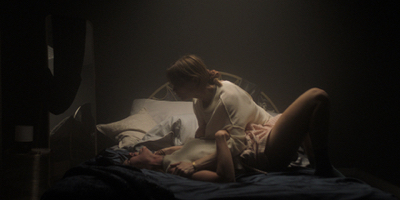 A widowed mother Holly (Sienna Guillory) grapples with eldest daughter Betsey's (Jessica Alexander) disturbing conviction that her body has become a vessel for an unknown higher power, one that has ominously robbed her of any appetite, and which Betsey believes heralds a cataclysmic upheaval and tat she is the chosen one. At first, her condition is suspected to be an act of adolescent rebellion or a psychological break. But despite her refusal to eat, Betsey loses no weight and gains a growing faith in her newfound and enigmatic sense of purpose. As her daughter's personality is further subsumed by this affliction, Holly finds herself confronting the boundaries of her own beliefs and the repressed traumas of her past. Director Paxton puts a lot of prep and planning into her film as can be witnessed by the meticulously laid out and executed scenes. Camera placement, lighting, props and acting all seem to be perfectly set up for each segment. Director Paxton builds up the mystery and suspense in her film as evident at the start of the film. Unfortunately the whole does not match up to the individual parts. The supposedly surprise ending turns out more unbelievable and tacked on.
Clip:
BENEDICTION (UK 2021) ****
Directed by Terence Davies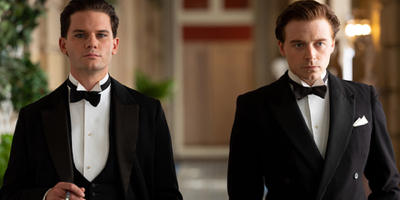 Those who enjoyed A LONG DAY CLOSES and DISTANT VOICES, STILL LIVES will be pleased to be entertained with more of the same by Terence Davies in this more ambitious effort that includes both a stronger narrative and a personal touch. Lots of music and songs with scenes reminiscent (like the cinema theatre scene) of THE LONG DAY CLOSES but it is surely the beautifully written and spoken English that brightens this mostly darkly themed effort. BENEDICTION as the title implies, a sombre and sumptuous portrait of 20th-century English poet and soldier Siegfried Sassoon (Jack Lowden as the younger and Peter Capaldi as the senior). Sassoon' attempt at conscientious objection to the war leads to his being committed to a Scottish hospital, where he meets and mentors fellow poet and soldier Wilfred Owen. Davies tracks much of Sassoon's life after the war as a chain of fraught romances — most notably with actor and homme fatale Ivor Novello — and ongoing questions of sexual identity, social mores, and integrity both artistic and personal, leading to Sassoon's late conversion to Catholicism and struggle to connect with his son. Director Davies clearly leaves his imprint in the poet's biography and it makes nothing less than superb cinema.
Trailer: (none)
BERGMAN ISLAND (France 2021) ***1/2
Directed by Mia Hansen-Løve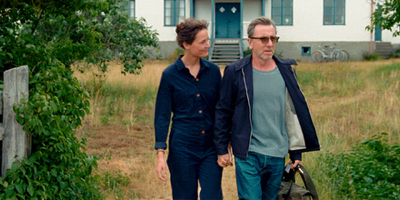 BERGMAN ISLAND is the island of Fårö, where legendary director Ingmar Bergman spent most of the end of his life. A tourist attraction, it sees Chris and Tony renting a place, in order to write. The place holds the bedroom where Bergman shot SCENES OF A MARRIAGE, the film that caused a million people o divorce, a joke of the film. Hansen-Løve has been one of the most respected and outstanding French directors since LE PERE DE MES ENFANTS, all her films about relationships, mostly young ones. Tony's work is fêted at their artist residency while Chris struggles with her screenplay and the two, despite a tender rapport, seem to be at an unspoken impasse, navigating romantic malaise and subtle professional enmity under the spell of the stunning island and Bergman's legacy. Chris's in-development script come to life: a bittersweet love story starring Mia Wasikowska as Amy, a young filmmaker and obvious alter ego to Chris, who is reunited with her first love Joseph (Anders Danielsen Lie) at a mutual friend's wedding on the same remote island. Hansen-Løve does Woody Allen doing Ingmar Bergman in this film, with a surprise revelation at the end that should keep audiences thinking.
Trailer:
CHARLOTTE (Canada/France/Belgum 2021) ***1/2
Directed by Eric Warin, Tahir Rana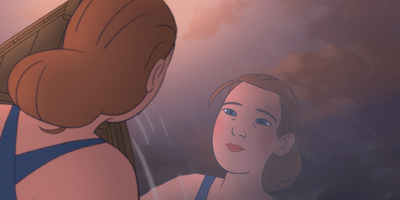 Done in glorious animation, CHARLOTTE is the remarkable true story of Charlotte Salomon, a German Jewish artist defying incredible odds to create a masterpiece during World War II. She died at the age of 26 in Auschwitz but left behind a legacy.
Charlotte Salomon is the enigmatic young German Jewish painter who created a sprawling masterpiece in the face of both private turmoil and sweeping global cataclysm. Born into a wealthy but troubled family in Berlin, Charlotte is preternaturally gifted, with a wild imagination and grand ambitions. In 1933, at age 16, she saw her dreams dashed. The antisemitic laws and violent mobs of the Nazis, who have seized power in Germany, force her out of school and later spur her to leave for the South of France, where, despite relative and temporary safety, life for Charlotte becomes increasingly difficult. Struggling to comprehend — and come to terms with — both a traumatic past and present, she sets out to paint her autobiography. Within 18 months, Charlotte completes nearly a thousand gouaches depicting the lives of everyone near and dear to her. The animation captures the period mood and despair of WWII persecution of the Jews. The animated rain, water and fire is also stunning as are the paintings seen in the film. A star that needs to be told, to remind the world of the horror of racism, non-tolerance and the danger of family pride. The film also incorporates the coming-of-age story of poor Charlotte - a doomed and gifted painter.
Trailer: none
COMALA (Mexico 2021) ***
Directed by Gian Cassini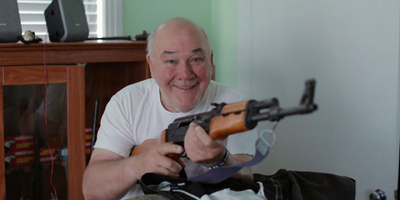 A documentary that follows filmmaker Gian Cassini investigating several generations of men in his family caught up in violence, including his father, who was a hitman by the name of El Jimmy in Tijuana, Mexico. In 2010, Mexican newspapers reported the murder of El Jimmy, a small-time hitman in Tijuana. For most readers, it was another death amongst thousands in the country's tragic drug wars. But for filmmaker Gian Cassini, the news triggered deeper questions because El Jimmy was his estranged father. Director Cassini works his doc as a mystery detective film noir together with femme fatal as in this case El Jimmy's girlfriend. It works during the first half, but the tactic eventually wears off and so does the interest of Cassini's family. Who really cares about a small time hood or the director's family? To Cassini's credit, he tries his best to arouse interest like including a segment on his grandfather talking about his gun collection including how to use several weapons. The doc is a bit confusing as the audience is required to remember all the members of the family portrayed like his grandfather, father, brother, sister, father's girlfriends, wife and other assortment of characters.
Trailer:
COMPARTMENT NO. 6 (Finland/Germany/Russia/Estonia 2021) ***1/2
Directed by Juho Kuosmanen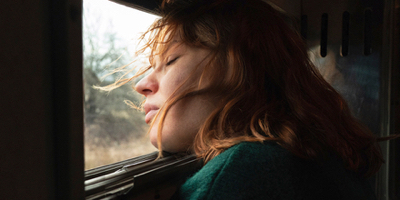 Two passengers share a compartment, COMPARTMNET NO. 6 on a train to Murmansk. They are not friends. They are divided by class, nationality, and language. Laura (Seidi Haarla), a Finnish grad student, has just said goodbye to her same-sex Russian lover Irina and boards a train headed for Murmansk, a remote city in the Arctic circle, to see the rock drawings — supposedly a fitting, poetic conclusion to her time studying in Russia. The loutish Ljoha (Yuriy Borisov), who polishes off a large bottle of vodka the first night of the trip, is reporting for work at the massive mine in the region. He makes rude sexual advances and insults her. As the journey drags on, though, cracks appear in the facades they present and their vulnerabilities force them to recognize each other as far more complex than the fronts they present to the world — or what their own prejudices dictate. It make sense to show how true bonding can happen with no sex involved as Laura is gay. The film is a brilliant examination of how differences and similarities can and two people.
Trailer:
THE DEVIL'S DRIVERS (Qatar/France/Germany/Lebanon 2021) ***
Directed by Daniel Carsenty and Mohammed Abugeth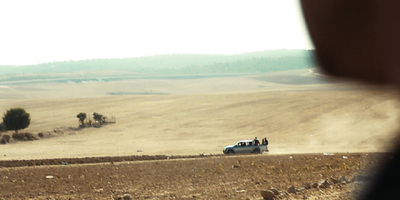 The ad for the film goes: The Devil's Drivers has the intensity of a 1970s chase film as it follows Palestinian smugglers (the drivers) on high-speed trips to help workers cross the border. "On the left side is Israel, on the right side is Palestine," explains Hamouda as his beat-up car speeds through the desert trying to evade Israeli soldiers he smuggles Palestinian workers across a southern gap (to make more money in order to suvive) where Israel's border wall hasn't been finished. The workers are desperate to cross to where labour is in high demand. 8-years in the making, filmmakers Daniel Carsenty and Mohammed Abugeth follow the drivers Hamouda and his cousin Ismail (and two others) who are Palestinian Bedouins in the town of Yatta. The message and information in the film are all provided in the brief synopsis above. The doc is narratively weak though the urgency of the situation is fully realized. The film jumps among the 4 subjects and includes a history of the situation of time span of the doc. Despite the well intentions of the filmmakers and the exciting and timely topic, THE DEVIL'S DRIVERS fail to engage to the level expected. The doc is also prejudiced to the side of the Palestinians. They can smuggle, drive terrorists, work illegally but do no wrong. The Israelis are all treated as inhuman villains. Well shot with beautiful barren desert landscapes.
Trailer:
ENCOUNTER (USA 2021) **
Directed by Michael Pearce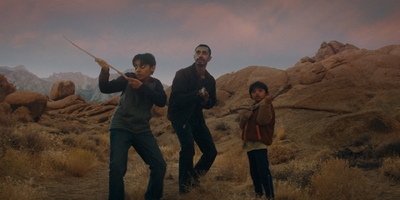 A decorated Marine, Malik Khan (Riz Ahmed) goes on a rescue mission to save his two young sons from an inhuman threat. Director Pearce shows the threat to be real from the initial scenes showing a meteorite landing and bugs galore, all in horrid close-ups. But what Malik does is the equivalent of kidnapping in the eye of the law and has the state cops after him. Malik has mental problems and shoots and kills a few people on his road trip with the sons who initially believe that their father is taking them to safety. Is the invasion threat real? That is the question that is never made really clear though director Pearce initially makes out to be, The blending of the two genres of sci-fi and broken down family relationships do not work at all, with everything coming together at the end in total silliness and predictability. Oscar Winner Octavia Spencer has never been so wasted in a rile as Malik's hapless parole officer.
Trailer:
THE EYES OF TAMMY FAYE (USA 2021) ***
Directed by Michael Snowalter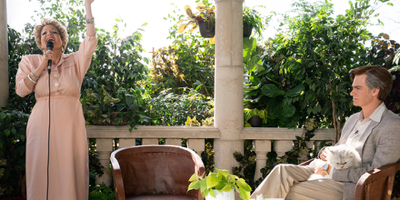 THE EYES OF TAMMY FAYE premieres at this year's Toronto International Film Festival but the story told in the film is a familiar one. The new film is said in the press notes to be based on the documentary of the same name made in 2000. Director Showalter films his story like a biopic beginning with Tammy as a kid, who attends church, an unwanted child from a first marriage and how she was saved as a born-again Christian. Tammy is shown as a flamboyant televangelist and singer, the woman who would, alongside husband Jim Bakker, build a multimillion dollar ministry empire. The Bakkers' spectacular fall from grace thrust Tammy Faye into the mainstream spotlight. Her fashion and makeup choices were regular subjects of derision in late-night talk shows and sketch comedies, which cemented her place in popular culture. Even her husband pokes fun at her, which she discovers. Showalter's film succeeds and gets more interesting when it deals with the ministry and less so when looking at the trivialities of Tammy Faye who in the film seem to be secondary sheaf of the primary focus. Still, those who love to see those disgusting TV preachers fail and get their comeuppance would not be disappointed.
Trailer:
FARHA (Jordan/Sweden/Saudi Arabia 2021) ***1/2
Directed by rain J. Sallam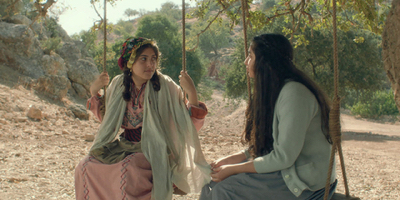 FARHA is the name of the 14-year old girl, the protagonist in this bold tale, based on true events, and a story that needs to be told. Farha lives in a small village in Palestine, 1948. Girls her age are traditionally married off or spoken for yet Farha wants to continue her education despite traditions and the restrictions of schooling in her village for boys only. Inseparable from her best friend Farida, who lives in the city but who spends weekends in the village, Farha dreams of joining her at a school in the city. As British control over Palestine comes to an end, what Farha and her father do not yet know is that forced displacements are already happening across the region. When Israeli bombs reach their village, Farha's father locks her in the cellar of their home. Like a true Grimm fairy tale storytelling, Farha is helpless and watches from a locked cellar, in true Hitchcockian style, as catastrophe consumes her home. A coming-of-age drama effectively told and captured on screen with all the danger of bombings and gunfire surrounding. Hallam carefully builds the climax of his film from the point of view of FARHA, from her innocent laughs and play with Farida to the realization that all her hopes are being destroyed in an instant beyond her control. A remarkable debut from first time director Sallam.
Trailer: none
THE GAME (Serbia/USA 2021) ***
Directed by Ana Lazarevic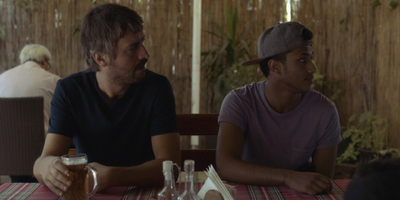 THE GAME is the common term given to the journey refugees and smugglers take through the Balkans to each their destination. The journey is, as expected, fraught with danger and fatalities. Strahinja helps to smuggle refugees and migrants through the Balkans to keep up with his gambling habit and tendency to live beyond his means. His estranged wife is not impressed with his dangerous occupation or his halfhearted parenting of their son, Luka, on the days he has custody. When Strahinja meets refugee teen Yousef and his younger brother Hamed, what should be a lucrative but typical job is complicated by an unexpected police encounter.
Director Lazarevic appears more focused on the relationship between the smuggler and his refugees than the journey itself and it shows. All the imminent danger is substituted with the one-off bickering and separation/ reuniting of the two groups. The film's open ending does not help in establishing the director's goal in her film that suffers from a weak narrative.
Trailer: none
A HERO (Iran 2021) ***1/2
Directed by Asghar Farhadi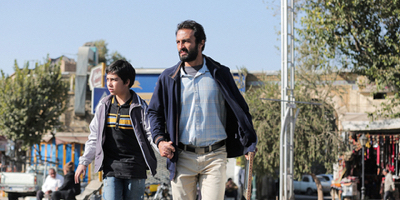 A minor hit at Cannes this year (the film won the Cannes Grand Prix) but not as good as his previous films, Iranian director (who so far has two of his films winning the Oscar for Best International Film) returns with another suspense unfolding drama worthy of the best of Hitchcock. Rahim (Amir Jadidi) is a calligrapher who was imprisoned when he could not repay a mounting debt. While Rahim is on a two-day release from his medium-security penitentiary, his girlfriend, Farkhondeh (Sahar Goldoust) presents him with a golden opportunity that will secure his release. Once he becomes a so-called free man, Rahim is flanked by his family — including a vulnerable son from a previous marriage. Whatever the theme of his films, Farhadi plays on the anticipation of his audience, a style that is now characteristic of this talented filmmaker. A HERO unfolds occasionally like VERTIGO where the truth is finally exposed at the end and where nothing is what it seems. Farhadi depicts his hero as a human being complete with human failing like a bad temper and desperation.
Trailer: unavailable
HUDA'S SALON (Israel 2021) ****
Directed by Hany Abu-Assad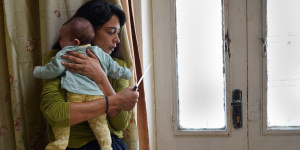 HUDA'S SALON is a nest of spies blackmailed into working for the Israeli Secret Service by its owner Hula. A major surprise with this fresh political drama of two women trying to survive in occupied Palestine. Reem (Maisa And Elhadi) goes to HUDA'S SALON to get her hair done. As they chat, what starts as a lovely domestic drama shifts hard when Reem is betrayed by Huda (Manal Awad) and thrown into a dangerously compromising situation. She's offered only one way out: work with Israel's secret service, spying on her own community. As Reem tries to extricate herself from an impossible dilemma, Huda's actions threaten her own safety. As in every region torn apart by war, the broader battle lines and larger violence also take a more intimate form between individuals trying to survive at any cost. Palestinian award winning director Abu-Assad shoots his two actresses in close-ups intensifying the seriousness of the situation, while keeping the audience glued to the screen throughout the film. His humour is also bitingly funny. He is unafraid to shock his audience with surprises like the setting fire to a male model and a sharp but satisfying ending. A total winner of a film and comes with my highest recommendation.
Clip: https://www.vimooz.com/2021/09/08/first-clip-movie-trailer-hudas-salon-hany-abu-assad-thriller-tiff/
INEXORABLE (France/Belgium 2021) ***
Directed by Fabrice Du Welz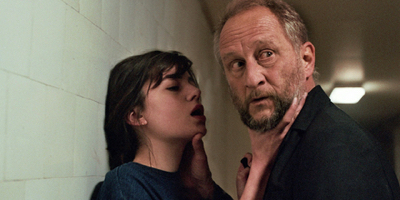 INEXORABLE stars and is largely carried by Belgium born actor Benoit Puelvoorde who rose to fame with the 1992 cult classic (that I have not seen) MAN BITES DOG. But I have recently seen Puelvoorde in comedies VENICE N'EST PAS EN ITALIE and the recent Netflix hit I AM NOT A SUPERHERO both films demonstrating his acting prowess in comedy and drama. In INEXORABLE, Puelvoorde plays Marcel Bellmer a successful author suffering from writer's block who moves into the colossal old country manor belonging to the family of his wife and publisher Jeanne (Mélanie Doutey) for inspiration. Long hidden secrets start to haunt him. Distraction and certain danger arrives in the form of Gloria (Alba Gaïa Bellugi), a shy, awkward young woman with no home or family of her own who, by happenstance, connects with Marcel and Jeanne's daughter Lucie. Gloria is invited and stays with the family. Gloria confesses to Marcel that reading his work, and the book Inexorable in particular, saved her life during its darkest moments. But as Gloria becomes increasingly involved in the family's affairs, a whole new darkness threatens to consume the lot of them. Bearing a resemblance to the 1970's film, Harold Prince's SOMETHING FOR EVERYONE but more sombre and chilling, INEXORABLE shares the common theme of a stranger entering a wealthy home and destroys it. Everyone loves a good mystery thriller but this one is a tad hard to swallow. INEXORABLE, though not without its flaws satisfies to a point.
Trailer: none
KICKING BLOOD (Canada 2021) **
Directed by Blaine Thurier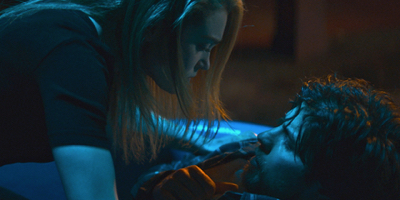 KICKING BLOOD is director Thurier's modern take on vampires with a story set in Ontario, Canada during the dead of winter. The protagonist is vampire Anna (Alanna Bale) who is disappointed with eternal life. Yes, it is over-rated. She wishes to kick the habit of drinking blood, hence the film's title just as two other characters are planning to quit a bad habit - Anna's mortal senior friend, Bernice (Rosemary Dunsmore) of her medication and an ex-victim, Robbie (Luke Bilyk) of alcohol. One of the vampires tempts Robbie to turn him into a vampire saying that eternal life is stuff of the Gods. Robbie rebuttals with the fact that eternal life is less than being human. Anna has two vampire pals who go hunting for victims together. All this does not make much sense and director Thurier never explains anything - not even the origin of his vampires. Besides trying to involve emotions and authenticity to his horror tale, the open ending and artsy take do not really help but confuse matters as to his goal in telling his tale. The film does look good with impressive cinematography of the wintry Canadian town.
Trailer: unavailable
LAKEHOOD (USA 2021) **
Directed by Phillip Noyce
It has been done before - a low budget film where the majority of the film concentrates on the taking of a 9-1-1 call. In LAKEWOOD, which takes place in a neighbourhood of that name/ The film has a mother (Naomi WaTTs) going for a run in the woods while on her mobile trying to find out about the safety of her son, when she learns that his school has been on lockdown. A shooter at the school has taken several hostages and the cops have been called in. The film is pretty much the mother on the phone, talking to several people including the car mechanic who she persuades to ding out more information, several teaches friends and the like. Despite some solid acting by Watts, this is all manipulative stuff not helped by a cliched and predictable storyline complete with lots of melodrama at the end. Aussie director Noyce gas made much better films in the past like his other thriller DEAD CALM and his newsreel men drama NEWSFRONT which I consider the BEST Australian film of all time.
LEARN TO SWIM (Canada 2021)
Directed by Thyrone Tommy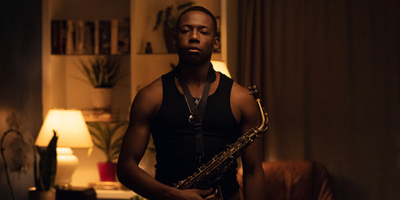 LEARN TO SWIM charts the stormy romance between two very different contemporary jazz musicians set in the contemporary jazz scene. Dezi (Thomas Antony Olajide), a doggedly private, very talented sax player, and Selma (Emma Ferreira), a vivacious but less experienced singer. meet, sparks fly, but their respective emotional baggage and their temperaments make the road to romance bumpy at best. The jazz score is awesome but the film offers very little else, looking much like a drama made for a cable pay service. It does not help that director Tommy loves to use closeups of his actors, mistaking closeups for drama. Olajiide delivers a horrid performance of a diva who believes he is God's gift to mankind. The listing is really dark, so unless the print is yet to be finalized, most of the actor's faces and expressions cannot be seen. Unless one likes jazz, the film will come off as even more boring.
Trailer: none
LO INVISIBLE (Ecuador/France 2021) ***
Directed by Javier Andrade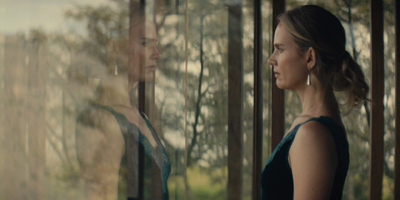 Javier Andrade's LO INVISIBLE film follows a woman, Luisa (Anahí Hoeneisen, who also co-wrote the script with the director) who comes home from a psychiatric clinic after a bout with severe postpartum depression. This is pretty much Hoeneisen's show as she penned the script and is in almost every scene in the movie. She is pretty and apt enough to deliver a sensitive yet strong enough performance able to carry the film to its climax. But it is the slow burn of the build up that makes the film tick. Not much is known of Luisa at the start when she arrives by chauffeur to her wealthy home and husband. Plot points are then revealed as to her return - she tried to kill the baby; she hallucinates; she has difficulty fulfilling her wifey duties; she does not have milk to feed her baby. The title comes about from these facts being invisible to herself. A tale of emotional survival and as expected, not an easy watch.
Trailer:
THE MIDDLE MAN (Norway/Canada/Denmark/Germany 2021) ***
Directed by Bent Hamer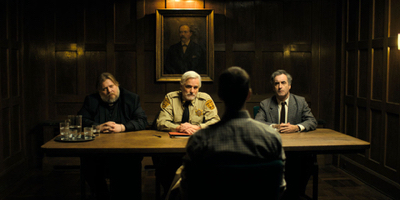 Norwegian filmmaker Bent Hamer, known for his oddball sense of humour comedies like EGGS and KITCHEN STORIES returns with his latest oddball comedy called THE MIDDLE MAN, a vocation involving relying bad news in an isolated midwest American town named Karmack where bad news never seems to end. Though straight faced, Frank Farrelli (Pål Sverre Hagen) delivers bad news to people (a son dies of accident, a best friend in a coma) because none of the residents can bear to do it themselves anymore. The humour is as expected black and quite funny, and delivered just as Frank delivers the bad news. There is a little story involved in all this, which is based on the novel "Sluk" involving a little romance. Recognizable Canadian heavyweights Kenneth Welsh, Don McKellar, Paul Gross, Rossif Sutherland and Sheila McCarthy land welcome cameo roles in an amusing comedy.
Trailer:
MLUNGU WAM (Good Madam) (South Africa 2021) ***1/2
Directed by Jenna Cato Bass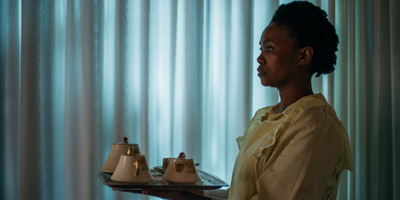 Don't let the fact that 12 writers appear at the end credits discourage one from this quite scary film from South Africa that was filmed entirely in Cape Town in English and Xhosa. GOOD MADAM is a solid piece of horror that is ambitious enough to include issues like Apartheid, colonial land theft, domestic services and family dysfunction. Following the death of her grandmother — the woman who raised her — Tsidi (Chumisa Cosa) and her daughter are forced to move in with Tsidi's estranged mother, Mavis (Nosipho Mtebe), who has lived and worked in the wealthy suburbs of Cape Town for most of Tsidi's life. There, Tsidi finds the sprawling manicured property from her faint childhood memories, owned by Diane (Jennifer Boraine), Mavis's ailing and mysterious white "Madam." With the house feeling more eerie than she remembers, and with Mavis more enthralled by Diane than seems right for South Africa's fabled days of democracy, Tsidi pushes past tangled resentments to try and convince Mavis that she deserves better. Things start to get weird, and even more so that Tsidi and the audience never get to see the mysterious white madam in the flesh. Nothing more should be said of the plot. Director Bass makes good use of closeups and amplified sounds (brushing of teeth; scrubbing of floor) to enhance the horror.
Trailer: unavailable
MONTANA STORY (USA 2021) ***
Directed by Scott McGehee and David Siegel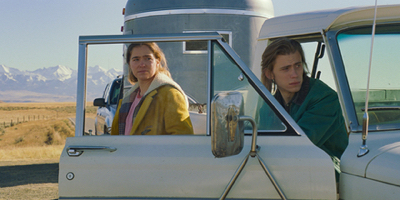 Two siblings, a brother and sister (estranged) return to the family ranch in Montana to care for their ailing father and must confront painful truths. In their introduction to their film, the directors claim that they decided to make a film based on a story of a family, brought together in the times of the pandemic. MONTANA takes the first half hour to make its footing, meandering and demanding patience from the viewer in what seems to be a silly concocted and boring story. Then, there is the dying horse, Mr. T. But the actors are good, and the filming is confident, as sure as the directors slowly draw in the attention of their audience after the first third of the film. Owen Teague plays Cal Thorne, a young man drawn back to the family ranch to be with his ailing father, Wade. A migrant nurse, Ace (Gilbert Owuor), has been hired to care for the old man, and longtime employee Valentina (Kimberly Guerrero) tries to help manage the sprawling property. But Wade has dug his family a deep debt to the bank, and Cal is ill-prepared to take the reins. His answer to what to do with their horses infuriates his sister Erin (Haley Lu Richardson) when she arrives from back east. The stage is set for an eternal conflict, that plays out authentically without cheap theatrics, that pushes Cal and Erin to see each other truly. Beautifully shot in Montana, MONTANA STORY is another addition to the list of the fine films by McGehee and Siegel.
Trailer: none
NOBODY HAS TO KNOW (Belgium/France /UK 2021) ****
Directed by Bouli Lanners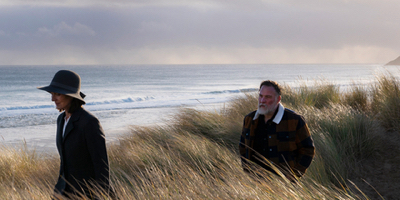 NOBODY HAS TO KNOW follows Phil (played by director Lanners) who suffers from amnesia following a strike. The amnesia might be temporary, says the doctor, as Phil slowly but surely remembers his past after a while. Do not expect the speed of a JASON BOURNE IDENTITY movie - this one is a pretty slow burn with lots of gloom and grey, typical of the Scottish environment. Phil works on a remote Scottish island and the story follows Phil's journey to recovering his memory — and the love story he's told along the way — lies at the heart of this tender, gorgeous film. Phil's boss's daughter, Millie (Michelle Fairley), helps him acclimate back to his life, reminding him of his origins, his likes and dislikes… and the fact that he and Millie were secret lovers. But the fact is kept whether that romance ever existed in the first place. NOBODY HAS TO KNOW is an extremely moving film both meticulous and sublime and comes highly recommended as a romantic drama about grabbing opportunity before it is gone forever.
Trailer: none
THE ODD-JOB MEN (Sis Dies Corrents)(Spain 2021) ***
Directed by Neus Ballús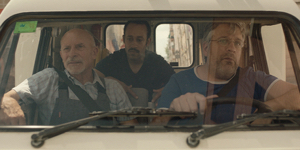 THE ODD-JOB MEN are a trio of mismatched workers brought to work together by the fickle finger of fate. The setting is Barcelona, a sleepy place where fuses blow, pipes leak and air-conditioning units breakdown. Mohamed (Mohamed Mellali) is a shy but determined Moroccan immigrant starting his week-long trial at a small plumbing and electrical repair company. He is expected to take over for Pep (Pep Sarrà), who is looking forward to retirement after decades on the job. But, Mohamed (or Moha, as he quickly begins to be called) faces intense scrutiny from his partner-to-be, the outspoken, pushy, difficult but very humorous Valero (Valero Escolar). Valero is devastated to lose Pep, and very uncomfortable with everything Moha does — and likely who he is. But Moha's politeness and consideration make him well-liked by most customers, especially women. Moha is also asked to pose for pictures by one female customer. Valero provides the comedy, Moha the foundation and Pep the bridge between the two. Director Ballus comedy is subtle, funny and keenly observant, especially on the immigrant/refugee issue.
Trailer:
ONE SECOND (China 2020) ***
Directed by Zhang Yimou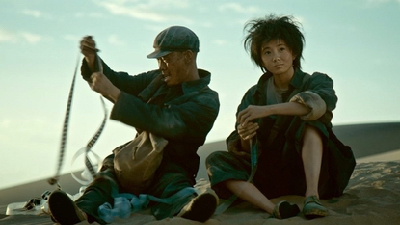 This capsule review is based on viewing only 90 minutes of the film as the streaming expires around 15 minutes before it was supposed to, I suspect due to technical difficulties. It is a pity as Zhang Yimou's ode to the cinema begins really badly but improves tremendously towards the end. So much so, the ending would have definitely made a greater impact on this review. The main protagonist is a man (Zhang Yi) escaped from a labour camp who seeks for a glimpse of his beloved daughter. This is to be achieved by seeing a screening of a newsreel where his daughter has been captured briefly on screen, immortalized as a model student and worker. In this journey towards a fleeting, cinematic reunion with his beloved daughter, his unexpected companions include a scruffy orphan girl named Liu (Liu Haocun) — pursuing her search for celluloid, to make a lantern — and Mr. Movie (Fan Wei), widely known as the best projectionist around. Each of the three have a different use for the film celluloid. The first part of the film has the worst that director Yimou has to offer, a silly unbelievable plot, sentimentality and obvious audience manipulation towards the nostalgia of old cinema. But as the film progresses, the story becomes more believable and Yimou eventually gets the audience to feel for his characters. The sight of reels and reels of film made arranged in a loop in order to keep a segment of film repeatedly shows as well as the mechanism workings shown on how the film is assembled on the projector machine are marvellous. Not the best of Yimou's films like RAISE THE RED LANTERN or JU DOU, ONE SECOND still shows off the best that the Master director has to offer.
Trailer:
PETITE MAMAN (France 2021) ****
Directed by Céline Sciamma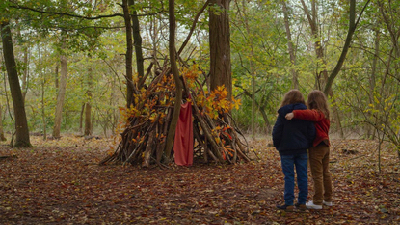 Mesmerizing, beautiful and magical, director Céline Sciamma's latest film about loss and discovery from the point of view of a young girl, Nelly (Josephine Sanz) is an unforgettable film that is a must-see. This is the director that has amazed critics with PORTRAIT OF A LADY ON FIRE and demonstrated her smarts with her script for the amazing animated MA VIE EN COURGETTE, nominated and should have won the Oscar for Best Animated feature. When Nelly's granny dies, she goes to her home with her parents and meets a girl her age, also long somewhat like her. As she plays and gets acquainted with Marion, but it turns out that the new friend is her mother when her mother was her age. The film moves in and out comfortably, between times, between personalities as Nelly learns about her mother. There is immense intelligence and sensitivity and remarkably thought-out scenes like the connection between the two girls while having soup or playing. The English translation of the title LITTLE MOTHER prepares the audience for Nelly to meet her maman when she is little.
Trailer:
QUICKENING (Canada 2021) **
Directed by Haya Waseem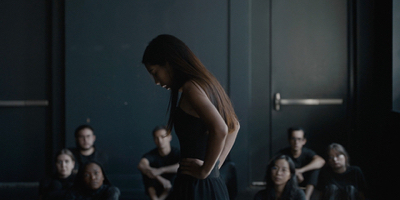 QUICKENING follows Sheila (Arooj Azeem), a Pakistani Canadian teenager living in the suburbs. Nearing the end of first-year university and having fallen in love for the first time, with her classmate Eden, Sheila desires a freedom that her mother and father (played by Azeem's real-life parents) are unwilling to offer. Sheila gets pregnant and goes through a mental breakdown. This is the film that covers issues totally hot and current - minority women of colour (in this case Pakistani); mental breakdown; male dominance and lack of support; and one that bs tone seen because of this. Writer/director Waseem steers her film methodically and artistically (film is often set in Sheila's dance classes) but with little surprise and kick. Not a bad film, bitten wishes decor Waseem could have provided more insight and solution, not helped by the open ending, than just presenting the problem of the troubled teen.
Trailer: unaviailable
SALOUM (Senegal 2021) ***1/2
Directed by Jean Luc Herbulot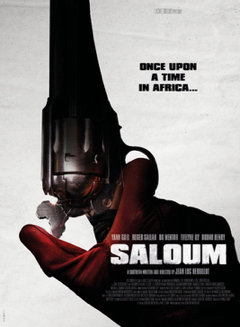 Shot mainly in French though set in the poorest regions of Africa. A trio of mercenaries navigate a mysterious region of Senegal, in Jean Luc Herbulot's perhaps coolest film of the festival. His film demonstrates great ingenuity and spirit with lots going on in each layered scene that what might be overlooked. Amidst Guinea-Bissau's coup d'état of 2003, Bangui's Hyenas, an elite trio of mercenaries, skillfully extract a drug dealer and his bricks — both gold and narcotic — from the chaos and make tracks for Dakar, Senegal. But when their escape plan is unexpectedly waylaid, the Hyenas find themselves and their bounty stranded in the Sine-Saloum Delta, a coastal river realm speckled with insulated island communities and steeped in myth and mystery. Believing they can keep a low profile at a nearby holiday encampment, they attempt to blend in with the tourists but are soon at risk of exposure with the arrival of both a suspicious police captain and an enigmatic Signing deaf woman who harbours secrets of her own. The film is not perfect, as it is messy and occasionally confusing, but SALOUM is definite evidence that Herbulot has the best that is yet to come.
Clip:
SILENT LAND (Chica Ziemia) (Poland/Italy/Czech 2021) ***1/2
Directed by Aga Woszczyńska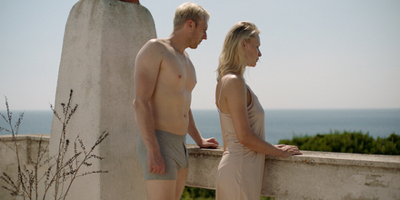 SILENT LAND traces the downward spiral of a bourgeois Polish couple 's relationship from the very start to the end of the film. Though on paper, the story looks simple and plain, director Woszczyńska who also-cowrote the script, delivers a deliciously wicked comedy (or drama) of manners that has the feel of a classic Chabrol movie, even to the extent of the possibility of a murder. The film is also reminiscent immediately fo Dominik Moll's Cannes Opening film LEMMING (10 years or so back) which traces a couples' suffering relationship. The setting is an Italian holiday vacation rental which the couple is staying at. The first thing they notice on arrival is that the swimming pool is empty. Their Italian host swiftly sends over a migrant worker to fix the situation. The young, muscular Arab man immediately faces a language barrier with the couple. When he suffers a terrible accident poolside, it is as if fate had been conspiring against all three of them from the beginning. Director Woszczyńska sublimely builds up an atmosphere of dread and menace culminating in a surreal scene at the end that is kept as a surprise.
Trailer: none
SILENT NIGHT (UK 2021) **
Directed by Camille Griffin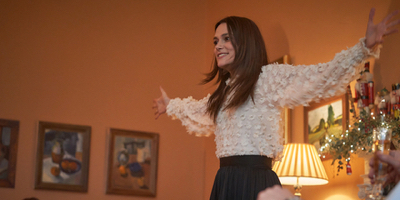 SILENT NIGHT follows a family and friends Christmas gathering taking place in the English countryside involving higher class English. Keira Knightley and Lily-Rose Depp star in Camille Griffin's feature directorial debut, about a family's eventful Christmas dinner in the country. Nell (Keira Knightley), Simon (Matthew Goode), and their boy Art (Roman Griffin Davis, of JOJO RABBIT) are ready to welcome friends and family for what turns out to be a dysfunctional dinner as everyone is going to die. A poisonous cloud is descending upon the United Kingdom. An extinction event is imminent as has access to a suicide pill, even the children. This is a horrid scenario making an awful and tedious film in which director Griffin cannot decide to go for drama or black comedy. She does not create any doomsday atmosphere. The characters which Griffin does not make any attempt to have her audience care about, appear all intent at arguing with each other for the sake of satisfying their egos.
Trailer: none
SNAKEHEAD (USA 2021) **
Directed by Evan Jackson Leung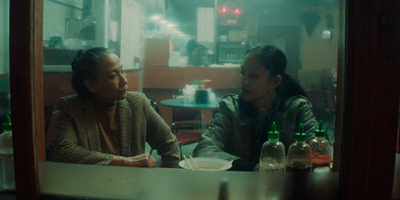 A SNAKEHEAD is a smuggler of human refugees. SNAKEHEAD tells the story of one snakehead, a woman who rises through the ranks of the gang that smuggled her into New York City, in Evan Jackson Leong's fact-based debut feature. The press notes say that the film is a decade-long labour of love for documentary filmmaker Evan Jackson Leong (LINSANITY). The film is inspired by the real-life Cheng Chui Ping, a.k.a. Sister Ping (Shuya Chang), who ran one of the largest snakehead operations — gang-led human-smuggling rackets — for nearly 20 years before her arrest, as well as other ripped-from-the-headlines stories of human smuggling and organized crime in New York City's Chinatown. Sister Tse had paid a snakehead to get her to New York City so she could search for her daughter, who was adopted by a Chinese American family while Tse was in prison. Uninterested in working at a massage parlour to pay back her astronomical smuggling debt, Sister Tse earns the respect of gang matriarch Dai Mah (Jade Wu) through her rebelliousness. Sister Tse quickly rises through the ranks, upsetting Dai Mah's reckless but ambitious older son, Rambo (Sung Kang of Fast & Furious fame). Like they say, the road to all is paved with good intentions. The story comes across and has the feel of a B-action flick rather than a drama based on a true story. Leung's use of the camera, colour and flashbacks create a pretentiousness rather than artistry. The only saving grace is Chang's performance. Even Jade Wu's performance as Dai May looks forced and stereotyped.
Trailer:
STE. ANNE (Canada 2018-2020) **
Directed by Rhayne Vermette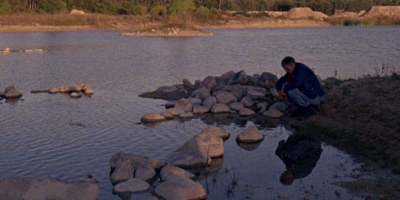 Selected to be in the Wavelength Category of TIFF , which means that the film has not much meaning and little story and lots of experimental visuals - STE. ANNE is exactly what one would expect from a Wavelengths film. Set and shot in Treaty 1 territory, which today includes Winnipeg and the nearby town that lends the film its title, this meditation is a deeply mysterious and alluring examination of home by way of places and people. The central revenant is Renée (Vermette), who returns to her young daughter Athene — now living with Renée's brother Modeste and his wife — after an unexplained absence of several years. The reunion is fraught, not in the least due to Renée's closely held secrets and obvious unease with the prospect of settling into a traditional role of mother or homesteader. The fragmentary (and at times fractious) nature of the dynamic is heightened by an approach that incorporates experimental diversions, as well as beguiling ambiguities and anachronisms that locate the film out of time. Filmed in French and English.
Trailer: none
TO KILL THE BEAST (Argentina/Brazil/Chile 2021)
Directed by Agustina San Martín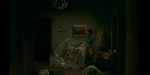 Emilia, a young woman from Buenos Aires, arrives at a small town near Argentina's border with Brazil, looking for her lost brother and hoping to ease the strained relationships in her family after the passing of their mother. (embargoed till Sept 14th)
Trailer: unavailable
LA SOGA 2 (USA 2020)
Directed by Manny Perez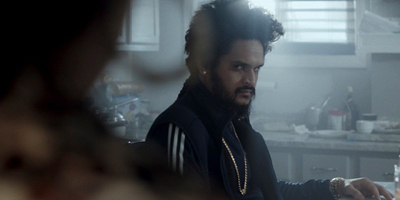 LA SOGA 2 is the sequel to LA SOGA which arrived in 2009 with TIFF. The action star Dominican American Manny Perez takes over the director reins. LA SOGA 2 continues the story of the former hitman. Luisito (Manny Perez) now recruited by the crooked politicians to wipe up evidence of their involvement in crooked activities. The politicians hire another crook Jimmy Mac (Chris McGarry) to kidnap and hold Luisito's girlfriend Lia (Sarah Jorge Leon) hostage to force Luisito to do the job.
(embargoed till Sept 14th)
Trailer:
TERRORIZERS (Taiwan 2021) ***1/2
Directed by Ho Wi Ding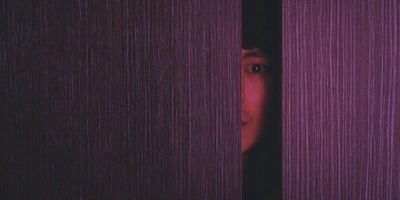 TERRORIZES is not the first film with multiple narratives done together with a common tread. Though this is not commonly a method of storytelling undertaken by filmmakers, it is an effective one that this new Taiwanese film TERRORIZES once again proves. The common segment in all the stories besides many coincidences is the public slashing. The slasher is a disgruntled man suffering from unrequited love. His heart pains so much that he goes berserk with a sword. The story revolves around Ming Liang (Austin Lin), the disturbed young man who has committed a slashing attack in public, and five characters he crosses paths with. Yu Fang (Moon Lee) studies acting and lives with her father, a politician who is about to get married to his pregnant girlfriend. She falls for Monica (Annie Chen), an aspiring actor who is desperately trying to get decent roles in regular plays but is haunted by her past as a porn performer. Xiao Zhang (JC Lin) has always been in love with Yu Fang and is now determined to settle down with her. Kiki (Pipi Yao) is a high-school student and cosplayer who is in love with Ming Liang. If all the stories sound confusing, it is not in the film as director Ho meticulously weaves his tale intercutting the stories, all equally interesting, with confident flair. The result is an intriguing and often powerful study of youth that the director convinces his audience to care about and their associated problems.
Trailer:
THREE MINUTES OF TIME- A LENGTHENING (Netehrlands/UK 2021)
Directed by Bianca Stigter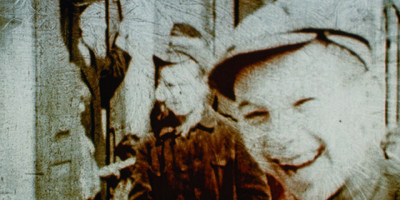 In Bianca Stigter's THREE MINUTES, A LENGTHENING, the director transforms David Kurtz's shimmering images from over 80 years ago into a remarkable meditation on what it means for a lost community to be captured on film. Instead of 8mm stock, Kurtz shot on colour 16mm film. His footage gives Stigter rich material to illustrate the detective work needed to recover the stories of a village destroyed by the Holocaust. Kurtz's original footage sometimes in slow motion, sometimes still, forwards and backwards to draw meaning from each frame, the distance originally created by looking at 83-year-old fashions and hairstyles collapses into the immediate present: those faces.
(Embargo lifted Tuesday Sep14th 4 pm)
Trailer: www.youtube.com/watch?v=Un5DJgMgJ7U
TUG OF WAR (Tanzania/South Africa/Qatar/Germany 2021) **
Directed by Amir Shivji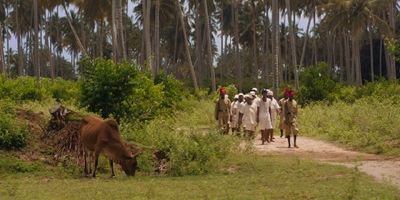 A young revolutionary and a runaway bride struggle for forbidden freedoms in Zanzibar.
In this adaptation of Adam Shafi's award-winning Swahili novel, set in 1950s Zanzibar, a romance is buffeted by the harsh waves of British rule and the local militant struggle for liberation. The story follows Denge, a young Mswahili revolutionary, fighting for a free Zanzibar. Slipping past unrelenting colonial police through the tight alleys and crumbling walls of a segregated Stone Town, "De" (Gudrun Columbus Mwanyika) and his comrades import socialist pamphlets and distribute Swahili translations across the island, staging revolts in dance halls and expat clubs to demand political autonomy. De dreams of nothing else until he meets Yasmin (Ikhlas Gafur Vora), a young Indian-Zanzibari woman seeking her own forbidden freedoms who does not expect to be intrigued by De's mystery. There are lots of subplots, adventure and intrigue in the novel, but the film's small and limited budget shows. It does not help that director Shivji loves to film in closeups, giving the film a claustrophobic look instead of the wide expanse of a bigger production De's escape looks too simple to be successful and the romance lacks Chemistry. One tends to side with the British oilers when the Inspector says that it is them that built the roads and started the global trade for the country. A lacklustre production that fails to excite and eventually bores one down with the typical story of colonial oppression. The film could also do with more dramatization of events like Yasmin's arranged marriage to the old man.
Trailer: unavailable
UNCLENCHING THE FISTS (Russia 2021) ***1/2
Directed by Kira Kovalenko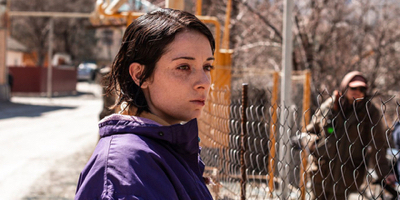 UNCLENCHING THE FISTS is a no-nonsense drama of a teen stuck between a toxic family and her monotonous life in a small desolate town. Nestled in the Caucasus Mountains, in the Republic of North Ossetia–Alania, Mizur is a desolate industrial town where Ada (Milana Aguzarova) is the second of three siblings. Their well-meaning but overprotective single father, Zaur (Alik Karaev), uprooted the family from the neighbouring town of Beslan after the 2004 school siege, where over 1,100 citizens were taken hostage by Chechen terrorists demanding Russia's withdrawal from Chechnya and more than 330 hostages were killed — over half of them children. Just as President Vladimir Putin manipulated those horrific acts to further expand his power on a national scale, Zaur responded by firming his grip over his family, and specifically over Ada. Director Kovalenko often films in cinema-verity mode with hand held camera and the actors often running in the streets or just driving around. Winner of the Un Certain Regard Prize at this year's Cannes Film Festival, UNCLENCHING THE FISTS proves to be a solid drama, tough to watch but nevertheless very well put together.
Trailer:
WILDHOOD (Canada 2021) ***
Directed by Bretten Hannam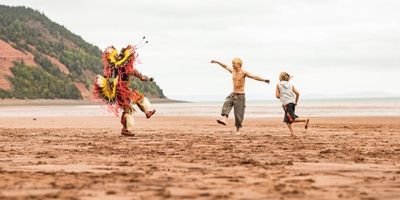 A gay indigenous themed Canadian film is almost 100% certain of getting made and selected for TIFF. Two-spirit Mi'kmaw teenager Link (Phillip Lewitski) is just discovering — and asserting — his sexuality when his already volatile home life goes off the rails. His abusive father Arvin explodes after the cops bust Link and his half-brother Travis (Avery Winters-Anthony) for stealing scrap metal. When he finds out that his supposedly dead mother Sarah may be alive, Link sets fire to Arvin's truck and flees with Travis. Sparks fly in a chance encounter with teen drifter Pasmay (Joshua Odjick), who shares Link's Indigenous roots and offers to help find Sarah — but will Link's (well-founded) mistrust of people ruin his potential new relationship and the group's mission? WILDHOOD is combination of a coming-of-age gay sexual awakening story done in a road trip easy style. The two young actors are at and convincing enough but there is nothing really in this film that has not been seen before in one form or other, except of it being done with an indigenous setting.
Trailer: (none)
WHETHER THE WEATHER IS FINE (Philippines 2021) **
Directed by Carlo Francisco Manatad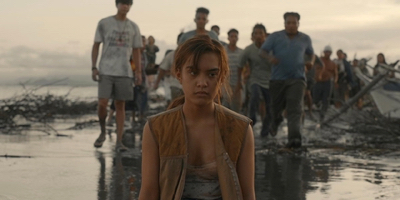 Dystopian society set in the near future where the population is devastated. This movie genre has been traded to death and the last thing this critic would like to see is yet another. WEATHER THE WEATHER IS FINE falls int the genre but with a different. The horror is real. Instead of society wild out by aliens or some disease, this is a true event when the Philippines was hit by a typhoon and a city is destroyed. Instead of a few survivors, the are too many, all hunting for food and supplies. Devastated after the impact of Typhoon Haiyan in November 2013, the Filipino coastal city of Tacloban is largely reduced to rubble. The three subjects here are a mamma's boy, his holier than holy deviate mother and his impatient girlfriend, who provides a bit of humour in the situation. Th three are trying o board a boat for Manila where things are expected to be better. Other than that, it is the same old bring story, the only things that marks this film up a notch is the authentic depiction of a devoted city after the typhoon's destruction.
WOLF (Ireland/Poland 2021) **
Directed by Nathalie Biancheri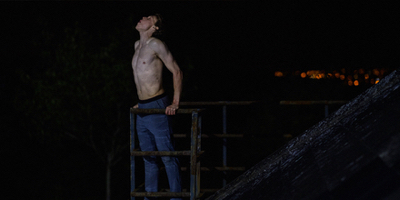 Jacob (George MacKay, best known from 1917) has species dysphoria and believes he is a wolf trapped inside the body of a teenager. He is sent to "the zoo," a clinic specializing in the condition, operated under the watchful eye of Dr. Mann (Paddy Considine). Nicknamed "the zookeeper," the controversial and cruel practitioner — who could make Narcissus himself blush — enacts extreme "curative" therapies, expecting nothing short of toadying behaviour and swift reform from his pet subjects. Other animal parents include Rufus the German shepherd (Fionn O'Shea), Judith the parrot (Lola Petticrew), Ivan the duck (Senan Jennings), Jeremy the squirrel (Darragh Shannon), Louise the horse (Elsa Fionuir), Annalisa the panda (Karise Yansen), and Ola the spider (Amy Macken), Wolf sends up a cacophony of alarms and excursions. WOLF is the silliest series drama of the festival and is a total waste of time. The film is supposed to be a powerful reflection on self-determination and belonging in societies that dictate behaviour but the film never amounts to anything. MacKay howls through his role while the veteran actor Paddy Considine delivers a Nazi-type character performance for his role in the cardboard zookeeper.
Trailer: none
YOU ARE NOT MY MOTHER (Ireland 2021) ***
Directed by Kate Dolan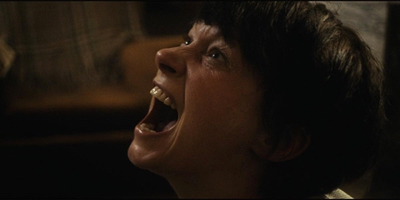 An Irish horror filmed in Dublin with all the characters speaking with strong Irish accents might be too much for non-Irish folk but the film is authentic and has a solid Irish feel. When a missing mother surprisingly shows up as if nothing has happened, her teenage daughter senses something amiss. Her mother is not eating, prone to weird behaviour and personality changed that could be due to her meds. But as her mother's changes get extreme, Charlotte becomes increased vexed and confused. It does not help that her grandmother thinks the supernatural is involved. Meanwhile, Char is bullied at school , though one of her classmates held her as a friend. Excellent performances are delivered by bot Carolyn Bracken as Angela and Hazel Doupe as Char. Though the film contains a few loose ends, (like what happened to granny at the end?), Dolan keeps the suspense and horror solid in her debut feature
Trailer: unavailable
YUNI (Singapore/Indonesia/Australia/France 2021) **
Directed by Kamila Andini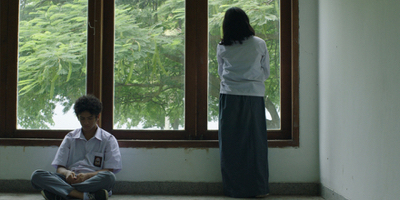 The third film of director Andini to premiere at TIFF, YNUI is the story of an Indonesian teen school girl by the name of Yuni, played by Arawinda Kirana. Yuni loves the colour purple, has a clutch of close friends, and characteristically teenage views. She longs to study in college, hopefully winning a scholarship in the process. Her loving family is more bound to tradition than she is. When her family receives first one, then a second proposal of arranged marriage for her, Yuni's grandmother urges her not to refuse this "blessing." With each passing day, at home and at school, Yuni sees her horizons closing in. Director Anini paints a troubled teen life and the audience gets to learn what Indonesia is like as well as what teen girls have to face. But she takes on a bit too many issues that include her literature teacher turning out gay and proposing to her as well. Whether Yuni wins her scholarship is not the key issue of the story here, and one wonders what is after the film concludes with an open ending.
Trailer: