FILM REVIEWS:
23 WALKS (UK 2021) ***1/2
Directed by Paul Morrison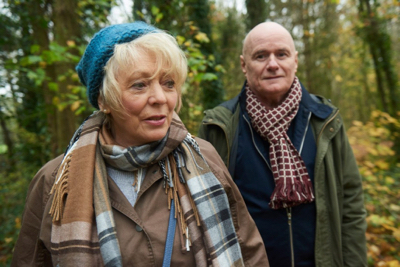 23 WALKS is a heart-warming comedy/drama about finding love later in life. If there have been too many such films in the past, it would be good to say that 23 WALKS is one of the better ones, being more sensitive though with no brakes on pulling to the heartstrings. Dave (Dave Johns) and Fern (Alison Steadman), two older strangers, have been bruised by their individual circumstances. They meet walking their dogs in a North London park, (Hertfordshire to be exact) and over the course of twenty-three walks together romance begins to blossom. But Dave and Fern haven't been completely honest with one another and their future together may be threatened by the secrets they have withheld. This is still a Harlequin styled romance with the obstacles that need to be overcome before living happily ever after.
Dave and Fern meet while walking their dogs. One walk leads to another and so on….
The man has a big dog as expected and the lady a female one, yes, as expected. The big dog is female and the little one male to balance the situation.
As expected, director Morrison does not shy from adding the charm. The couple share funny songs like the mud song. She then says there is nothing better than listening to the woods.
Besides the two principles being white, the film does succeed in representing other minority groups. Dave's wife is clouded and his children are therefore coloured. One of his sone is gay, so that is two minority groups easily covered. The film also addresses mental health as Fern's family has to deal with the death of her daughter at the early of of 18 due to meningitis. One of the sons got addicted to drugs. The film also deals a little with poverty as Dave is forced to leave his flat, being unable to cover his rent.
The two dogs are well trained and as expected, the clause goes at the end credits that no animals were harmed in the filming. Best dog actor must go to Tilly - a beautiful Alsation (called a German Shepard in North America).
Alison Steadman is an actress I could watch forever. I loved her in Mike Leigh's LIFE IS SWEET. Steadman is Leigh's ex-wife. She is expert at displaying emotions, as she proved in LIFE IS SWEET and again in 23 WALKS. Dave Johns is also a veteran actor. He played the lead in Ken Loach's I, DANIEL BLAKE, again giving a superlative performance. Needless to say, they are both a joy to watch together, both exhibiting excellent chemistry.
One of the film's most beautiful moments has Fern singing a Spanish love song to Dave. The song goes without subtitles, which is apparently not needed for cinema to do its magic.
The ultra heart-warming and charming 23 WALKS is an excellent senior romance if one can forgive the obvious audience manipulation.
23 WALKS opens in select theatres and on demand everywhere Sept 17th.
Trailer:
BLUE BAYOU (USA 2021) **
Directed by Justin Chon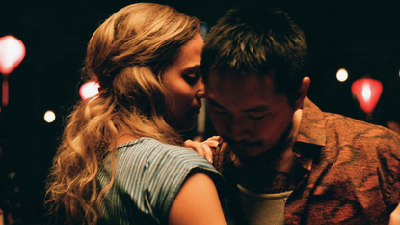 Lee Isaac Chung's acclaimed hit MINARI last year made the theme of the difficulty of immigrant adjustment to American life a hot topic. That film went on to win multiple awards and nominations in the prestigious Academy Awards and the Golden Globes. The film was also an official selection of the 2021 Cannes Film Festival BLUE BAYOU adds on another film to the list and adds in the topic of deportation as the subject should have been an American citizen if his adoptive parents had served the appropriate adoption papers at the time, but never did. A big lesson to everyone here is the importance of the timely filing of important documents.
Just Chon does quadruple duty here as writer, director, producer and main actor of BLUE BAYOU. The topic of unwarranted deportation of immigrants in the U.S. is a timely subject and one can see his dedication in getting his message across. As expected, the closing credits emphasize the number of cases still unresolved and the number of deported adopted immigrants still undocumented and largely unknown. Still BLUE BAYOU feels like Chon's ego trip with the way his film is delivered, he being in almost every scene and his character being almost faultless,
BLUE BAYOU aims at being the moving and timely story of an uniquely American family fighting for their future. Antonio LeBlanc (Chon), a Korean adoptee raised in a small town in the Louisiana bayou, is married to the love of his life, Kathy (Alicia Vikander) and step-dad to their beloved daughter, Jessie (Sydney Kowalske). The reason the Korean is given is explained at the film's start when he is introduced as an adopted son in a job interview where he explains that the name was given to him by his adoptive parents. Everything seems to be going well for Antonio and his family till an incident with the police at a grocery store gets him discovered that he is an illegal. He should be legal if his adoptive parents had filed the papers, as their expensive lawyer explains. Of course to add fuel to the fire, Antonio, working in a tattoo parlour is broke. Worse is the skeleton in the closet he has kept from his wife.
If the plot (prone to cliches) has not already deterred one from the film, the delivery of the cliched material should have one gasping for fresh air. There is also the addition of an unwed subplot of a woman dying of terminal cancer together with the metaphor of her favourite flower - the water lily and wait for it….. a flower without apparent roots. he climax of the film at the airport designed to wring out tars from the most hardened filmgoer does not help either. And in all this, there is the hidden 'who can look the cutest on film contest' between Antonio and 'baby girl'? The best looking actor actually is Mark O'Brien who plays Jessie's ex.
BLUE BAYOU though well intentioned is so deliberately and obviously manipulative that it destroys the very message it wishes to deliver which is indeed a real shame. At the end of the promo screening, I heard some say that this was one of the best films she had seen. So, the film could appeal to some.
Trailer:
BEST SELLERS (Canada/UK 2020) ***
Directed by Lina Roessler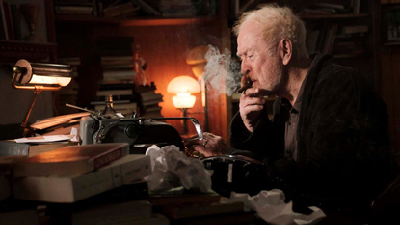 BEST SELLERS is a comedy about a publishing heir who goes on a book tour with a
curmudgeonly author. It stars two hot names - 2-time Academy Award Winner Michael Caine and sensation Aubrey Plaza. Since inheriting her father's New York publishing house, Lucy
(Plaza) has almost tanked it with failing YA titles. Now her only hope is Harris Shaw (Caine), an author whose bestseller put the company on the map 50 years ago. Although Harris has not been
seen since his heyday, Lucy tracks him down after discovering that he owes the company a book. Her timing is perfect. Harris needs money and has a new novel (which he hates). But his old contract stipulates that he must promote it. What follows is the book tour from hell.
As they travel from venue to venue, Harris creates a sensation. Trouble is, the book isn't selling. From there, the story takes some surprising twists, culminating in an appropriate ending.
One would expect that a film about a best selling author would contain a quality script. To the film's credit, the script is a decent one and fortunately one that caters to its two main actors - Michael Caine and Aubrey Plaza. Plaza has played bad-ass roles in films like DIRTY GRANDPA and THE LITTLE HOURS with her deadpan comedic style. Plaza is the only actress who can make a line like "What the hell is that supposed to mean?" laugh out loud funny. Caine as Harris smokes, coughs, drinks and swears – with his British-accented "Bullshite" becoming a hipster hashtag.
If the script fails to deliver in terms of an alternative to a predictable and cliched tale of a vile angry old drunk writer driven to do a book tour by his equally angry and frustrated publishing manager, the script at least contains a few good comedic set ups, the best of these occurring during the book tours. The script by Anthony Greico did win the 2015 Academy Nicholl Fellowship in Screenwriting award. One best scene has Shaw choking an arrogant and pompous book critic (played amusingly by Cary Elwes (THE PRINCESS BRIDE), looking like the film critic Rex Reed) with his walking cane.
Would BEST SELLERS turn out to be a best ticket selling comedy? The decent script and more than amusing performances by Caine and Plaza would definitely help in this otherwise forgettable yet quite entertaining two-handler.
Also starring are Scott Speedman as a rival publisher and Ellen Wong as Lucy's assistant whose job includes looking after Harris's cat.
Though set in the NYC, United States, BEST SELLERS's country of origin is Canada and the U.K. with a large part of the film shot in Montreal and partially in New York City.
The film premiered as a Gala at Berlinale. The film is available September 17 to rent or buy on the Apple TV app/iTunes and other VOD platforms.
Trailer:
THE EYES OF TAMMY FAYE (USA 2021) ***
Directed by Michael Snowalter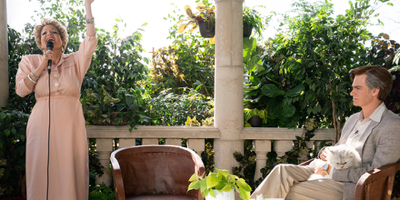 THE EYES OF TAMMY FAYE premieres at this year's Toronto International Film Festival but the story told in the film is a familiar one. The new film is said in the press notes to be based on the documentary of the same name made in 2000. This implies that the doc is superior. In a way it is, for a more candid and authentic look all at the TV evangelist celebrity. Director Showalter is in the big league now, after the success of his debut low budget comedy THE BIG SICK, now directing major names like Jessica Chastain playing the lead, Tammy Faye and Spiderman's Andrew Garfield playing Tammy's husband, Jim Bakker. Micheal Showalter's version is a bit of a mess, with the film never having any clear direction.
Be that as it may, the film would attract an audience looking for sensation and scandal But as the film tries to humanize Tammy Faye and show her as a human being full of flaws (sexual temptations) and sympathy, the sensationalization is compromised.
Director Showalter films his story like a biopic beginning with Tammy as a kid, who attends church, an unwanted child from a first marriage and how she was saved as a born-again Christian. Tammy is shown as a flamboyant televangelist and singer, the woman who would, alongside husband Jim Bakker, build a multimillion dollar ministry empire. The Bakkers' spectacular fall from grace thrust Tammy Faye into the mainstream spotlight. Her fashion and makeup choices were regular subjects of derision in late-night talk shows and sketch comedies, which cemented her place in popular culture. Even her husband pokes fun at her, which she discovers.
The unexpectedly passionate college courtship with Jim makes one of the film's more interesting segments This is the time the audience sees more of Jim's character. Jim has the personality of a smart-talking travelling salesman, thus making him ideal to be a success as a travelling preacher. Together, they refined the message and delivery of the prosperity gospel that would attract so many followers to their satellite network and Heritage USA theme park at the height of their success, before Jim's conviction for defrauding viewers and donors in 1989. It is not surprising that the husband Jim turns out to be the more intriguing character. It is no surprise that actor Garfield was drawn to the role. Garfield looks all pudgy faced and has gained some weight for the role - the sexy slim man now looking like a soon to be overweight white trash.
The segments involving Jerry Falwell (Vincent D'Onofrio) as the self-righteous bigoted preacher putting down gays for the sake of his money grabbing ministry are sufficient to anger many an audience. Tammy earned most of her popularity among the gay population for her fight for gay rights. Jim is shown here to be a person with no backbone, undecided whether to please his wife or his sponsor Falwell.
Showalter's film succeeds and gets more interesting when it deals with the ministry and less so when looking at the trivialities of Tammy Faye who in the film seem to be secondary sheaf of the primary focus. Still, those who love to see those disgusting TV preachers fail and get their comeuppance would not be disappointed.
Trailer:
THE INFLUENCER (USA/Canada 2021) **
Directed by Meghan Weinstein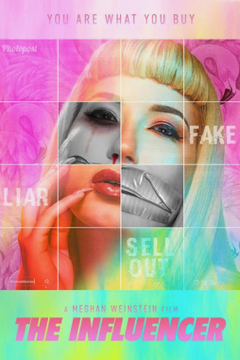 THE INFLUENCER is a low-budget campy social comedy that attempts to shed some light on the social media industry. Directed by Meghan Weinstein who also penned the script, THE INFLUENCER follows the adventures of one successful social media celebrity who suddenly finds herself under attack. While she learns some lessons about the social network and life, director Weisntein does not seem to be aiming too high with her script and film. Perhaps this is good, as her film does not pretend to be excellent, just entertaining. Aiming low instead of high leads to less risk of failure.
The film follows this route. The subject is influencer, Abbie Rose, a super popular social-media influencer known for her lifestyle, fashion and makeup videos. One night she signs a coveted contract with Nutrocon, a notorious cosmetic company known to pollute, test on animals and treat female workers unfairly. After a night out in which she spurns Justin (Mark Valeriano) who wants her in bed, she is taken down and tied up in her home by a group of masked activists. Overnight, they force Abbie through the filming of a video, advertising a mysterious new makeup kit. As the hacker's plan unfolds, we learn the real reason for their visit and as Abbie's facade fades the audience learn more about the lies she's been living.
So with this story, director Weinstein and her crew are up to entertain their audience.
Kasia Szarek's Abbie Rose has the occasional mannerisms of late drag queen Divine of low-budget gay drag trash hits like FEMALE TROUBLE an PINK FLAMINGOES directed by John Waters. Divine performs better in films where she is the provocateur rather than the victim. In fact those films where she played the victim failed at the box-office. At the start of the film, Abbie Rose is the provocateur and becomes the victim after a home invasion hostage situation. To Szark's credit, she functions well in both types of roles. She can be a nasty diva as well as a screaming damsel in distress as the film demonstrates. A lot of the film's weight lies on her shoulders.
Szarek is a real life Instagram influencer who naturally gained an online following with her comedic personality and glamorous pin-up style. She promotes loving yourself and having fun no matter your size, (though she is not that big in size, just slightly plump) and often gets messages from followers on how her posts inspire them to embrace their curves.
THE INFLUENCER is not as funny as it hopes to be. The three clownish activists annoy themselves more than entertain the audience. One is supposed to be a software genius, another a sex offender and the third and male a meth maker of a new strain. The facts appear to amuse rather than be funny. Abbie Rose struts her stuff as much as possible, again hardly funny material. The film's message is literally shouted out to the audience rather than delivered subtly. There is also an elementary lesson on options given to the audience of calls and puts.
THE INFLUENCER will be available on DVD and VOD, platforms including iTunes/Apple TV, Amazon, Google Play, Vudu, and through local cable & satellite providers on September the 14th.
Trailer:
THE NORTH WATER (UK/Canada 2021) ***1/2
Directed by Andrew Haigh
THE NORTH WATER is a handsomely mounted period piece comprised of 5 one-hour episodes.
Based on the critically acclaimed, best-selling novel by Ian McGuire. Set in the UK and the ice floes of the Arctic in the late 1850s, the series tells the story of Patrick Sumner (Jack O'Connell), a disgraced ex-army surgeon who signs up as the ship's doctor on a whaling expedition to the Arctic. But the ferocity of the elements is matched by the violence of his crew mates, including Drax (Colin Farrell), a harpooner and distinctly brutal force of nature. As the true purpose of the expedition becomes clear, confrontation between the two men erupts, taking them on a journey far from solid ground and way beyond the safe moorings of civilization.
THE NORTH WATER will make its first Canadian debut on Super Channel Fuse on Sunday, September 19 at 9 p.m. ET with each episode available on Super Channel On Demand the day following its weekly linear broadcast, followed by wide release on CBC TV, CBC Gem, ICI TÉLÉ and ICI TOU.TV in fall 2022. Super Channel is available via most cable providers across the country, as well as Amazon Prime Video channels and the Apple TV app. THE NORTH WATER will premiere in the UK on BBC Two this fall, and is streaming on AMC+ in the U.S. this summer.
The reviews based on the 1st two episodes:
The first episode introduces the audience to the story's two principles characters, both contrasting in personalities. The audience first sees the rugged, uncouth and reckless Drax (Farrell) as he wages his knife for a drink and loses in the coin toss. After being tossed out of the dodgy pub, the other character, a doctor Sumner (O'Connell) is introduced. He is hired as a ship's doctor. The ship is to take a whaling crew to the Arctic Waters where both men become unlikely mates. Much of the first episode is set on land, with the boat just venturing into the cold at the near end. The story of the doctor's disgrace is told through flashbacks.
The episode ends with Sumner falling into the ice as he scrams for help - all the more to entice viewers to tune into the second episode.
THE NOWHERE INN (USA 2019) ***
Directed by Bill Benz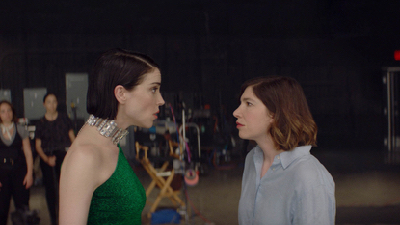 THE NOWHERE INN is a mockumentary about the making of a documentary. When one hears of the term mockumentary, a term only known in motion pictures, one thinks of fun, comedy and maybe some satire on the industry of its subject. In THE NOWHERE INN, writer/director Bill Benz very ambitious and self conscious mockumentary on music glamour star diva St. Vincent, he attempts to tear away the layers of the sensation and reveal the real human being behind the star. The mockumentary resulting is no comedy but quite uncomfortable drama, which is not that enjoyable to watch, but nevertheless insightful and revealing.
The weird beginning sets the tone of the entire film - oddness and discomfort. St. Vincent (played by St. Vincent) is driven in a limo across a desert. The chauffeur (Ezra Buzzington) asks who she is, as he often drives celebrities but then claims not to know who St. Vincent is. He phones his son who has no idea who she is either. "We will find out who you are." he claims. Director Benz then introduces St. Vincent to his audience - a singer dressed in spacemen togs and high shiny boots, crooning weird sounds and emitting weird music that is not for everyone. Yet she has her fans. "I am not for everybody," she admits to the chauffeur.
The mockumentary involves St.Vincent also known as Annie Clark commissioning her friend, Carrie (Carrie Brownstein) to shoot a documentary of her new tour for "people to know who I really am." in order to reveal the real St. Vincent.
The adage of 'be careful of what you wish for" comes true in this case. Clark is not that enormous ego. Carrie catches her many times unaware and puts her subject in severe discomfort, though she has the highest respect for her subject's talent. Perhaps Clark should be St. Vincent and not her real self 100% of the time. The project falls apart, though it would seem unlikely as both are desperate to make the doc work - Carrie to show off her work and St. Vincent to revive her declining fan base.
The audience also sees the artist in predicaments. St. Vincent faces a crying fan claiming that her music had saved her life while it is clear St. Vincent just wants to get away from her. St. Vincent is also forced to humour her interview journalist who wants a plus one for her cousin to attend her concert. St Vincent finally says no to her face in one of the film's best (and rare humorous) scenes of the film.
The film also contains some odd moments with Dakota Fanning. Fanning plays Clark's same-sex lover. Clark insists that Carrie films herself and Fanning's character making out. It is clear that Carrie feels terribly uncomfortable doing this and has no intention of carrying it out.
THE NOWHERE INN, reveals the seriousness glamour music divas face in the industry and there is nothing much funny in this mockumentary.