FILM REVIEWS:
DEFINING MOMENTS (Canada 2021) **1/2
Written and Directed by Stephen Wallis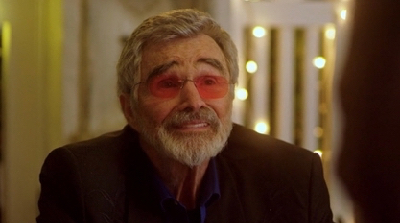 The incomparable Burt Reynolds (SMOKEY AND THE BANDIT films, THE LONGEST YARD, FUZZ) plays a father, Chester turning 80 who thinks he is about to die. Who would think that this would truly be a DEFINING MOMENT for this famous actor? DEFINING MOMENTS is Burt Reynolds' last movie. Hardly memorable, Reynolds has starred in many minor comedies like this one. "There are only two things sure in life - and that is death and love." Chester says in the film. Expect a bit of sentimentality - the audience is warned at the start of the film.
A defining moment is defined at the beginning of the film as one single moment in time that changes you from who you were to who you will be. Life, the audience is told is made up of these moments, and o take these moments one step at a time. The film, written and directed by one of Canada's most respected scriptwriters, Stephen Wallis is a Canadian production that features some famous Canadian actors like Graham Greene (who like Reynolds, is now in his twilight years) and Eric Peterson.
The talent of Wallis as a writer is evident in a few of the film's scenes. One is his use of the metaphor of the tiger for life. A senior explains that living life is like riding a tiger but one must to let the tiger or life eat one up. The film contains a storyline that might make many a critic or audience shrug - as there are already too many films about dysfunctional families meeting during Christmas or Thanksgiving or some other occasion. Yet, Wallis still keeps his so-so film interesting, with his film touching and moving without resorting to too many cliches and too much sentiment.
Director Wallis unfolds his film in Chapters - from one to ten, each a define moment being of changes, saying goodbyes, of truth or others. He coves a few current issues like Alzheimer's, mental illness and coming-out gay. On the not so successful level, the touches on the rekindling of a relationship - unfortunately Harlequin-style.
The film follows several families, most dysfunctional and with new problems with ether defining moments that ends during the Christmas season. This is probably the earliest a Christmas film is going to be releases - way before Halloween.
Defining Moments will be available on VOD and Digital October.
Trailer:
DETENTION (Taiwan 2021) ***
Directed by John Hsu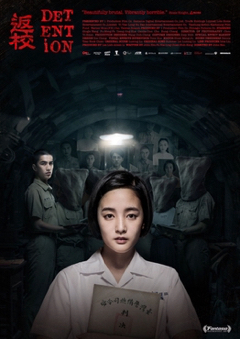 The film has an odd setting that non-Taiwanese should be made familiar with. It is 1962 Taiwan, during the time of the White Terror. The British have left and left with a bad taste in the mouth. Martial law is in full force across the country. In a time of extreme repression, all ideas considered to be dissident are banned, and the culprits are tortured or executed. One of these tortures is shown to be hanging the dissident upside down with his legs tied and dunking his head into water. The film says that very few survive this torture.
The setting is Tsuihua Secondary School, with young girls and boys getting their education as well as developing a strong impression on the rest of their lives. The school is not an exception from this on-going government oppression. Despite close surveillance by the military police, Professor Zhang (Fu Meng-Po) and his girlfriend and co-teacher, Miss Lin run an underground literary club where he and his students learn about banned books and dream of freedom. One of his club members, Fang (Gingle Wang, in a Golden Horse-nominated performance) is madly in love with him. It is a case of hero-worshipping and teenage love. One can guess that this relationship will not go smoothly. The usually shy teenage girl from an abusive home manages to open up like a book in his presence.
But then, Zhang disappears…… One night, Fang wakes up at her desk, the school around her changed and distorted. As she wanders through the sinister corridors and dilapidated rooms in search of her teacher, she meets her classmate Wei (Tse Jing-Hua). Together, they must confront the ghosts and monsters that have taken over their alma mater in order to find out what has happened there.
The film shifts non-linearity in time. Though this technique could turn out confusing in many films, it is used here to explain certain facts of the story - like who is the one who gave the forbidden book to the authorities.
DETENTION covers many film genres. The horror monster flick; coming-of-age drama; political thriller; teen love are blended in quite skillfully, except that the supernatural monster part seems out of place. Director Hsu, who also co-wrote the script. But the film is its most effective in his creation of the atmosphere of constant dread of an oppressed environment created under martial law.
DETENTION opens in theatres and virtual cinemas nationwide on Friday, October 8th.
Trailer:
THE RESCUE (UK/USA 2021) ***1/2
Directed by E. Chai Vasarhelyi and Jimmy Chin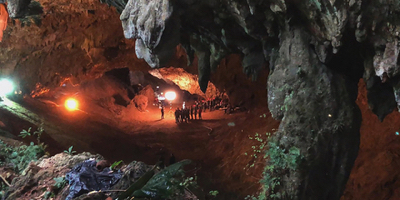 Oscar-winning directors E. Chai Vasarhelyi and Jimmy Chin detail the headline-making rescue of a Thai soccer team and their coach trapped in a cave for 16 days.
It has been 5 years since the worldwide rescue operation of a young Thai soccer team trapped in a cave overrun by flood waters. It is inevitable that a film be made of the heroic rescue and this documentary more than serves its purpose in recognizing the bravery and commitment of all those involved particularly the cave divers. Thai Navy Seals collaborated with an international collection of devoted cave specialists including British divers Rick Stanton and John Volanthen.
A fair amount of time in the doc is devoted to cave divers. The one who stands out is John from England. It is shown that cave divers are a unique breed of men who are suited to this very remote and dangerous activity. Many of them talk about being bullied at school for being different and unsuitable for team sports. Their solace is this extreme sport where they excel and find satisfaction.
The film begins after the boys and their coach have been trapped for 20 hours in a cave tunnel. Tthere are details in terms of educating the audience in the subject of physical geography. The structure of the underground tunnels, how the water seeps into the limestone and how difficult the rescue operation is, are all explained.
THE RESCUE is a doc that has the best elements of a suspenseful thriller, working better than many a fiction film. And the wonder of it all is that all that transpire on screen are true. The directors blend in footage from the news together with re-enactments of the diving and certain dramatic scenes to make the film an exciting whole.
Despite the sombre nature of the subject, the directors inject humour whenever possible to lighten the mood. One is the confrontation mentioned in voiceover between the young and fit Thai Navy Seals and the two middle-class cave divers. They do not see eye to eye at first and the Seals cannot understand what the middle-aged men could do well that they could not. The divers also claim that they enjoyed being flown first class to Thailand but had to sleep on a double bed. But top to toe as they admit, jokingly.
The film also contains a bit of animation - Asian style with the folklore of the Goddess and the formation of the mountains and rivers explained.
A solid and impressive list of interviewees have their say on screen. They include a retired Navy Seal, the expert cave diver, John, the widow of the Navy Seal who died out of lack of oxygen while trying to save the boys as well as other experts on the rescue and on the geography of the caves.
The boys are first found at the doc's 40 minute mark. As the audience feel a bit relieved, it is explained that the most difficult part is yet to come - the bringing up of the boys to the surface.
THE RESCUE premiered at the Toronto International Film Festival going on to win the Audience People's Choice Award for Best Documentary. This is not at all surprising as the doc contains thrills, suspense, humour, pathos - all the elements that make solid entertainment at the movies.
TRAILER:
TRAILER:
SUMMERTIME (USA 2020) **
Directed by Carlos Lopez Estrada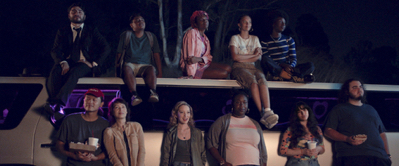 Over the course of a hot summer day in Los Angeles, the lives of 25 young Angelenos intersect. Who or what are Angelenos? Angelenos are residents of Los Angeles (L.A.) SUMMERTIME is the poetry and music of 25 Angelinos. Before dismissing the film as low end sub-par art, it should be noted that the film won the Audience Award at the Americana Film Festival. So, it is at least a crowd-pleaser that supposedly reflects the life of real life people in L.A. The film also won accolades of praise at other American film festivals. Americans, especially those in L.A. will find the film more relevant that others, though the film does offer a look at a good slice of life among races.
A skating guitarist, a tagger, two wannabe rappers, an exasperated fast-food worker, a limo driver-they all weave in and out of each other's stories. Through poetry they express life, love, heartache, family, home, and fear. One of them just wants to find someplace that still serves good cheeseburgers.
The film plays like a continuous series of skits, each of which contains poetry in the form of prose and rhymes, rap, songs and other forms. Some are funny and some are serious but all show a slice of L.A. life. If one is not that good, one can be sure that another round the corner might be an improvement.
A serious skit takes place on board a pic transit bus. As two elderly women kiss, a young man interrupts saying it to be improper behaviour in front of kids on the bus. The gay babysitter freaks out an rattles off gay rap poetry to him in front of he other passengers The man tries to get off the bus. The driver finally lets him off after she finishes her poetry.
The funniest one and my personal favourite involves art in the form of spare paint graffiti. The cops begin to arrest one such painter before realizing that he was paid to do the art by the proprietor of the property.
The good poetry skits are the ones that can tie in relevance, humour or drama with an L.A. slant. With good skits also come bad ones. The one in the coffee shop where a regular rants and raves over the change in menu is silly and annoying. Not only does this black teen embarrass his two friends, but also insults the poor waitress who is serving him. Of course, everyone understands that he cannot get his regular cheeseburger, but he could always go to a burger place instead of forcing all the customers to listen to his complaint poetry. The worst is the poem on time. 'Time has no fingers, no feathers. Time cannot fly unless you throw it away. Love is an art. Learn from the lessons of pain Time is your servant… etc. etc. All I ask from you is to fly. I will see you in the clouds some day. I got a pocketful of dreams, so don't let me down." Corny, sentimental and disconnected, director Estrada unfortunately uses the poem at the film's climax.
SUMMERTIME might not sound like something that might attract everyone. Director Estrada's film should be given a chance. To his credit, he has assembled an impressive list of artists, each performing their art, some but not all delivered in quite an entertaining manner.
SUMMERTIME opens digitally October the 5th, 2021.
Trailer: