FILM REVIEWS:
BEANS (Canada 2020) ***1/2
Directed by Tracey Deer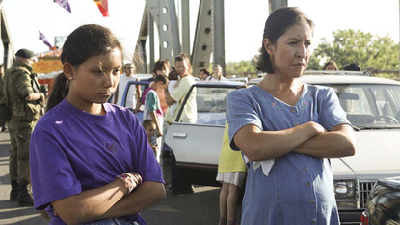 BEANS, a fresh coming-of-age story with a strong female indigenous presence directed by an indigenous female on an topical and relevant indigenous subject. The plot follows a Mohawk teen nicknamed BEANS as she navigates through lessons in life.
The purpose of BEANS is multifold. One is to show the harm violence and racism causes. Things get ugly. And things get uglier when innocent families and children are involved. There is plenty of anger displayed in BEANS, arising mostly out of ignorance and prejudice.
BEANS is based on true events. Director Tracey Deer's awesome debut chronicles the 78-day standoff between two Mohawk communities and government forces in 1990, Quebec. She places an indigenous family in the middle of these events, with a teen protagonist making her film also a coming-of-age story.
The film introduces the audience to an indigenous family. A daughter is being interviewed for college admission. Beans is the daughter's nickname. Beans is described in the report as focused and determined. But when she is asked the reason she wants to become a doctor or lawyer, she is stumped for an answer. The film moves on to the family dinner where it is revealed that the father is against the daughter going to college despite the mother's wishes. Director Tracey leaves the audience guessing at the daughter's real wishes. But there is always something clear about director Deer's direction. She is always one step ahead of her audience. One can also say director Deer is focused and determined like her subject.
The protests involving land rites of the indigenous people are first observed on TV by the family. The government wishes to build a golf course on Mohawk land and that includes their burial grounds. "Lets go!" says the mother. The subject is slowly introduced to the audience, as the family visits the protest site. What appears to be an innocent protest (on the way to it, the family sings 'We got the Power' in the car) ends up a violent and lengthy standoff.
Director Deer proves her prowess at drawing her audience's attention into her cause. Mother and father are seen arguing at the dinner table. When gunshots are fired and violence erupts at the protest, they embrace with passionate kisses, showing the deep down love they have for each other. Audiences are more drawn into a story grounded in individual emotions. Director Deer demonstrates a solid control of her characters. They are shown to be human beings with weaknesses and vulnerability, often not sure what they are doing. Deer also captures the indigenous spirit and accomplishes one of the rarest goals ever - that one should be proud to be Mohawk.
The film ends as the stand-off is resolved. With so much invested in the stand-off, one wishes more details would have been given as to how the problem was resolved. A few other events are too conveniently resolved in the story, like the settlement of the quarrel between Beans and her friend April, the aftermath of Beans' attack on a policeman and the delivery of the baby (shown off screen).
BEANS premiered last year at the Toronto International Film Festival to rave reviews. It finally opens in reopening cinemas.
Trailer:
THE BETA TEST (UK/USA 2021) **1/2
Directed by Jim Cummings and PJ McCabe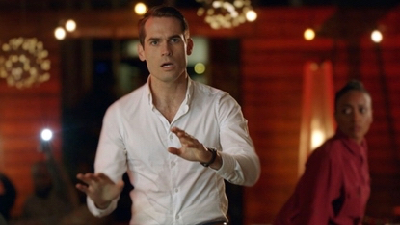 THE BETA TEST (UK /USA2021) **1/2
Directed by Jim Cummings and PJ McCabe
PJ McCabe and Jim Cummings perform multiple duties in the satire on Hollywood specifically on its talent agencies. McCabe does triple duties as co-star, director and writer while Cummings is the main lead, director, writer and editor of the film.
A soon-to-be married Hollywood agent, Jordan (Cummings) receives a mysterious purple enveloped letter for an anonymous sexual encounter. He succumbs to the invite and has a sexual encounter, blindfolded in the hotel. He becomes obsessed and thinks he sees the same woman when out with his fiancé, Caroline (Virginia Newcomb). Jordan becomes ensnared in a sinister world of lying, infidelity, and digital data. His poor assistant Jaclyn (Jacqueline Doke) has to endure all of Jordan's abuse as he takes it all on her, as she needs the job. In the meantime Caroline is upset at her fiancé's increasing disturbing behaviour. Jordan gets more and more obsessed and hunts down the source of the purple envelopes and contents.
Cummings is both disturbing and interesting to watch, especially when he goes off the rails and loses it. He often looks like younger Jim Carrey from his facial expressions.
The film aims at satire but successful satires like Terry Gilliam's 1985 BRAZIL and Stanley Kubrick's 1964 DOCTOR STRANGELOVE are often totally crazy and over-the-top. Of course these two classics would be almost impossible to beat, but to their credit, directors Cummings and McCabe try their best.
The film opens with a Swedish couple having a tense argument. When the husband discovers the wife's infidelity with her purple letter, he stands her. Every other encounter ends in murder which is quite unlikely. But the film dares to delve into the other aspects of the internet and their consequences like company packaging deals and whether they serve any real purpose.
A satire that does not come together because it is not outrageous or credible enough.
Trailer:
DEAD & BEAUTIFUL (Taiwan/Netherlands 2021) **
Directed by David Verbeek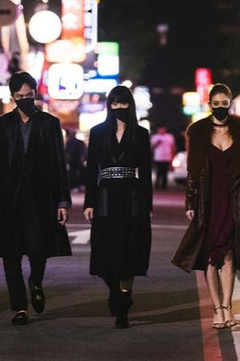 The second Taiwanese horror film in a month, DEAD & BEAUTIFUL arrives to compete and hopefully suck the blood out of competitor DETENTION.
DEAD & BEAUTIFUL follows a group of 5 wealthy brats ( Gijs Blom, Aviis Zhong, Yen Tsao, Philip Juan and Anechka Marchenko), heirs of millions as they all come from extreme wealthy families, friends who suddenly one night sprout fangs and a thirst for blood. How they cope with their new being is the story behind this teen horror flick. In search of excitement, the five friends form the "Circle," a group where they take turns designing a unique, extravagant experience for the others
The youth are introduced to the audience when one fakes his own funeral to surprise his friends. It turns out that fun and games are all the friends are interested in. They entertain themselves, embracing youth with the energy that director Verbeek imbues in his film. When they sport fangs, things begin to change. They also discover that they possess super powers. One of them is so impressed by his newly discovered hypnotic powers at a 7-Eleven store, where the female clerk is mind-controlled to accept his declined credit card.
The story unfolds as if someone is writing a daily page in a diary. Day 1 in the vampire diaries… reads the heading. One part assumes that the group is being filmed, like a documentary, though this tactic is not carried out throughout the entire film. One then wonders what the purpose of not carrying out this idea to its fullest.
There is something sexy about blood drinking. Director Verbeek uses the fact to the best of his ability. DEAD & BEAUTIFUL might be the sexiest vampire film since Tom Cruise and Brad Pitt 'did' it in Neil Jordan's 1993 adaptation of Ann Rice's INTERVIEW WITH A VAMPIRE.
DEAD & BEAUTIFUL is sexy and glossy to look at. But the story goes nowhere and one can hardly feel for the film's love story between two of the group. DEAD & BEAUTIFUL eventually ends up a pretty bore despite the fact that the supernatural story is supposedly tied in to folklore and quiz believe if you believe folklore.
DEAD & BEAUTIFUL is not as good as it looks!
The film premiers on Shudder November 4th.
Trailer:
GAZA MON AMOUR (Palestine/France/Germany/Portugal/Qatar 2020) ***1/2
Directed by the Nasser Brothers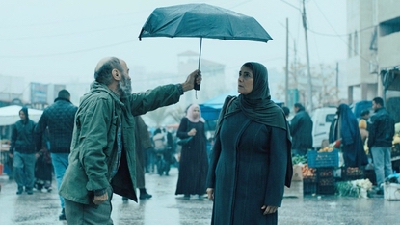 GAZA MON AMOUR, set in the Gaza strip about two elderly folk finding romance in their latest lives might not seem the kind of theme one would rush to the theatres for - even if one is a film cineaste. But this senior love story is totally charming and is a standout for the following reasons. The writer/director brokers have set their story in an unfamiliar place, the Gaza strip, which the characters in the film describe as a poverty-stricken un-livable place. But it is 'my place', says Issa (Salim Daw). This strange place has its wonder and a sort of ugly fairytale look. The film is full of a tongue-in-cheek humour, characteristic of its directors, a kind of absurdity grounded in reality. And the film is very funny.
The main character is introduced as a cigarette smoking, dishevelled, kind of out-of-shape and unattractive 60-year old fisherman, named Issa. (Images of the two director twin brothers reveal a similar disheveled look.) He has lost his one chance in love as a kid, for falling in love with the prettiest girl in school, who when asking for her hand with his father, gets a slap in the face instead. She is above his standing, rich and wealthy and her hand had already been spoken for. But now Issa, has his eye for the local seamstress, Siham (Hiam Abbass), even though his terribly nosy sister is arranging women for him to choose.
If all these events sound ordinary, a catalyst in the form of the statue of the Greek God Apollo with an erect penis is inserted into the story. Issa takes the statue which his net captures from the sea home (passing through the military checks in the darkness of night) only to be discovered and arrested by the local police. Issa is put in jail - a horrid place, when compared to the Canadian cell, which looks like a hotel room in comparison. There is much humour in Issa's antics with the statue. While moving thestaue, he accidentally breaks off its penis. Issa takes the penis in the next hilarious scene to a jeweller to find out its worth. "I will pay you a lot for it," the jeweller says. Issa remarks that it is not for sale.
The audience is given time too with Siham who herself is having problems with her divorced daughter staying with her. But love is in the air and destiny will not prove dire circumstances preventing love from manifesting itself.
GAZA MON AMOUR premiered at the Toronto International Film Festival in 2020 followed by being chosen as the closing film for the Toronto Palestine Film Festival. The film picked up the NETPAC Award at TIFF 2020 before going on to be selected as Palestine's official entry for International Feature at the 93rd Academy Awards. It opens on VOD/Digital on November 5 via Vortex Media.
Trailer:
THE HARDER THEY FALL (USA 2021) ****
Directed by Jeymes Samuel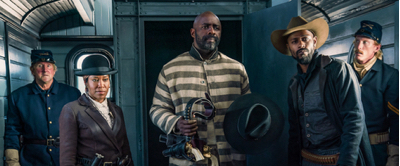 THE HARDER THEY FALL is a black western, almost fully, except for the bank robbery sequence that takes place in Marysville, a fully white folk town. Otherwise, all the characters and scenes contain black people. The film opens with the words: "While all the events of the story are fictional… These. People. Existed". In the script, co-written by director Samuel, he researched famous characters of colour in the old west. These characters include the ones in the film like Stagecoach Mary (Zazie Beetz), the outlaw hero Nat Love (Jonathan Majors), the famous Sheriff Bass Reeves (Delroy Lindo), the Nat Love gang and the Rufus Buck gang led by Rufus Buck (Idris Elba) among others. Though in real life history, these characters never ever met, director Samuel put them all together in his fictitious tale in an amazing violent western that is as hard to resist as it is not to be entertained.
Gunning for revenge, outlaw Nat Love saddles up with his gang to take down enemy Rufus Buck, a ruthless crime boss who just got sprung from prison.
The soundtrack and music is credited to director Samuel who worked with Jay-Z as his collaborator. The soundtrack contains a rich mixture of hip-hop, gospel music and operatic music. he catchy title song "The Harder They Fall'' can be heard during the closing credits.
If the film has an occasional Quentin Tarantino feel, it is the opening sequence that is reminiscent of the violent opener in INGLORIOUS BASTERDS in which a home is invaded and violence occurs. Director Samuel also takes liberties with the history of the old west as Tarantino changed the facts of history as in ONCE UPON A TIME IN HOLLYWOOD (Sharon Tate did not get murdered) and INGLORIOUS BASTERDS (Hitler gets killed by fire in the movie theatre). And there is the sudden violence with a sly humour.
One and the only few times direct humour is injected into the movie is when the words of the town Maryville are splashed in white on the screen. After all, Maryville is the totally white folks town that the lack bank robbers were going to hit next.
Three action set-pieces that stand out not including the climatic shoot-out are the train robbery, the bank robbery and the jailbreak. The train robbery is memorable for the fact that it is perhaps the first and only one in film history led by a coloured woman, Treacherous Trudy (Regina King).
The climactic showdown in the town has the feel of Zinnemann's HIGH NOON. An additional twist to the story (not to be revealed in this review) is the revelation when the hero and villain confront each other for the final time. There is also an exciting bitch fight between Stagecoach Mary and Treacherous Trudy to boot. And as most westerns end, there is a ride into the sunset but with a little difference.
THE HARDER THEY ALL cost almost $100 million to make and director Samuel's film is worth every cent of it. The movie to see this week!
TRAILER:
A MAN NAMED SCOTT (USA 2019) **
Directed by Robert Alexander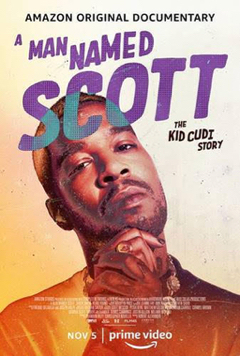 A Man Named Scott is an upcoming American musical documentary film, directed by Robert Alexander, that explores Kid Cudi's journey over a decade of creative choices, struggles, and breakthroughs, making music that continues to move and empower his millions of fans around the world. Prime Video will release A MAN NAMED SCOTT globally on November 5, 2021.
A MAN NAMED SCOTT is a doc on Scott Ramon Seguro Man Named Scottescudi, better known by his stage name Kid Cudi, is an American rapper, singer, songwriter, guitarist, record producer and actor. He has widely been recognized as an influence on several contemporary hip hop and alternative acts. His music is often autobiographical, telling of his childhood hardships dealing with depression, loneliness and alienation, his struggle with alcohol and drugs into adulthood, as well as themes of heartbreak, dissipation and celebration. Cudi began to gain major recognition following the release of his first official full-length project, a mixtape titled A Kid Named Cudi (2008), which caught the attention of American musician Kanye West, who subsequently signed Cudi to his GOOD Music label imprint by late 2008.
The doc directed by Robert Alexander hails Cudi as a philosopher and saviour for troubled kids. But to this critic, judging from the contents of the doc and history of Cudi, Cudi is not the man he is portrayed to be. Spouting would language with words like fuck and motherhfucker while on stage, Cudi comes across more like a mentor for backward teens, never mind his talent for music.
"I need to feel something with the music." says Cudi at one point in the film. People often use the excuse: "At least I am honest." when insulting another person or saying something that the other person does not want to hear. The same appears to be the rule of this doc and its subject of Cudi. Cudi who appears to be the know-it-all on philosophy talking about the sound and offering advice to his fans. he talks about his honesty and then the world discourse about his coke addiction after he is arrested for possession. Cudi claims he is presently clean. The audience is asked to believe someone who has constantly lied to them in the past.
The doc demands the impossible - that people believe the shit that Cudi and his other cohorts say. These people speak with a lot of shit in their dialogue, literally and otherwise. The word shit is a lot of dialogue and a lot of what he says is shit as well. Idiots like Shia Labeouf also have his say, and it is a wonder the reason director …. includes his sayings on this doc especially after LaBeouf was fired by director Oliver Wilde (the director of BOOKSMART) from the film DON'T WORRY DARLING for bad behaviour on the set. Many of the interviewed cannot speak proper English, using words like 'like' and 'shit half the time. Another actor is interviewed, Timothée Chalamet, but he sounds more polished, educated and more believable because he speaks properly with no foul language in his dialogue.
Cudi has one of the most influential albums in the last 20 years. Of course, this is a claim the doc makes with no substantial evidence.
Honesty and Advice are two elements that only occasionally go together but intelligence is another key factor. This critic does not see much intelligence in the film's subjects and content. Cudi says that Kanye West is the man that saved him - yes, that same Kanye who cannot keep his marriage shit together.
"He smiles a whole lot. But, hiding behind the smile. He is such a fucking feeler. He is always mining for the truth." says one of his friends. Cudi talks about his dark times and the song lyrics for a major length of the film. The doc also includes lots of repetitions making it seem and perhaps but it is, all over the place.
The doc shows Cudi the man, warts and all. His talent and spontaneity as well as his substance abuse, lies and dark side are exposed. Cudi also talks about the need to get his shit together. But who doesn't?
"Don't be sorry. You are saving lives by telling your story." These are the responses Cudi gets from his fans from the internet. It must be really downgrading to have a cokehead and liar as one's mentor.
The film does offer at least an honest look at Kid Cudi. Not everyone will like what they see. And not everyone will find this doc on Kid Cudi as enlightening as it hopes to be. The doc comes across like its subject Cudi - often dishonest while attempting to be honest and eventually as totally detestable.
Trailer:
SEULES LES BETES (Only the Animals)(France 2019) ****
Directed by Dominik Moll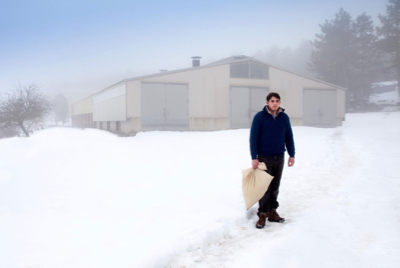 French German director Dominik Moll is a director that is one to watch. He made a mark in the international film scene with 2000's HARRY, UN AMI QUI VOUS VEUT DU BIEN (HARRY, HE'S HERE TO HELP) which won him the Cesar for Best Director. 5 years later in 2005, his LEMMING was chosen to open Cannes. Both are excellent films having the theme of sophisticated murder (or at least an accidental death) reminiscent of the best of Chabrol. LEMMING never made a release in North America. Fortunately, Moll's latest SELUES LES BETES, finally gets a release here though late because of the Pandemic. SEULES LES BETES is again definite proof that Moll is a top-notch director whose films never fail to entertain and fascinate.
SEULES LES BETES which translates more accurately to "Only the Beasts" (as the word in French for animals is animaux) is based on Colin Niel's 2018 French novel "Seules les bêtes". It is a fascinating tale of murder and coincidences and the human's desire for love.
From the very first 15 minutes when the film opens, director Moll grabs his audience's attention and never lets go. The audience sees a poor teen riding his bike with a goat on piggy-back as he steers his bike towards the local village in the Ivory Coast, Africa. The next scene shifts to the cold winter snow and ice of the French Alps in southern France. One immediately wonders what these two scenes, so different from each other and involving two places so far away from each other, have to do with each other. Plenty! As Moll shows, through his expert storytelling, coincidences affect the lives of his 5 characters. The common theme in the stories of the five is the insatiable desire to find the perfect love, and at all costs. Moll tells his story, intercutting them and in a non-chronological order, enhancing the film's mystery in the process.
Alice (Laure Calamy) is a married social/medical worker who makes her rounds in the country that includes a mentally affected patient, Joseph (Damien Bonnard) who she is having an affair with. Her husband, Michel (Denis Ménochet) is desperately searching for love over the internet with a girl who does not exist but whose photo is put up by the internet scammer in Africa in order to entice him to send money over. The photo used actually belongs to Marion (Nadia Tereszkiewicz), a waitress. Director Moll moves his story to the real Marion, who falls head over heels in love with Evelyne (Valeria Bruni Tedeschi) who is uninterested in a relationship. Evelyne is the woman who is missing and is the common thread that ties all the stories together. The less said about the plot the better as the entertainment depends largely on the twists and turns of the story.
One might complain about the extreme coincidences that occur in the story. But this fact only serves to establish director Moll's gift in making the film's story believable and of course frightfully entertaining.
ONLY THE ANIMALS opens November 5 in Toronto (Carlton) and a week later in Vancouver and Montreal.
Trailer:
RED NOTICE (USA 2021) ***
Directed by Rawson Marshall Thurber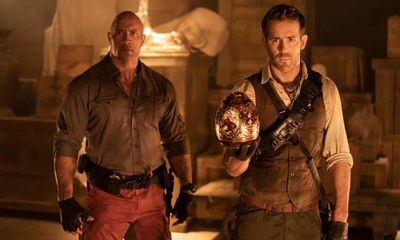 RED NOTICE as the audience is explained at the beginning of the film is the highest degree of arrest issued internationally for a most wanted criminal by Interpol.
An Interpol-issued red notice is thus a global alert to hunt and capture the world's most wanted. But when a daring heist brings together the FBI's top profiler, John Hartley (Dwayne Johnson) and two rival criminals (Gal Gadot as Sarah Black or The Bishop, Ryan Reynolds as Nolan Booth), the film entices you to watch and see what will happen next.
Dwayne Johnson and Ryan Reynolds do much of the same in RED NOTICE, the new Netflix film that opens in theatres for a week before moving on to the subscriber streaming channel. Both play smart talking leads, Reynolds the 'bad' guy - master criminal and Johnson 'super' FBI agent. The script pits the two against each other. Problem is that both are stars so they must both be likeable that the script ensures is carried out.
The script surprisingly offers one truth when Nolan tells Hartley: "It is not what you have done that counts but what others think you have done that counts." (On a personal note: I teach in a private school and my personal adage is: What they think makes a good professor: It is not what students learn that counts but what they think they have learnt from the professor that counts.)
"I'm beginning not to like you," says FBI Agent Hartley to crook Nolan in the Bali hotel room scene after Nolan makes wisecracks. The FBI agent is not the only one that is annoyed by Nolan. Reynolds as Nolan keeps cracking these supposedly sprite unfunny side remakes that have already tested audiences' patience in films like the DEADPOOL and more recent FREE GUY action movies.
The prison escape segment says it best in the description of the entire film. Totally improbable and likely that this escape would succeed, but nevertheless entertaining to watch.
The film is mostly a collection of action set pieces, loosely connected together and filled with special action effects. Narratively very weak but the story contains a few neat twists after the second half, not that the target audience of these kinds of action pictures would care. The lengthy opening sequence where Nolan steals the Egyptian egg raped in an accident that includes a Porsche scratched ( showing what a waste of a good expensive car) could be done more silly without much effect to the story line.
Good to note that after a bidding war to the rights of making the film estimated at a total cost of between $160-$200 million, Netflix got the film. Costs also rocketed from reshooting rescheduling due to the Pandemic. Also to note that both Dwayne Johnson and Gal Gadot both earned a whopping $20 million each for their roles making Gadot the current highest paying actress on the planet. No record how much Reynolds got paid.
RED NOTICE should be seen on the big screen for its special effects and expensive action set-ups. The screening a week earlier makes sense. To those who don't care, RED NOTICE opens on Netflix next week. RED NOTICE is Netflix's most expensive film to date.
Trailer:
SIN LA HABANA (Cuba/Canada 2020) ***
Directed Kaveh Nabatian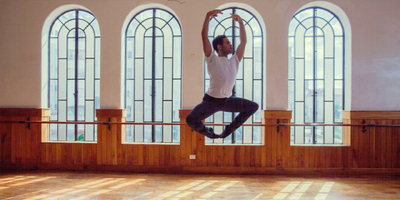 SIN NO HABANA, translating to WITHOUT HAVANA is the all-too familiar tale of immigration that is in reality happening around the world, particularly Canada where the film is set.
The film is fiction that looks at immigration with reference to these issues:
- the difficulty of assimilation into a new society for reason of language, customs and activity
- sponsorship with reference to bringing in a spouse
- romance between cross culture with reference to immigration
Director Nabatain has Persian blood, which is probably the reason his Canadian character is originally from Iran and not born and raised in Canada.
A young, impoverished Afro-Cuban couple dreams of wealth and success. An Iranian-Canadian divorcée yearns for personal freedom. These three lives converge in Sin La Habana, a film that explores the lengths people go to in order to achieve their life goals. Leo, a talented ballet dancer (real-life ballet dancer Yonah Acosta) and lawyer Sara (Evelyn Castroda O'Farrill) yearn for a better life together by leaving Cuba; one sure way is for Leo to romance a hapless tourist. This plan works all too well, as the lonely Nasim (Aki Yaghoubi) quickly falls for Leo's charm, and soon makes his dreams come true by inviting him to Montreal.
Everyone has dreams and in the words of Nasim, " I have the right to be happy. Why can't you be happy for me?" Nasim insists (to her sister) that right even though she knows her young Cuban is cheating on her. Leo, a talented ballet dancer (real-life ballet dancer Yonah Acosta and the film has a few exquisite dance sequences showcasing his talent) and lawyer Sara (Evelyn Castroda O'Farrill) yearn for a better life together by leaving Cuba. The reason given, which is true, is that they live poorly, etching a living in a shanty town. Sara says she can make much more as a lawyer in Montreal. One sure way is for Leo to romance a hapless tourist. This plan works all too well, as the lonely Nasim quickly falls for Leo's charm, and soon makes his dreams come true by inviting him to Montreal. Leo arranges an illegal sponsorship marriage for Sara so she can enter Canada.
The script shows Nasim as a resourceful woman who stands for herself once she discovers Leo's girlfriend is then in Montreal. Nasim takes matters into her own hands disguising herself and arranging a meeting discreetly in a coffee shop in a sequence worthy of Hitchcock. At one point when Leo tells Nasim he loves her and shrugs, not easily falling for sweet talk. "You don't even know me. Do you even like me? she questions Leo, who is suddenly taken aback. Leo is quite bright too as in Sara. These are intelligent well-written roles.
The film has an open ending that might look like a cop-out - the main complaint of the otherwise compelling film.
The film contains some stunning cinematography as director Nabatian is a cinematographer himself. The slo mo scenes of Leo dancing ballet or the boys rollerblading down the Havana streets are magnificent.
Trailer: