THE ADVENT CALENDAR (La Calendrier) (Belgium/France 2021) ***
Directed by Patrick Ridremont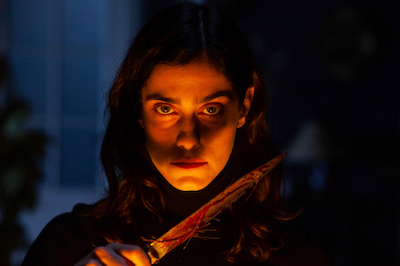 From Belgium comes this deliciously wicked Christmas treat that is as downright nasty in its premise. THE ADVENT CALENDAR promises a surprise treat or trick very day in December from the 1st. The film unfolds in days as the protagonist a paraplegic, Eva is presented with this gift from her friend, Sophia visiting from Germany during Christmas.
Helpless disabled damsels in distress appear to be favourites in the horror genre. Audrey Hepburn and Mia Farrow were blind characters stalked by killers in WAIT UNTIL DARK and BLIND TERROR. The distressed damsel in THE ADVENT CALENDAR is a beautiful ex-dancer wheelchair bound. Her killer in this case is not so straightforward. A blind victim can run away from her attacker but a paraplegic cannot.
Eva (Eugénie Derouand), is an ex-dancer, is now using a wheelchair, unable to walk, as she is introduced in the film's first scene as she swims and has to be put in her wheelchair after the swim. A male swimmer hits on her, only to be taken aback after he discovers his prized date-to-be to be a paraplegic. Eva replies with a snide remark indicating that she is independent and strong enough to accept her fate and that she can be nasty if she wants. When her friend Sophie (Honorine Magnier gives her an old wooden antique advent calendar that she stole from a vendor at the Munich market in Germany before Christmas. (It is a magnificent ornament that I would have no qualms purchasing myself.) Sophie explains the German instructions that come with the gift.
There are three rules that must be followed or "I will kill you!" follows the warning. The first rule is that if you eat one candy, you must eat them all. The second rule: "Respect all rules until you open the last door" and the third: is that " if you dump the calendar then…."
Eva realizes each window contains a surprise that triggers repercussions in real life. Some of them are good, but most of them are bad, really bad.
The first date is a date that Sophie arranges for date with herself and Eva and his friends. The date turns out to be a disgusting, tactless womanizer who makes sexual advances towards Eva. "You did not resist when I started," he says to which Eva replies to the asshole that paraplegics cannot feel waist down. He gets what is coming - an awful death.
Now Eva will have to choose between getting rid of the calendar or walking again – even if it causes death and destruction to everyone she holds dear around her.
The story contains three very evil human beings who seem to be put down on the planet to torment Eva. Her boss is unsympathetic to Eva's disability, degrading and calling her a half woman. Her father's nurse sells her father's house and puts him in a home. And there is Boris the asshole date.
Director Ridremont adds to the horror with a palette of colours, darkness and things that go bump in the dark. In one splendid cry scene, Eva wakes up in a hospital with a crazy patient besides her, now knowing how she got there.
The Shudder original French (Belgium) horror fantasy THE ADVENT CALENDAR opens exclusively on Thursday, December 2nd. Combining Faustian themes and allusions with European folklore and tense, chilling terror, the Shudder Original film provides some highly unusual holiday season horror.
Trailer:
BENEDETTA (France/Netherlands 2021) **
Directed by Paul Verhoeven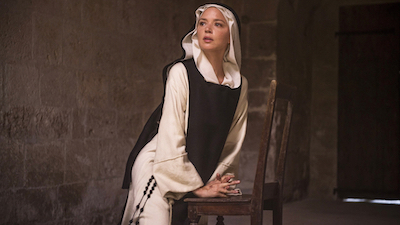 Premiering at Cannes this year, BENEDETTA is the much awaited film from Dutch director Paul Verhoeven after the immense success of his precious film ELLE, the film that should have won Isabelle Huppert the Oscar for Best Actress.
BENEDETTA is the name of the promiscuous nun that finally ascended to the privileged role of Mother Superior. The film is loosely based on the 1986 non-fiction book Immodest Acts: The Life of a Lesbian Nun in Renaissance Italy by Judith C. Brown. It is 'supposed' to be a biographical drama film of the novice nun in the 17th century who joins an Italian convent and has a lesbian love affair with another nun. BENEDETTA reminds one immediately of Verhoeven's earlier piece with Jennifer Jason Leigh FLESH ND BLOOD, a historical drama set in the 1500's for its graphic sex scenes and violence. The violence in BENEDETTA includes a almost unwatchable torture scene.
The events of the movie occur during the 17th century. The main character is Benedetta Carlini, who is an Italian nun in the abbey of a convent in Tuscany. She was considered to be mystical and venerated by her religious entourage, and finally Benedetta was arrested and judged for sapphism.
There are lots of nudity and lots of girl-on-girl sexuality. Though biographical, Verhoeven's film does not feel like one. The film comes across more like soft porn made by a dirty old man than a film that explores freedom and the dangers of religious fanatics.
The only almost saving grace of the film comes from Charlotte Rampling, who plays the ousted Mother Superior. Her character is confused and confusing and Rampling is superb at playing characters of this nature.
The film opens at the TIFF Bell Lightbox December the 3rd.
Trailer:
BETRAYED (Norway 2020) ***1/2
Directed by Eirik Svensson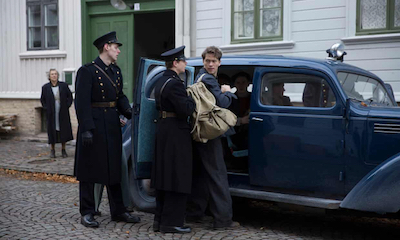 BETRAYED, a Norwegian film based on true events, follows the Jewish Braude family's experiences when the Jews are arrested and deported from the camp Berg, on the ship Donau and down to the extermination in the concentration camp in Auschwitz. Though the topic of Jews and the holocaust is a frequent recurring theme in films, this is one rare one that reveals the Norwegian post of view. Apparently no Jew can escape the grasp of Hitler during WWII.
The film begins with German planes flying cars the Oslo fjord and announcements made to Norway not to resist the German military. Before one can say Geronimo, the Germans have taken over Noways, arresting and rounding up a major part of its population - the Jews. The film narrows down to a briefing in a police station where the police are told to round up and arrest the News and that they are performing a civic and respected duty. Ironically, it is mentioned that the work should be done fast so that they can celebrate Christmas in time.. The film shows how fast evil spreads and what one must do to prevent the spread or to resist and fight. The film flashes back in time to this briefing and moves forward with more horrid events as the Jews are transported by ship to concentration camps.
The film has a very personal feel as it centres on a boxer, Charles. The film introduces him in a tough boxing match as the main character. He narrowly beats his Swedish opponent before celebrating with drinks with his brother and friends. The audience is introduced to Charles' family when he returns home to his strict Jewish family when he has to explain to mother the reason he and his brother were late.
His family are Jewish and proud of their race, which they call being Jewish and not a religion. At one point in the film when Charles says he is more Norwegian than Jewish, he gets a tight slap across the face from an angry father, who then admonishes him loudly not to forget his roots.
The hours of the Holocaust is not shown in graphic terms but in the psychological and mental terms. No one can disclaim the tension and mental stress each and every Jew went through, not knowing what has happened to one's family, even whether they are dead or alive. As they say, not knowing is worse than knowing the worse outcome. Director Svensson
effectively captures the fear, dread and menace of the period through the eyes of Charles Bruade resulting in a handsomely mounted and deeply emotional film. This film, because of its more personal nature, might be longer remembered for its details than Spielberg's SCHINDLER'S LIST.
The closing credits inform the audience of the whereabouts or deaths of each member of the family and their associates. The ending serves to remind one of the evils that man is capable of as well as the heroism of a select few.
BRIAN WILSON: LONG PROMISED ROAD (USA 2021) ***
Directed by Brent Wilson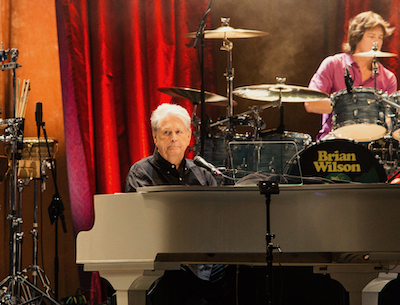 The Beach Boys are one of the most critically acclaimed and commercially successful bands of all time, selling over 100 million records worldwide. The group's original lineup consisted of brothers Brian, Dennis, and Carl Wilson, their cousin Mike Love, and friend Al Jardine. Distinguished by their vocal harmonies, adolescent-oriented themes, and musical ingenuity, they became one of the most influential acts of the rock era. Their most famous song 'Good Vibrations' has been heard the world over, countless times. Briam Wilson is the group's one time leader and chief composer. The band had their last reunion in a 2012 performance. Not all the original members are around, one having drowned.
Brian Wilson is touted by friends and associates as a very talented musician. Which biopic would ethane friends and associates tout their talent? When asked about the creativity process during an interview, the now aged and white haired Brian Wilson explains: It starts from impulses from the brain, then goes through the fingers to the piano and then to the speakers. If this sounds all too amusing, Wilson's face looks as if the man was dead serious.
But in truth, called a genius for his novel approaches to pop composition, extraordinary musical aptitude, and mastery of recording techniques, he is widely acknowledged as one of the most innovative and significant songwriters of the 20th century. His work is distinguished for its vocal harmonies, complex orchestrations, and introspective or ingenuous themes. Wilson is also known for his past singing style, in which he sang high without engaging in falsetto, and for his lifelong struggles with mental illness.
There are a few fine moments in the film where the audience sees Brian and the Beach Boys at work, recording and on stage. Brian is also revealed as a human with faults, typically falling into the same trap as many famous musicians. He succumbed to gluttony, alcohol and substance abuse. At one point, he claims on camera that he weighs 311 lbs. But he had a coach bring his weight down to a manageable one.
Brian is known for doing bad interviews. The film was originally conceived as a straightforward documentary in which Brent interviewed Brian in a room, but this failed, as Brian was unwilling to talk in this format. It was then suggested that the interviews be conducted by Rolling Stone editor Jason Fine, who had previously written articles about Wilson and had been planning to ghostwrite Wilson's second memoir, I Am Brian Wilson. One of Fine's recent articles about Wilson was written from discussions the two had while driving around Los Angeles together. A similar format was adopted for the film, with over 70 hours of footage shot across three weekends.
Brian Wilson is still active as a musician. "Brian Wilson At My Piano: His Classic Hits" reimagined for Solo Piano can be bought online. The film's soundtrack contains never before released material including the catchy song "Right Where I Belong".
BRIAN WILSON: LONG PROMISED ROAD is a relatively ok biopic documentary about a musician that is only relatively famous. Not many would remember him unless one is a Beach Boys fan or in the music industry. As such, missing this doc would mean not missing much.
Trailer:
DEATH OF A TELEMARKETER (USA 2020) **
Directed by Khaled Ridgeway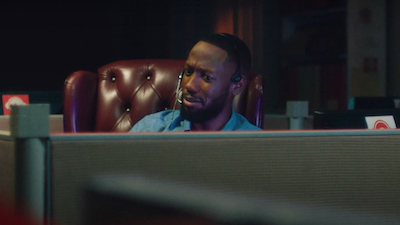 DEATH OF A TELEMARKETER is low budget comedy that follows a smooth-talking telemarketer, Kasey Miller (Lamorne Morris) who finds himself at the mercy of the man he tried to swindle. Like its protagonist, the film seems to have little to offer, but it delivers the package very attractively with lots of smooth-talk, funny lines and quirky hilarious characters. The film is a good sell and not a bad comedy either. But it suffers once it gets serious towards the end.
Just as a telemarketer needs to grab his target's attention at the start, director Ridgeway does the same with a uppity opening in his film complete with sassy song with lyrics like " I got what you need, bring the lock and I will get the key… They don't make them like me no more…one thing for sure." Then the words titling the opening segment: "A wonderful fucking day in the Valley". The audience is then introduced to Kasey Miller working his so called 'magic' in his cubicle, scoring a sale followed by hip thrusting movements. OK .- audience attention is successful. One trouble that many films abut trickers fall into is the audience dislike for their main slimy protagonists. If Kasey turns out a bit annoying, Morris portrays him with lots of zest, reminding one of a younger Eddie Murphy, eager to show off his talent. Director Ridgeway makes him sympathetic by being sincere, like buying an engagement ring for his soon fiancé, yet forgetting to make dinner reservations at the correct time.
In the story, Kasey (Lamorne Morris) is in a close sales contest with newbie employee, Barry (Woody McClain), and must score a big sale by midnight or he will lose the largest commission to date. Kasey is a smart talking telemarketer who not only smart talks to his potential clients for what is termed life's 3 essentials (phone, able and internet) but also his girlfriend (Alisha Wainwright) who knows Kasey already all too well and is fed up with his lies. Out of desperation, Kasey waits until everyone leaves the office and finds the Do Not all list. He thinks he's found the perfect mark, but instead finds himself held hostage and at the mercy of Asa (Jackie Earle Haley), the man he tried to swindle. Now Kasey must pass Asa's twisted test on ethics if he wants to live to sell another day.
Haley plays Asa seriously - Asa being the only non-funny role. Haley (first seen as a kid in Peter Yates' BREAKING AWAY) always plays bad guys and replays a nasty one in they film as the karma that comes to bite Kasey in the ass. Asa appears int the one third mark of the movie, when the film takes a more serious turn. Another cold actor, Haley Joel Osment (the one nominated for an Academy Award in THE SIXTH SENSE) plays Asa's not-too bright son.
The film is filled with many other characters providing solid laughs. Kasey's competition is Barry who is equally funny. "They can't see my smile. But they can feel it!" he says of his clients. Even the security guard is funny, practicing self help exercises. Kasey's Asian co-worker is the funniest.
But once the film starts to deal with its message part, the drama fails. Every time a dramatic point is reached, the effect is drowned by comical remarks. This is a pity as actor Morris tries very hard and is funny. The film should have been marketed and re-done as all comedy.
DEATH OF A TELEMARKETER opens in theatres and VOD December 3, 2021. It is good for a good laugh.
Trailer:
THE END OF US (USA 2021) ***
Directed by Steven Kanter and Henry Loevner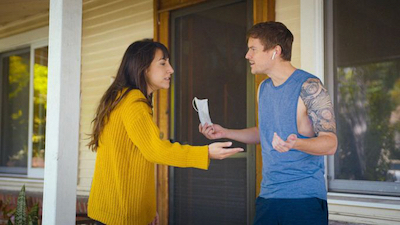 As the title implies THE END OF US is a break-up comedy (rather than a romantic comedy) about a couple undergoing a breakup they decided upon just before the Pandemic hit the world.
Nick Boal (Ben Colemand) and Leah Russo (Ali Viagiano) are a couple who live together with a relationship problem. The male is not working, apparently trying to polish his career but in reality is scrounging off his girlfriend who pays for everything including the rent and groceries. To be fair Ben applies for auditions, but often never shows up. He has a few hours working his bartending job. Ben does water the plants with a hose. Leah's friends do not like Nick and are happy to hear the news of the impending break-up. As film of this nature go….. boring tedium and predictable plot….. they have difficulty breaking up and again…. ho-hum, cliches…. have sex one evening after too many drinks. Will they stay together and come back as a couple or will they try to make other disastrous dates? This is a question that is finally answered in the last scene. Whether they do or not has very little to do with what happens in the rest of the story. Neither would many of the audience care.
Written and directed by Steven Kanter and Henry Loevner, the couple face similar problems as the couple do in the Pandemic. One is too cautious and the other is not. Ben goes out with friends and comes back ready to infect her, Leah complains. When Leah actually plays around with another date during Covid, Ben freaks out. Ben and Leah argue about mask wearing; obeying chief medical officer's guidelines in California and other typical Covid stuff that every audience member has recently also gone through. All this makes watching rather uninteresting. Who wants to watch a repeat of the tedium everyone went through in the horrid lockdown past year?
At one point in the film one of them remarks: "We both have been exposed; we should get tested." Which couple has not come to the same point in time during Covid?
The film unfolds with the days of the Pandemic like Day 1, Day 2 , day 3 and so on…. One can see how the Pandemic hit the world anyhow hopelessly hopeful the couple and the world were that the Pandemic will not last.
There are some sweet and funny moments. When Ben moves out, Ben discovers that no one will take him in. The fact that Leah feels sorry for him shows the strength of the relationship in the past, which makes for good relationship insight. It is also funny to look back at the pandemic and see the silly things that everyone did to curb the spread, that did not work - like wearing masks in public.
THE END OF US is a comedy centred on a white couple. To be politically and racially correct, there are black and minority characters, though they are mainly in the lesser important roles. But at these times, one is a bit tired of watching inter-racial couples, put into the script just for the purpose of being racially correct
Despite a few funny and sweet moments, THE END OF US reminds the audience of times that either they either wish to forget or might be amused at.
THE END OF US opens In Select Theatres December 3, 2021 and Available on Digital and On Demand.
, Trailer:
THE HAND OF GOD (È stata la mano di Dio)(Italy 2021) ****
Directed by Paolo Sorrentino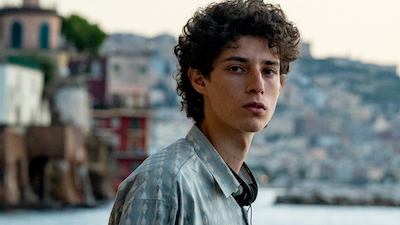 THE HAND OF GOD is a phrase used by Argentine footballer Diego Maradona to describe a goal that he scored during the Argentina vs England quarter finals match of the 1986 FIFA World Cup. The goal took place on 22 June 1986, at the Estadio Azteca (Aztec Stadium) in Mexico City. Under association football rules, Maradona should have received a yellow card for using his hand and the goal disallowed. However, as the referees did not have a clear view of the play and video assistant referee technology did not exist, the goal was allowed, thus winning Argentina the match. THE HAND OF GOD is also a phrase that also be used to refer to intervention by the deity as in fate. In the film, the young hero, Fabietto (Filippo Scotti) attends a football match in which his idol Maradona is playing thus escaping death if he stayed at home. During the match at his home, there was a carbon monoxide leak killing his parents.
In the movie, the audience sees Fabie's father, Savrio (Toni Servillo) reading in the living room while his mother, Maria (Teresa Saponangelo) is knitting. It is a slow paced scene as the father yawns and nods off, while his mother does the same as her head falls on his shoulder. It is a sweet, somewhat romantic scene, but it is soon revealed that it is the carbon monoxide that is knocking both of them off. Mother dies in the living room while the father is in hospital. It is a very quiet and pensive segment, quite uncharacteristic of the usually flamboyant director Sorrentino, known for his lavish party segments in THE GREAT BEAUTY, his most famous film.
THE HAND OF GOD is a coming-of-age story of Fabietto, who comes to learn and cope with loss, death, sex and other growing up issues. Fabietto is Sorrentino as a kid and the film is autobiographical of the director. In one scene, Fabietto says he wants to be a film director. This is not the first time an Italian director made an autobiographical film of himself. Federico Fellini made the minor masterpiece AMARCORD (I REMEMBER) which won him the Best Foreign Film Oscar in 1973. AMARCORD is a semi-autobiographical tale about Titta, an adolescent boy growing up among an eccentric cast of characters in the village of Borgo San Giuliano in 1930's fascist Italy.
If THE HAND OF GOD is inferior to AMARCORD, director Sorrention pays kudos to the Master, Fellini. In one early scene, Fabie's elder brother (Marlon Joubert) auditions for a Fellini film. He is rejected, when he is told, humorously, that he was turned down as his face was too conventional. There are similarities between the two films. One is the haunting score, but one which again cannot rival Nino Rota's in AMARCORD. In both films, the young protagonist enjoys sex in weird ways. In the HAND OF GOD, Fabie is told by by baroness to brush her slit, which follows a sex act while in AMARCORD, the teen buries his face in the huge blossom of the voluptuous sweet shop lady.
THE HAND OF GOD shows Sorrentino is more sombre and controlled mode. THE HAND OF GOD is an excellent semi-autobiographical piece by its director and a tribute to the strange world of filmmaking while paying homage to Fellini's AMARCORD.
THE HAND OF GOD has a limited release theatrically before opening on Netflix December the 15th.
Trailer:
LETTERS TO SATAN CLAUS (USA 2020) *
Directed by Emma Jean Sutherland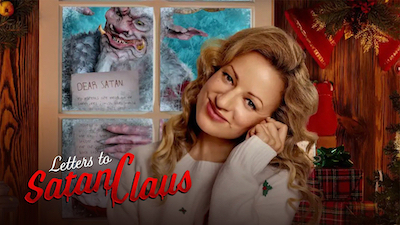 Killer clowns, bad Santa's and now a killer Santa in the form of a horned demon. Killer clowns are more creepy than funny and Bad Santa's except for Robert de Niro playing funny can also be quite the drag. But no comedy has hit the seasonal low as LETTERS TO SATAN CLAUS.
Written by Michael Zara and directed by Emma Jean Sutherland, LETTERS TO SATAN CLAUS is a spoof of Christmas genre films and the spirit of whatever Christmas programs that can be seen on TV during the Advent season. The film finally gets a release through Digital/VOD but it is, according to imdb, a TV movie, and a very bad one at that.
Holly Frost (Karen Knox) returns to her hometown to make a Christmas special before her promotion to a television anchorwoman, but first she must face Satan Claus and horrible childhood memories of him.
It all began with Holly s a spoilt kid during Christmas. At the time, she parents and a sister. But not for long! When Holly cannot get what she wants for Christmas, because her father had just lost his job and her mother fractured her hand and cannot continue her ice sculpting job, Holly is frustrated. "All I want is for my parents to go away." Before you can say be careful what you wish for, Holly misspells Santa and writes this wish as a letter Satan Class instead. The demon answers Holly's wish and her parents are killed.
The special effects include a silly mailbox, the one where Holly drops the letter to Santa (Satan), emitting dust as if the letter had disintegrated. The other is the demon or Satan that appears complete with horns and bad skin.
The mix of horror and Christmas does not work at all. The sight of disfigured bodies and bloodied bodies amidst the festive season is odd. And when the audience sees Holly attempting to bring the Christmas spirit back to town by writing to Santa for help, one can only gasp at how desperate the script has gotten.
This horrid Christmas entry deserves one star for sheer ghastliness . The filmmakers all get big lumps of coal this Christmas for this one.
Trailer:
LOVE IT WAS NOT (Austria/Israel 2020) ****
Directed by Maya Sarfaty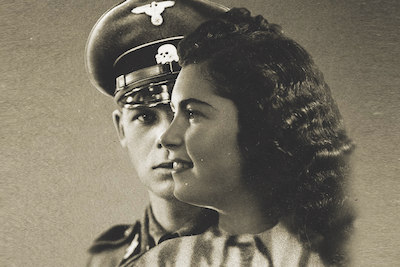 LOVE IT WAS NOT is a l'amour fou, a tragic love story between a Jewish prisoner, Helena Citron and her Nazi captor, Franz Wunsch. It is not a film about love conquering all. Flamboyant and full of life, Helena Citron is taken to Auschwitz as a young woman, and soon finds unlikely solace under the tutelage of Franz Wunsch, a high-ranking SS officer who falls in love with her and her magnetic singing voice. Risking a certain execution if caught, their forbidden relationship went on until her miraculous liberation. No details of the relationship is revealed, just that they held hands and met in secret and kissed. The question arises whether they had had sex. The tables are turned when a letter arrives from Wunsch's wife, thirty years later, begging Helena to testify on Wunsch's behalf, she's faced with an impossible decision: will she help the man who brutalized so many lives, but saved hers, along with some of the people closest to her?
Director Sarfaty has made one of the most controversial love stories in history. Her film is made even more chilling, when she has both Franz and Helena on camera talking as interviewees. Both are now deceased. Both speak of their romance, more with Franz. The story unfolds, thankfully in chronological order with the film ending when the war ends and the consequences of their love have to be dealt with. Combining archive newsreel footage and interviews, director Sarfaty also resorts to cut-outs, often with figures of Helena and Franz pasted on backgrounds of photos and with some effects like simulated falling snow on the images. The resulting images are as stunning as they are creepy, reflecting the weird relationship of prisoner and captor. The climax of the film - Franz's trial with Helena testifying is done with cardboard cut-out figures that move across the black and white background of the courtroom with a voiceover explaining what had gone on.
The surviving Helena and her sister, Roza tell stories in the concentration camp of unimaginable horrors - including gassing of a young girl and her baby brother. Their escape story when the war ends is equally harrowing, as the sisters run for their safety and pass out in a barn for God knows how long, Rosa bleeding and weak from a high fever.
The film is steadfast in condemning Franz as a Nazi criminal who can never be forgiven for his deeds. From the very start, the audience hears of his two natures - warm to Helena but cruel at the same time with no qualms at beating up the male prisoners. After the war when he writes to Helena still professing his love for her, his letters are intercepted by a relative who condemns him adding the fact that Jews are prohibited from associating from Nazi criminals. If Franz is to relive the fact that he allowed Helena's sisters two children to be gassed in Auschwitz, the relative says that he should rather die than endure. Franz is obviously a dangerous man. Helena goes on to say that she is afraid of him - afraid that he will keep looking for her.
LOVE IT WAS NOT is one of the grimmest and most disturbing documentaries on the holocaust as it deals with forbidden love between a Nazi and a Jewish prisoner. This is a case of doomed love, from the very start and a very compelling watch from start to end.
Trailer:
SINGLE ALL THE WAY (USA 2021) ***1/2
Directed by Michael Mayer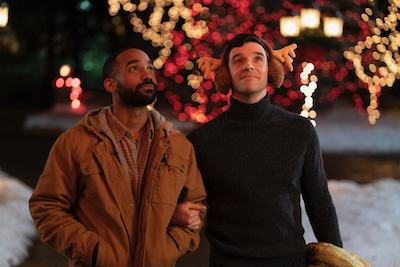 It was not so long ago, maybe when I was a teen, 30 or so years back when a new gay film would cover a new but relevant and important gay issue. There was a film that was first to deal with coming out, first to cover A.I.D.s, first to be explicitly shot in a bathhouse, first to deal with finding a sex partner but no place to 'do it' and conversion therapy. Slowly but surely, it became tougher and toucher to come u p with a gay film with new ideas. SINGLE ALL THE WAY, a Netflix original gay film takes the gay film to the present, where gay is accepted and celbrated. SINGLE ALL THE WAY does not cover new issues, as these issues are all old and accepted by today's world, and thank God for that. Even conversion therapy is now outlawed.
But the film is first and most welcome gay holiday romantic comedy film distributed by Netflix.
Peter visits his family for the holidays, bringing his best friend Nick who pretends to be his boyfriend. He learns that his mother, Carole, has arranged a blind date between Peter and her spinning instructor James. Nick immediately upon arriving, decides to tell the truth that he is not the boyfriend as he does not want to lie to Peter's family for 10 days. You are the worst fake boyfriend I know." remarks Peter. When Peter gawks at his mother's blind date set-up, all mother can say is: "You don't trust me?" Christmas is with Christmas Carole and Saint Nick.
Nick and Peter deliver good chemistry. Even their characters work well. Nick is a handyman who can fix anything while Peter can only fix poinsettias. When Peter's father asks Nick where a gay person has learnt to all all the handiwork, he remake that he learns a lot from HGTV. "Is that porn? the dad asks. "A bit," is Nick's hilarious reply that all gay men can appreciate.
The film benefits also from the excellent casting of Peter's family. It is the hilarious script with a laugh-out loud line per minute and the camp performances that make this movie. Trust me, I never laughed so much in a romantic comedy before. The only complaint is the script going sappy occasionally.
Michael Mayer directs and with aplomb and style. And Mayer comes with the highest credentials. In 2007, Mayer won his first Tony Award for his direction of the musical adaptation of Spring Awakening (2006), which also won the award for Best Musical. He was nominated for the 2002 Tony for his direction of Thoroughly Modern Millie, which he then directed on London's West End. Mayer also won the Drama Desk Award for Outstanding Director of a Musical for both Spring Awakening and Thoroughly Modern Millie.
SINGLE ALL THE WAY is true and true a gay film, made by and for gay people, particularly males. The dialogue that comes out from the mouth of the characters are exactly what would be heard at a gay party. Straights might find all the dialogue a bit too much - being too gay, too camp, too irrelevant but only too real. The words often come but a mile a minute and thankfully, so do the holes which are prime for re-use when one goes to the next gay party.
Don't expect SINGLE ALL THE WAY to be a festive masterpiece. But it is a funny totally entertaining gay and camp film the film is so jolly and gay.
THE SOUVENIR PART 2 (UK 2021) ***1/2
Directed by Joanna Hogg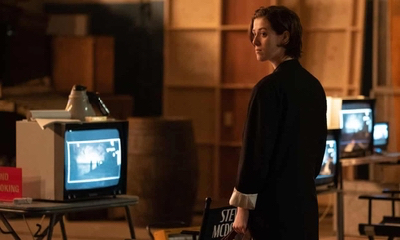 THE SOUVENIR PART 2, the sequel is a continuation of the much applauded first film by writer/director Joanna Hogg, who provides not only more of the same but a maturity in her treatment of her subject as well as in her main character and life itself.
In the first film, Joanna Hogg wrote the script based on her real-life experiences while attending film school in London in the early '80s. Academy Award Winning actress Tilda Swinton and Hogg have been friends since they were ten years old, and Hogg cast Swinton's daughter in the title role of Julie Swinton plays Julie's dominant mother in both films. Honor Swinton Byrne, a non-professional actress, is seen by Hogg as a reflection of herself. In that film, she creates a film school project while balancing a toxic relationship with an older man.
THE SOUVENIR PART 2 is an autobiographical film within an autobiographical film. Part 2 shows the aftermath of her tumultuous relationship. Julie begins to untangle her fraught love for him in making her graduation film, sorting fact from his elaborately constructed fiction.
A fair portion of the film goes into both the preparation of her graduation film (that is untitled). Hogg's film shows the complication of filmmaking experienced by a newcomer to filmmaking including all the problems such as finance and conflicts of the different crew working on the film. Director Richard Ayoade (SUBMARINE, his breakout film) plays an opinionated Patrick who is never afraid to voice his opinions on Julie's work. The others in the crew appear satisfied and trusting of Julie's instincts except for her D.P. who remains frustrated at having to change the time of the scene from night to day. "It would help to know what is going on," he cries. This, as everyone knows, is a common complaint as only the director has his or her vision clear at the time. The frequent outbursts make the film both more dramatic and realistic. While all this is going on, Julie has a sexual fling with a handsome young actor Jim (Charlie Heaton). It is as if Julie has learnt from his previous relationship and also practised some wrong moves. No relationship comes about from this sexual encounter, which is very erotically filmed by Hogg. In another scene set in a pub, Julie makes advances towards another man, only to discover that he is gay, waiting to meet up with his boyfriend. Julie finally confesses to her psychiatrist that she misses having a relationship to share intimacies with someone she describes as a controlled risk taker. Her talk makes the movie a marvel, showing the filmmaker's maturity through her lead character.
PART 2 is very well paced with a musical interlude to brighten up the story, complete with images of nature.
THE SOUVENIR PART 2 was clearly overlooked this year for Cannes' Official Film Selection. But no loss here, as the film will be available to be seen at the TIFF Bell Lightbox on December 3.
Trailer:
THIS GAME'S CALLED MURDER (USA 2020) **
Directed by Adam Sherman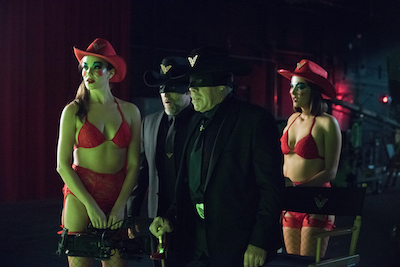 From the film's title, one might expect a sophisticated murder mystery involving parlour games played by perhaps clever dinner guests. But the first few minutes of the film show otherwise. A well endowed male in drag is being bloody murdered by bright red stilettos by Mr. Wallendorf (Ron Perlman from HELLBOY who favours these kinds of outrageous roles). Director Sherman aims at trashy kitsch and there are heaps of trash littered throughout his film. If a trashy film is what one is looking for, then look no more. This film is it. The story contains characters who are mostly trashy; the story is total trash; the colour of the production sets, costumes and props are all of the same.
The plot is relatively so simple that one can consider that there is close to none. The plot involves the relationships of the dysfunctional Wallendorf family. The audience learns that Mr. Wallendorf is all so freaked out regarding the recent disappearance of his daughter Jennifer(Vanessa Marano). He employs his two spies to find her whereabouts. They come up with some good results, but Mr. Wallendorf is so fucked up, he only hears what he has to hear. In the meantime, his wife has lost a whole lot of Ramen noodles, after the truck is hijacked by a gang of crazy female thieves. The daughter posts her whereabouts on the internet, so she should be easily found. However, they do not follow the positions as they assume that she is doing this to mislead people on her whereabouts But then they also later think that she thinks that people are thinking this reasoning and she is actually at the place of her postings.
Among the outrageous set-pieces the audience is 'treated' to are;
- the elaborate manufacture of ramen in a noodle factory
- a viscous wrestling match, fight-club style between one of the female thieves and a Hulk Hogan type opponent
- a colourful setup bar called Annabell's where things happen
Despite the nonsense director Sherman puts out on screen, the best is the father and daughter confrontation after he notices that she has returned home unannounced. And she has dried puke all over herself that her father sees. "Don't call me pumpkin!" yells the daughter at the father, who deliberately keeps calling her pumpkin to annoy her. When asked for an explanation, she says that she is not going to give him any as he would not understand it anyway.
Not everything in Sherman's film works. The robbery and other antics by the female gang come across as too forced. They are not funny or amusing and merely annoying and boring. The daughter also gets one one's nerves too soon. She survives on champagne and her red stilettos. Her boyfriend who has quite the body does not seem to mind that she has lipstick smeared all over her face and the accompanying dried puke.
See THIS GAME'S CALLED MURDER only if so bored that you can risk not being more bored by pure trashiness.
Trailer:
TWAS THE NIGHT (USA 2021) **1/2
Directed by The Ro Bros.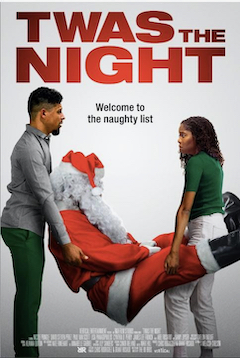 TWAS THE NIGHT is a family Christmas dinner gathering complicated by the fact that the hosting recently engaged couple is trying to hide a supposedly dead body from their respective parents. This sounds like quite a lame premise for a movie, but The Ros Bros. who directed this comedy and wrote the script have hired a cast that try their damned best to make this darn thing work. And the lead actors Nicole Pringle and Steven Perez are quite funny. So, for the undemanding viewer, watching this sort of TV movie is relaxing and untaxing. To the Brothers' credit, there are a few laugh-out laughs to make watching the film worth the time.
Life is lovely for Holly (Pringle) and Nick (Perez). They just got engaged, their careers are growing, and are preparing their new home to have over their soon-to-be in-laws for the first time. Stressed with the holiday decorations and only a short time before the parents arrive, Holly accepts help from a nearby man in a Santa suit to put the final touches on their holiday décor. As he perfects the final adornment, a misfortunate accident sends him flying off a ladder, rendering him unconscious. Frantic and focused on making good first impressions, Holly and Nick resort to the only choice they see as reasonable – hide the body in the bathroom and invite the in-laws in.
The script stays ahead of the audience most of the time. When the film opens, Holly is stamped a 'Santa Hater'. The reason is revealed only later in the film. The couple live in a house, but nothing says whether they are married or not, till 20 minutes into the film when a cashier asks Nick how his girlfriend is. Nicole is black but both her parents are white. Nothing is said about this, so one assumes that they are Nicole's adoptive parents. Nick's mother is black and father is white.
When the parents finally find the body of Santa Claus. Nicole's mother offers her this advice in what is the film's funniest line: "You cannot invite any Santa Claus from the mall to your home for milk and cookies!" to which the father replies: "You two are grounded."
There are a few corny lines like the one said by Santa before being knocked off the ladder: "You can only be happy as the people next to you.". And there are more similar ones: "People only respect you as much as you respect yourself!" It appears that the Ro. Bros are self-help gurus besides being filmmakers.
TWAS THE NIGHT opens in select theatres and on demand December the 3rd. No need to rush to see this one.
Trailer:
WOLF (Ireland/Poland 2021) *
Directed by Nathalie Biancheri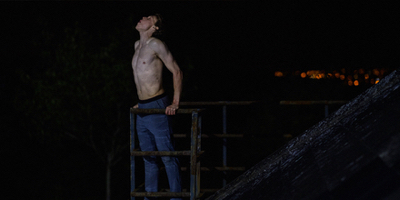 Jacob (George MacKay, best known from his breakout film 1917) has species dysphoria and believes he is a wolf trapped inside the body of a teenager. There is no explanation how he came to be in this state. The audience is as baffled as his concerned parents.
Jacob is sent to "the zoo," a clinic specializing in the condition, operated under the watchful eye of Dr. Mann (Paddy Considine). Nicknamed "the zookeeper," the controversial and cruel practitioner — who could make Narcissus himself blush — enacts extreme "curative" therapies, expecting nothing short of toadying behaviour and swift reform from his pet subjects. Other animal parents include Rufus the German shepherd (Fionn O'Shea), Judith the parrot (Lola Petticrew), Ivan the duck (Senan Jennings), Jeremy the squirrel (Darragh Shannon), Louise the horse (Elsa Fionuir), Annalisa the panda (Karise Yansen), and Ola the spider (Amy Macken), Wolf sends up a cacophony of alarms and excursions.
WOLF is the silliest serious drama of the festival and is a total waste of time. At least the similar film, Yorgos Lanthimos' 2015 THE LOBSTER where humans decide which animal they will be, took the concept in stride and ended up being very entertaining and insightful. The film is supposed to be a powerful reflection on self-determination and belonging in societies that dictate behaviour but the film never amounts to anything. MacKay howls through his role while the veteran actor Paddy Considine delivers a Nazi-type character performance for his role in the cardboard zookeeper. WOLF is howlingly awful!
Trailer: