21
Nov
2021
Details

Category: Movie Reviews
Written by Gilbert Seah
THE END OF US (USA 2021) ***
Directed by Steven Kanter and Henry Loevner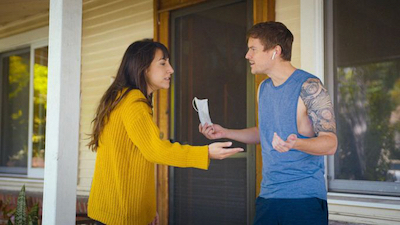 As the title implies THE END OF US is a break-up comedy (rather than a romantic comedy) about a couple undergoing a breakup they decided upon just before the Pandemic hit the world.
Nick Boal (Ben Colemand) and Leah Russo (Ali Viagiano) are a couple who live together with a relationship problem. The male is not working, apparently trying to polish his career but in reality is scrounging off his girlfriend who pays for everything including the rent and groceries. To be fair Ben applies for auditions, but often never shows up. He has a few hours working his bartending job. Ben does water the plants with a hose. Leah's friends do not like Nick and are happy to hear the news of the impending break-up. As film of this nature go….. boring tedium and predictable plot….. they have difficulty breaking up and again…. ho-hum, cliches…. have sex one evening after too many drinks. Will they stay together and come back as a couple or will they try to make other disastrous dates? This is a question that is finally answered in the last scene. Whether they do or not has very little to do with what happens in the rest of the story. Neither would many of the audience care.
Written and directed by Steven Kanter and Henry Loevner, the couple face similar problems as the couple do in the Pandemic. One is too cautious and the other is not. Ben goes out with friends and comes back ready to infect her, Leah complains. When Leah actually plays around with another date during Covid, Ben freaks out. Ben and Leah argue about mask wearing; obeying chief medical officer's guidelines in California and other typical Covid stuff that every audience member has recently also gone through. All this makes watching rather uninteresting. Who wants to watch a repeat of the tedium everyone went through in the horrid lockdown past year?
At one point in the film one of them remarks: "We both have been exposed; we should get tested." Which couple has not come to the same point in time during Covid?
The film unfolds with the days of the Pandemic like Day 1, Day 2 , day 3 and so on…. One can see how the Pandemic hit the world anyhow hopelessly hopeful the couple and the world were that the Pandemic will not last.
There are some sweet and funny moments. When Ben moves out, Ben discovers that no one will take him in. The fact that Leah feels sorry for him shows the strength of the relationship in the past, which makes for good relationship insight. It is also funny to look back at the pandemic and see the silly things that everyone did to curb the spread, that did not work - like wearing masks in public.
THE END OF US is a comedy centred on a white couple. To be politically and racially correct, there are black and minority characters, though they are mainly in the lesser important roles. But at these times, one is a bit tired of watching inter-racial couples, put into the script just for the purpose of being racially correct
Despite a few funny and sweet moments, THE END OF US reminds the audience of times that either they either wish to forget or might be amused at.
THE END OF US opens In Select Theatres December 3, 2021 and Available on Digital and On Demand.
, Trailer:
THE SOUVENIR PART 2 (UK 2021) ***1/2
Directed by Joanna Hogg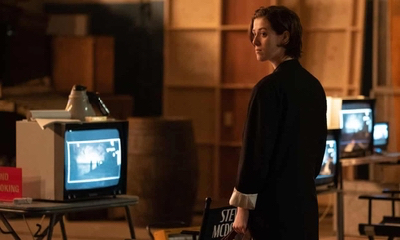 THE SOUVENIR PART 2, the sequel is a continuation of the much applauded first film by writer/director Joanna Hogg, who provides not only more of the same but a maturity in her treatment of her subject as well as in her main character and life itself.
In the first film, Joanna Hogg wrote the script based on her real-life experiences while attending film school in London in the early '80s. Academy Award Winning actress Tilda Swinton and Hogg have been friends since they were ten years old, and Hogg cast Swinton's daughter in the title role of Julie Swinton plays Julie's dominant mother in both films. Honor Swinton Byrne, a non-professional actress, is seen by Hogg as a reflection of herself. In that film, she creates a film school project while balancing a toxic relationship with an older man.
THE SOUVENIR PART 2 is an autobiographical film within an autobiographical film. Part 2 shows the aftermath of her tumultuous relationship. Julie begins to untangle her fraught love for him in making her graduation film, sorting fact from his elaborately constructed fiction.
A fair portion of the film goes into both the preparation of her graduation film (that is untitled). Hogg's film shows the complication of filmmaking experienced by a newcomer to filmmaking including all the problems such as finance and conflicts of the different crew working on the film. Director Richard Ayoade (SUBMARINE, his breakout film) plays an opinionated Patrick who is never afraid to voice his opinions on Julie's work. The others in the crew appear satisfied and trusting of Julie's instincts except for her D.P. who remains frustrated at having to change the time of the scene from night to day. "It would help to know what is going on," he cries. This, as everyone knows, is a common complaint as only the director has his or her vision clear at the time. The frequent outbursts make the film both more dramatic and realistic. While all this is going on, Julie has a sexual fling with a handsome young actor Jim (Charlie Heaton). It is as if Julie has learnt from his previous relationship and also practised some wrong moves. No relationship comes about from this sexual encounter, which is very erotically filmed by Hogg. In another scene set in a pub, Julie makes advances towards another man, only to discover that he is gay, waiting to meet up with his boyfriend. Julie finally confesses to her psychiatrist that she misses having a relationship to share intimacies with someone she describes as a controlled risk taker. Her talk makes the movie a marvel, showing the filmmaker's maturity through her lead character.
PART 2 is very well paced with a musical interlude to brighten up the story, complete with images of nature.
THE SOUVENIR PART 2 was clearly overlooked this year for Cannes' Official Film Selection. But no loss here, as the film will be available to be seen at the TIFF Bell Lightbox on December 3.
Trailer:
WOLF (Ireland/Poland 2021) *
Directed by Nathalie Biancheri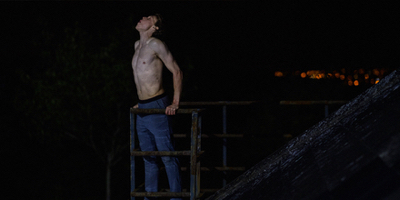 Jacob (George MacKay, best known from his breakout film 1917) has species dysphoria and believes he is a wolf trapped inside the body of a teenager. There is no explanation how he came to be in this state. The audience is as baffled as his concerned parents.
Jacob is sent to "the zoo," a clinic specializing in the condition, operated under the watchful eye of Dr. Mann (Paddy Considine). Nicknamed "the zookeeper," the controversial and cruel practitioner — who could make Narcissus himself blush — enacts extreme "curative" therapies, expecting nothing short of toadying behaviour and swift reform from his pet subjects. Other animal parents include Rufus the German shepherd (Fionn O'Shea), Judith the parrot (Lola Petticrew), Ivan the duck (Senan Jennings), Jeremy the squirrel (Darragh Shannon), Louise the horse (Elsa Fionuir), Annalisa the panda (Karise Yansen), and Ola the spider (Amy Macken), Wolf sends up a cacophony of alarms and excursions.
WOLF is the silliest serious drama of the festival and is a total waste of time. At least the similar film, Yorgos Lanthimos' 2015 THE LOBSTER where humans decide which animal they will be, took the concept in stride and ended up being very entertaining and insightful. The film is supposed to be a powerful reflection on self-determination and belonging in societies that dictate behaviour but the film never amounts to anything. MacKay howls through his role while the veteran actor Paddy Considine delivers a Nazi-type character performance for his role in the cardboard zookeeper. WOLF is howlingly awful!
Trailer: